Packed with essential vitamins and minerals, healthy oils, and high-quality protein, seafood is both healthy and delicious. These are some of my favorite ways to get seafood into my diet.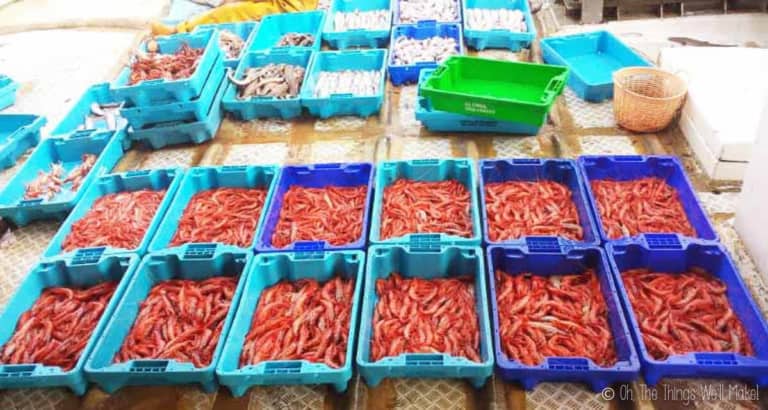 My husband is a fisherman, and I love seafood.
Coincidence? Maybe.
A perk? Definitely!
At least I won't complain about having easy access to the freshest of seafood that doesn't come from a fish farm.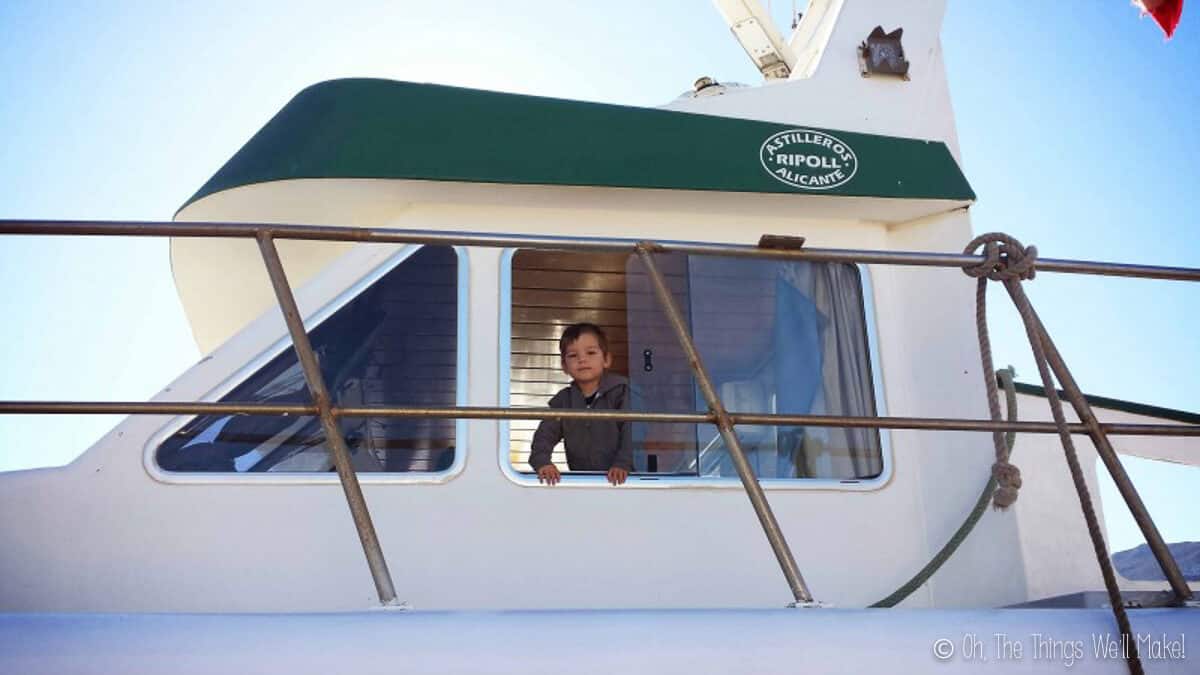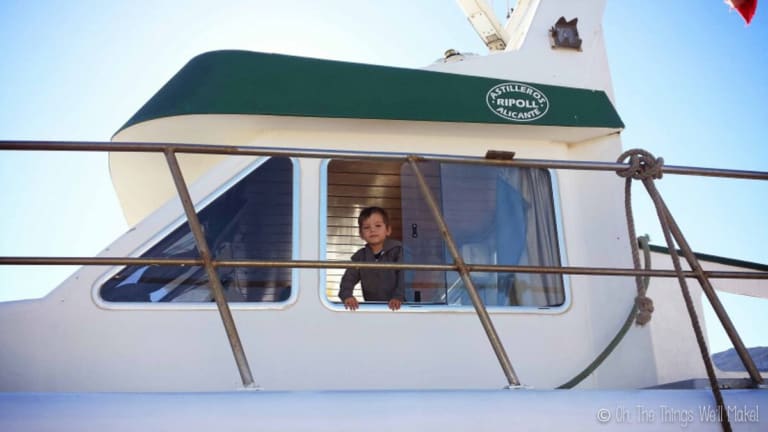 Luckily, my son (the cute little "sea captain" above) shares our love of seafood. As a toddler, he preferred fish to other harder-to-eat meats.
Because I have access to an abundance of fresh seafood, I am often coming up with new ways to serve it.
Seafood Health Benefits
Our diet during the week is mostly comprised of plant-based foods, accompanied by some fresh seafood and eggs. (We try to eat as healthy as we can during the week and eat whatever we like when going out on the weekends.)
One of the reasons that we choose eggs and seafood as our main sources of animal-based foods is that it's easy for us to have access to high-quality fish and eggs (vs. meats). My husband brings home fresh, unfarmed fish, and our own free-range (pet) hens lay plenty of eggs for us. ?
Knowing that seafood is healthy, though, also motivates our lifestyle. (The American Heart Association recommends eating fish twice weekly.)
High-quality source of protein
Seafood provides essential amino acids we need.
Because it doesn't have as much connective tissue as meats, it's easier to digest. Some seafood is very lean, but the sources that are higher in fat tend to be high in healthy fats and Omega 3 fatty acids…
Source of Omega 3's
Omega 3 fatty acids can be found in many types of seafood, but are especially prevalent in blue fish such as mackerel, sardines, salmon, and anchovies. Other good sources are oysters or cod liver oil.
These fatty acids are important to our health. They can reduce our risk of heart disease and can help our brains function better. They can even help kids with ADHD and can help with inflammation and anxiety.
Seafood also provides vitamins and minerals
Fish and seafood can be a source of Vitamin B, with fattier fish being a decent source of Vitamins D and A.
Many essential minerals such as iron, zinc, magnesium, copper, iodine can be found in seafood, especially in shellfish.
Seafood doesn't just have health benefits, though. It's delicious too!
Here are some of our favorite ways to use seafood…
Shrimp & Prawn Recipes
My husband fishes the famous red Denia shrimp. (Well, it is famous here, at least.) It's one of the most sought out delicacies at Christmas time in Spain.
It's almost considered sacrilegious to serve the Denia red shrimp in ways that aren't boiled or grilled, but with an abundance of the "broken" shrimp, the shrimp that aren't completely whole and that aren't sold at the fish auction, I'm allowed to get creative.
People were completely shocked that I made prawn crackers with Denia red shrimp. If you aren't familiar with prawn crackers, they're a type of fried cracker that is often served at Asian restaurants here. The red shrimp gave my prawn crackers their beautiful pink color completely naturally.
I also love making gambas al ajillo, a garlic shrimp typical here in Spain. I'll try to share a recipe for that soon!
Squid and Octopus Recipes
Back home in Michigan, most people don't have the same appreciation for squid and octopus as they do here.
People will occasionally order "calamari" at an Italian restaurant, but other than that, it just isn't very commonly seen. While I also can appreciate squid in its fried form, I have to say that I prefer it grilled or braised, slowly cooked in red wine with onions.
It's hard to believe the delicious sweetness that results from slowly cooking the squid with red wine and onions. It's something that every seafood lover should try, though, as the squid ends up tender and sweet, with lots of delicious sauce for dipping bread into.
Another of my favorites is pulpo a la Gallega, a boiled octopus served with olive oil, salt, and paprika.
Someday I'll share how to make broiled octopus, perhaps my favorite seafood dish of all time!
Shellfish Recipes
Also popular in my area of Spain, certain shellfish dishes are commonly served as appetizers or tapas.
I formulated my recipe for steamed mussels with tomato sauce by basing it on the way they make them at one of our favorite local restaurants. At the local Galician restaurant, they steam them with diced tomatoes and onions, and serve them in a big bowl.
Everybody loves using the shells to scoop out some of the sauce to drink it like a soup!
While clams aren't as common in my area of Spain, they make for a quick delicious, healthy meal when combined with zoodles.
Fish Recipes
When I was growing up, I imagined that anchovies must be something horribly disgusting. In movies, people were always saying that they wanted their pizzas with everything but anchovies.
Fast forward several years, though, and anchovies are one of my favorite fish! Packed with healthy Omega 3's, anchovies are a delicious way to enrich your diet with healthy fats. Did I mention they're delicious?
Salt curing anchovies is a great way to preserve them so that you can keep them on hand for months at a time. They're delicious alone, or served on a slice of bread with some olive oil. (Add some roasted red peppers, and it's even better!)
Another great way to enjoy fish is in a seafood salad.
Here in Spain, two main types of potato salads are commonly served at restaurants. "Ensaladilla Rusa" is a typical "plain" potato salad with potatoes, carrots, peas, hard-boiled eggs, and mayonnaise (amongst other possible ingredients).
While I have to admit that I hate the common potato salad, I LOVE the seafood version with fish, potatoes, and other seafood. Rather than use mayonnaise, it's brought together with salsa rosa, a sweeter pink cocktail sauce. We enjoy this special salad at Christmas time.
Did you know that you can cook fish in your dishwasher while you wash your dishes?
I know, it's a crazy concept- and one that my husband doesn't fully understand. (Why would anybody want to do that?) While I don't use this idea for cooking for the family, I have used the heat of my dishwasher to make myself a quick and easy meal when I'm alone.
Condiments for Seafood
While seafood is delicious enough to enjoy plain, certain condiments can bring out their flavor…
Served with all sorts of salads, salsa rosa (pink sauce) is a sweet mayonnaise-based sauce with a touch of ketchup. It is commonly served with green salads that have tuna fish on them but is also used to hold together potato salads like the ensaladilla de marisco seafood salad.
Kids tend to love salsa rosa because of its creamy sweetness. It's the perfect accompaniment to just about anything.
Aioli is probably the most common condiment in my area of Spain. It's normally brought out with bread before meals at restaurants.
The popular garlic mayonnaise is served with seafood-based rice and pasta dishes like arroz abanda and fideuá. (Recipe ideas for the blog?)
Aioli is delicious for serving with fried squid, grilled fish, squid, and cuttlefish, and, well, just about anything.
Hopefully, if you like seafood as much as we do, you'll have found some delicious new ways to enjoy it!
This post was originally published on March 3, 2014. It originally linked out seafood recipes from my fellow real-food bloggers. Unfortunately, the vast majority of those posts are either no longer around or just aren't maintained anymore. I decided to modify this post and leave only my own seafood recipe links, giving you my reasons for choosing these recipes!