Once you have your liquid soap base made, it's time to dilute it and make it into liquid soap. Find out how to dilute a liquid soap paste, and how to mix up your soaps for different uses around the house.
How to dilute a liquid soap paste
On my blog, I shared with you two different recipes for homemade liquid soaps.
First I shared how to make a liquid castile soap using olive oil as the only oil.
Then I shared how to make a coconut oil liquid soap.
Once we got finished with the recipes, you should have ended up with a thick, putty like, soap paste that needs to be diluted to make a liquid soap.
There are several ways to dilute the soap paste. Interestingly enough, I didn't find it to be a big deal to dilute either one of my soap pastes, but a lot of people get hung up on this step for some reason.
First of all, they get hung up on the math of the dilutions.
Perhaps I should be measuring out my dilutions as I make them to help you get a better idea of how to dilute your soap base, but I don't because I think that dilutions are more of a personal thing.
Most commercial soaps use some sort of thickening agent to thicken them. When I finally got around to buying a bottle of Dr. Bronner's liquid castile soap, out of curiosity, I was surprised to find that it was pretty liquid, despite stating that it is very concentrated. To me, that just goes to show that the density of the soap doesn't necessarily correlate with it's concentration or cleaning power. Without thickeners, liquid soap will seem thin, even while still pretty concentrated.
I used to only dilute my liquid soap enough to make it a thick, dense liquid like many commercial soaps. By doing so, though, I've decided that I was just wasting a lot of soap.
You know those commercials for dishwashing detergent that try to show you how much of a value their more expensive product is because it's so powerful that you use less and save money in the long run?
I always roll my eyes at those commercials because I think, "Even if people could wash their entire load of dishes with one drop of soap, nobody is going to do it!"
We get so used to pumping out a certain amount of soap, no matter how thick it is or how cleansing the soap is. So, if we are using a thicker, more concentrated soap, that doesn't mean we are going to use less of it because it's more powerful. As an experiment, I started diluting my soap quite a bit more, leaving it a thinner consistency, not unlike Dr. Bronner's soap, and I found that we ended up using a lot less overall. We didn't feel less clean, but were using up the diluted soap at about the same rate as we were using the thicker, more concentrated soap.
Plus, as the weather gets colder, my liquid soaps get cloudier and more opaque at higher concentrations! If I wanted my soaps to be more clear and transparent in the winter, I was needing to dilute them further anyway.
What does that mean? I was using up a lot more of my soap paste and washing it down the drain needlessly.
I'll stop rambling, though, and give you an idea about how you actually dilute the soap and some dilution rates.
How to Dilute the liquid soap in a crock pot or slow cooker
A lot of people choose to dilute their liquid soap paste in a crock pot or slow cooker. This is the method I usually use to dilute a fresh batch of liquid soap paste seeing as it's already in the crock pot anyway. I don't like to dilute all of my paste at once, though, so I take a bunch out and store it in glass jars with a wide mouth for easy removal later on. (The more water something has, the more likely it will go bad more quickly, so I prefer to leave most of the soap in its paste form so that it will last.)
I like to eyeball the remaining amount of paste and pour in an "equal-ish" (yes, that's the technical term, I think) amount of hot water and stir it all up as best as I can. You want to add hot water if your soap paste and crock pot are still hot from making your soap paste or your crock pot can crack if you add even warm water to the hot paste mixture. (Don't ask me how I know that. I may or may not have cracked two of them by now.) 😉
I personally just turn the crock pot off and leave it alone for several hours, or overnight. If I happen to be walking by it, I may occasionally go over and stir things up to help things along, but I don't worry about it and just let it do its thing.
If by the next day the soap paste hasn't dissolved, you can turn the heat to low for several hours or just let it sit for longer. If you still have big pieces of soap paste, you should probably add in a little more water. Eventually, the soap paste will dissolve.
How to Dilute a liquid soap paste on the stove
Basically, diluting the soap paste over the stove is very similar to the crock pot method. I personally don't like cooking my soap paste as I dilute it, but if you are in a hurry, you can try cooking your soap paste and water over low heat to help dissolve it. I, on the other hand, heat up the water to almost boiling and then turn the heat off and add my soap paste and let it sit overnight.
Just as with the crock pot method, you can heat up the mixture if, after several hours it hasn't dissolved much and you want to help move things along more quickly, or you can just leave it be for as long as it needs.
The leave it alone in a jar method
Honestly, this is probably the method I use most, and it's probably why I don't have the problems with diluting the soap paste that many people seem to have. I take some soap paste, pull it apart into relatively small chunks and pour some distilled water over them in a jar. I cover the jar and leave it alone for several days.
If I happen to be near the soap jar and think about it, I may occasionally give it a shake, but I mostly just forget about it until I need it. I think it's impatience that frustrates most people when diluting their soap base, but if you give it enough time, and enough water, it will eventually dissolve on its own. That's why I start diluting when I see that we are starting to run out of diluted soap, not when we're already out!
Second dilution & Combining liquid soaps
Most people tend to make one type of soap, dilute their soap to the consistency they like, and that's that.
I, on the other hand, like to have some concentrated liquid soap ready for mixing and for a second dilution.
What do I mean by that?
Because different oils have different properties, I like to mix up a custom soap for each use around the house. I've already explained this idea in my soap recipes, but in case you haven't read those yet, I'll give a brief explanation again.
Soaps made with olive oil tend to be conditioning, but they don't usually give off a lot of lather, and aren't usually as cleansing as a soap made with coconut oil.
Soaps made with coconut oil tend to be very cleansing and they make a nice bubbly lather, but they can be drying on the skin.
For face and body uses, I like to use a mix of both olive oil soap and coconut oil soap so that I end up with a cleansing, yet conditioning soap with a bit of lather.
For cleaning around the house, I mostly use just coconut oil, but I may add a bit of olive oil soap if I'm cleaning something like my leather sofa.
When making bar soaps, you have to decide on your concentrations and make the whole batch the same way. With liquid soaps, though, you can combine the already made soaps after the fact.
For me, it's easiest to have two big jars of thick, yet diluted liquid soaps ready for mixing and further dilution. I have one big jar of pure castile liquid soap made with only olive oil, and one big jar of liquid coconut oil soap.
When it's time to refill a dispenser, I usually fill the dispenser around half full with distilled water (or more or less, despending on how thick I want a particular soap), and fill the rest with either of the soaps, or a mixture of both. It's also at the time of refilling that I choose and add in any essential oils.
You've diluted your soap paste, so are you ready to go?
Well, maybe, maybe not!
If you plan on using your soap for cleaning around the house, you're probably good to go and can be off on your merry way.
On the other hand, if you're using your liquid soap for your face or body, you may want to stay around for one more step…
Testing the pH of liquid soaps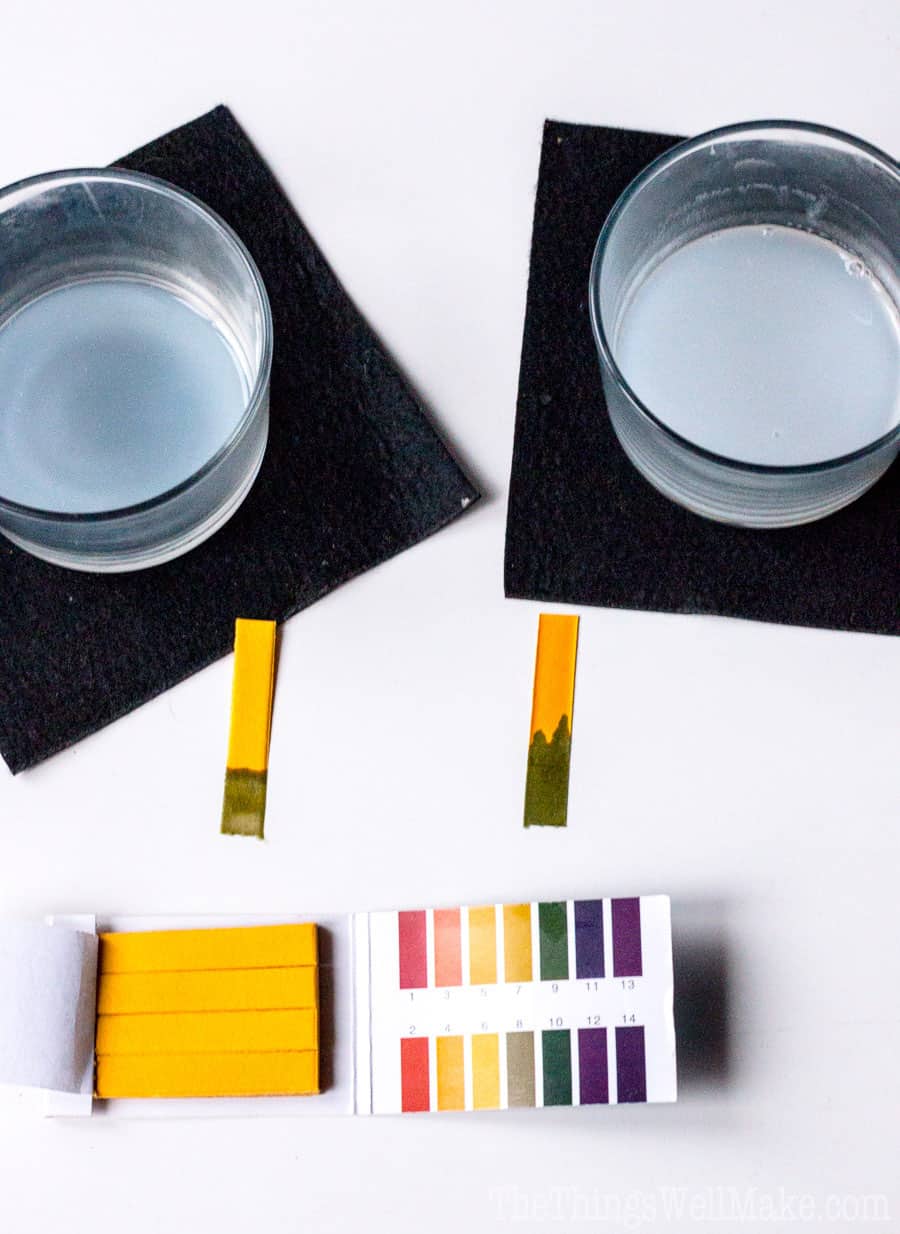 At this point, I started to write out my thoughts about the pH of soaps, and wanted to teach you how to "neutralize" your liquid soap if need be. My post, though, quickly turned excessively long, and I decided to leave that post for another day in the interest of getting this information out to you as soon as possible.
I will leave you with a bit of reasoning about why it is important, though, and why you may want to read my post about testing and adjusting the pH of soaps.
Unlike bars of soap where excess oils are usually used in a recipe for their conditioning qualities and to make sure that all of the lye is reacted and gone from the final product, liquid soap recipes aren't formulated the same way.
Liquid soaps are, in fact, often calculated with a "lye excess" because extra oils in liquid soap can make the final soap cloudy or can even lead to separation. The excess lye in those soaps can remain unreacted and its alkalinity can irritate your skin. That's why there are times that you may want to "neutralize" your liquid soap.
Next time, I'll tell you more about my thoughts on the pH of soap, and how you can neutralize your liquid soap if you feel you need to.