Salsa rosa, a pink cocktail sauce that is extremely popular in Spain, is creamy, sweet, and tangy. It's commonly used as a salad dressing or a sauce for seafood cocktails.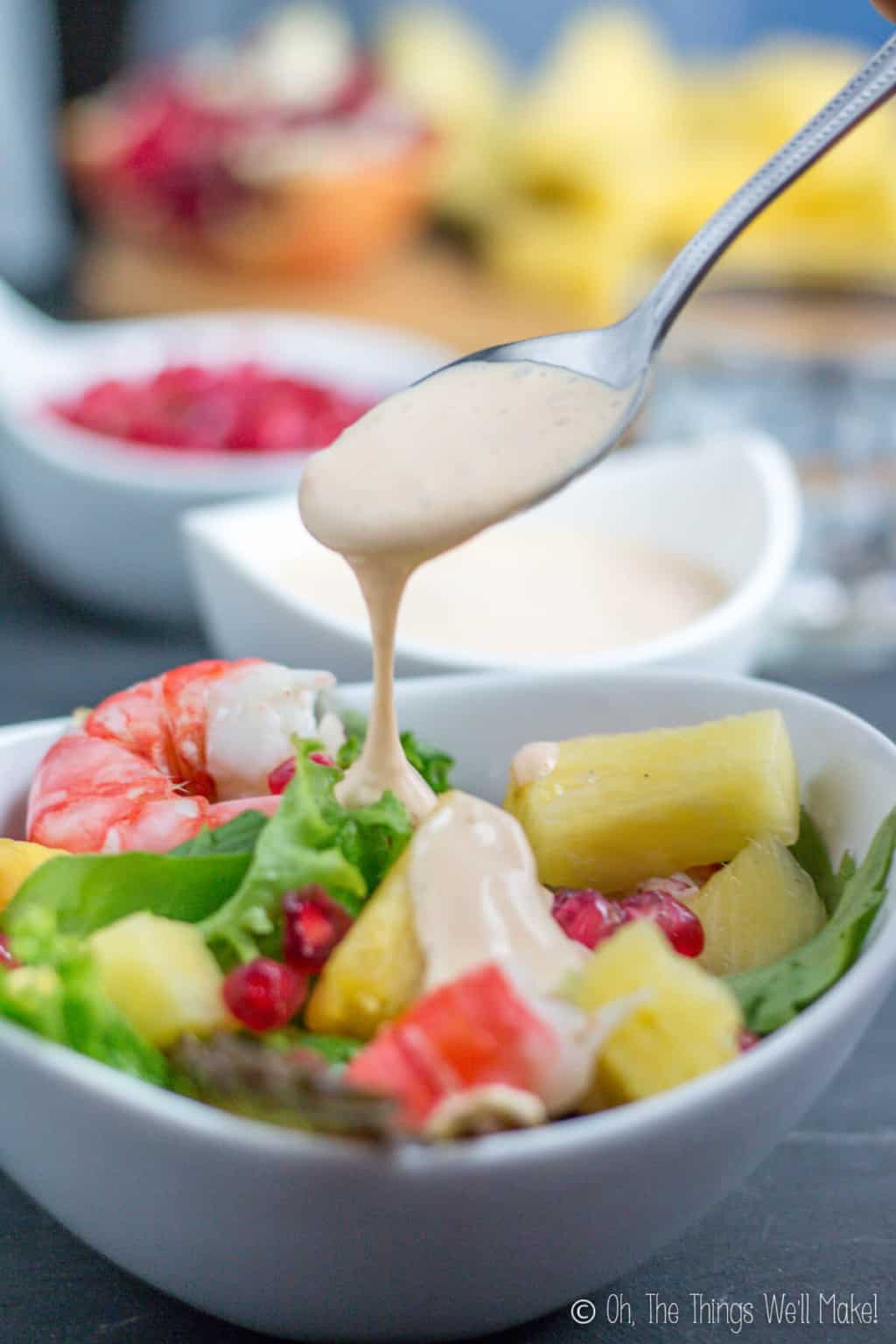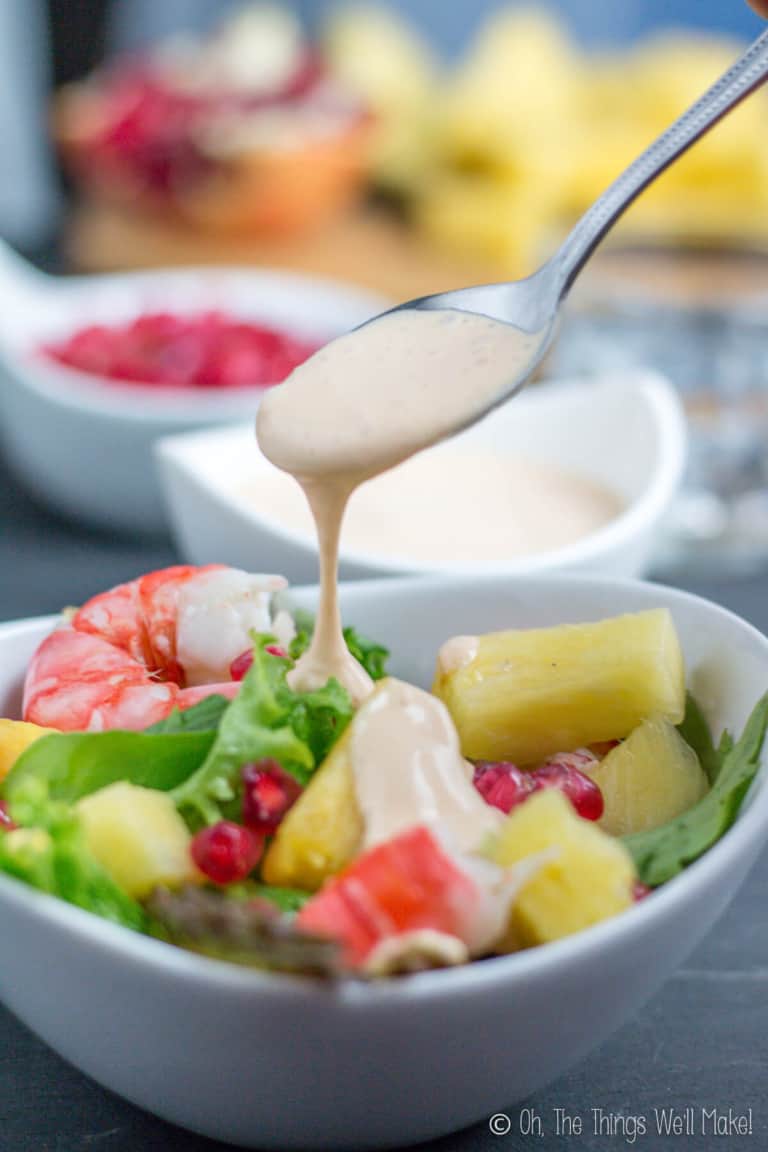 Those of you who follow my blog may have noticed that I have been a bit absent lately. Not only was I concentrating on changing my diet, and finishing fixing up the house, but I was also expecting a family visit from Eric's grandpa.
A good part of my break was spent just playing with Grandpa and Auntie Diane, but we also went on a road trip to the province of Seville for my cousin's wedding.
You see, while I am an American expat living here, I do have roots here in Spain. My dad was from Granada and moved to the US before I was born, so I grew up in Michigan, but still have family here. Unfortunately, other than an aunt of mine who lives only about an hour away, the rest of my family is far enough away that I don't get to see them that often. Weddings are a great excuse to get everybody together, and even my aunt and cousin from Venezuela came to visit.
Today, I'm going to show you how to make a simple, salsa rosa, or "pink sauce."
What is salsa rosa?
Here in Spain, salsa rosa is the classic, go-to sauce for seafood cocktails or salads with seafood and/or fruit in them. A shrimp cocktail in Spain tends to be quite different from its North American counterpart. Shrimp or seafood cocktails are usually served over shredded lettuce with shrimp or crabmeat, diced fruit, and bathed in a sweet and tangy salsa rosa.
Salsa rosa as a salad dressing
Of course, salads in Spain almost always have tuna fish in them, and that tuna fish is often served accompanied by the salsa rosa. For that reason, the salsa rosa is probably one of the most common salad dressings, if not the most popular salad dressing, apart from vinegar and oil here in Spain.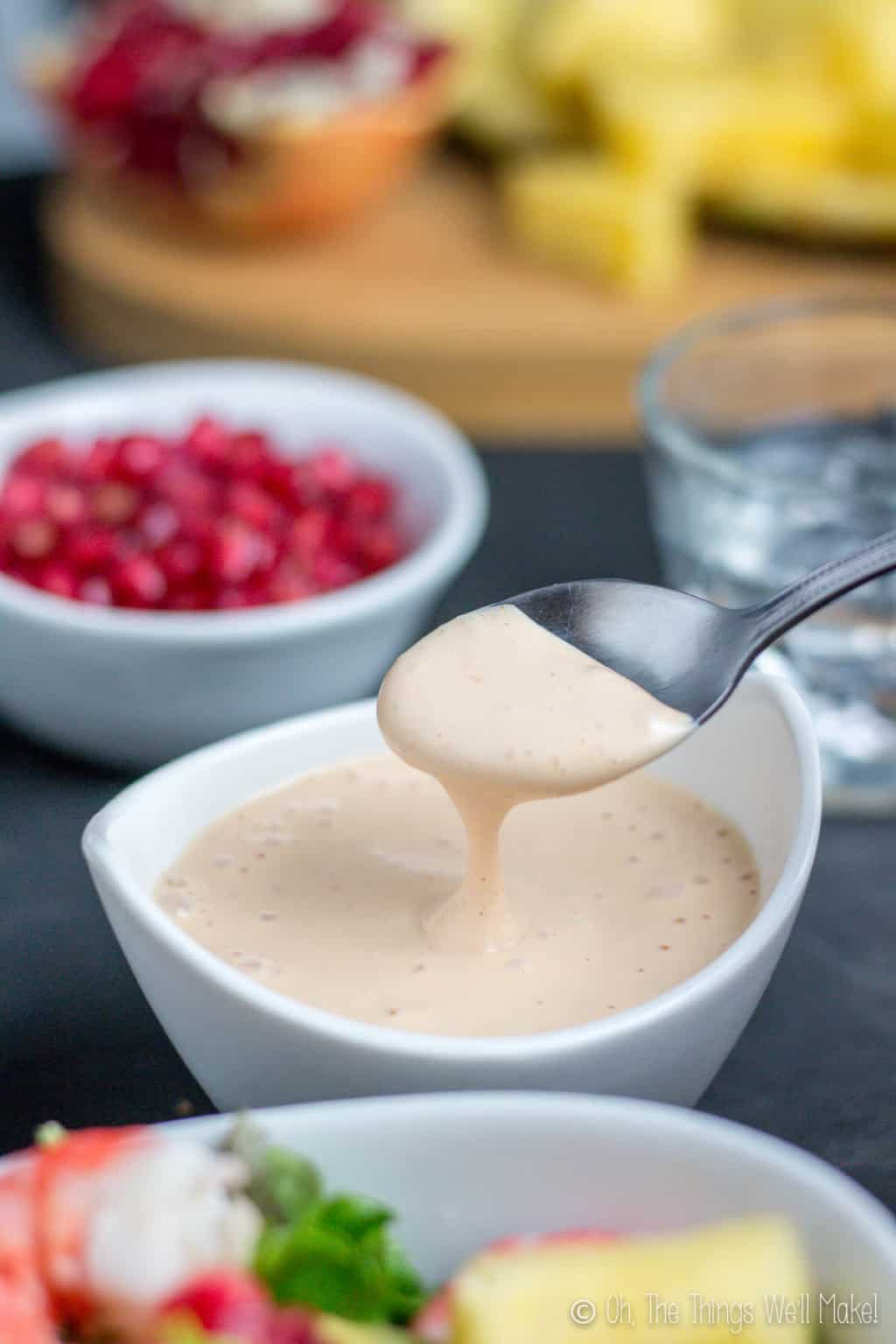 Watch how easy it is to make salsa rosa:
How to Make Salsa Rosa
The quick and easy way to make salsa rosa is to mix mayonnaise and ketchup, possibly adding a bit of orange juice and/or brandy. This is one of those cases, though, that making your own is definitely worth it. It doesn't take very long at all, and the results are so much better! So, let's get to the recipe…
Craving more?
Subscribe to my newsletter for the latest recipes and tutorials!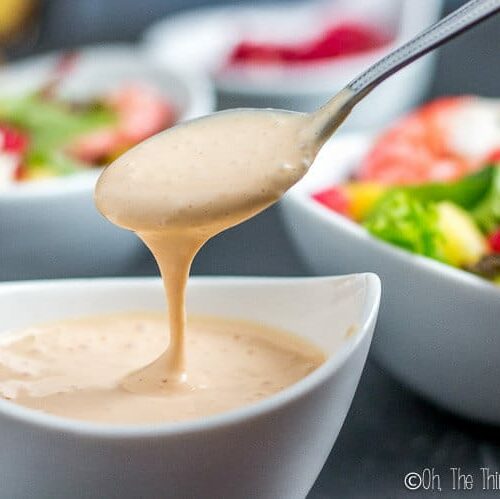 Salsa Rosa (Spanish Cocktail Sauce)
This pink Spanish seafood cocktail sauce, salsa rosa, is creamy, sweet, and tangy. It's also commonly used as a salad dressing for seafood salads or those with fruit in them.
Makes around 1.5 cups of sauce, depending upon the amount of oil, juice, and ketchup added
Print
Rate
Servings:
24
1 Tbsp. servings
Ingredients
1

egg

1/2

orange

Juiced

mild flavored oil

Sunflower oil is usually used here, but an expeller pressed coconut oil would make a lovely salsa rosa.)

1

pinch

salt

1

dash

brandy

Optional

ketchup

To taste (around 1/4 cup)
Instructions
Add the egg, the salt, a dash of the orange juice, and a dash of oil to your handheld blender container of choice.

As you start blending the mixture, slowly stream in more oil.

As you blend it, adding more oil, the emulsion will become thicker and thicker.

When you have reached the consistency of a thick mayonnaise, stop adding in oil. (It will usually be around 1 cup of oil to get to the right consistency)

Now, add in the rest of the orange juice, some ketchup, and the dash of brandy, if you are using it.

Blend it all together and give it a taste. Usually, salsa rosa is a light to medium pink color, but you can make it suit your own taste by adding more or less ketchup to the mix.

The addition of the liquids will thin out the sauce somewhat. For the classic seafood cocktail in which the lettuce is mixed with the sauce, a thinner consistency is preferred. If you want a thicker sauce, don't add in as much liquid at the end. More oil before the addition of the other liquids also helps thicken the sauce.
Notes
Nutritional information is based on using 1 cup of sunflower oil, 1/4 cup of ketchup, and obtaining 1.5 cups of sauce.
Serving:
1
Tbsp.
|
Calories:
87
kcal
|
Fat:
9
g
|
Cholesterol:
6
mg
|
Sodium:
26
mg
|
Potassium:
15
mg
|
Vitamin A:
30
IU
|
Vitamin C:
1.6
mg
|
Calcium:
2
mg
How to use Salsa Rosa
Well, as I mentioned above, salsa rosa is primarily used one of two ways. It is either used as a cocktail sauce for seafood cocktails, or it is used as a basic salad dressing.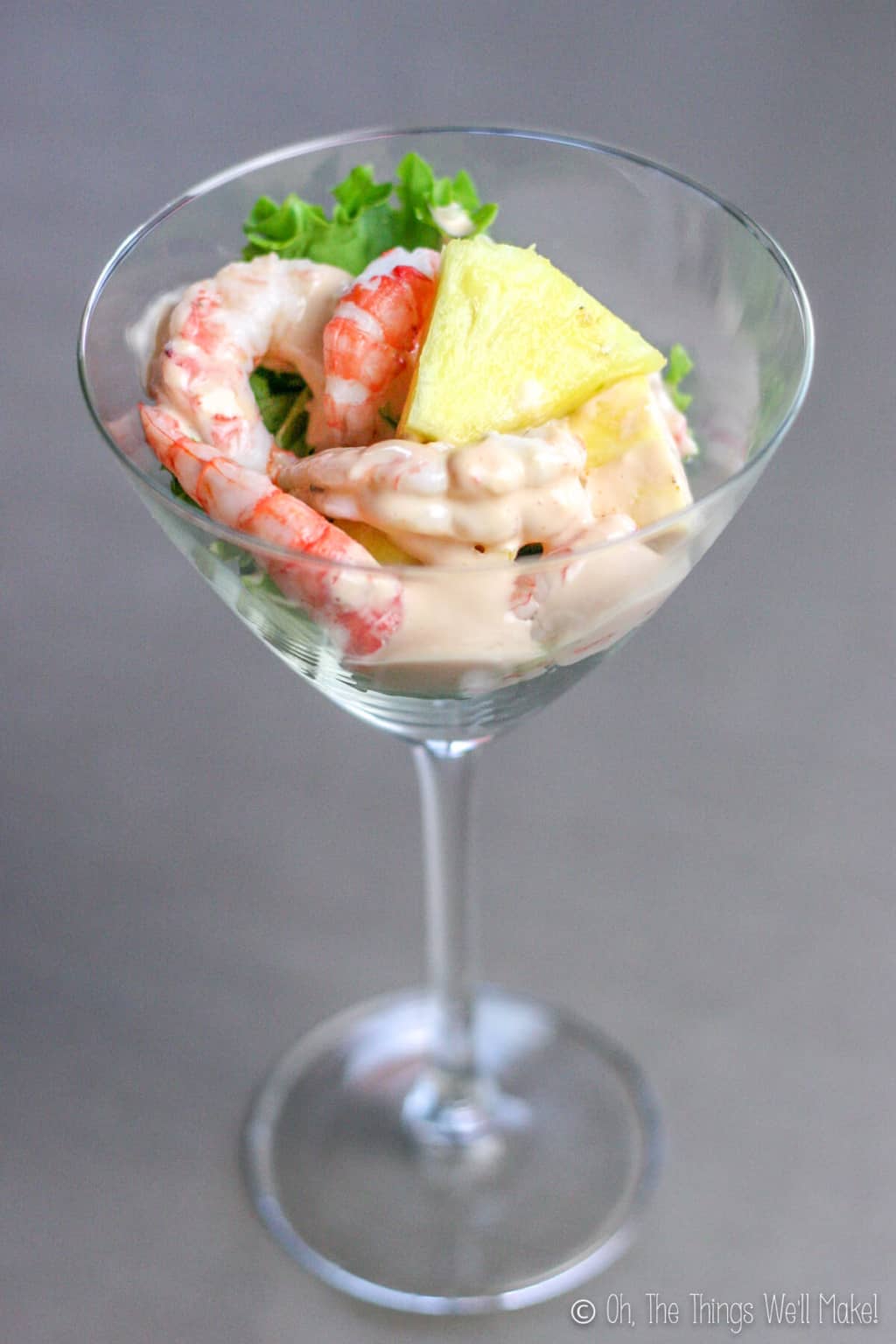 Using Salsa Rosa as a cocktail sauce
To make a Spanish-style seafood cocktail, dice fruits such as pineapple or peaches. You can also add other fruits for color. My husband and I love using pomegranate seeds when they are in season. First, you'll want to prepare your lettuce by shredding it finely. Then you'll want to top the lettuce with the prepared fruit. Finally, you'll want to add some peeled shrimp or diced crabmeat to your seafood cocktail. For the finishing touch, add your homemade salsa rosa. The salsa rosa can either be drizzled on top or mixed in with the lettuce.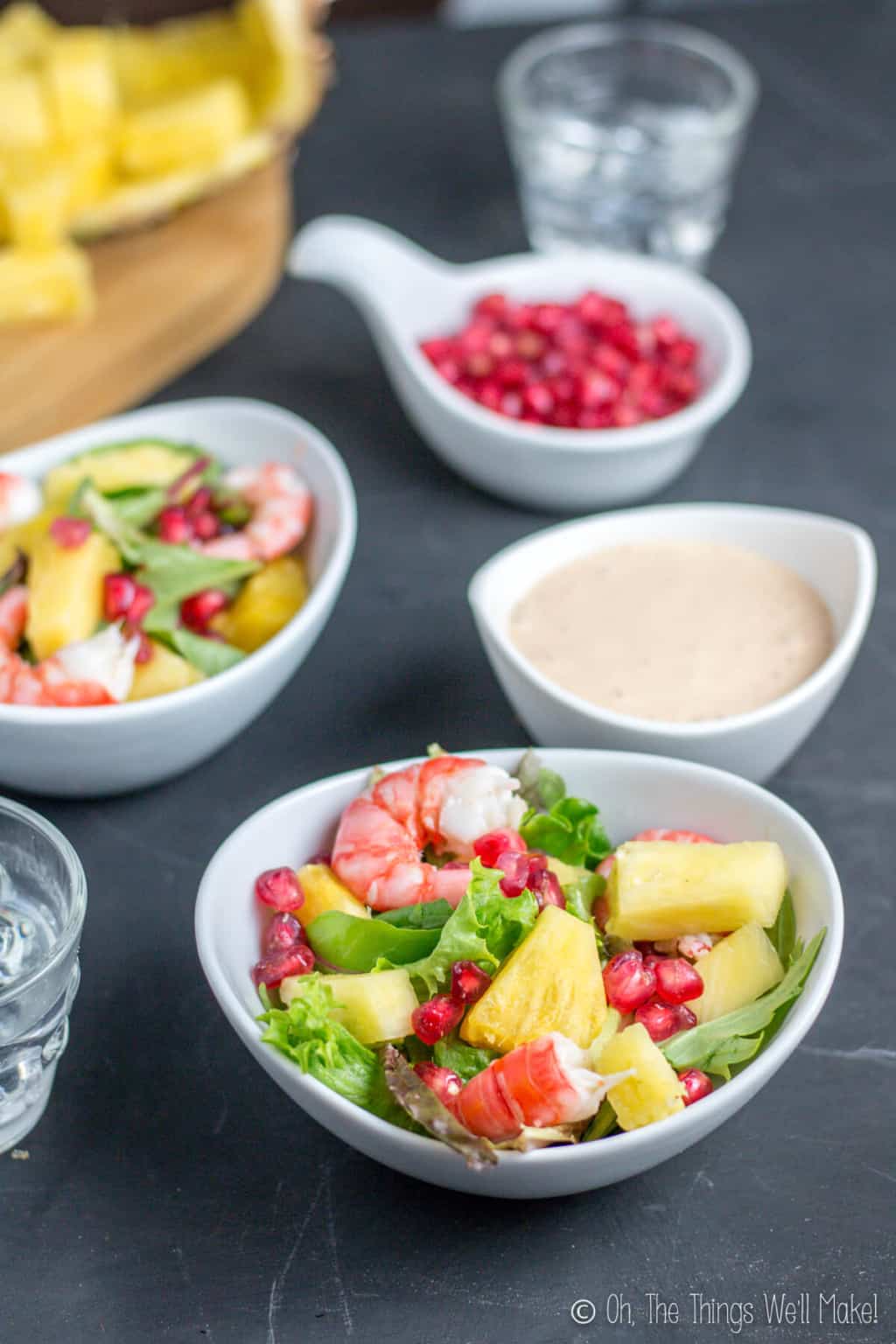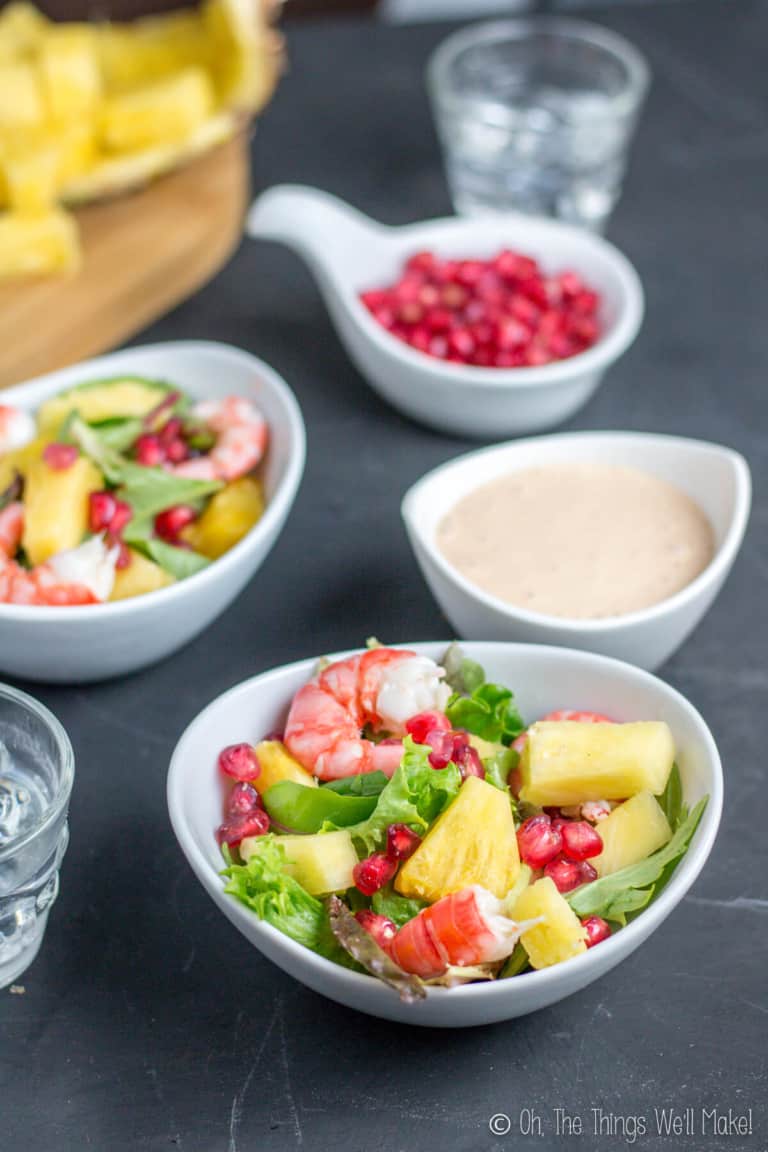 Using Salsa Rosa as a salad dressing
Salsa rosa can be used as any other salad dressing by drizzling as little or as much of the sauce over your prepared salad. Here the salsa rosa is most commonly used on salads that have tuna fish in them. A common simple salad uses lettuce leaves, tomato slices, and canned tuna. Other additions that commonly appear are grated carrots, grated pickled beetroot, hard boiled egg, and cucumber slices. You can also add some peeled shrimp to the salad to make it more of a complete seafood salad.
In the summer, either of these options makes a great appetizer or light meal. We make it quite often, and happen to love it. With my husband being a shrimp fisherman, though, it only makes sense that we are constantly looking for new ways to enjoy fresh shrimp. 😉
I hope you enjoy it as much as I do!
Craving more?
Subscribe to my newsletter for the latest recipes and tutorials!