Fancy enough for your holiday dinner, yet simple enough for your neighborhood potluck, this Spanish creamy seafood salad is sure to please your guests all year round.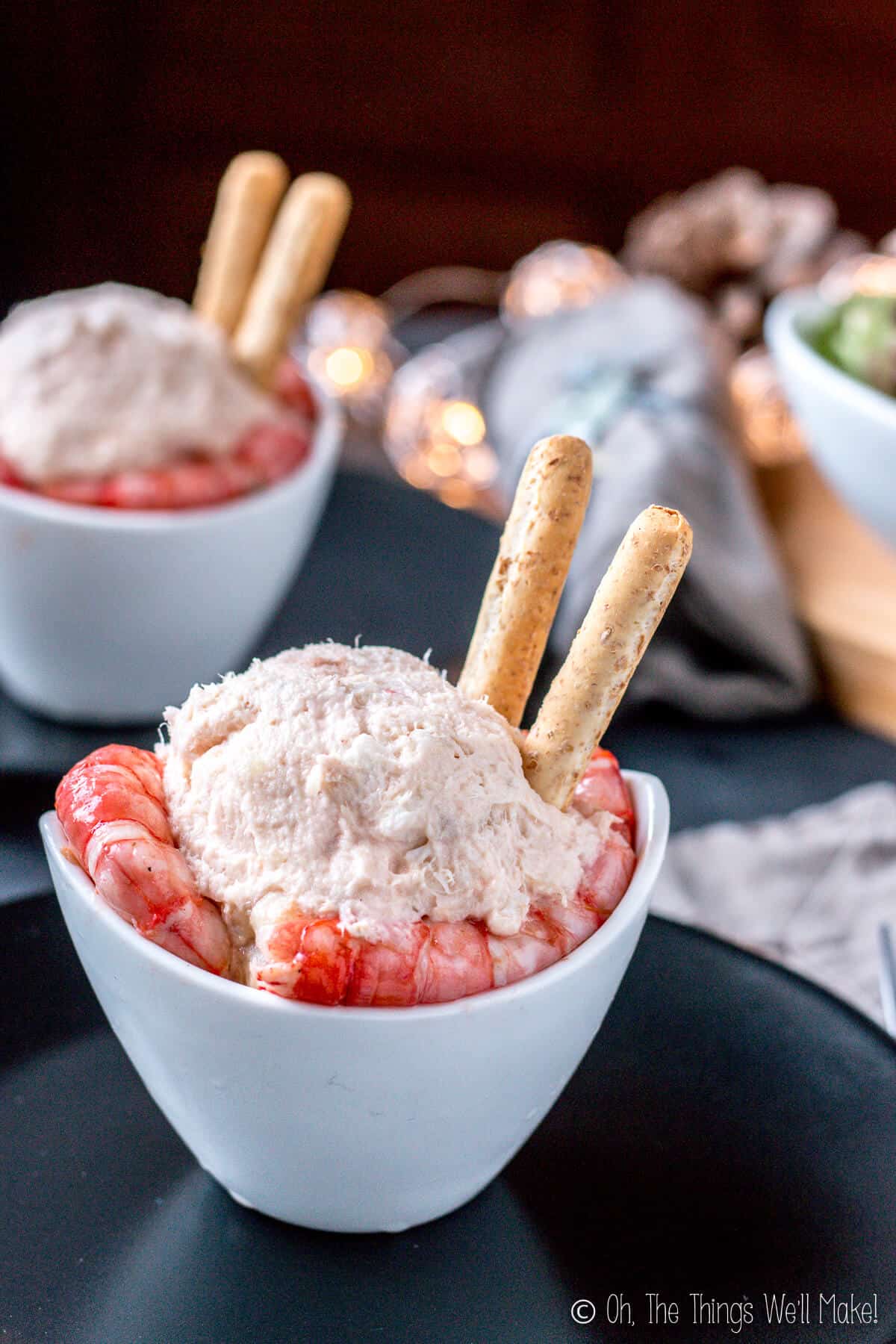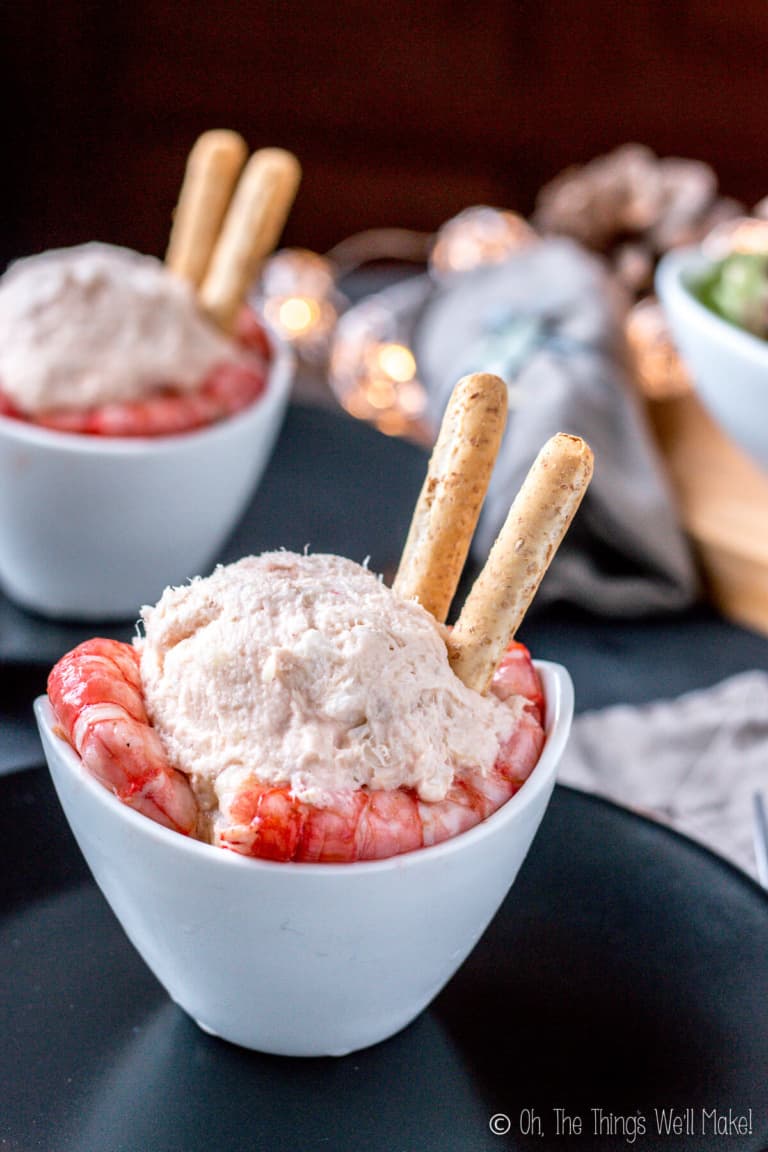 This time of year, seafood is one of the most popular Spanish Christmas foods. As soon as December rolls around, people are always calling my husband to find out the current price of the red Denia shrimp, one of the most sought out delicasies for people's Christmas dinners. On a good year, the largest sized red Denia shrimp can go for over 200 euros a kilogram on the last few days before Christmas!
Perhaps I'm a bit too spoiled, but I can almost say that I get bored with the red Denia shrimp since my husband takes home the broken shrimp that can't be sold once a week. Some of the shrimp is almost completely intact and would still be perfect for a mariscada, a plate filled with beautifully presented boiled and chilled seafood, at even the pickiest person's Chrsitmas feast. Others, though, are quite unpresentable and perfect for making prawn crackers or this creamy seafood salad.
Potato salads and other similar creamy salads made with mayonnaise are quite popular in Spain. It isn't uncommon to find a small ration of "ensaladilla rusa," the most common potato salad served here, served as a tapa to accompany your beer or glass of wine. It it usually presented with small breadsticks as I showed in the picture.
Seafood salads are probably less common in other parts of Spain, but here on the coast you can find a decent seafood salad at many a small bar. In fact, the recipe that my mother-in-law makes for Christmas each year has been adapted from the "ensaladilla de marisco" served at a neighbor's bar.
I have to admit that I hate most potato salads because I'm not a huge fan of mayonnaise or cold potatoes, and I despise hard boiled eggs, which are found in most potato salads here. I guess there isn't really much about them that I do like. 😉
On the other hand, this creamy seafood salad is a lot different. It is made with a "salsa rosa," which is a pink Spanish cocktail sauce that is basically a mix of a homemade mayonnaise with ketchup and a few other additions. It can be made with or without the potatoes. Most of the seafood salads at restaurants use a lot of potatoes as an inexpensive filler, but you can make a tastier, higher quality seafood salad at home by either skipping them or not using many.
The types of fish and seafood that you use in this salad will be greatly determined by your local choices, but I suggest using a whitefish as the main base (although some people choose to use tuna fish), and then adding up to an equal amount of other seafood of your choice. Shrimp, lobster, and crab meat are all great choices.
Some people also choose to add in some greens, either lettuce or small pieces of celery. I prefer mine without, but you can definitely customize this recipe however you like. You can even add in hard boiled egg, if you must, but just don't invite me over for dinner then. 😉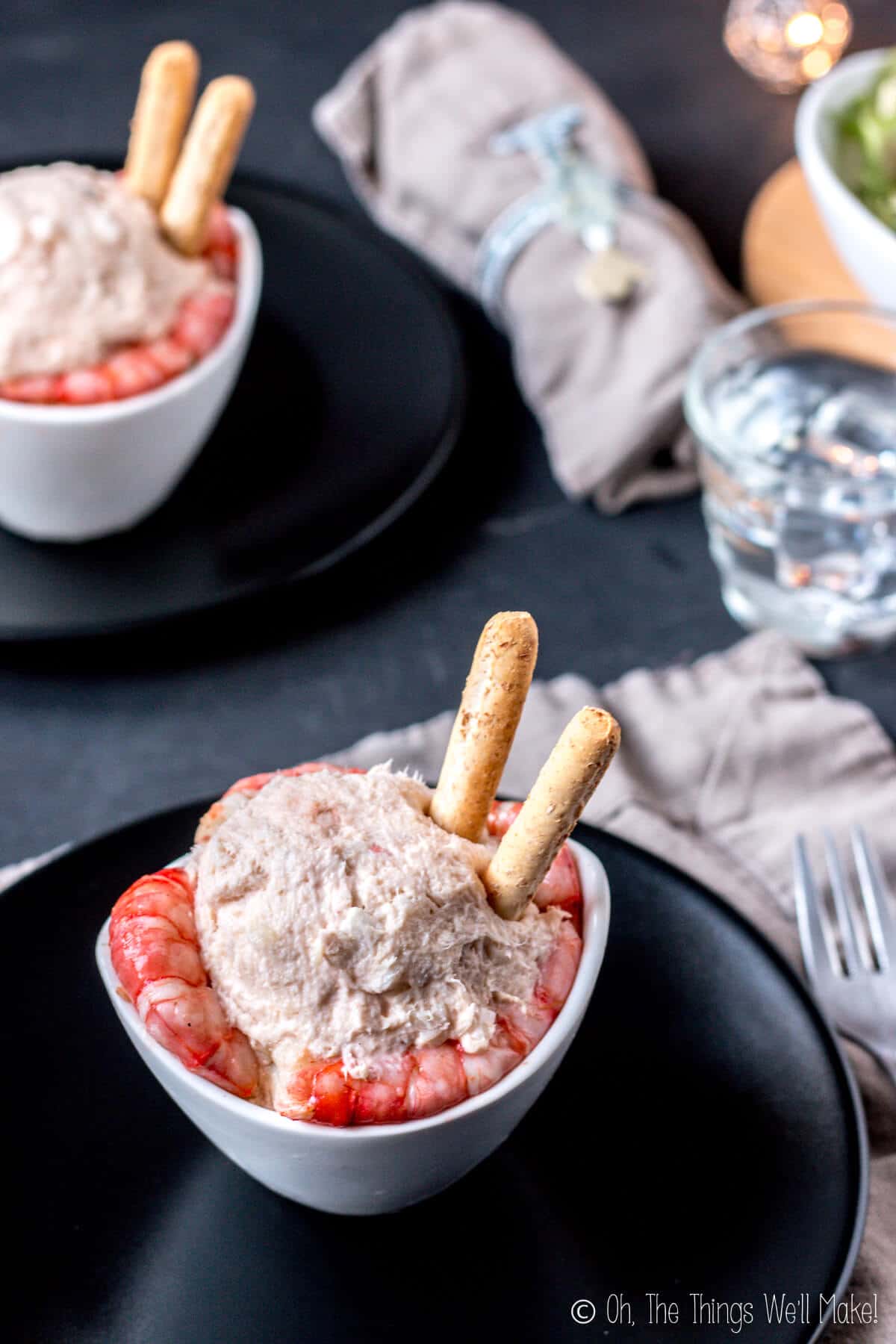 Craving more?
Subscribe to my newsletter for the latest recipes and tutorials!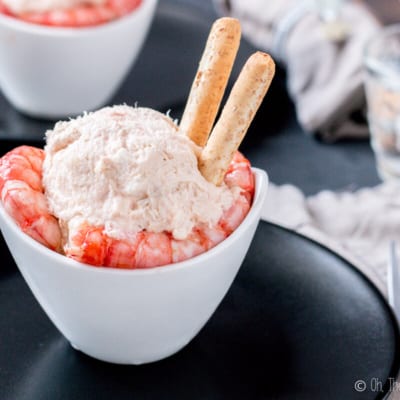 Spanish Creamy Seafood Salad: Ensaladilla de Marisco
Fancy enough for your holiday dinner, yet simple enough for your neighborhood potluck, this Spanish creamy seafood salad is sure to please your guests all year round.
Print
Rate
Ingredients
1

lb.

whitefish

hake, cod, etc.

1/2

lb.

seafood

shrimp, lobster, crab meat

1

small

potato

optional

1

cups

salsa rosa

(Click on the link for the recipe)

salt

to taste
Instructions
Prepare a pot of boiling water as you peel the potato and cut it into small cubes.

Boil the potatoes for around 10-15 minutes, until tender but not falling apart. Drain the potato pieces and set them aside in a medium sized bowl. Salt them generously.

Boil or pan fry your fish and seafood, and remove any skin or shells.

Break the fish and seafood into tiny pieces with your fingers, and add to the boiled potatoes. Allow the potatoes and seafood to cool.

Add in your salsa rosa (or mayonnaise, if you prefer), and mix it in a little at a time. You want to add enough sauce to fully coat the seafood and potatoes, but you don't want them swimming in the sauce.

Refidgerate the mixture for several hours, long enough to allow the flavors to combine well, and then taste the salad for salt. Add in more salt and/or ketchup as needed.