Enjoy the convenience of baby wipes, but in a less-toxic, more sustainable way when you make your own cloth baby wipes from recycled materials and a homemade baby wipe solution.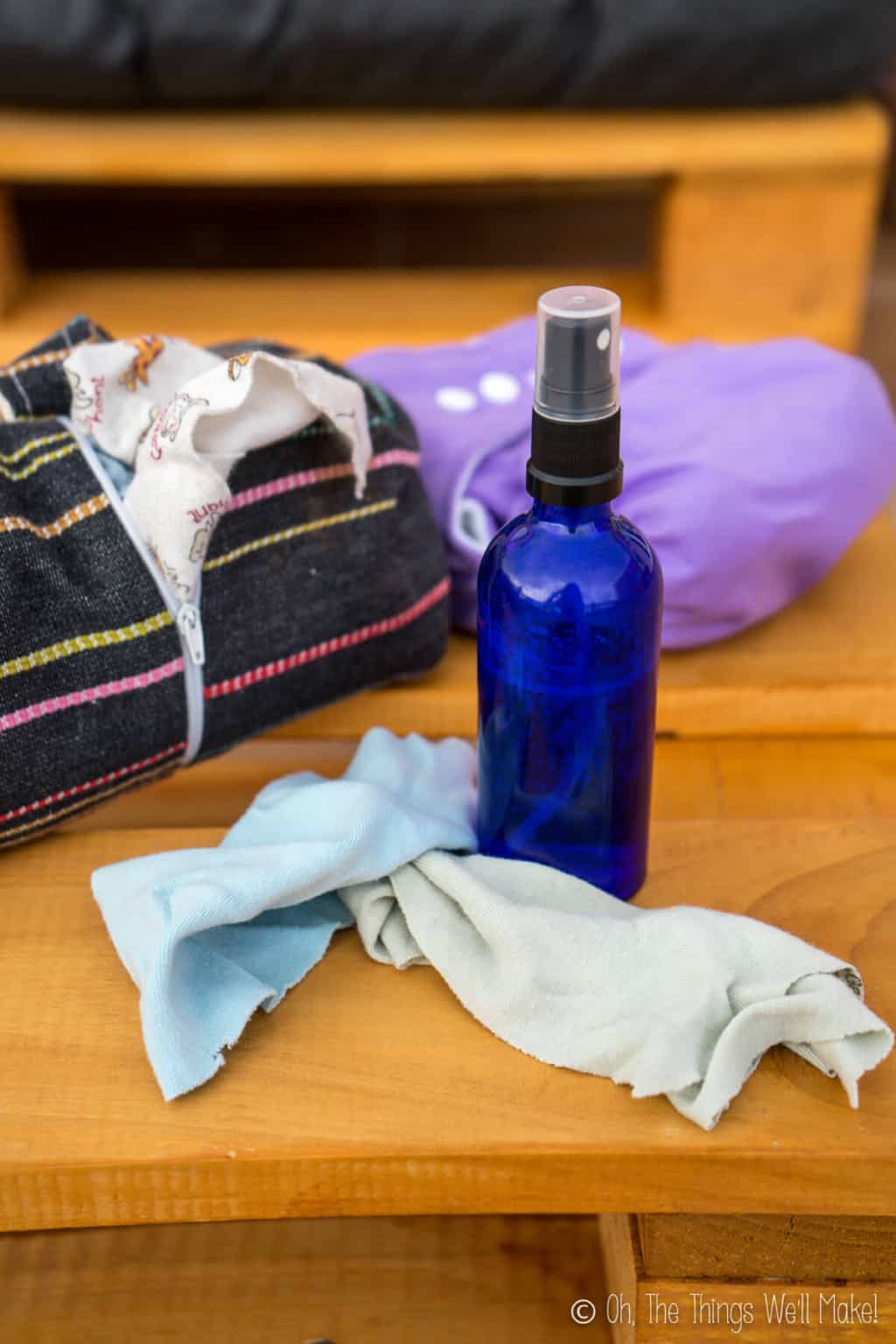 When it comes to changing diapers, baby wipes are the key to keeping your baby clean in a convenient way. When you're out and about, you can't just give your baby a bath every time you change his or her diaper, right?
But are store-bought baby wipes the best solution?
Why make your own baby wipes?
Avoiding certain ingredients
Commercial baby wipes tend to be laden with ingredients that many of us choose to avoid. These include Polyethylene glycols (PEGs), parabens, and what I probably find worst of all, "parfum" or synthetic fragrances (whose ingredients are a great unknown).
Personally, I have a hard time stomaching the scents added to baby wipes. The artificial fragrances make me nauseous.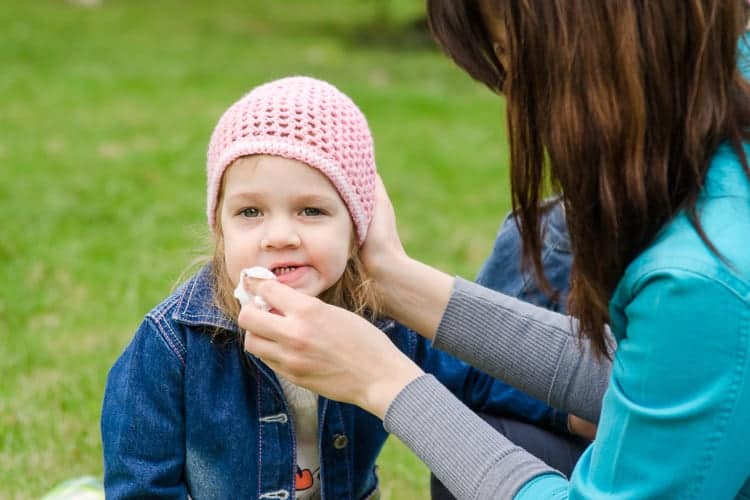 Surprisingly, most people around here tend to buy the cheapest local supermarket brand of baby wipes. I cringe every time I see somebody wipe a child's face with them. To me, they just smell of chemicals. Even when given to me, I refuse to use those wipes. (Yes, I definitely look that gift horse in the mouth!)
My son's sensitive skin made me look into other ways of cleaning him during diaper changes. Especially when he was teething, he would break out into a painful rash where even the slightest touch would make him bawl. Wipes with strong chemicals in them were definitely not an option. I needed something much, much milder.
Sustainability
If the questionable ingredients aren't enough, most baby wipes are made from a non-woven fabric that is used only once and then disposed of.
While you can pay a bit more to buy somewhat more sustainable options like bamboo wipes or those made of organic cotton, many are made of polyester blends that are just adding to the accumulation of plastics in our landfills.
How to make recycled fabric baby wipes
Cloth wipes can really come in handy. They are reusable, soft, strong, and can be used without harsh or harmful chemicals. They are definitely much more sustainable than store-bought baby wipes.
What's even better is that you can cheaply (for free, really!) make your own cloth wipes using recycled materials.
Recycling old t-shirts
I sort of stumbled upon making my own cloth wipes by accident.
When I first started this blog, I was making a lot of crafts. I showed you how to make several fun t-shirts for your kids. I showed you how to make a…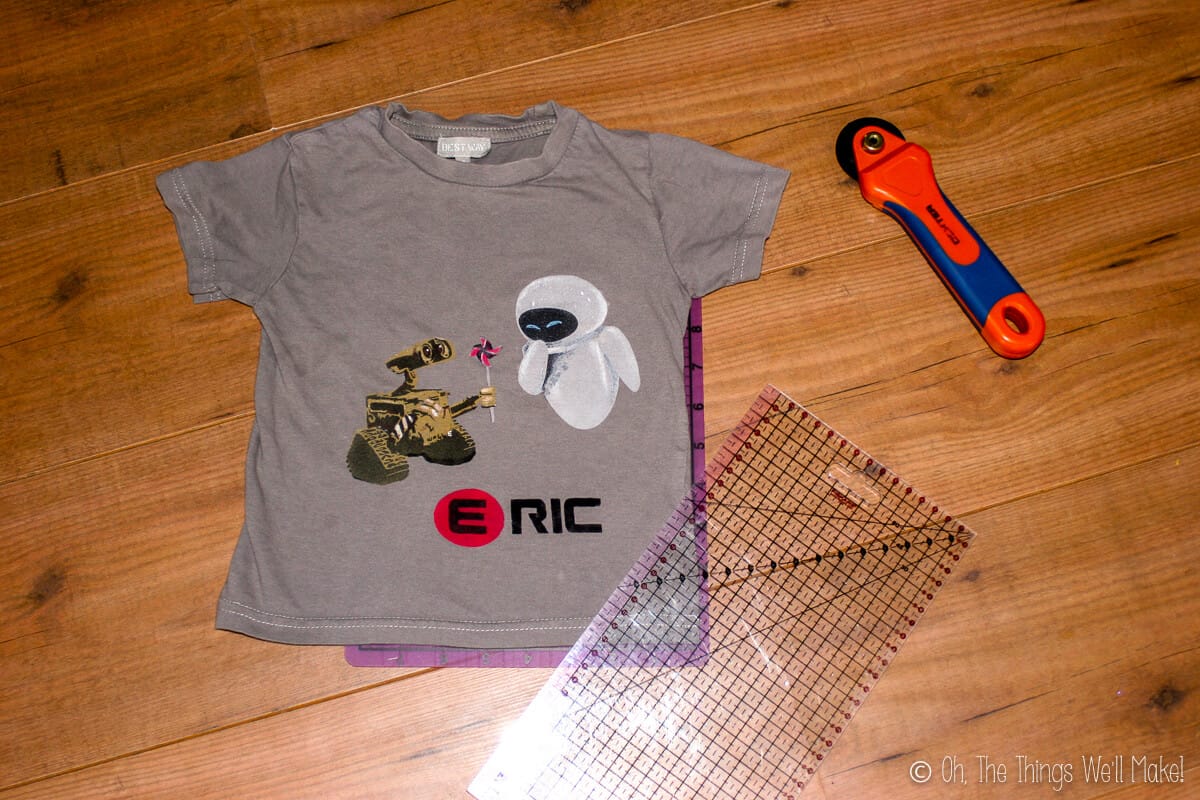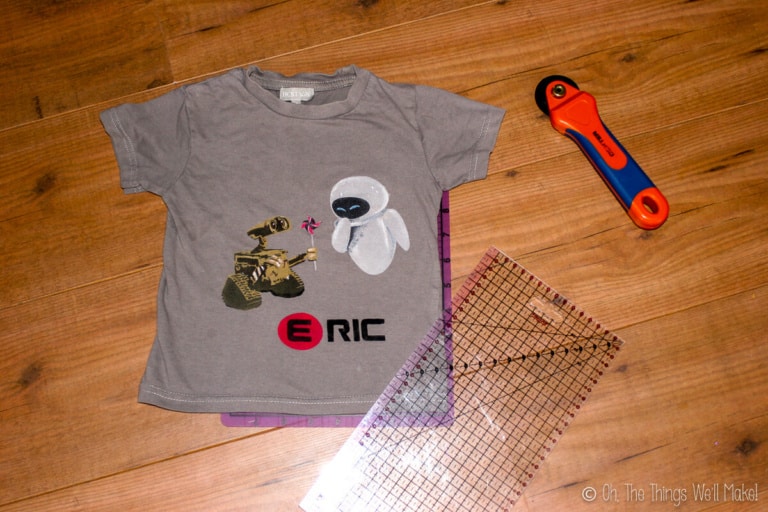 I loved making fun shirts for my son, and then got sentimental when he outgrew them. While I did give a lot of baby clothes away, I also kept some as a memento. I didn't want to store them away in a drawer, though. So, I made baby-clothes quilts out of them (which my son happens to love).
Cutting out the wipes
If you are also making a quilt, you'll see how easy this project will be for you. (If not, no worries. You can still easily make your own wipes.)
When cutting the squares for my quilt, I ended up cutting both my quilt squares and my baby wipes at once. By spreading out the t-shirt and cutting through both layers with a rotary cutter, you actually end up with two squares: one from the front and one from the back. I used the front squares for my quilt. The back squares instantly became my new homemade cloth wipes.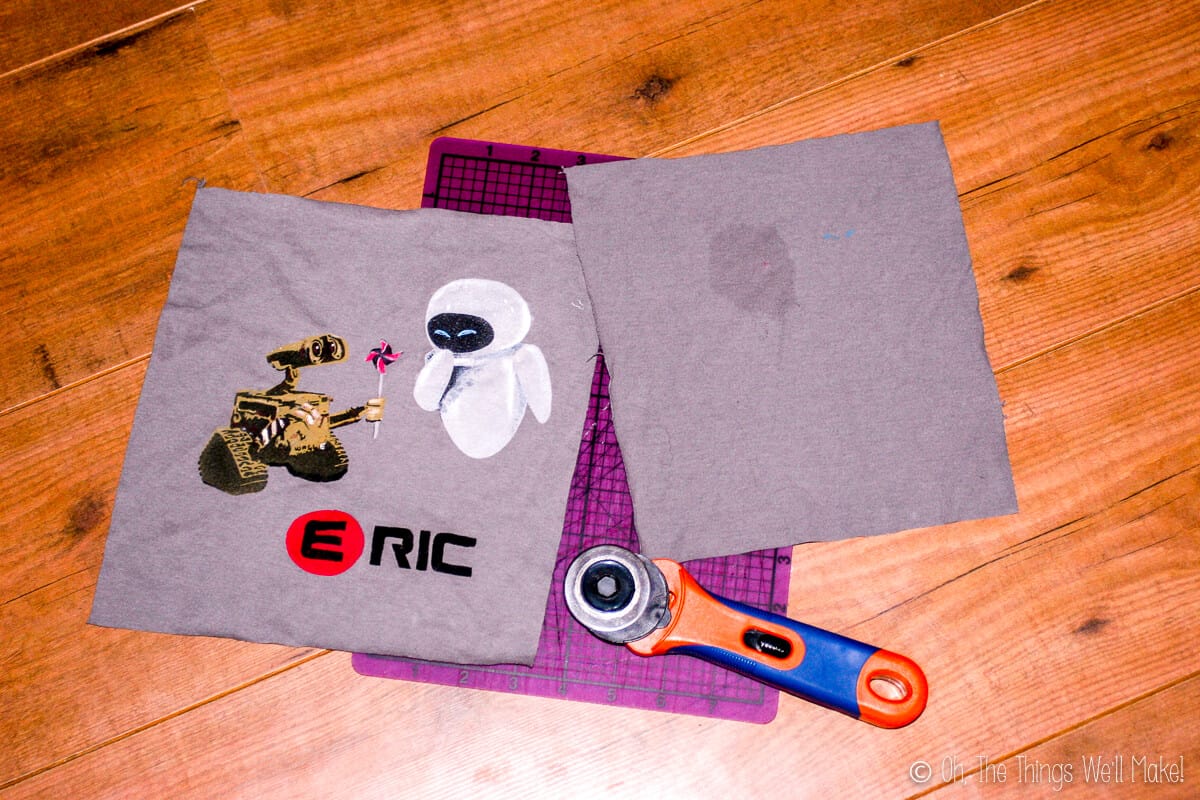 Those following a minimal waste lifestyle will be happy to know that I tried to use every piece of fabric to its fullest potential.
I saved the sleeves to make super quick and easy, drawstring pouches.
Any leftover scraps of fabric were saved in bags to bring to H&M for recycling. They will give you a coupon to use in exchange for recycling old fabric scraps rather than throwing them away!
Other ways to cut cloth wipes
Don't think that you need to make a quilt to make your own wipes, though. In fact, you don't even need a rotary cutter. Instead, you can use any jersey fabric for this project. I've used old t-shirts and have also used jersey fabric bed sheets.
While a rotary cutter will help give your perfectly squared off wipes, you can also just use a pair of scissors to cut the fabric into small squares and rectangles. By now, I have a big collection of cloth wipes in a wide variety of shapes and sizes, but cutting squares to around 15cmx15cm is a good size to aim for.
Why use jersey fabric?
While you could use another fabric, jersey fabric is perfect for making baby wipes because the cloth is thin and lightweight. It also has a wonderful quality that simplifies things for us: jersey fabric doesn't fray when you cut it!
Because the edges won't come undone when cut, jersey fabric doesn't need to be hemmed. That makes this a no-sew project!
I've run across tutorials online showing how to make sewn, double-layer wipes, but I think they would be more cumbersome to use. I prefer having something thin and lightweight that just also happens to be quick and easy!
Watch how to make the wipes, wipe solution, and how to use them
How to use your homemade cloth baby wipes?
Now that you've finished making some homemade cloth wipes, let's take a look at several ways to use them.
Storing them wet
Some people prefer to keep their wipes wet in a plastic container (such as an old wipes box or a plastic bag to make them even more portable). Keeping them wet is a great way to have them conveniently ready to use at any time.
While I liked the idea of that sort of convenience, I didn't do that when my son was a baby because my original wipes solution was a mix of water, soap, and oils, and I wasn't sure how long they would keep like that without going bad. I didn't want to risk using wipes that were compromised with any harmful bacteria or mold.
I now think that it is perfectly safe to store pre-wetted baby wipes using my newer, surfactant-based baby wipe solution recipe.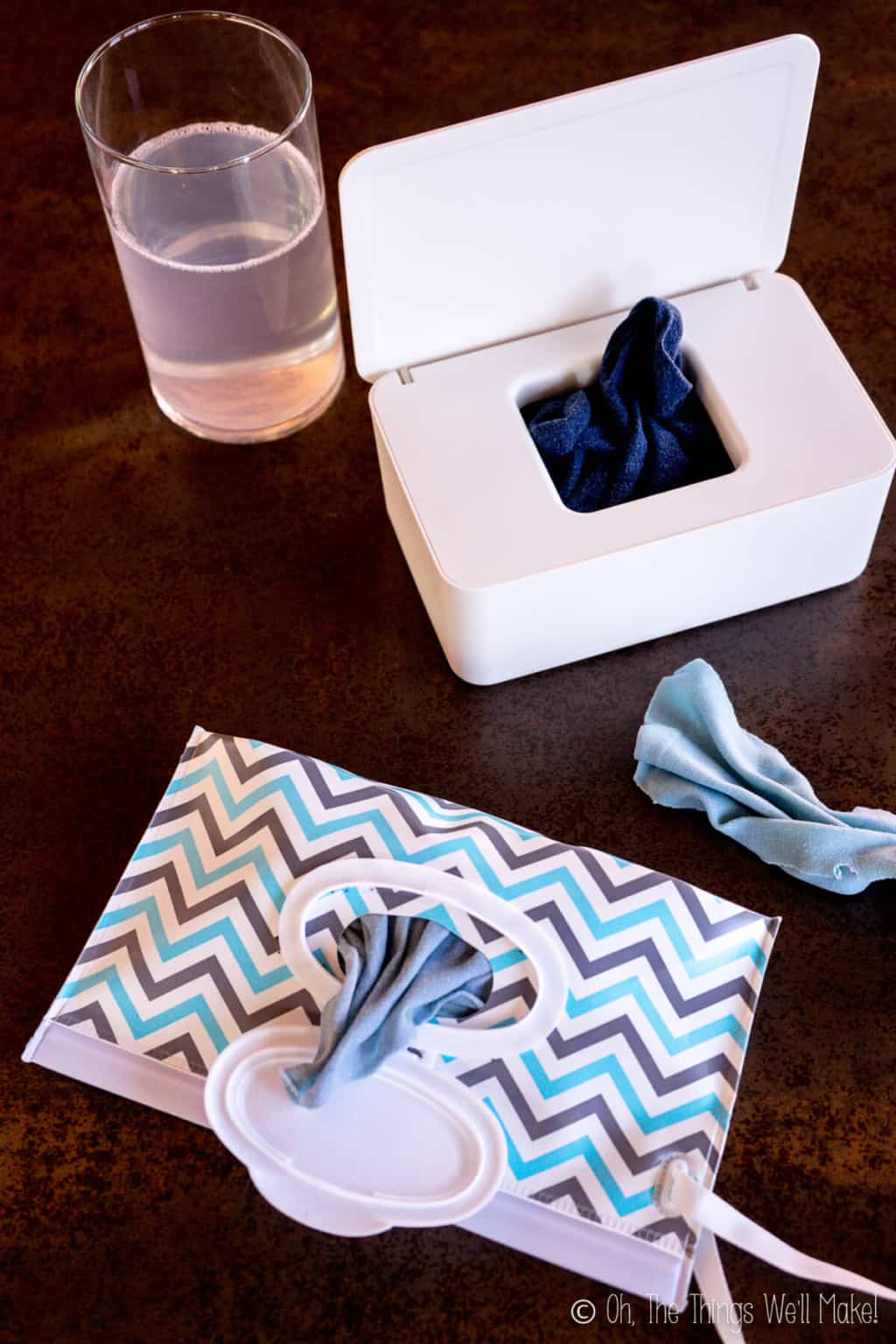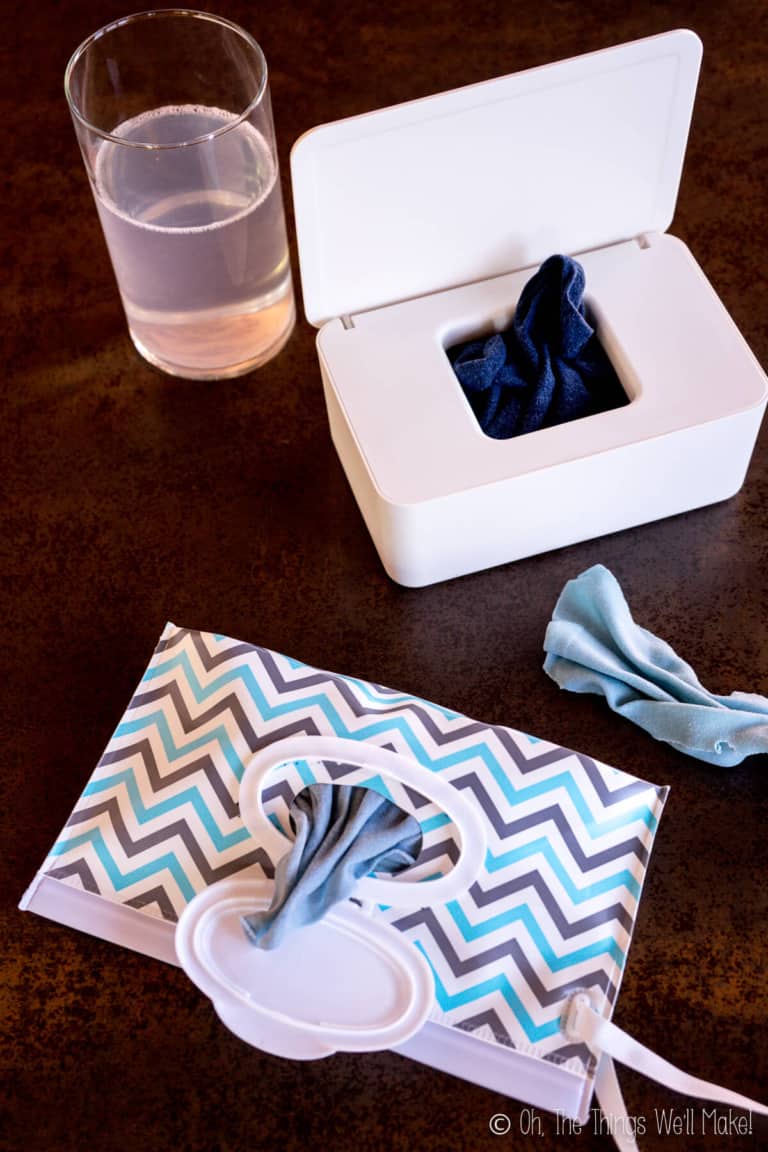 Cute wipes dispensers
Nowadays, it's easy to find cute and convenient dispensers for your wipes, whether they're cloth wipes or store-bought wipes.
I love something like this wipes container for storing cloth wipes. It's handy to use at your changing table for babies, or next to the toilet for older kids who are potty training. (I have actually since bought one and now use it for my son next to the toilet.)
For something more portable, I found these reusable wipes dispenser pouches. I wish I had seen them when my son was a baby as I got sick of using Ziplock bags for carrying wipes around. These are so much cuter and simpler to use!
Despite the fact that my son is grown up, I actually bought a pack of them to keep some homemade pre-wetted wipes with me for emergencies. I leave one with a few prewetted wipes in the car. They're handy to have to clean my hands after bringing the trash and recyclables to the garbage bins.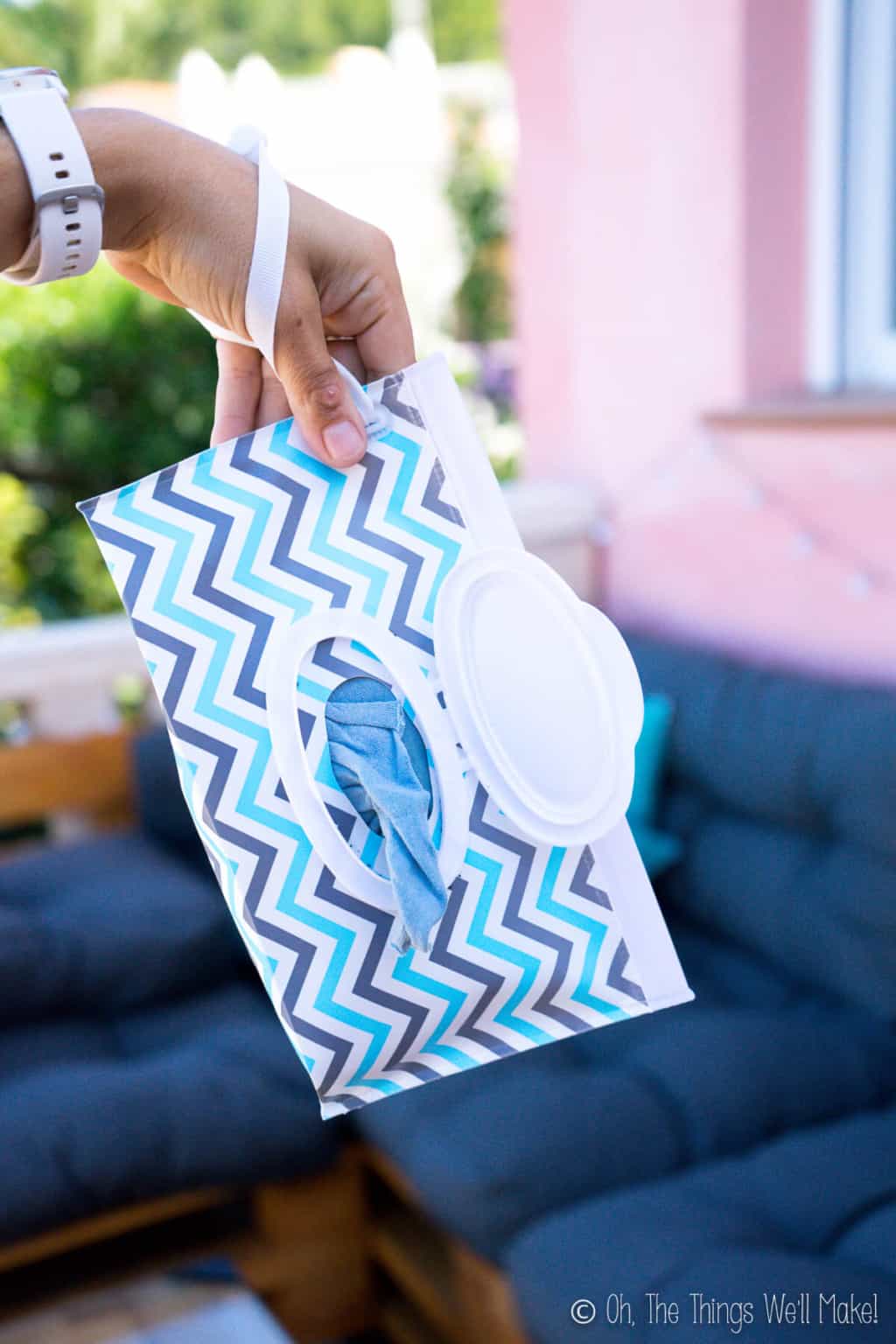 Storing them dry
When my son was a baby, though, I stored the wipes dry. I made myself a cloth wipes solution and kept it in a spray bottle next to my homemade cloth wipes.
When it was time to use the wipes, I found the most gentle method was to just spray the wipes solution directly on my son's skin and to gently wipe the solution off with one of the cloth wipes.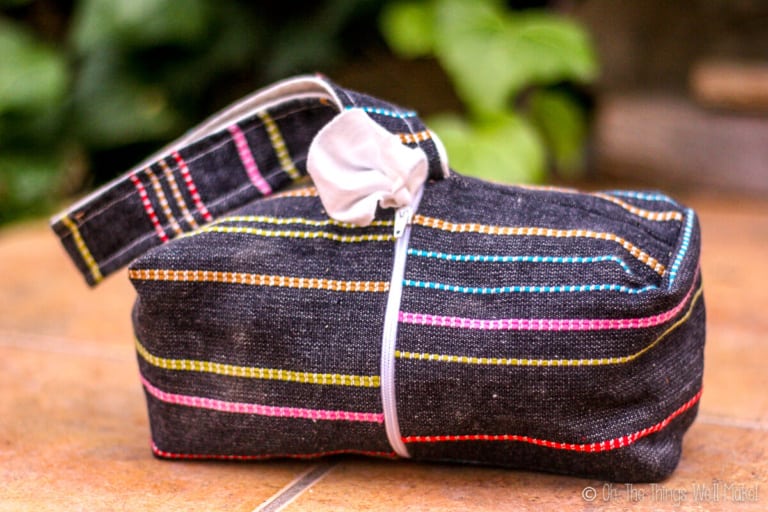 I even sewed myself a super cute cloth wipes dispenser. You can find my tutorial for how to sew it on the Mama Natural blog.
Reusing these baby wipes
To reuse the wipes, just pop them in the washer and dryer. Once dry, they are ready for another use. Despite numerous washings, my wipes have held up perfectly over the years!
Fold cloth wipes so they pop-up from a dispenser!
No matter how you choose to store your wipes, I have a handy trick for you. You can fold your homemade cloth baby wipes in a way that they will pop up just like the commercial, store-bought wipes do! It is easy to do and saves time (and frees up an extra hand).
To easily dispense them, keep your wipes in either an old wipes container or any other sort of container with a hole or slit on top. (I linked to a few options in the section about cute wipes dispensers.) You can store them either wet or dry and still use this method.
While the folding may look complicated, it's actually very easy. Once you get the hang of it, you can fold a full stack of wipes in just a minute or two.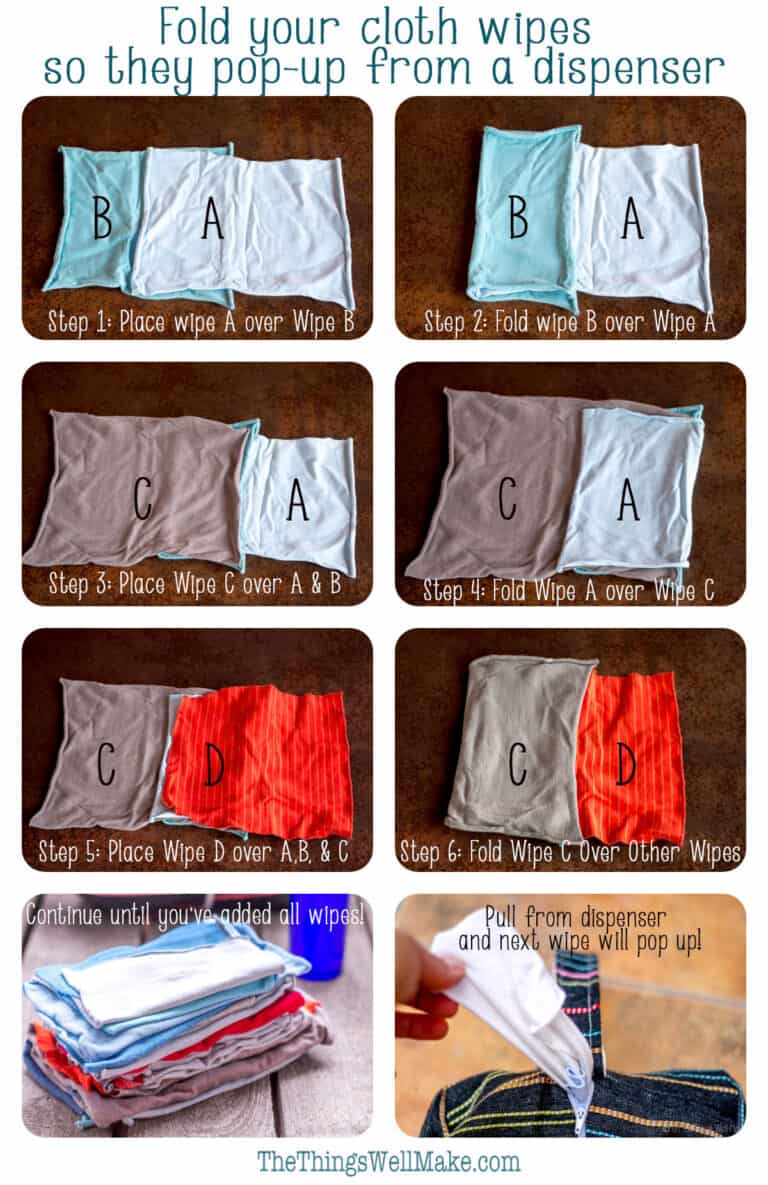 Cloth Wipes Solutions
When I first published this post several years ago, I shared a recipe for a soap-based baby wipe solution. While you can still choose to use something like that, I think making a mild surfactant-based wipes solution is a safer option.
Note
I know that soap is a surfactant, but for simplification purposes, I'll refer to my solutions as the soap-based one and the surfactant-based (aka. non-soap) one.
Surfactant-Based Cloth Wipe Solution Recipe
By using a mild, natural surfactant, you can clean your baby's delicate skin without throwing off the pH. Plus, you are able to use a mild, natural preservative to keep it safe from microbial growth.
Rather than use fragrances or essential oils, these wipes use rose water to give them a subtle rose fragrance. For unscented wipes, just substitute the rose water for more distilled water.
This recipe is similar to what you would find in a commercial wipe solution, minus all of the questionable ingredients!
Looking to make more?
Subscribe to my newsletter for the latest projects (and recipes)!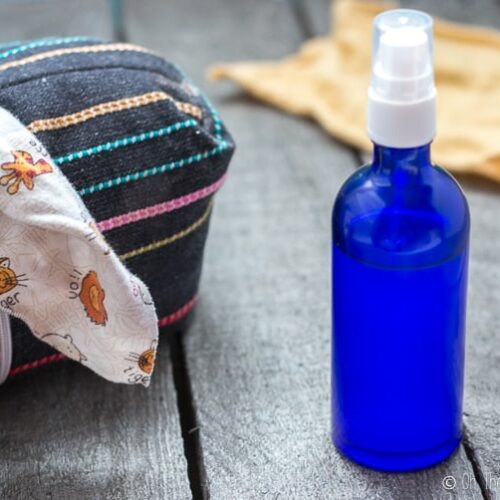 Homemade Cloth Wipe Solution (Surfactant-based)
This gentle cloth wipe solution uses natural surfactants and preservatives, and it is more pH balanced for a baby's sensitive skin.
Print
Rate
Instructions
Weight out and combine together the water, rose water, and glycerin.

While whisking, slowly add the the Decyl Glucoside, and whisk until it is fully incorporated into the other ingredients. Blending too vigorously will make a lot of foam.

Add the preservative of choice, and whisk into the other ingredients.

When any developed foam has settled, pour your homemade baby wipe solution into the dispensing bottle of your choice. Spray bottles are the most convenient option for using with dry wipes.

You can also store cloth wipes that have been pre-moistened with this solution in plastic bags, aluminum tins, or an old, clean, baby wipe dispenser.
Notes
I used rose water to add a mild fragrance without the need to add any essential oils. For unscented wipes, you can exchange the rose water for more distilled water.
For older babies, you could consider scenting the wipes with an essential oil like lavender.
Glycerin is an optional humectant to help keep the skin hydrated. You could exchange it for more distilled water, or can exchange it for a glycerin based extract like cucumber extract or chamomile extract.
This wipes solution should keep safely for at least 2-3 months. When using this with babies, err on the side of caution and make smaller batches to be safe.
Euxyl® K 903 is a very mild natural preservative that is perfect for use in baby products. For more options, check out my guide to natural preservatives.
If you're interested in learning more about natural surfactants and natural preservatives, check out my guides.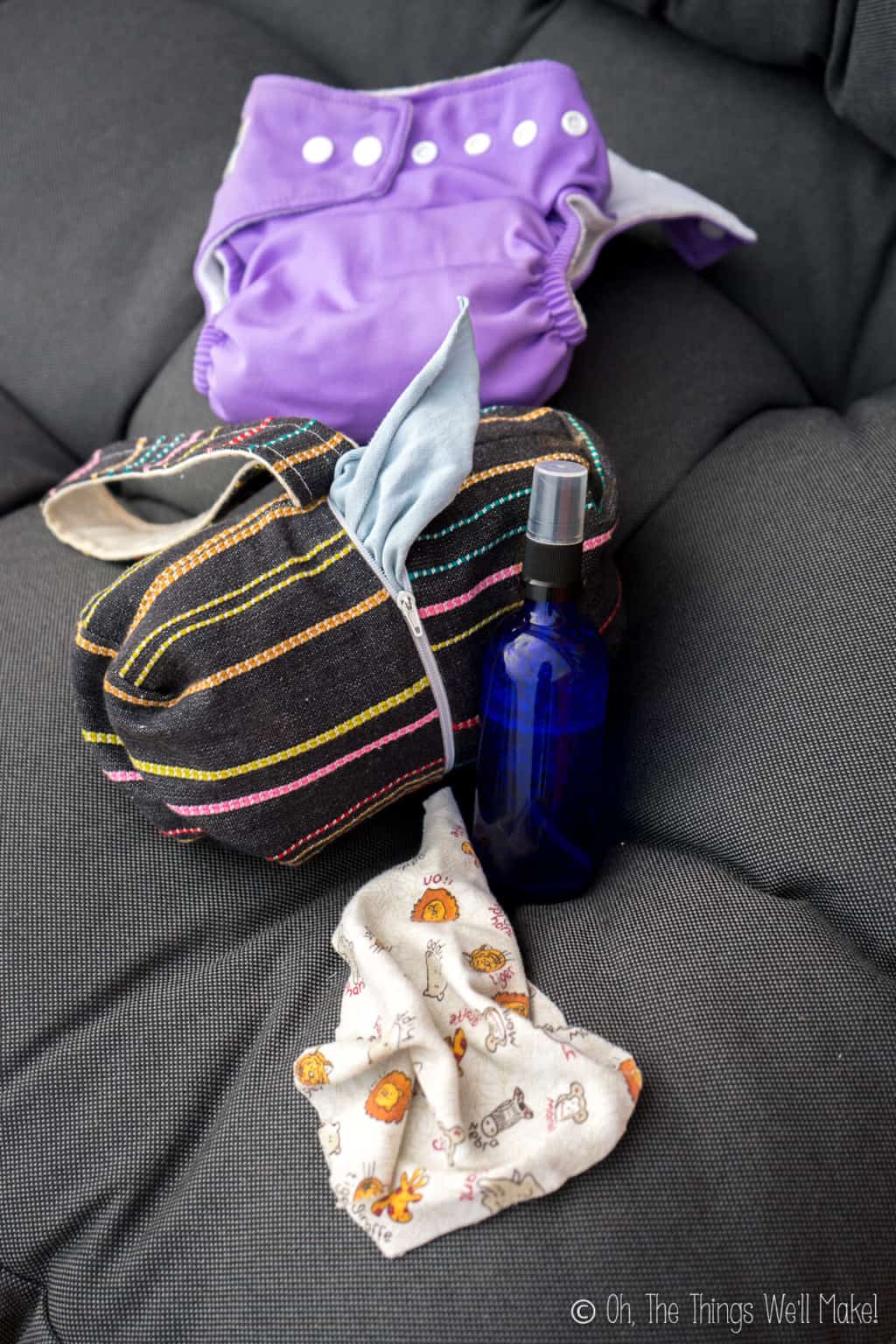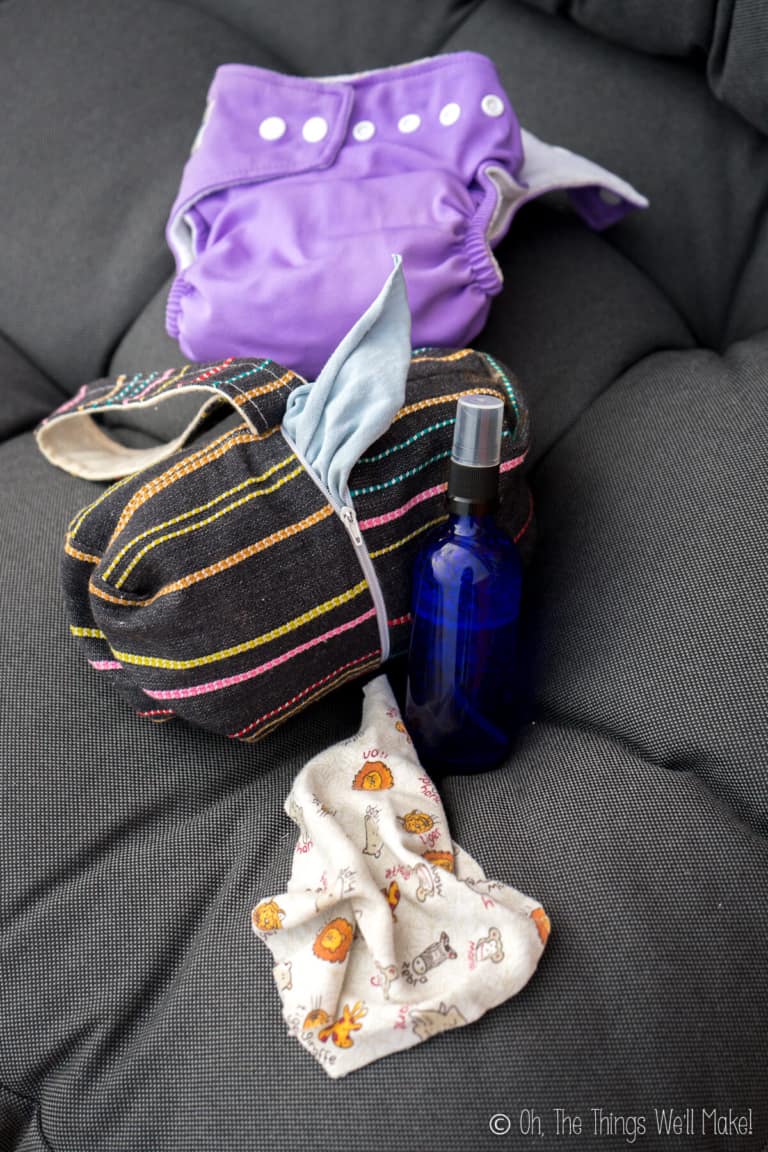 Soap-Based Baby Wipe Solution Recipe
When I first posted my soap-based wipes solution recipe, I have to admit that I had my doubts about if it would need a preservative or not.
I later learned that the reason that most liquid soap-based products don't need a preservative is that soap naturally has a pH of 9 or above. A pH in that range is less hospitable to microbial growth. (Most natural preservatives don't work well in a soap's pH range anyway.)
Not knowing better, I added some tea tree essential oil to my recipe, hoping it would inhibit bacterial growth.
While you can choose to add a couple of drops of an essential oil to add a fragrance to the wipes, they are unnecessary in this recipe. (They don't really work as preservatives anyway.)
I recommend you avoid using essential oils in wipes meant for infants. If you do choose to use them, lavender is generally the safest essential oil for use with babies. You could also opt for tea tree oil for babies over the age of 6 months. Make sure to use either sparingly, though, so they are well-diluted.
Because you highly dilute the soap when making a wipes solution, it's a good idea to make small batches. While soap is generally self-preserving, there are some bacteria and other microbes that can grow at its high pH.
With a baby, you don't want to take any unnecessary risks. That's why you should mix everything in a clean environment, and it's (always) a good idea to sanitize your bottle with alcohol before pouring your solution into it.
Looking to make more?
Subscribe to my newsletter for the latest projects (and recipes)!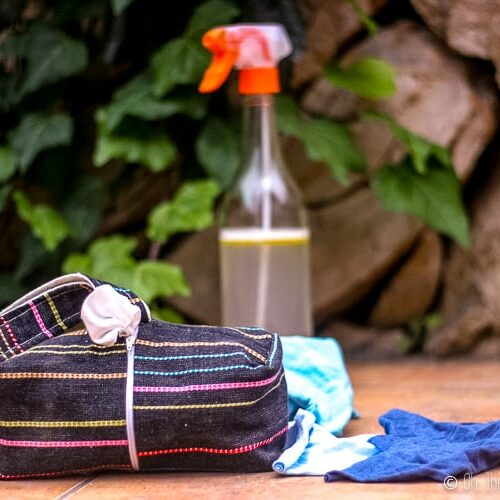 Homemade Cloth Wipe Solution (Original, soap-based formula)
This easy, cloth wipes solution is made with soap and is self-preserving due to the naturally high pH of liquid soap. This solution will separate into an oil layer floating on top of a liquid layer so you should shake it before spraying.
Print
Rate
Instructions
Mix together all of your ingredients and pour into a spray bottle for easy dispensing.
Notes
This wipes solution has a higher pH than the surfactant based solution, so it can be more drying to the skin. The oils in the recipe help counteract that effect. Without any type of emulsifier or solubilizer, the oils will float on top of the water layer. You should shake the bottle before dispensing.
While I believe this solution is generally safe to use in a pinch or for short periods of time, I think that the surfactant-based wipe solution is a safer option.
I'd suggest making small batches as we are only relying on the pH of the soap solution to prevent microbial growth. Or, use a preservative that is effective at a high pH, like Suttocide™ A, to preserve it better. (Read more about it in my guide to natural preservaties.)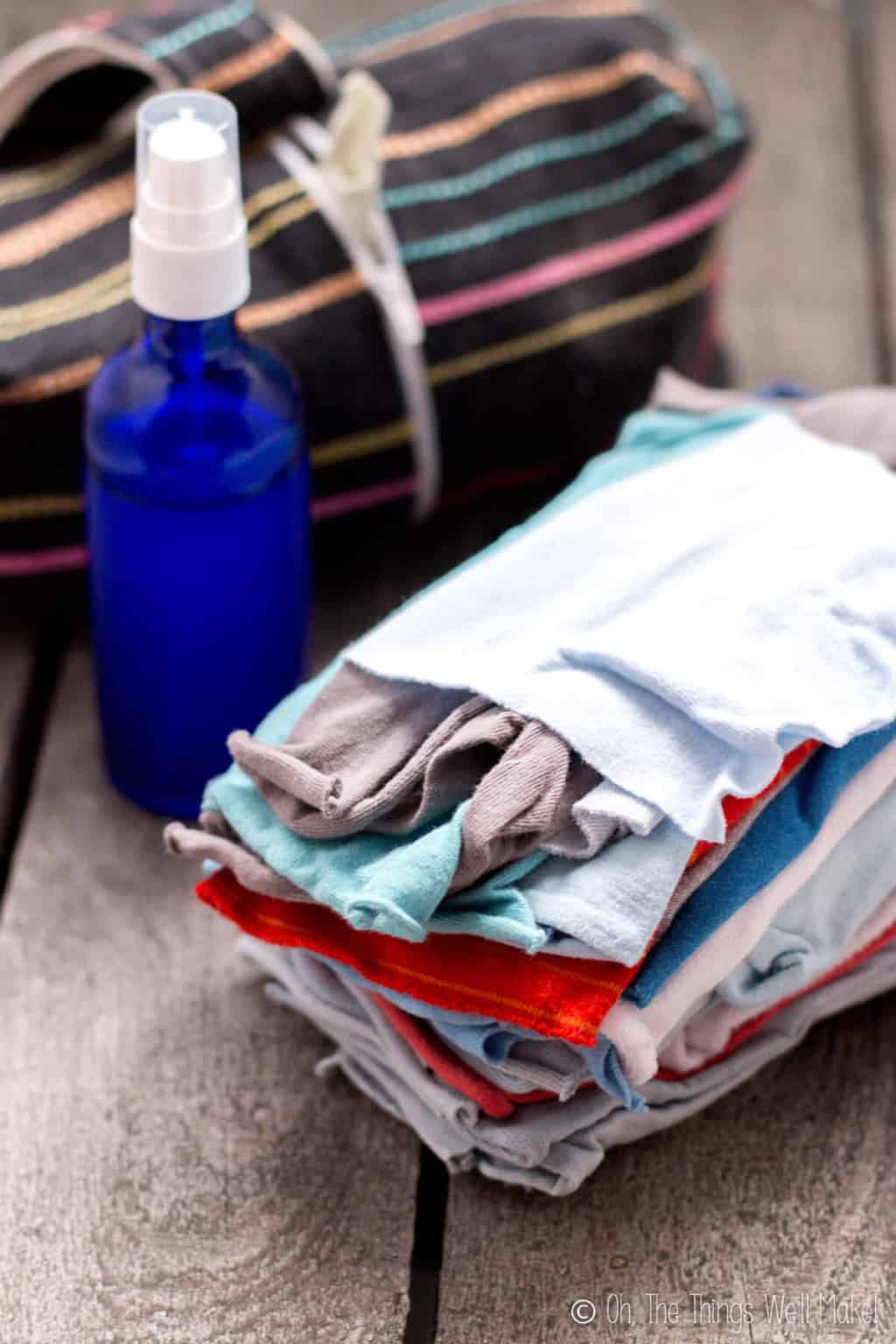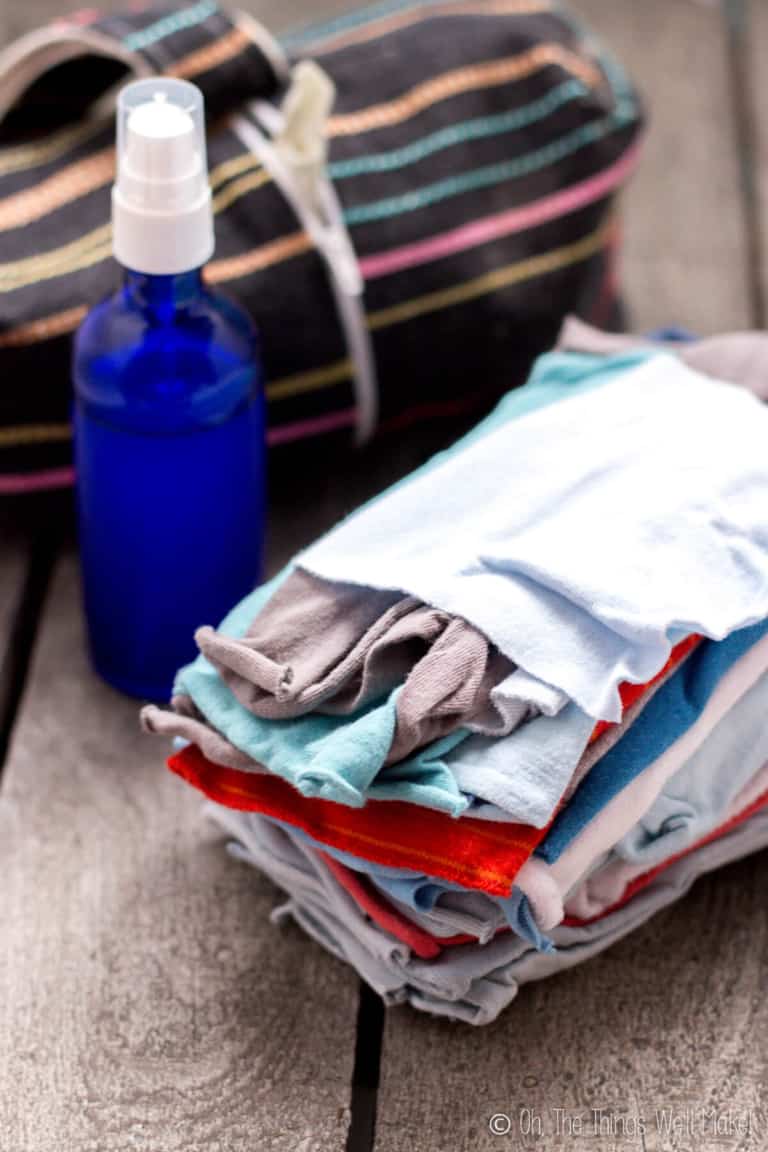 Unfortunately, I haven't been able to completely avoid commercial wipes as the schools here rely on them. They ask parents to bring a new pack every trimester for cleaning both the kid's hands (and faces?) and for cleaning up messes in school.
I wish they would opt for a more sustainable, less toxic option for cleaning the kids and tables. Perhaps, someday…
Update information
This post was originally published on Oct. 15, 2013, but was completely re-written in November 2019. It now has clearer instructions, a video, and a new surfactant-based baby wipe solution recipe. The soap-based solution recipe was modified to remove the essential oils as they can't really serve as a preservative anyway.