Last Updated on
Whether or not you cloth diaper your child, cloth wipes can come in handy. They are reusable, strong, soft, and can be used without harsh or harmful chemicals.
What's even better?
You can cheaply make your own cloth wipes using recycled materials.
Over the years, I have tried several different brands of wipes. Surprisingly, most people around here tend to buy the cheapest local supermarket brand. I cringe every time I see somebody wipe a child's face with them. To me, it just smells of chemicals, which, if you look at the ingredients, makes a lot of sense; most of the ingredients are unpronounceable. Even when given to me, I refuse to use those wipes.
My son's sensitive skin made me look into other ways of cleaning him during diaper changes. Especially when he was teething, he would break out into a rash which obviously stung because the lightest touch provoked screaming. Wipes with strong chemicals in them were definitely not an option. I needed something much, much milder.
Having been working on making a baby clothes quilt, I had a lot of scraps of fabric just waiting for a new use. Many of the scraps were small squares of cotton jersey material that came from the backs of my son's old shirts. You see, when you lay a shirt flat, and you cut out a square for your quilt with a rotary cutter, you actually end up with two squares: one from the front and one from the back. I used the front squares for my quilt. The back squares instantly became my new homemade cloth wipes.
I looked up how to make cloth wipes online, but those projects required sewing and finishing the edges of each wipe. I found that to be completely unnecessary, especially considering that knit jersey fabric doesn't unravel. I prefer having something thin and lightweight, quick and easy!! Recycled cloth wipes from t-shirts and onesies are much easier!
There are several ways that you can use cloth wipes. Some people actually keep them wet in a plastic container (such as an old wipes box), to have them conveniently ready to use at any time. While I like the idea of that sort of convenience, I wasn't sure how long they would last that way without getting moldy. I didn't want to risk using wipes that were compromised with any harmful bacteria or molds.
Instead, I settled for making myself a cloth wipes solution that I kept in a spray bottle next to my homemade cloth wipes. When it was time to use the wipes, I found the most gentle method was to just spray my homemade wipes solution directly on my son's skin, and to gently wipe the solution off with one of the cloth wipes.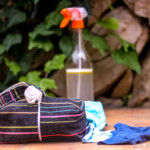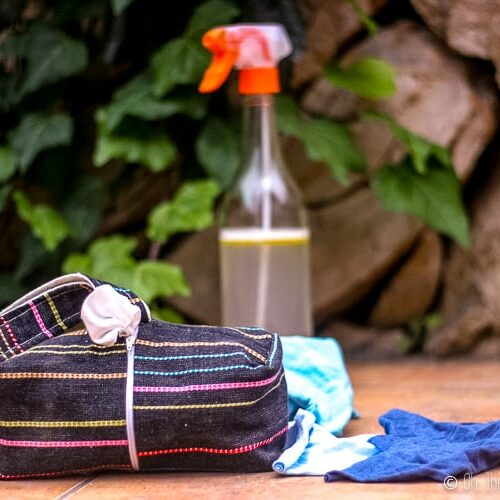 Homemade Cloth Wipe Solution (Original, soap-based formula)
This easy, cloth wipes solution is made with soap and is self-preserving due to the naturally high pH of liquid soap. This solution will separate into an oil layer floating on top of a liquid layer so you should shake it before spraying.
Print Recipe
Instructions
Mix together all of your ingredients and pour into a spray bottle for easy dispensing.
Notes
This wipes solution has a higher pH than the surfactant based solution, so it can be more drying to the skin. The oils in the recipe help counteract that effect. Without any type of emulsifier or solubilizer, the oils will float on top of the water layer. You should shake the bottle before dispensing.
While I believe this solution is safe to use and a recipe you can use in a pinch, I much prefer the surfactant-based wipe solution.
I'd suggest making small batches as we are only relying on the pH of the soap solution to prevent microbial growth. 
What is the best way to make your homemade cloth wipes convenient to use?
Fold them in a way that they will pop up just like the commercial, store-bought wipes do! It is easy to do and saves time (and frees up an extra hand) later on. Then, you can keep your wipes in either an old wipes container, or any other sort of container with a hole or slit on top.
I tried to cover up and old wipes container with cloth, hot glue and paint, but it really didn't turn out as I had expected. (Yuck!) In any case, I did use it that way for quite awhile. Later on, though, I sewed myself a much cuter cloth wipes dispenser.
Now that my son is (mostly) potty trained, I still use these wipes as a convenient, softer alternative to wipes or washcloths or tissues for cleaning his face. Once I have used them, I just pop them in the washer and they are ready for another use. Despite numerous washings, they have held up perfectly!