While it's spiced pumpkin season back in the US, here it's the season for making several of my favorite recipes, one being homemade salt cured olives. Of course I happen to love them all, so you'll find both types of recipes here on the blog.
I am, after all, half Spanish and half American.
When I was growing up, if you had told me that olives and avocados would end up being amongst my very favorite foods, I would have have thought you are crazy! I was pretty sure that I didn't like either.
When it comes to avocados, I'm not sure if I had ever even tried one, or if I just decided one day that they were gross based on appearances alone.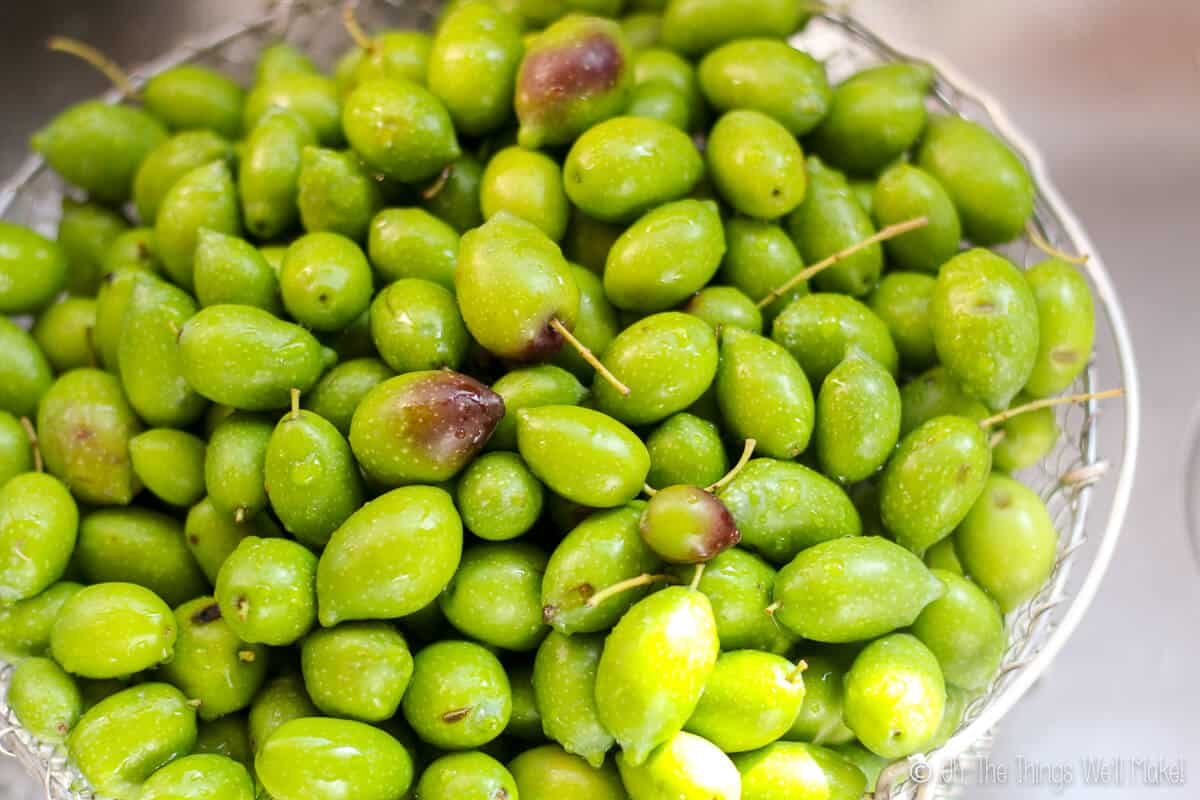 As for olives, I was a bit of a "racist" and was sure that I only liked the black ones.
That doesn't really surprise me so much, though, because I only remember having seen green olives with "pimiento" inside them. Even to this day, I don't really like those very much.
When I came to Spain for a visit with a friend of mine, almost 20 years ago now…
No way!! Really!?!?!
…I was pretty much forced into trying olives again.
We had been graciously invited as guests to the house of an old friend of my mom's in Madrid, and his mother had made "smashed" green olives from the olives from their backyard olive tree. They proudly offered them to me. How could I be so rude as to not at least try them, despite my hatred for green olives?!?
To my surprise, I LOVED them!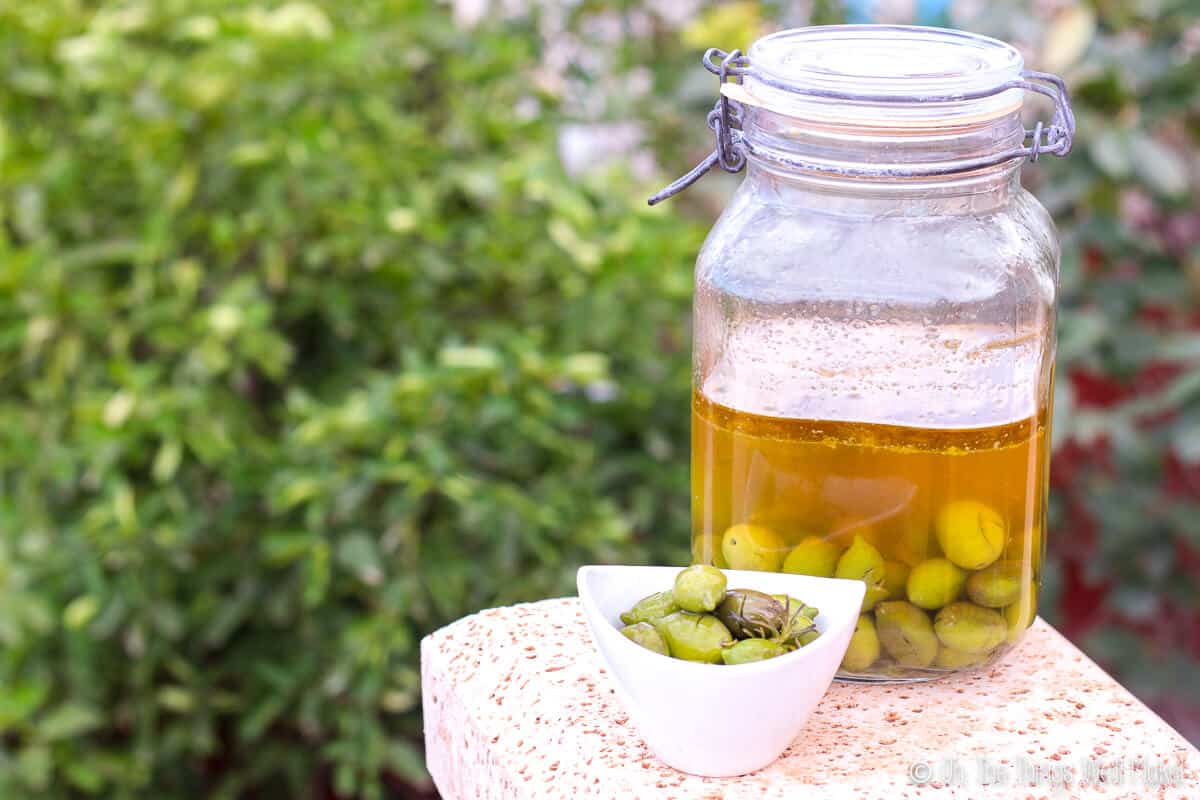 After a few days in Madrid, we headed for the East coast, and I decided that I would give buying olives a chance. So, I bought several varieties, and ended up loving most of them. Still, I couldn't help but think that the homemade "smashed" olives were still my favorites.
What more can I say about olives?
They are one of the most perfect snacks around, made up of healthy fats that are very good for you.
It's hard to find something to eat here if you go out to breakfast and want to avoid white bread. Most people order toast in the morning, and those who don't likely order croissants or ensaimadas, or some other locally made pastry.
So, what have I been doing? I eat from the plate of olives that gets set on the table as a sort of tapa to accompany brunch.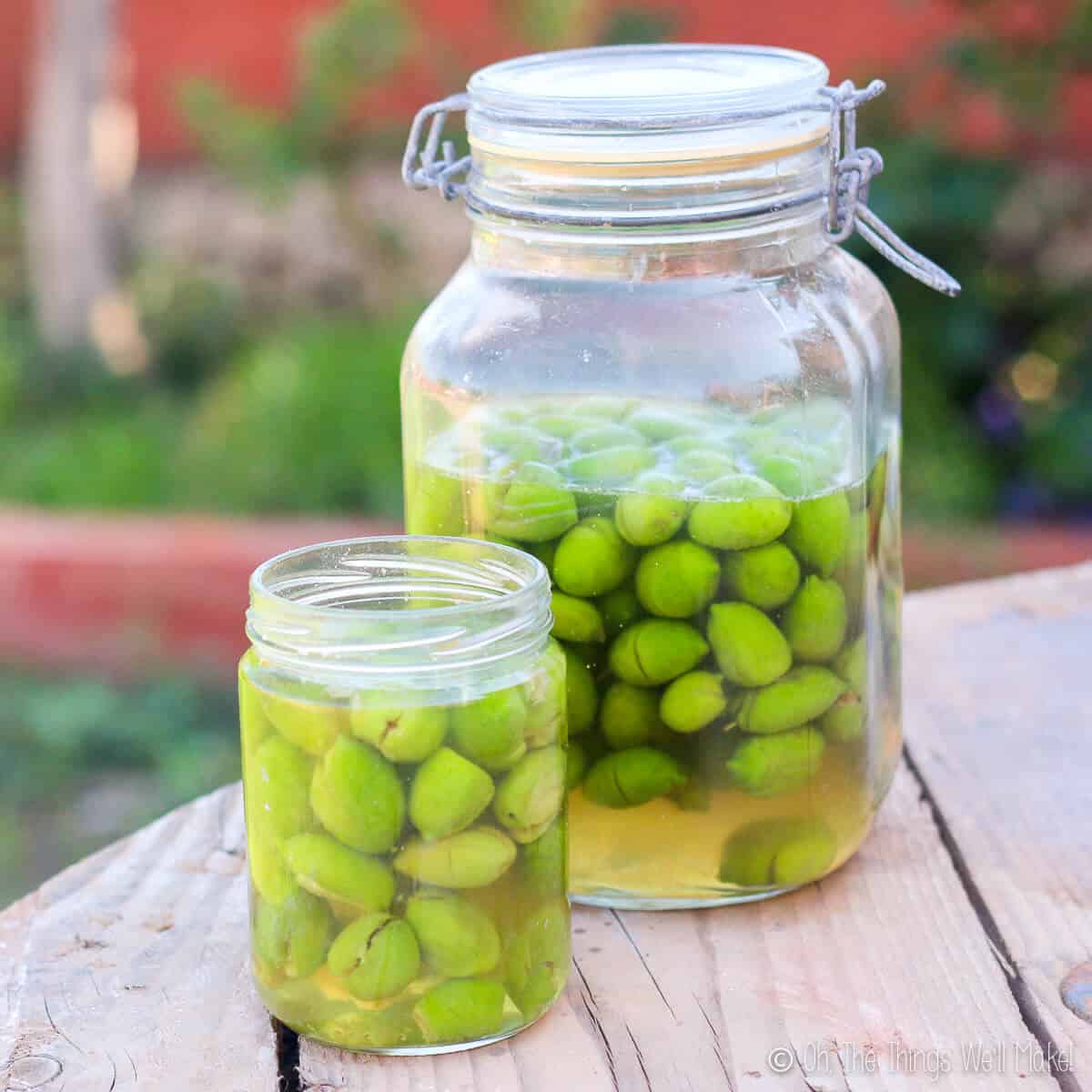 Why do you need to salt cure the olives?
Olives are very bitter and have an astringent like flavor when you first pick them off the tree. Unless they have sun dried for quite awhile, they just aren't palatable at all!
This is my favourite way to prepare mine:
Craving more?
Subscribe to my newsletter for the latest recipes and tutorials!
Ingredients
fresh olives

water

herbs like rosemary or thyme

optional
Instructions
Rinse the olives, and separate out olives with bruises or "suspicious" holes in them.

Meanwhile mix together salt and water to achieve a brine solution. I didn't measure the salt, but used enough so that it wouldn't all completely dissolve, mixing it every once in awhile to help dissolve as much of the salt into the solution as possible.

Smash or make cuts in each olive to help the salt solution get inside. If you skip this step, you can still make cured olives, but they will take a lot longer (Around a month vs. around a week.) If you have a lot of olives, you could consider doing a batch of each, that way you'll have olives ready right away, and will also have olives that will last longer.

Add your olives to a glass container with a lid, and cover them with the brine solution. I usually just pour off the liquid, leaving any undissolved salt in the bottom of the container that I used to mix the solution.

To avoid waste, I usually go through the olives that I have separated out, cutting out the bad parts. Olives with holes in them likely have little worms hiding inside them. Even strange looking brownish olives without obvious holes, may have insects hiding inside. If a very small portion of an olive is affected by a small bruise or something, I remove that part. The ones that are worse I just throw away!

After a couple of days, you can start to try the olives for taste. They should begin to lose the original bitterness. If they still seem very bitter, you can begin to change the water by draining the olives, and adding new brine solution.

Keep tasting the olives for bitterness every day or so. They will be salty, but should be getting progressively less bitter. When you find they are no longer too bitter, it is time to stop brining them.

Drain the brine solution, and add fresh water to the olives for several hours, this will help remove some of the salt. If you still find them too salty, you can repeat this step until they get to an acceptable level of saltiness.

I usually leave my olives in the final water bath. That way there is a bit of salt in the solution itself, but not too much.

Add in any herbs that you like. Popular choices here are rosemary and thyme.

Pour a thin layer of a good quality olive oil over the top of the water.

Your olives are ready to be served!