Making your own homemade liquid coconut oil soap is simple, thrifty, and very rewarding. Coconut oil soap provides lots of lather and cleaning power for all purpose cleaning.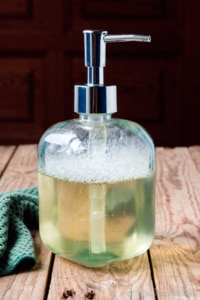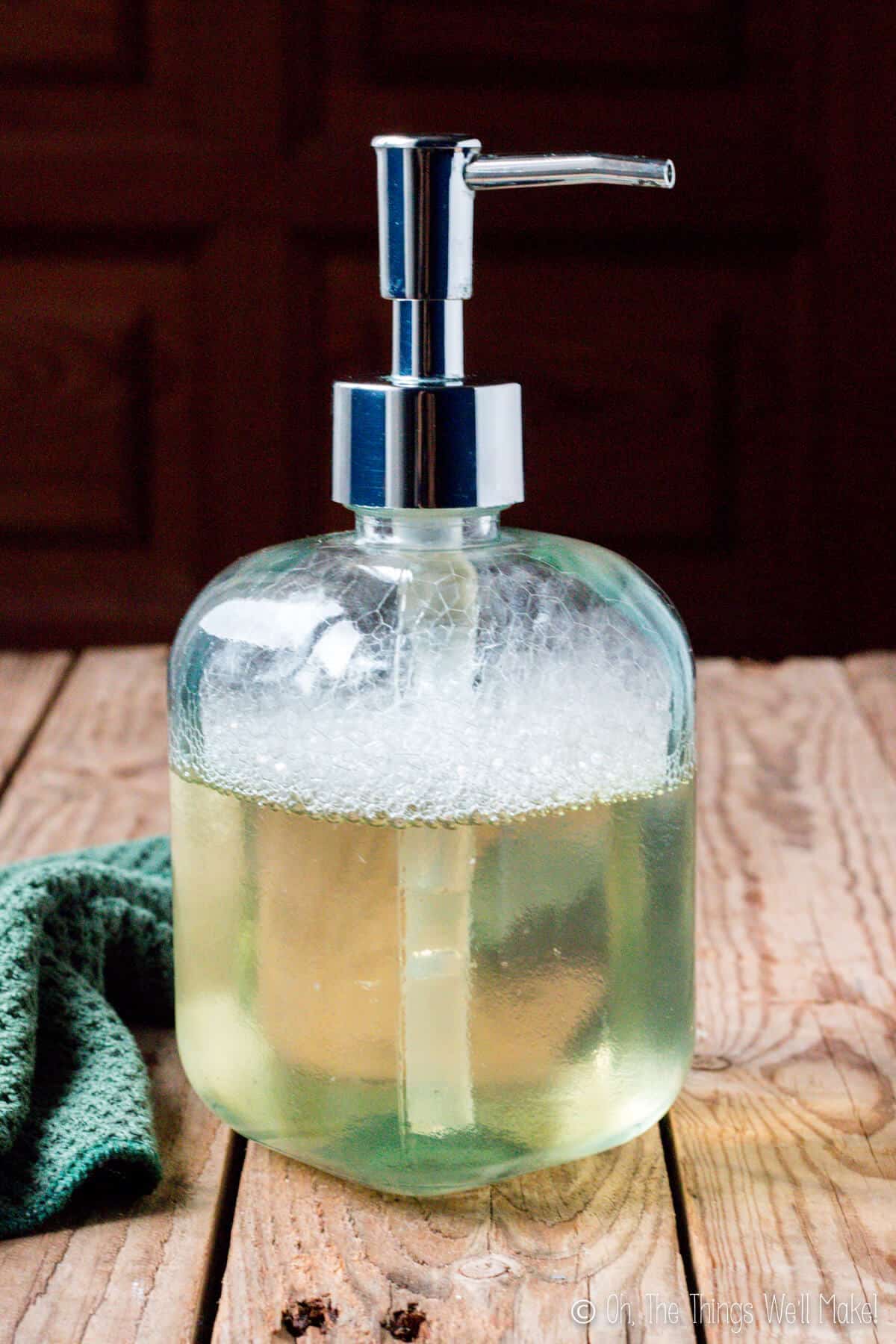 I should have posted this recipe quite a long time ago. I kept putting it off because I was working on other projects that I wanted to get out before summer was over, or before Halloween, or before…
Well, you know what I mean.
I put it off so long that I eventually forgot about it, until I started receiving comments on my recipe for a liquid castile soap made from only olive oil about when I was going to post this recipe for a liquid coconut oil soap.
Choosing the oils for your soap
As I explained in my first recipe, rather than make a liquid soap using both olive oil and coconut oil together in the same soap, as I would with a bar soap, I decided to make a pure liquid castile soap with only olive oil and a separate liquid coconut oil soap instead.
While it may sound more complicated to make two separate soaps, I did have my reasons. Each oil brings different properties to the final soap. In a bar soap, you have to mix the oils and have the combination figured out before you make your soap. With a liquid soap, though, you have the advantage of being able to combine your finished soaps after the fact!
Because liquid soaps can be handy for so many different uses, whether it be for face and body, or for general cleansing around the house, I thought it would be great to have two separate soaps that I could combine as needed for each particular use.
Soaps made with olive oil are more conditioning. Olive oil is great for face and body soaps for that very reason. On the other hand, soaps made with only olive oil don't make as much lather and are said to not be as "cleansing" as soaps made with coconut oil.
Soaps made with coconut oil are cleansing and they provide a nice bubbly lather. On the other hand, they can be drying on the skin when used alone.
That's why olive oil based soaps are so good for your face and body, and why I also added a bit of coconut oil to my easy beginner soap recipe. I wanted a conditioning soap that provided some lather. If you haven't tried making soap yet, I will say that bar soaps are easier to make, and you may want to begin with that recipe to get your confidence up before moving on to liquid soaps.
My easy beginner soap recipe also uses only olive oil and coconut oil because I figured a soap with too many different type of strange oils would be intimidating for many newbie soap makers. In the end, though, while I like to try making soaps with different types of oils, I have to admit that I fall back on these classic oils as the main base of most of my soaps because they are relatively inexpensive, easy to find, and I love how they turn out in soap.
Making a clear soap
Ideally, I should have written this recipe out in the summer because during the summer, it's easy to keep this soap clear and transparent. During the winter, though, just as coconut oil turns solid and opaque, so does the liquid soap made with coconut oil, to a certain extent.
My liquid coconut oil soap hasn't turned solid, but it has become an opaque white and it is much thicker than it was when the weather was warmer. If you aren't concerned with having a perfectly clear soap, then it isn't a problem. The soap works just as well in the winter as it does in the summer, but you will probably find yourself diluting the soap more in the winter than you would in the summer.
All of that said, the photo at the very top of the page was just taken this week. It is pure liquid coconut oil soap that was made by taking some of the soap from the jar shown here and diluting it with distilled water. It took a couple of hours to settle, but I was able to take the photos in the afternoon, after mixing it up that morning. I haven't kept diluted coconut oil liquid soap throughout the winter yet, so I'm not sure if it will stay clear as it gets even colder in our house, but for now dilution has worked to keep it clear.
Making a liquid castile soap with olive oil vs. a coconut oil based liquid soap
Basically, the process for both soaps is completely the same. You will notice that the instructions don't vary much between making a liquid soap with olive oil and making this soap.
If you have made the liquid castile soap with olive oil, though, you'll find that this soap paste will get much, much thicker and harder to work with. When making the liquid castile soap with olive oil, I was able to use my immersion blender throughout the entire process of making the soap. Not so with this coconut oil based soap!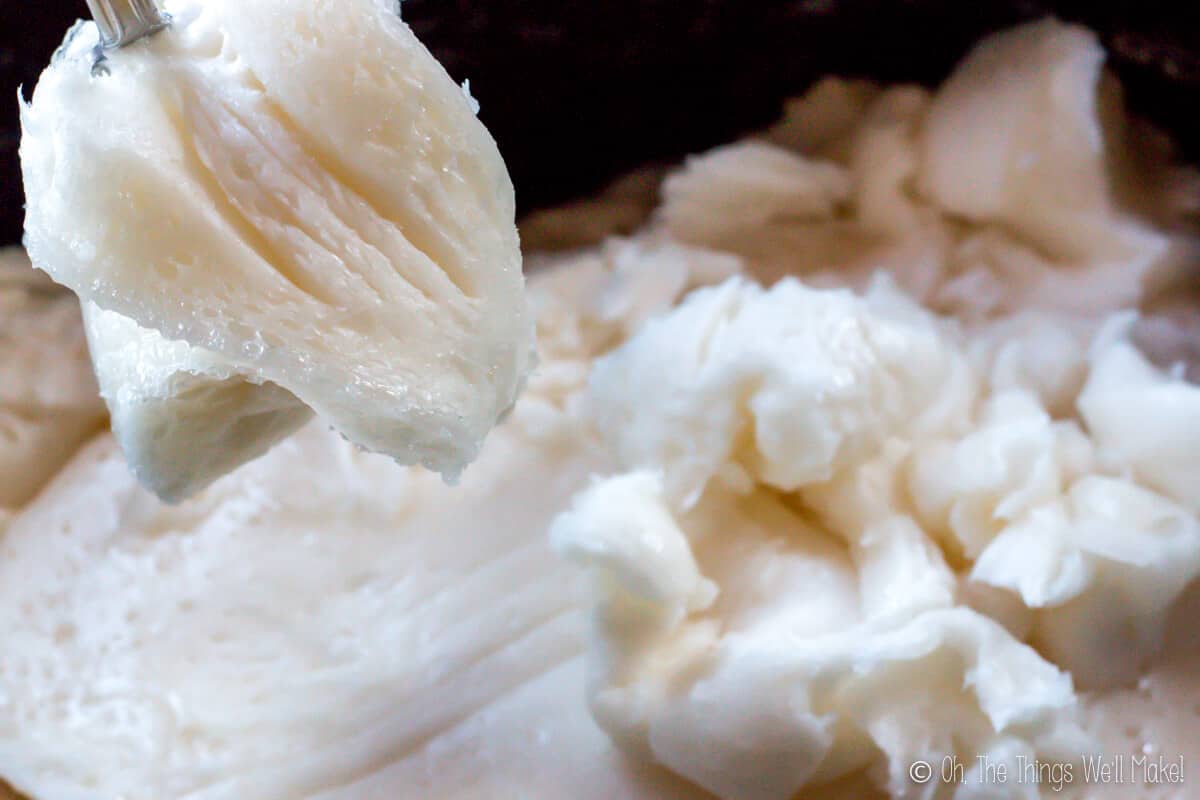 I was almost immediately forced to switch from the immersion blender to a wooden spatula, and later it got so solid and hard to work with, that I switched to a stainless steel fork.
Don't let the thought of working with a big solid mass of soap paste scare you off, though. Most of this process is hands off and is really just cooking time. You only have to stir the mixture up as best as you can every half hour or so, and then let it do it's thing.
Before we get started, I want to call attention to something very important, liquid soaps use KOH, potassium hydroxide, rather than the NaOH, sodium hydroxide, the lye that is used in bar soaps like my easy, beginner bar soap recipe! You can't use them interchangeably.
Homemade Liquid Coconut Oil Soap Recipe
Looking to make more?
Subscribe to my newsletter for the latest projects (and recipes)!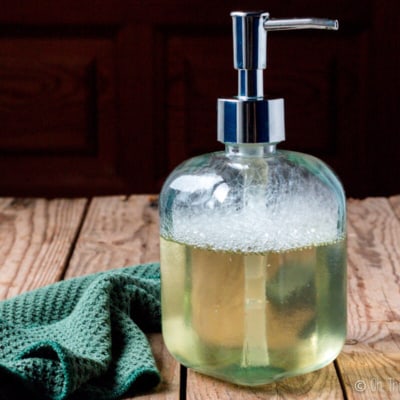 Homemade Liquid Coconut Oil Soap
Making your own homemade liquid coconut oil soap is simple, thrifty, and very rewarding. Coconut oil soap provides lots of lather and cleaning power for all purpose cleaning.
Makes 1-2 Gallons of soap (See notes below.)
Print
Rate
Servings:
5
lbs. soap paste
Instructions
Melt the coconut oil in a slow cooker pot over low heat.

Meanwhile, mix together the water and glycerine, and measure out the potassium hydroxide (KOH).

Pour the KOH into the water and glycerine mixture. (& not the other way around!!) Mix well until the KOH is fully dissolved into the water/glycerine. It will be cloudy at first, but will clear up.

Carefully pour the KOH mixture into the warm coconut oil, and slowly mix them together.

Using a hand blender, blend the ingredients together in the slow cooker. The mixture will begin to thicken after a few minutes.

A couple of minutes later, the mixture will begin to look grainy. Continue to blend.

If the mixture becomes too thick to blend with the hand held blender, switch to mixing with a wooden spoon, or even a stainless steel fork, if need be. Unlike the olive oil soap, which I was able to blend with the blender throughout the entire process, with the coconut oil soap I did have to stop blending with the blender and switch to a wooden spatula and stainless steel fork. (You can read more about that above.)

The mixture will continue to thicken and will become more translucent. We are working on making a soap base paste to dissolve into a clear liquid soap. The process will take 3-4 hours, and you should check it and stir it up every half an hour or so.

To check for "doneness," we will look to see if our paste is dissolving into a completely clear liquid soap. To do this, take a small amount of the soap paste and dissolve it in water, checking to see if the water is clear once the soap paste is dissolved. If the liquid is cloudy, you will want to continue to cook the soap in the slow cooker. Stir it up and let it cook for another half an hour before checking on it again. If it dissolves clear, you are finished making the soap paste.

Your liquid coconut oil soap paste is now ready to be stored or dissolved into liquid soap as needed.
Notes
This recipe makes 4.5-5 lbs. soap paste which can be diluted to 10-20lbs. soap or more. That ends up being 1-2 gallons, or more, depending upon desired concentration.
Keep in mind that liquid soap is not as thick as commercial gels and surfactants. Liquid soap is of a thinner consistency. You don't need to keep it thick for it to be concentrated and work well.
Diluting and balancing the pH of your liquid soap
I started to write out a lot of information about diluting your soap paste, but I realized that I was going to also have to update the recipe for the liquid castile soap with the same information. Reading over that post, I realized that there was a lot that I wanted to say that I never wrote out. Rather than write out duplicate content on both posts, I decided that it would be best to publish a new post talking about how to dilute your liquid soap paste, and how you can balance the pH (and why that is an issue with liquid soaps). Don't worry, I've already started working on it, and it should be out in the next few days.
Read more about diluting your liquid soap here.
Read more about balancing the pH of liquid soaps here.
Happy soapmaking until then!