Pulpo a la Gallega, Galician Style Octopus, is one of my favorite seafood dishes. Simple, yet flavorful, it's an easy dish to prepare, yet sure to impress.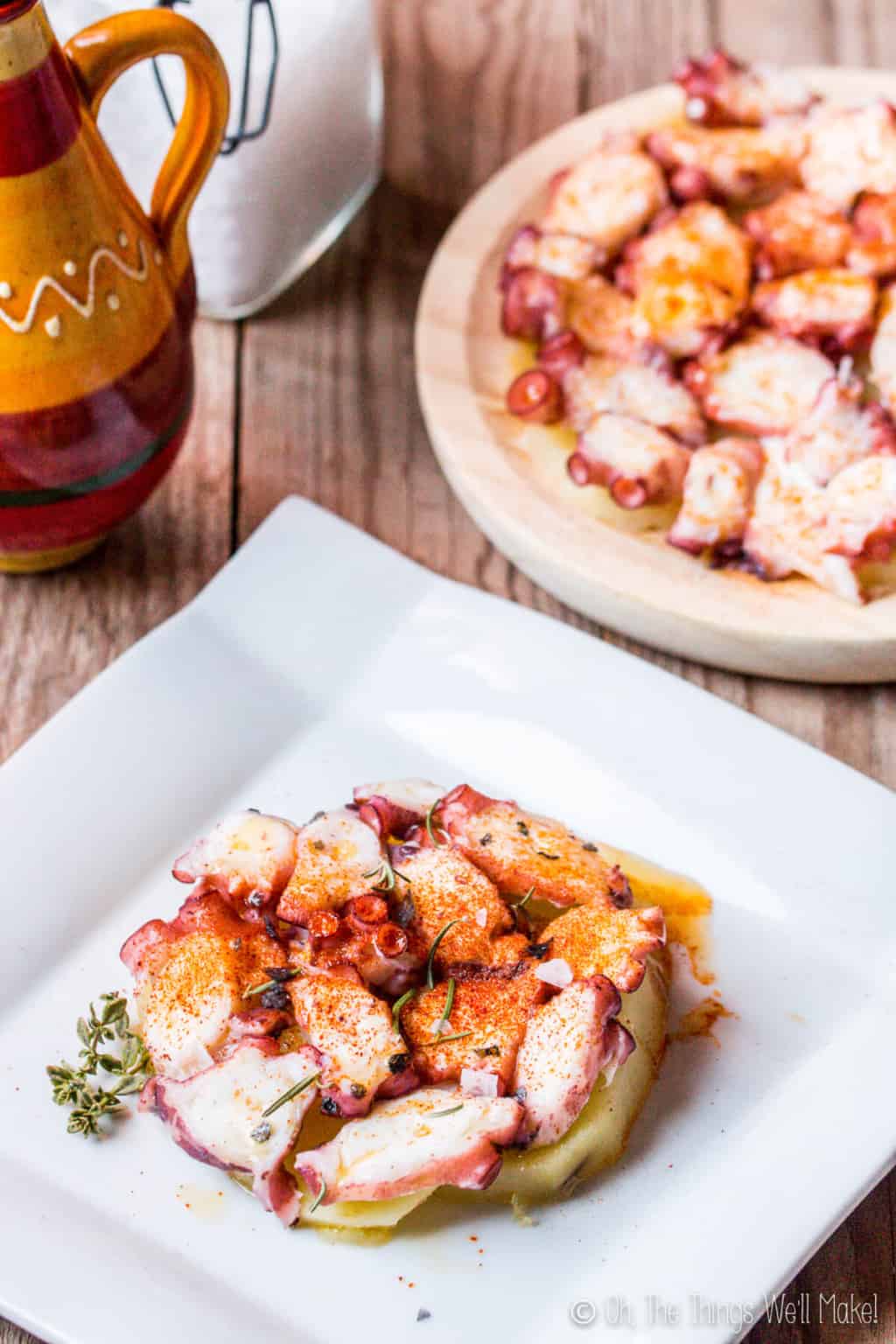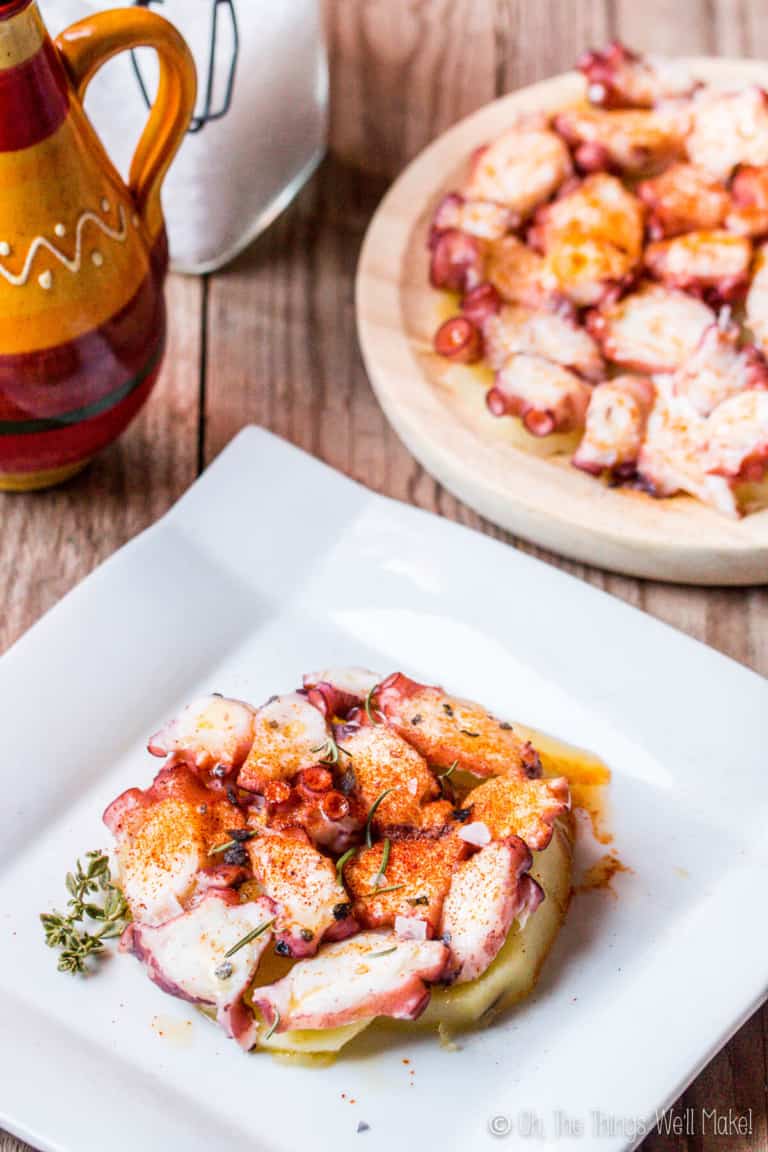 One of my favorite local restaurants is a Galician restaurant, perfect for those nights when you are craving a nice big steak. They have an open wood oven in full view where they cook meats from the region and they toast up some tasty thick slices of bread that have been rubbed with cut garlic and olive oil.
Despite the excellent meats that can be found there, though, the region is also famous for some excellent seafood dishes. My husband always wants to order their mussels cooked in a tomato sauce as a starter tapa. My favorite seafood dish of the region, though, is pulpo a la Gallega, or Galician style octopus.
Having a husband who is a fisherman, I have access to the freshest seafood. He normally doesn't go fishing nearby land, where the octopus are found, but rather goes out a bit further in the hunt of the famous red Denia shrimp. (I'll write more about them some other day soon). Occasionally, though, I ask him to get me an octopus, or two, so that I can make what is one of my favorite dishes.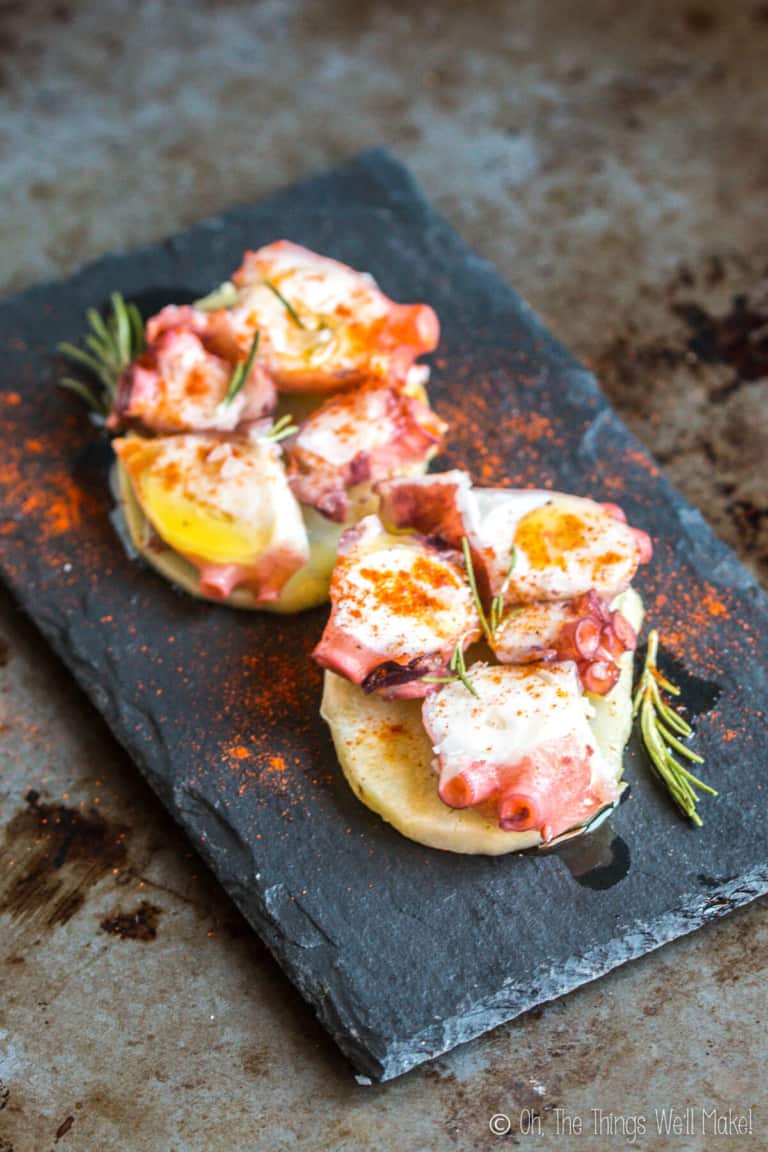 Pulpo a la Gallega is actually very simple to make, and doesn't use a lot of ingredients.
Octopus is a very tough meat. You don't want to end up with a tough and rubbery final dish, though. So, there are a few methods of avoiding that.
Traditionally, you "beat" the octopus. This is done by repeatedly bashing it against a big rock. Seriously!
I personally haven't tried that method myself.
If you don't need to use the octopus immediately, the most common method is to freeze the octopus for a couple of days. That automatically tenderizes it.
I got my octopus fresh, though, and I wanted to use it soon. So, I decided to experiment with using a slow cooker.
Craving more?
Subscribe to my newsletter for the latest recipes and tutorials!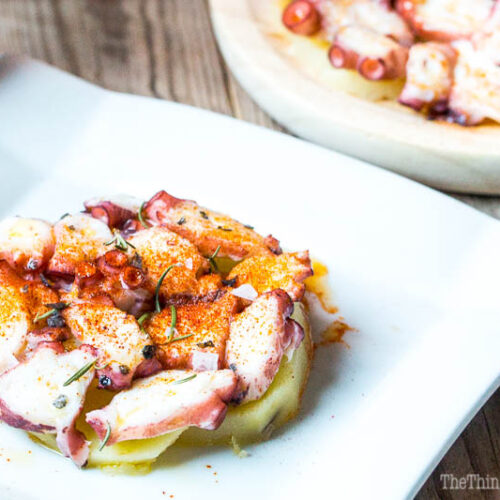 Pulpo a la Gallega (Galician Style Octopus) – Slow Cooker Method
Pulpo a la Gallega, Galician Style Octopus, is one of my favorite healthy seafood dishes. Simple, yet flavorful, it's an easy dish to prepare, yet sure to impress.
Print
Rate
Ingredients
1

large

octopus

1

potato

optional
Instructions
Cut the head off the octopus at its base. Discard it or use it for something else, if you can find a use for it.

To keep the skin on the octopus while you cook it, it's a good idea to "shock" it first by dipping it a few times in boiling water. Boil your water and dip the octopus into the water for 10-20 seconds, and then remove it. Repeat the process twice more until the legs of the octopus curl up.

Now you can either cook it over the stovetop or in your slow cooker. If you plan to cook it on the stovetop, add the octopus to your boiling water. For the slow cooker method, add your octopus to your slow cooker and fill with enough water to cover it.

For the stovetop method, continue to boil the octopus for around 45 minutes, until tender.

Slow cooker: Cook for around the suggested cooking times of your particular slow cooker. Mine takes about 5 hours at the high position or 8 hours at low. I used the high position, but I'm guessing that you could use either, depending upon which is most convenient for you. You can check the octopus for tenderness by sticking a fork in the thickest part of the legs.

To make the boiled potatoes, it's a good idea to cook them separately in fresh water. If you use the same water, your potatoes will take on a purple color. Serving the pulpo a la Gallega with boiled potatoes is traditional, but optional. My favorite Galician restaurant serves them without.

When you have achieved the desired tenderness, take your octopus out of the water, and place on a cutting board.

Thinly slice the potato, if you are using one, and lay the slices out on your serving plate.

Separate the octopus legs, and thinly slice them. Position them over the potato slices or directly on your serving plate.

Drizzle the octopus with a high quality extra virgin olive oil.

Sprinkle on a little salt and a little bit of paprika. Here in Spain, they usually use a combination of a sweet and a hot paprika for pulpo a la Gallega.