Homemade salt cured anchovy fillets are easy to make, healthy, and very tasty.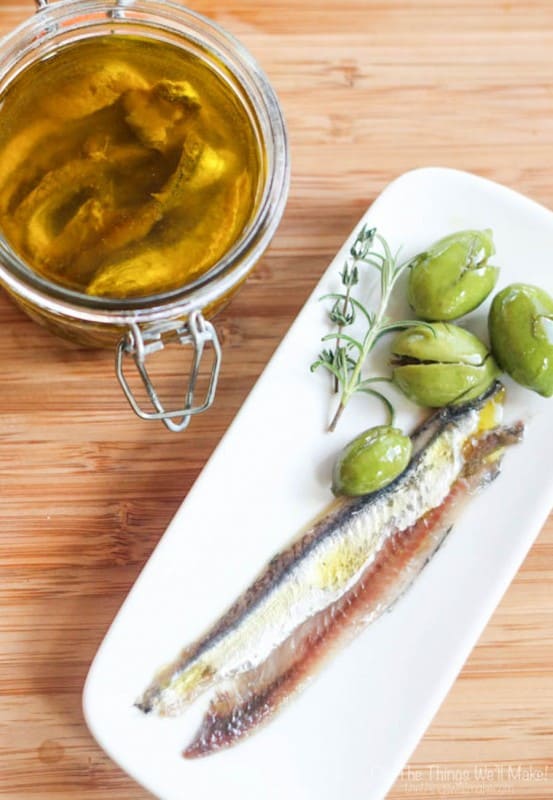 Some of the foods that I now love I once thought I hated. I went from hating avocadoes and olives to having them be some of my favorite foods. In fact, I even make my own salt cured olives now.
Another food that I thought that I disliked, without having tried them of course, was salt cured anchovies.
I mean, they must be gross. Right? In the moves people were always asking to get their pizzas without them.
I'm still not a fan of anchovies on pizza, but there aren't many treats that beat some good salt cured anchovy fillets for me anymore!
Here in Spain, the equivalent word for anchovy, anchoa, is reserved only for the salt cured variety. Fresh anchovies are referred to as "boquerones." Boquerones are very similar to sardines, and can be used in the same types of recipes; the main difference is really their size. While both fish are small, oily fish that are packed with healthy omega 3's, sardines are slightly bigger than anchovies.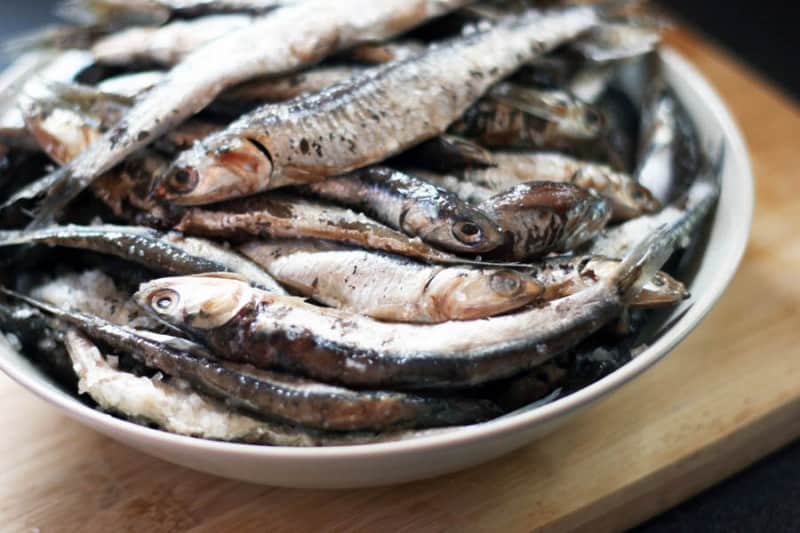 In Spanish, the term for oily fish is "pescado azul," or "blue fish." That is because most of the oily fish, and all of those that I know of caught here in the Mediterranean, have a bluish coloured skin. Oily fish are different from white fish in that they contain a higher percentage of fat in the flesh of the fish, and not just in the liver, as is the case with whitefish. (Why do you think they sell oil from just the liver of cod, a whitefish?) These fats are considered healthy fats because they have a good dose of Omega 3's and have been shown to help prevent against heart disease.
What's the down side?
Oily fish tend to also have a slightly higher dose of mercury contamination. Smaller oily fish like anchovies and sardines, though, have lower doses of mercury and other heavy metals than the bigger fish that are higher up on the food chain like swordfish and tuna.
I tend to have very low blood pressure myself, and sometimes, especially in the summer, go through dizzy spells and black out when I get up quickly. It was recommended to me to eat a salt cured anchovy every morning to help regulate the way I was feeling.
While I didn't get into the habit of eating them every single morning, I do eat them often because I really do enjoy them, especially when they are homemade! Don't get me wrong, an occasional canned anchovy is fine, but it will never compare to those made at home.
A great, healthy, fat-packed snack that I like to make myself is homemade salt cured anchovy fillets with homemade salt cured olives! While I enjoy them plain with a plate of olives, most people here choose to eat them on toast.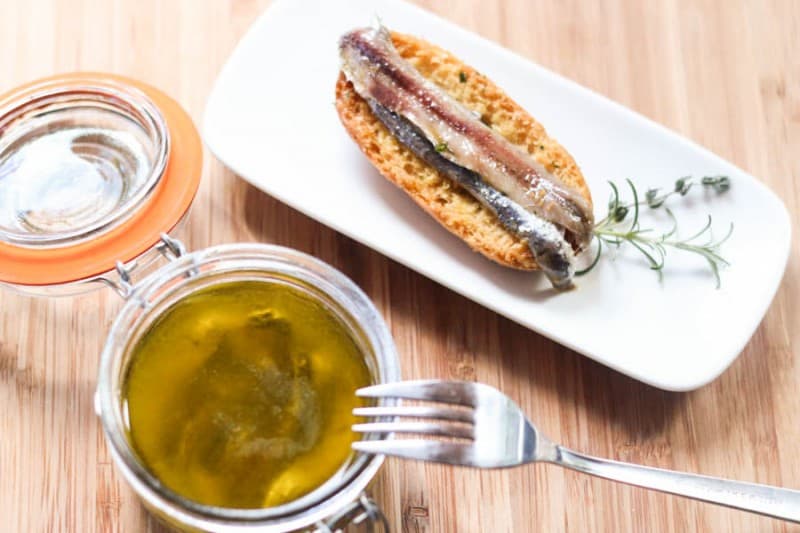 Here in Spain, they are probably surprised to see me write that I think that people need to seriously increase their intake of healthy fats. It's quite obvious from the television commercials here that Spain hasn't quite embraced the idea that people need more fats, not just for heart health, but also for regulating hormones and helping prevent neurological disorders like dementia and Alzheimer's.
Instead, commercials still boast about things having grains, or "cereales," as if that were a healthy addition to the product. You can find low fat (high sugar) versions of things, claimed to be healthier, packed with grains. They even add them to things like highly processed chocolate milk, as if it weren't gross enough, and unhealthy enough, already. 😉
Then there are the commercials for high sugar yogurts claiming to increase your defenses and lower your cholesterol, or soy products claiming to be healthier than other alternatives.
Heck, there are still commercials for butter flavored margarines claiming to be healthier than butter!!!
Don't even get me started on that one… it's a topic for another day. Just know that it's been pretty obvious for quite some time now that hydrogenated, vegetable oils that are high in omega 6s are not good for you and will never compare to butter, especially if that butter is from grass fed cows, making it higher in omega 3s than conventionally raised cow products.
I guess I went on a bit of a tangent, but it was all to get my point across.
Healthy fats are, well, healthy! Got it?
So, that brings us to my salt cured anchovy fillets recipe…
Craving more?
Subscribe to my newsletter for the latest recipes and tutorials!

Instructions
Clean the anchovies by removing the entrails and heads, and then rinsing out the belly cavity.

Add a layer of sea salt to the bottom of the glass container in which you want to store your anchovies.

Add a layer of anchovies, followed by another layer of sea salt, followed by more anchovies.

Continue layering until you have used up all of the anchovies, and finish with a layer of salt, making sure to completely cover all of the fish.

To ensure that all of the fish are well preserved, mix up a batch of brine solution. This is achieved by adding salt to warm water, and dissolving as much salt into it as you possibly can. Once you have your brine solution ready, pour it over your anchovies and salt, just covering them.

Cover your container and put it into the fridge for about 3 months. (Yes, you read that right!) 😉

Once 3 months have passed, you can start to take a look at your anchovies. They should now be cured and have a light brown flesh color.

Remove a few anchovies from the salt. I like to prepare just a few anchovies at a time, not more than what I think I'll use in a week or two.

Fillet each anchovy by removing the spine section with your fingers.

Add the anchovy fillets to a bowl with fresh water. While you can eat them immediately, they tend to be too salty if you don't leave them in salt water for a little while first.

After an hour or two, check on the anchovies for saltiness. If you still find them way too salty, you may want to change the water, and leave them for another hour or two. This part depends on how salty your particular anchovies have become, and your taste.

Once the anchovies have reached the desired level of saltiness, dry them off on a cotton or paper towel, and place them into the container in which you want to store them.

Cover with extra virgin olive oil, and you are done!
So, yes, the process is quite long, but it isn't difficult, and it is so worth it!
I really enjoy making my own salt cured anchovy fillets whenever I can get ahold of fresh anchovies! While my husband is a fisherman, he tends to only fish for shrimp, so I don't have access to fresh anchovies as often as I would like.
If you want to prepare your own anchovy fillets, but don't want to wait three months, you can also buy imported salt packed anchovies online. If you choose to buy the salt packed variety, you can begin with the filleting step above.
Do you love seafood too?
Check it out!