Save energy by cooking salmon in the dishwasher while you clean your dishes. Not only is it a sustainable way to cook, but it also makes a deliciously flaky and moist fish.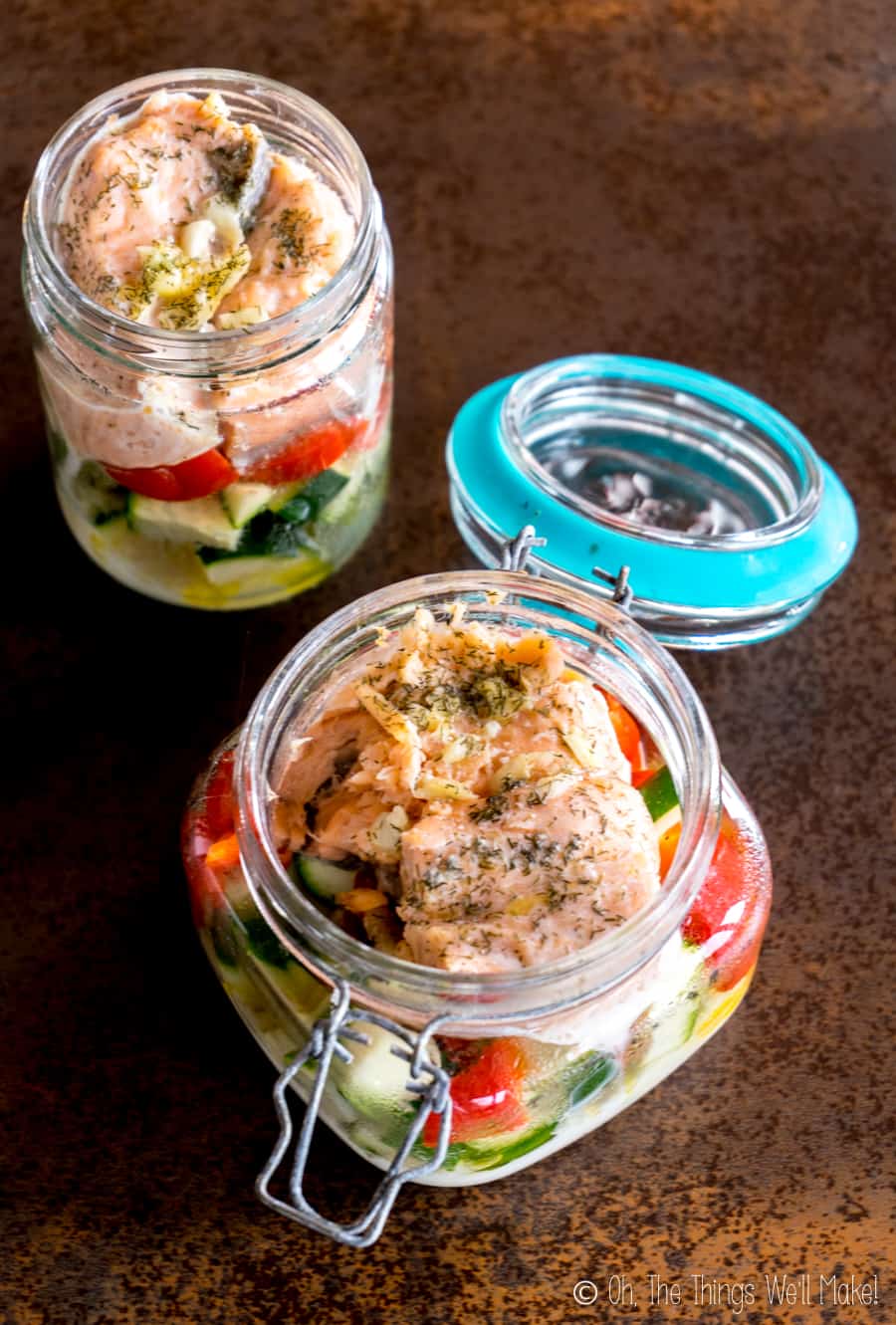 Several years ago, a dishwasher commercial here in Spain caught my eye. An Italian blogger showed off her method of cooking in the dishwasher, all while cleaning dishes. She even wrote a whole cookbook of recipes for dishwasher cooking.
Is it possible to cook in the dishwasher?
Seeing as I have a fondness for the unusual, and I also like to try to live as sustainably as possible, I figured I may as well give it a try.
With that in mind, one day, a couple of hours before lunchtime, after noticing that I still needed to wash my dishes, I decided to give it a try. Armed with a fillet of hake that my husband had fished the day before, I made my first attempt at dishwasher cooking.
And it worked. So, yes, you can definitely cook in the dishwasher. (I'll elaborate in a second.) ?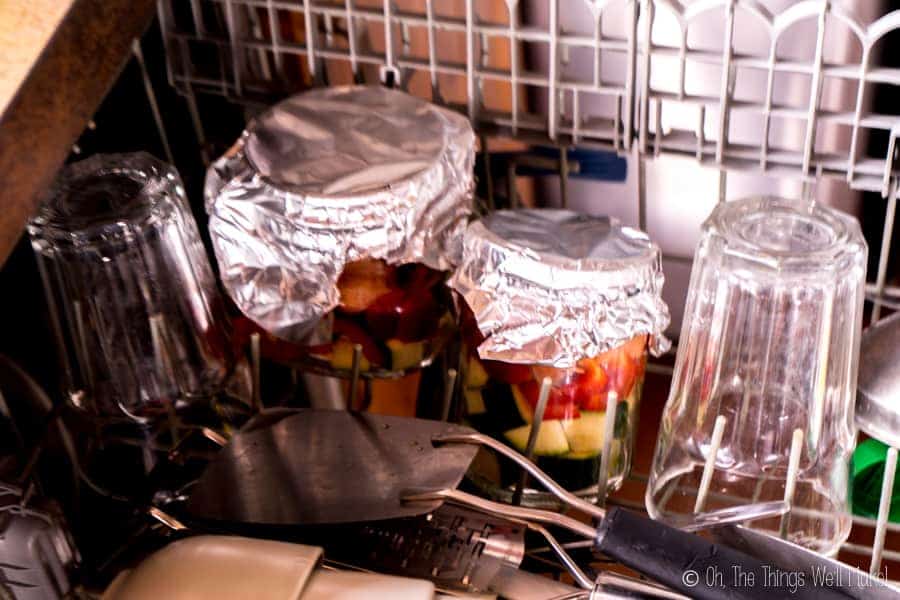 What can be cooked in the dishwasher?
Fish is great for dishwasher cooking.
Vegetables also cook well
Pasta and couscous (In fact, the Mythbusters made lasagna in one…)
Why not try out some of my other seafood recipes?
Is it safe to cook in the dishwasher?
When the Mythbusters, together with Alton Brown, decided to take on the myth of if one could cook lasagna in the dishwasher, they tested the internal temperature with a temperature probe placed inside the dishwasher. Alton Brown was hoping for a heat of 140ºF for safety. Their dishwasher reached around 136º instead.
They proceeded anyway, and were actually quite surprised at how well their lasagna turned out. Of course, it lacked the browned top that would be achieved under a grill, but otherwise, it was delicious.
Keep in mind that for lasagna, the meat and sausage were pre-browned in a pan as they normally would be.
I'd suggest, for safety reasons, to stick with foods that don't necessarily need to be completely cooked or that cook quickly to be safe to eat. Vegetables and pasta work well, as do fish recipes.
You'll also want to make sure that you use a cycle that heats up adequately. Avoid especially light cycles. Some dishwashers have a "sanitize" cycle that heats to over 140º. Those may prove to be the best cycles for cooking.
How to keep the soapy water out
Most recipes I've seen online cooked fish or pasta wrapped in "heavy duty" aluminum foil. Many suggested cooking in the top part of the dishwasher without soap. Their premise was that fish cooked in the dishwasher tasted better than that cooked using other methods.
Cooking in the dishwasher without soap isn't practical at all, though. It defeats the whole purpose of cooking in the dishwasher in the first place! (Wouldn't you agree?)
While I've never tried using just foil myself, many people have successfully used it for cooking in the dishwasher.
I, on the other hand, usually use jars with rubber gasket seals. Using those types of jars, I've never had a problem with soapy water getting inside. I have also used other types of canning jars without issues.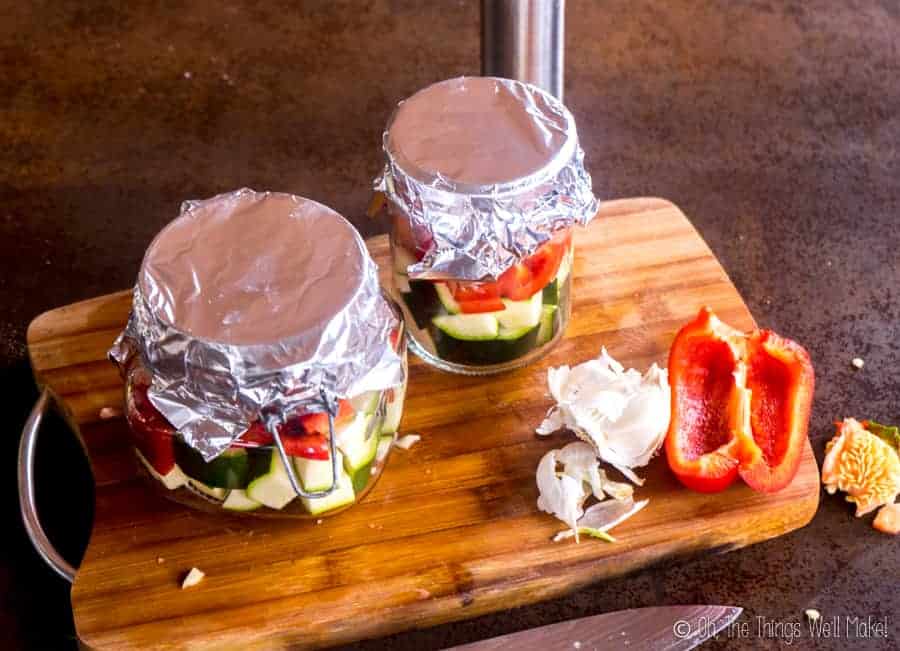 That said, you can choose to cover the lid with aluminum foil, just to be safe.
My first attempt at dishwasher cooking
I decided to go all-in and rolled my fish fillet up in a jar with an airtight lid. That's what the Italian blogger used. It also seemed like the most sustainable cooking option. The jar I used had a rubber gasket with a pressure clamped lid, but would it be enough?
That first day, I cooked the fish with butter, garlic, and herbs. I minced the garlic, and sprinkled it on the fish along with some lemon thyme and salt. I also added few pieces of butter inside the fish before placing it in the jar.
I kept the "recipe" simple. After sealing it, I placed the jar into the dishwasher along with my dirty dishes. Then I crossed my fingers and started the wash cycle.
Halfway through the cycle, I peeked in…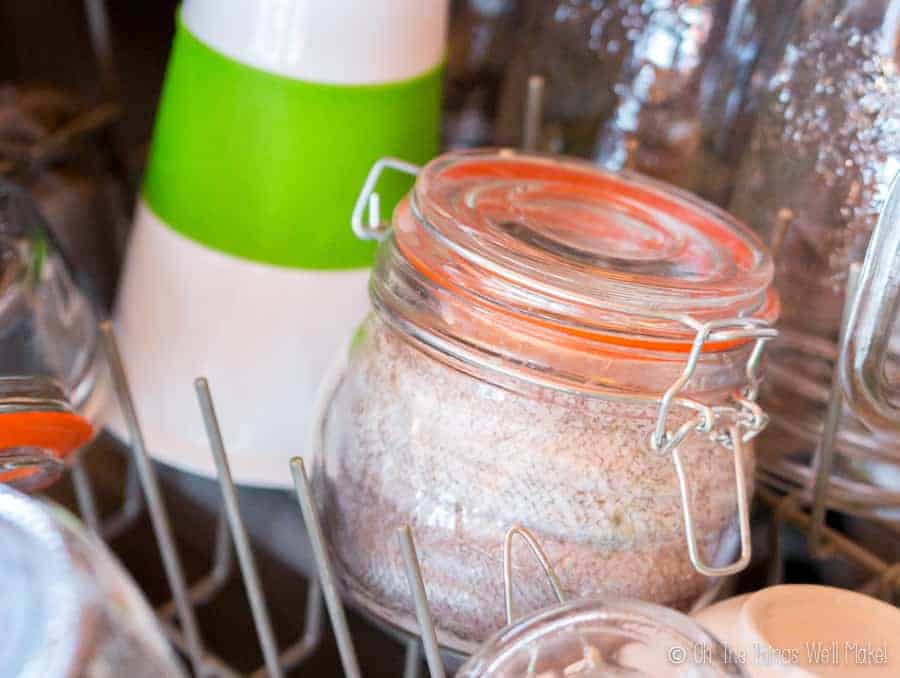 I had my doubts…
Not only did the fish still look raw, but the butter hadn't even melted yet. Plus, there seemed to be the tiniest bit of water in the bottom of my jar. I began to think I was going to end up with raw, soapy, fish for lunch.
I guess my dishwasher does most of its heating towards the end of the cycle, though. When finished, I could see that the butter had melted (at least). I still wasn't sure about the fish, though.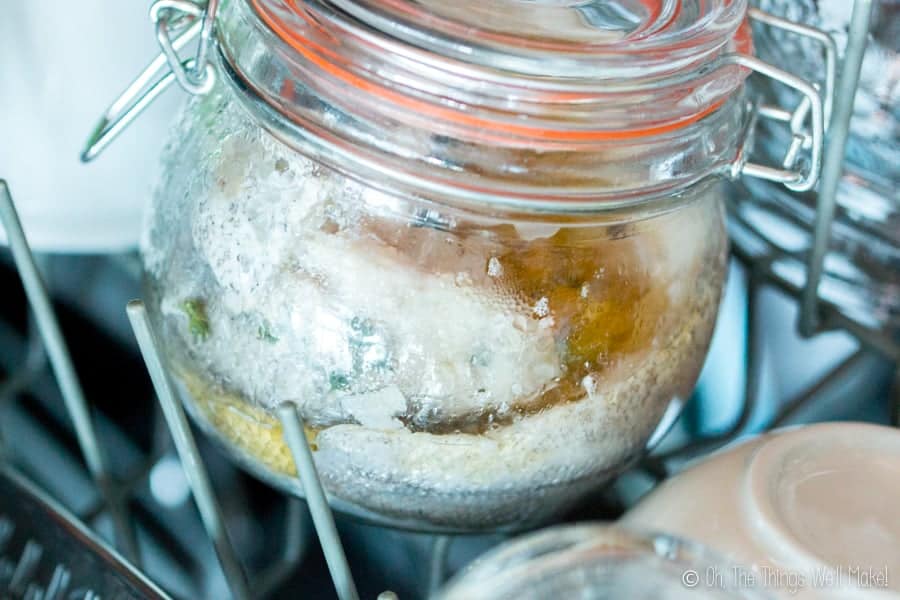 In the end, it was delicious!
Cooking in the dishwasher resulted in a very flaky and perfectly cooked moist, flavorful fish!
Having rolled up the fish to cook it, I wasn't able to remove it in a way to take pretty plated photos.
In the end, I ate it out of the jar. As long as you're saving energy cooking, why not save yourself the extra plate to cook?
Advantages
Save energy
Effortless
Cooks fish to perfection
Disadvantages of cooking in the dishwasher
Long cook time (Plan for around 1.5-2 hours)
Little control
May not fully cook or be safe for cooking some meats
Video
Craving more?
Subscribe to my newsletter for the latest recipes and tutorials!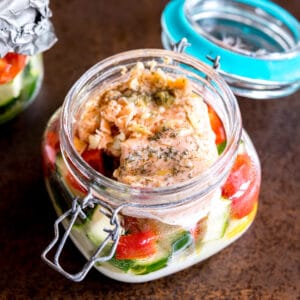 Dishwasher Salmon
Save energy by cooking salmon in the dishwasher while you clean your dishes. Not only is it a sustainable way to cook, but it also makes a deliciously flaky and moist fish.
Print
Pin
Rate
Ingredients
300

g

salmon fillets

2 fillets, 150g each

1

zucchini

1/2

red pepper

2

Tbsp.

butter

1/8

tsp.

salt

1/8

tsp.

dill

1/4

tsp.

garlic powder
Instructions
Rinse and dry the zucchini and red pepper. Remove the seeds and stem from the red pepper. Dice the vegetables and add them to the bottom of 2 canning jars. Sprinkle them with salt, pepper, and garlic powder.

Prepare the fish by seasoning it with salt, pepper, garlic powder, and dill. Place it over the vegetables in the jar.

Add 1 Tbsp. of butter to each jar, over the fish. Add any other desired seasonings.

Seal the jars shut. If you are worried about the air-tightness of your lid, cover the sealed jar with a sheet of aluminum foil.

Place the jars in the dishwasher and run a normal cycle.

When the cycle has finished (or towards the end of the dry cycle), remove the jars from the dishwasher.

Remove the aluminum foil, if used, and open the jars. You can eat the fish and vegetables directly from the jars or move them to a plate. Enjoy!
Notes
You can use fresh garlic instead of the garlic powder, but keep in mind that the minced garlic doesn't cook for long enough to become milder in flavor. It, instead, remains quite strong in flavor which is why I suggested using garlic powder.
Do not use quick or light dishwasher cycles.
You can cook the fish with other vegetables instead.
Other foods that cook well in the dishwasher include most vegetables, fish and seafood, couscous and other pasta dishes, etc.
Serving:
1
fillet (150g) with vegetables
|
Calories:
371
kcal
|
Carbohydrates:
5
g
|
Protein:
31
g
|
Fat:
25
g
|
Saturated Fat:
11
g
|
Cholesterol:
120
mg
|
Sodium:
195
mg
|
Potassium:
1054
mg
|
Fiber:
2
g
|
Sugar:
4
g
|
Vitamin A:
1187
IU
|
Vitamin C:
56
mg
|
Calcium:
34
mg
|
Iron:
2
mg
Have you ever tried cooking in the dishwasher? I'd love to hear what you've cooked and how it turned out!
Update Note
This post was originally published on March 7, 2015. It was rewritten and republished in November 2019 to add more information, a recipe, more pictures, and video.