Dulce de boniato is a sweet Spanish pastry filling used mostly around Christmas for filling pastries like pastissets (pastelitos) or empanadillas dulces. While most people use the canned variety here, it is quite easy to make and tastes much better when you make it at home. 
Every Christmas my mother in law gets together with friends to make pastissets, also known as pastelitos or sweet empanadillas, a popular Spanish Christmas filled pastry that is especially popular in the Valencian and Catalan speaking regions in Spain. "Pastissets" is the Valencian (and Catalan) name for these pastries that can be filled with all sorts of different pastry fillings including almond filling, cabello de angel (a sweet filling made from the Siam pumpkin), or boniato, which is probably the most common pastry filling for these in my region of Spain.
The pastry itself can be made with several different types of doughs, the most popular being wheat flour based, but there is also a popular almond based pastry that is naturally grain free. I'll be sharing my adaptation of a friend's grain free almond pastry next time.
This time, though, I'm turning my focus to the sweet boniato pastry filling.
Just as most people in the US turn to canned pumpkin when making their pumpkin pies, here in Spain most people used a canned boniato filling when making pastissets, something that I don't quite understand with as simple as it is to make your own. I always try to make things homemade whenever possible, but in this case I think it's especially important because I find canned boniato overly sweet. Making your own ensures that you control the ingredients and the amount of sweetness.
What is a boniato?
Boniato is a type of sweet potato that is white on the inside rather than orange. Here it is commonly used for making this pastry filling, but it is also used in savory dishes like the Valencian puchero, a Spanish stew of different meats and vegetables the combination of which varies from region to region and house to house.
Interestingly enough, I used to think that I hated sweet potatoes because the only time I ever saw them used was in overly sweet and strange concoctions for Thanksgiving. It wasn't until I tried boniato in puchero and loved it, that I decided to also give "regular" sweet potatoes another chance. I'm so happy I did because everybody in the house loves sweet potato fries. I also love serving them baked with my homemade kefir sour cream and in my sweet chicken adobo.
Back to the boniato, though…
When making your own dulce de boniato pastry filling, there are several ways that you can cook the boniato. You can either peel it and cut it into pieces and boil it, or you can bake the boniato and then make your puree. I prefer the second method because when baking, you don't add more water to the mixture like you do when you boil the boniato. Because you want a fairly thick pastry filling in the end, you'll save yourself some time stirring the mixture over the stove to evaporate off the liquid if you bake the boniato rather than boil it.
The sugar and other additions
Most dulce de boniato recipes use regular table sugar, and they use A LOT of it! For a reference, in case you want to make it the traditional way, most recipes added in the sugar by weight and added in between a 1:1 ratio to a 1:2 ratio of sugar to boniato. So, if you were to begin with 300 grams of boniato, you would add somewhere between 150-300 grams of sugar!
I wanted to use a lot less, but I was worried that people would think that my finished pastries were bland. I decided to replace the sugar with honey and I found that the extra flavor added by the honey itself made the filling interesting enough to not need quite so much. I also added in slightly more lemon zest and cinnamon to fool the tastebuds. Not only did I not miss the extra sweetness, but I actually liked this version much better. Surprisingly enough, so did my husband who doesn't usually like pastissets, or any almond cakes or pastries really, but when he tried mine he said they were actually good. 🙂 I think that the exaggerated sweetness of the original filling, apart from being unhealthy, is actually enough to turn people off from the dessert.
As for the flavor additions, I think that the canned dulce de boniato usually has a hint of anise flavoring, something that I personally don't mind, but that my husband hates. The homemade recipes online mostly use lemon zest and cinnamon instead to add flavoring to the pastry filling, but you can choose to add in a touch of anise liqueur instead if you prefer.
Craving more?
Subscribe to my newsletter for the latest recipes and tutorials!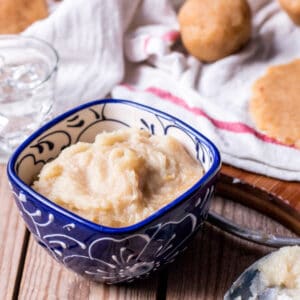 Dulce de Boniato - A Spanish Christmas Pastry Filling
Dulce de boniato is a sweet Spanish pastry filling used mostly around Christmas for filling pastries like pastissets (pastelitos) or empanadillas dulces. While most people use the canned variety here, it is quite easy to make and tastes much better when you make it at home. 
Print
Rate
Servings:
6
large pastissets
Ingredients
Instructions
To prepare the boniatos, clean them well by scrubbing the skins under running water.

Prick the skins of the boniatos with a fork and place them in the preheated oven on a grill over a pan to catch any drips.

Bake until softened, around an hour (or more if necessary).

Peel the skins off the cooked boniato and spoon the boniato into a pan.

Mash the boniato with a fork or with a handheld blender to make a smooth paste and mix in the rest of the ingredients.

Stir together the ingredients in a pan over low to medium heat for a few minutes to help evaporate some liquid out and until you end up with a thick paste.
Serving:
1
pastry filled (without outer crust)
|
Calories:
86
kcal
|
Carbohydrates:
22
g
|
Protein:
1
g
|
Fat:
1
g
|
Saturated Fat:
1
g
|
Sodium:
28
mg
|
Potassium:
176
mg
|
Fiber:
2
g
|
Sugar:
14
g
|
Vitamin A:
7094
IU
|
Vitamin C:
1
mg
|
Calcium:
15
mg
|
Iron:
1
mg