These easy steamed mussels in tomato sauce are a quickly made and sure to impress. Even my toddler loves scooping up the sauce with the empty shells.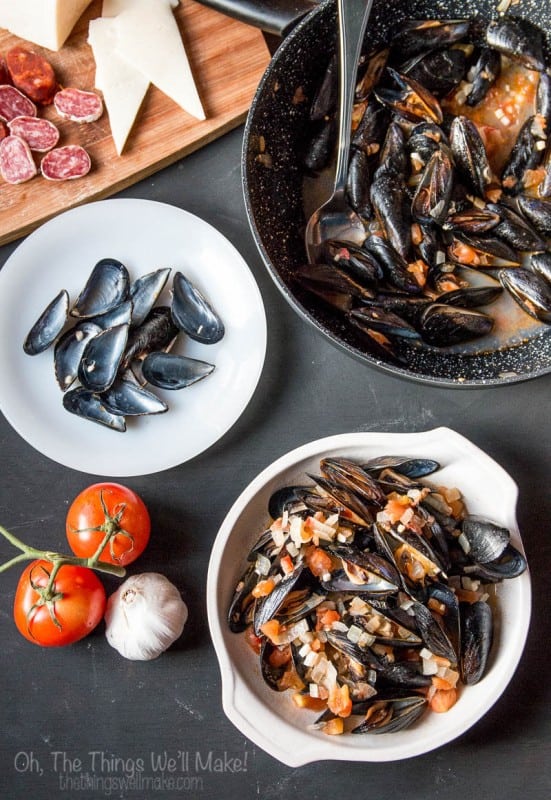 It's no secret that I love seafood, and it's a lovely coincidence that I happen to be married to the captain of a fishing boat. (Or is it?) 😉
That's one of the reasons that my first roundup post put together a list of over 65 seafood recipes made from scratch.
Interestingly enough, though, most of my blogger friends didn't have a lot of seafood recipes available to share with me. Sure, there were plenty of fish and shrimp recipes, but I was the only one weird enough to have octopus and squid recipes on my blog. I couldn't believe it! We're talking about bloggers that aren't afraid to eat liver and brains and tongue, or to have 53 different probiotic cultures growing all over their houses, and yet they saw some of the most common seafood dishes here in Spain as, well, weird!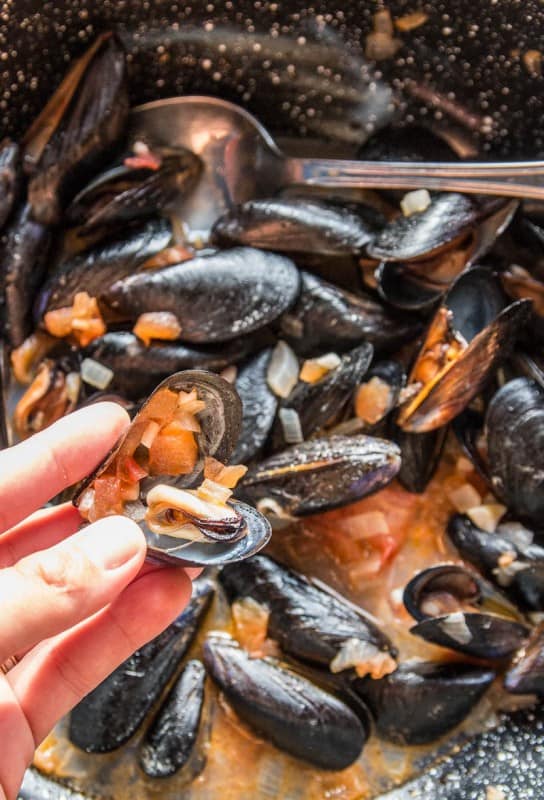 Steamed mussels are one of those common Spanish dishes that hasn't been fully embraced by most Americans, at least not those that don't live on the coast. I guess to a point, I understand it. Their alien like appearance can be a bit intimidating.
If more people would try them, though, I think they'd be pleasantly surprised to find that steamed mussels are a quick, easy and healthy meal or appetizer that you can throw together at the last minute. Unlike many fish and seafood, you can be sure you are getting fresh mussels, even when you don't live on the coast, by giving them a good inspection before cooking them.
Only use mussels that are closed when you buy them, or that close up when you tap on them, and then discard those that don't open up once they've been cooked.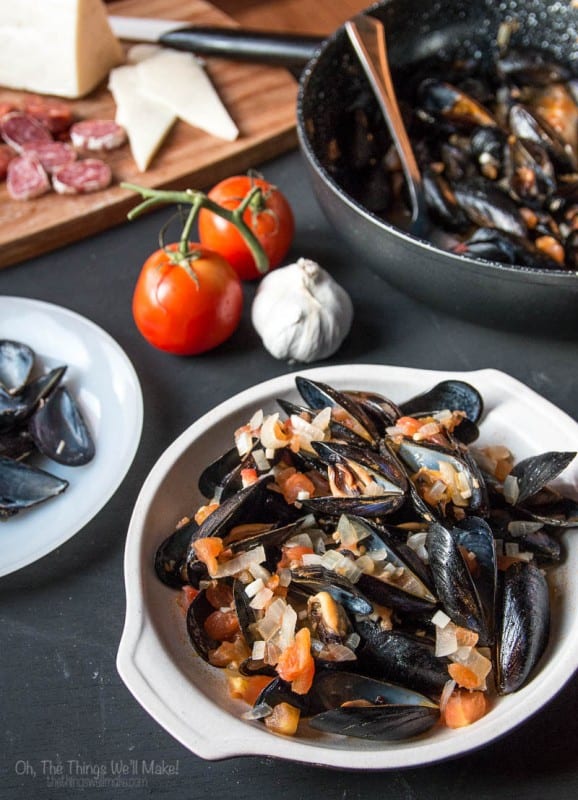 While steaming mussels is as easy as throwing clean and prepared closed mussels into a pan and cooking them until they open up, with just a little extra prep time, you can make an impressive tomato sauce that you'll want to scoop up with your empty shells and eat. In fact, even my toddler who insists that he doesn't like mussels, without having properly tried them of course, loves to use the shells to scoop up the sauce and eat it.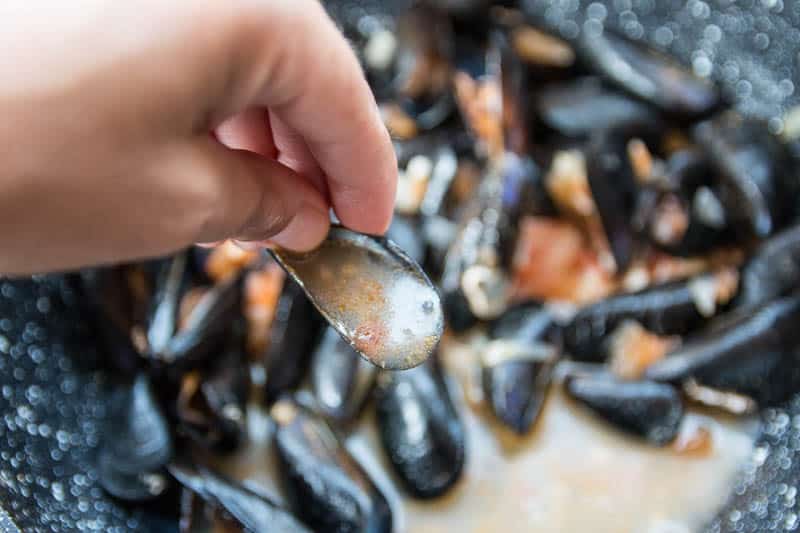 I got the idea of making this from our favorite Galician restaurant that serves their mussels in a similar manner. After seeing how much everyone in the family loved the sauce, I figured it was time to try to make something similar at home, and was excited to see how simple it is, and how well they turned out.
So, let's make some easy steamed mussels in tomato sauce!
Craving more?
Subscribe to my newsletter for the latest recipes and tutorials!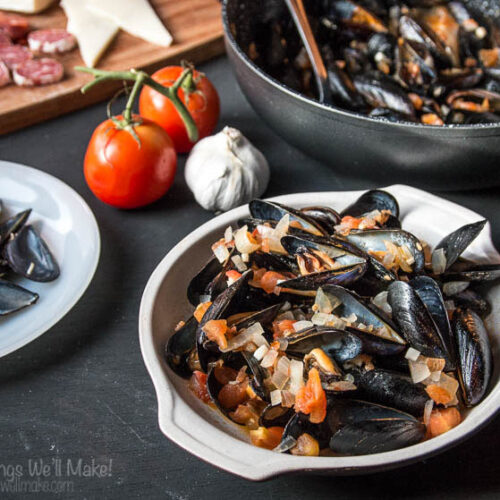 Steamed mussels with tomato sauce
These easy steamed mussels in tomato sauce are quickly made and sure to impress. They're a delicious yet healthy appetizer or light meal. Even my toddler loves scooping up the sauce with the empty shells.
Print
Rate
Ingredients
2

pounds

mussels

1/2

onion

2

tomatoes

2

cloves

garlic

salt

to taste
Instructions
Peel and chop the tomatoes and onion.

Sautee the tomatoes and onion with some minced garlic in the olive oil for a couple of minutes until lightly browned.

Meanwhile clean the mussels by rinsing them and discarding any that aren't closed or that don't close when you tap on them. You can lightly brush the shells to more thoroughly clean them, and remove the "beards"by firmly tugging on them.

Add the mussels to the pan with the tomatoes and onions, and cover the pan to help The steam build up and fully cook the mussels.

Your mussels are ready when they have all open. Discard any mussels that won't open up upon cooking.

Serve immediately.