Impressive looking, but simple enough for beginners, this super-easy pumpkin spice soap combines pumpkin puree and goat milk with fall spices, making a soap that's nourishing and wonderfully fragrant.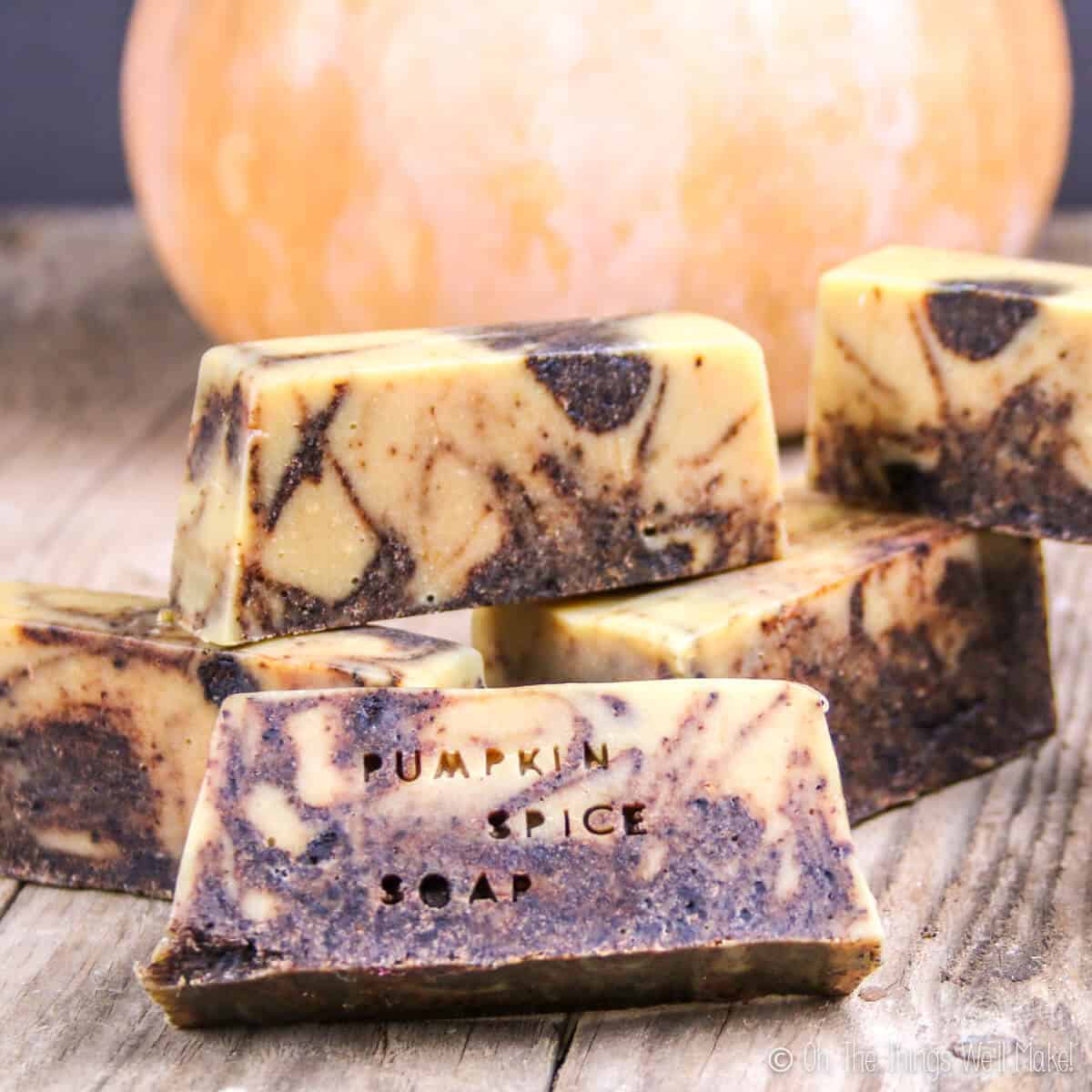 With autumn, comes cooler nights and shorter days. Halloween and Thanksgiving bring all sorts of fun pumpkin and apple spice recipes.
In celebration of this pumpkin spice time of year, I've decided to make a pumpkin spice soap.
What I love about this soap is that the scent lasts quite a bit longer than most naturally scented soaps. Perhaps it's because it uses a combination of both essential oils and the actual spices. Or, maybe it's just because the fragrance of these spices is more persistent.
Either way, I'm really happy with the final outcome.
A beginner recipe
If you have never made soap before, don't worry. This soap is very simple to make. I purposely based this soap recipe on my easy, beginner soap recipe.
Because this recipe uses milk and adds a swirling technique, it is a bit more complicated than the other recipe. If that worries you, begin with the other recipe. If you're adventurous, though, give this one a try! By following the directions carefully, even as a beginner, you shouldn't have any problems.
My beginner soap is a tried and true recipe that only uses simple, easy-to-find oils. It also has a relatively long working time. The longer working time is perfect for beginners because it gives plenty of time to add in fragrance oils and spices. You should also have time to spare to swirl them together as I did.
To show how simple it is to adapt a soap recipe, I kept the main recipe exactly as it was. So, this recipe uses the same basic oils in the same amounts as the original recipe. For that reason, it also uses the same amount of lye and a similar amount of water. (This time, though, I switched out half of the water for goat milk. I also reduced it slightly because of the water in the pumpkin puree.)
Introducing new soap techniques
The beginner soap is great, but it's also rather basic. I often get questions from readers who love that recipe, but who want to incorporate other ingredients. Today we will cover some of the ways to customize a recipe without changing the main recipe.
Adding goat's milk
Rather than only use water, I decided to add some goat milk to this recipe. Goat's milk is a very popular ingredient for soap because it is gentle and nourishing to the skin.
Making soap with goat's milk isn't just as simple as switching out the water for milk, though. Milk is a great ingredient because it has nourishing fats. Milk also has sugar in it, though, and the chemical reaction of those sugars with the lye can cause it to burn. That can leave your soap with an unpleasant scent and/or brown color.
To prevent that from happening, the milk should be added at a very cold temperature. This can be done by mixing it over an ice bath or even freezing the milk first.
Swirling technique
I also made this soap different from the basic recipe by using a swirl technique to give a fun, marbled appearance to the soap.
This soap is completely natural, but still has a fun look to it. The main soap mixture has the goat milk and a homemade pumpkin puree. (While it's simple to make, you can also just use canned pumpkin instead.) To make the swirl, we'll separate out some of the soap mixture and add our ground, dried spices into only one of the parts. The spices add a dark color to the soap, along with a beautiful aroma, and also add a very mild exfoliation.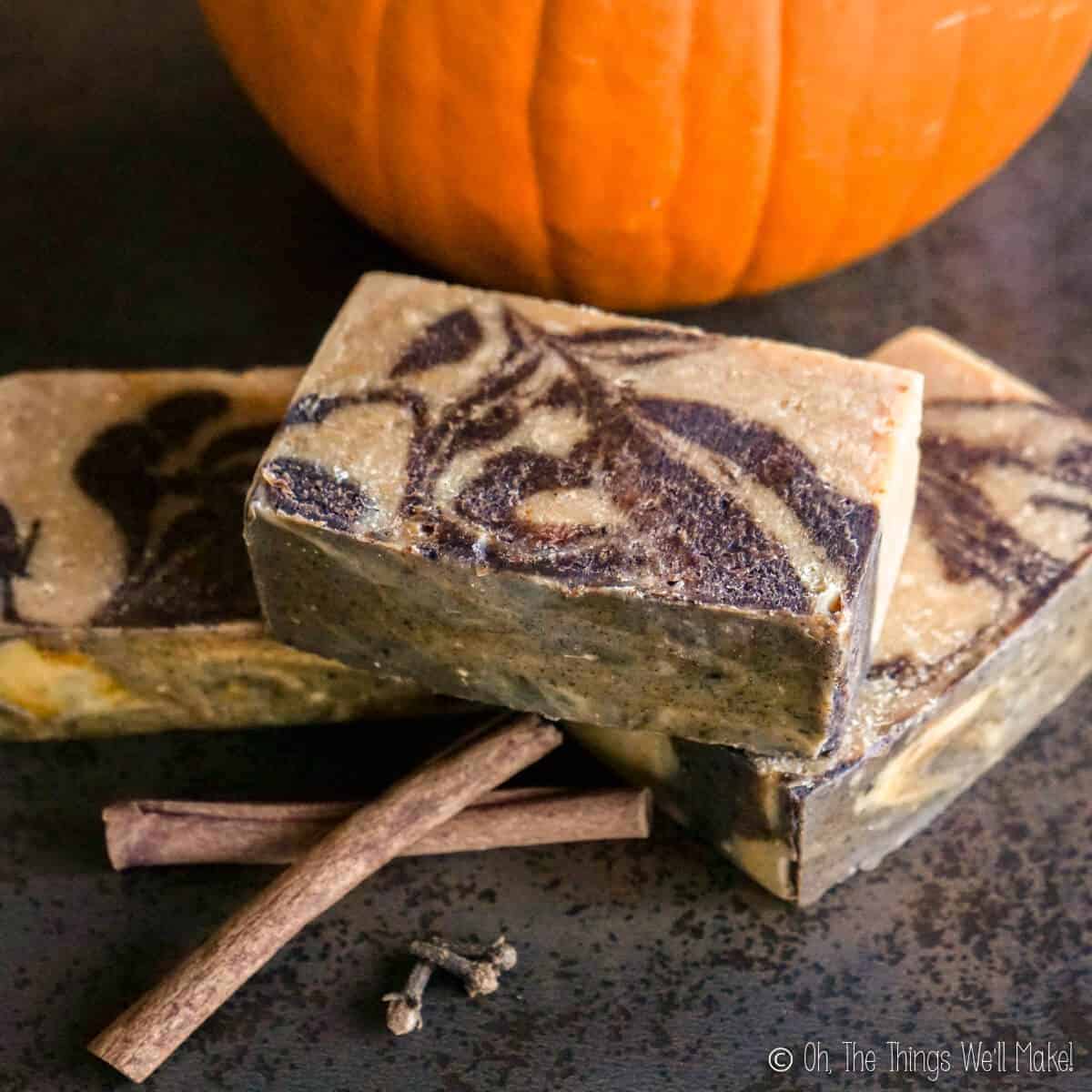 By swirling the spiced soap into the unspiced pumpkin soap, you end up with a pretty marbled looking soap. Some people make elaborate swirl designs with their soaps, incorporating a lot of bright colors. For today, though, we'll start simple.
No matter what happens with your swirling, this soap should come out looking great. (I'm always a bit nervous about how it will turn out, but I'm also always pleasantly surprised by the outcome.)
Ingredients
Like the easy, beginner soap, the main base of this soap is made with olive oil, coconut oil, lye, and water.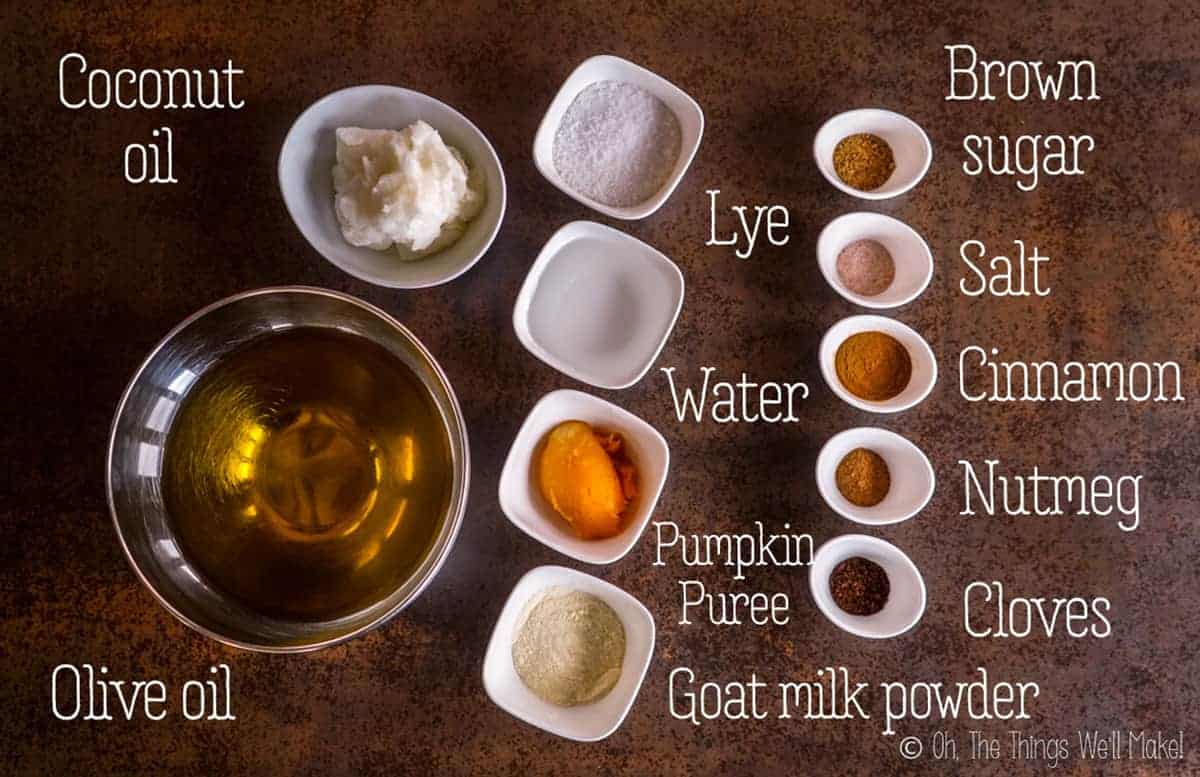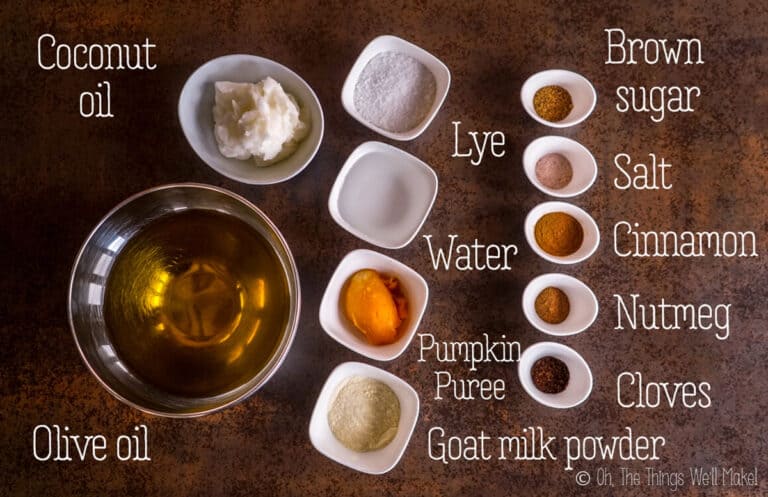 To give this soap more of an autumn touch, I added some pumpkin puree. While you could use canned pumpkin, it's very simple to make a homemade pumpkin puree that is perfect for all sorts of recipes this time of year!
For creaminess, and to help nourish the skin, I also added goat's milk. Pumpkin and goat's milk both add a little color to the soap, and they also add some hydration and richness.
To add some more color and a beautiful scent, I added some pumpkin spices. While I could have stuck with just using essential oils, I chose to also add the ground, dried spices themselves to part of the recipe. That allowed me to show you how to make a simple swirling pattern for a homemade soap.
Procedure
This soap may look complicated, but it's really quite simple. First, mix the lye solution with frozen goat's milk.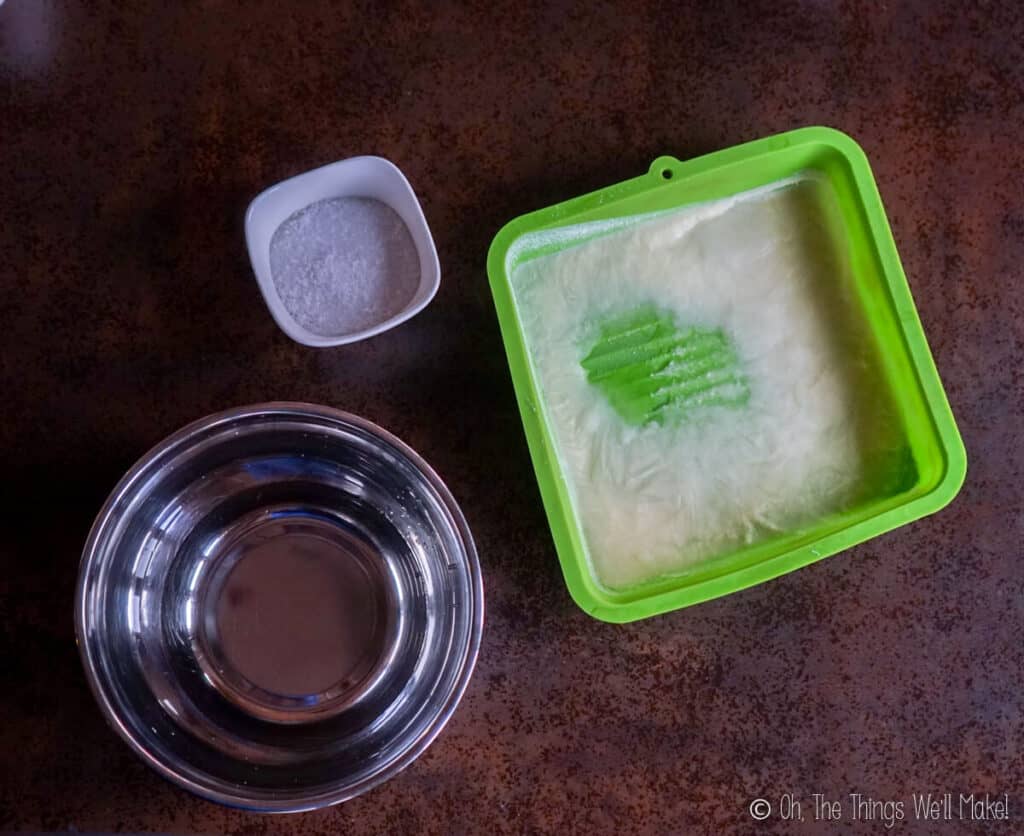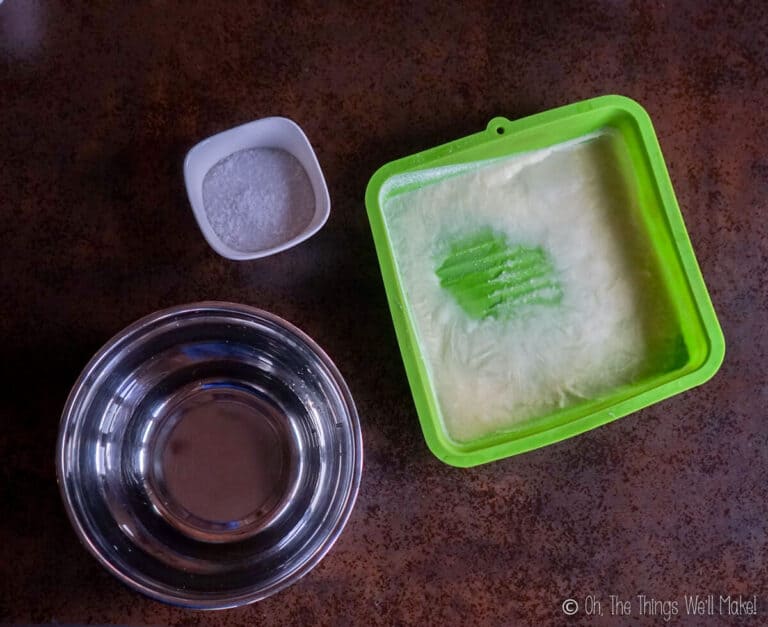 Then blend that mixed solution into the oils.
Once we reach "trace" (when the soap is fully emulsified and looks like a thin mayonnaise), we will add our pumpkin and fragrance oils.
Then, we'll separate around ⅓ of the mixture into a separate bowl.
At this point, we'll add the ground spices into the soap mixture that we just separated out.
Once we have our two soap mixtures ready, we can begin to fill our soap mold. (I'm using a silicone loaf pan.) Pour half of the unspiced mixture into the mold, followed by half of the spiced, the rest of the unspiced, and finishing with a layer of spiced soap mixture.
To swirl the soaps, place a stainless steel spoon (or another utensil) into the soap.

Allow the soap to set untouched for around 24 hours. Once it's hard enough to unmold it, gently remove it from the mold and cut it into bars.
That's all there is to it. You should let the bars of soap cure for around 3-4 weeks before using them. (During that time, they will harden and improve.)
Customizing the recipe
Even this recipe can be slightly customized to suit your taste.
Adding color
I originally left this soap its natural golden color. This year, though, I wanted to try something new and incorporate a natural orange color by adding some ground achiote to the soap. Unfortunately, when I was ready to make it, I realized I didn't have any on hand. So, I used paprika instead. Paprika is another way to naturally color the soap, but it doesn't turn as orange as it would with achiote powder.
Other changes
Don't want to use goat milk? Just switch it for another 100ml of water.
If you don't want to do the swirl technique, you can either add the spices to all of the soap (which will result in a brown soap) or don't use ground spices at all (for a golden colored soap).
Safety Tips
As with all soap recipes, be very careful when working with the lye solution.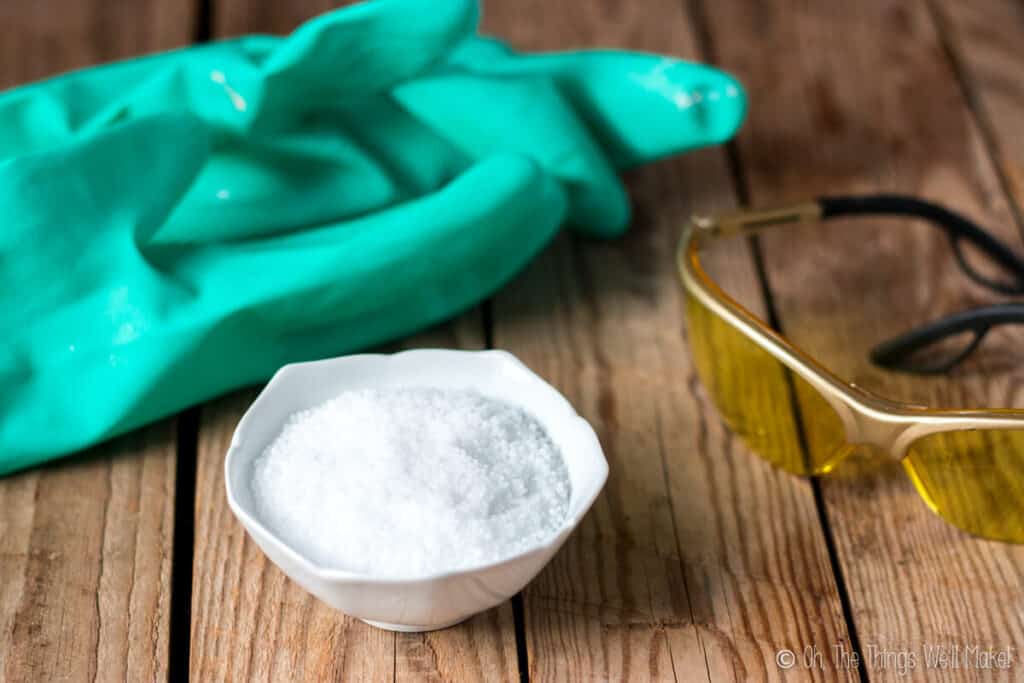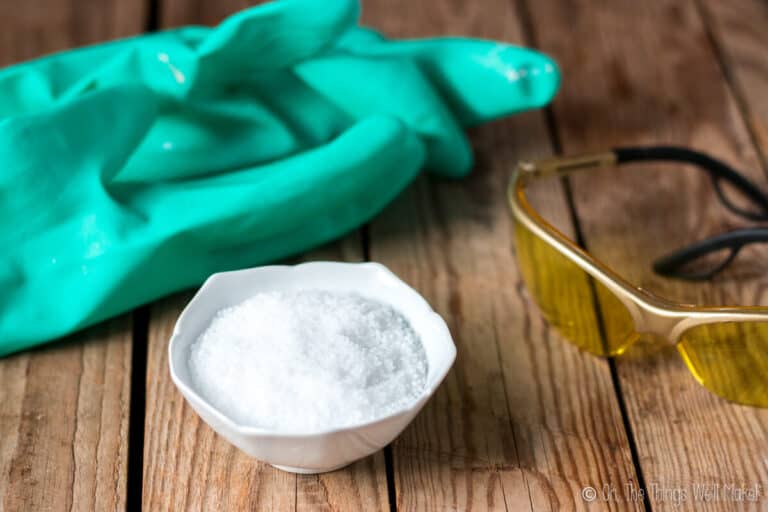 When making soap, use protective eyewear and gloves. To make the lye solution, pour the lye into the water rather than the other way around!
Mix the ingredients together outside or in a well-ventilated area. For more safety tips, read my beginner soap recipe post.
Video
Looking to make more?
Subscribe to my newsletter for the latest projects (and recipes)!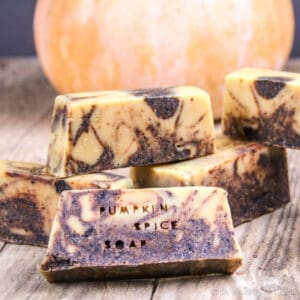 Easy Pumpkin Spice Soap
Impressive looking, but simple enough for beginners, this easy pumpkin spice soap smells divine, and would make a perfect autumn gift.
Print
Pin
Rate
Materials
100

g

coconut oil

500

g

olive oil

80

g

lye

2.8 oz.

100

ml

goat milk

either fresh or reconstituted from powdered

100

ml

water

45

g

pumpkin

1.6 oz., I made my own puree

1

teaspoon

coconut sugar

or any brown sugar

1

teaspoon

salt

1

Tablespoon

cinnamon

1

teaspoon

nutmeg

1

teaspoon

ground cloves
clove essential oil

& cinnamon and ginger essential oils
Instructions
Prepare the goat milk
Place the goat milk in the freezer while weighing/measuring out the other ingredients. (You'll want to have the spices ready to go so that you aren't rushed later on.)
Prepare the lye solution
Carefully pour the lye into the water in a stainless steel or plastic bowl. (For more safety tips, read my easy beginner soap recipe post.) Mix in a well-ventilated area. The mixture will heat up and become cloudy. Try to dissolve all (or most) of the lye before adding in the goat milk.

After a few minutes, begin adding the cold goat milk. I like to add it when it's frozen to avoid scorching the milk. If your milk isn't frozen, you can also mix them together over a pan of ice and water. Your solution will probably yellow. That is a normal reaction of goat milk and lye.

Add the sugar and salt to the lye solution. Once the solution is thoroughly mixed, allow it to rest while you get together the other ingredients.
Combine the lye solution and the oils
Melt the coconut oil if it is in a solid state. Then, combine the oils in a large bowl.

Add the lye solution to the oil mixture, and gently mix them together.

Once the lye solution is incorporated into the oils, carefully mix them together with an immersion blender. The mixture will become creamy looking and, after a few minutes, will thicken into a thin, mayonnaise-like texture. (If your ingredients are cold, it will take a bit longer.) At this point, it's called "trace." We can now add in other ingredients.
Add in other ingredients
Add the pumpkin puree to the soap mixture. If you want to add an orange pumpkin color, now is the time to add in some achiote powder (start by mixing in a small amount and add more as desired) or a soap colorant.

Add the essential oils or cosmetic grade fragrance oils, if you prefer. Certain essential oils, like clove oil, may cause your soap to thicken more quickly, so be prepared, just in case. I didn't find it to be an issue, but it may depend on the oil. You can experiment here, and use your nose to help guide you. I used mostly clove oil, followed by some cinnamon and ginger oil. 😉

Separate out about ⅓ of the soap mixture into a separate bowl. Add the ground dried spices to the ⅓ that you separated out. Mix well to fully disperse them in the mixture.
Pour into molds
Pour about half of the un-spiced soap mixture into your mold. (I'm using a silicone loaf pan.)

Add a layer of the spiced soap using about ½ of the spiced soap mixture. If it appears to fall to the bottom in one area, carefully spoon it over the top to completely cover the unspiced layer.

Cover that layer with another layer using the rest of the un-spiced soap mixture. Then, cover that, as before, with the rest of the spiced soap.
Swirl the soaps
Using a spoon or some other utensil, poke into the soaps, reaching for the bottom layer and pulling the soap out over top, trying to gently swirl the soaps in certain places. You can also zigzag your way through the soap in places, to have the soaps gently swirl together, without fully mixing them into each other.

Once you've gently swirled all over the soap, allow the soap to rest for at least 24 hours.
Unmold and cut the soap
After 24 hours, you can begin to check the soap to see if it's hard enough to be gently unmolded. If it is too soft, wait another day and check on it again. Once hard enough, gently unmold it. (Don't wait too many days or it may be difficult to cut into bars.)

Once you've removed the block of soap from the mold, cut it into bars. You can make your soaps as thin or as thick as you like.
Curing the soap
Place the soap on parchment paper or cardboard with air space between the bars. Allow them to cure for several weeks, ideally at least 3-4 weeks. During this time, the soap will harden and the crystalline structure will continue to form. To help the soaps dry thoroughly on each side, flip the bars of soap every couple of days at first. Once cured, it's ready to use like any other soap. Enjoy!
Notes
*When first published, this recipe used 400g olive oil and 100g sweet almond oil. At the time, I had a lot of extra almond oil and was experimenting with it. I've found, though, that the extra expense isn't worth it. I now use the beginner soap recipe as a base- exactly as it was written in the original post.
Customizing the recipe
For more cleansing and lather, you can use 450g olive oil and 150g coconut oil for the oils, and increase the lye to 81g.
If you don't want to use goat milk, you can use only water for the recipe.
Using goat milk powder
If using goat milk powder, follow the instructions that came with your goat milk powder. If yours didn't come with instructions, add, by volume, 1 part goat milk powder to 4 parts water. By weight, add around 15g of powdered milk to 100ml water. The final amount of goat milk in the recipe doesn't have to be precise. Just make sure that the total amount of liquid, water plus goat milk, is around 200ml.