This braised squid is slowly cooked with red wine and onions, making a sweet sauce that you'll want to dip your bread into.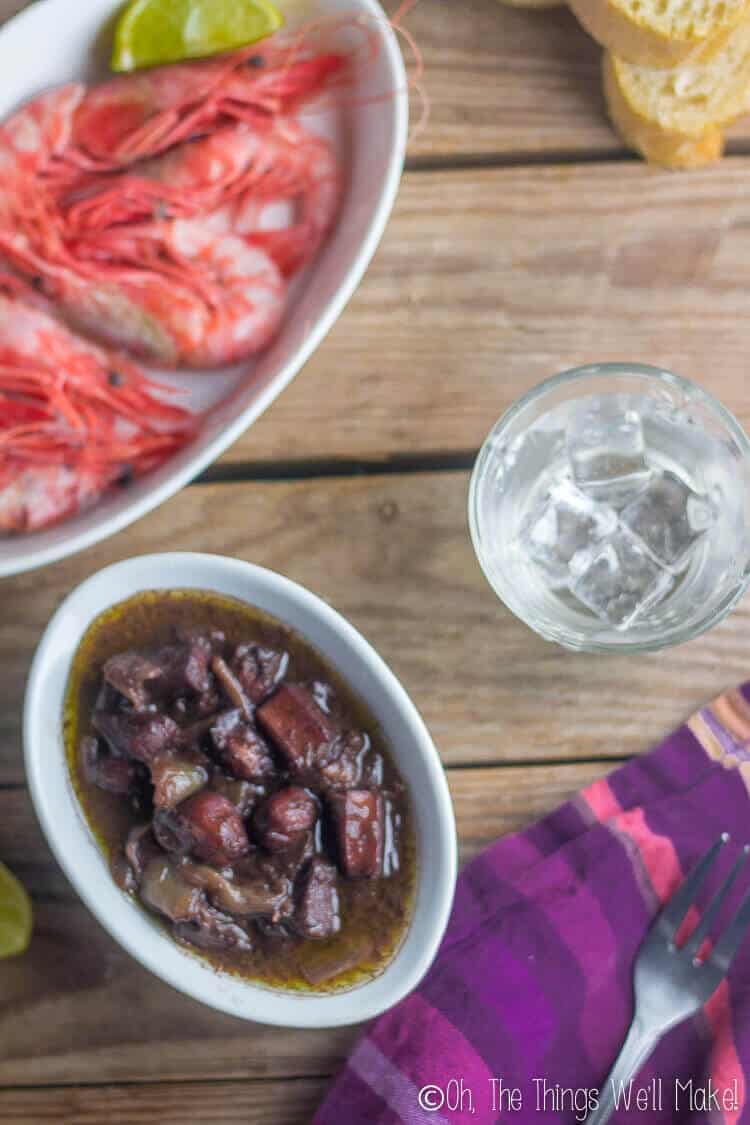 Squid is one of those foods that I've found that most Americans haven't fully embraced. Some may have gotten up the nerve to try "calamari" at their local Italian restaurant, many without even knowing what they are eating.
I get it. A squid's appearance can be a bit off putting to somebody who's never tried it before. Seeing the fried rings of calamari, on the other hand, are a lot less intimidating. It's slight resemblance to onion rings helps make giving squid a chance much easier. In fact, here in Spain, calamares a la Romana, Spain's version of fried calamari rings, actually finds its way to a lot of kids menus.
I'm not really sure when I tried squid for the first time, but what I do know is that I absolutely love it. whether it's deep fried into calamari, skillet fried in a bit of olive oil, or braised in red wine, Squid will continue to be one of my favorite foods. I think it's a great addition to a healthy diet, especially if you are looking to widen the variety of your diet.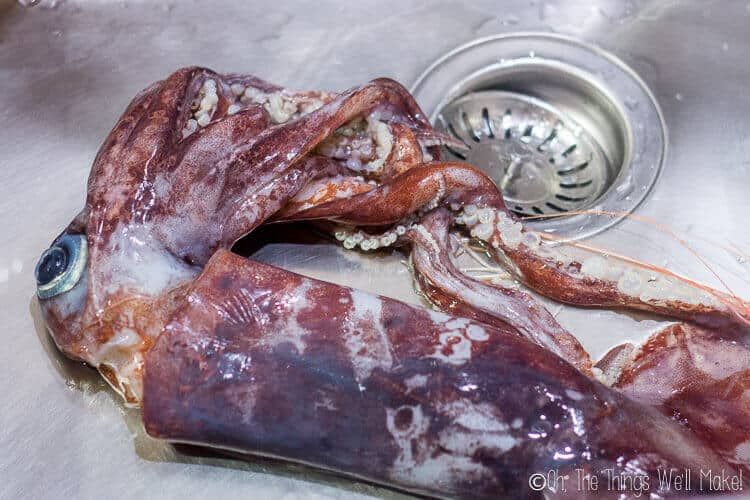 This braised squid is actually one of my favorite recipes.
Even if you haven't tried squid before, this recipe can be a great place to start. It may not look like onion rings, but it's lighter and healthier than deep fried calamari, and, as far as I'm concerned, much tastier.
This recipe comes from my husband, a fisherman, and it is one of the classic ways to prepare squid here in Spain.
Squid come in lots of varieties and sizes.
Depending upon what they are fishing for, the fisherman of the area fish in different areas. Those who are in search of most fish types fish nearer to the coast. On the other hand those fisherman, like my husband, who are searching for the famous Denia red prawns, need to travel much further from home where the water is deeper and the prawns can be found.
In the area my husband fishes, only the tougher, bigger varieties of squid are found. These tougher varieties are much less desirable, and are a lot cheaper. In fact, they are often bought by other fishermen as bait for catching other types of fish.
Some restaurants will make fried calamari after having frozen the tougher squid to help tenderize them, but those with a refined palate can tell the difference.
On the other hand, I find these tough squid to be rather valuable. They can easily be converted into something glorious with a little time, some red wine, and some onions.
Don't have a large, cheap, tough squid?
Don't fear; you can make this with any variety of squid, judging when it is done by its tenderness. I also make this with smaller squid occasionally when I have them on hand.
Another concern you may have: I don't particularly like foods that taste like the alcohol that has been used to cook them. Here, though, the squid doesn't taste like red wine, but instead the wine and onions fuse into a sweet, thick sauce that you'll want to dip some bread into; if you eat bread, of course.
Craving more?
Subscribe to my newsletter for the latest recipes and tutorials!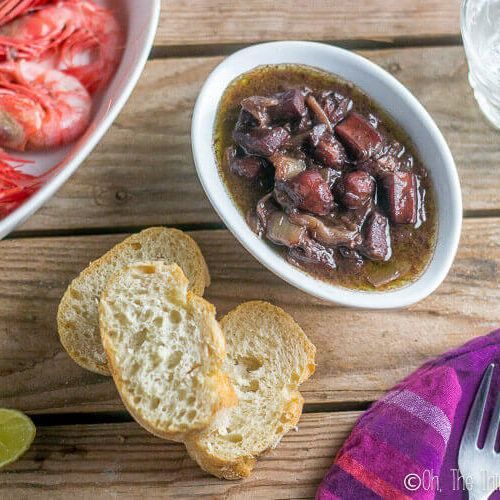 Calamar al Vino Tinto: Red Wine Braised Squid
This braised squid is slowly cooked with red wine and onions, resulting in a tender seafood with a sweet sauce that you'll want to dip your bread into.
Print
Rate
Ingredients
1

large

squid

or several smaller squid

2

onion

500

ml

red wine

more or less as needed
Instructions
Brown the onions in a few tablespoons of olive oil. Add a little olive oil and some red wine to keep the solids from sticking to the pan.

Add in the squid and slightly pan fry it to lightly brown the sides.

As they start to lose their liquid, they will shrink down. Add in red wine to cover the squid and stir occasionally to keep it from sticking to the pan.

Add more red wine as needed to keep the squid from drying out.

Cook until the squid is tender and the oinions and red wine have formed a thick, sweet sauce, and the squid is tender.
Most of the time, the process takes about 45 minutes to an hour.
If you have a less tough squid, or use smaller ones, it will probably take less time than that, though. Really, the best way to judge when your squid is ready, is by testing it with a fork to determine when it has become tender. Once that happens, let the enough liquid evaporate that you end up with a thick, sweet sauce.
Serve as an appetizer or main dish. It is especially good with some bread for dipping into the squid.
If you love seafood, make sure to check out my list of healthy seafood recipes!