Once again, I have been featured in a real food blogger community cookbook!
The second in the series, and possibly my favorite, Naturally Sweetened Treats compiles the very best real food sweets recipes from over 40 real food bloggers.
You won't find sweets using white sugar or artificial sweeteners, but instead will find treats naturally sweetened with ingredients like dates, honey and maple sugar.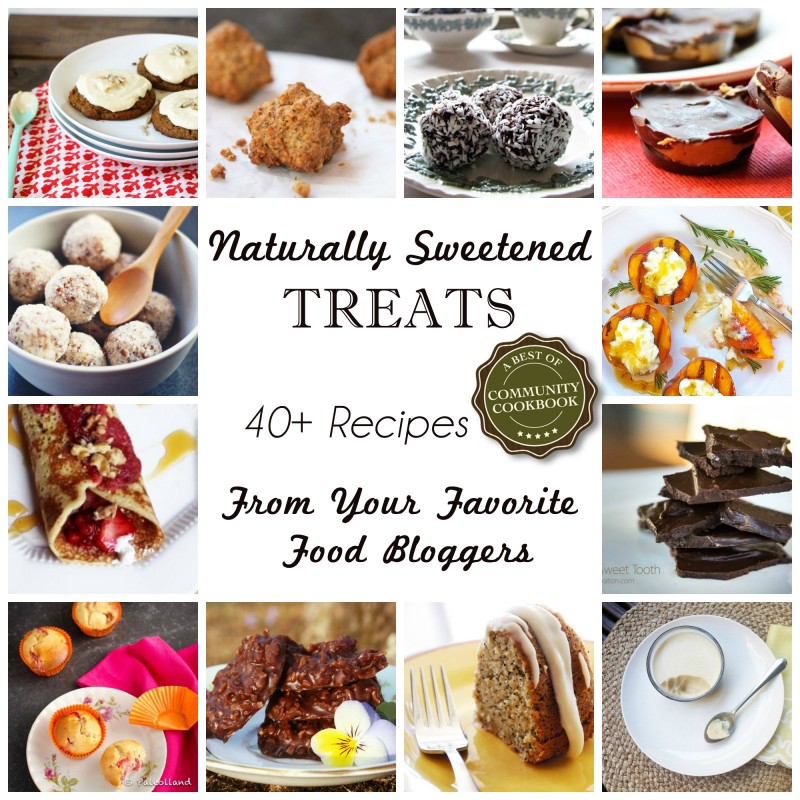 Are you following a restrictive diet?
This book will still likely have a lot for you.
It has:
39 Gluten Free Recipes

36 Grain Free Recipes

30 Dairy Free Recipes

27 Paleo Friendly Recipes

19 GAPS Legal Recipes (With more easily modified to fit)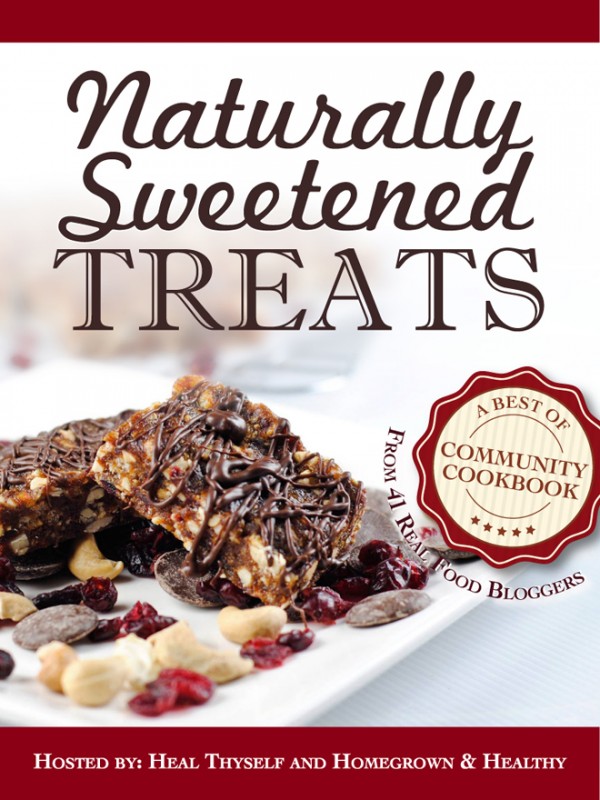 What sorts of sweets are included?
8 Balls & Bar recipes

7 Cakes & Pie recipes

8 Chocolate recipes

4 Cookie recipes

7 Fruity recipes

7 Ice Cream recipes
None of which used highly processed or artificial ingredients!
Take charge of your health!
If you're going to eat sweets, make sure they are naturally sweetened!

Recipes made without highly processed ingredients

Full color photos

Working links to the authors' blogs and social media pages so you can easily have access to more real food recipes for free!

Recipes indexed by soup name, category, and author
Brought to you by the following real food bloggers:
Alison of Health Nut Nation
Amanda of The Curious Coconut
Amy of Real Food Whole Health
Aubrey of Homegrown & Healthy
Beth of Red & Honey
Carol of Studio Botanica
Carolyn of Real Food Carolyn
Christy of Completely Nourished
Christy Whole Foods On A Budget
Colleen of Little Homesteaders
Denise of Edible Harmony
Eileen of Wellness and Workouts
Elise of Healing Cuisine By Elise
Emily of The Urban Ecolife
Heather of The Homesteading Hippy
Jackie of Deductive Seasoning
Jacquelyn of Little Owl Crunchy Momma
Jan of The Nerdy Farm Wife
Jennifer of Hybrid Rasta Mama
Jill of Real Food Forager
Jo of Nourishing Time
Joelle of jarOhoney
Katie of Kitchen Stewardship
Kelli of Happy Healthnut
KerryAnn of Intentionally Domestic
Lauren of Healing And Eating
Libby of eat.play.love…more
Libby of Libby Louer
Lydia of Divine Health From The Inside Out
Meghan of Just Enjoy Food
Natalie of Honey, Ghee, & Me
Pat of Heal Thyself!
Sandi of Sandi's Allergy Free Recipes
Shannon of All Things Health
Shanti of Life Made Full
Sjanett of Paleolland
Stacy of Paleo Gone Sassy
Starlene of GAPS Diet Journey
Susan of Growing Grace Farm
Susan of Learning and Yearning
Suzanne of Strands Of My Life
Tracy of Oh, The Things We'll Make!
Vivian of The Real Food Guide