This paleo linguini with clam sauce recipe uses fresh clams and zucchini noodles to make a delicious, quick and easy, healthy meal.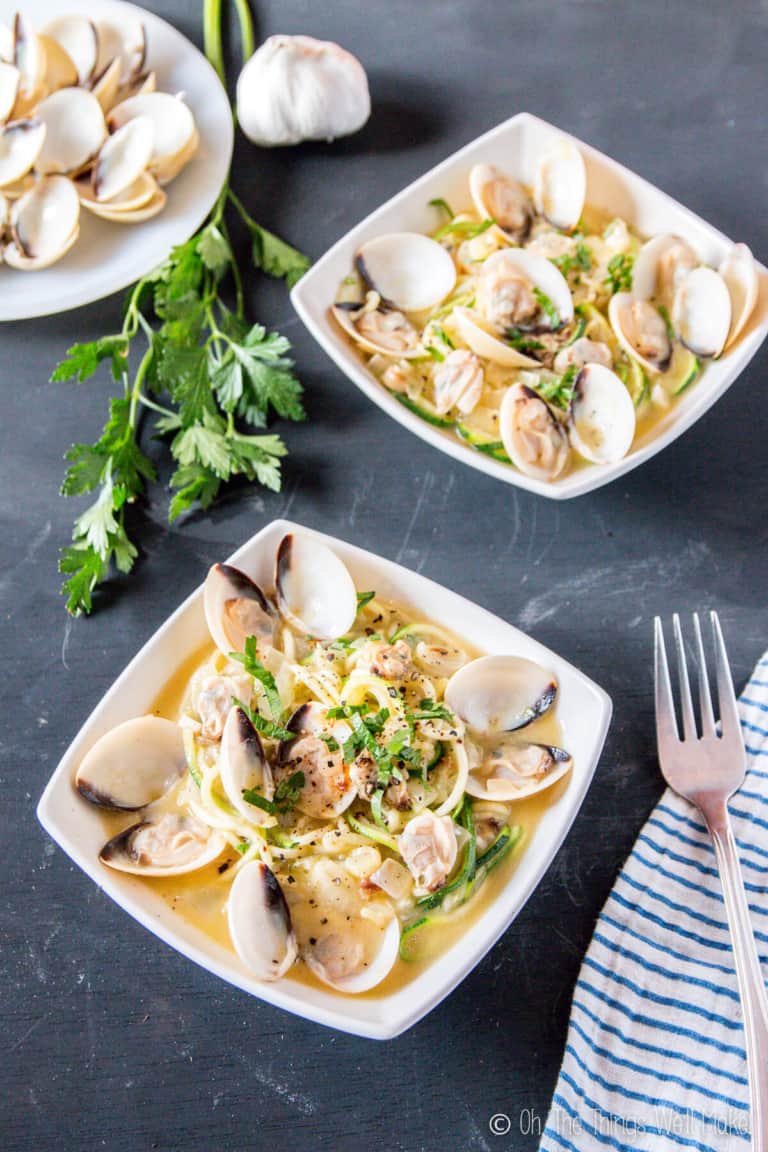 One of my favorite foods growing up was linguini with clam sauce. I'm a bit embarrassed to admit that the linguini I used to eat came from a box with frozen pasta inside a plastic bag that was meant to be microwaved. It was quick and easy, but I had no idea how quickly and easily the real deal can be thrown together!
Of course you can make this with actual pasta, and I have an older recipe up for how you can quickly and easily make your own pasta. As you know, though, I have cut out gluten and most grains, and have been trying to get in more healthy veggies into my meals. One of the best tools for doing that is a vegetable spiralizer.
Ever since I've had my spiralizer, I've been having fun experimenting with it. I have tried it with lots of fruits and veggies, but I still find the most versatile of them to be zucchini noodles, aka. "zoodles". At first, my favorite recipe using zucchini noodles was my Asian style fried zucchini noodles. It's a quick, healthy recipe that helps me use up some of my hens' eggs, and I still love and make it occasionally, despite always wanting to try new things.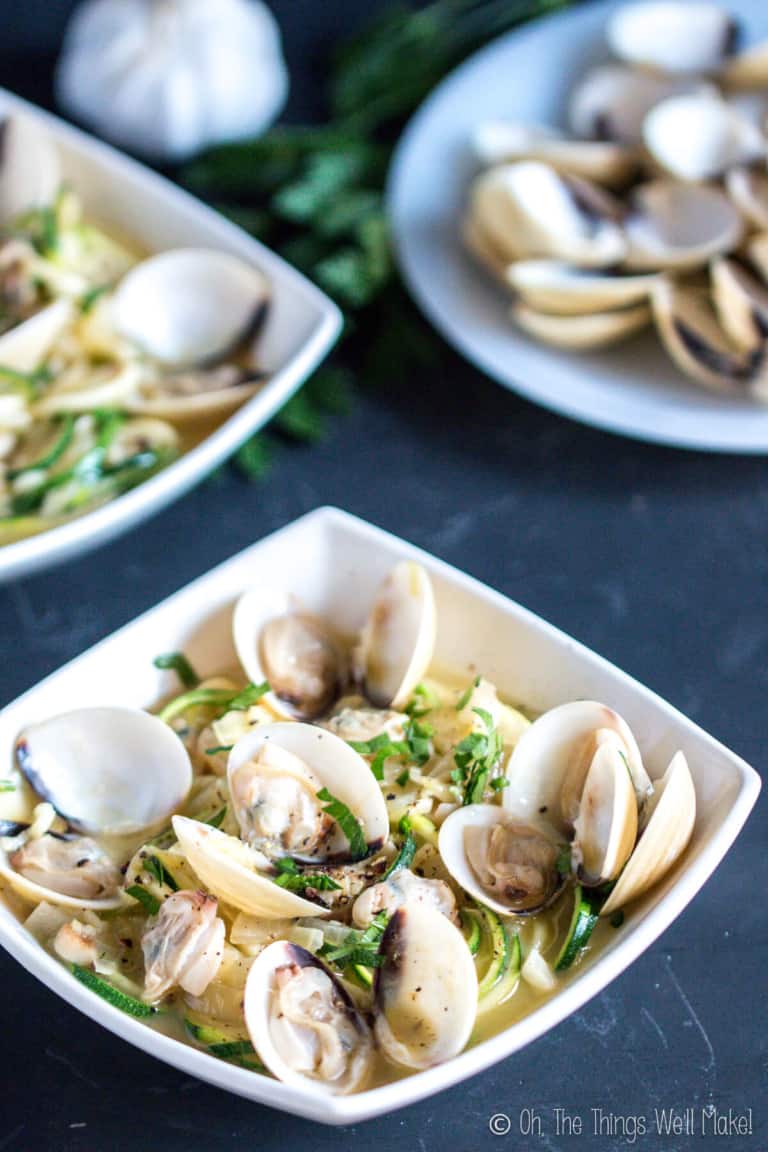 This past spring, I also showed you my paleo pho soup using zucchini noodles. While that recipe takes a little longer to make, it's perfectly soothing in the winter, and it was probably my new favorite until I made this paleo linguini with clam sauce. Don't get me wrong, I still love the pho recipe, but it just isn't as appealing to me in the summer to be making soup. Plus, the simplicity of this new recipe makes it easy for me to quickly whip out a healthy meal in only around 15 minutes. Clams and zucchini make me think of a summer beach party, and they make a very tasty combination.
Craving more?
Subscribe to my newsletter for the latest recipes and tutorials!
Instructions
If using ghee or butter, melt it in a large pan on the stove at medium to high heat. If not, pour in your olive oil and begin to warm it.

Add in the minced onions and garlic, sautéing them while stirring them for a couple of minutes.

While the onions and garlic are cooking, make sure your clams are washed and clean and ready to add to your pan, and then add them in. You can turn down the heat a little (medium heat) and cover the pan to help fully cook the clams.

While the clams are cooking, spiralize the zucchini.

As soon as the clams are open, they are done. (Toss any that don't open.) You can set aside a few clams in their shells for placing on top of your linguini if you like. Remove the shells of the rest of the clams.

If you are using regular pasta, you can continue to cook the clams with the onions and garlic to help reduce the liquid a little. The onions will help slightly thicken it.

Especially when using zucchini noodles, because they release moisture themselves, I like to thicken the sauce before adding them in. To thicken the sauce, stir around 1 tsp. of tapioca starch (flour) into enough cold water to easily dissolve it into a milk like substance. Pour a little bit of the mixture at a time into the sauce, while continuously stirring over the heat source. It should begin to thicken. You can stop adding the tapioca starch when it is slightly thicker than you want your final sauce to be. If you have added too much and it doesn't thin out when you add your zucchini, you can always add a little bit of plain water to the sauce to thin it slightly.

Add in the zucchini noodles, and stir them into the sauce while cooking them for 2-3 minutes, or until they are cooked the way you like them.

Add salt and pepper to taste.
Notes
If you aren't concerned about these being 100% paleo and can tolerate dairy, you can garnish the dish with parmesan cheese.
If you enjoy seafood, make sure to check out my roundup of over 65 seafood recipes.