Just as crispy and delicious as their traditional counterparts, these Spanish-style gluten-free churros are also grain-free.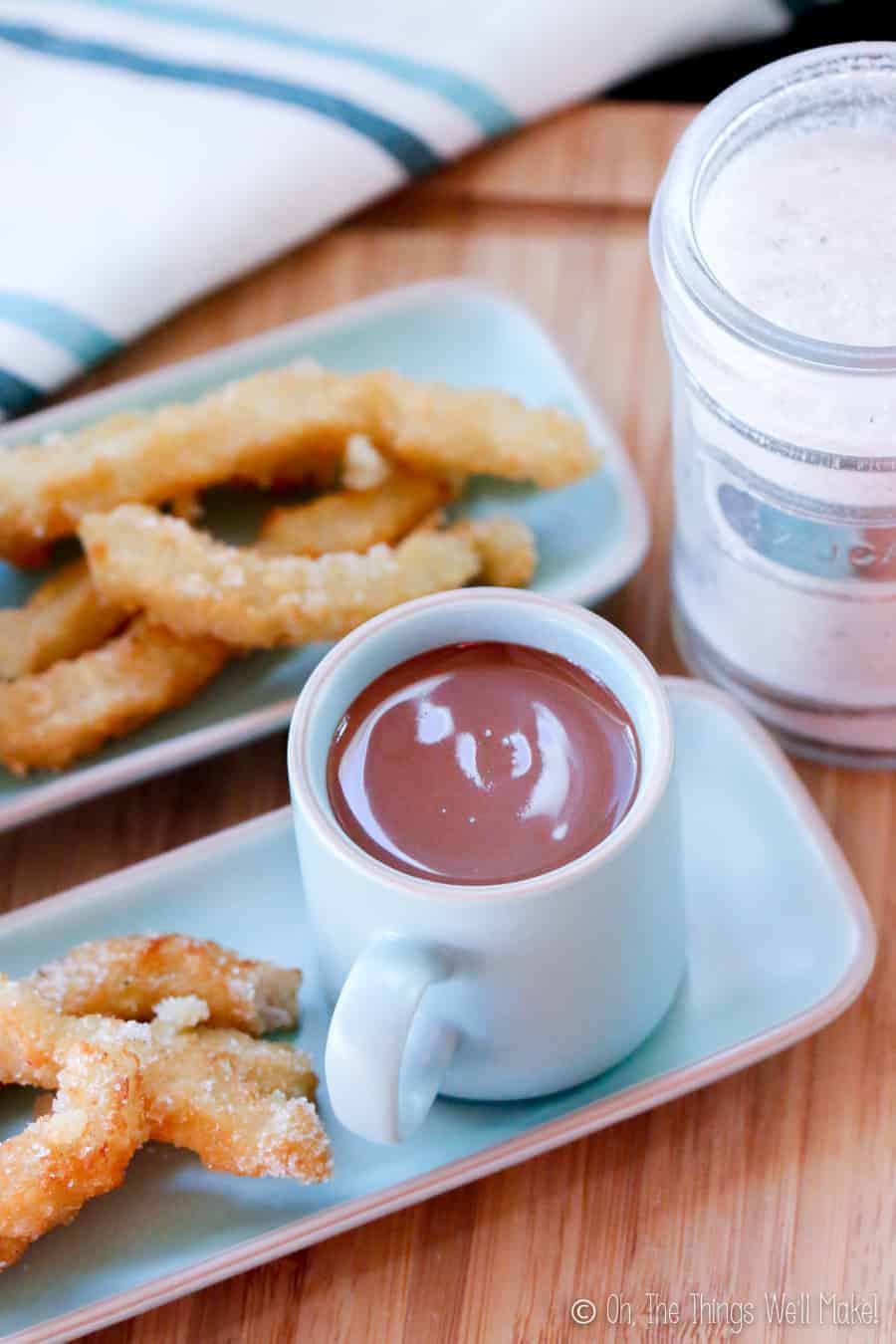 Perhaps the most well known Spanish party food, churros, over the years, have been enjoyed and adapted by people from all over the world.
In Spain, churros are served from mobile churrerías at fairs, flea markets, and fiestas (festivals).
At bars, they are served for breakfast with chocolate a la taza, a thick, pudding-like chocolate drink that you can dip your Churros into. These "breakfasts" are often enjoyed by late-night partiers before heading home to bed.
(I may or may not have had churros once or twice, years ago, after a late night at the discoteca.)
Churros & olive oil
In the US, churros are commonly enjoyed covered in cinnamon and sugar, a Latin American adaptation of the recipe.
Here in Spain, though, I've never seen them with cinnamon. They instead, get their characteristic flavor from the olive oil in which they have been fried.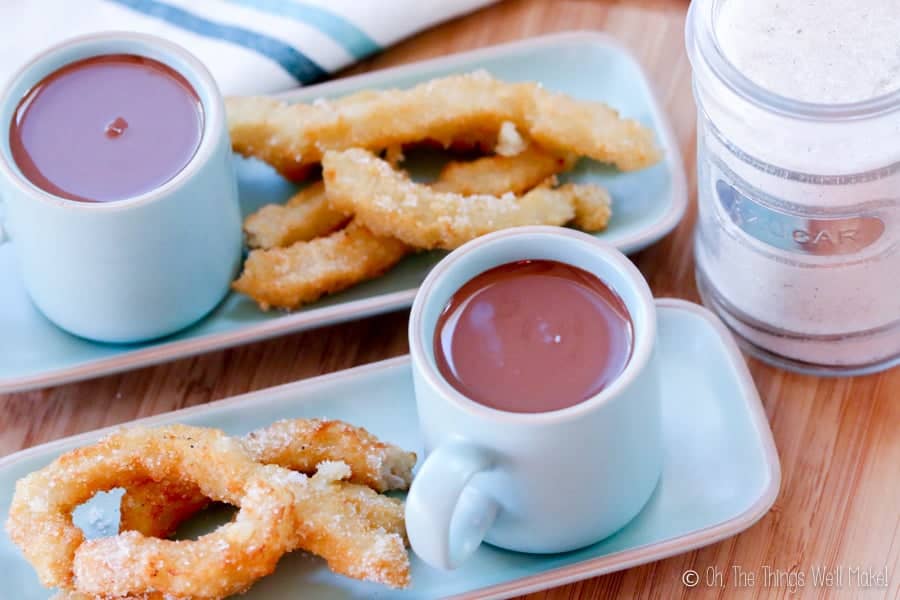 Is it safe to fry in olive oil?
Many people avoid deep-frying in olive oil because it isn't thought to be as stable as some other fats like ghee, coconut oil, and animal fats. They're also afraid of it having a lower smoke point than some of the other fats.
The smoke point
A high-quality extra virgin olive oil, though, when not mixed with other oils, actually has a high smoke point (around 405°F). In fact, its smoke point is comparable to that of coconut oil (350°F) and lard (390°F).
The vitamin E and antioxidants in extra virgin olive oil also make it quite stable against oxidation.
For those reasons, many people are changing their minds about frying in EVOO.
That said, I'd like to give my take on this subject.
Those of us who are serious about our health won't be deep frying or making a recipe like this one every day. This recipe should be an occasional treat.
In the case of this recipe, the choice of oil is important because olive oil gives a distinctive flavor.
If you are going to make them, I'd suggest making them the "right" way. Make these churros and enjoy them as they were meant to be enjoyed. Don't feel guilty about having an occasional treat.
Of course, it's up to you to choose the oil that you want to use for frying.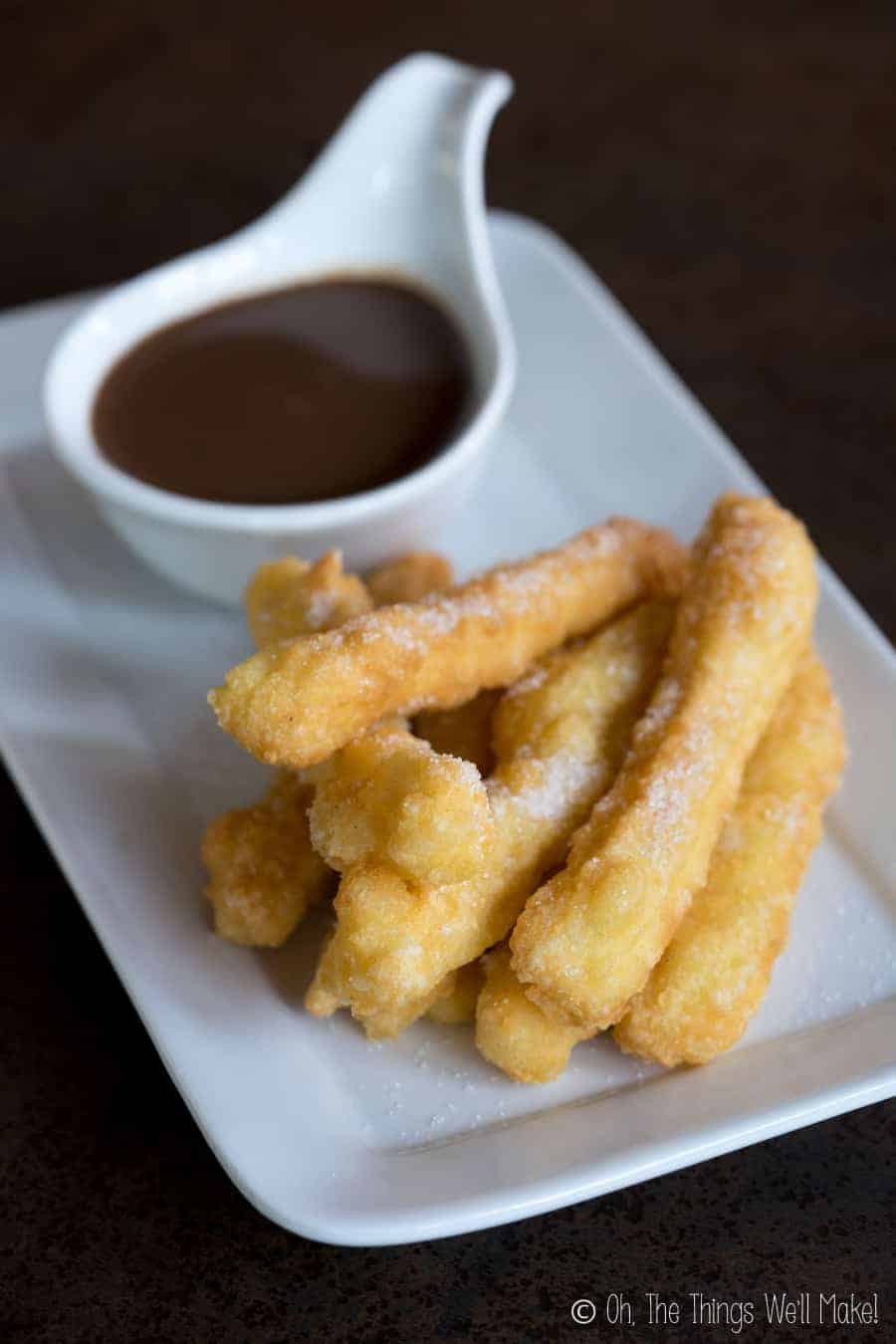 A grain-free, gluten-free dough
Traditional churros are normally made with a simple, thick dough made with flour and water. Modern recipes often use a choux type dough that incorporates milk, butter, and/or eggs. I have shared how to make it either way in my easy churros recipe post.
Coming up with a grain-free version was actually trickier than I thought it would be. I tried different combinations of tapioca flour, almond flour, and coconut flour, with various results. I'm almost embarrassed to say how many batches I made throughout the process, so I won't. 😉
Using tapioca starch
Tapioca starch or flour has an interesting property that makes it a great choice for making grain-free or gluten-free adaptation recipes. When you heat it, it achieves an elastic texture that helps hold the dough together almost like gluten does.
To achieve this elasticity, though, the flour and water mixture needs to be very hot. That's why it's especially important in this recipe to add the flour immediately after reaching the boiling point of the water. Measure out the flour ahead of time, ready to be added to the hot water.
If you find that the dough is runny or not achieving an elastic-like texture, it's probably because the temperature wasn't high enough. To fix the problem, you can try heating the mixture over low heat, but be careful not to completely cook the dough either.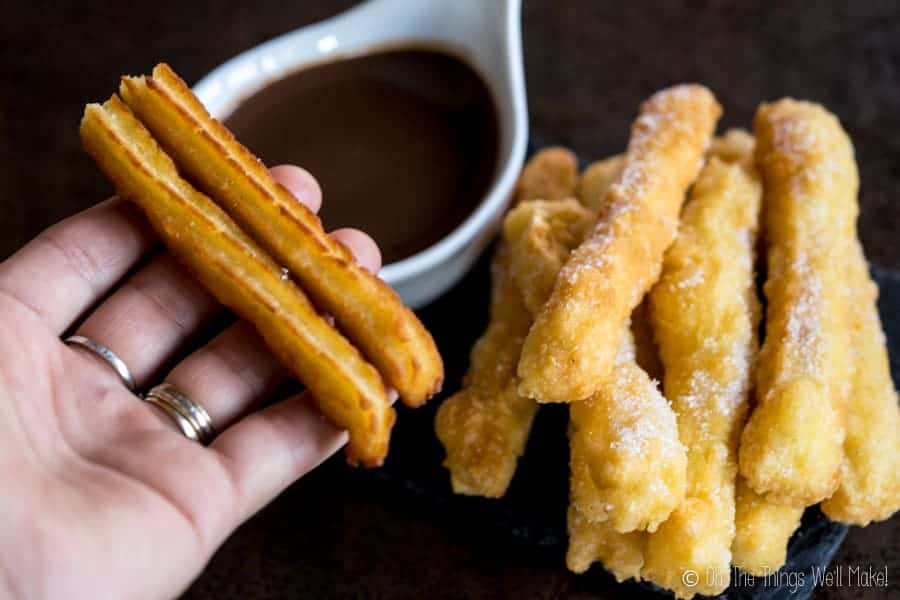 Importance of order
So, we've already established that the tapioca starch needs to be added immediately after removing the water from the heat source, but the coconut flour is also a bit finicky.
When making these churros, I measure out all 3 flours ahead of time. Once the water reaches its boiling point, I remove it from the heat source and immediately mix in the coconut flour.
Coconut flour absorbs a lot of water and it's easiest to incorporate it first. Work quickly, though, as you need to immediately begin to add the tapioca starch.
To help avoid getting lots of lumps in the dough, I add the tapioca starch a little bit at a time, stirring quickly and vigorously and immediately adding more.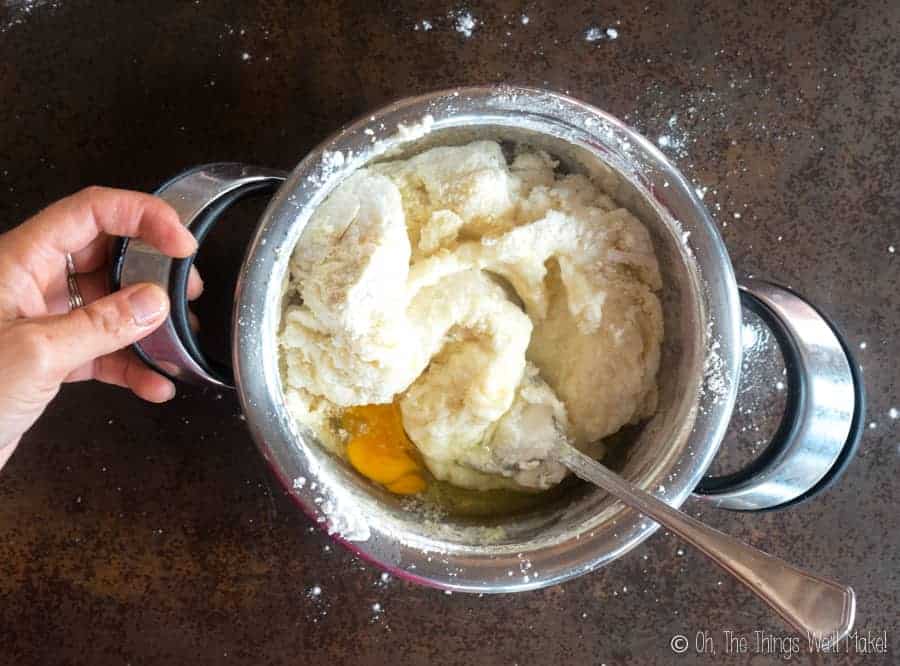 Once the tapioca starch is fully incorporated, you can add the almond flour. The dough will be very thick and elastic by this point, so it may be difficult to completely blend it in with the other ingredients.
Adding the egg will slightly soften the dough and will allow you to fully mix all the ingredients together.
Piping out the dough
When I first shared this recipe, I made a lighter dough that didn't hold together quite as well. (It included another egg and slightly more water.) That dough needed to be piped directly into the hot oil because it was too sticky to handle.
I have since updated the recipe to allow for piping the dough out onto a clean cloth where it can be cut to size. The pre-piped dough can then be easily added to the hot oil for frying.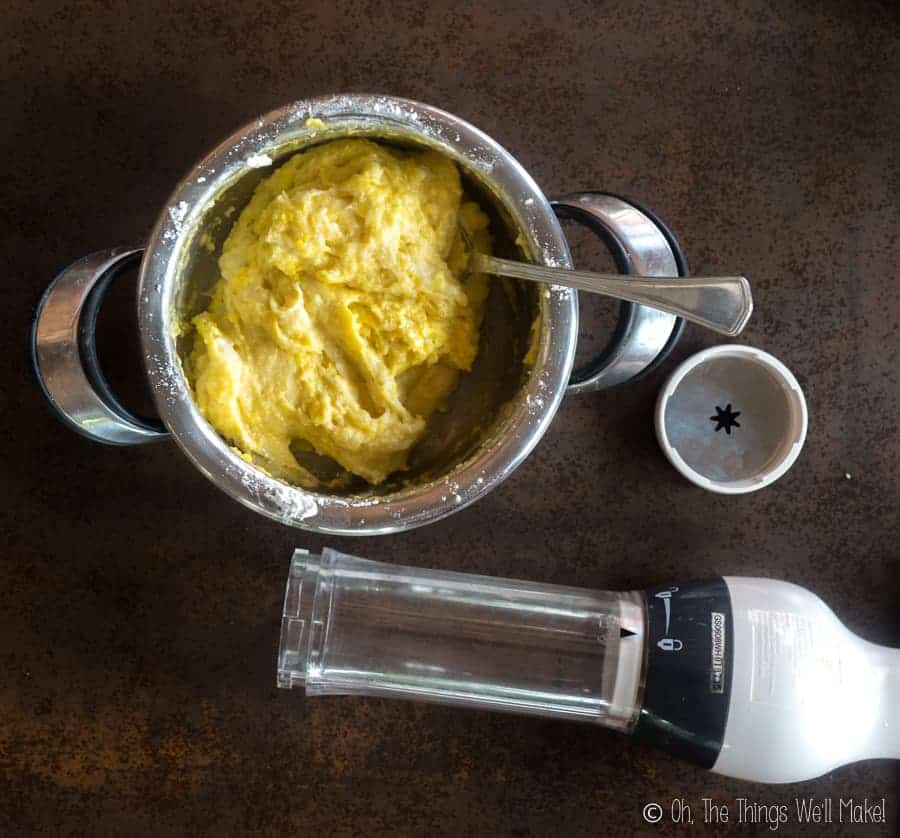 Although you can pipe this dough out onto a clean cloth, it is stickier and not as "pretty" as the dough made with wheat flour.
Differences in frying
The dough of traditional churros is easier to handle and makes prettier churros. It also fries more quickly than these grain-free churros.
When frying these churros, I began frying them at around 190ºC/375ºF. It's a good frying point that allows them to cook without overheating the oil too much.
I was worried that they were taking way too long to turn a golden brown. What ended up taking only a couple of minutes with the traditional, wheat-based churros, took around twice as long for the grain-free churros.
I was concerned that I may have been cooking the churros too long, but I later found that it was very important to cook these longer. The longer cooking time converts the elastic dough into more of a bread-like, soft interior. If these churros aren't cooked long enough, the center will be sticky and raw.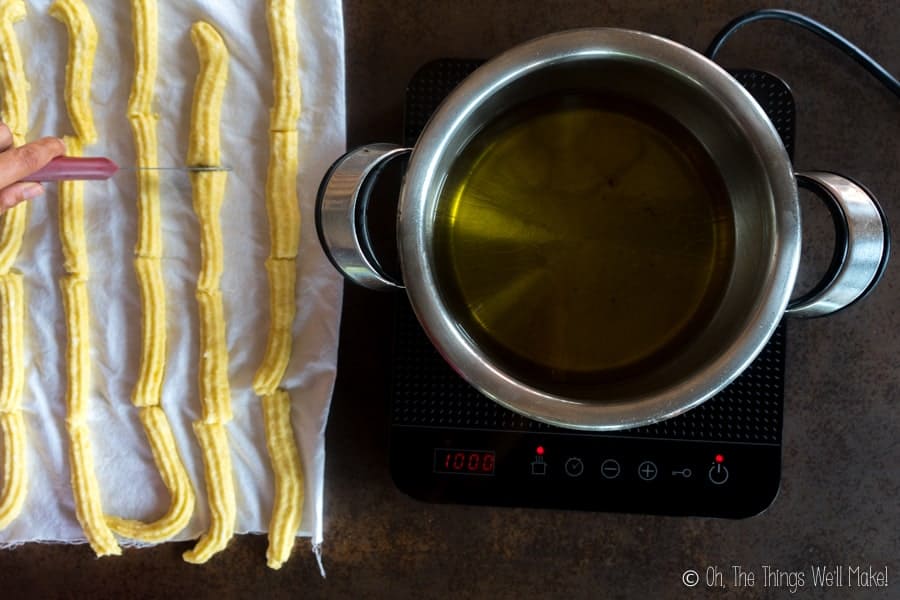 While the traditional churros can be made to be quite thick, these churros are best when made with a thinner tip or disk.
You may also notice that these may bubble slightly when fried, causing them to form "wart-like" projections on the churros. While they may not be as beautiful as the others, they are still delicious. In fact, my husband liked these better than the ones made with wheat!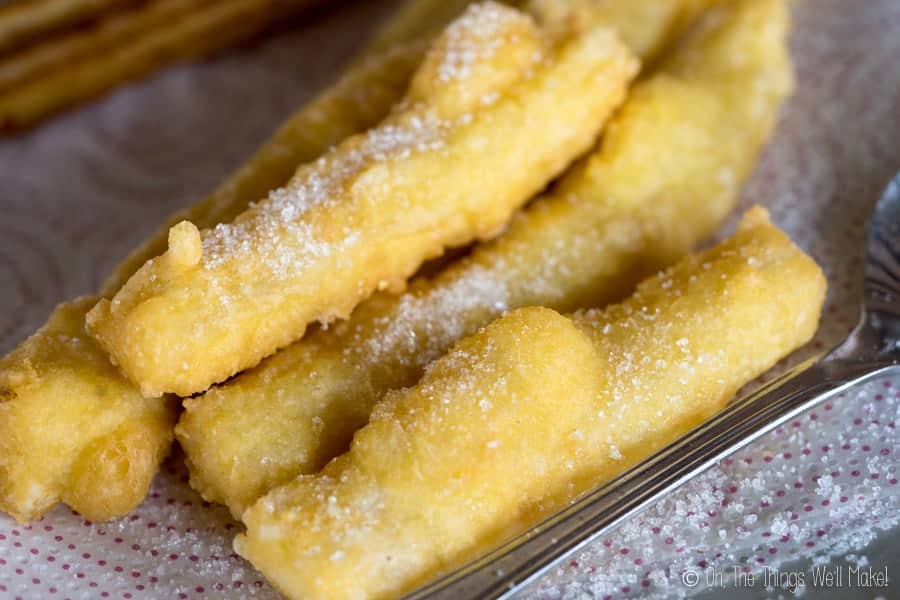 Making vegan grain-free churros
While you can easily sub out the butter for olive oil or coconut oil, I preferred the flavor of these churros when made with eggs.
At first, I had a hard time making the dough without them. I later found, though, that if you are careful about achieving an elastic texture with the tapioca starch, the dough will hold up well without them.
You may have to experiment a bit with the ratio of water: flours to achieve a workable dough, but it should be possible to make vegan grain-free churros that don't differ too much from these.
Watch how to make grain-free churros
Grain-free, Gluten-free Churros Recipe
Craving more?
Subscribe to my newsletter for the latest recipes and tutorials!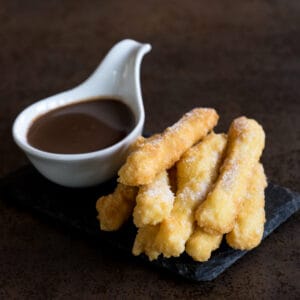 Gluten-free Churros Recipe – Spanish Style
Avoiding gluten? You can still enjoy delicious, Spanish-style churros at home with this easy recipe. These churros are gluten-free, grain-free, and dairy-free, but are definitely not lacking in flavor.



Print
Pin
Rate
Servings:
22
churros (4 inches)
Instructions
Heat the water, butter, and salt in a pan until it reaches its boiling point.

Remove the pan from the heat and mix in the flours. I add the coconut flour first, followed by the tapioca starch. Adding the tapioca starch little by little, stirring it in between additions, helps prevent ending up with a lumpy dough. Work quickly, though, as the heat of the water helps begin to cook the tapioca starch and gives it an elastic texture that helps hold the dough together. Finally, add in the almond flour.

Once the flours have been incorporated into the water, stir in the egg.
You should end up with a thick, sticky batter.

Pre-heat the olive oil (for deep frying) in a pan over medium heat.

Add the batter to a cookie press or a pastry bag with a star-shaped piping tip. You can also use a special churros dispenser (which is really like a cookie press).

When the oil has reached a temperature of around 190ºC/375ºF, you can begin to fry the churros.

Either pipe ropes of the batter directly into the hot olive oil or pipe them onto a clean cloth for easier cutting and frying.

Remove the Churros from the oil and drain on absorbant paper or cotton cloths.

Immediately sprinkle with sugar.
Notes
This recipe was updated in October of 2019 to remove one of the eggs and part of the water to make a thicker batter. That allows you to pipe the churros onto a cloth and later add them, already formed, to the hot oil rather than piping them directly into the oil.
Nutritional information is calculated for the dough before deep frying. Deep frying generally more than doubles the calorie amount for a food. It will also (obviously) add more fat it.
Serving:
1
churro (4 inches)
|
Calories:
42
kcal
|
Carbohydrates:
6
g
|
Protein:
1
g
|
Fat:
2
g
|
Saturated Fat:
1
g
|
Cholesterol:
10
mg
|
Sodium:
28
mg
|
Potassium:
3
mg
|
Fiber:
1
g
|
Sugar:
1
g
|
Vitamin A:
11
IU
|
Calcium:
4
mg
|
Iron:
1
mg
*This post was originally published on Feb. 16, 2015. It was updated in November 2019 with an improved recipe, new tips and tricks, new method, and video.