Perhaps the most well known Spanish party food, churros, have been enjoyed and adapted by people from all over the world for years.
In the US, the most common types of churros enjoyed are covered in cinnamon and sugar, a Latin American adaptation of the recipe. Here in Spain, though, they aren't commonly covered with cinnamon, and instead get their characteristic flavor from the olive oil in which they have been fried.
Churros here are served from mobile churrerias at fairs, flea markets, and fiestas.
At bars, they are served for breakfast with chocolate a la taza, a thick, pudding like chocolate drink that you can dip your Churros into. These "breakfasts" are often enjoyed by late night partiers before heading home to bed.
Getting back to the olive oil…
Many people avoid deep frying in olive oil because they are afraid of it having a lower smoke point than some other fats known to be stable for frying like ghee, coconut oil, and animal fats. High quality extra virgin olive oil, not mixed with other oils, though, really doesn't have a low smoke point at all (around 405°F); in fact it's comparable and even slightly higher than coconut oil (350°F) and lard (390°F). Plus, the vitamin E and antioxidants in the oil make it quite stable against oxidation. You want an extra virgin olive oil for this recipe, anyway, because you want the oil to impart its flavor to the churros.
More and more people, like me, are changing their mind about frying in EVOO being taboo. In any case, a recipe like this one isn't one that you should be enjoying every day if you are serious about your health. So, if you are going to make them, I'd suggest making them the "right" way and enjoy them as they were meant to be enjoyed; just keep them as an occasional treat. Of course, it's up to you to choose the oil that you want to use for frying.
Traditional churros are normally made with a simple recipe which makes a thick dough of flour and water, but some more modern recipes have been adapted to add in milk and /or eggs. I'm about to share my version of traditional churros, which I made for a grain mill challenge, on the Grain Mill Wagon website. The dough in the traditional recipe is very thick, and should be piped with a bigger tip to allow for easy piping of the dough.
Coming up with a grain free churros recipe has been a bit trickier.
I'm embarrassed to say how many batches I tried, so I won't. 😉
I tried different combinations of tapioca flour, almond flour, and coconut flour, with various results. The prettiest churros are made with only tapioca flour, or mostly tapioca flour, but the tapioca flour has a flavor that bothers me when used in high concentrations. I tried adding in almond flour and coconut flour, at differing amounts, but with too much of those flours, the churros are too light and don't hold together well. They are tasty, but aren't very pretty.
The first trials were made without eggs, but I later realized that the grain free versions hold up better with them. If you are vegan, and don't want to add them, you can still make these churros, but the dough is more difficult to work, making it more difficult to get nice looking churros.
The end result?
My husband was pleasantly surprised, and liked these as much, if not more, than the traditional churros that I have made in the past. He actually said, "They taste like churros!" (But in Spanish, of course.) Well, go figure; that's what I was going for. 😉
Unlike the traditional churros made with wheat flour, these are more easily made with a smaller piping tip, but you can also easily make them in a bag with one tip cut off.
With all that said, let's get started.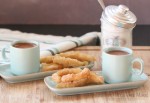 Grain Free Churros Recipe - Spanish Style
Ingredients
Instructions
Heat the olive oil in a pan over medium heat.

In another pan, heat the water and butter until just boiling.

Immediately remove from the heat and mix in the dry ingredients.

Once incorporated, slowly work in the eggs, one at a time. You should end up with a thick batter.

Add the batter to a pastry bag with a star shaped piping tip. You can alternatively use a cookie press, like I did, or even just cut the tip off a plastic bag and use it like a pastry bag.

Pipe ropes of the batter directly into the hot olive oil, and fry them until golden brown, flipping as necessary to brown all sides evenly.

Remove the Churros from the oil and drain on absorbant paper or cotton cloths.

Immediately sprinkle with sugar.

Serve with chocolate a la taza, if desired, and enjoy!
This post is also available in Español.