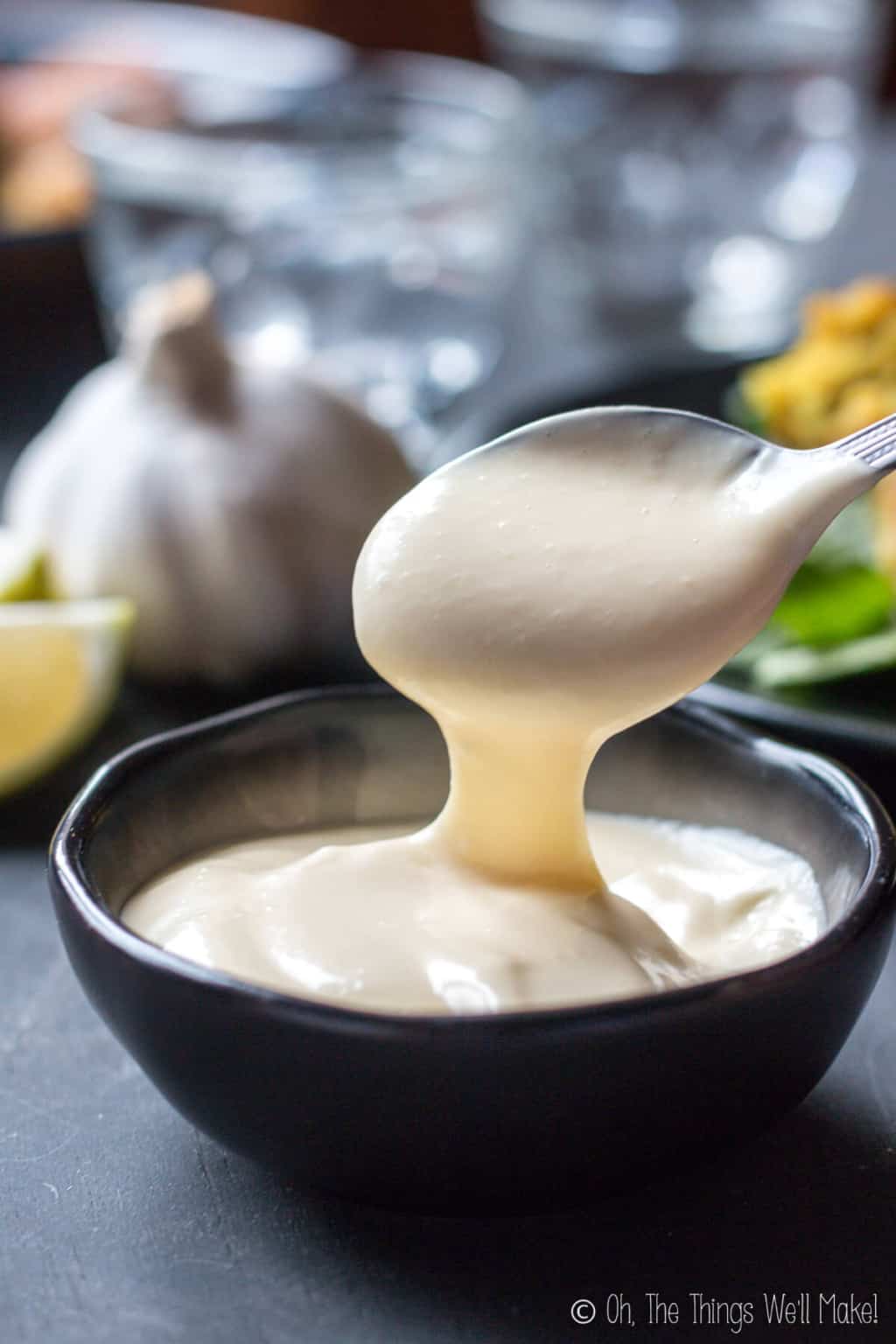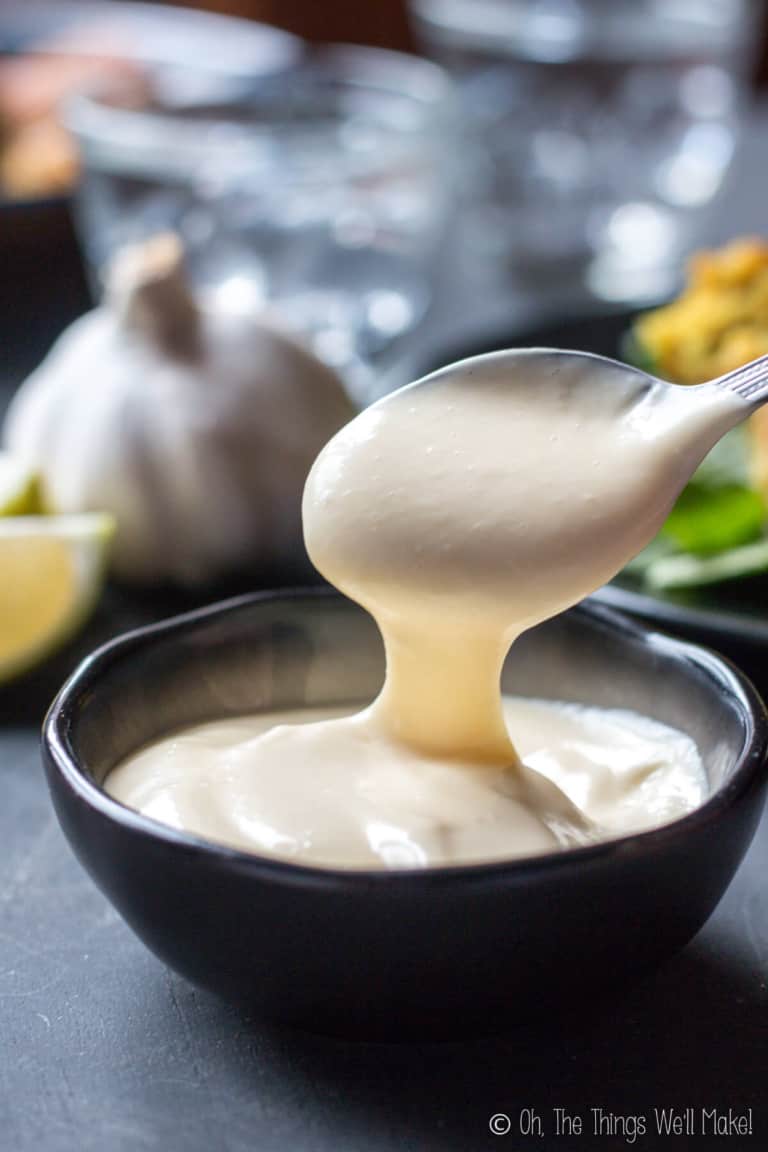 The perfect accompaniment to fish, rice dishes, bread, or anything that could benefit from a creamy, garlic sauce, this easy aioli recipe will be ready in 5 minutes flat. If you've got more spare time, and are more adventurous, though, try the traditional vegan aioli made with mortar and pestle.
Here in my region of Valencia, Spain, aioli is a very common condiment. You can find it on the table, served with bread and/or rice dishes, at just about any traditional local restaurant.
What is aioli?
Aioli is an emulsion made with garlic and oil. This is obvious from its name as the term "aioli," often spelled "allioli," comes from "all i oli," meaning "garlic and oil," in the Valencian and Catalán languages.
Traditionally, alioli was made in this region in a mortar with a pestle using only garlic and olive oil with a little salt. No egg was used to help form the emulsion.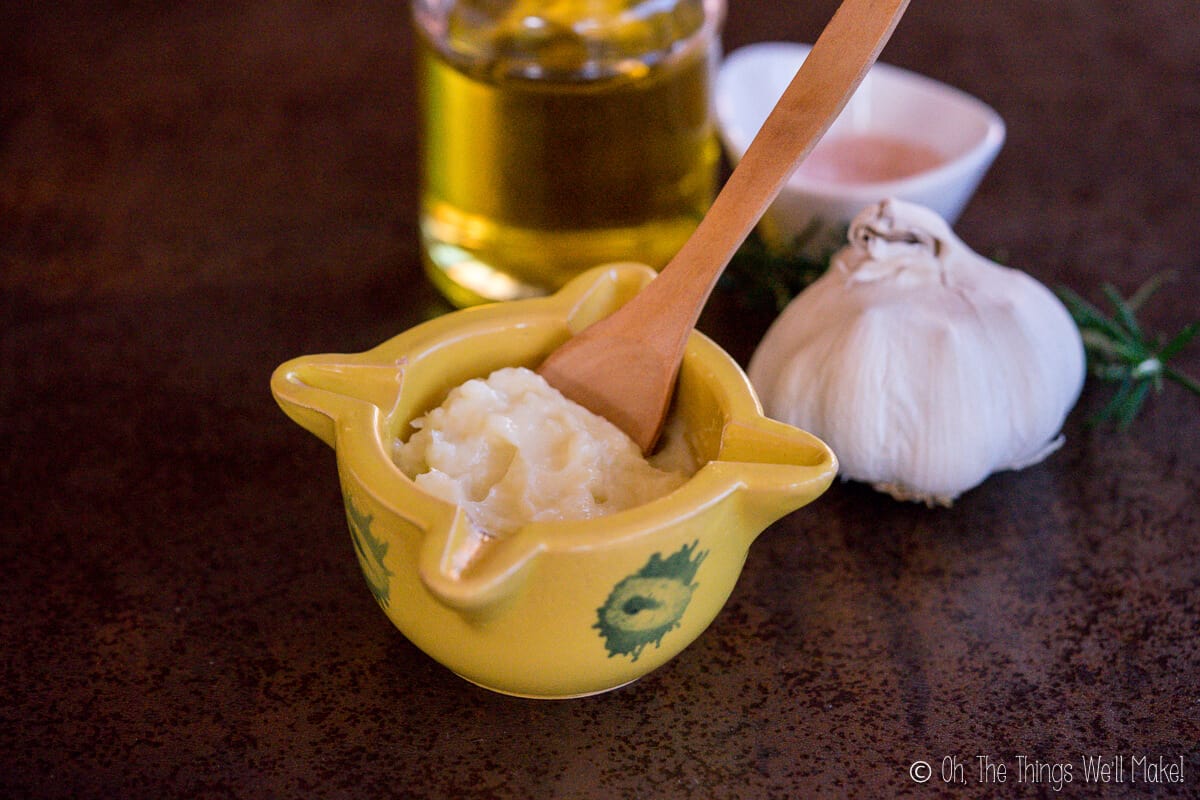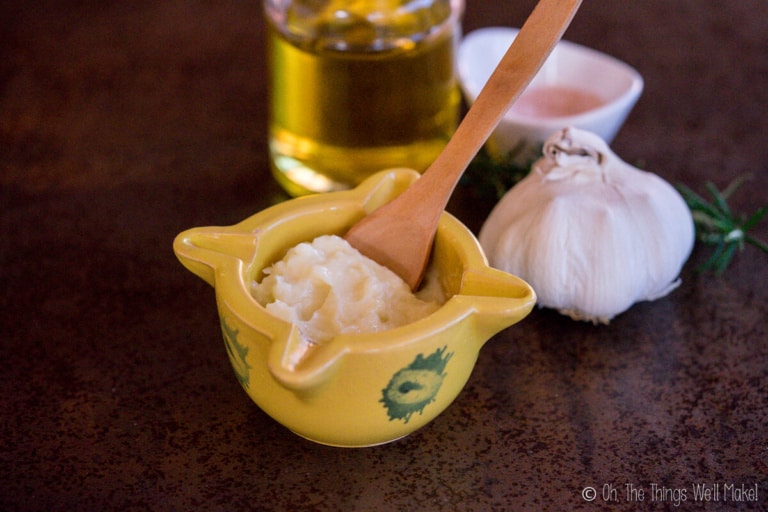 Making traditional aioli with a mortar and pestle
Traditional aioli, though, is very finicky.
The garlic and salt are beaten into a paste with the pestle, and olive oil is added in, drop by drop, while continuously mixing it in a circular movement until an emulsion is formed. As the emulsion builds up and gets more stable, you can drizzle in small amounts of oil at a time, continuing to incorporate it into the emulsion before adding more oil. (My husband says that you can tell when it's time to add more oil when you feel the mixture get thick and provide resistance to your movement.) That said, you have to be very careful.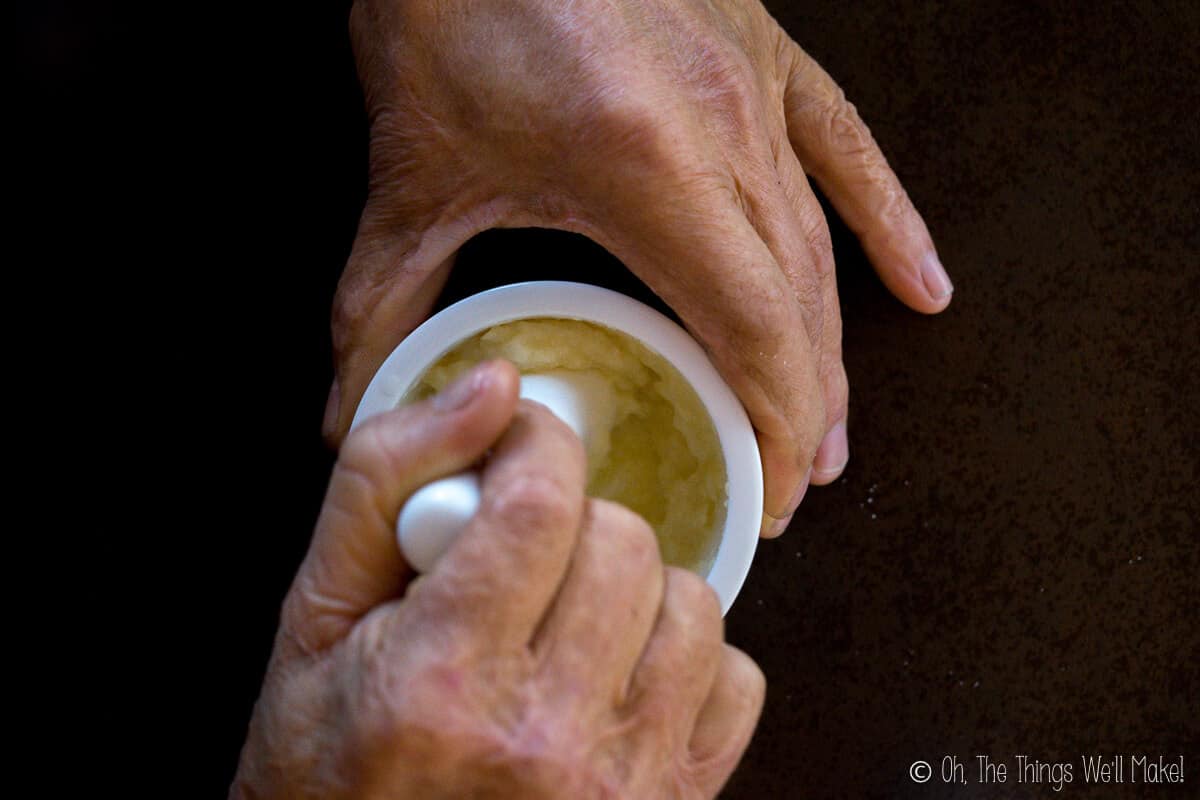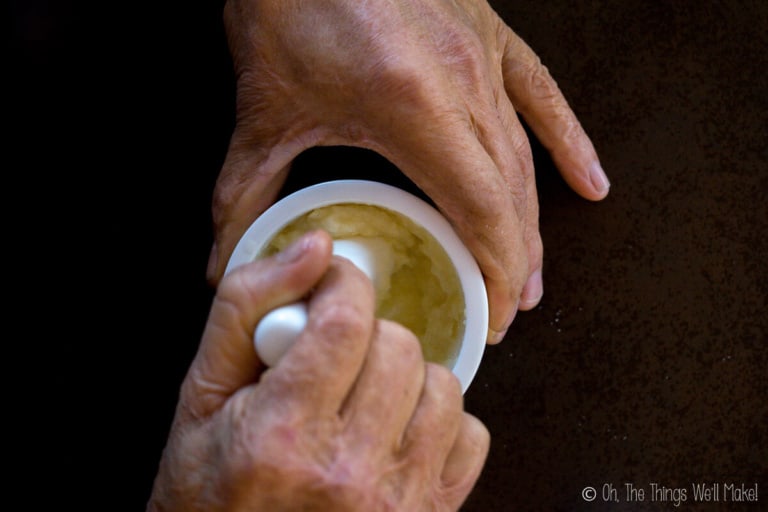 You can't stop moving the pestle, and the oil must be trickled in ever-so-slowly. Some say that even by changing the direction of the circular movement is enough to cut the emulsion and keep it from properly forming. And, as I mentioned earlier, adding too much oil at a time can break the mixture and mean that you have to start all over again.
So, to make a traditional aioli, one needs patience and persistence. When it comes to this sort of thing, knowing that there is an easy alternative, neither is my forté.
To be honest, I have tried to make traditional aioli several times, always unsuccessfully! Yes, always!
That's why I "hired" my husband to make a batch for me in my video for how to make aioli (both ways). He is much more patient than I am with this sort of thing.
Ingredients
Well, as I already stated, all aioli uses oil and garlic.
Maybe because of the difficulty, or maybe because eggs became more readily available, the aioli of this region began evolving. People started to add an egg yolk to the emulsion made in the mortar. With time, the arrival of handheld blenders and new types of oil, like sunflower oil, has changed the way that most people make aioli even more. Modern aioli is now very easy and quick to make. In fact, it takes me less than 5 minutes to whip up a batch!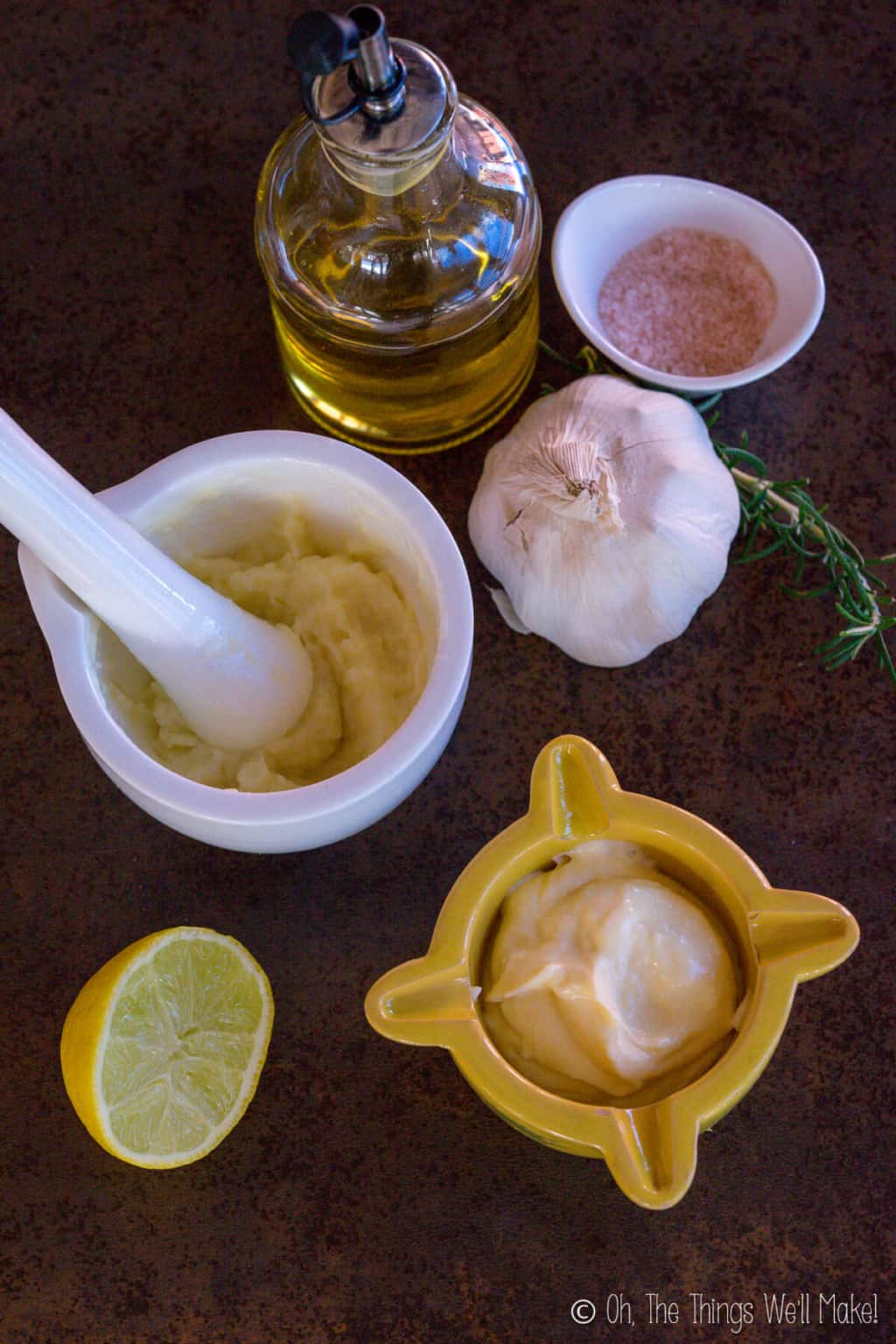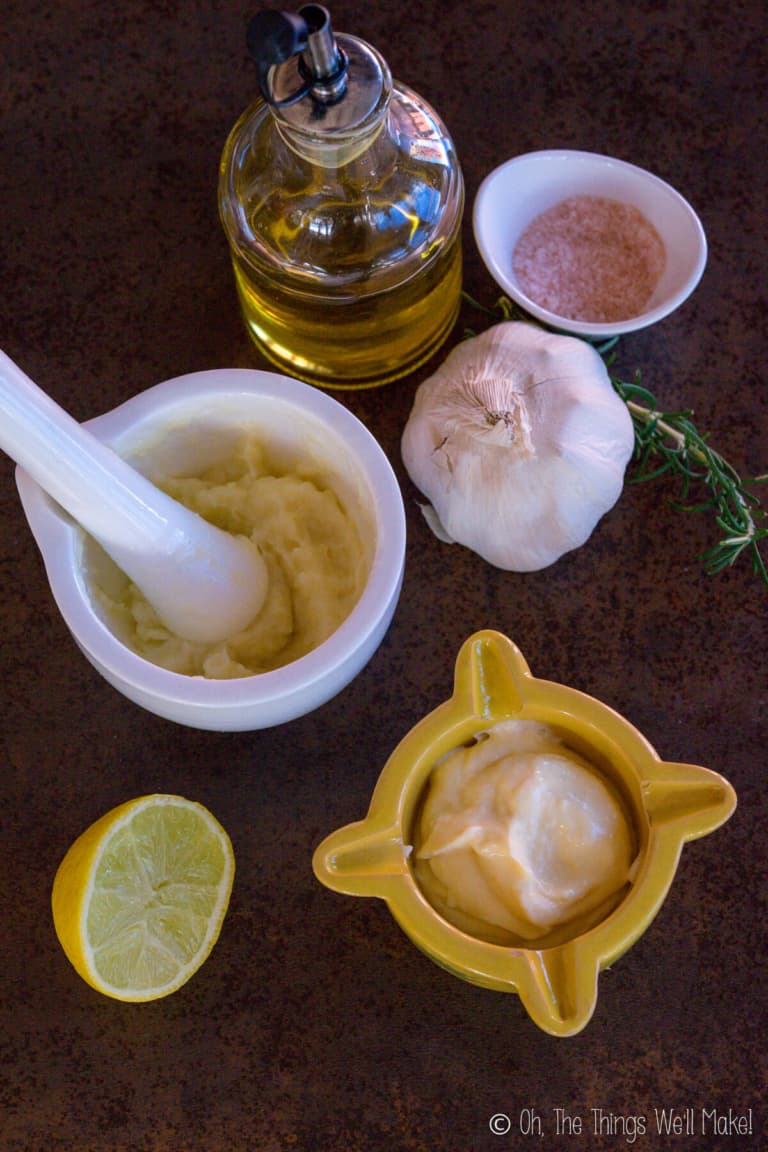 Traditional aioli vs. the modern, easy variety
Modern aioli, then, differs from its traditional predecessor in a number of ways.
First, modern aioli is made with high-speed blenders rather than by hand using a mortar and pestle. If you have a food processor with a high enough speed, you may actually be able to make a more traditional only-garlic-and-oil aioli in that food processor. I actually did that by accident one day while attempting to make a vinaigrette salad dressing in my Thermomix food processor. I was amazed by the aioli I made instead!
Second, modern aioli normally needs an egg to help form the emulsion. The egg acts as an emulsifier that makes the process much easier and more foolproof. Gone are the days of carefully dripping in the oil drop by drop! Of course, that also means that modern aioli is no longer normally vegan.
Third, modern aioli is normally creamier and less potent. The egg changes the texture of the final emulsion, giving you a much creamier sauce. The egg is also the main emulsifier, meaning that you can more easily adapt the strength of a modern aioli by adding more or less garlic. When making both versions of aioli on the same day to videotape the processes, we used two cloves of garlic for each. We ended up being able to make much more of the modern style aioli using the same amount of garlic, meaning, of course, that our traditional aioli ended up being much more concentrated. (The traditional aioli uses the garlic as the emulsifier.) If you like a strong aioli, though, you can always add more garlic cloves to the modern type, whose strength is much easier to adapt.
Lastly, modern aioli tends to use different oils or a variety of oils…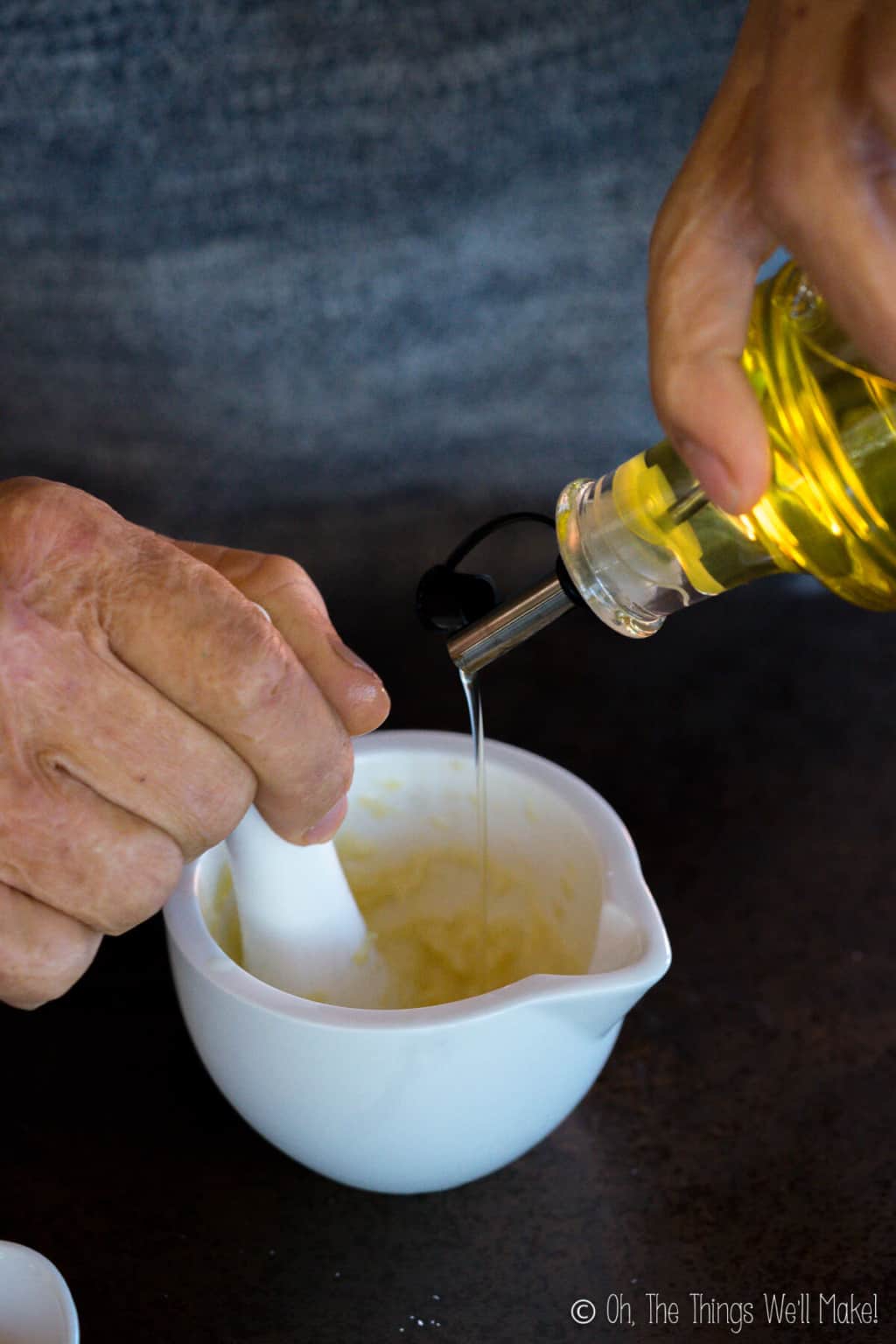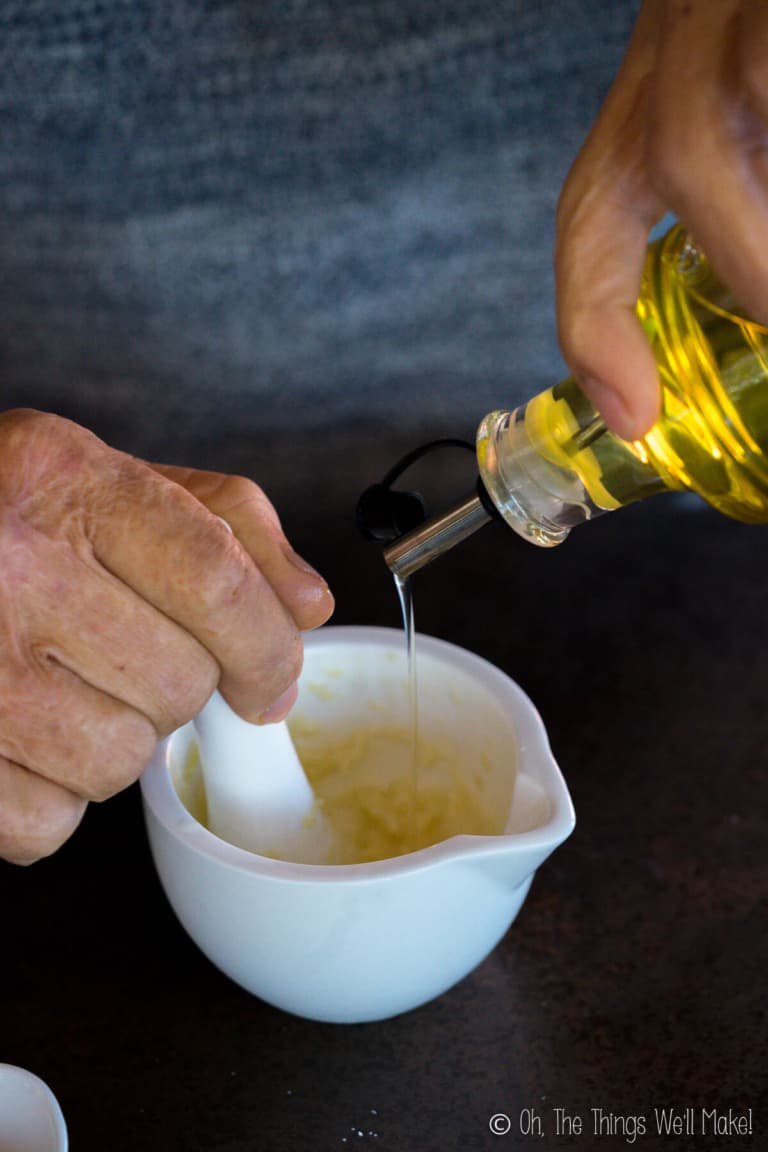 What oil should be used?
Traditionally, aioli was made using only olive oil. Some people find the flavor of olive oil to be overpowering, though. This is especially true if you are using an extra virgin olive oil, which is the type of olive oil that I normally use in my kitchen for just about everything.
If you find extra virgin olive oil to be overpowering, you can use other types of oil in your homemade aioli.
Here in my region of Spain, it is very common to use sunflower oil when making aioli. Refined sunflower oils are very mild in flavor and very easy to use. Because my husband and I like to use unrefined type oils when possible, we once tried using an organic, unrefined sunflower oil in this recipe. Sadly, the unrefined sunflower oil had an overpowering flavor that didn't fit the aioli sauce at all, and to top things off, it was actually difficult to get to work in the emulsion. While I rarely have issues making aioli by the modern, handheld blender and egg route, my first two attempts at making aioli with the unrefined sunflower oil failed! (I'm not quite sure why.)
So, if using an unrefined oil is important to you, I'd consider using a light olive oil instead. There are olive oils on the market that are milder in flavor and that are perfect for making aioli.
The last option is to combine oils. Many people here make the majority of the aioli with a refined sunflower oil, and then finish it off with a dash of extra virgin olive oil to give it a hint of olive oil flavor without it being overpowering.
Watch us make both types of homemade aioli:
Craving more?
Subscribe to my newsletter for the latest recipes and tutorials!

Easy Homemade Aioli (All-i-oli/Alioli)
The perfect accompaniment to fish, rice dishes, bread, or anything that could benefit from a creamy, garlic sauce, this easy aioli recipe will be ready in 5 minutes flat. If you've got more spare time, and are more adventurous, though, try the traditional vegan aioli.
Print
Pin
Rate
Ingredients
1

egg

1/2

lemon

juiced

2

cloves

garlic

(1-4 depending upon the desired potency of the aioli)

3/4

cup

olive oil

or more; may also use sunflower oil or a combination of oils- see notes below.

1/2

tsp.

salt

adding more, as needed, to taste
Instructions
Mince the garlic. Add 1 egg, a dash of salt (around 1/2 tsp. to start), and a dash of your oil of choice into a mixing container for a hand-held blender.

Start blending the mix as you SLOWLY and continuously pour in a thin stream of oil. The emulsion will start to form, and will thicken as you add in more oil.

Add in the juice of half of a lemon and continue to blend until it is fully incorporated. You can continue to add in more oil, as needed.

When the aioli is thick enough (it can get thick enough to hold the blender up, or can even be turned upside down without falling), stop blending, and taste the aioli for necessary adjustments.

Add in more garlic, lemon juice and/or salt as needed to suit your taste.
Notes
People here usually use sunflower oil for making aioli, sometimes with a dash of extra virgin olive oil to give it a little bit of olive oil flavor. Others use a subtly flavored olive oil rather than using only extra virgin olive oil which imparts a very strong flavor, too much for most people. Of course, if you are brave, go ahead and try it with extra virgin olive oil.
Serving:
1
Tbsp.
|
Calories:
75
kcal
|
Fat:
8
g
|
Saturated Fat:
1
g
|
Cholesterol:
8
mg
|
Sodium:
51
mg
|
Potassium:
6
mg
|
Vitamin A:
10
IU
|
Vitamin C:
1.5
mg
|
Calcium:
2
mg
|
Iron:
0.1
mg
The ingredients aren't perfectly measured out to the last gram, but this is a taste-as-you-go sort of recipe. Want it saltier? Add more salt! More acidic? Add more lemon. Thicker? Add more oil!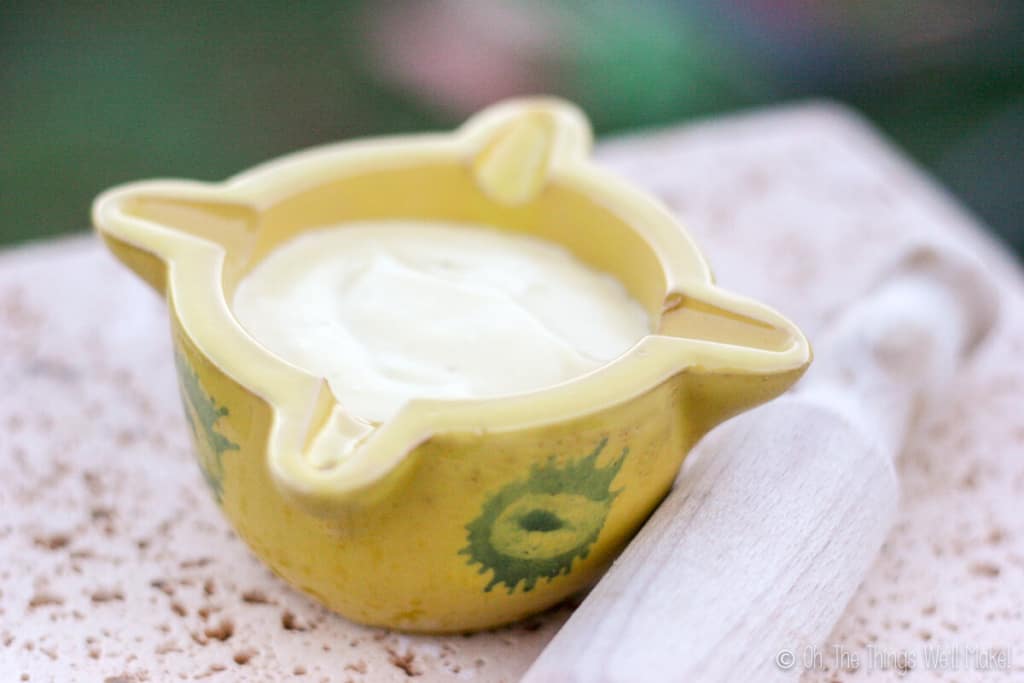 I have to admit that I prefer the traditional aioli, but haven't been able to master the art of making it myself. I have accidentally made it a few times when making salad dressings with my food processor, and even once or twice with my handheld blender, so even that is possible! (It just never seems to happen when you want it to.) 😉
Meanwhile, this easy aioli recipe is a great alternative. It is much better than anything you can buy in the stores, and when you make it yourself, you can control your ingredients and keep the artificial ingredients and hydrogenated oils out!