Bored with traditional smoothies? Surprise your tastebuds with these somewhat quirky, yet delicious healthy smoothie recipes that use unexpected ingredients you may have never considered!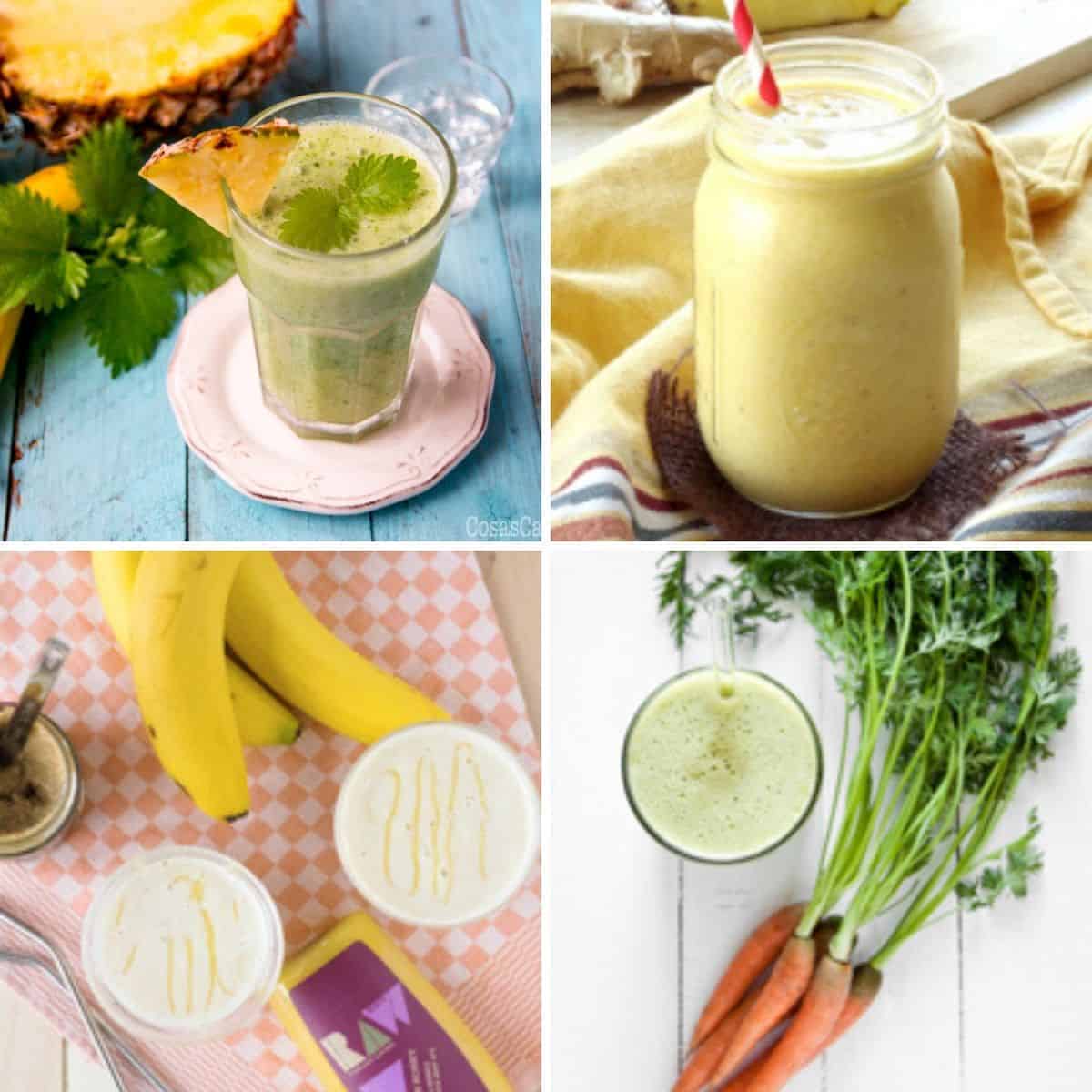 I'm not new to sneaking foods into smoothies. You may have already seen here how I add greens into my son's diet into what we call the Popeye smoothie. By now, he knows that I "sneak" spinach in there and happily drinks it anyway.
While it isn't unusual to add spinach to smoothies, for adults at least, it got me thinking about some of the other unusual ingredients that can be added to smoothies.
Today I'm sharing 15 smoothies with unexpected ingredients. I hope you enjoy these wonderfully creative recipes!
Basil seeds
Chia seeds are commonly used to thicken up smoothies, but tukmaria, or holy basil seeds, aren't as well-known. Like chia, they are tiny black seeds that swell up and form a gelatinous coating.
Because of this coating, they are often used in desserts and juices. Think of them as a lower-carb, tiny little boba. (But these little "pearls" are actually being studied as a potential aid for weight loss.)
Bone broth
Sure, it's healthy and delicious, which is why I have already shown you how to make bone broth. But have you ever thought of adding it to your smoothies?
I'm a bit quirky. Yet even I was surprised by this one!
Cauliflower
It may sound strange to add cauliflower to smoothies, but it's a great way to make them smooth and creamy. The mild flavor of cauliflower won't overwhelm the other ingredients, and you probably won't notice it's there at all.
Not only will this high-fiber veggie help fill you up, but it has so many nutritional benefits. (It's rich in antioxidants and vitamin C, to name a couple.)
While you can add it raw or cooked, pre-cooking the cauliflower ensures a creamy result that is easier to digest.
Carrot Tops
When preparing your veggies, don't throw away leaf "scraps" like carrot tops and beet leaves. They can be added to soups and stews, or to smoothies, of course!
Not only are they an inexpensive addition to foods, but they are also high in calcium and phosphorus.
Dandelion greens
You may think of dandelions as weeds, but they actually have some beneficial health properties. They have been shown to be antioxidant, and are rich in vitamin A and K.
Hot Tea
While one normally envisions a cool and refreshing beverage when thinking of smoothies, this hot smoothie sounds just as delicious! Hot jasmine tea warms you up on those cool winter days.
Hot Peppers
While it isn't unusual to add veggies, hot peppers aren't your usual smoothie ingredient. Make it spicy with a touch of jalapeño or cayenne. Here, I'm sharing two spicy recipes, a sweet one and a savory one.
Kombucha
Kombucha is a fermented tea that is popular in healthy living circles. It's made with a SCOBY (symbiotic culture of bacteria and yeasts) and we love the flavor in our house. (Learn how to make kombucha.)
Apparently, not everybody shares our love of kombucha, which is why Linda of Veganosity came up with a smoothie recipe to drink hers down.
Raw eggs
While some people are grossed out by the thought of adding raw eggs, they're a great source of healthy protein and add smoothness to smoothies. I used to always add some raw egg to my minty candida-diet sage "shamrock shake" (which is really more of a smoothie) to make it more of a full meal.
If you're concerned about salmonella, you can always use pasteurized eggs. To pasteurize eggs, heat them in water to 140ºF/60ºC and keep them at that temperature for at least 5 minutes.
Rose petals
I'm a sucker for the fragrant flavor of rose petals. That's why I love Turkish delight, and also why I made rose petal gummies for Valentine's Day. (I even flavor my panna cotta with rose water.)
That said, I had never considered using rose petal tea in a smoothie. I'm sure it's delicious!
Stinging Nettle
Nettles may irritate your skin, but they are surprisingly nutritious. They may even help lower blood sugar levels. Learn how to reap their benefits without getting stung!
Sweet potatoes
Deliciously sweet? Yes! But they aren't your usual smoothie ingredient.
Cooked sweet potatoes can thicken and sweeten while giving you an extra dose of healthy antioxidants. (That's especially true for purple varieties!)
Tahini
Tahini is another ingredient that I happen to love, but I hadn't considered adding to smoothies. I, instead, normally use the sesame paste to add flavor and creaminess to homemade hummus and baba ganoush.
As adding peanut butter and other nut butters isn't considered strange, I guess this shouldn't have surprised me so much.
Turmeric
High in curcuminoids like curcumin, turmeric is highly anti-inflammatory and anti-oxidant. It's what gives curry its characteristic bright yellow color.
While I've used it in falafel, I hadn't considered adding it to a smoothie! (With so many people making turmeric lattes these days, though, I guess I shouldn't have been so surprised.
Making preparation easier
Before I sign off, I wanted to remind you how I normally prepare for smoothies.
When certain fruits are in season (or on sale), I puree and freeze them for future use in smoothies and other recipes. While the idea is simple enough, you may be worried about how much space it takes in your freezer. Check out my method for making frozen smoothie cubes which saves space in the freezer and saves you money by allowing you to buy fruit when it's at its cheapest and best!

If you're craving more, you may be interested in the book, 80 Delicious and Colorful Superfood Recipes to Nourish and Satisfy. One of my recipes was featured in the cookbook!
If you're looking for tasty ways to nourish with superfoods, check it out!