Making fruit ice cubes for smoothies and homemade baby food is the best way to freeze excess fruit so it doesn't take up excess room in your freezer!

I love smoothies for both me and for my son. I've found that one of the best ways to easily get him to eat some fruit, veggies, and healthy proteins, is with a fruit smoothie! One of his favorites is a smoothie that I like to call the Popeye smoothie for kids.
I'll give you my tips for making the perfect smoothie below the recipe!
Conserving Fruits in Season
Not all of our favorite fruits are available at all times of the year, so I like to take advantage of when fruits are in season, and buying in bulk. I then freeze them to have the fruits available all year. Not only is a great way to always have your favorite fruits available, but it helps save a lot of money. Fruits are always a lot more expensive when they aren't in season.
Making Fruit ice cubes for smoothies or homemade baby food
When you need to freeze a lot of fruit, but don't have a lot of free space in your freezer, it's important to find the best ways to maximize your space. I think I've found the best way to effectively freeze fruit so that it doesn't waste space, and keeps really well.
This all began after I had a bunch of leftover homemade baby food in my freezer. I never bought my son canned baby food. Well, actually I did a couple of times in "emergency" situations, but he refused to eat them. Comparing the homemade food with the canned stuff, I have to say that I don't blame him.
To always have a supply of baby food available, I ended up pureeing fruits in large batches, and then freezing it in ice cube trays to have convenient amounts ready to defrost and serve as needed. Eventually my son stopped eating pureed foods, but I still had a stash in the freezer that I didn't want going to waste.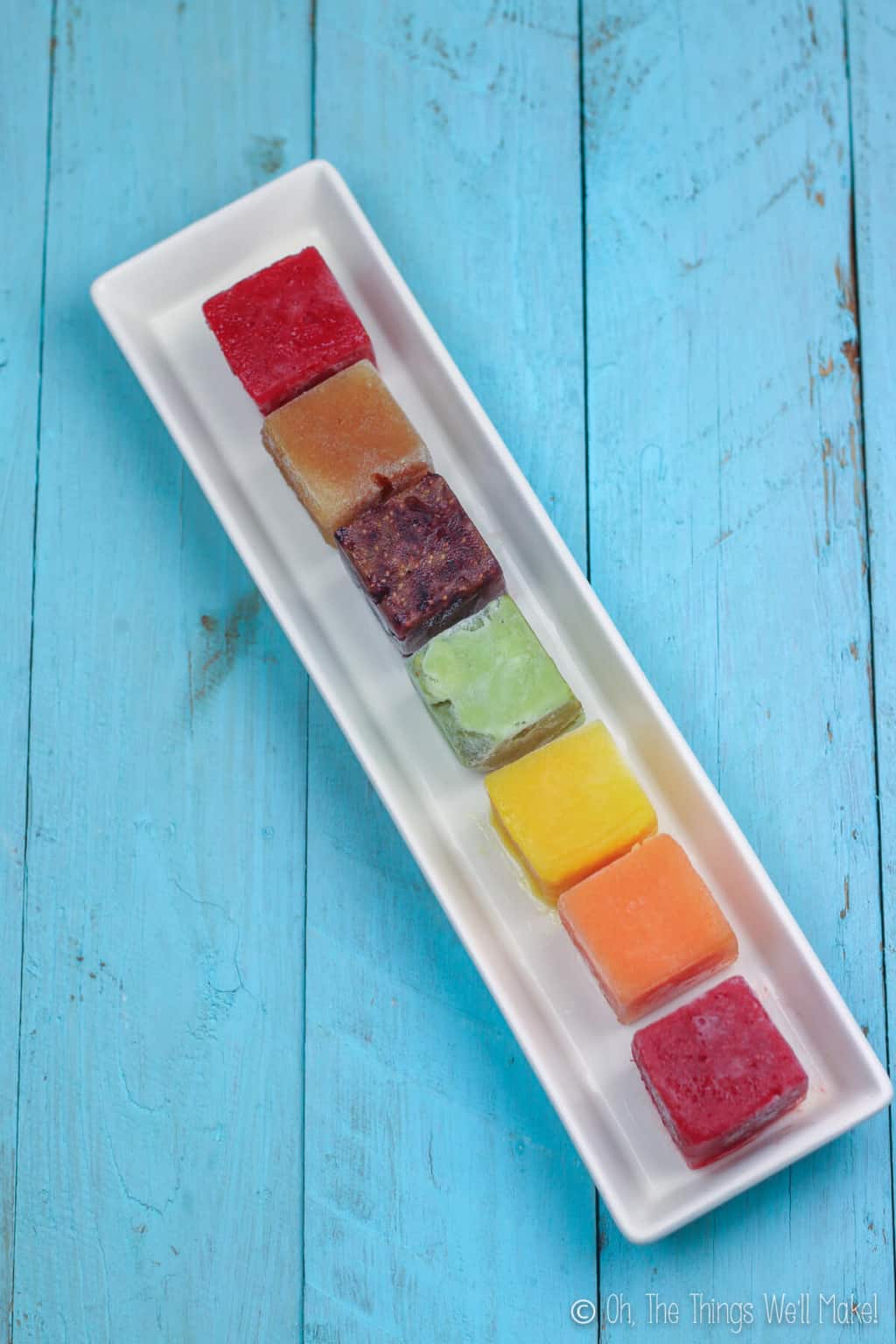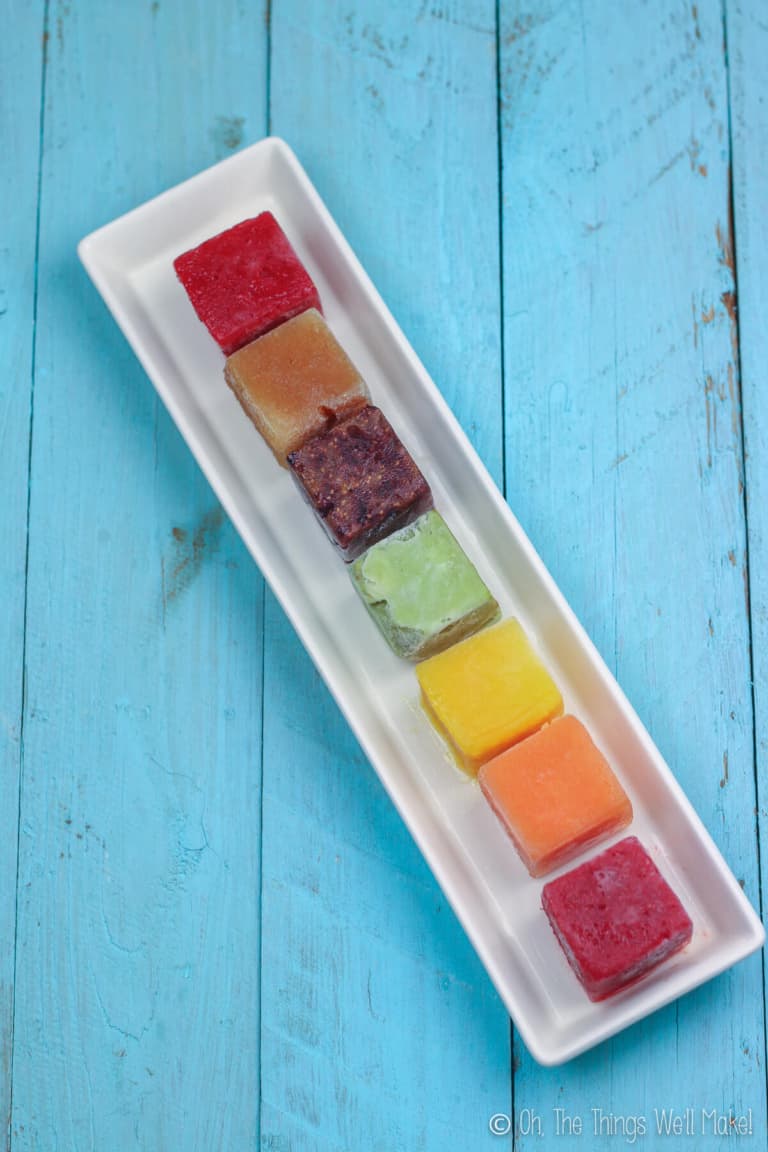 Freezing fruit in a way that saves space
To begin the process, all you have to do is to throw in your peeled and pitted fruits into a blender, puree, and pour into ice cube trays for freezing.
At first, I used the ice cube trays that I already had sitting around, and even used silicone muffin tins for freezing the purees into serving size amounts. They all worked well enough, but I was sick of all of the baby food taking over my entire freezer! I bagged up the food cubes in bags, but the irregular shape of the cubes didn't help save any space in the freezer.
Why was I so excited about it? They were exactly what I needed to be able to neatly store away all of my frozen purees!
With perfectly cube-shaped ice cubes, you can line your cubes up in a ziplock bag, and then throw a bunch of different bags together in your freezer drawer.
If you label them well, it is easy to flip through to get to the bag you are looking for. The bags line up perfectly, meaning no wasted space in your freezer!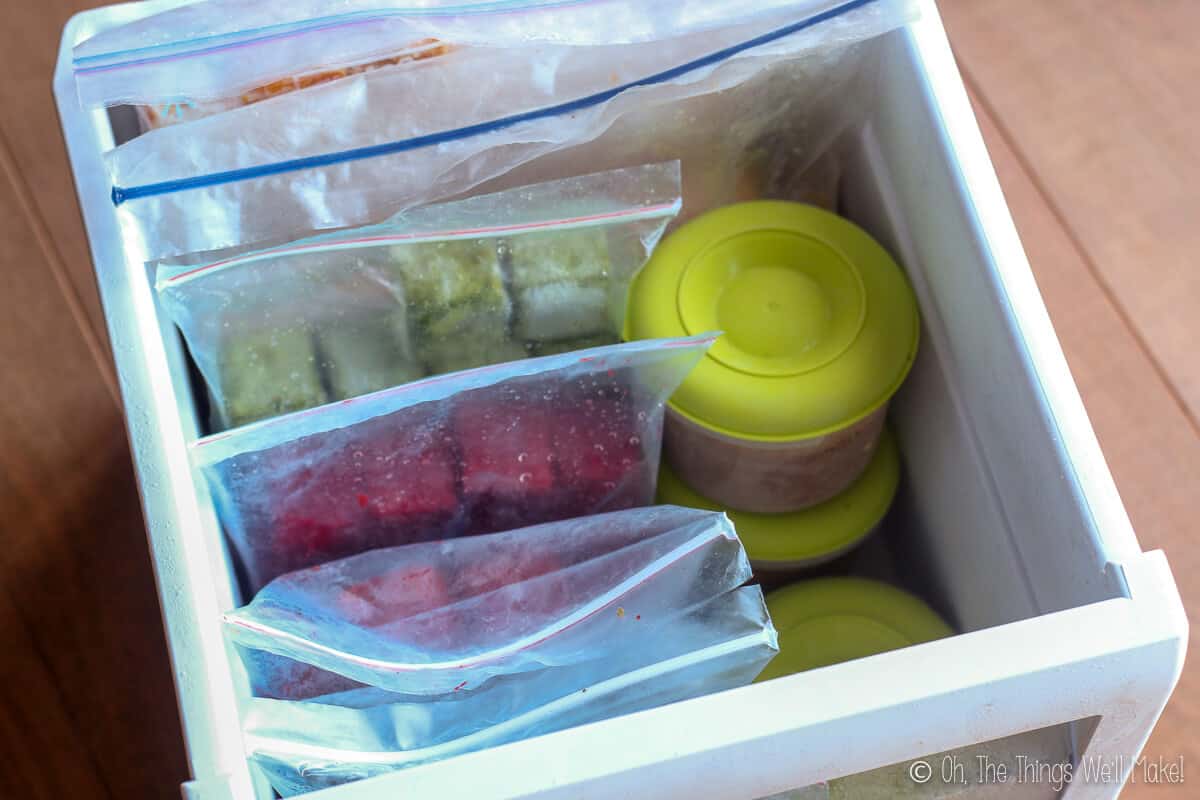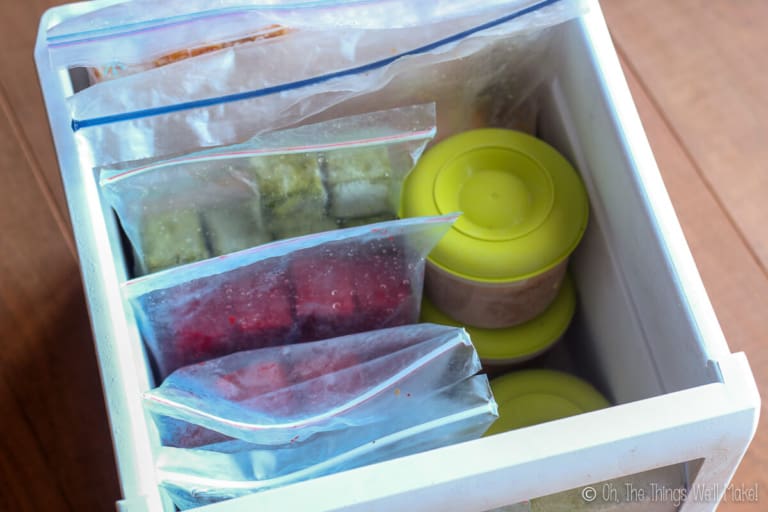 What fruits can be frozen in this way?
I've tried freezing everything from bananas to avocados and mangos to cherries in this way. They've all turned out well. The only reason you wouldn't want to freeze certain fruits is because many of them will change in texture when frozen.
Here, though, we are using purees that are intended to be eaten as such, or put into a smoothie to be further blended. I have never found a fruit that wasn't fine when used in this way.
How long does this frozen fruit last in the freezer?
I usually try to use up all of the fruit within a year. That way, when the fruit comes in season again, I can make a new, big batch of frozen fruit cubes for that fruit. That said, I have found slightly older bags of frozen fruit, and have used them without any problems. Because, again, we aren't having to worry about the texture being off because this is a puree, as long as you keep the fruit consistently frozen, I don't see why you can't keep it up to 12-18 months.
The only possible exception may be citrus fruits. I've often read that citrus fruits shouldn't be frozen for as long as other fruits, but I'm not exactly sure why. I haven't personally tried freezing citrus fruits for longer than 6 months, so I can't vouch for the flavor.
Fruit Ice Cubes "Recipe"
Craving more?
Subscribe to my newsletter for the latest recipes and tutorials!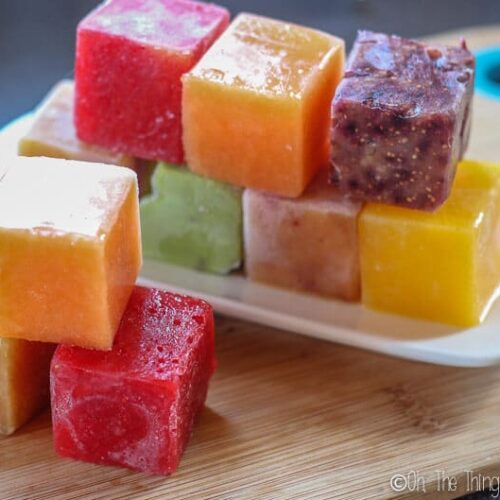 A Rainbow of Fruit Ice Cubes
The best way to conserve fruit for smoothies or homemade baby food, maximizing space in your freezer.
Print
Rate
Ingredients
strawberries and other berries

remove stem

cantaloupe, and other melons

remove seeds and rind

mangoes and avocados

remove seed and skin

figs

remove stem

apples and pears

remove, stem, seeds, and peel

cherries, peaches, and other stone fruits

remove stems and pits

citrus fruits

peel and remove seeds

any other fruits…

prepare as needed
Instructions
Clean and prepare chosen fruits by removing any seeds and thicker skins. I have listed the fruits shown in the pictures above, along with some other examples, but you can freeze pretty much any fruit you choose.

For harder, larger fruits, cut the fruit into smaller pieces and throw them into your blender or a container suitable for using with an immersion blender. With a mango, you can use the side of the glass to help you peel it. 🙂

Puree the fruits with your immersion blender.

Pour the puree into ice cube trays. For thicker purees, like fig puree, you can use a spatula to help you press the fruit into the tray without leaving air spaces in the cubes.

Place the trays, unstacked, in the freezer. Allow the fruits to freeze solid, for several hours, before removing the cubes from the trays.

Remove the cubes from the trays and store them in ziplock type baggies in the freezer.
Making the perfect smoothie
1. Decide what fruits you want in your smoothie.
I usually just improvise and try different combinations each time, but if you're looking for some ideas of what fruits combine well, I have compiled a list of over 100 healthy smoothie recipes to follow or inspire you.
These are some of my favorites…
Pineapple is good with banana and homemade coconut milk, for a tropical smoothie. Keep in mind that smoothies with pineapple or kiwi in them can get bitter if made with (regular) milk products, if you don't drink them up right away.
Pumpkin puree is surprisingly good in smoothies, especially if you add some cinnamon, cloves, and allspice. It also combines really well with bananas
I usually peel, cut, and freeze browning bananas for smoothies, too, so that they don't go to waste. Bananas are a great addition to smoothies because they make them smoother and sweeter.
2. Add a liquid of choice.
I usually use a homemade vegetable milk like almond milk or homemade coconut milk. Fruit juices, oven even just a splash of water, are also a great options, depending upon the type of smoothie you are making.
For a dairy based smoothie, you can also add yogurt or kefir. And, of course, I like to make my own.
It's easy to make milk kefir at home, or to make yogurt in your oven. (No, you don't even need a yogurt maker!)
3. Add sweeteners, if desired.
I don't usually add anything to sweeten the smoothies; I prefer using the fruit sweeten it naturally. Ripe bananas with brown spots on them are perfect for sweetening smoothies naturally.
If the smoothie turns out too sour, though, or not sweet enough, I sometimes add a tiny bit of raw honey or maple syrup to the mix.
4. Add protein and/or supplements if desired.
I used to use whey protein powder in my smoothies. Then, for awhile, I started adding raw eggs to increase the protein content of my smoothies. Raw eggs sound gross, especially to somebody like me who does't tolerate eating eggs in very many ways. (I like them omelette style, but that's about it. Nothing is more disgusting to me than a hard boiled egg!) In the end, though, you can hardly tell they are there.
Better vegan protein options are now available like hemp or pea proteins. (In the past soy protein was really the only vegan option available.)
Smoothies are also a great place to add in collagen, healthy greens like spirulina or chlorella, or a multitude of other supplements you may be wanting to take.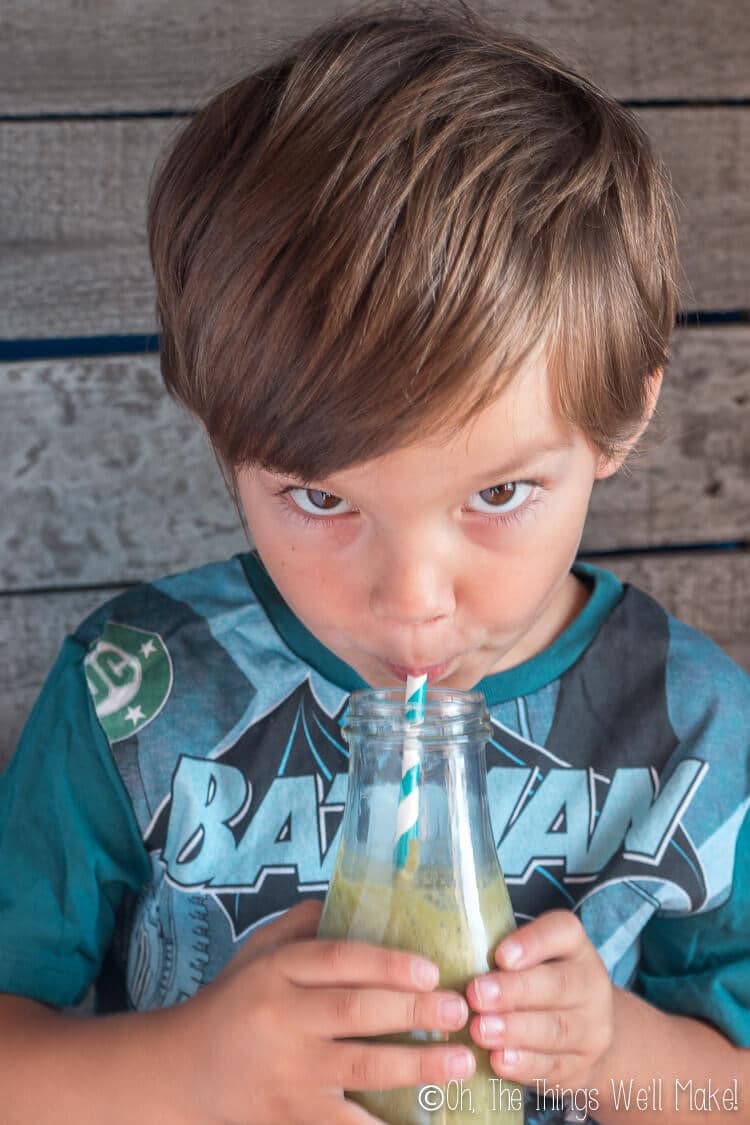 5. Sneak in some veggies!
I often sneak veggies into my son's smoothies! You can find the recipe for his favorite smoothie, the Popeye smoothie, here on the blog.
Spinach is a great ingredient to sneak into kids' smoothies because it doesn't change the flavor much, and it turns them into a beautiful shade of green! For that very reason, I use raw spinach to naturally color my shamrock shake and candida diet safe shamrock shake, basically a healthy minty smoothie, in March!
If you love foraging for your greens, why not try my foraged, stinging nettle smoothie? (No, it won't sting you!)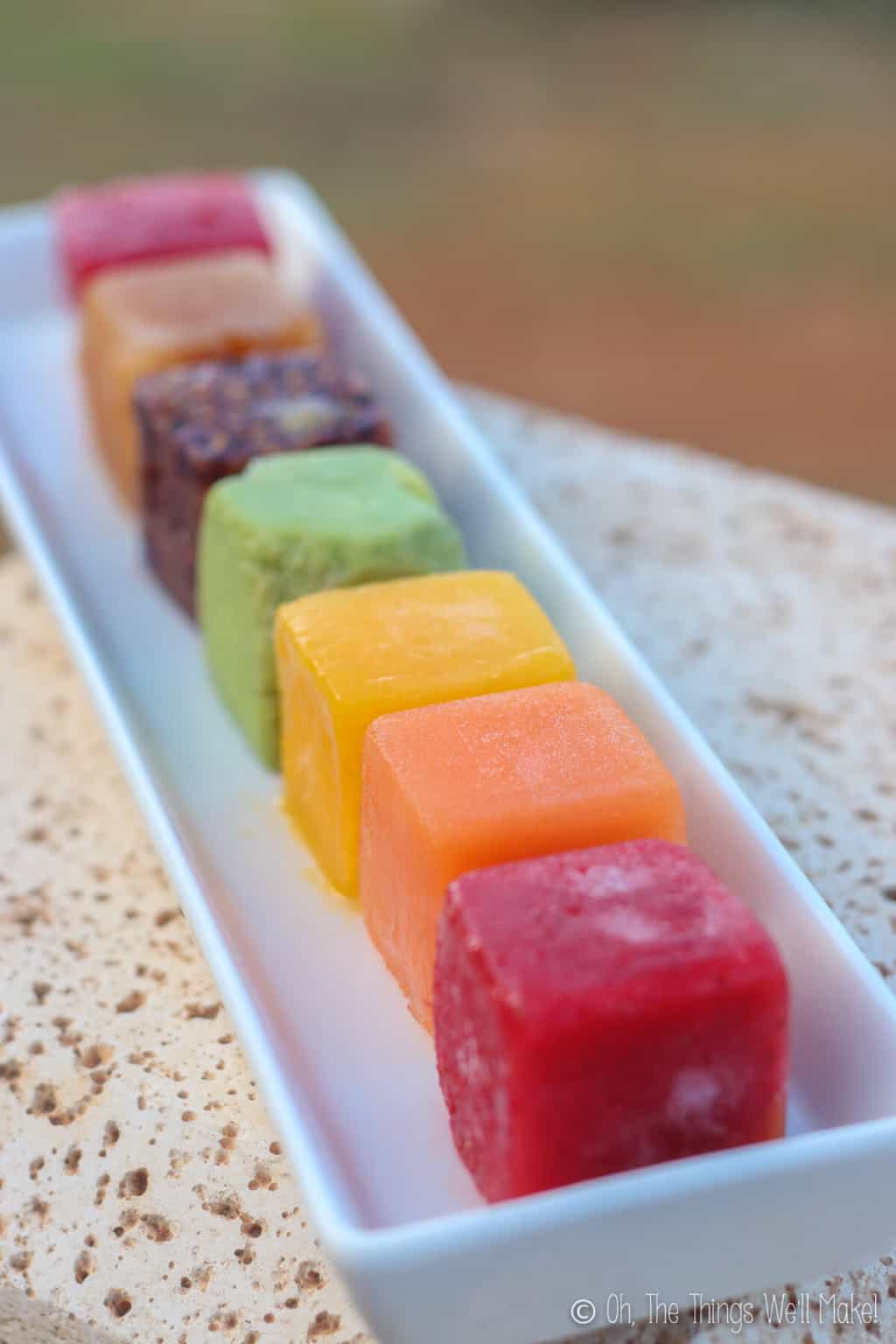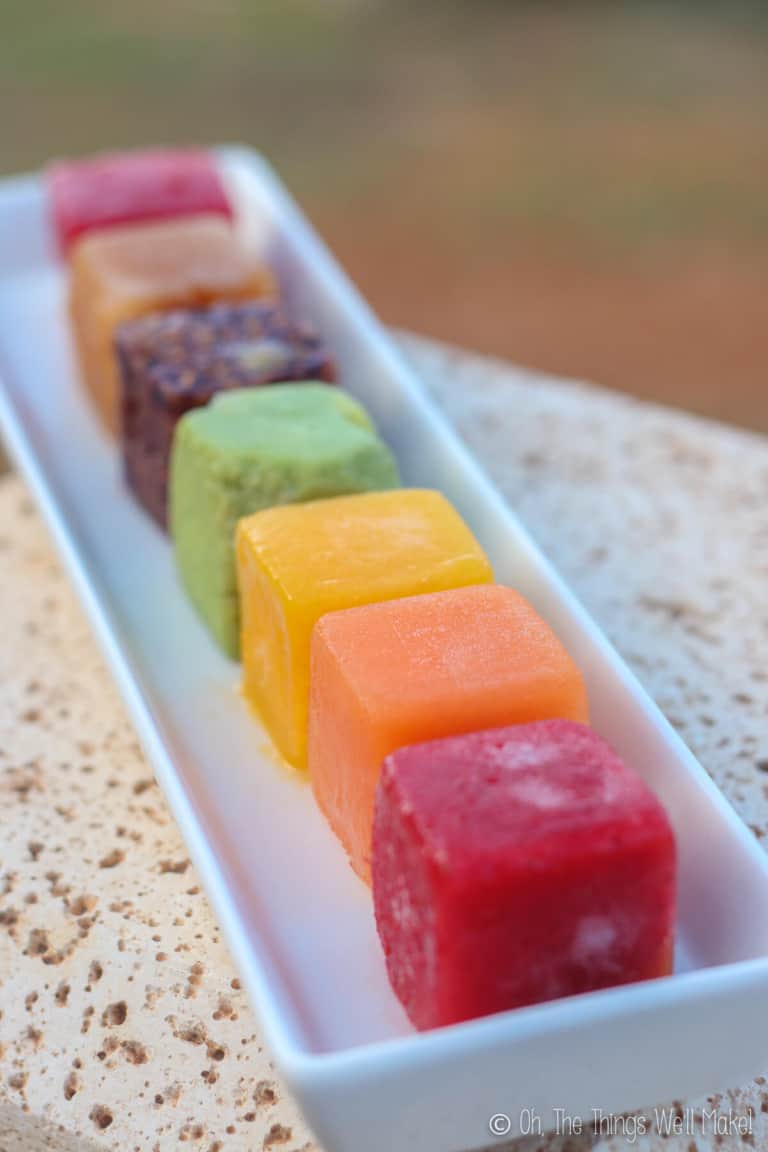 6. Add ice cubes for thickening
If you're using fresh fruits, you'll probably want to add some ice cubes to end up with a cold, thick, smoothie.
If you're using your fruit ice cubes, though, you don't really need to add more ice cubes to your smoothie unless you want to water it down somewhat.
Do you have to have ice cube trays like mine?
I'm happy to say you can find the Tovolo ice cube trays on Amazon. They measure out to be around an ounce a cube, which is good to know for when you are planning out baby food rations. There are other size trays available, but that is the size I find to be the most convenient.
Foods that store well in frozen cubes:
These are some of the frozen treats you can find in my freezer at any given moment. I'd love to hear what you freeze in this manner.
They are just too convenient!