This week, the cold, rainy weather kept me indoors, so I was on a mission to try to replicate an American Easter treat for you. I decided to make some naturally colored, naturally flavored marshmallow peeps, which I'll be sharing with you soon, but first I'd like to show you how I ended up making my homemade colored sprinkles for covering them. The process started with me coming up with a way to make some DIY natural food coloring.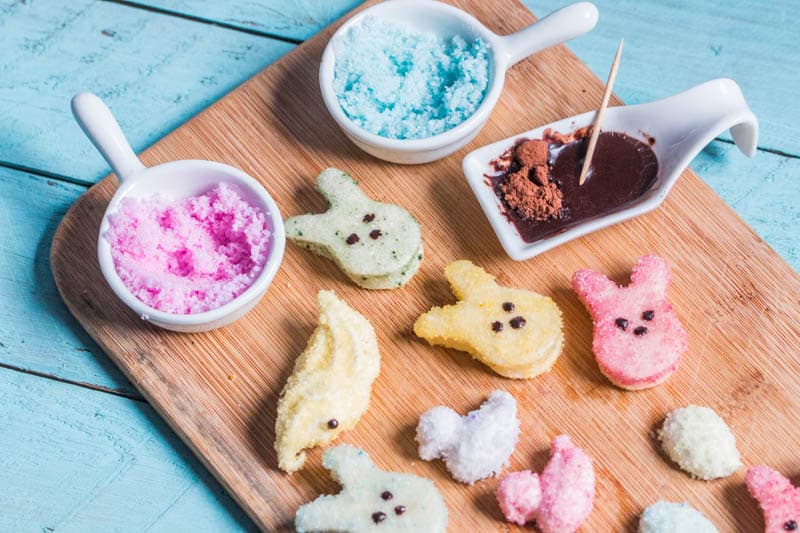 I have seen posts about making DIY natural food coloring in the past, and I tried one method, a long time ago, that involved boiling spinach in water and evaporating the water away to get a concentrated solution. Unfortunately, I wasted a huge amount of spinach leaves and didn't end up with anything usable in the end!
I love the way that fresh spinach blends into smoothies and other foods, turing them a beautiful shade of green. That's why I used fresh spinach in my real food shamrock shake to make it green. Seeing as it does such a good job of coloring smoothies and ice creams, I was pretty sure that spinach had enough pigment to be able to use in a DIY natural food coloring, despite being a huge failure in the boiled water attempt.
I decided that the best way to use spinach is raw. When boiled, the color changes, and the water doesn't really seem to absorb much of the color.
Another thing I like to make is homemade liqueurs and extracts like vanilla extract. When making them, the alcohol base tends to absorb the color of whatever it is you are trying to extract. In the case of vanilla, bakers know that adding a small amount of real vanilla extract into their white treats will end up turning them beige or light brown.
Because my goal was to make colored sugar crystals, I didn't want to have to use a lot of liquid, and wanted a pretty highly concentrated pigment. So, I decided to try to make a colored extract of sorts, using alcohol with my pigments so that it would more easily evaporate from my sugar crystals quickly.
The first color I made was a bright pink using beet root powder and vodka. I was going to take a small piece of beet root and blend it with the alcohol, strain it, and use that. I had just made my own beet root powder the other day, though, so I decided to use that instead. (I'll show you how simple it is to make your own beet root powder very soon, too!)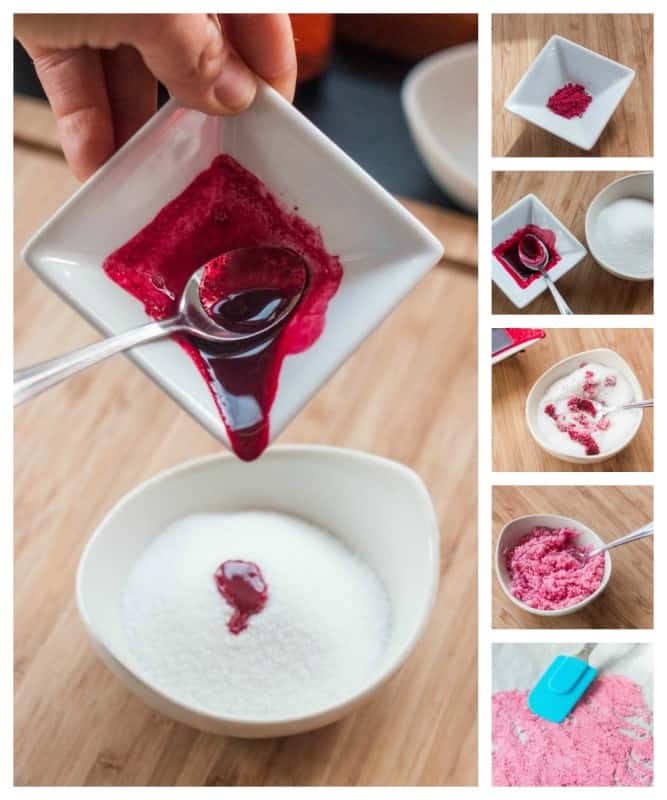 All I did was mix in a small amount of vodka into a small amount of beet root powder, and used the mixture right away. Yes, I could have let it sit for an hour or two and strained it, but I was so excited to try it out. Instead, I just stirred a bit of the mixture into a bit of white sugar (Don't let the real food police know I used white sugar this time!), and was happy to see that my sugar crystals became a beautiful hue of pastel pink!
To dry out your sugar crystals, just spread them out on a baking sheet. You can let them air dry, but since it was pouring outside, and the humidity was near 100%, I chose to put them in the oven with only the fan and light on; they were dry in about an hour.
During the drying process, you'll usually end up with a bit of clumping. That is OK and normal! Just break up the pieces with your fingers or press on them with your spatula, and they should easily separate into perfectly dyed sugar crystals again.
Store them in an air-tight container until you are ready to use them.
Once I had my pink sugar crystals ready, I decided to try for a few more colors.
Most marshmallow peeps are either pink or yellow, or at least they used to be, so I tried using turmeric for yellow next!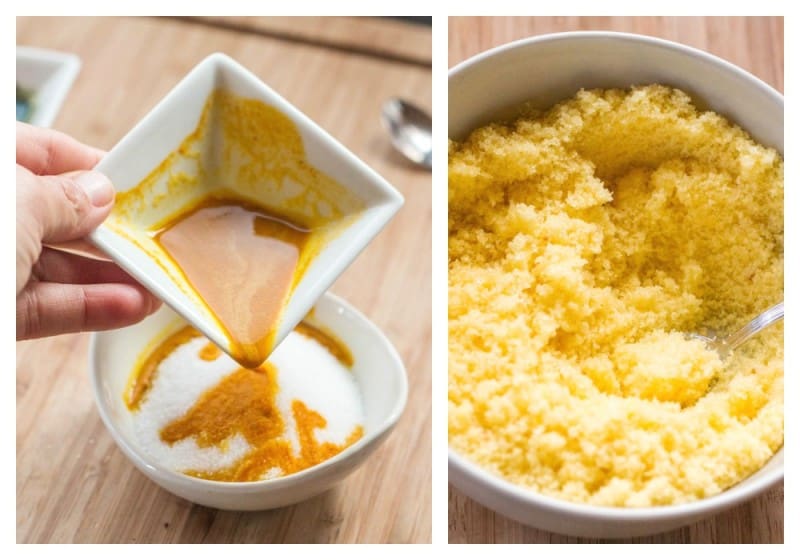 I followed the same process, and was having so much fun that I decided to try for green.
At first I used the first green powder I could think of, chlorella, but the resulting green didn't strike me as particularly pretty, so I mixed up a batch with spirulina powder instead.
The spirulina green sugar turned out OK and resulted in a pretty bluish-green, but I should have strained the spirulina powder out of that particular batch because my resulting sugar ended up being a bit splotchy.
I couldn't help but think about my spinach leaves, wanting to give them another try, so I decided to use them raw this time.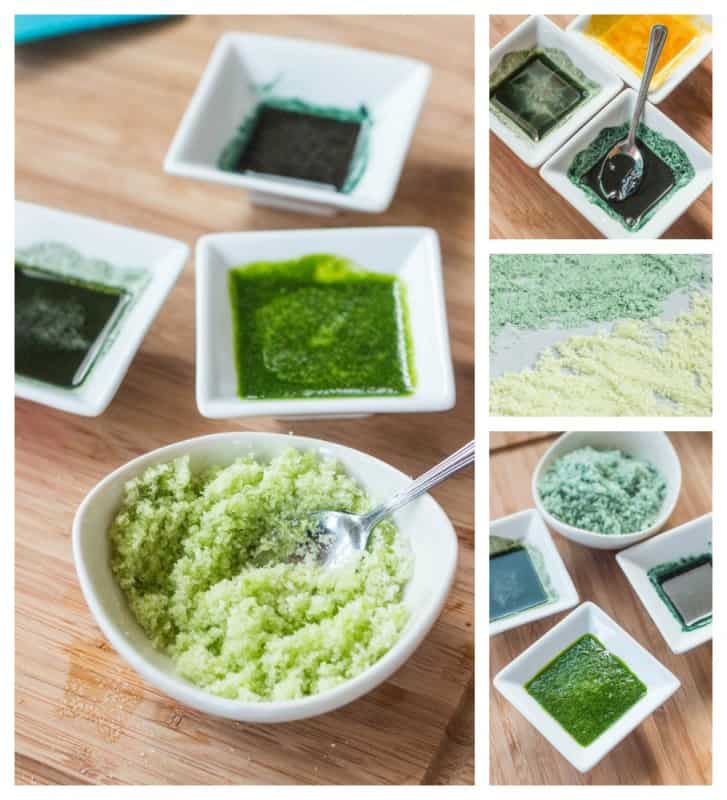 To use them, I mixed a few leaves with a little bit of vodka, just enough to be able to blend everything together. The resulting mixture turned my sugar crystals into a light shade of spring green. Beautiful!
While I didn't bother straining any of these because I was in a hurry, to try making a shelf stable natural food coloring, I would strain the powder from the alcohol, and would only try to keep the ones made with a dry powder, not the ones made with fresh leaves, just in case. (Water within the leaves may allow for bacterial growth.)
I may try dehydrating some spinach leaves to see if I can use them to make a more shelf stable bright green food coloring too. I'll update you on how it goes if and when I try it. For now, you can see how I tried making my next food coloring more shelf stable…
I didn't stop there, but I ended this post here because my next discovery was so super-duper crazy cool that I thought it warranted having a post to itself!
Oh the suspense!!
I'll work on it and try to get it to you tomorrow!
If you want to know how I made the purple, turquoise and light pink sprinkles, check out my post about my magical, natural color changing food coloring!