Think stinging nettles are just a weed? Think again. They're a delicious, plant with numerous health benefits that can be used in recipes and in so many other ways!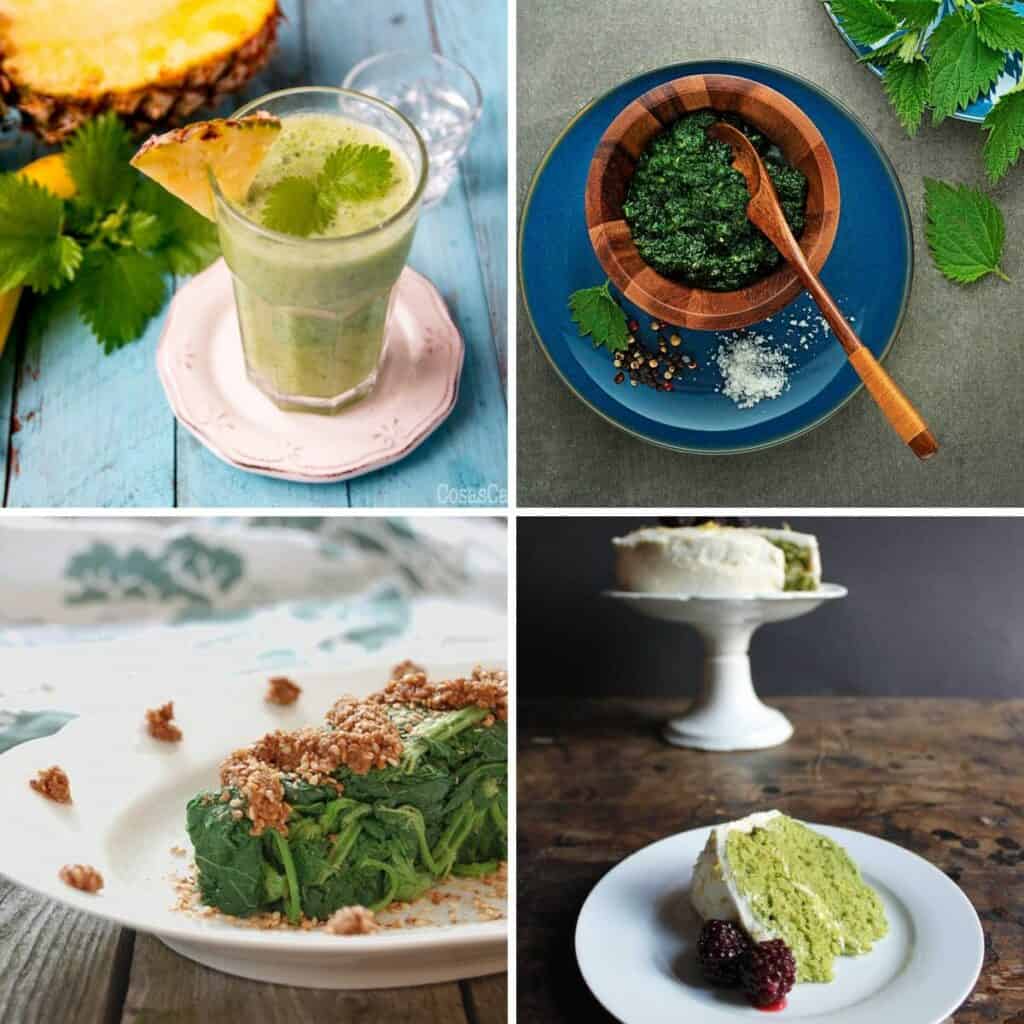 It's easy to have a love-hate relationship with stinging nettles. While they're packed with antioxidants and vitamins, their painful stings make you want to banish them from your life sometimes, especially when you're weeding your garden.
Luckily, while their sting is irritating to the skin, it's harmless. In fact, it's thought to help with arthritis and improved blood circulation.
What is the Stinging Nettle?
You have likely seen the nettle plant, scientifically named Urtica Dioica, even if you don't think you know what it is. It's native to Europe, Asia, North Africa, and Western North America, but has been also introduced into other areas of the world.
Most people consider it an annoying weed, but it's a plant that is often used in teas. It has also been used in herbal medicines for years.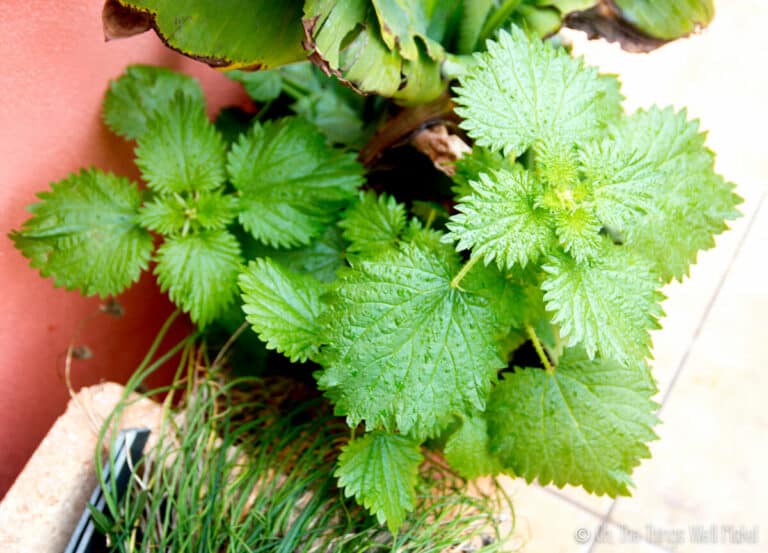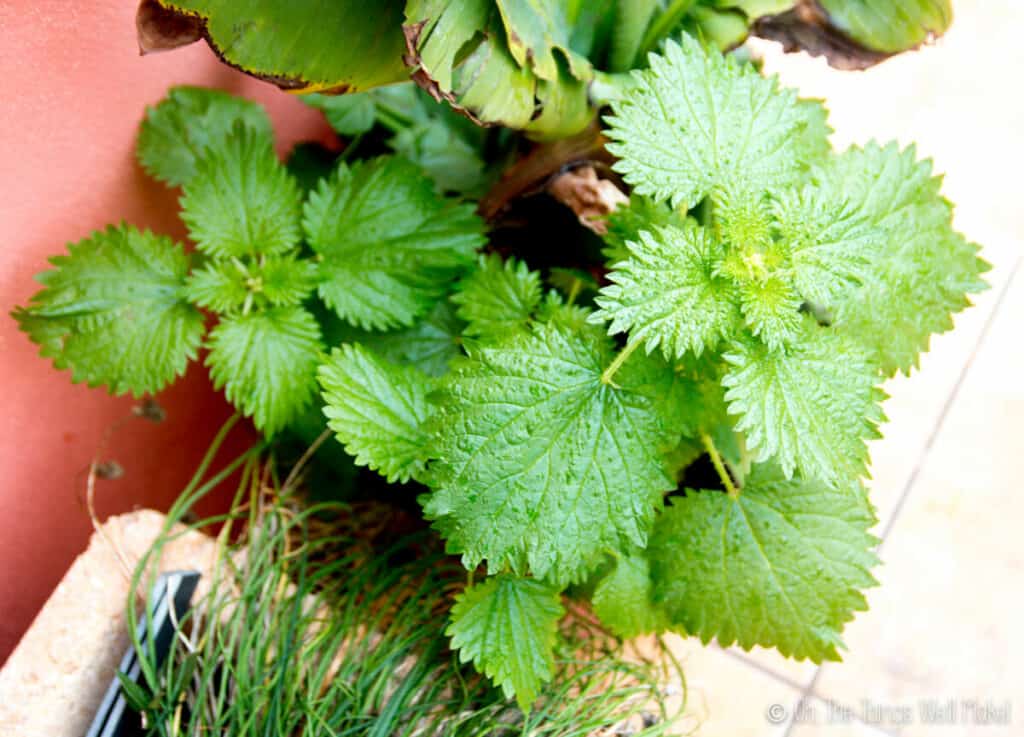 My son used to hate that we have so many stinging nettle plants all over our yard. He likes to go outside and play and would often run through a patch of them by accident. He cried when he'd lose his ball in a patch of it and get stung when trying to retrieve it.
Over the years, though, he's learned to recognize them and stay away, when needed. This time of year, when the nettles start popping up again, he offers to help me "harvest" some (with gloves). He knows I like to use nettles in herbal teas, smoothies, and other recipes.
How do Nettles "Sting"?
The stinging nettle plant has tiny little needle-like projections all over the leaves and stems. These "hairs" are hollow and act like mini hypodermic needles that inject a shot of formic acid, histamine, and other substances that can irritate your skin. That's why you may feel pain and/or itchiness after touching them.
Knowing that, makes it seem like it would be impossible to use in smoothies and other foods. Don't worry, I'll cover that in a minute…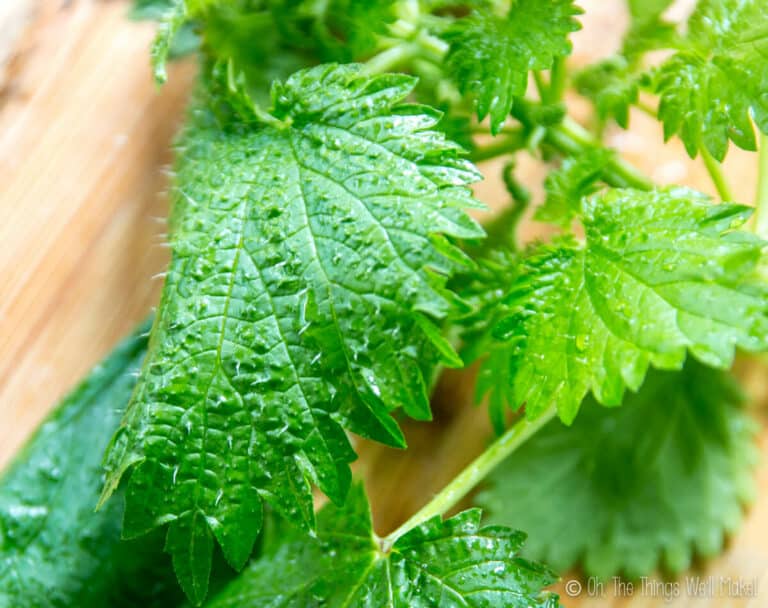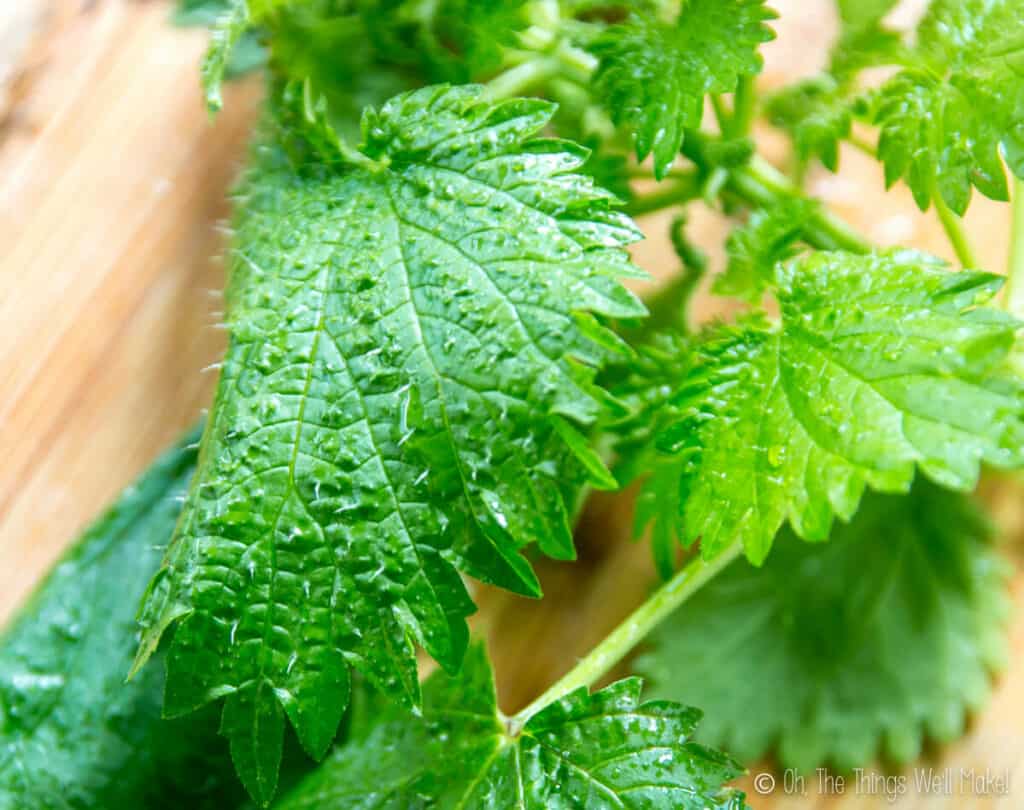 Health benefits
You might think that this plant would be highly poisonous and impossible to eat, but it's actually packed with health benefits.
It is a good source of vitamins A, C, D, and some of the B complex vitamins. It also has protein, calcium, iron, beta-carotene, and magnesium.
Nettle is thought to help with urinary tract problems by reducing inflammation and increasing urinary output. It may also help dissolve kidney stones! (I have a history of getting frequent UTI's and like to drink herbal teas with nettle when I feel minor symptoms coming on.)
This useful plant is anti-inflammatory, and may have some antioxidant enzyme activities, and may even slow the formation of certain types of tumors!
Extracts of the plant were studied to see if its antioxidant properties could help with oxidative stress that negatively affects certain diseases. The conclusion reached was that it may be a helpful addition to those with diabetes and heart conditions to help prevent complications from either of those diseases.
It may also help you reduce blood sugar and blood pressure.
Nettle can also help with diarrhea. I notice that my digestion is better when I add it to my smoothies every few days!
Where can you find them?
I guess I should consider myself lucky to have wild stinging nettle plants growing all over my garden, especially in the late winter and early spring. Right around this time of year, the small nettle plants are springing up almost all over the place in my area.
Some people, who aren't so lucky, actually buy small nettle plants to plant in their garden. I've heard it can be found in many farmers' markets and gardening centers. So, if you can't find any, it's something to consider.
When to harvest them?
Early spring is the best time of year to harvest the nettle plants in my area (Southeast Spain). Any time you can find young plants, though, is ideal. It's best to pick the young leaves before the plants start to flower. Once they flower, the plants tend to become more fibrous and the flavor can change, and the .
I harvest more than what I need when I have access to young plants. The excess leaves can be dried for use in herbal infusions (teas). You can also freeze them for use in soups, smoothies, and other recipes year-round.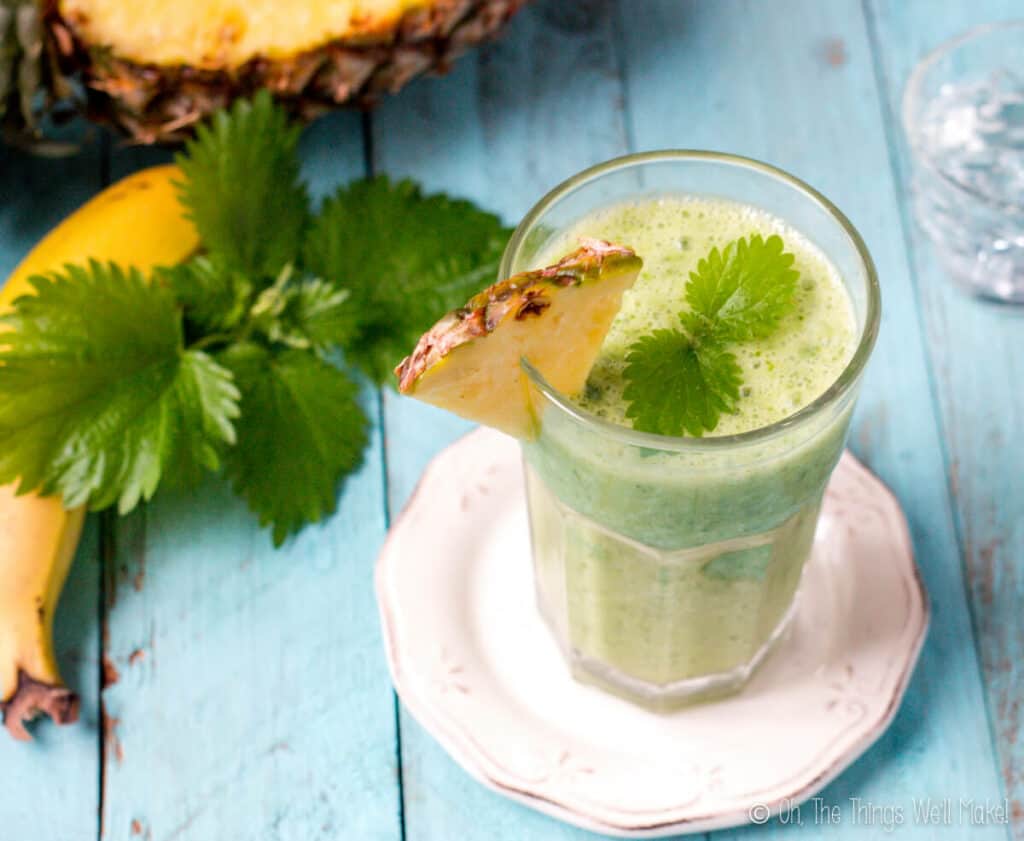 Can you really eat them?
Yes!
I was really surprised to learn that you could actually eat nettle plants. The first time I tasted them, several years ago, I boiled them in water. Boiled nettles are a lot like cooked spinach.
Cooking the plant inactivates its ability to sting you. There are other ways to do it, though, so you can enjoy them raw…
How to keep nettles from stinging you
Wear gloves when foraging for stinging nettles. (Some people choose not to. They say the sting helps their arthritic hands. I, on the other hand, am not that hardcore.) ?
Dehydrate the plants. Once the leaves and "needles" have wilted enough, they will no longer sting you when handling them. This is a great way to make herbal teas with nettles.
Boil the nettles. Once you cook the leaves in boiling water, the needles will no longer be able to hurt you. This is great for recipes that use cooked nettles, and for making fresh herbal infusions. Cooked stinging nettles can be used in place of cooked spinach in many recipes.
Crush the nettles. Once the needles on the nettles have been crushed, they will no longer sting you. This is great for being able to use nettles raw in smoothies and pestos. I love using nettles in my smoothies like my tropical stinging nettle smoothie.
What do they taste like?
Stinging nettle plants are often compared to spinach because they can be used in the same ways that you would normally use spinach. That said, I think they have a more subtle, lighter flavor, especially when used raw.
Stinging Nettle Recipes
I knew that nettles were a great replacement for spinach in recipes, but I didn't realize how versatile they really are. They can be used in soups, rice dishes, smoothies, and even desserts.
Snack recipes
You may be familiar with kale chips, but how about nettle chips? Kale chips have gained popularity over the years because they're salty and crunchy and a tasty way to eat nutritious kale. By subbing out the kale for nettles, you can convert your garden weeds into a delicious snack.
This kid-friendly breakfast or snack uses "nettle flour" made from drying and grinding up nettle leaves.
Sauces
Nettles can also add color and flavor to a simple dip or sauce. This tzatziki-like dip is perfect for dipping veggies and other snacks.
Pesto sauce, my son's absolute favorite, is traditionally made with basil leaves. Consider switching out some of the basil leaves of your traditional pesto recipe for nettle leaves. Or, try one of these alternative recipes.
Soups
I'm sure you've heard of chicken noodle soup. But what about chicken nettle soup? It sounds like a delicious, healthy alternative to me!
If you prefer creamier soups, these nettle based soups may be exactly what you're looking for.
Main dishes and sides
The epitome of comfort food, risotto is a creamy rice dish that can serve as a complete meal. This risotto, made with vegetable broth, is an ideal vegetarian meal.
Traditionally a breakfast dish in Isreal and the middle east, shakshuka is a simple yet complete meal. This recipe is packed with healthy greens including the nettle.
Gomae is a Japanese side dish normally made with spinach and sesame. Here, nettles take the place of spinach, giving an interesting alternative to this classic recipe.
Desserts
Nettles don't need to be reserved for only savory recipes. They can also add color and nutrients to sweeter treats.
Drinks and smoothies
Making beer with nettles instead of grains is absolutely genius, and is an idea that's totally up my ally. It's definitely on my "to-do" list of things to try!
It's quite common to add spinach to smoothies, but most people haven't thought to add nettles. They're a healthy, lower-oxalate greens option for those with kidney stones (or anybody needing to lower their oxalate intake).
Similar to my homemade ginger ale, this nettle ade is easily made with seltzer water, and is a healthy alternative to soda pop.
Tea Blend Recipes
Support your immune system with a variety of herbs and plants that may even help fight infections.
Help your body get rid of toxins with a blend of herbs that help support live and kidney function.
For those warm summer days, why not try in herbal ice tea instead?
A touch of hibiscus adds color and a touch of sweetness to a nettle tea, making it appealing for kids. While it was designed for kids, I won't judge any adults who drink it. (I bet it would be great as an iced tea too!)
Hair products
Nettle is said to help clear clogged hair follicles, which correspondingly helps prevent hair loss. It may also strengthen hair, add shine, and help against dandruff.
These simple, natural hair care recipes take advantage of those benefits.