Don't let its sting scare you away, the stinging nettle packs a powerful nutritional punch and is a tasty addition to many recipes. Use it in this delicious stinging nettle smoothie to reap its benefits without getting stung!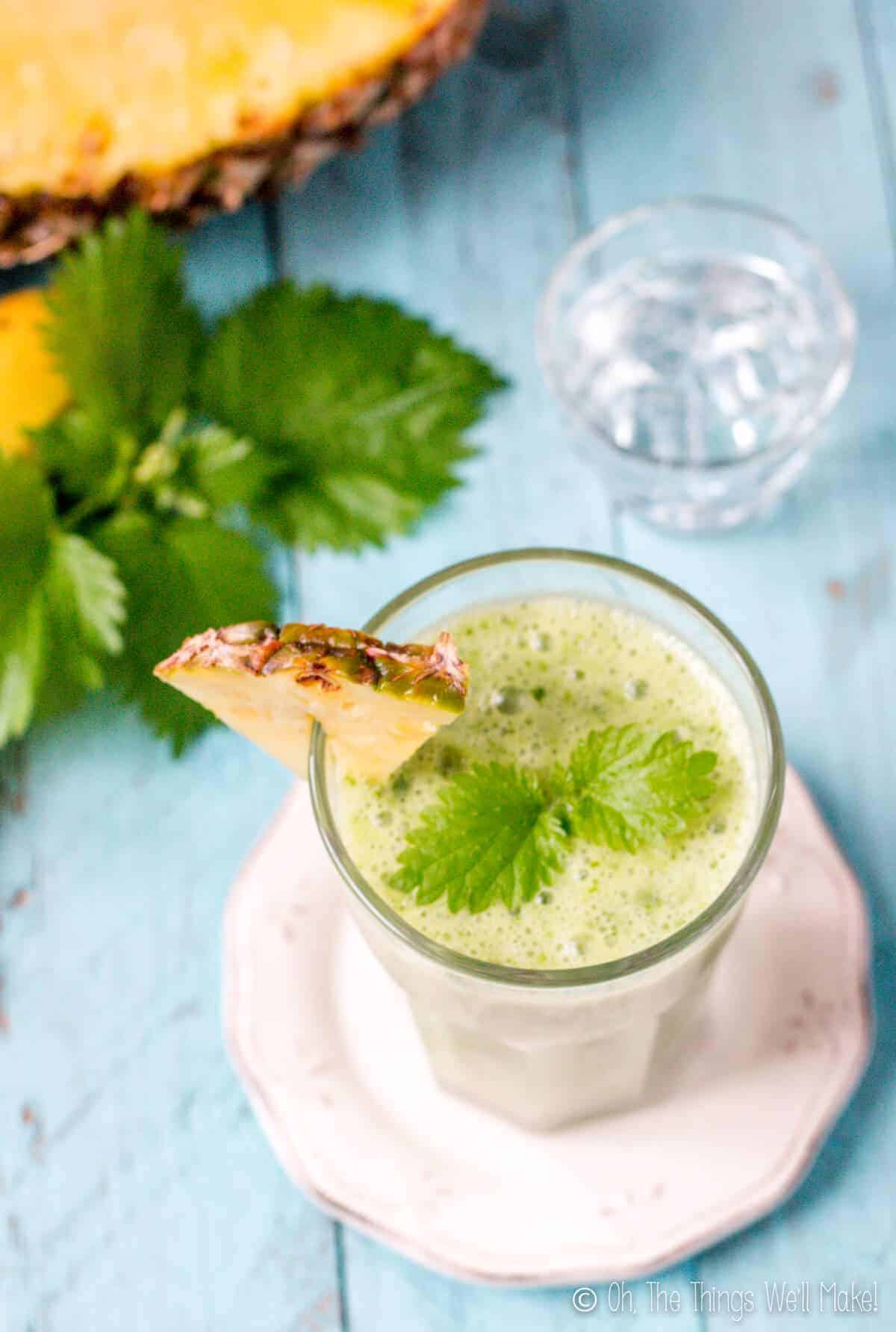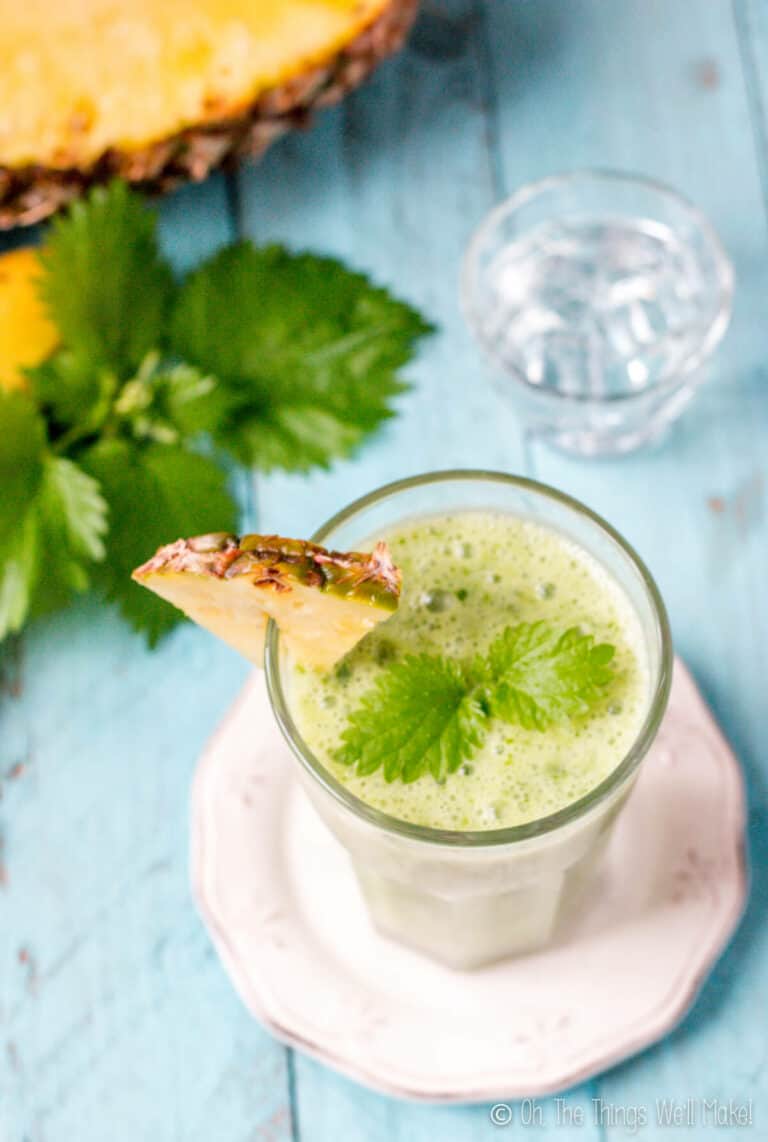 A lot of you are probably going to think that I'm crazy by making a stinging nettle smoothie, but I think after you read a bit more, you'll be wanting to try it yourself!
Why try this?
Smoothies are a great place to sneak in veggies and other nutritious foods that are "harder" to eat. I have often added spinach to my son's smoothies so that he gets an extra dose of veggies. At first, I snuck it in, but now he knows about it and has no problem drinking his "Popeye smoothie".
While I love the idea of adding raw greens to my smoothies when possible, lately I've been hearing conflicting information about adding certain raw greens to your diet. (It has to do with oxalate content. More about that in a minute…)
The nettle, however, may be an exception. Drinking a nettle smoothie may be the ideal way to add these nutrients to your diet without the same drawbacks.
Health benefits of nettle
Nettles are considered a less well-known superfood by many. They are high in vitamins A, C, and K and also rich in bioavailable calcium. They're low in calories and high in fiber. (Source)
Not only do they add antioxidants, tannins, polyphenols, and carotenoids to your diet, but they may help with arthritis, rheumatism, and, potentially, cancer prevention. (Source)
20+ Surprising Ways to Use Stinging Nettles
Nettles are a versatile green. They can be used in a variety of food recipes, and also for hair care.
Check it out!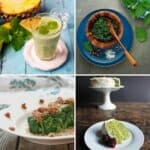 Are raw greens healthy?
Most raw greens are packed with beneficial vitamins and antioxidants as well as being low in calories and high in fiber. So, you'd think it would be best to get as many as you can into your diet.
That may not be true for everybody, though…
Cruciferous vegetables and the thyroid
Greens from the cruciferous vegetable category such as kale, cabbage, bok choy, and broccoli greens have goitrogens that can negatively affect your thyroid if you have an underlying problem and don't get enough iodine in your diet. Cooking those foods can reduce their goitrogenic potency.
When people with thyroid issues consume too many raw cruciferous vegetables, they can block the enzymes that allow iodine to be used by the thyroid, suppressing its ability to function correctly.
Oxalates and kidney stones
Recently, more people are aware of the fact that many greens that are commonly used in raw, green smoothies are high in oxalic acid, aka. oxalates.
Spinach, chard, beets, and rhubarb are amongst the list of foods high in oxalates.
For what is probably the majority of people, drinking green smoothies with high oxalate ingredients probably isn't going to be a huge problem, especially if you rotate your greens.
On the other hand, quite a few people are sensitive to oxalates and can develop kidney stones. Those who need to eat a diet low in oxalates may want to try using raw nettle in their smoothies instead!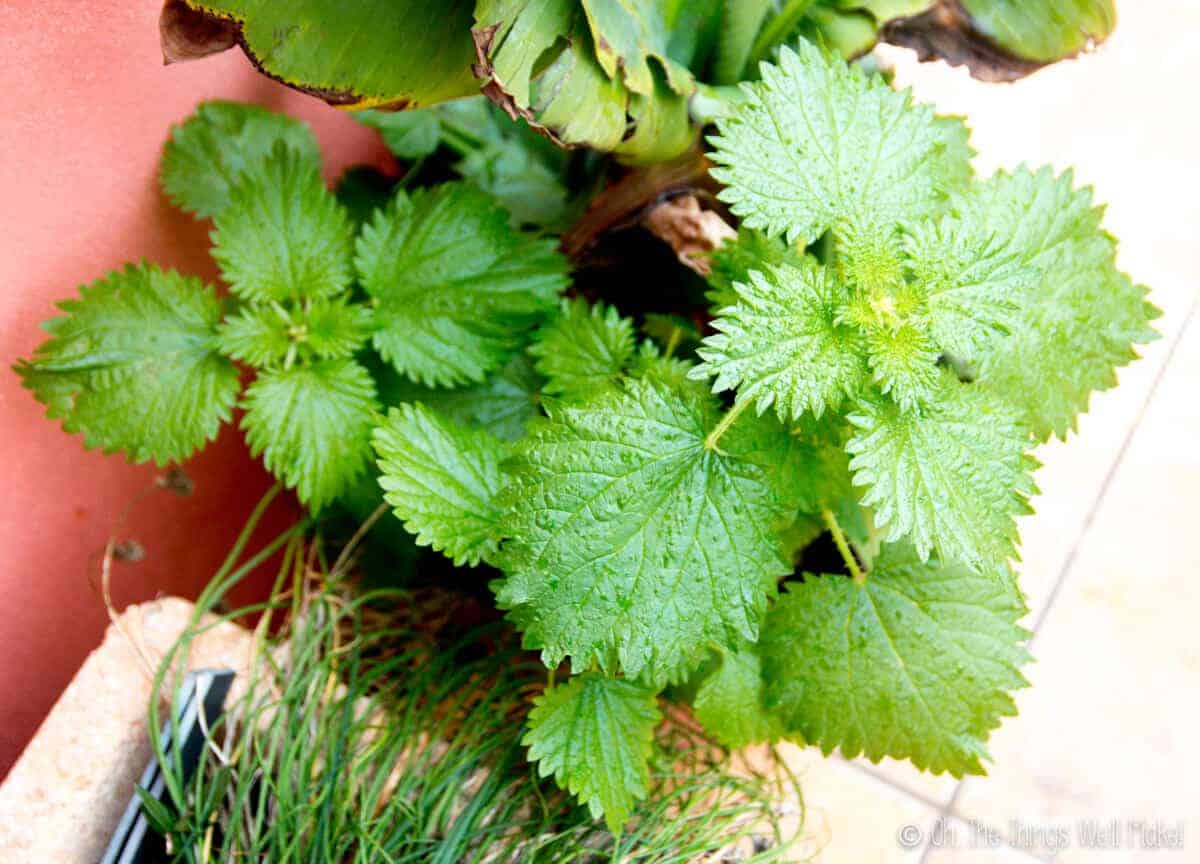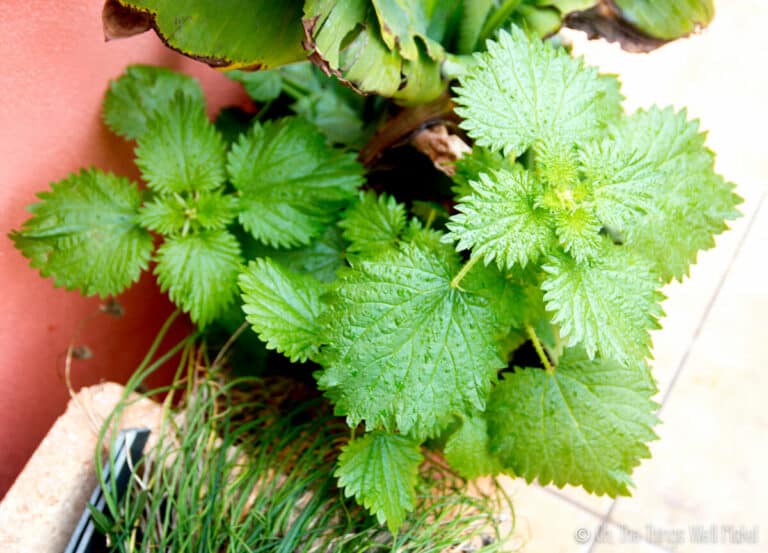 Are nettles high in oxalates?
While there seems to be conflicting information about the concentration of oxalates in the nettle leaves themselves, nettle tea is generally on the list of foods that can be consumed by those on a low oxalate diet.
Rather than aggravating or causing kidney stones, stinging nettle can actually help prevent and even dissolve kidney stones (and gout by the same mechanism)! Nettle extract decreases elevated levels of calcium, oxalate, and creatinine in urine. It also significantly decreased the amount of calcium and oxalate and calcium oxalate crystals deposited in the kidneys of test rats.
While it's true that raw nettle may behave differently, I haven't been able to find any information that would make me think that nettles would be harmful to those on a low oxalate diet. All of the information I've found seems to point to quite the opposite.
The calcium in many leafy greens (particularly spinach, chard and beet greens) is not as bioavailable to the body, due to the natural presence of high levels of oxalic acids before cooking, but Nettles do not contain much of these oxalates. Nettles actually remove oxalates from tissues throughout the body.

Dr. Mary Bove, N.D., Gaia Herbs Medical Educator and Scientific Advisory Board Member
Advice
When in doubt, you should always consult with your doctor before introducing new foods into your diet. Each person should try to make informed decisions about what foods will be best for them.
Just because I feel great drinking nettle smoothies doesn't mean that they will be great for you!
How to harvest stinging nettles
The tricky part of working with nettle plants is harvesting them and cleaning them without irritating your skin. I've gone more in-depth about how to harvest nettles and their health benefits in my post with 20+ nettles recipes.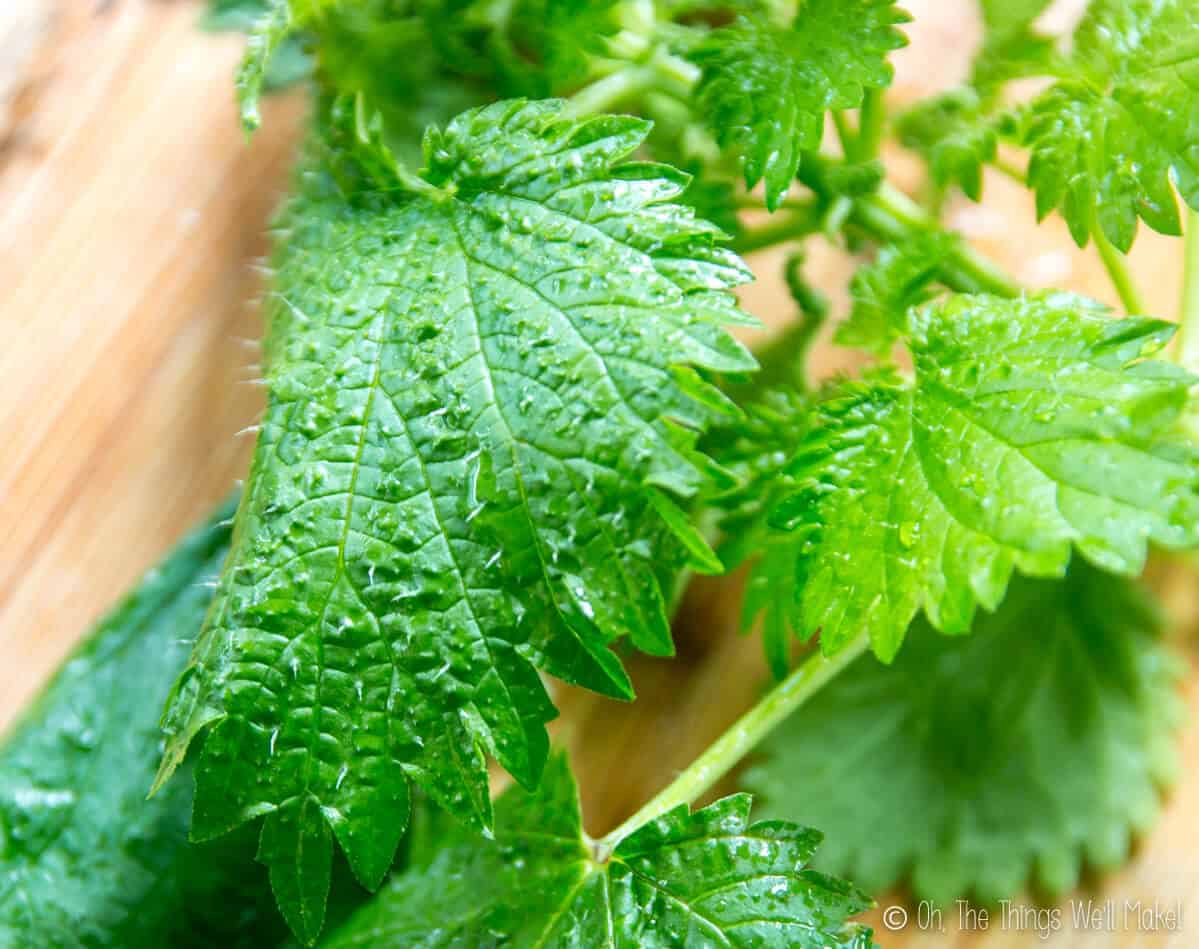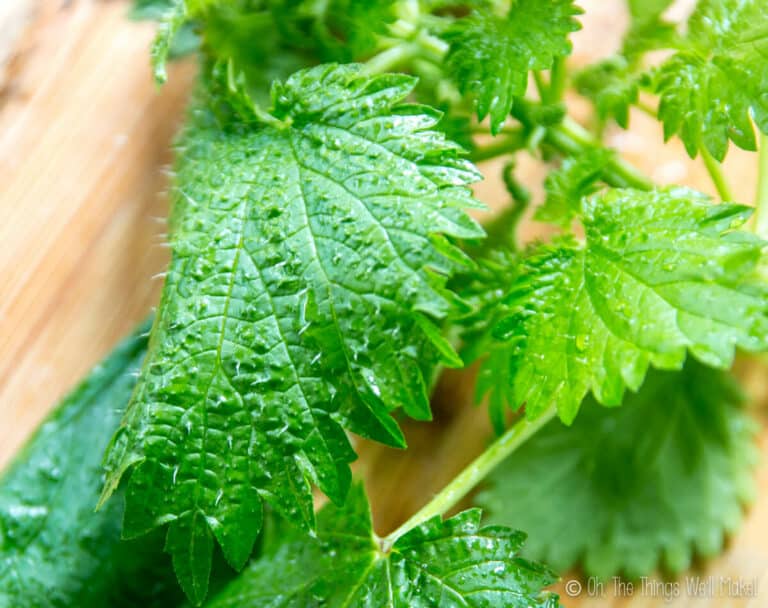 That said, I'll give you some quick, general guidelines…
Choosing the plants
It's best to use young plants with small leaves. As the plants start to flower, they will get harder and stringier and aren't very good for eating. I like to harvest the top of the plants, cutting the tops off with scissors.
Protecting your hands
Pick the plants carefully. You can wear gloves to protect your hands.
When I harvest the nettles, I usually let them sit around for several hours before I clean and handle them. By letting the nettle plants wilt, the needles no longer have the strength to pierce your skin and sting you. When wilted enough, you can handle the plants without any irritation.
Once they have wilted, I proceed to rinse them several times before drying them out in a salad spinner.
If you want to use them right away, wear gloves when working with them. You can also carefully smash the needles with a spatula or the side of a large knife. Once the needles have been smashed, they will no longer sting you.
Once clean, you can use the leaves, as is, in smoothies, or in a number of other raw or cooked nettle recipes. You can also either dehydrate them for use in herbal teas, or you can freeze them for future use. (I blend them into a puree and freeze them as I freeze fruit for smoothies.)
Keep it from stinging
The stinging nettle will no longer sting you if you do any of the following:
Cook it
Crush the needles
Let it wilt enough
Dehydrate it
Blend it into a sauce/paste/smoothie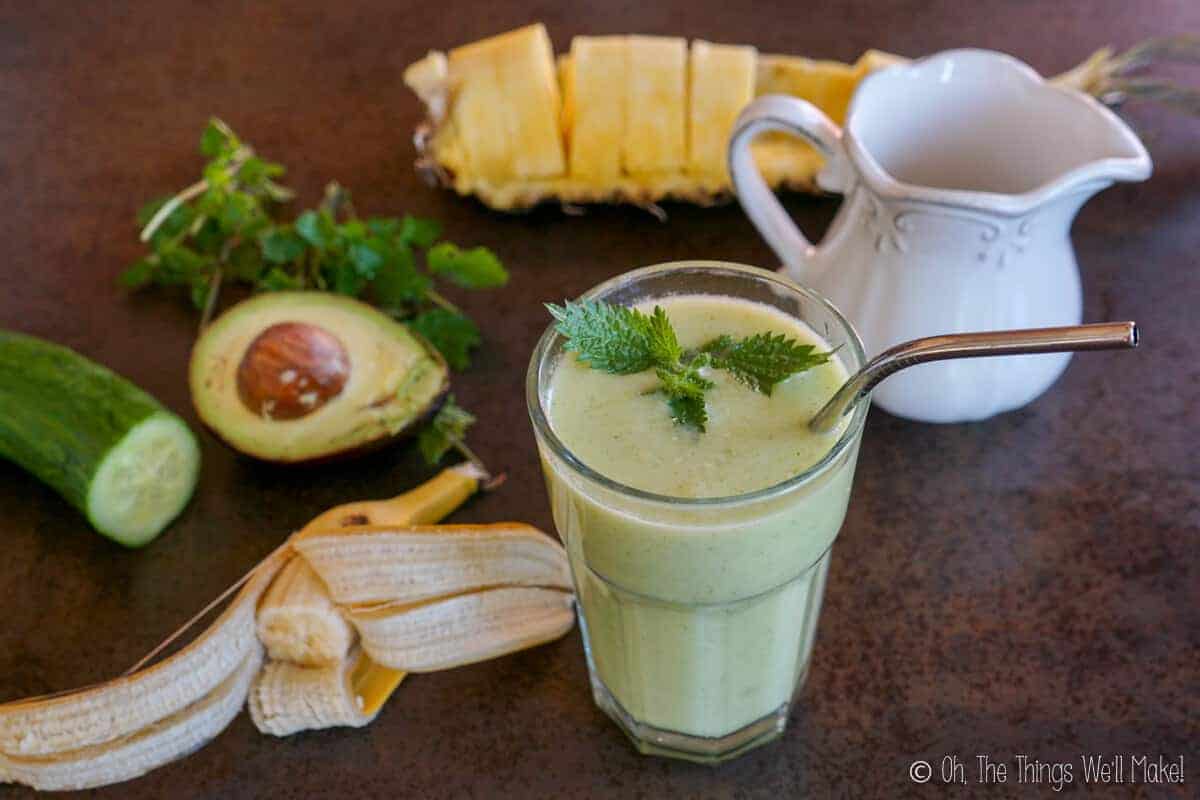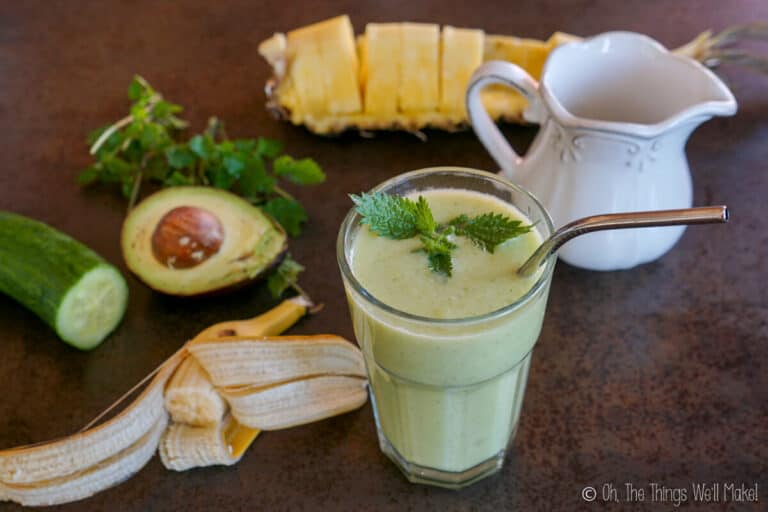 Making a stinging nettle smoothie
So, one of the best, most delicious ways to use nettles raw is to blend them into a smoothie. In this case, I'll show you my son's favorite, a tropical stinging nettle smoothie with pineapple, coconut milk, and banana. He was afraid to try it at first, because he's been stung more than once by nettles in the garden, but now he loves it!
Ingredients
To make a delicious smoothie, you can really add the plant to any combination of fruits and vegetables that you like.
Because my son and I really enjoy tropical fruit smoothies, those that evoke visions of sipping a piña colada on the beach, I chose a combination of coconut milk with pineapple as the base of this smoothie. Those are the main two ingredients that we always add to tropical smoothies.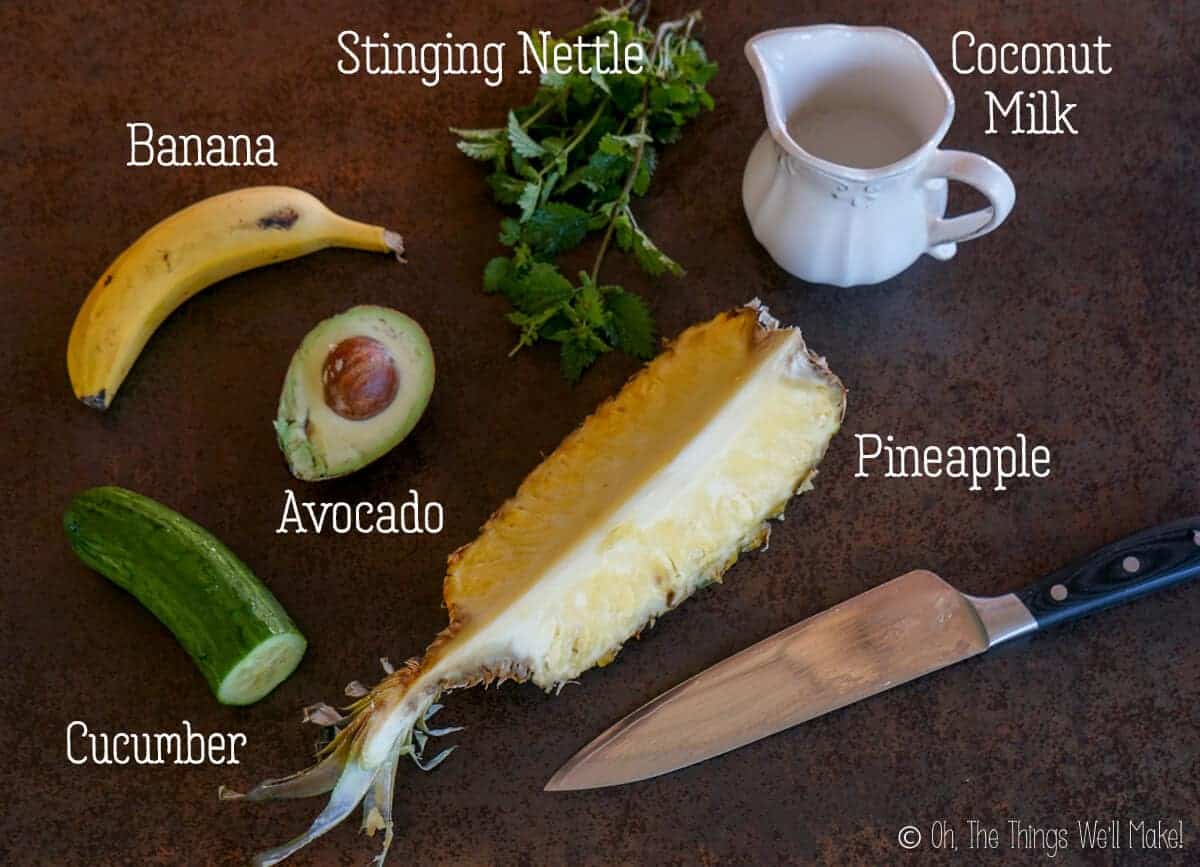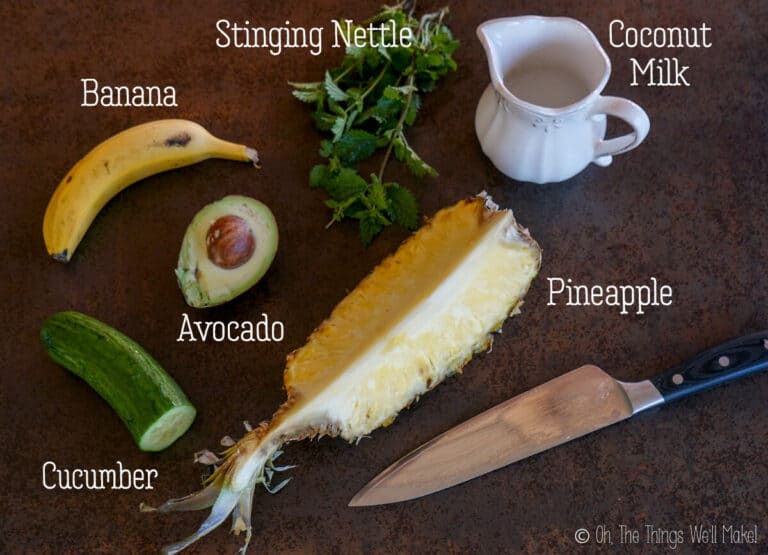 Customizing the recipe
While you could easily make a tropical nettle smoothie with only pineapple, coconut, and nettles, there are ways to make this. The other ingredients can be customized to suit your taste.
Adding cucumber
Cucumbers add bulk to the smoothie to fill you up. They're refreshing and low in calories and sugar. I usually add half of a peeled cucumber to the smoothie. (While you could add it with the peel, it adds a gritty texture I prefer to avoid.)
Avocado
By adding avocado, you add a dose of healthy fats as well as adding creaminess to the smoothie. I usually add half an avocado to this recipe.
Bananas and/or for sweetness
If you have a sweet tooth, but don't want to add sugar or other sweeteners to the smoothie, try adding some banana. Bananas are very sweet and naturally add their sugars to the smoothie. It's a great use of bananas that are starting to get a bit too ripe.
Mango is another delicious optional addition to tropical drinks like this one. If using ripe mangoes, it also adds sweetness to the overall smoothie.
Tips for getting the perfect consistency
I like my smoothies to be cold, thick, and creamy. There are a few steps you can take to get the consistency you want, though!
Blend thoroughly!
To ensure a creamy smoothie, the blender you use can make a huge difference. Powerful blenders work best, of course, but blending for longer periods of time can also help.
Blend for up to a full minute at the highest setting to really break down the tiny pieces of fruit into a smooth puree. Also, avoid adding the peels of cucumbers and other hard foods like coconut that may give a gritty texture.
To help the blender work well, add liquids first, followed by the nettles (or other greens), followed by the fruit.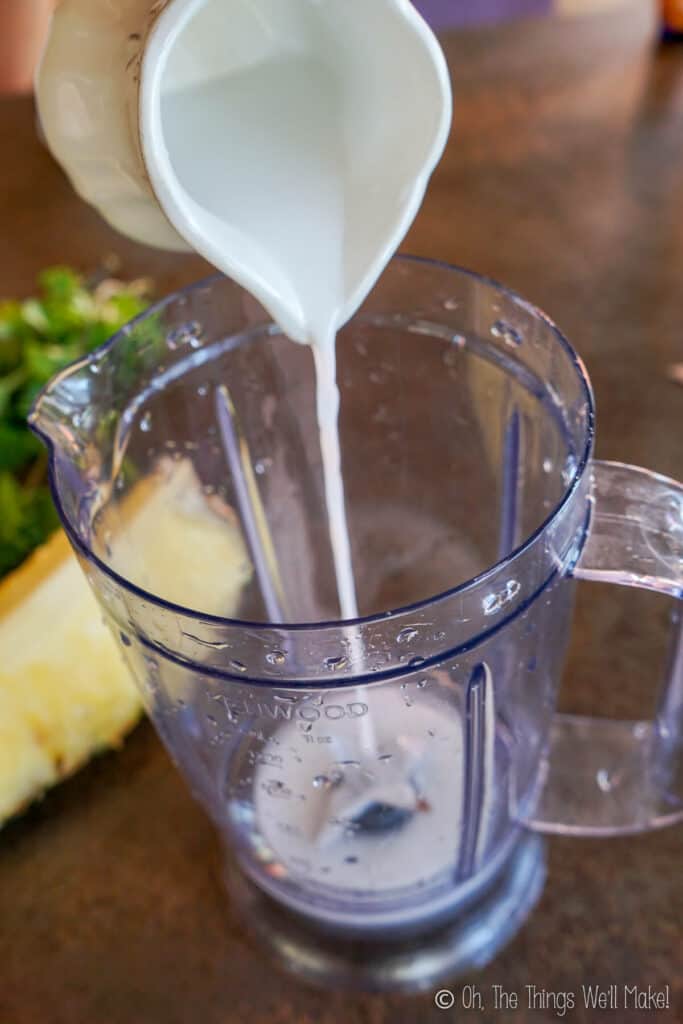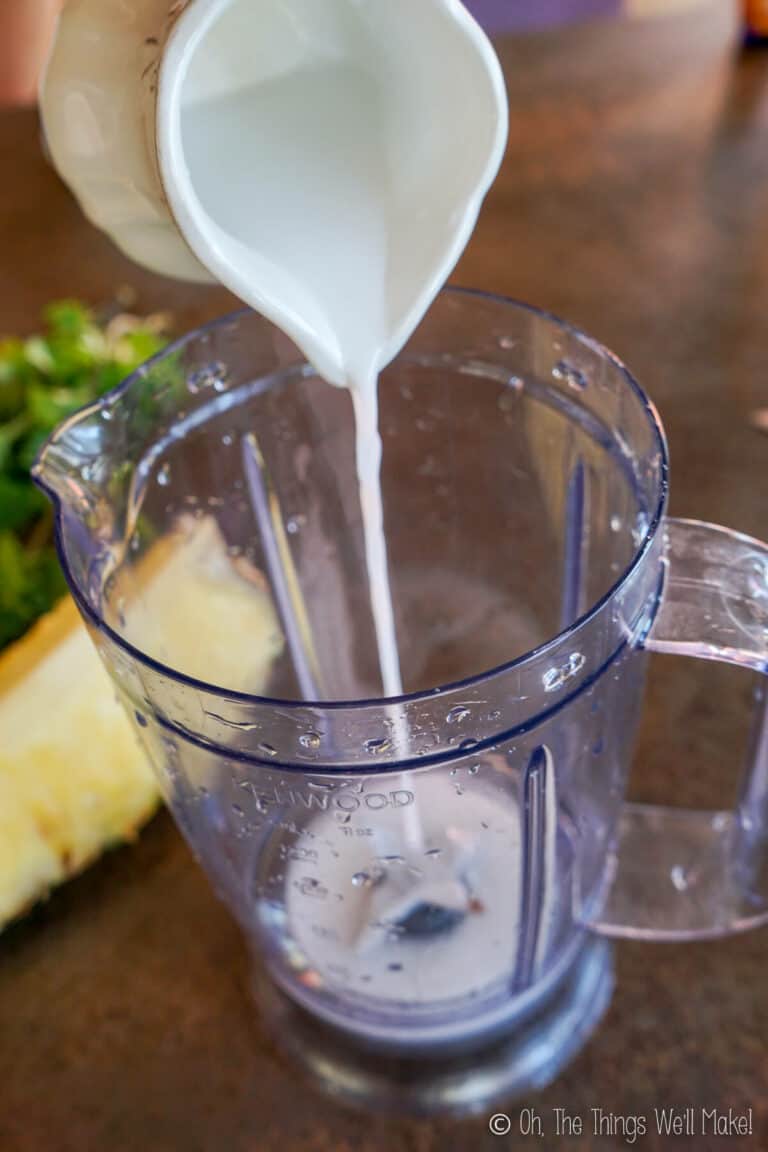 Add creamy ingredients
Adding avocado to the smoothie helps add creaminess. Bananas and other soft ingredients also make the puree nice and smooth.
Making it thicker or thinner
For a thicker smoothie, use less liquid, in this case, coconut milk. Following the same logic, to thin out the smoothie, add more coconut milk or water.
You can also thicken it up by using frozen fruit or by adding ice. In this recipe, it's easy to use frozen pineapple chunks and/or pre-freeze some banana slices.
I often make "smoothie cubes" from pureed avocados or other fruits when I can get them inexpensively and in season. That way I can save money and use them year-round. Check out my tips for freezing fruits for smoothies or baby food in that way that optimizes room in the freezer.
Watch me make it
Craving more?
Subscribe to my newsletter for the latest recipes and tutorials!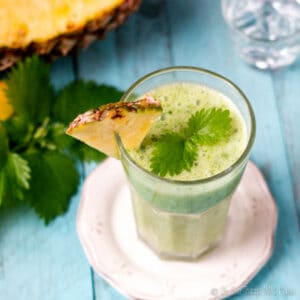 Foraged, Tropical, Stinging Nettle Smoothie
Don't let its sting scare you away, the stinging nettle packs a powerful nutritional punch, and is a great addition to smoothies like this foraged, tropical stinging nettle smoothie.
Print
Pin
Rate
Ingredients
1/4

cup

coconut milk homemade coconut milk works well here!

1/2

banana

1/4

pineapple

cut in chunks

1

handfull

stinging nettle leaves

(work up to 2 or more, if you like.)

1/2

cucumber

optional, peeled and cubed

1/2

avocado

optional, for a creamier smoothie
Instructions
Prepare the nettles
Harvest the stinging nettle plants carefully with gloved hands. You can either clean them and use them immediately, or let them wilt overnight to reduce the sting factor while working with them.

Rinse the nettle plants under running water or soak in the sink. Once clean, remove excess water. (I use a salad spinner to dry the leaves.) If using a larger plant, remove any large stems.
Blend the smoothie
Add the coconut milk to the blender, followed by the clean nettles leaves. Finish by adding the fruit chunks and blending all of the ingredients together. Make sure to blend long enough to end up with a smooth mixture. (Once they are well blended, the nettle plants will no longer sting.)
Notes
Nutritional information is based on using all of the above ingredients in one smoothie. The calorie count can be brought down significantly by using a lighter coconut milk (homemade coconut milk is normally much lighter) and by not adding the avocado. You can also use slightly less pineapple and more cucumber.
Nettle plants will become fibrous when they flower, so it's best to choose young plants. Smaller, younger plants are sweeter and more tender. I usually only choose the top leaves of nettle plants before they flower, and remove all large stems.
A simple tropical smoothie can be made with just pineapple chunks, coconut milk, and nettles. Adding other optional ingredients can change the flavor, texture, and nutritional profile:
For a lower sugar, less sweet smoothie, add

peeled cucumber chunks. Cucumber adds bulk to the smoothie which fills you up without adding much sugar or calories. I usually add half of a cucumber.

Avocado adds healthy fats and makes for a creamier smoothie. I recommend adding half of an avocado.
To sweeten the smoothie, add ripe banana. Using half of a banana will slightly sweeten it. Adding a full banana sweetens even more.
Mango is another delicious fruit that can add a bit of sweetness and tropical flair.
To thicken the smoothie, either use less liquid or us frozen fruit chunks. Frozen pineapple and/or banana chunks work well here. If you don't have frozen fruit ready, add ice cubes instead.
Blend thoroughly to ensure a creamy smoothie.
Calories:
456
kcal
|
Carbohydrates:
57
g
|
Protein:
6
g
|
Fat:
27
g
|
Saturated Fat:
13
g
|
Sodium:
20
mg
|
Potassium:
1274
mg
|
Fiber:
12
g
|
Sugar:
32
g
|
Vitamin A:
386
IU
|
Vitamin C:
128
mg
|
Calcium:
73
mg
|
Iron:
3
mg