Don't let its sting scare you away, the stinging nettle packs a powerful nutritional punch, and is a great addition to smoothies like this foraged, tropical stinging nettle smoothie.
A lot of you are probably going to think that I'm crazy by making a stinging nettle smoothie, but I think after you read a bit more, you'll be wanting to try it yourself!
If you aren't familiar with the stinging nettle plant, most people consider it an annoying weed that pops up all over the place in a lot of areas around the world. (It's native to Europe, Asia, North Africa, and Western North America, but has been introduced into other areas.)
My son absolutely hates the fact that we have a lot of stinging nettle plants that pop up all over our land. He likes to go outside and play, and often runs through a patch of stinging nettles by accident or tries to pull a ball out of a patch of it and then comes running to me crying. You see, running through a stinging nettle patch doesn't go unnoticed if you're wearing shorts, nor does brushing up against it anywhere with bare skin.
The stinging nettle plant has tiny little needle like projections all over the leaves and stems. These "hairs" are hollow and act like a hypodermic needle that injects a shot of formic acid, histamine, and other substances that can irritate your skin.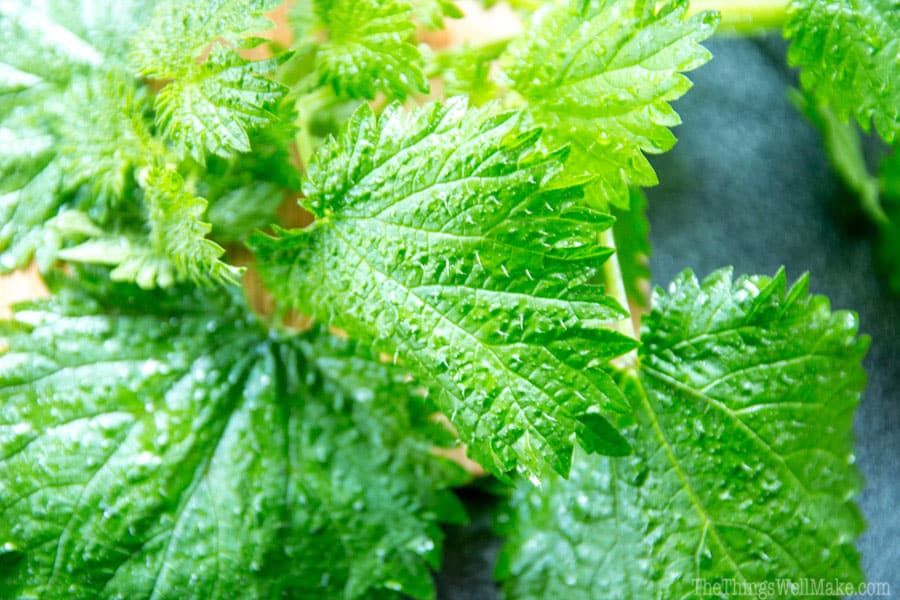 Why I like nettle for smoothies
I like adding raw greens to my smoothies when possible, but there is a lot of conflicting information about adding different raw greens to your smoothies.
Cruciferous vegetables and the thyroid
Greens from the cruciferous vegetable category like kale, cabbage, bok choy, and brocoli greens have goitrogens that can negatively affect your thyroid if you have an underlying problem and don't get enough iodine in your diet. When too many raw cruciferous vegetables are consumed by people with thyroid issues, they can block the enzymes that allow iodine to be used by the thyroid, suppressing its ability to function correctly.
Oxalates in greens and kidney stones
Recently, more people are aware of the fact that many greens that are commonly used in raw, green smoothies are high in oxalic acid, aka. oxalates. Spinach, chard, beets, and rhubarb are amongst the list of foods high in oxalates. For what is probably the majority of people, drinking green smoothies with high oxalate ingredients probably isn't going to be a huge problem, especially if you rotate your greens. On the other hand, quite a few people are sensitive to oxalates and can develop kidney stones. Those who need to eat a diet low in oxalates may want to try using raw nettle in their smoothies instead!
While there seems to be conflicting information about the amount of oxalates in the nettle leaves themselves, nettle tea is generally on the list of foods that can be consumed by those on a low oxalate diet. Most seem to be live that rather than aggravating or causing them, that stinging nettle can actually help prevent and even dissolve kidney stones (and gout by the same mechanism)! While it's true that raw nettle may behave differently, I haven't been able to find any information that would make me think that nettles would be harmful to those on a low oxalate diet. I found this quote, in a post about 14 ways to bring nettles into the kitchen (link removed 10/2019 because article has been removed), quite interesting. (They do suggest cooking or drying the nettles to reduce their sting.)
The calcium in many leafy greens (particularly spinach, chard and beet greens) is not as bioavailable to the body, due to the natural presence of high levels of oxalic acids before cooking, but Nettles do not contain much of these oxalates. And, according to Gaia Herbs Medical Educator and Scientific Advisory Board Member Dr. Mary Bove, N.D., Nettles actually remove oxalates from tissues throughout the body. Nettles also contain Vitamin C, which aids in the absorption of plant-based, or non-heme, iron.
That said, when in doubt, you should always consult with your doctor, especially before introducing new foods into your diet. Each person needs to try to make informed decisions about what foods will be best for them. Just because I feel great drinking nettle smoothies doesn't mean that they will be great for you!
Watch me make the nettle smoothie:
Stinging Nettle health benefits
Your first reaction would be to think that the stinging nettle plant would be highly poisonous and impossible to eat, but it's actually a very healthy addition to your diet. It is packed with vitamins A, C, D and the B complex. It also has protein, calcium, iron, beta-carotene, and magnesium.
It is thought to help with urinary tract problems by reducing inflammation and increasing urinary output. I have a history of getting frequent UTI's, and I like to get in some nettle if I can when I feel minor symptoms coming on. Luckily it's been awhile since my last infection (knock on wood!) As I mentioned above, stinging nettle can also help dissolve kidney stones!
Nettle can also help with diarrhea. I have noticed that my digestion is better since I've been adding it to my smoothies every couple of days!
It may also help you reduce blood sugar and blood pressure.
Warning- Avoid nettle during pregnancy, and perhaps while breastfeeding, to stay on the safe side! It's thought to affect the menstrual cycle, by reducing a heavy menstruation, which means that it may also provoke uterine contractions that could lead to premature birth if used during pregnancy.
No matter what your health condition is, you should start off slowly when adding in new foods to your diet. Start out slow and see how your body reacts before you go overboard.
How to harvest stinging nettle plants
The tricky part to making foods and other health remedies with the stinging nettle plant is harvesting them and cleaning them without irritating your skin. I'm going to be writing a post very soon with a lot more about the nettle plant, health benefits, and link to recipes that use it, but for now I'll just give you a few simple tips.
It's best to use young plants with small leaves. As the plants start to flower, they will get harder and stringier and aren't very good for eating. I like to harvest the top of the plants, cutting the tops of with scissors.
The stinging nettle will no longer sting you if you do any of the following:
Cook it
Crush the needles
Let it wilt enough
Dehydrate it
Blend it into a sauce/paste/smoothie
I'll show you more about all of those methods in my post specifically dedicated to the stinging nettle plant. For now, though, I'll just say that I usually wear gloves while harvesting the plants, and then let them wilt overnight before handling them. The wilted leaves shouldn't sting you anymore, but be careful with the stems. They take longer to wilt, so they're more likely to sting you even after the plant has wilted.
Once wilted, I rinse the plants in a salad spinner several times, and then spin it to dry out the clean leaves. I add a handful or two to pretty much any smoothie, but today I'm going to share my new favorite…
Foraged, Tropical, Stinging Nettle Smoothie
Foraged, Tropical, Stinging Nettle Smoothie
Don't let its sting scare you away, the stinging nettle packs a powerful nutritional punch, and is a great addition to smoothies like this foraged, tropical stinging nettle smoothie.
Print Recipe
Ingredients
1

banana

1/4

pineapple

1

dash

coconut milk

homemade is great for this sort of recipe!

1/4

cucumber

(peeled and cubed, optional)

1/2

avocado

optional, for a creamier smoothie

1

handfull

stinging nettle leaves

(work up to 2 or more, if you like.)
Instructions
Harvest the stinging nettle plants carefully with gloved hands. You can either clean them and use them immediately, or let them wilt overnight to reduce the sting factor while working with them.

Clean the nettle plants in a salad spinner, or carefully in the sink. Rinse several times before removing excess water. If using a larger plant, you can remove the stems and just use the leaves. It's best to use smaller, younger plants that are sweeter and more tender, though, and I just harvest the top part and throw it all in the blender.

Add the banana, pineapple chunks, a dash of coconut milk, and a handful of nettle leaves to the blender and blend all of the ingredients well. Make sure to blend long enough to end up with a smooth mixture as once they are well shredded and blended, the nettle plants will no longer sting.

Optionally add peeled cucumber chunks to the smoothie to lighten it up and make it less sweet. You can also add avocado to make a creamier smoothie.
Nutritional Information
Calories:
390
kcal
|
Carbohydrates:
66
g
|
Protein:
5
g
|
Fat:
15
g
|
Saturated Fat:
2
g
|
Sodium:
12
mg
|
Potassium:
1258
mg
|
Fiber:
13
g
|
Sugar:
38
g
|
Vitamin A:
405
IU
|
Vitamin C:
130.8
mg
|
Calcium:
52
mg
|
Iron:
1.5
mg