Conserve excess tomatoes with an easy, homemade tomato paste that can be made on the stove top, in your oven, or in a slow cooker.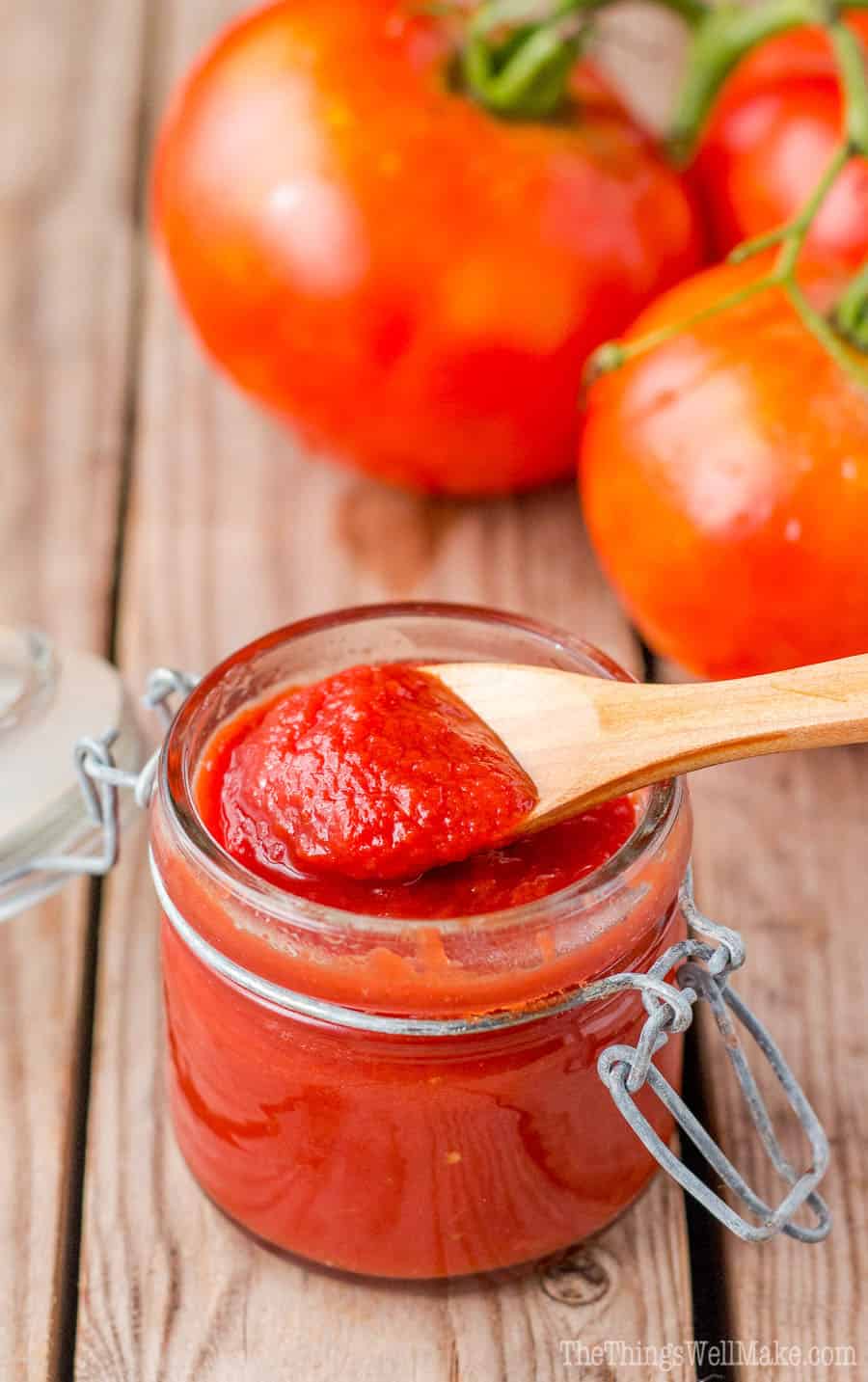 Well, I'm posting this a lot later than I would have liked. You see, this year I was able to get up a new fence around the area where I usually plant things, and once again planted a lovely organic vegetable garden. I wanted to write a couple of posts about different ways to conserve and use excess vegetables from your garden at a time when everyone would be looking for ways to use theirs, but life got in the way. I figured now is as good a time as any. Better late than never, right?
Making tomato paste is one of my favorite ways to use and conserve excess tomatoes. Tomato paste is very concentrated, so you can easily reduce a lot of tomatoes into a small space. You can then freeze it, can it, or make it into fermented ketchup. I'll be sharing how to do that next time!
I used to peel all of the tomatoes before making tomato sauce and tomato paste, but I found it took a lot longer than the way I do it now. Now, I blend the tomatoes in the blender, and strain out the seeds and skin. You can save some time cooking down the sauce by removing the seed sections before blending the tomato pieces. Some people begin cooking the sauce with the peels and seeds still in the sauce, but I find that it can make the sauce bitter if you don't remove them before cooking.
Making tomato paste is simple. Basically, you are just going to make a basic tomato sauce, and slowly reduce it to make it more concentrated by evaporating out a lot of the water. There are several ways to do it. You can slowly reduce it in a pan on the stove over low heat, in a slow cooker with the top off, or even spreading out the tomato sauce onto baking pans or dehydrating trays, and heating over low heat until you reach the consistency that you like. I like making a sauce in a pan on the stovetop, and further reducing it, and caramelizing it slightly in the process, on the stove.
Which tomatoes make the best tomato paste?
While you can use any of the tomatoes in your garden for making tomato sauce or tomato paste, certain tomato types are better than others. Tomatoes like Roma tomatoes, and other so-called paste tomatoes, have more flesh and less seeds, so they take less time to cook down to a thick sauce, and make a nice, hearty, thick sauce. Most of the best varieties for sauces and pastes are tall and elongated, rather than short and wide.
How to store homemade tomato paste

Most of the time I freeze my homemade tomato paste in perfectly cube-shaped ice cube trays like the ones I used for freezing my homemade baby food and smoothie cubes, and my homemade pumpkin puree. The advantage to using perfectly cube-shaped ice cube trays is that the frozen tomato paste cubes fit together perfectly in ziplock bags without wasting any space. You can then label your bags and sort through them easily to find what you need from the freezer.
Making your own tomato paste takes a bit of time, but it's totally worth it. You can then use it in soups, sauces, or add it to ground beef for homemade tacos, etc.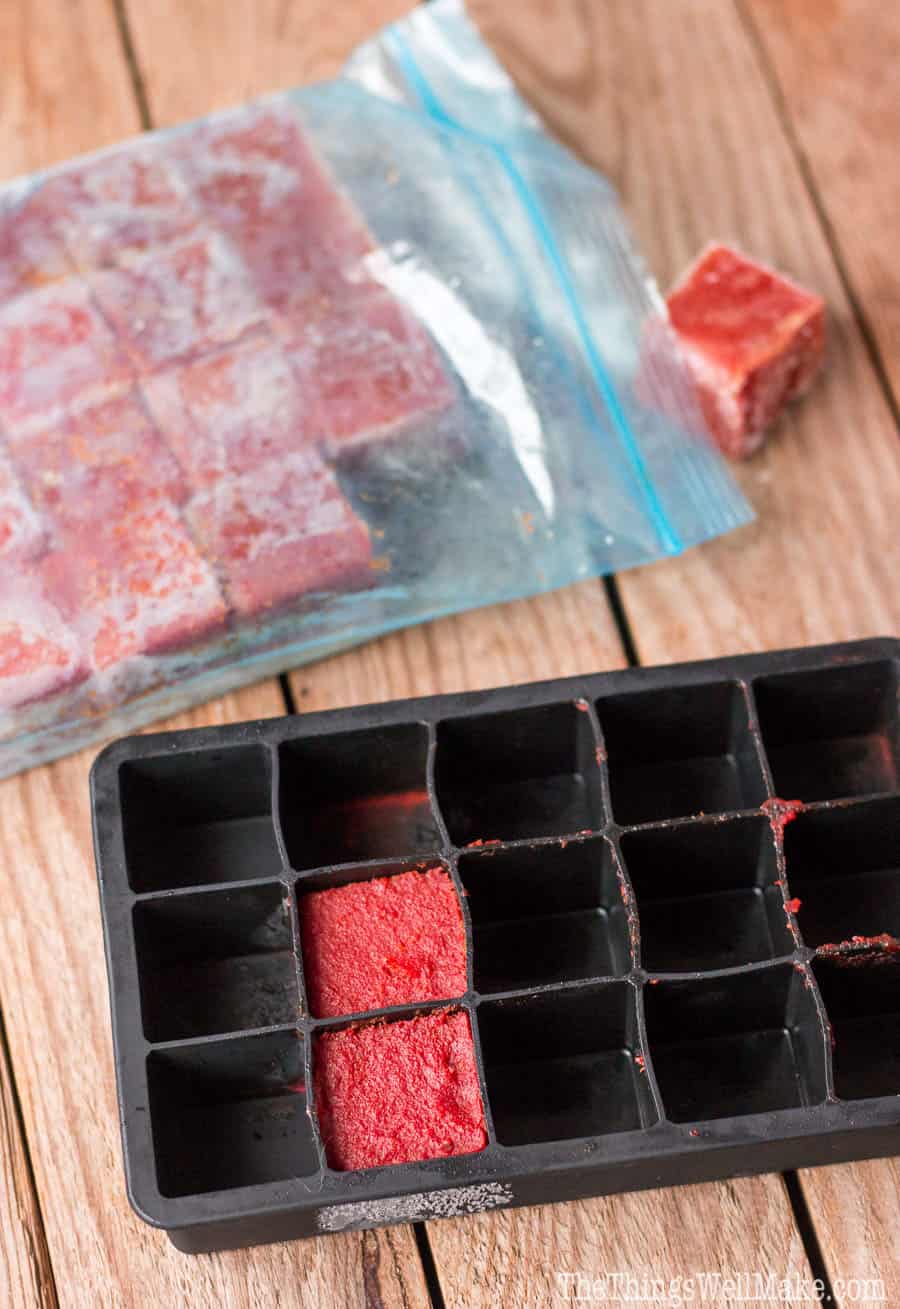 Easy homemade tomato paste recipe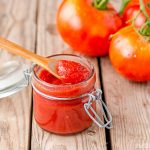 Easy Homemade Tomato Paste Recipe
Conserve excess tomatoes with an easy, homemade tomato paste that can be made on the stove top, in your oven, or in a slow cooker.
Makes around 18 ounces
Print Recipe
Instructions
Rinse the tomatoes well, remove the stems, and cut into chunks.

Fill a blender jar with the tomato chunks and blend until the tomatoes have all reduced into a sauce.

Place a stainless steel strainer over a large pot on the stove (or over your slow cooker pot), and pour the tomato sauce into the strainer. Use a stainless steel spoon or a spatula to press the tomato sauce through the strainer into the pot below. In this step we are straining out the skin and seeds of the tomatoes.

Repeat with the remaining tomatoes. Some people like to add in red peppers and other vegetables to their tomato paste. If you want to add in other vegetables, now is the time to do it. I, personally, prefer to keep things simple and just use tomatoes. I add in other vegetables, spices, and seasonings, as needed, depending on the recipe that I'm using the tomato paste in. That said, I do like to add a dash of olive oil to the tomato paste as it reduces on the stove.

Heat the sauce over low heat until simmering, stirring every once in awhile and checking on the consistency. As the water evaporates away, the sauce will continue to thicken. As is starts to get thicker, you will want to turn the heat down lower and check on the tomato paste more often because it is more likely to burn. When using a slow cooker on low, you can leave the tomato paste unattended for longer periods of time, but as it starts to thicken, you will also need to check on it more often to prevent it from burning.

To give the tomato paste a more caramelized flavor, and reduce it even further, you can bake it on clean baking pans on low heat in the oven. Scrape the tomato paste from the bottom of the tray with a spatula, stirring it into the rest as you frequently check on the consistency. Some people do the entire process of making the tomato paste in the oven, but I prefer to reduce it to a sauce on the stove first.

Once you've achieved the desired consistency, the tomato paste is ready to be used in recipes, or ready to be stored. I usually freeze excess tomato paste, but you can can it instead. If you do decide to can it, from what I understand, you should add some citric acid, which can be in the form of a bit of lemon juice, to the paste before canning. If it's concentrated enough, though, it may not need it.
Nutritional Information
Calories:
27
kcal
|
Carbohydrates:
4
g
|
Protein:
1
g
|
Sodium:
6
mg
|
Potassium:
286
mg
|
Fiber:
1
g
|
Sugar:
3
g
|
Vitamin A:
20.2
%
|
Vitamin C:
20.1
%
|
Calcium:
1.2
%
|
Iron:
1.8
%
This post is also available in Español.