Roses are an edible flower, perfect for confecting Valentine's Day treats. These rose petal gummies are beautiful and healthier than candy alternatives.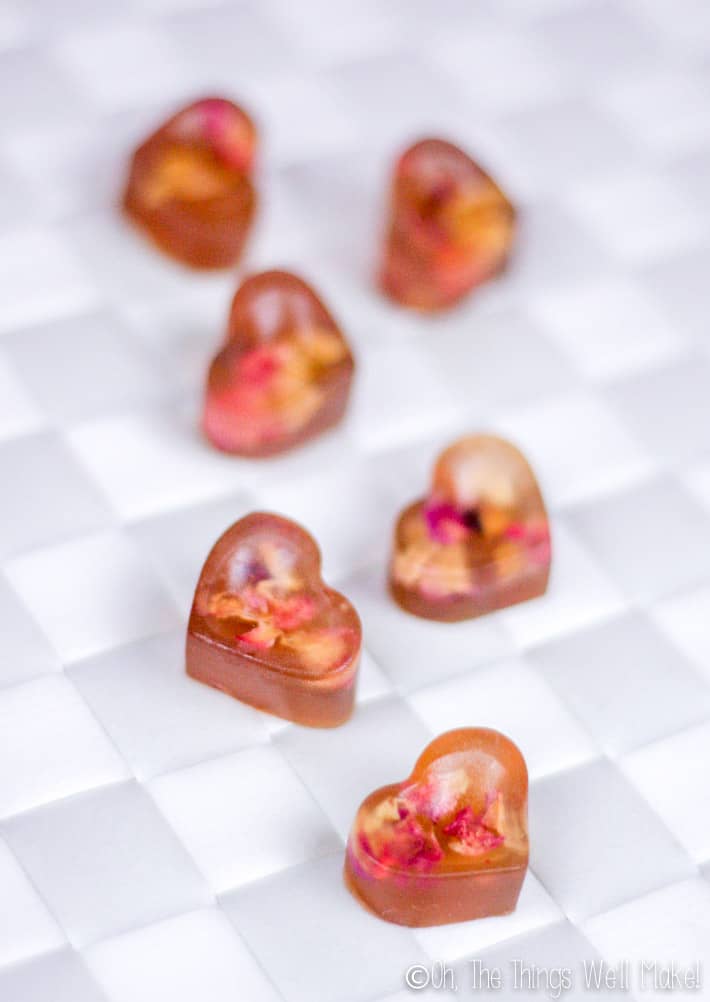 Valentines Day is coming soon.
Whether or not you have a Valentine, it can be fun to get into the spirit of the holiday. It's the time of year to decorate with hearts and roses…
So, why not cook with them?
Many food bloggers love to post about organ meats, so maybe they have chosen to post about hearts. I, on the other hand, prefer roses. I suppose cooking with either of them isn't very mainstream, but I like to keep an open mind.
Are roses edible?
If you have never tasted roses, it is about time you did. They make a beautiful addition to salads and can be cooked up into many marvelous, romantic desserts. The famous Turkish delight, for example, gets its subtle perfume flavor from the addition of rose water.
I have tried to make rose water in several different ways and will show you the outcome someday. Meanwhile, though, I will show you how I made my rose petal gummies which are a bit healthier than Turkish delight, and perfect for a Valentine's Day sweet treat.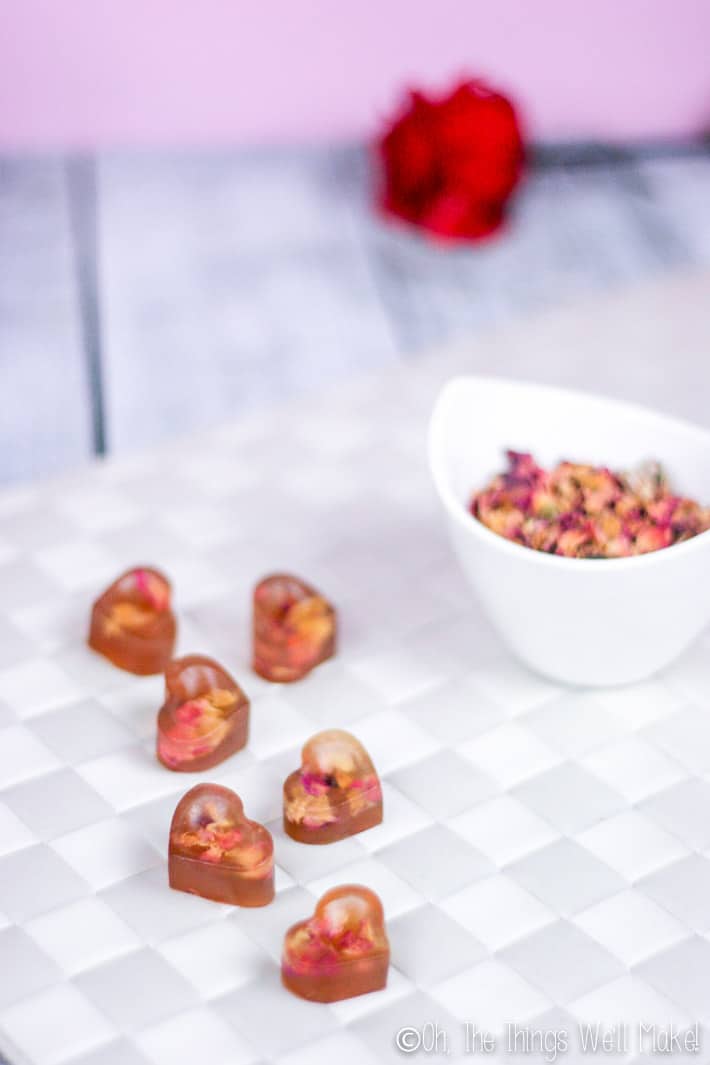 Choosing edible roses
When choosing your roses for culinary purposes, it is important to search for roses that haven't been chemically treated. Ideally, you could plant your own organic roses, but if you don't have any available, you can also purchase organic dried rose petals inexpensively.
Theoretically, all roses are edible, but the best for cooking are the perfumed varieties that smell the best; they pretty much taste as they smell.
Many recipes, like Turkish delight, use rose water. If you can find it, rose water would make a very delicate rose gummy. It will be lighter in color, of course, as commercially-sold rose water is colorless. I tried making my own rosewater, using several different processes, but because it didn't turn out as flavorful as the store-bought variety, I decided that I'd make a rose petal infusion instead. When using dried rose petals, making a rose petal tea was the easiest way to obtain a rose-flavored liquid perfect for confectioning these rose sweets.
Rose petal tea is an amber colored liquid, which will make gummy treats like the ones shown in my photos. I think they are reminiscent of amber cameo jewelry.

If you do choose to use rose water, it's quite flavorful, so I'd only add a small amount of rose water to a mostly water base.
Making a Rose Petal Tea
I found that the best way of obtaining a sweet, perfumed tea without a bitter flavor was to first get the water to the boiling point, remove it from the heat source, and then let the dried rose petals infuse their flavor into the water as it cooled. My roses were a dark pink color, and the tea obtained was a brownish tea color.
I wanted a strong flavor and used around 3 tablespoons of dried rose petals to 2 cups of water.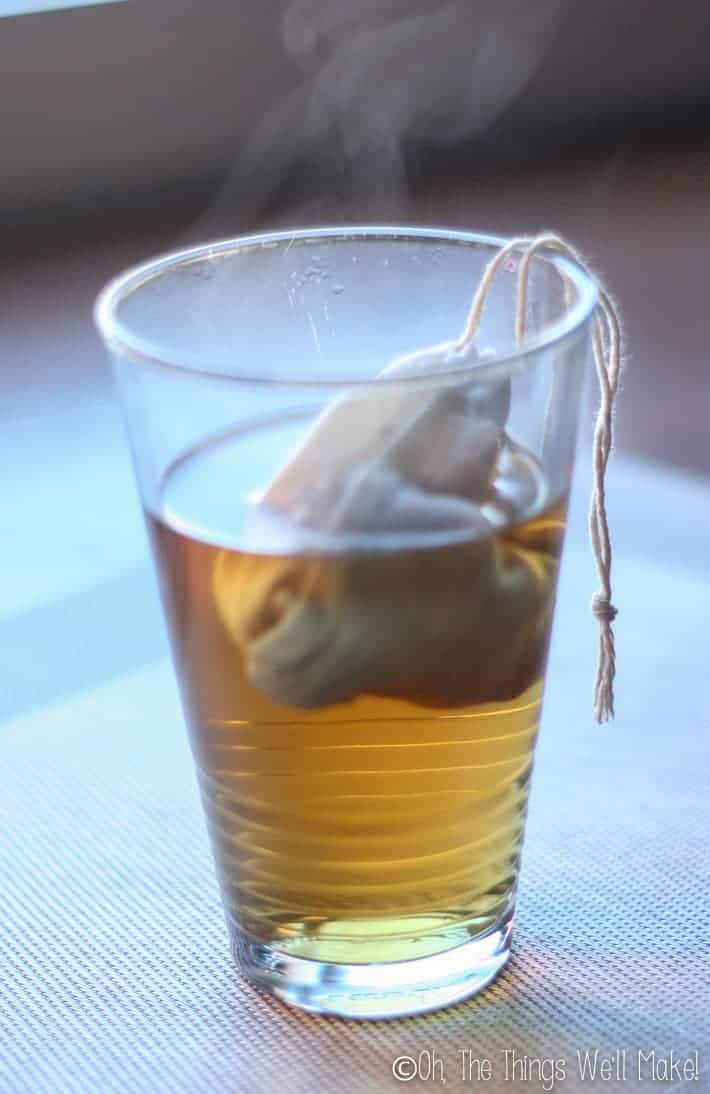 Once you have your tea made, these rose sweets are quite simple to make.
Rose Petal Gummy Treats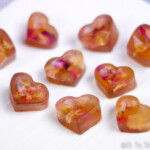 Rose Petal Gummies with Honey (For your Honey)
These rose petal gummies are beautiful and healthier than candy alternatives. You can make them with rose petal tea or rose water for a sweet, rose sweet.
Print Recipe
Pin Recipe
Ingredients
Instructions
Make a strong rose petal tea by steeping the rose petals in water that was boiling. Allow to steep until the water has cooled. (If you are in a hurry, you can steep it for a few minutes and use it immediately, but a long steeping time gives a stronger flavored tea.)

To more easily incorporate your gelatin, allow it to hydrate by soaking it with 1/8-1/4 cup of the cooled tea mixture.

Heat the rest of the rose petal tea in a pot over the stove, and as it gets warm, slowly and thoroughly stir in the gelatin and honey. Taste the mixture to see if you need to add more honey. Keep in mind that you don't have the sweetness of fruit, so you will need to add more honey than you usually use for homemade fruit gummies.

Pour your mixture into silicone molds. If you set the molds on a plate or tray first, it is easier to move them without spilling. (When I forget, I let the gummies mostly solidify as they cool before moving them into the fridge.)

Add some rose petals, if you like. (See notes below for tips on getting them where you want them)

Move to the fridge for about an hour to let the gelatin set.

Pop your gummies out.

Serve over candlelight, or package to send to your valentine. 🙂
Notes
This recipe will make around 30 1-Tbsp. sized gummy treats. With my molds, I made around 40 gummies. This, of course, will depend on the size of your molds.
Nutritional Information
Serving:
1
gummy treat
|
Calories:
4
kcal
|
Carbohydrates:
1
g
|
Sugar:
1
g
Should you add in Rose Petals?
I first made some gummies without any added rose petals. They are, of course, free of any unusual textures that way, but they aren't as pretty.
Rose petals in the gummies are beautiful, but they add a texture to the rose sweets that some people might not appreciate. I didn0t mind it, but this is all a matter of preference.
Getting the rose petals to show up in the right place
That said, to get your rose petals into the gummies right where you want them, you have to be a little bit tricky. You see, the rose petals float to the top of your mold, which ends up being the bottom part of your gummies!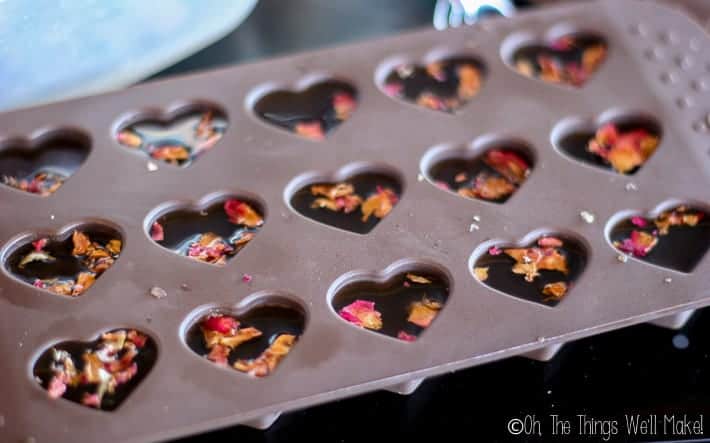 To embed them within the gelatin, giving them a look reminiscent of rose petals trapped in amber (like the amber cameo jewelry I mentioned above), you first need to pour in a very thin layer of gelatin. (I actually used a clearer layer of gelatin formed by mixing some gelatin powder with only water and honey.) Sprinkle some rose petals over your gelatin layer, and push them into it with a toothpick.
I wanted my gelatin to solidify quickly, so I placed it in the freezer for a few minutes. I was afraid it wasn't going to be enough, and that my warm layer of rose petal gelatin was going to free up the rose petals, but luckily they stayed in place. I poured in the rest of the rose petal gelatin and quickly got them into the fridge to set up.
I think they turned out quite pretty.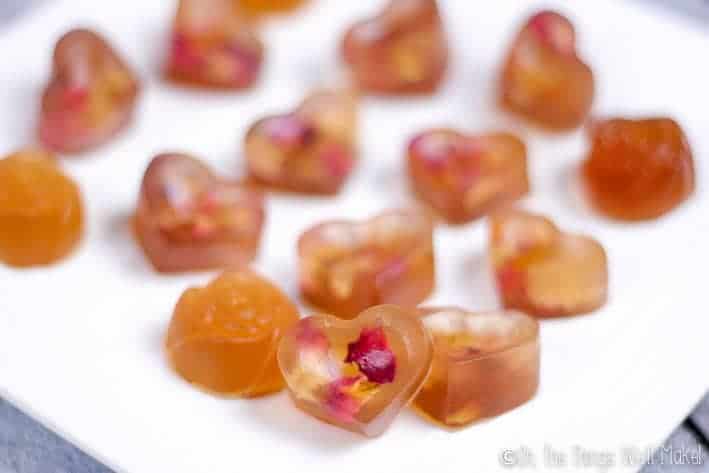 What did my husband have to say about the rose sweets?
"You made what?!?!?!" (I'm used to these sorts of looks/questions).
He hesitantly gave it a try- one without the rose petals, though…
"It doesn't taste bad… maybe a little like flowers at the end."
I'll have to consider that a victory, taking the source into account, of course. My husband really only appreciates desserts and sweets with chocolate in them, his favorite being my easy, 2-ingredient chocolate mousse.
I really like them, though, and think that they could be packaged into a beautiful valentine for somebody special.