Healthy and delicious, baba ganoush, or eggplant hummus, is a Mediterranean eggplant dip that is simple to make, but complex in flavor and sure to impress.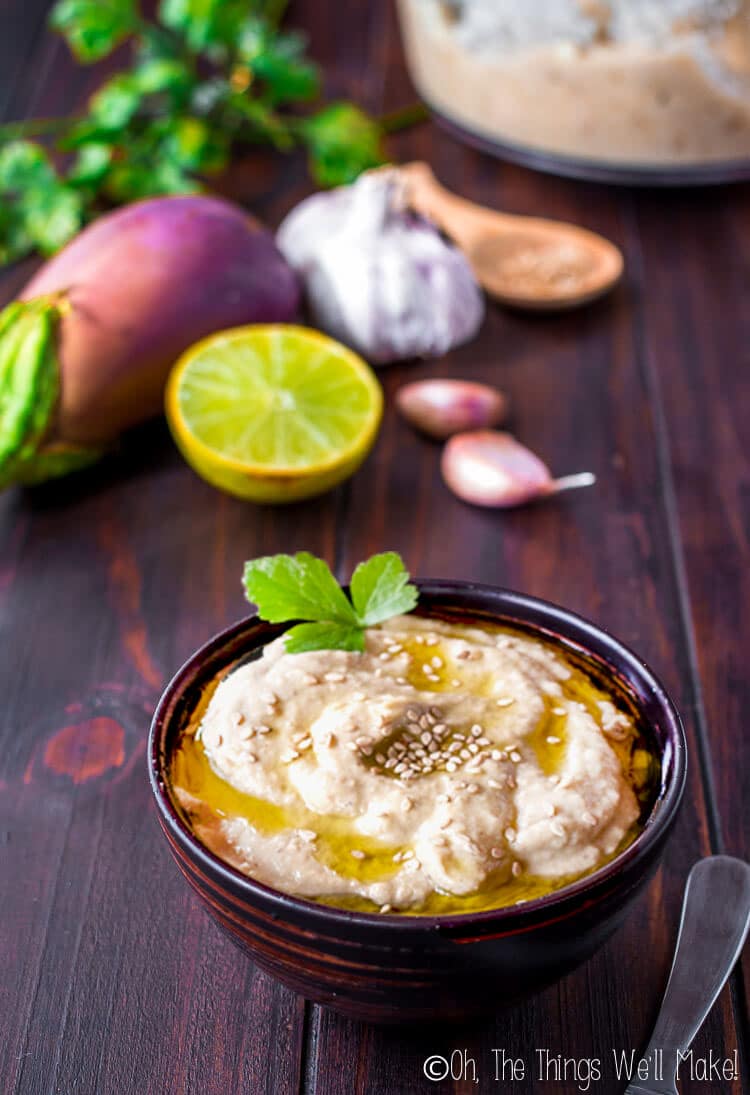 There is nothing that makes me happier than a simple, easy-to-make dish that makes me look like and feel like an important chef. Perhaps it's the exotic name or the unusual ingredients, but baba ganoush seems like it would be something very difficult to make.
Fortunately, for us, this super healthy, exotic treat is actually quite simple to whip up without needing to do a lot of prep work. (No slicing and dicing of veggies!)
What is baba ganoush?
Baba ganoush is a Middle Eastern condiment or dip made from roasted eggplants. It has a sort of smoky flavor that comes from charbroiling the eggplants and uses a mixture of seasonings that makes it reminiscent of hummus. That's why some people refer to it as eggplant hummus. Unlike hummus, though, it uses roasted eggplants rather than garbanzos, so it makes it suitable for those following a paleo diet or otherwise avoiding legumes. (Keep in mind, though, that eggplants are nightshade vegetables, so if you are following the autoimmune protocol, or have nightshade sensitivities, you'll have to avoid it. You could try my raw zucchini hummus instead, avoiding the cumin or switching it out for another spice!)
Update: Within a day of uploading my video of how to make baba ganoush to YouTube, my first comment was from somebody telling me that "There's no such thing called eggplant hummus!!! Hummus is chickpeas in Arabic." People are very vocal there. 🙂 Ah, yes, I am aware, but I'm not the first person to call a non-chickpea based dip "hummus." It's sort of like being redundant when calling chai tea, chai tea. (I really just said tea tea, tea tea because chai means tea.) So, that was just a fun little sidetrack. Call it whatever you like, and whatever will get you eating this delicious, healthy treat! Oh, and if you happen to love spiced chai, I have a recipe for making chai tea from scratch in large batches too.
Choosing the perfect eggplant for baba ganoush
To make a smooth, creamy baba ganoush, it's important to choose good eggplants. Good eggplants should have a nice smooth skin that is taut, but that will leave an imprint when you press against them. You want to choose eggplants that are heavy for their size, but definitely don't want to choose huge eggplants.
The day I wanted to take some pictures of baba ganoush for the blog, I only had a huge eggplant on hand. It was one that had been in my garden for awhile and I hadn't gotten around to picking it. It looked nice and fresh but was just a lot larger than usual. I wasn't sure how to use up the remaining eggplant, so I decided to make baba ganoush, of course. The result? A bitter baba ganoush with lots of seeds in it. (You can see the seeds in the picture below.) While it wasn't a total disaster, it wasn't the wonderfully smooth and creamy spread that I've grown to love.
That day, I ended up making more with some of the smaller eggplants, and it turned out so much smoother, creamier, and not at all bitter.
The lesson? If you find you've made a baba ganoush that is bitter and has lots of seeds in it, you've probably chosen the wrong eggplant. Don't give up, and try again with a few smaller ones! It's worth it, I promise!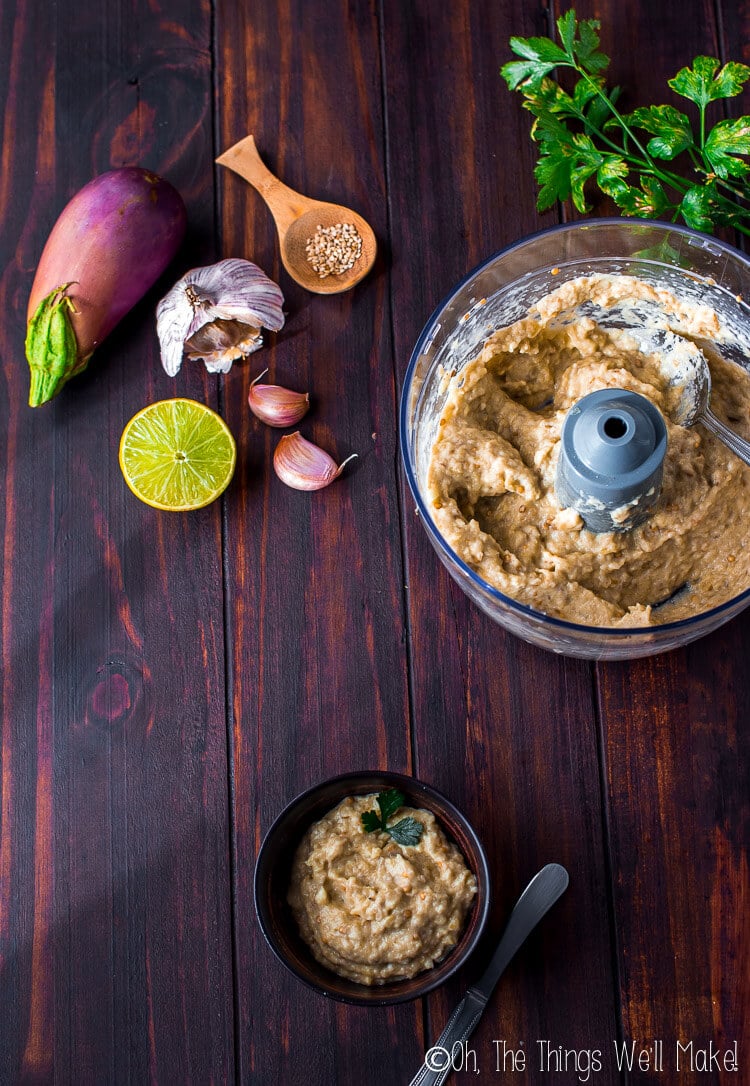 Roasting the eggplant for baba ganoush
While the idea of charbroiling the eggplant may sound difficult, it's really as easy as placing the eggplants under your oven broiler and occasionally turning them so that all sides of the eggplant have charred.
Most recipes will tell you to prick the eggplant before placing it under the broiler, but I've found that if you don't prick the skin, that the skin will stay in place, as the eggplant flesh shrivels up inside it, making it so that the eggplant pretty much peels itself for you. I've never had an eggplant explode, and I've broiled many by now, so I'm not quite sure why the insistence on pricking the skin first. As the eggplant cools afterward, it's actually quite simple to remove the skin from the flesh inside.
Watch how to make baba ganoush
How to eat baba ganoush
Baba ganoush can be served as a side dish and eaten with a spoon or used as a spread, dip, or sauce. Anything you would do with hummus, you can also do with baba ganoush.
What to serve with baba ganoush
I love using it as a veggie dip for cut, raw veggies like carrot sticks, celery, and bell pepper strips. It can also be served with pita bread or other breads, and I have to say that I loved it as a spread for a salad wrap made with my homemade paleo pitas.
It's a lovely garnish, especially for Middle Eastern recipes, and can be served atop lentil dishes and other Middle Eastern treats. I think it would be a great complement to homemade souvlaki too.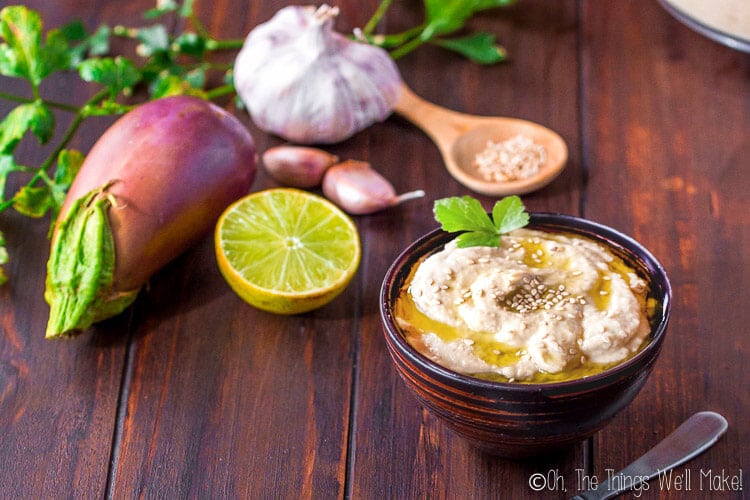 What to do with leftover baba ganoush
This recipe is a small recipe, and I don't imagine that you will have any leftovers if you make the recipe as such. But what about those summer months when you decide to make a lot of it because you have a lot of eggplants in the garden?
Baba ganoush is very versatile, so you can start using it as a spread on just about anything. You could also blend it into vegetable puree soups if you need to use up a lot of it. It makes a great addition to my roasted pumpkin soup, for example.
Can you freeze baba ganoush?
Luckily the answer is yes! While eggplants themselves don't freeze well, baba ganoush freezes wonderfully. I usually use the same method of freezing it in my perfectly cube shaped Tovolo ice cube trays as I do with my homemade pesto sauce and pumpkin puree. That's the best way to keep them without wasting a lot of space in the freezer. (To see the process, check out my tutorial for making fruit ice cubes for smoothies and baby food.)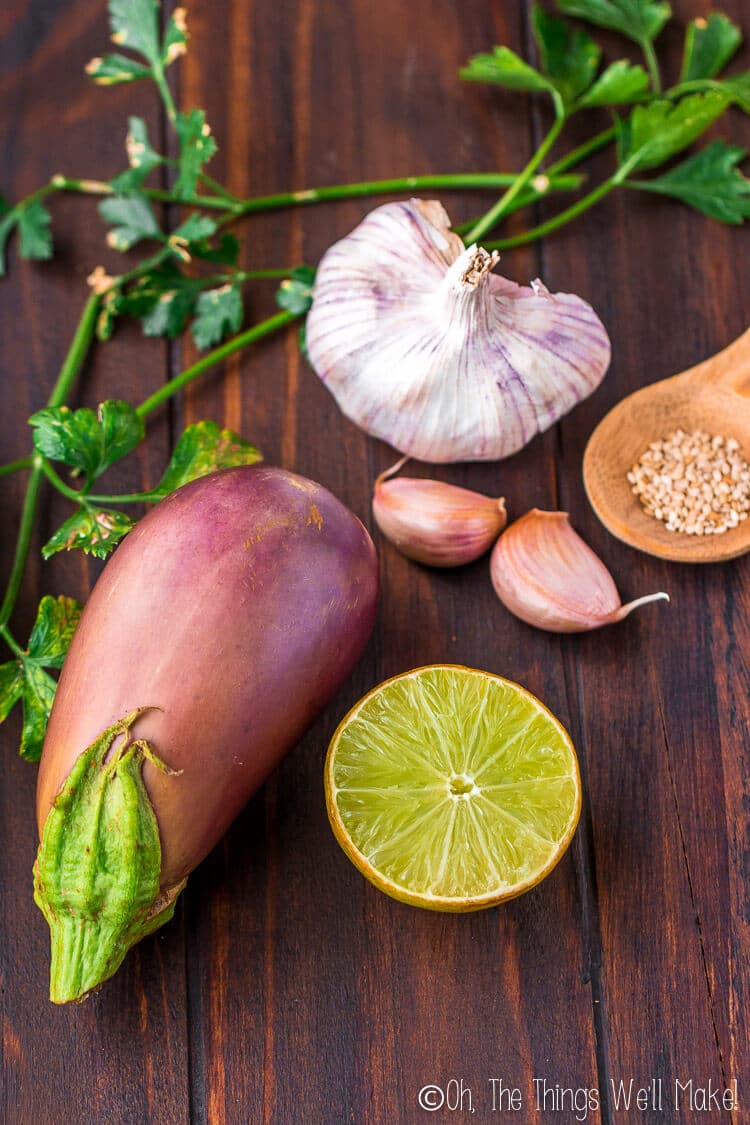 Baba Ganoush: Mediterranean Eggplant Dip
Craving more?
Subscribe to my newsletter for the latest recipes and tutorials!

Baba Ganoush (Eggplant hummus)
Healthy and delicious, baba ganoush is a Mediterranean eggplant dip that is simple to make, but complex in flavor, and sure to impress. Makes around 2 cups.
Print
Rate
Servings:
6
1/3 cup servings
Ingredients
2

medium

eggplants

1/2

lemon

2

Tbsp.

tahini

2

cloves

garlic

1/2

tsp.

cumin

1

Tbsp.

olive oil

1

pinch

salt

to taste
Instructions
Preheat your oven broiler.

Rinse the skin of the eggplants.

Place the eggplants on a baking sheet and place under the broiler. Broil until the top part of the eggplants turns black. (this can also be done over an open flame on a barbecue grill, broiling and turning as needed.)

Turn the eggplants, and continue to broil until the newly exposed sides blacken. Continue with the process until all sides of the eggplants have charred.

Remove the eggplants from the oven and allow them to cool.

Once cooled, remove the skin from the eggplants, and place the flesh of the eggplants into a food processor along with the juice of the half lemon and all of the other ingredients.

Process the ingredients until you've reached the desired consistency or until smooth. If you prefer a chunkier texture, you can skip the food processor and mash everything together with a fork instead.

Adjust the salt, spice, and lemon juice by adding more, as needed, to suit your taste.

Optionally, drizzle the baba ganoush with olive oil for serving as a dip. You can also sprinkle it with sesame seeds and/or pine nuts.

You can now serve your homemade baba ganoush as an appetizer, side dish, garnish or snack!
Serving:
1
serving (1/3 cup)
|
Calories:
94
kcal
|
Carbohydrates:
11
g
|
Protein:
2
g
|
Fat:
5
g
|
Sodium:
12
mg
|
Potassium:
391
mg
|
Fiber:
5
g
|
Sugar:
5
g
|
Vitamin A:
35
IU
|
Vitamin C:
8.7
mg
|
Calcium:
29
mg
|
Iron:
0.9
mg