This smooth and creamy panna cotta has the perfect consistency and almost melts in your mouth. It's a light dessert that's easy to make yet sure to please.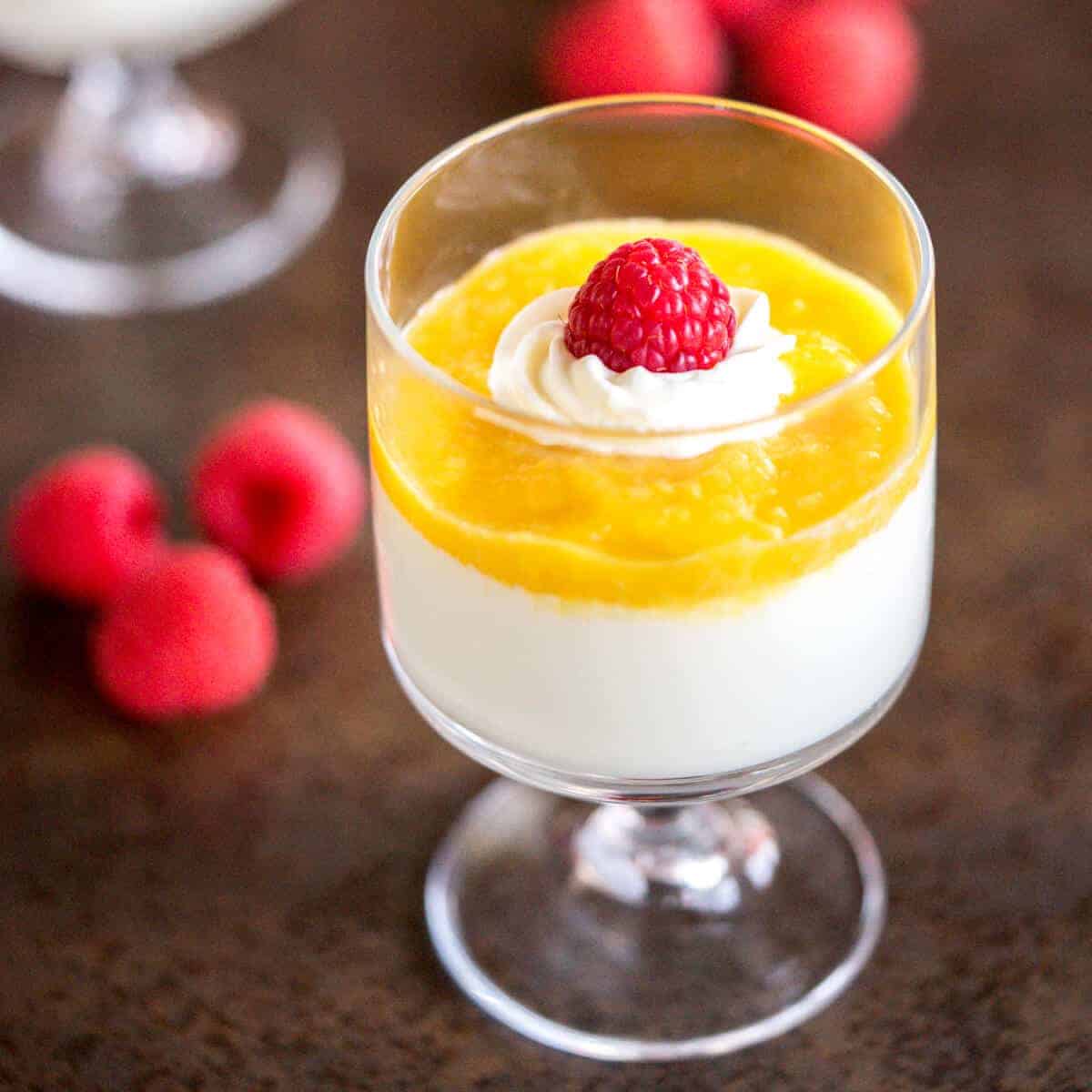 Panna cotta, when done right, is one of my favorite desserts. I love the smooth, creamy texture, and its delicate simplicity. It's hard to imagine that something so impressive could be so easy to make. Oh, but it is!
What is panna cotta?
Panna cotta is a creamy Italian dessert made with gelatin and cream. It is often credited to the Northern region of Italy, specifically the region of Piedmont. As is common, though, there is some controversy about where it actually comes from. (Everyone wants to take credit for the best things, right?)
While I've normally seen it served bright white and garnished with fruits and fruit purees, other flavors aren't uncommon. For example, it may also be flavored with coffee or a cooked sugar caramel similar to the one that tops Spanish flan.
What does "Panna Cotta" mean?
The name "panna cotta" means "cooked cream" in Italian. ("Panna" means "cream" and "cotta" means cooked.)
Panna Cotta vs. flan
Unlike its Spanish counterpart, flan, a smooth custard made with eggs that needs to be baked for a while, panna cotta depends on gelatin to hold its shape. While the cream is "cooked" with the gelatin to help melt it, panna cotta doesn't require any baking at all.
How to make a creamy panna cotta
When I first began making panna cotta, my goal was to create a perfectly creamy panna cotta. I wanted something that would hold its shape, but I didn't want it to be firm like a homemade gelatin dessert.
I made the recipe several times over a matter of weeks to get things just right.
Cream or milk?
To get the right consistency, you want the panna cotta to be smooth and creamy, and not heavy. Some recipes call for using only heavy cream, but I find that to be a bit too heavy. When using only cream, the panna cotta didn't have the light, creamy texture I was looking for.
Using only whole milk didn't achieve what I was looking for either. Without the cream, my panna cotta just wasn't, well, creamy.
In the end, I used a combination of both milk and cream. While you can adjust the ratio to suit your taste, I prefer using a bit more cream than milk. That gives a dessert with the smooth, creamy texture I was hoping for.

How much gelatin to use
A good panna cotta has a custard texture, not the texture of a heavy gelatin dessert. So, while you want the dessert to set, you don't want to overdo the amount of gelatin added to the mixture either.
When unmolded, this panna cotta holds its general shape, but gravity will bring it down slightly into a rounded version of its molded self. When you achieve that, you end up with a light dessert with just the right texture.
Customizing the recipe
While I think I've found the way to make the perfect panna cotta, it's perfectly fine to customize the recipe to suit your taste.
Different flavors
My favorite way to make panna cotta is to leave it simple, adding only touch of vanilla extract or rose water. They both add a delicate flavor that complements fresh berries well.
Rose and vanilla
Rosewater adds a fragrant sweetness that makes it the perfect dessert for a special Valentine's Day dinner. Vanilla flavored panna cotta is also spectacular, though, and either can definitely be enjoyed year-round.
Fruity panna cotta
While I normally use the fresh berries as a garnish, some people add some fruit puree directly to the cream mixture. While I haven't personally tried it (yet), it's an option for fruit lovers.
Coffee flavored
For coffee lovers, try adding a bit of coffee to the mixture. (The easiest way is probably by dissolving an instant coffee directly into the cream.)
Chocolate
I imagine that chocolate panna cotta would also be delicious. It's easy enough to add a bit of cocoa powder to the mixture to give it a try. Layering chocolate and vanilla panna cottas would also make for a fun dessert.
Caramel
To make a caramel panna cotta, add some melted sugar to the bottom of the molds before adding the cream mixture. For directions, see my coconut flan recipe, following the instructions for adding the sugar to the molds.
Using other sweeteners
By now, you probably know that I rarely use white sugar (other than when making kombucha). I try to use unrefined sweeteners when possible instead.
While experimenting with different panna cotta recipes, though, I have to admit that I preferred panna cotta made with sugar vs. honey or maple syrup. While either made a delicious dessert, they also overpowered the delicate flavors a bit too much for my taste.
Plus, I love the bright white color of a panna cotta made with white sugar.
Making a low carb/keto panna cotta
I haven't experimented with making panna cotta with other low carb type sweeteners, but I imagine they would work fine. You could probably very easily make a keto panna cotta with mostly cream and a low carb sweetener like erythritol.
You, of course, are free to change it up and use whatever sweetener you prefer. It will still be delicious, but keep in mind that making substitutions can change the color and flavor. (It's probably less noticeable if you are making a flavored panna cotta like the coffee or chocolate ones.)
As for the amount of sweetener to add?
I added just enough sugar to lightly sweeten the creme mixture. Feel free to add more or less sugar to suit your own tastebuds.
Making it dairy-free
You can make a dairy-free panna cotta by using coconut cream and coconut milk instead of cow's milk.
I have made a paleo strawberry cream pie in the past using the same idea. It uses a combination of the thickening of the canned coconut milk and the gelatin to get a smooth consistency.
In reality, the pie filling is basically a dairy-free strawberry panna cotta. So, take a look at that recipe and modify it to suit your taste.
Different toppings
As I stated earlier, panna cotta is commonly served with fruit or with fruit purees. Sometimes the fruit purees are layered over the panna cotta. Other times, they are poured over and around the panna cotta.
I love using fresh berries or using a berry puree to garnish mine.
Tropical fruits like pineapple and mango also combine really well with panna cotta. The last time I made it, I covered it with a mango puree. It was delicious.
For chocolate or coffee panna cotta, consider garnishing it with a chocolate sauce or caramel.
Panna cotta serving ideas
There are several ways to present your homemade panna cotta.
In a cup
The easiest way to serve it is probably in decorative glasses. Rather than needing to worry about unmolding the panna cotta, you can just serve the dessert in the same glass in which you set it.
Choose either decorative low glasses, or glasses with stems like wine glasses, champagne glasses or those meant for cocktails.
When making panna cotta in glasses, you can make pretty layered desserts by covering the panna cotta with fruit purees or layering different colors of panna cotta (achieved by adding another flavor to one of the batches).
When layering panna cottas, make sure to allow the bottom layer to set before pouring on another layer. You can speed up the setting process by placing the dessert in the freezer for a short time, until set.
Panna cotta molds
If you prefer serving the panna cotta on a plate, it can be made in molds and then inverted onto the plate.
I've used both flan or custard molds and silicone muffin tins. While both work quite well, it's easier to handle individual molds.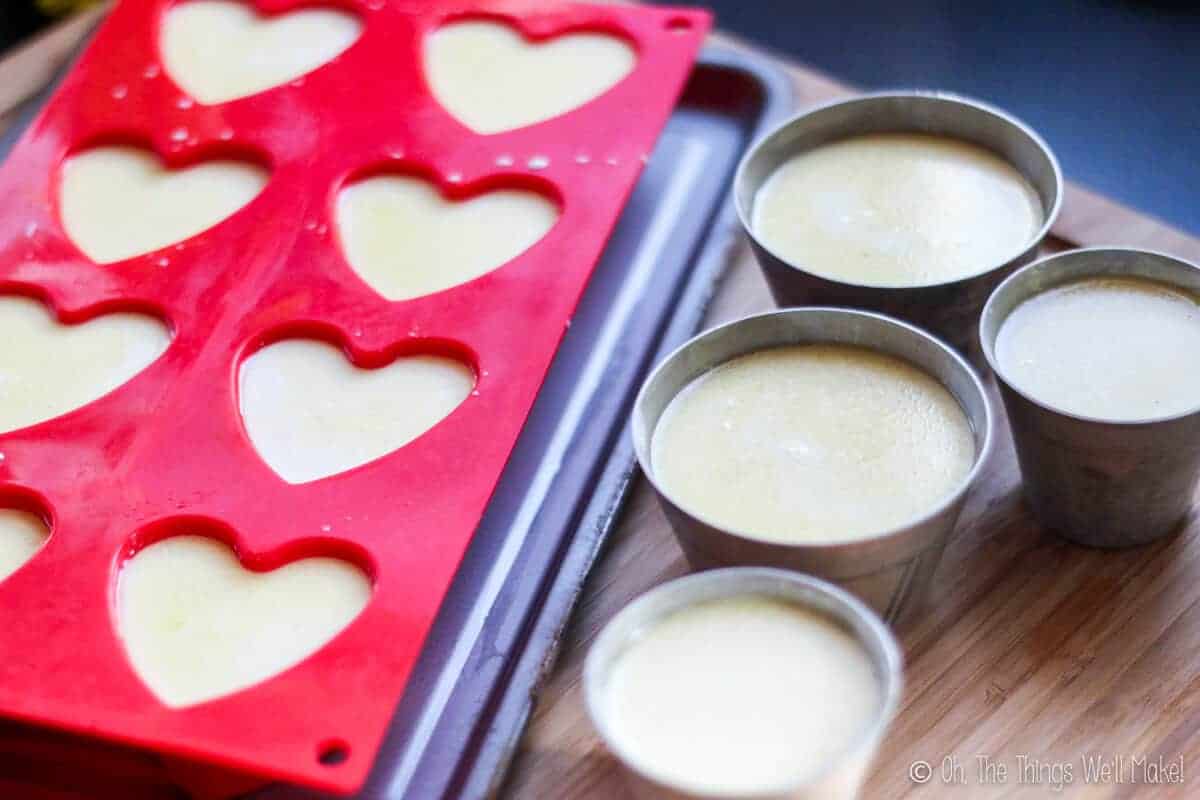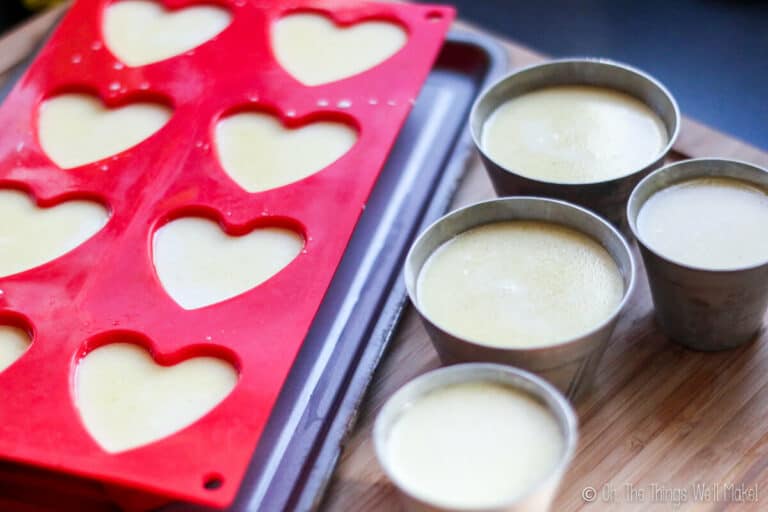 Valentine's Day panna cotta
To make a special dessert for Valentine's day, I chose a heart-shaped muffin tin. I also used rose water to give it a delicate floral flavor.
I then decorated it all with a strawberry puree. I piped the red mixture around the bottom edge of the desserts and also piped hearts on and around the panna cotta.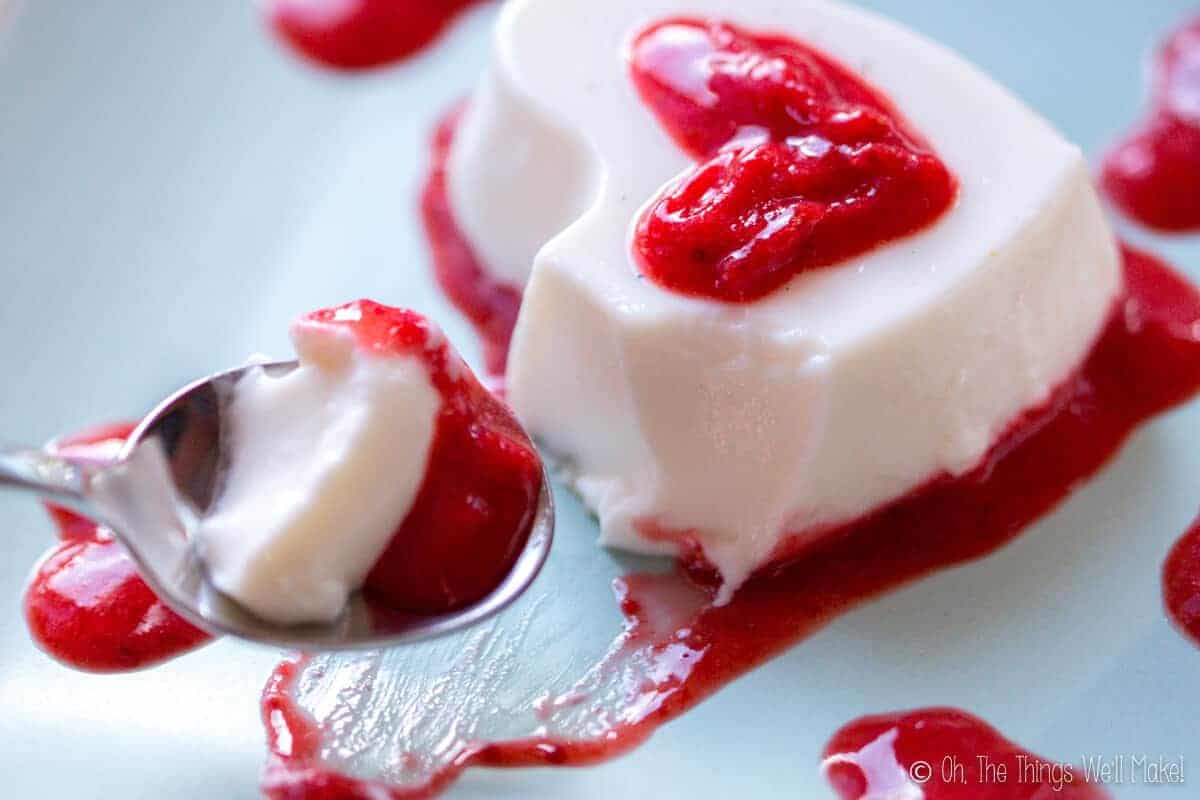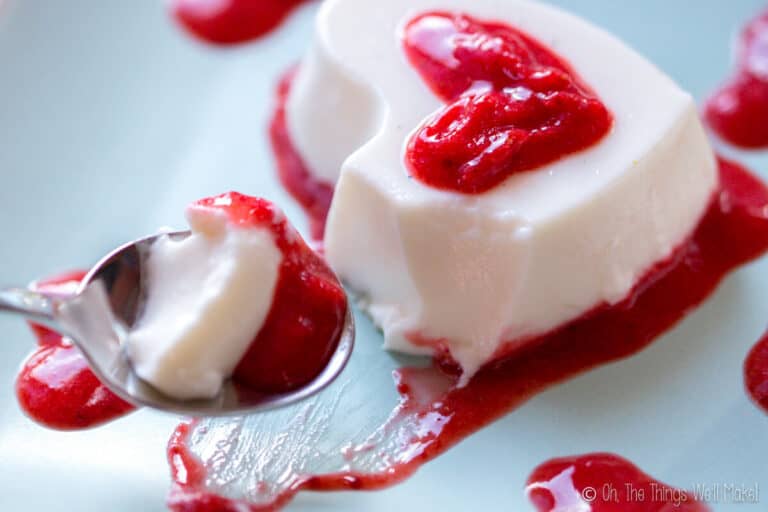 Tip
Keep in mind that it's a bit trickier to unmold each panna cotta when they are all together in the same mold (as with muffin pans). If you can find individual molds, they are easier to handle.
How to make panna cotta
Making panna cotta couldn't be much simpler.
Ingredients
Heavy cream
Whole milk
Gelatin
Rose water, vanilla extract, coffee, hot cocoa, or other liquid
Sugar (or other sweetener)
Optional: Fruit or other garnishes
Preparation
Soften the gelatin
To soften the gelatin, mix it with either water, vanilla extract or rose water, depending on the flavor you want to add, if any. (You can also use coffee or hot chocolate to make either a coffee or chocolate-flavored panna cotta.)
I used one tablespoon of gelatin with 2 tablespoons of rose water. If using vanilla extract, consider adding 1-2 teaspoons of vanilla extract and having the rest of the 2 Tablespoons be water.
Dissolve the gelatin
Add the cream, milk, and sugar to a pan over low heat. Mix them together and add the softened gelatin. For each tablespoon of gelatin, I used 2.5 cups of cream and 1.5 cups of milk. I used around 1/4 cup sugar, but I don't like overly sweet desserts. (Adjust the amount of sweetener to taste.)
Continue to heat and stir until the gelatin has fully dissolved.
Setting the gelatin mixture
Pour the gelatin mixture into greased molds or decorative glasses. Then, place them in the refrigerator for several hours, until set.
Unmold the panna cotta
If using custard molds or other molds, you'll want to unmold the panna cotta onto a dessert plate. To keep the dessert from sticking, you can take a knife and run it between the set dessert and the mold to release it.
Using a knife can damage the smooth outer surface, so you may prefer warming the mold for a few seconds by placing it in hot water or running warm water over the bottom. Don't leave the mold in hot water for too long or the panna cotta will melt.
After a few seconds, place a plate over the mold and flip it over onto the plate. If it continues to stick, warm the mold again before flipping again.
Garnishing the panna cotta
Once your dessert is set, you can garnish it with fresh fruit or with a homemade fruit puree. To make a puree, just blend some fresh fruit in a blender. You can add a bit of water, as needed, to thin the mixture. You can also sweeten it more, as needed.
Garnishing panna cotta made in decorative glasses is as easy as pouring a layer of fruit puree over it.
Panna cotta that has been unmolded onto a plate can be garnished by pouring our piping the puree onto the plate around the dessert.
Finishing touches can include adding fresh berries, whipped cream, and/or mint leaves.
Watch me make panna cotta
Panna Cotta Recipe
Craving more?
Subscribe to my newsletter for the latest recipes and tutorials!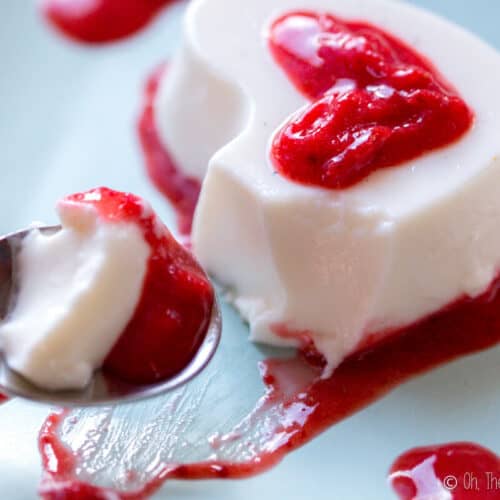 Creamy Panna Cotta
This smooth and creamy panna cotta has the perfect consistency and almost melts in your mouth. It's a light dessert that's easy to make yet sure to please.
Print
Pin
Rate
Servings:
8
1/2 cup servings
Ingredients
2

Tbsp.

rose water

(Or 1 Tbsp. vanilla extract and 1 Tbsp. water)

1

Tbsp.

gelatin

2 1/2

cups

heavy cream

1 1/2

cups

whole milk

1/4 – 1/3

cups

sugar
Instructions
Mix together the gelatin granules with the rose water or the vanilla extract and water in a small bowl to help soften them.

If using molds, grease them with a mild flavored oil. If you prefer not to use molds, you can make the panna cotta directly in decorative glasses or bowls for serving directly without unmolding.

Mix the milk, cream, and sugar in a small saucepan over medium heat.

Add the gelatin and rose water mixture, and keep stirring over medium heat until the gelatin and sugar have dissolved.

When the gelatin has completely dissolved, remove from the heat. Allow the mixture to cool. You can speed up the process by placing the pan over a bowl full of ice water.

Pour the cooled mixture into the prepared molds. Place the molds into your refrigerator for several hours or overnight.

Once set, the panna cotta is ready for serving. If made in decorative glasses, garnish as desired and serve immediately.

For panna cotta made in bowls, unmold it onto a plate. This can be done by slipping a knife between the panna cotta and the edge of the mold, and sliding it around to help release it. You can also place the mold in hot water for a few seconds to help release it from the mold.

Place a plate over the mold and flip the panna cotta onto a plate. If it doesn't release from the mold, place the mold in warm water for a few more seconds before trying again. (Don't leave it in too long or it will melt the panna cotta.)

Decorate the panna cotta with a fruit puree or other sauce of your choice, or serve it plain.

Serve and enjoy!
Notes
Other flavors of panna cotta can be made my mixing the cream with coffee, chocolate, or fruit purees.
You can make a caramel panna cotta by melting sugar and pouring it into the bottom of the molds before adding the cream mixture to the molds. This is similar to how one makes flan.
You can use individual molds like custard molds or use muffin trays for molding the dessert. Keep in mind that it is easier to unmold them when individual molds are used.
For a lighter panna cotta, use more milk and less cream. For a creamier panna cotta, use more cream and less milk.
The recipe can be made low carb by using a low carb sweetener instead of the sugar. Other sweeteners like honey or maple syrup can also be used, but they may affect the color and/or flavor of the finished dessert.
Serving:
0.5
cups
|
Calories:
314
kcal
|
Carbohydrates:
10
g
|
Protein:
4
g
|
Fat:
29
g
|
Saturated Fat:
17
g
|
Cholesterol:
106
mg
|
Sodium:
51
mg
|
Potassium:
116
mg
|
Sugar:
8
g
|
Vitamin A:
1165
IU
|
Vitamin C:
0.4
mg
|
Calcium:
100
mg
This post was originally published on January 29, 2015. It was rewritten with clearer instructions and new ideas for making the dessert in January of 2020. New photos and video were also added.
If you enjoy creamy desserts, why not also try one of these recipes?