The last week has been a life changer for me.
While visiting the Facebook pages of one of my fellow bloggers, who just happens to be from Grand Rapids, MI like me, I came across one of her posts that caught my interest.  It listed a bunch of symptoms, which I happen to be dealing with, and mentioned that candida could be the cause.
I remember studying candida back in dental school.  It can lead to a white coating in people's mouths and tongues, commonly known as thrush.  It can also cause yeast infections.  I, however, am not plagued by either of those, so I never even considered that I could have an issue with it.
Seeing all of the symptoms together, though, made me curious.
I have lately been suffering from a lot of things that are associated with candida: itchy patches on my skin, acne, brain fog, frequent bladder infections, moodiness (including incontrollable crying for no reason at times), extreme hunger all of the time with cravings for bread and sweets, and just an overall sense of not feeling "right."  They aren't the obvious symptoms, which is why I had never considered it.
The fact that I had been put on long term antibiotics for acne years back, and that I was also taking the pill for several years, both known triggers for a candida overgrowth, it just seemed to suddenly make sense to me.  (In fact, at one point my doctor had me taking the pill non-stop, without taking the 7 day break to get my period.  It seemed so great at the time, but I'm pretty sure now that I was just aggravating things instead of making them better.)
I happened to mention my epiphany to a group of healthy living blogger friends of mine, and was surprised by how common it could be.  One of them, Jedha from Good Food Eating, who is a nutrition and health coach, mentioned that she happens to treat it, and is working on a written product for it which she plans to release soon.  She pointed me in the direction of some of her posts about candida.
I learned a lot through reading it all.
I learned about how one can begin to heal it with food.  I learned about a spit test that can be done to help determine if you might be affected, which came back positive, in my case.  (Of course!) What I really found interesting, though, was the post about die off.  As you start to fight against the candida, by not eating sugar and removing its source of fuel, it releases toxins that make you feel sick.
In January, I had started a grain free diet for awhile.  I probably never even bothered mentioning it here because I felt so sick after a week or so, that I gave up.  My husband told me it was my body's way of telling me that I needed more carbs.  Instead, I think it was my body going through "die off."
Had I known what I know now, I would have stuck through it, and would likely be a different person by now.
It's never too late to begin, though!
I have now been doing a bit of a candida cleanse for about 5 days now.  I've had my ups and downs.  This morning, though, I am feeling much better and felt the energy to write and begin to tell you about my journey.
Of course, the change in my diet will likely dramatically affect my food posts.  For a minimum of 6 weeks, I won't be eating anything with milk, gluten, fruit, or sugar of any kind.  Hopefully you will be able to appreciate the new recipes, and they may even help you eat more nutritious foods.  I'm actually enjoying eating this way, despite thinking I would hate it.
With the sacrifices, I have had to make some adaptations to things that I want to eat.  I never even got to drink my real food shamrock shake, because I was sick when I posted it, and had only tried a few sips myself.  I was planning to make myself one for St. Patrick's day.
I'm pretty stubborn when it comes to getting what I want, though, so I have found a way around it: the candida diet shamrock shake!
The Candida Diet Shamrock Shake
Ingredients
Instructions
Peel and cut the cucumber(s) into small chunks, and place into a blender with the rest of the ingredients.

Blend until smooth

Enjoy!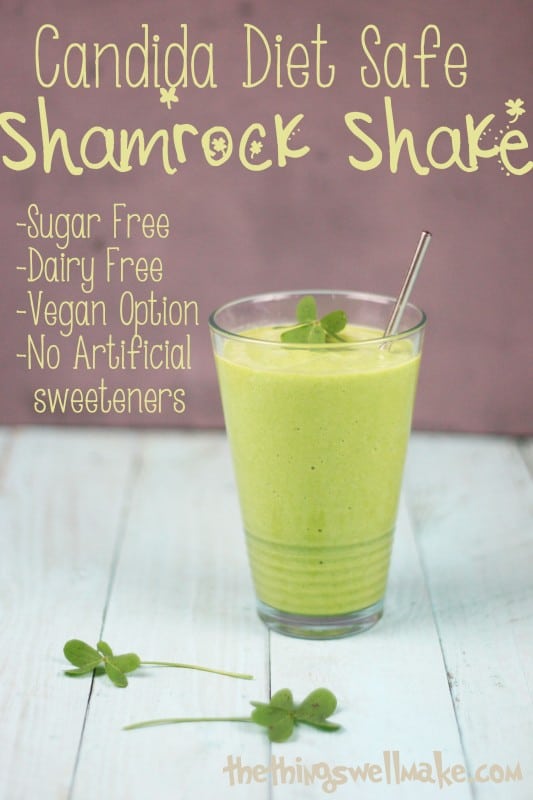 From the looks of things, you wouldn't expect to end up with such a smooth, creamy shake or smoothie, but it really is.
I love adding avocado to my smoothies and ice cream recipes; not only is it a healthy fat, but it also makes them nice and creamy.  I add in the coconut milk because it helps get everything blending together, and it adds the slightest bit of sweetness (or so I think).  The spinach just adds some color, and sneaks in some extra veggies, and the ice will make it colder.  The other ingredients make it thick enough, though, so you don't need the ice for texture.
I add in the pastured egg, as a source of protein, when I'm using it as a breakfast shake.  If you are concerned about eating raw eggs, though, or are vegan, just leave it out.  It's not essential to the shake in any way.
This started out as me trying to make myself a healthy cucumber shake of some sort.  I used to blend cucumbers with strawberries, and I loved that combination.  Not being able to add in fruit, I wanted a new, fun alternative.  Mint seemed like a great choice to balance the cucumber flavor.
To be honest, I didn't imagine actually liking this version of the shamrock shake, but I was pleasantly surprised.  I was expecting to have to add in some stevia, but, surprisingly, it doesn't need it.  If you don't agree, though, you can always add some.  In fact, I have liked it so much, that I've made myself one each day for the last 4 days.  Really!  The nice thing is that I don't feel any guilt about drinking this one!
I hope you have enjoyed the modified recipe, and that you continue to follow me on my journey to try to become candida free.
I feel really optimistic about the next few months!
Keep in mind that you should do your own research when it comes to using Essential Oils, particularly when children will be using/consuming them. I have used an essential oil that is meant to be ingested.  Make sure that you choose a trustworthy brand meant for consumption when using them in this way.  Also, be conscious of the amount of essential oils that you are consuming at once.