Making your own black boba or tapioca pearls in a vibrant rainbow of colors is actually quite simple to do naturally, and it's a lot of fun!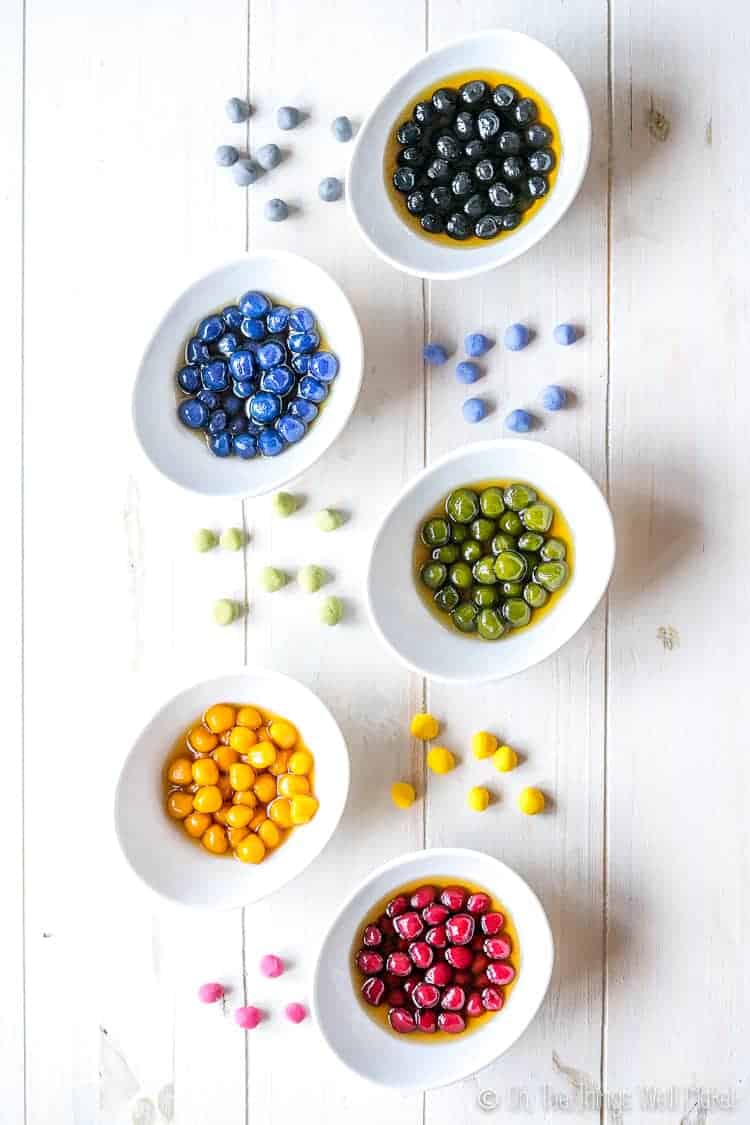 Why make your own boba (aka. Tapioca pearls)?
A couple of years ago, I showed you how to make your own homemade boba for bubble tea. I had tried boiling some tapioca pearls that I had bought at a local Asian supermarket, and no matter what I tried, I failed to make boba with a nice consistency. They were dry, hard, and opaque in the center while they would get mushy and sticky on the outside.
Back then, I actually came to the conclusion that it was easier to make boba from scratch at home than to try to boil the ready-made boba for sale!
While I have since learned some tips and tricks for getting a better consistency when making ready-made boba, I still prefer making boba from scratch because it allows me to make them exactly how I want. And, as always, it keeps me in control of the ingredients.
If you've ever made pasta at home, you'll know that homemade pasta cooks perfectly and almost immediately because it retains the moisture throughout the thickness of the pasta. In the same way, homemade boba cooks immediately and perfectly!
Many of you enjoyed that post and used the recipe to make your own boba, but you also wanted a way to make black boba. To make things even trickier, you were looking for a natural solution.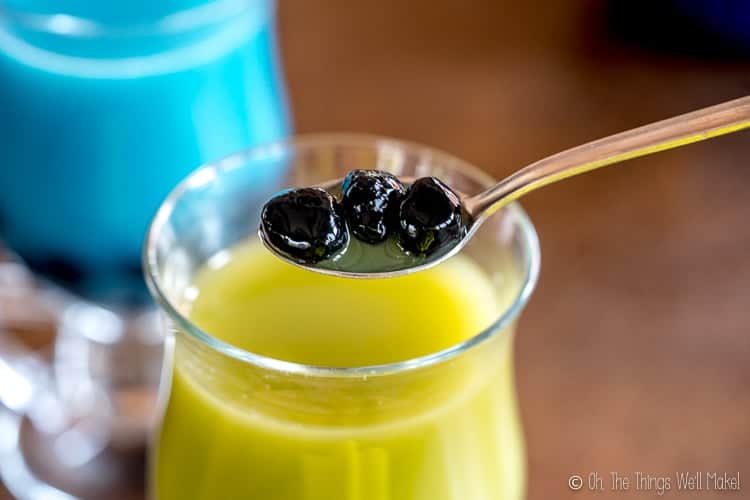 How to make black boba
Over the years, many readers speculated as to how black boba was made.
Taiwanese Black sugar?
Several people claimed that Asian black sugar was what gave black boba its characteristic color, but others tried making boba with black sugar and said that it only darkened the boba somewhat. (At the time, I figured that that would make sense as black boba are very dark and the tapioca starch is very white. I assumed that you'd need to add something with a lot of color to have the color shine through.)
I haven't specifically seen Taiwanese black sugar ever listed on any of the packages of black boba that I have studied (online, as I've never seen black boba for sale locally), but many have an ambiguous "caramel" listed as an ingredient. Perhaps a caramel is made with a very dark colored sugar and that could darken the boba.
My suspicion is that maybe "black" boba were originally made with a dark sugar like that one, but that to get a more extreme black color, modern boba use a bit of extra help.
Food coloring
After studying the ingredients of several types of black boba, I noticed that few clearly stated that they used black food coloring. Most had a mixture of chemical-sounding ingredients along with either "caramel" or "caramel flavoring" as one of their ingredients. I'm not sure if it's the chemicals or the "caramel" that give their boba the characteristic black color.
The "normal" way that black boba are colored is still a bit of an enigma to me.
Activated charcoal
A comment on my other post is what finally pushed me to give making black boba a try.
Hi! I've been making store-bought boba since 2011! I recently saw a video on Facebook by Insider that shows how boba is made at the only self serve boba bar. They use activated charcoal to create black boba right in shop! I'm looking to recreate it using your recipe and some activated charcoal.
Another reader had already commented on how she had added a bit of activated charcoal to her homemade boba and that they had come out perfectly black and beautiful!
I decided to learn from my readers and give it a try.
How much natural colorant/activated charcoal should you use?
I experimented with different amounts of activated charcoal to get different shades of black boba.
When coloring my homemade boba dough with various natural colorants, I was actually quite surprised to find that I didn't need as much colorant as I thought I would need. While the tapioca starch is very white, only a small amount is needed to get the dough to turn a dark color.
More importantly, though, the boba turn translucent when cooked. The bright whiteness disappears and the uncolored boba become almost colorless. That, in itself, allow the colors you add to shine through. (Notice below that the uncooked boba are a light gray color, but the cooked boba in the bowl look black.)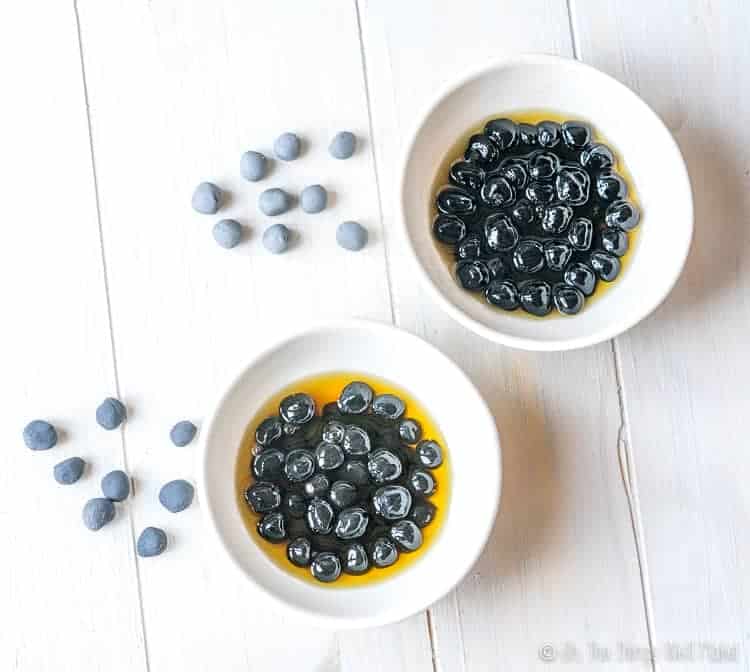 Depending on how dark you want/need them to be, you can consider adding a different amount of activated charcoal. For most uses, though, I think they are both dark enough.
In the photo, I can better appreciate the difference in color between the two batches of cooked boba, and I can even see that I accidentally switched the boba without even noticing my mistake. I put the darker uncooked boba next to the bowl of lighter colored cooked pearls. Oops!
Making Boba in Other Natural Colors
After being successful at making homemade black boba, I set off to make boba in a rainbow of colors! (And flavors?)
I already had some experience in making homemade natural food colorings. I have since been playing with more colorings and have been wanting to not only update that post, but I also plan on updating my post for a homemade, magical color changing food coloring. When I wrote that post, I was excited to see that I could make a variety of pH-dependent colors from the leaves of red (purple?) cabbage. The problem with red cabbage, though, is that you need a lot of it to get a deep color, and the flavor of the cabbage in large quantities can be off-putting in certain recipes.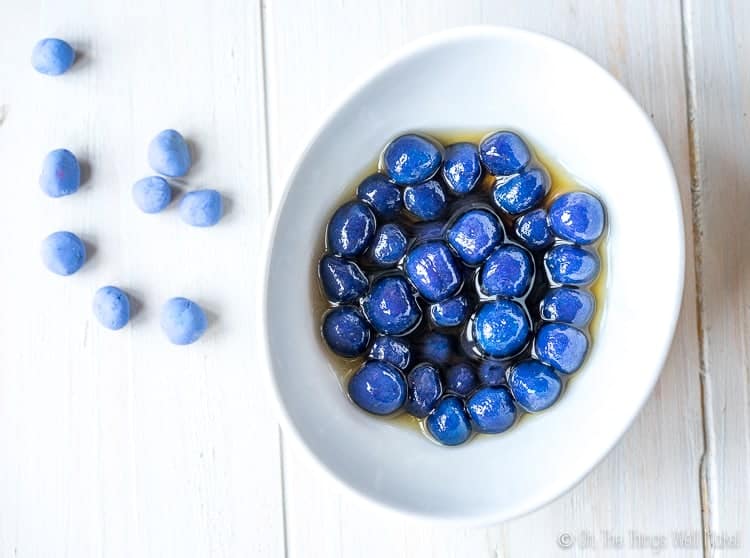 Making bright blue boba
Rather than try to use red cabbage to make a natural blue coloring, I instead used "blue matcha."
What is blue matcha?
OK, let me start off by saying that blue matcha isn't really a type of matcha. Blue matcha is really just the ground flowers of the butterfly pea tea. You can find both the whole, dried flowers or the powder for sale. As I stated earlier, the powder is often referred to as "blue matcha," but it has no relation to the popular green matcha that is known for its antioxidant properties and health benefits.
That said, the Clitoria Ternatea flowers (aka. butterfly pea flowers), may also have some health benefits of their own. They may help with anxiety and depression, but it's not exactly known why or how. If you are sensitive to caffeine, it's also great to know that because this type of "matcha" doesn't come from the tea plant, it is also naturally caffeine free.
The main selling point of this tea, though, is its beautiful color!
Blue is a color that is otherwise very difficult to obtain naturally, and this flower easily imparts its beautiful, vibrant color without needing to add a lot, and without having to add any off-putting flavors. The flavor of the butterfly pea tea is subtle and a bit earthy (for lack of a better way to describe it).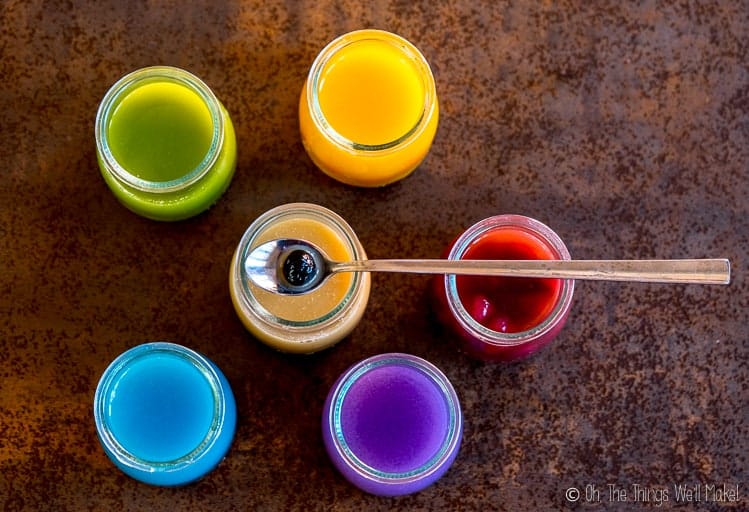 Making a purple tea
One thing that makes the blue butterfly pea tea even cooler is that its color is also pH dependent. By adding a bit of lemon to your tea, it goes from a beautiful vibrant blue color to a stunning violet!
I sort of missed the opportunity of trying to make violet boba by adding an acid along with the butterfly pea powder to the dough. Perhaps I'll try that next time I'm looking for a boba fix.
If someone does give it a try, I'd love to hear how it goes!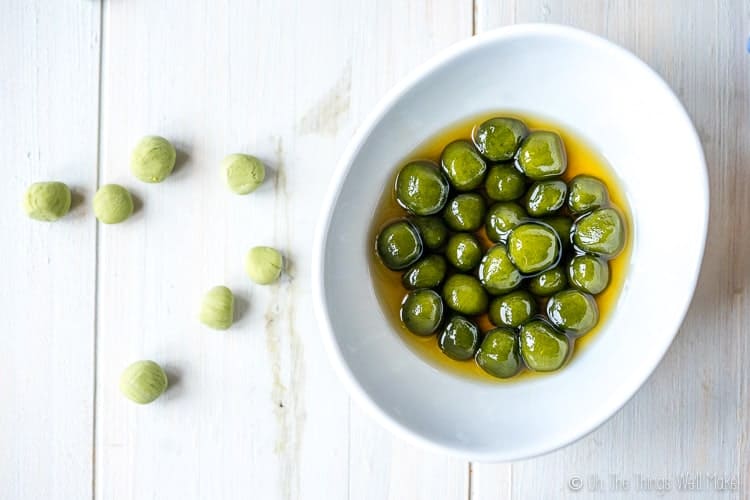 Making Green Boba
Because boba is normally served in tea, I decided to use natural teas to color my boba whenever possible. That's why it's probably no surprise that I colored my green boba with matcha powder.
I'm a huge fan of matcha, and drink it almost every day. Not only is it anti-inflammatory, but it is packed with antioxidants and it may help boost your metabolism. It's rich in chlorophyll, which is why it's such a beautiful shade of green.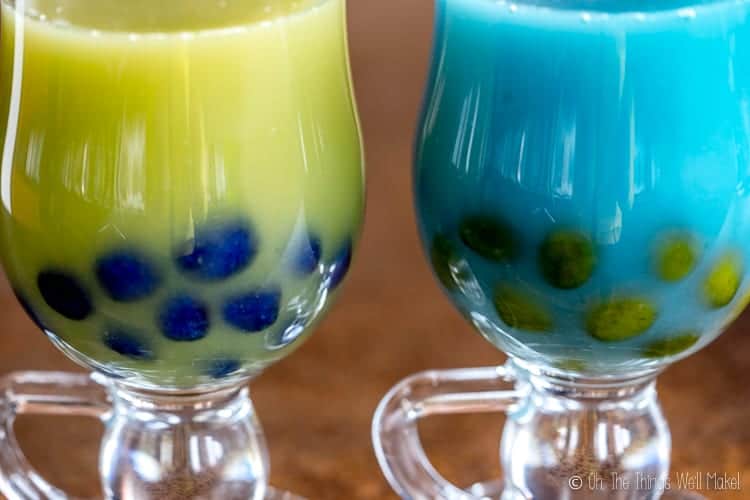 I actually had a lot of fun playing with both the green and blue boba, and I tried putting the green boba in a blue butterfly pea tea latte, and the blue boba in a green matcha latte.
They also look quite nice in a tea of the same color and flavor.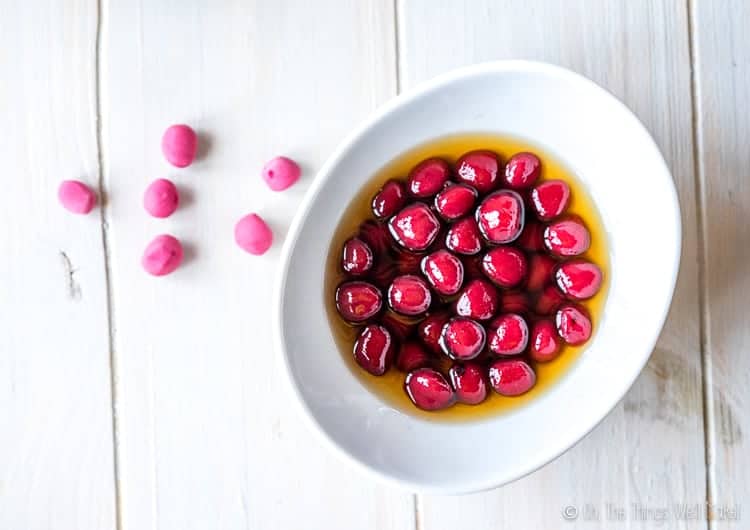 Making Bright Pink Boba
While I could have tried using my homemade beetroot powder for making bright fuchsia boba (just like I made my bright pink paleo sprinkles), I decided to stick with the "tea" theme and used ground hibiscus powder instead. That worked wonderfully because the color was gorgeous and the flavor was perfect for adding to berry-based teas.
To make the hibiscus powder, you can take some dried hibiscus flower tea and place it in a coffee grinder and grind it up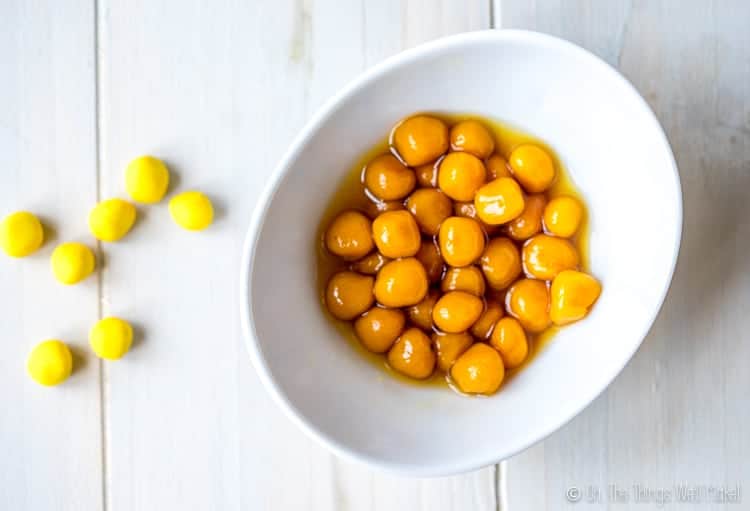 Making Bright Yellow Boba
With the popularity of turmeric lattes in the healthy food circles these days, it's probably not too surprising that I colored my yellow boba with some turmeric powder. These boba were actually very tasty and ended up being one of my favorite flavors. (I think the green matcha ones were my favorite.)
I, of course, thought that they were best served in a turmeric latte. You can see how to make a turmeric latte and some of its possible benefits on my friend Krystal's blog.
The yellow boba darkened up considerably once cooked, so you may not need to add as much turmeric as I did. I really liked having the turmeric add a bit of flavor to the boba themselves, though, so I'm pretty happy with how they turned out as is.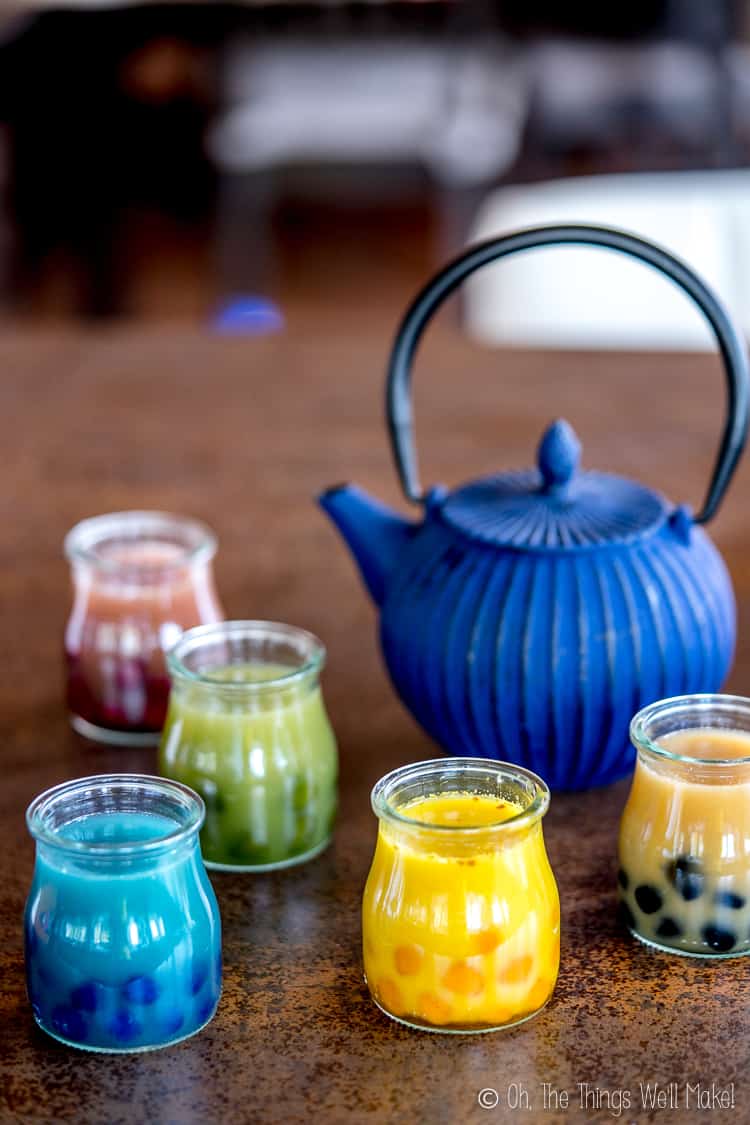 Watch the Process of Making Boba in a Rainbow of Natural Colors
Naturally Colored Boba for Bubble Tea
(Black and Other Colors)
Craving more?
Subscribe to my newsletter for the latest recipes and tutorials!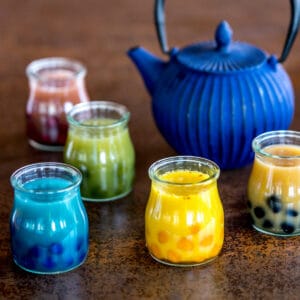 Naturally Colored Boba (Black & Other Colors)
Making your own black boba or tapioca pearls from scratch for homemade bubble tea is quick and easy. Fresh boba are so much better than dried tapioca pearls found in stores. By making them yourself, you can avoid unwanted ingredients, and make them in any color of the rainbow!
Print
Rate
Servings:
2
servings with 25 tapioca pearls each
Ingredients
1/2

cup

tapioca starch

1/4

cup

boiling water

1/4

tsp.

activated carbon

up to 1/2 tsp.

1/4

tsp.

matcha, turmeric, hibiscus powder

instead of activated carbon for other colors

1/4

cup

maple syrup

or coconut syrup or honey
Instructions
Boil the water.

Add the tapioca starch to a bowl, followed by either the activated carbon or one of the other natural colorants. (Read the post above to know which colorants you can use.)
Depending on how vibrant you want the color to be, you can add more or less colorant. Keep in mind that the colors will get darker when the boba are cooked and become more translucent. I found that around 1/4 tsp. worked well for most colors. I added a bit more of the hibiscus powder, and also added more activated carbon to half of the black boba.

Mix together the colorant with the tapioca starch.

Add the boiling water. I work the water in little by little because in most cases you won't need the full amount. You want to have more than enough boiled and ready, though.
Kneading with your hands is the best way to incorporate the water and make a non-sticky dough. Be careful not to burn yourself, though. You need to add the water while it is still very hot to get the tapioca starch to partially change its texture and make a pliable dough.

Keep kneading until you have incorporated all of the flour.
You may now repeat the recipe to make boba of a different color if desired.

Once you have a workable dough, the easiest way to make tapioca pearls is to roll the dough into long snakes of dough, cut them into small pieces and roll them into tiny balls.

To cook your homemade boba, boil at least twice as much water as the volume of tapioca pearls that you are going to cook.

Add your homemade boba to the boiling water. The boba should float to the top. When that happens, you can begin to check on the texture of the boba.


When you are happy with the texture, remove the boba from hot water with a slotted spoon, and transfer them to a bowl with either a sweet syrup like maple syrup or coconut syrup or some honey. The syrup will help preserve them until you are ready to use them while slightly sweetening them and keeping them from sticking to each other.

Add them to your tea! They have the best texture when warm, so if you want cold bubble tea, it's best to add them first to your glass while they are warm, and pour the cold tea over top, serving immediately!

Enjoy!
Serving:
25
boba
|
Calories:
104
kcal
|
Carbohydrates:
27
g
|
Iron:
0.4
mg
For Troubleshooting and storage tips, check out my original post about how to make tapioca pearls/homemade boba.