Save money and ensure that you have the highest quality ingredients by making your own vanilla extract. It's super easy to make and makes a great gift.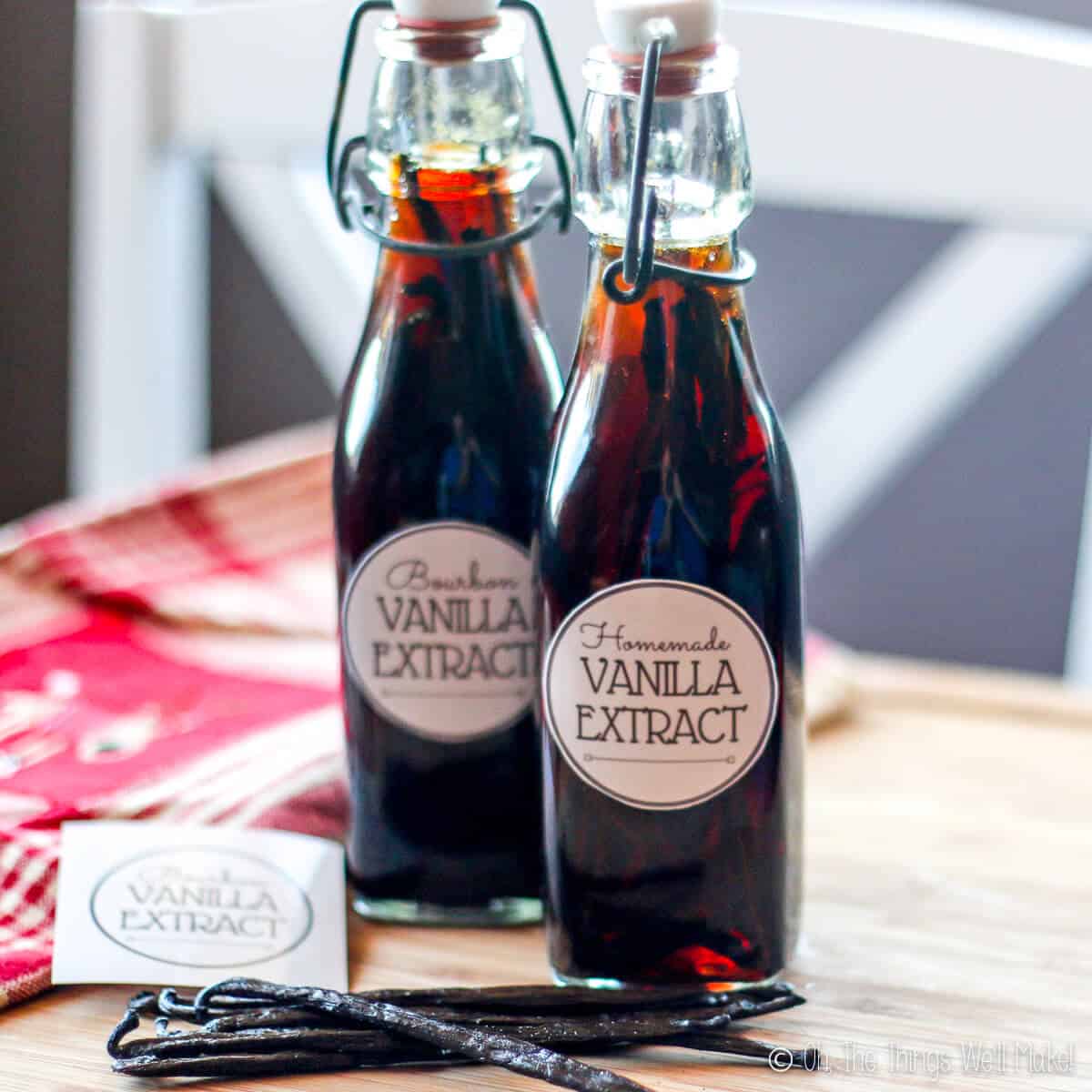 Anybody that has been baking American recipes for a while knows that many recipes call for vanilla extract! It's not just for vanilla ice cream. Vanilla extract shows up in almost every baking recipe ever written.
Here in Spain, though, vanilla isn't as commonly used. Most stores don't sell pure vanilla extract. Instead, they normally have vanilla beans or artificial vanilla flavoring.
While I do love vanilla beans, they aren't always the most convenient thing to use for most recipes. As for the vanilla flavoring? Those of you that have been following me for a while probably know that I'm not a big fan of chemically produced artificial products.
Why make it?
I choose to make my own vanilla extract because I couldn't find it easily here. Even if you can easily find vanilla extract where you live, though, it could make sense to make your own.
Pure vanilla extract can be pricey, so, if you can get a good deal on vanilla beans, you can save yourself money.
It's not just about the money, though, it's about the control. You can choose which ingredients you want to use to get the flavor you prefer. You can also ensure that you are using a true vanilla flavoring that comes from the vanilla bean.
Not all vanilla flavorings are what they seem…
Where does vanilla flavoring come from?
Did you know that even "naturally" flavoured vanilla products might not actually be using vanilla?
That statement sounds crazy, but it's all too true!
Natural vanilla flavor can actually come from beavers in the form of castoreum. Castoreum is a secretion from the castor sacs of beavers. Because of the location of the castor sacs, at the base of the beaver's tail, castoreum may also contain urine and anal gland secretions! Yum!
So, if you are a vegetarian or vegan, and are eating something with "natural vanilla flavoring", you may unwittingly be consuming an animal product, and a not-so-appealing one at that!
To avoid all that grossness, the first years I was living here, I brought vanilla extract in bulk back to Spain with me each time I went back to visit the US, but I finally decided it made more sense to make it myself.
Ingredients
Homemade vanilla extract only uses 2 ingredients, vanilla beans and alcohol. To be considered a true extract, the alcohol should be at least 35% strength (70 proof).
Vanilla beans
If you choose vanilla beans from the supermarket that are sold individually, you may not save money by making your own extract. On the other hand, if you buy vanilla beans online in bulk, you can save a lot by making your own! To save even more, choose "extract grade" vanilla beans that tend to be smaller and drier but also much less expensive.
Vanilla beans can vary in flavor depending on where they are from.
Bourbon vanilla beans, or Madagascar vanilla beans, come from the Planifolia orchid. They provide a classic tasting vanilla flavor.
Tahitian vanilla beans, from the Tahitensis species (a cross between Vanilla planifolia and Vanilla odorata), have a more exotic, tropical flavor that is a bit unique.
Mexican vanilla beans also come from the vanilla planifolia plant and are very similar to the Madagascar vanilla. They tend to be slightly thinner and subtle in flavor.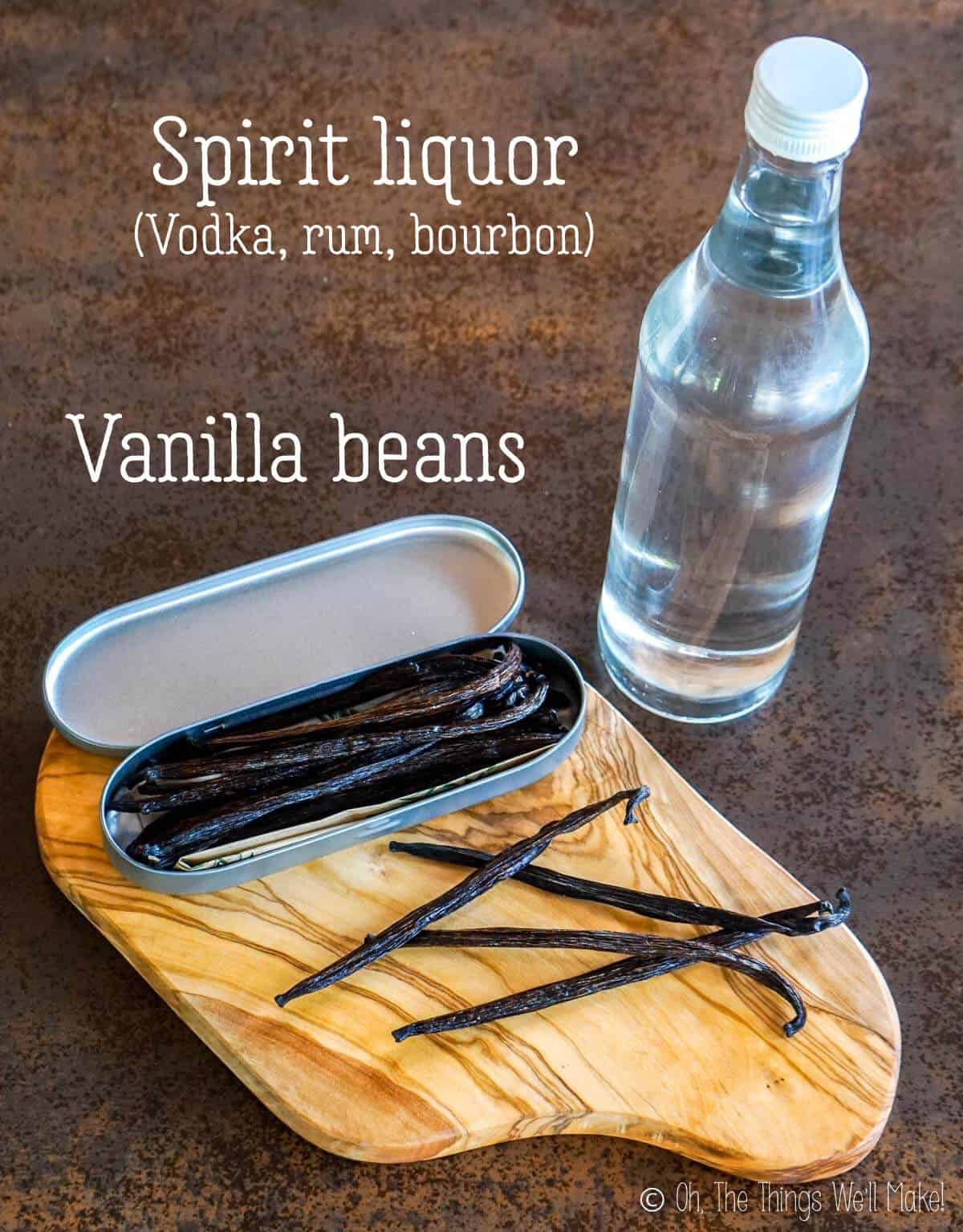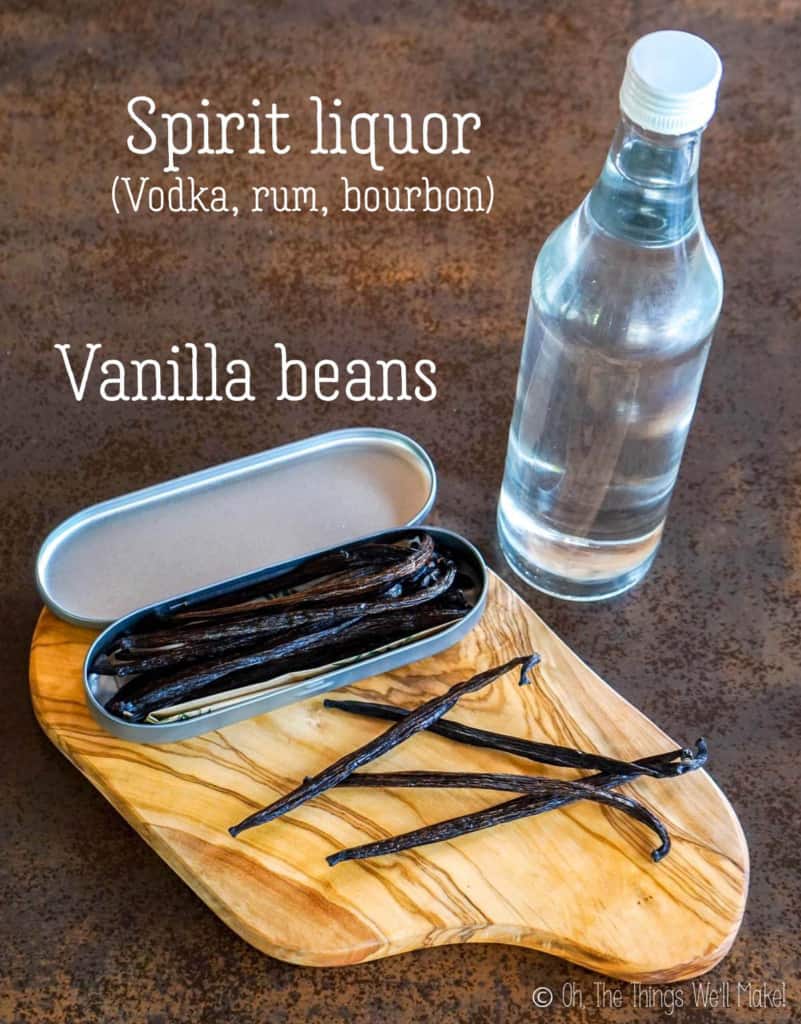 Alcohol
You can also customize your vanilla extract by choosing different alcohol bases for your vanilla infusion.
At first, I always made my vanilla extract with vodka, which seems to be the most popular choice.
With time, I saw recipes for bourbon vanilla extract made with bourbon whisky.
Commercial "bourbon vanilla extract" isn't really normally made made with bourbon whisky, though. Instead, it's named after the variety of vanilla used (bourbon vanilla). Perhaps, the name got people to try using bourbon in their extracts. Hearing people rave about the flavor, I had to try it too! I have to say that I understand why so many people love it!
Rum is another good choice. It supposedly provides a smoother vanilla extract than vodka. I just started my latest batch with rum, so I'll know better soon.
Alcohol-free vanilla extract
For those avoiding alcohol either because of your local government regulations or any other reason, you can make a different type of vanilla extract using glycerin. Glycerin extracts are called glycerites.
Glycerin takes much longer to extract the vanilla flavor than alcohol and also imparts a sweetness to the extract which you may or may not like. If you're interested, read how to make an alcohol-free vanilla extract.
Procedure
Making the extract couldn't be simpler. The hardest part is waiting for it to be done.
To begin, slice the vanilla beans lengthwise. This exposes the small seeds within them, making it much easier to extract the full flavor of the vanilla beans.
Once you've sliced the vanilla beans in half, place them in a bottle and pour the alcohol over them, covering the beans. Cap the bottles and store them in a cool, preferably dark place.
Over the course of the next weeks, shake or invert the bottle several times every once in a while. This helps disperse the vanilla flavor and color throughout the alcohol.
After about a month, you can begin to use the vanilla extract, but it will take a bit longer to reach its full potency.
Some people are very adamant about not using the extract before a full year has passed, or at least not calling it "vanilla extract" until then. Keeping that in mind, you may not want to gift your extract until you've had it going for at least several months and explain that the beans will continue to infuse their color and flavor with time so it's best to leave them in the alcohol.
Incidentally, I now have a batch from several years ago and one that is just over a month old. I've tasted both alone and mixed in homemade milk kefir, and can't say that I could tell much of a difference either way. I'd still suggest ideally leaving the vanilla beans for as long as possible before using.
To get the most out of your vanilla beans, top off the bottle with more alcohol as you use the extract. (You can continue to do so until you notice that the extract is getting too weak.) If you do notice that the extract is becoming weak, you can also add a fresh vanilla bean or two, as needed.
Labels
Homemade vanilla extract is perfect for gift giving. Whether or not you're giving it away, labels can make for a more attractive bottle.
Feel free to print out and use mine, if you like!
To use them, right click on the picture below and save it to your computer (Save image as…). I printed them out on a 4×6 inch (10x15cm) photo paper sheet to get the size of the labels in my photos. I then cut them out and used a glue stick to attach the label to the bottle.
If you have sticker paper, you can use that instead. (I suggest using waterproof photo paper and/or sticker paper to ensure a long lasting label.)
Video
Craving more?
Subscribe to my newsletter for the latest recipes and tutorials!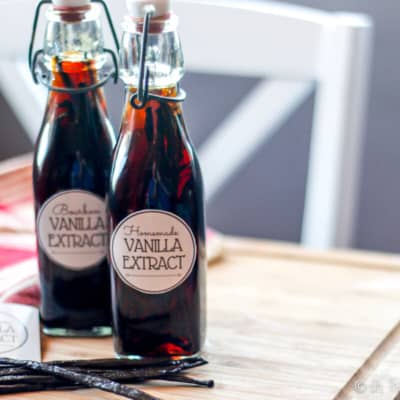 Homemade Pure Vanilla Extract
Save money and ensure that you have the highest quality ingredients by making your own vanilla extract. It's super easy to make and makes a great gift.
Print
Pin
Rate
Servings:
150
teaspoon servings
Instructions
Cut the vanilla beans lengthwise to expose the inner seeds. Place them into a glass bottle or jar.

Add the alcohol to the bottle, fully covering the beans, and shake the bottle to help disperse the vanilla throughout the alcohol.

Store the bottles out of the sunlight for several weeks/months. Shake the contents occasionally. The vanilla extract will progressively darken and take on a stronger vanilla flavor. It will be "ready" for giving as gifts in about a month.

As you use the extract, you can top it off with a little more alcohol. If you notice that the flavor is weaking, you can add a fresh vanilla bean or two.
Notes
To be considered a pure vanilla extract, the alcohol used should be 35% alcohol or higher and you should use a minimum of 100g of vanilla beans per liter of alcohol. 200g of vanilla beans per liter will make a double-strength vanilla extract.
To save money, use extract-grade vanilla beans.
Serving:
1
teaspoon
|
Calories:
13
kcal
|
Carbohydrates:
1
g
|
Fat:
1
g
|
Sodium:
1
mg
|
Potassium:
1
mg
|
Iron:
1
mg
This post was originally published on November 13, 2014. It was rewritten, adding new photos and video in May 2021.