Anybody that has been baking up American recipes for a while knows that we use vanilla extract a lot! Let's face it, vanilla extract shows up in almost every baking recipe ever written.
Here in Spain, though, vanilla use isn't as commonplace. I have never actually even seen pure vanilla extract for sale in the stores. You can find vanilla beans themselves, or you can find artificial vanilla flavoring.
While I do love vanilla beans, they aren't always the most convenient thing to use for most recipes.
As for the vanilla flavoring? Those of you that have been following me for awhile now probably know quite well that I'm not a big fan of chemically produced artificial products.
Even "naturally" flavoured vanilla products might not actually be using vanilla!
That statement sounds crazy, but it's all too true!!
Natural vanilla flavor can actually come from beavers in the form of castoreum. Castoreum is a secretion from the castor sacs of beavers. Because of the location of the castor sacs, at the base of the beaver's tail, castoreum may also contain urine and anal gland secretions! Yum!
So, if you are a vegetarian or vegan, and are eating something with "natural vanilla flavoring", you may unwittingly be consuming an animal product, and a gross one at that!
To avoid all that grossness, the first years I was living here, I brought bulk amounts of vanilla extract back to Spain with me each time I went back to visit the US. Once we got an internet connection at home, though, I learned quite quickly how easy it was to make homemade pure vanilla extract.
If you try to make it with vanilla beans that you buy at the supermarket, instead of saving money, you'll likely pay a pretty hefty cost for homemade pure vanilla extract. On the other hand, if you buy vanilla beans online in bulk, you can end up saving yourself quite a bit of money by making your own!
What's even cooler is that you can customize your vanilla extract by choosing different alcohol bases for your vanilla infusion.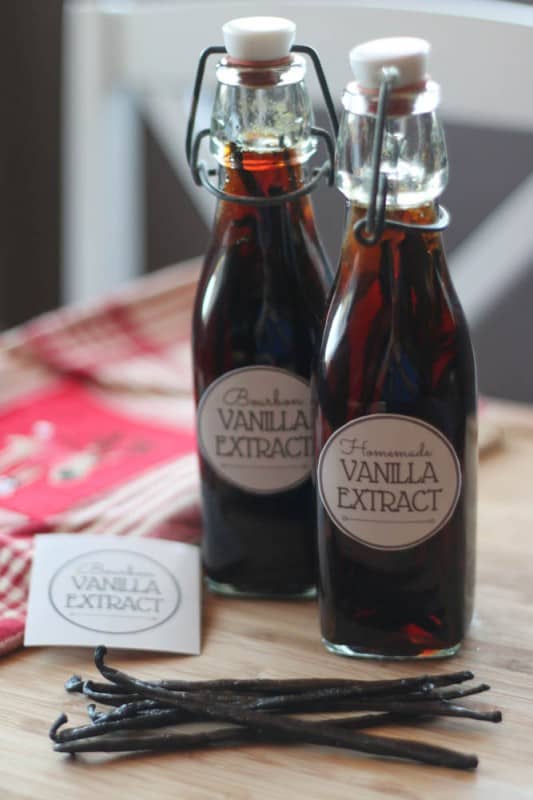 The most common choice seems to be vodka. That's the type of vanilla extract that I started to make years ago.
With time, I started seeing recipes for bourbon vanilla extract that was actually made with bourbon whisky. Commercial bourbon vanilla extract isn't really usually made made with bourbon whisky, though, but is instead named after the variety of vanilla used, the so called bourbon vanilla. Perhaps it was the name that got people to try using bourbon in their extracts, but after hearing how good it was, of course I had to give it a try too. I have to say that I understand why so many people love it!
Even more recently I was reading that rum provided a much smoother vanilla extract than vodka, and that vodka was really just typically used because of the price. I don't know if that's true, and I haven't personally tried using rum yet, but it is on my "to do list". If any of you make or have made vanilla extract with rum, I'd love to hear your comments. I'd love to hear your comments anyway, though, of course. 😉
So, here's the recipe…
Craving more?
Subscribe to my newsletter for the latest recipes and tutorials!
Ingredients
1

liter

alcohol of choice

(Vodka,bourbon, rum) 35% or higher

100-200

g

vanilla beans

I used "extract grade" to save money.
Instructions
Cut your vanilla beans lengthwise to expose the inner seeds, and place into a glass container of your choosing. To be considered a pure vanilla extract, the alcohol used should be 35% alcohol or higher, and you need to use a minimum of 100g of vanilla beans per liter of alcohol. 200g of vanilla beans per liter will make a double strength vanilla extract.

Add the alcohol to the bottle and shake.

Store out of the sunlight, and shake the contents occasionally. Your vanilla extract will progressively darken and take on a stronger vanilla flavour. It will be "ready" for giving as gifts in about a month.

As you use the extract, you can top it up with a little more alcohol. I like to occasionally add in a fresh vanilla bean or two, but it will last you for years even without.
Homemade vanilla extract is perfect for holiday gift giving because it is so much more inexpensive to make it in bulk. Even though it doesn't go bad, not everyone wants to have litres of vanilla extract on hand and filling up their cupboards. So, the perfect option is giving away part of your stash to your favorite vanilla loving friend.
With gift giving, presentation is key, of course. So choose a pretty bottle and make yourself up some pretty labels. Feel free to print out and use mine, if you like! I printed these out on a 4 in. by 6 in. photo paper sheet to get the size of the labels in my picture.
So, with that, I'll add this to the series of posts on DIY Christmas gifts. It's about the time of year that you should get started unless you want to make something very last minute. Vanilla extract isn't one of those gifts, though!
I hope you enjoy it!