Made from scratch using only natural colors and flavors, this minty shamrock shake is the real food, real deal, perfect for celebrating St. Patrick's Day!
What is a Shamrock Shake?
The original shamrock shake is a limited edition mint flavored milkshake that is offered in the US Mc Donald's restaurants each year to celebrate St. Patrick's day.
Shamrock Shake ingredients
The original shamrock shake is made with  a green colored shamrock shake syrup and a reduced fat vanilla ice cream. (These are the ingredients listed on Mc Donald's website Feb. 2018):
Shamrock shake syrup ingredients:
High Fructose Corn Syrup, Corn Syrup, Water, Sugar, Natural Flavor, Xanthan Gum, Citric Acid, Sodium Benzoate (Preservative), Yellow 5, Blue 1. May contain small amounts of other shake flavors served at the restaurant, including egg ingredients when Egg Nog Shakes are available.
Reduced fat vanilla ice cream ingredients:
Ingredients: Milk, Sugar, Cream, Corn Syrup, Natural Flavor, Mono and Diglycerides, Cellulose Gum, Guar Gum, Carrageenan, Vitamin A Palmitate.
As much as I love fun desserts and celebrating holidays with festive treats, I'm not a fan of artificial colors or even "natural flavors" if I don't know what they are. (Most natural flavors have used some component from a natural and chemically enhanced that flavor in a lab. Not quite as natural as you'd think, right?)
What does a shamrock shake taste like?
Shamrock shakes are minty and smooth with a touch of vanilla to them.
I have to admit to getting at least one shamrock shake each year around St. Patrick's day when I was growing up, and looking forward to them coming around the next year. I love mint, and couldn't resist the fun of having something "special" to celebrate the holiday. We didn't even really go to Mc Donald's that often, but I would make the special trip to get the shake each year because I loved them so much.
It has been years since I've had my last "real" (but not real food) shamrock shake. They don't serve them at the Mc Donald's restaurants here in Spain, so even if I were to want to buy one, I can't. Now, knowing more about the ingredients, I'd probably feel too guilty to be able to drink one anymore anyway. I do admit to missing some of the nostalgia and fun that I associate with them, though.
Lucky for me, making a shamrock shake with real food ingredients is actually quite simple.
Keep in mind, though, that while this uses natural ingredients, that this still isn't a health food by any means. This is meant to be an occasional treat!
If you're looking for a healthy version, check out my candida diet safe shamrock shake instead. 😉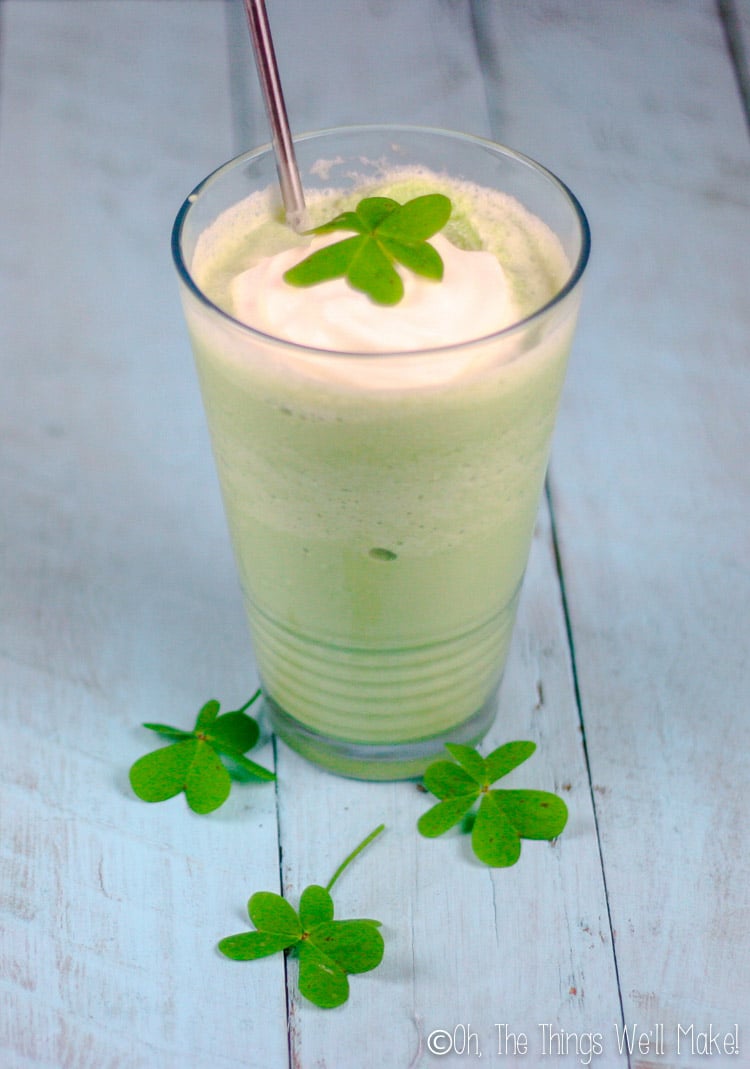 Shamrock shake recipe (Real food)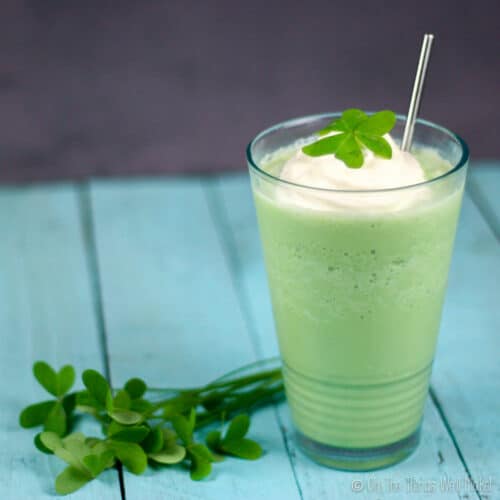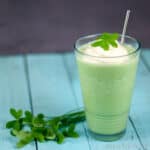 Real Food Shamrock Shake (Makes several small shakes)
Made from scratch using only natural colors and flavors, this minty shamrock shake is the real food, real deal, perfect for celebrating St. Patrick's Day!
Print Recipe
Ingredients
1 1/3

cups

heavy cream

2

tbsp.

honey

or to taste (Can be substituted with maple syrup or sugar syrup)

3/4

cup

baby spinach

packed

2

eggs

1

handful

fresh peppermint leaves

or 6 drops peppermint essential oil, or peppermint extract to taste

2

cups

milk

ice

optional

1

tsp.

vanilla extract

optional
Instructions
Blend the first 5 ingredients together well; these ingredients will be forming the mint ice cream for our shake. I add in the raw (pastured) eggs because not only does it add in protein, but it also helps the texture of the ice cream. If you don't want to use raw eggs, you can eliminate them, or make a custard by heating the eggs with the honey and cream over medium heat. If you decide to make the custard, don't add in the peppermint and spinach quite yet. You can blend them with the milk and ice cream at the blending stage.

Taste your mixture and add more honey or peppermint oil or extract, if you like, to suit your taste.

I ended up with about 2 cups of liquid. Freeze it overnight to make a mint ice cream of sorts.

The next day, cut your ice cream into chunks and blend it with 2 cups of milk (of your choice). You can add in a little ice to make it thicker, and a little less rich, if you like.

Taste it, and adjust to your own taste. I added in a few more leaves of spinach to make it a little greener.

Serve immediately. It's wonderful topped with whipped cream. 🙂
Nutritional Information
Serving:
1
small shake
|
Calories:
544
kcal
|
Carbohydrates:
19
g
|
Protein:
11
g
|
Fat:
47
g
|
Saturated Fat:
28
g
|
Cholesterol:
270
mg
|
Sodium:
166
mg
|
Potassium:
432
mg
|
Sugar:
16
g
|
Vitamin A:
3620
IU
|
Vitamin C:
5.5
mg
|
Calcium:
286
mg
|
Iron:
1
mg
Shamrock shake using natural colors
This shake is naturally colored with spinach leaves.
Using spinach to color the shake definitely is healthier than using yellow 5 and blue 1, but you may be thinking that spinach in a sweet shake is going to taste bad.
But, if you've never tried it, don't knock it until you have! It's really almost impossible to tell that you've added the spinach at all if it weren't for the change in color.
You want to use fresh, raw spinach here! I had originally tried to boil some spinach in water to obtain a natural green food coloring, but my efforts were unsuccessful. The resulting green colored water wasn't concentrated enough for using in recipes, and by boiling the spinach, the beautiful bright green was transformed into a yucky brownish green color. Not very appealing!
Adding the spinach right into the mix was definitely easier, and turned the shake the perfect shade of shamrockiness. (Is that not a word?)
I have since found a way to obtain a homemade food coloring to a certain extent. If you are looking for a way to make natural food colorings from spinach, though, check out my post on extracting natural colorants (in the link above).
Shamrock Shake using natural flavors
There are several ways to obtain the minty goodness of a shamrock shake.
I originally made this recipe only using essential oils, but I realized that a lot of people are opposed to using essential oils in this way. Not only do a lot of people avoid ingesting essential oils at all, peppermint is amongst the essential oils that you're supposed to avoid, or at least use with extreme caution, in young children.
That's why I decided to try to revise the recipe giving you other options. I tried making this with a handful of fresh peppermint from my garden, and the result was a success! The final shake had a wonderful minty flavor that actually tastes like real mint! (Go figure!)
If you want to add a touch of vanilla, just as the original recipe uses reduced fat vanilla ice cream, why not add a dash of a homemade pure vanilla extract?
Which version of the shamrock shake do I like better?
Well, like I said it's been years since I've had the original, so it's hard to compare, but the real food version really tastes like real mint and real vanilla. It has a beautiful color, and is beautifully creamy and as sweet as you want it to be! (When you make it yourself, you can adjust it to suit your taste!)
I think this version beats the gummed up, artificially colored version any day!
St. Patrick's Day in Spain
Most people here in Spain have never even heard of St. Patrick's day! That said, there are plenty of Brits here and many of them do celebrate the holiday. In fact, there's an English bar in town that happens to celebrate it every year.
Here in the Valencian region, St. Patrick's day always falls during the week that we are celebrating our fallas festival. That means that this time of year I will likely be showing you some interesting Spanish holiday fun too. Hopefully you will enjoy both.
Note on using essential oils for flavoring: Keep in mind that you should do your own research when it comes to using essential oils, particularly when children will be using/consuming them. Many people are opposed to ever ingesting essential oils, but here in Europe they tend to be used more freely in that way. Peppermint is one of those essential oils that has a warning to not use with young children, though, as it may cause respiratory issues with some of them. I have used a food grade essential oil when adding oils to this recipe. Make sure that you choose a trustworthy brand meant for consumption when using them in this way. Also, be conscious of the amount of essential oils that you are consuming at once.