Made from scratch using only natural colors and flavors, this minty shamrock shake is the real food, real deal, perfect for celebrating St. Patrick's Day!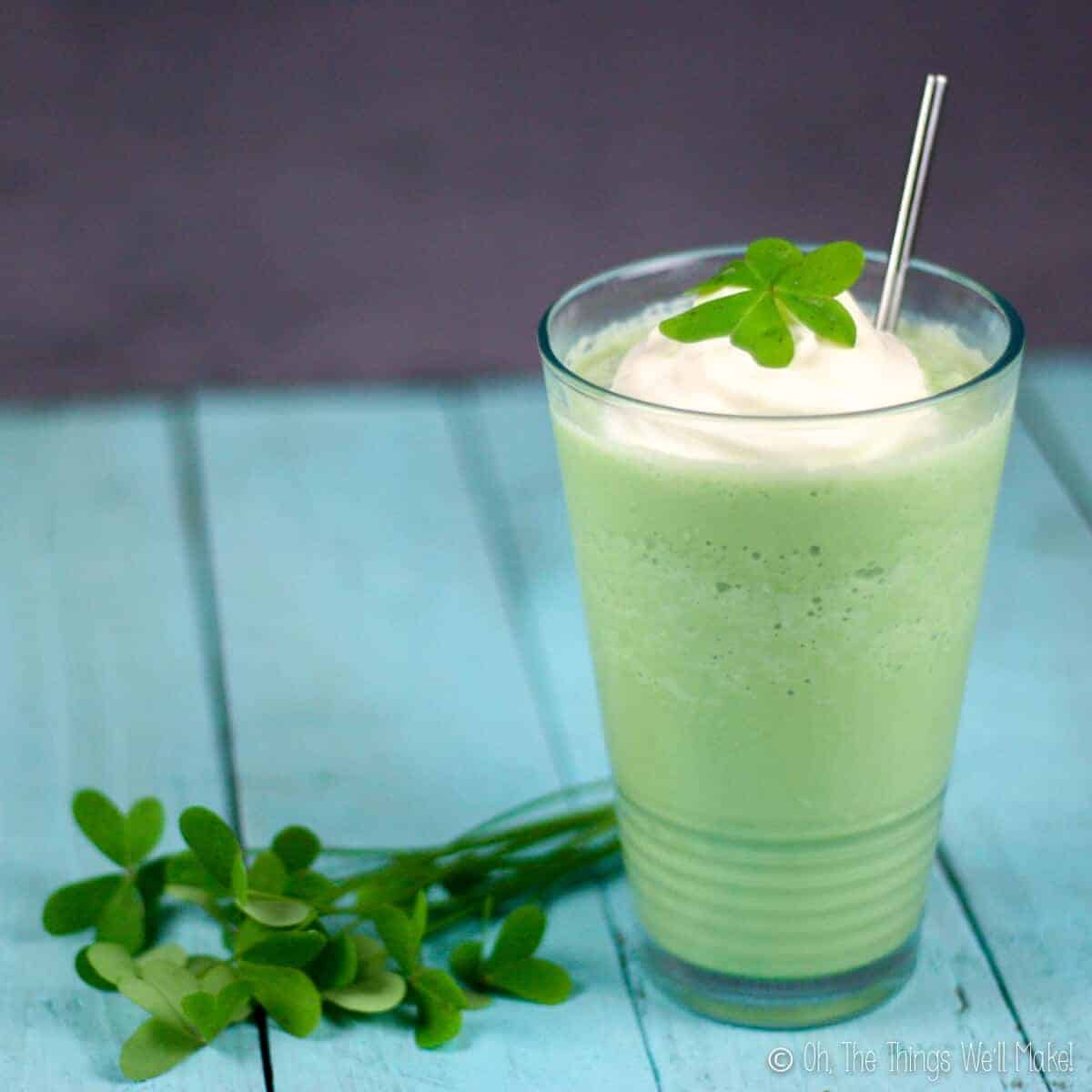 What is a Shamrock Shake?
The original shamrock shake is a limited edition mint-flavored milkshake that is offered in the US Mc Donald's restaurants each year to celebrate St. Patrick's Day.
Original ingredients
The original shamrock shake is made with a green-colored shamrock shake syrup and a reduced fat vanilla ice cream.
These are the ingredients listed on Mc Donald's website Feb. 2018…
Syrup ingredients:
High Fructose Corn Syrup, Corn Syrup, Water, Sugar, Natural Flavor, Xanthan Gum, Citric Acid, Sodium Benzoate (Preservative), Yellow 5, Blue 1. May contain small amounts of other shake flavors served at the restaurant, including egg ingredients when Egg Nog Shakes are available.
Reduced-fat vanilla ice cream ingredients:
Ingredients: Milk, Sugar, Cream, Corn Syrup, Natural Flavor, Mono and Diglycerides, Cellulose Gum, Guar Gum, Carrageenan, Vitamin A Palmitate.
As much as I love fun desserts and celebrating holidays with festive treats, I'm not a fan of artificial colors or even "natural flavors" if I don't know what they are. (Most natural flavors have used some component from something natural and chemically enhancing that flavor in a lab. Not quite as natural as you'd think, right?)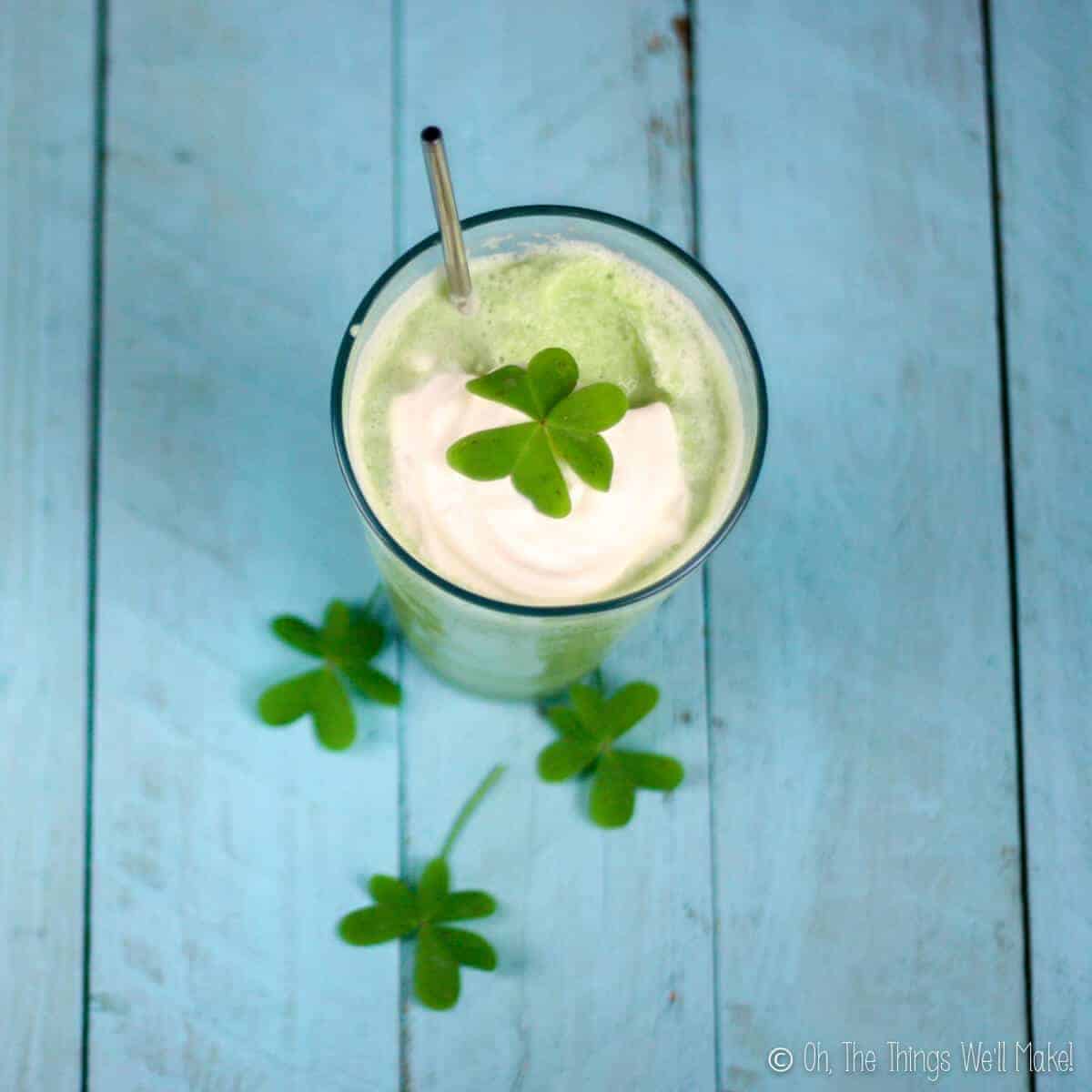 What does it taste like?
Shamrock shakes are minty and smooth with a touch of vanilla to them.
I have to admit to getting at least one shamrock shake each year around St. Patrick's day when I was growing up. I'd also look forward to them coming around the next year.
We didn't go to Mc Donald's that often, but I would make the special trip to get the shake each year because I loved them so much. I love mint, and couldn't resist the fun of having something "special" to celebrate the holiday.
It has been years since I've had my last "real" (but not real food) shamrock shake. They don't serve them at the Mc Donald's restaurants here in Spain. So, even if I were to want to buy one, I can't. Now, knowing more about the ingredients, I'd probably feel too guilty to be able to drink one anymore anyway. I do admit to missing some of the nostalgia and fun that I associate with them, though.
Lucky for me, making a shamrock shake with real food ingredients is actually quite simple.
Keep in mind, though, that while this uses natural ingredients, that this still isn't a health food by any means. This is meant to be an occasional treat!
If you're looking for a healthy version, check out my candida diet safe shamrock shake instead. 😉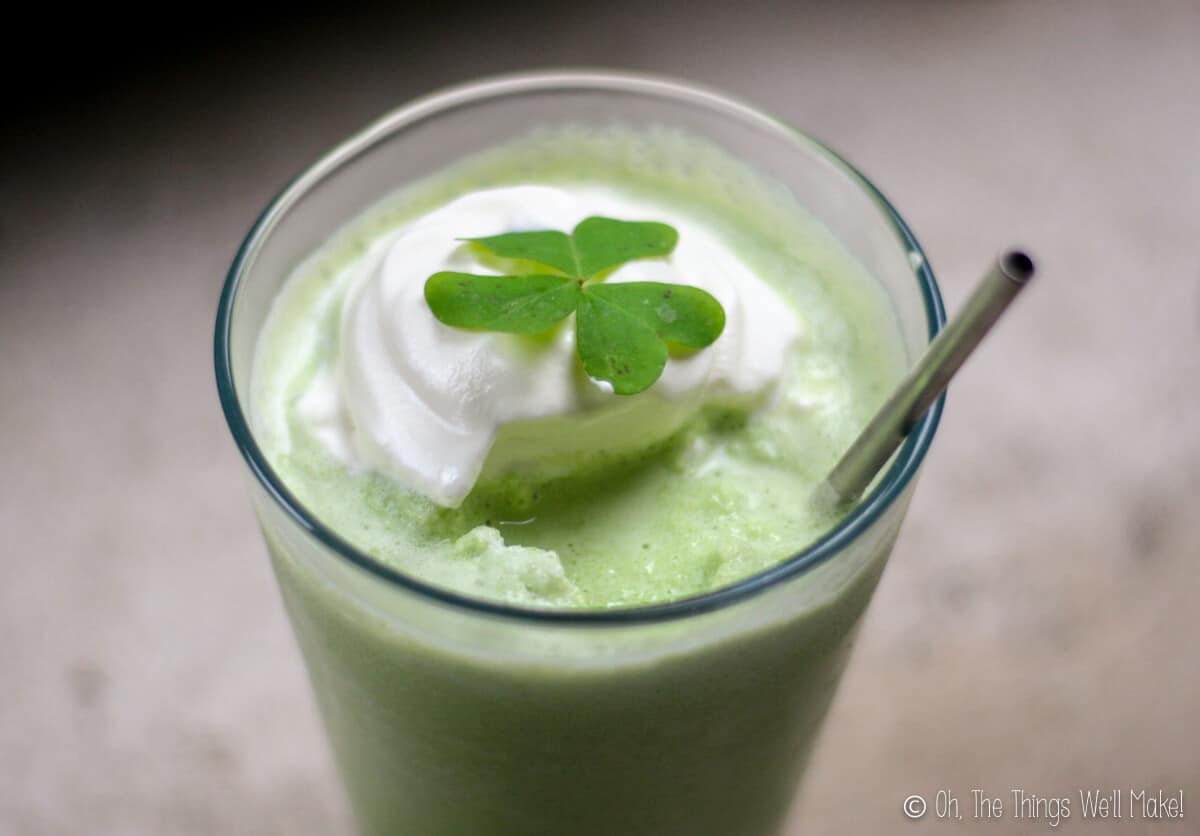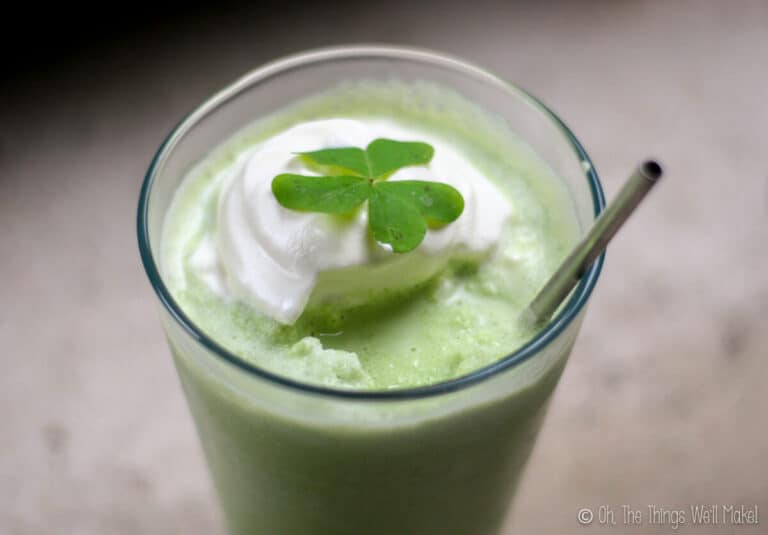 Real food ingredients
There are several ways to go about making a less-artificial version of the Shamrock Shake.
You can either begin with a store-bought vanilla ice cream, or you can make your own from scratch.
Homemade ice cream
While it may sound like a difficult task, making your own ice cream base for this shake is actually quite easy.
Because we are going to be blending it into a shake, we don't even really have to worry about the consistency of the ice cream, meaning no need to churn or even take the ice cream out of the freezer to mix it occasionally. (Normally no-churn ice cream calls for periodically stirring the ice cream to keep ice crystals from forming and to lighten it up.)
You can either make a simple vanilla ice cream as a base, or you can add another level of healthy, creamy green-ness by incorporating some avocado into it. (Avocado ice cream is delicious on its own!)
If you plan on eating some of the ice cream on its own, it's best to whip the cream before folding in the other ingredients. When the cream is whipped before freezing it, the finished ice cream has a nice, creamy consistency even when you don't churn or mix throughout the freezing process.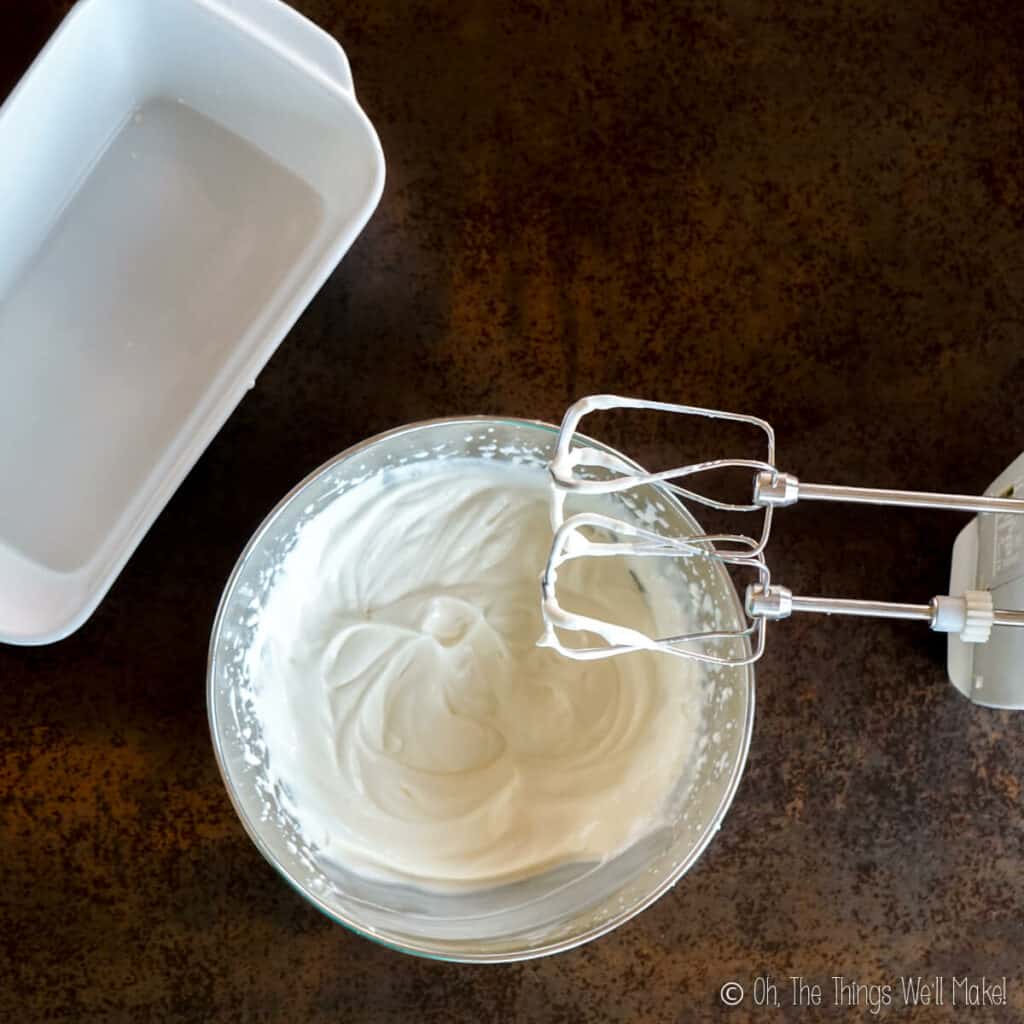 Dairy-free (paleo, vegan) version
While I originally made this, years ago, using milk and whipping cream, I have since found that dairy has been aggravating some of my skin and digestive issues.
Lately, I've been making this with coconut milk and cream instead and have to say that I don't miss the dairy!
To use canned coconut milk, first, place the jar in the refrigerator for several hours. The top layer will solidify and separate from the liquid below. Use the top, solid layer. Add a sweetener, a dash of vanilla extract, and then whip them together before freezing them.
If you feel it's missing some creaminess, adding avocado (and maybe even cooked cauliflower!) can help add creaminess to the shake. (It's amazing how much my taste has changed over the years. I would have never considered adding something as crazy as cauliflower when I first started my blog!)
Adding too much avocado will make the shake very thick. You can see that happen in my video. (I had added the amount I normally add for the full, 3-shake servings while making only 1 shake.)
Making only one small shake at a time can also be tricky in a large blender. An immersion blender may be best for blending smaller batches and getting a smooth shake.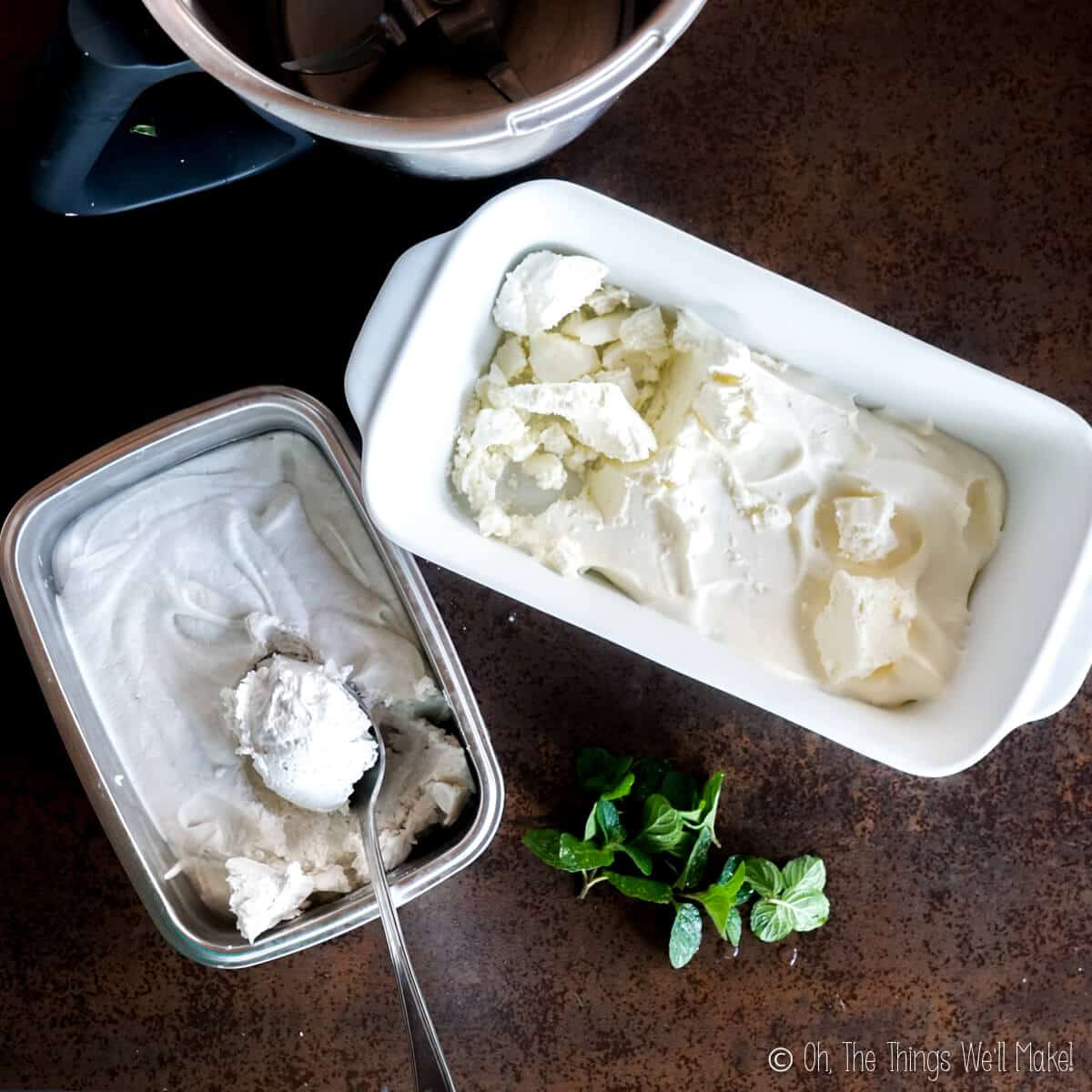 Natural coloring
This shake is naturally colored with spinach leaves.
Using spinach to color the shake definitely is healthier than using yellow 5 and blue 1. I know what some of you are thinking, though. Spinach just doesn't fit in a shake. It will make it taste bad and my kids will never eat it.
I'd say, "try it out" before dismissing it. (And your kids will only know it's there if they see you put it in!) It's really almost impossible to tell that you've added the spinach at all if it weren't for the change in color.
Use fresh, raw spinach here!
I had originally tried to boil some spinach in water to obtain a natural green food coloring, but my efforts were unsuccessful. The resulting green colored water wasn't concentrated enough for use in recipes. By boiling the spinach, the beautiful bright green was transformed into a yucky brownish green color, too. No, it wasn't very appealing!
Adding the spinach right into the blender with the other ingredients is definitely easier anyway. It turned the shake the perfect shade of shamrockiness. (Is that not a word?)
I have since found a way to obtain a homemade food coloring to a certain extent. If you are looking for a way to make natural food colorings from spinach, check out my post on extracting natural colorants (in the link above).

Natural minty flavor
There are several ways to obtain the minty goodness of a shamrock shake.
I originally made this recipe only using essential oils, but I realized that a lot of people are opposed to using essential oils in this way. Not only do a lot of people avoid ingesting essential oils at all, but peppermint is amongst the essential oils that you're supposed to avoid, or at least use with extreme caution, with young children.
That's why I decided to try to revise the recipe giving you other options. I tried making this with a handful of fresh peppermint from my garden, and the result was a success! The final shake had a wonderful minty flavor that actually tastes like real mint! (Go figure!)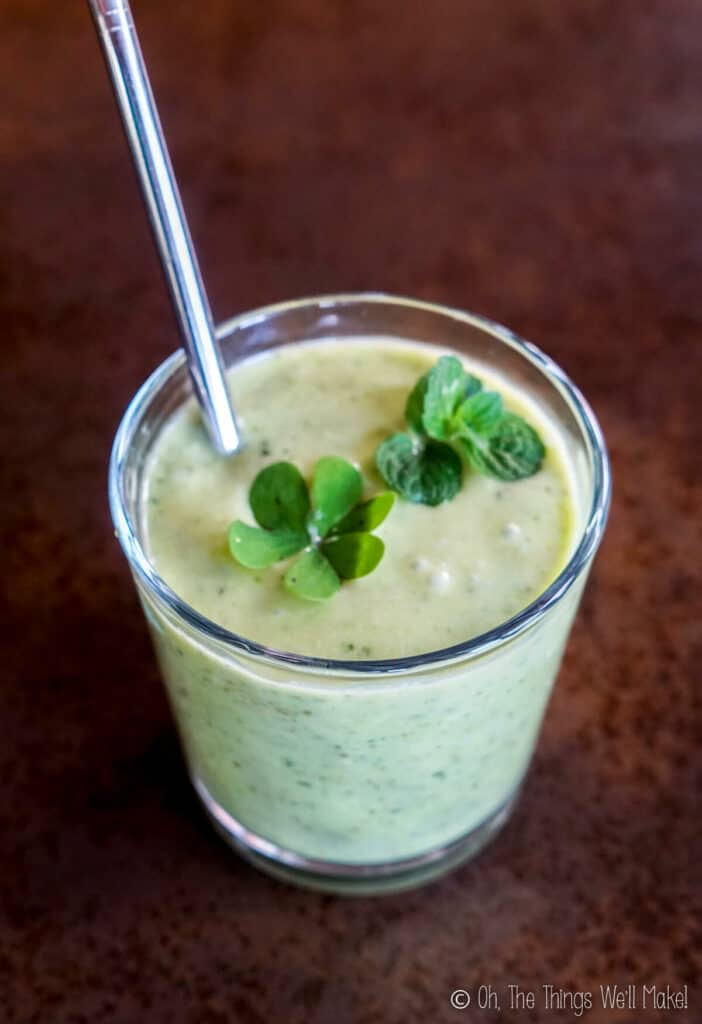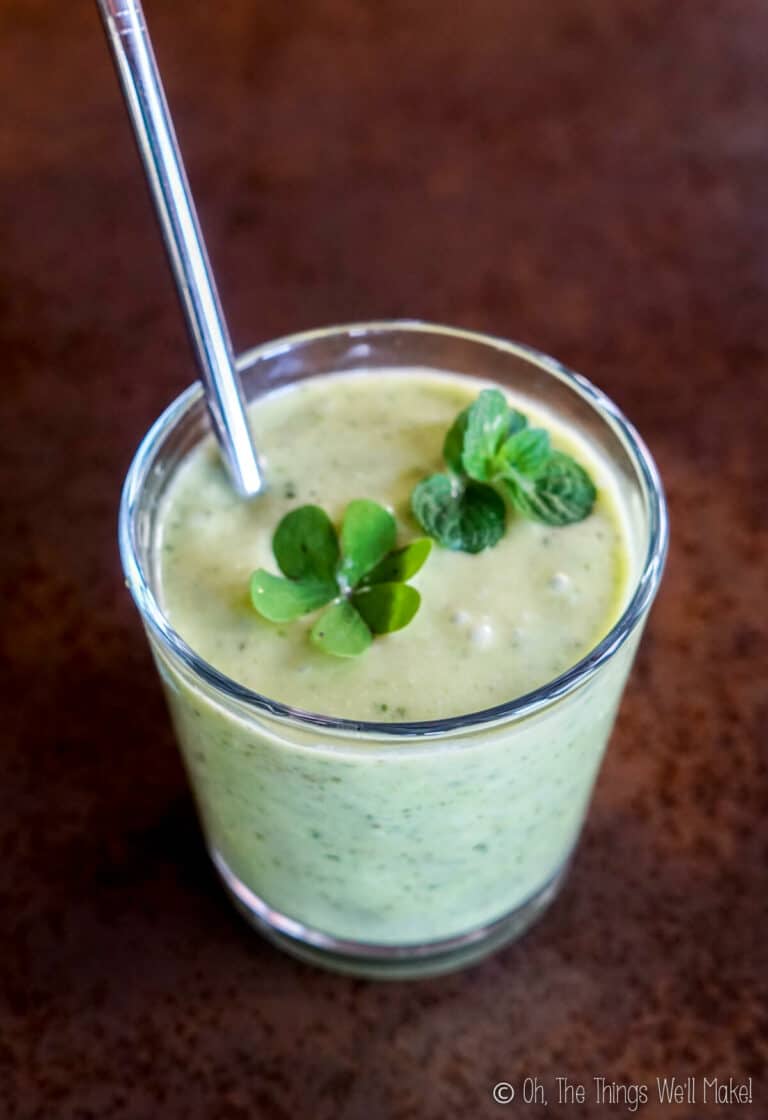 I will give a minor warning. The fresh peppermint leaves don't blend into the shake in the same way that spinach leaves do. While most kids won't notice the spinach leaves added to the shake, they will likely notice small peppermint leaf pieces. It may be best to use peppermint extract for picky kids! (Note the difference in texture in the pictures above!)
Part of the difference in texture may also be due to the fact that I made only one shake in a regular blender. The ingredients stuck to the top and sides of the blender jar and weren't fully blended. It may have been smoother if making a larger batch or using an immersion blender.
If you want to add a touch of vanilla, add a dash of a homemade pure vanilla extract (or store-bought) to your ice cream base for natural vanilla flavoring.
Warning
Keep in mind that you should do your own research when it comes to using essential oils. This is particularly true when children will be using/consuming them. (Peppermint is one of the oils that is not recommended for use with young children.)
I have used a food-grade essential oil here. Make sure that you choose a trustworthy brand meant for consumption when using them in recipes meant to be ingested. Also, be conscious not to use too much.
Sweetening
There are many ways to sweeten this shake, depending on your diet. I originally used honey, which, of course, is both healthy and delicious.
For those avoiding honey, though, this is also delicious sweetened with maple syrup.
For lower carb/calorie shakes, you could also consider using stevia and/or erythritol.
Video
Recipe
Craving more?
Subscribe to my newsletter for the latest recipes and tutorials!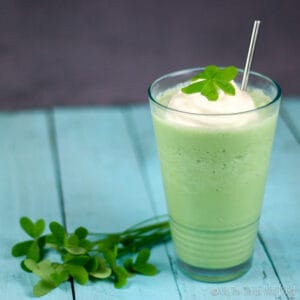 Real Food Shamrock Shake (Makes several small shakes)
Made from scratch using only natural colors and flavors, this minty shamrock shake is the real food, real deal, perfect for celebrating St. Patrick's Day!
Print
Pin
Rate
Ingredients
For the Vanilla Ice Cream
1 1/3

cups

heavy cream

or coconut cream, chilled

1

tsp.

vanilla extract

2

tbsp.

honey

or maple syrup, to taste
For the Shake
3/4

cup

baby spinach

packed, for color

1

handful

fresh peppermint leaves

or 6 drops peppermint essential oil, or peppermint extract, to taste

2

cups

milk

or nut milk
Instructions
Make the Ice Cream
Mix together the heavy cream, honey (or sweetener of choice), and vanilla extract. (The solid coconut cream that forms on top of a chilled can of coconut milk can be used in place of heavy cream. This allows you to make a dairy free and/or vegan shake.)

For a fluffier ice cream, whip the cream mixture until peaks form.

Pour the whipped cream mixture into a pan. Place it in the freezer until frozen firm.
Make the Shamrock Shake
Blend together the ice cream, spinach, milk, and peppermint flavoring of choice. (You can use fresh peppermint leaves, peppermint extract or a few drops of peppermint essential oil.)

Add any optional ingredients like avocado or protein powder.

Taste the mixture and add more honey or peppermint flavoring, as needed. It can be thinned with more milk or thickened with either ice or some avocado. Adding more spinach will give a brighter green color.

Serve immediately. It's wonderful topped with whipped cream. 🙂
Notes
For a Dairy Free/Vegan Shamrock Shake:
Use coconut cream instead of heavy whipping cream.
Use maple syrup or another sweetener in place of the honey.
Substitute the milk with a vegetable milk like almond milk or coconut milk.
For a Lower Carb Shake:
Use a low carb sweetener like stevia or erythritol.
Other tips:
Adding avocado will give a creamy, thick texture. Too much avocado can make it too thick.
Spinach leaves blend well into the shake to give it a beautiful green color. Peppermint leaves add flavor, but don't fullly incorporate into the shake as well. (They don't add as much color, and you can see small pieces of peppermint leaves when used.) For a smoother looking shamrock shake, use peppermint extract or peppermint essential oil instead.
Peppermint essential oil isn't recommended for use with small children. (Always use care when taking essential oils internally. Make sure you are using food-grade oils and use very sparingly.) With children, peppermint extract may be the best option.
Serving:
1
shake
|
Calories:
512
kcal
|
Carbohydrates:
23
g
|
Protein:
8
g
|
Fat:
44
g
|
Saturated Fat:
27
g
|
Cholesterol:
161
mg
|
Sodium:
117
mg
|
Potassium:
336
mg
|
Fiber:
1
g
|
Sugar:
20
g
|
Vitamin A:
2522
IU
|
Vitamin C:
3
mg
|
Calcium:
260
mg
|
Iron:
1
mg
Which version is best?
Well, like I said it's been years since I've had the original, so it's hard to compare, but the real food version really tastes like real mint and real vanilla. It has a beautiful color, and is beautifully creamy and as sweet as you want it to be! (When you make it yourself, you can adjust it to suit your taste!)
I think this version beats the gummed up, artificially colored version any day!
St. Patrick's Day in Spain
Are you curious about how (and if) we celebrate St. Patrick's Day here in Spain?
Most people here in Spain have never even heard of St. Patrick's day! That said, there are plenty of Brits here and many of them do celebrate the holiday. In fact, there's an English bar in town that happens to celebrate it every year.
Here in the Valencian region, St. Patrick's Day always falls during the week that we are celebrating our fallas festival. That means that this time of year we're always celebrating something or other. 😉