Making a non comedogenic DIY blush stick is a very quick and simple project that uses only natural ingredients.
As much as I like to do things as naturally as possible, I have to confess to being addicted to two beauty products that aren't very natural at all. I'm not sure I'll be able to find a natural alternative to permanent lipsticks, which I'd have a hard time giving up. DIY blush sticks, on the other hand, were easier to make on my own than I could have ever imagined. Had I known, I would have made the switch long, long ago.
Most semi solid combinations of natural oils, creams, and waxes have the disadvantage of being somewhat comedogenic, meaning they can cause breakouts in a lot of people. I see many bloggers swearing that coconut oil works wonderfully for them, leaving their skin clear and soft, but coconut oil has a pretty high comedogenic rating (4 on a 5 point scale!) and leaves me with a lot of tiny pimples all over my face after a few weeks of using it.
For my daily moisturizing, I have switched to using a mixture of oils on my face, but I actually mix myself a combination of oils, without coconut oil in the mix, that I can share with you another day. I choose non comedogenic oils when mixing up products for my face because, despite my 40+ years of age, my skin still is prone to breakouts.
The problem with making solid or semi-solid DIY beauty products, even when they don't use coconut oil, is that they usually use a wax to harden the mix to make it solid enough to use in a stick applicator. Most waxes are more comedogenic than the oils that I wanted to use in my blush stick, something I wanted to avoid, if possible.
After a bit of research, I realized that shea butter is surprisingly low on the comedogenic scale (0 out of 5!). Because of it's texture, I assumed that it would have a high rating for some reason. It's semi-solid texture makes it perfect for this sort of product, though, without needing to add in any waxes or anything else to get the desired texture for a blush stick.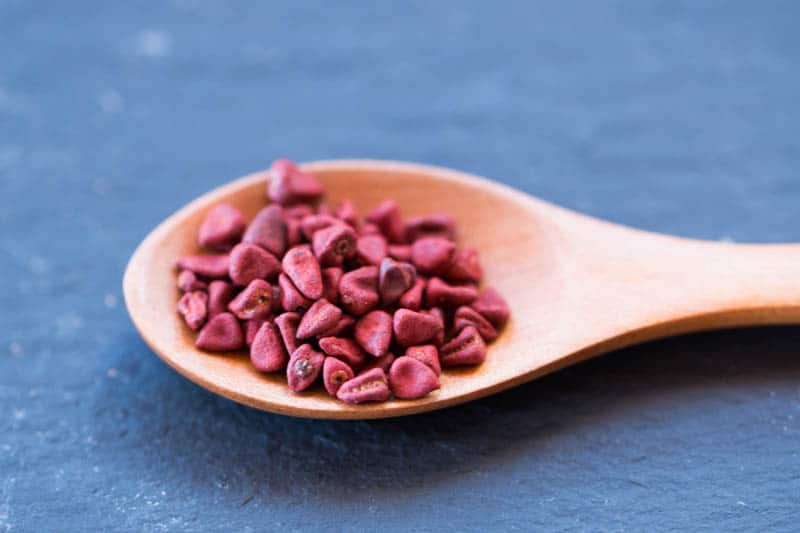 As for the coloring agents, I found one by accident one day while visiting a local ethnic shop.
The store is run by a Pakistani family, but sells a variety of products from all over the world. One of the products happened to be "achiote," or annatto seeds, something I found amongst the Latin American spices. Because I tend to be a curious person, and love to try new things all of the time, I looked it up and found it is a natural food coloring used in certain Latin American dishes. It's orange hue is perfect for making a blush for people who look best in warm hues like red heads.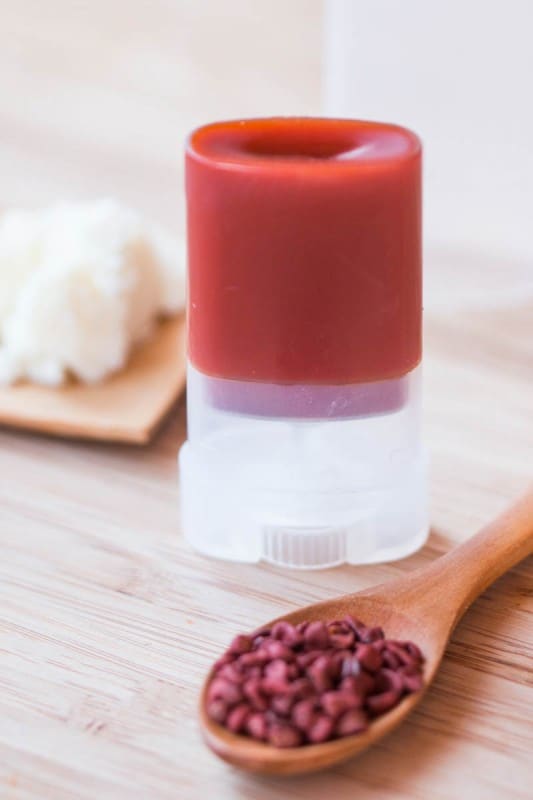 I look better in cooler tones myself, so I opted to make another blush stick with alkanet root powder, another natural colorant that I have used in the past in DIY lipglosses. (I guess that's just one more thing that I'll have to add to the list of things I'll show you how to make sometime soon.)
Alkanet root makes more of a blood red color, which highly contrast the pretty orange color of the achiote or annatto seeds. You can choose either for your blog or use a combination of the two to get a custom color somewhere in between.
I've been using my DIY blush stick for several weeks now, and I really like it.
When you first put it on, especially if it's a hot day, it can look a bit oily when first applied. You can either choose to wait and let it be absorbed by your skin, or you can choose to set it with a face powder or light colored powdered blush. The later option has the benefit of giving your blush real staying power.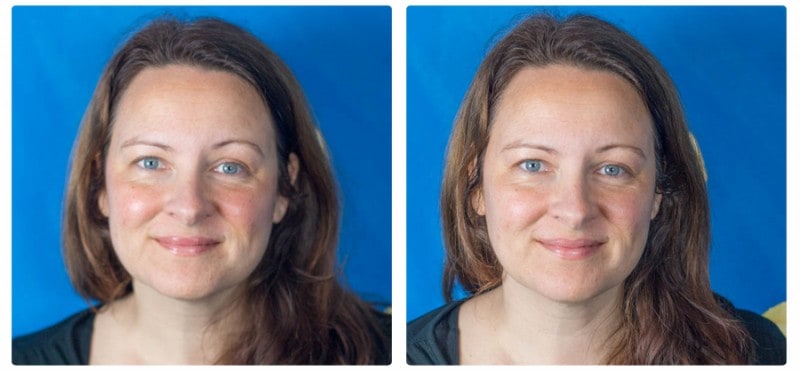 I don't think I look very good in just the annatto seed blush, as orange doesn't really flatter me, so I'm not even going to show you that pic 😉 , but using a combination of the two blushes together gives me a combination that I like better. It works for days that I'm wearing clothes with warmer tones.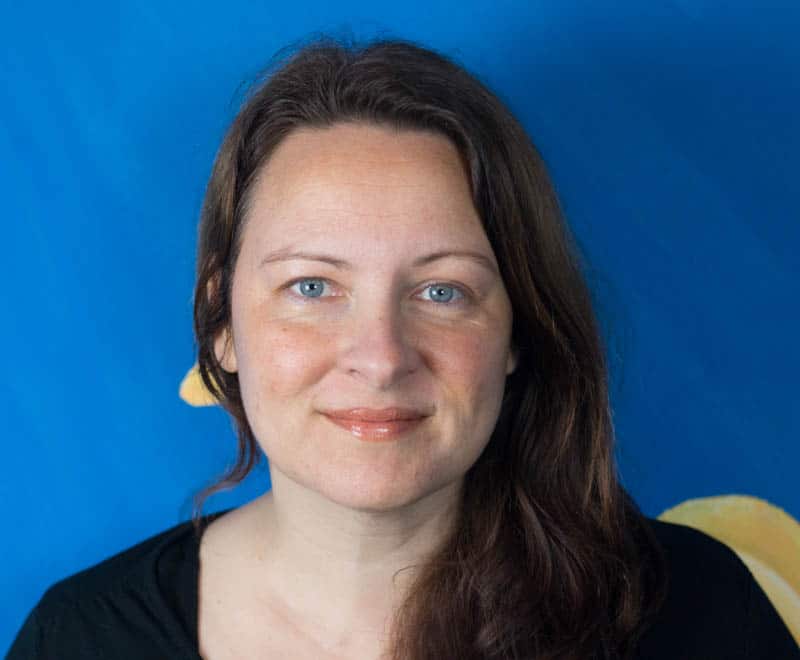 All of the above pictures are untouched and using the blush sticks and only the blush sticks on my face.
I only used a very thin layer, especially on the top pictures.
In fact, you can probably see that I have used the same stick for my lips. For lipstick, though, I have a preferred recipe using the same colorants for better coverage and staying power that I will try to share with you soon! By using the same natural colorants, you are sure to make a matching lipstick that will look great with your blush!
More often than not, though, I layer the blush with either a homemade powder blush or a homemade face powder. (I guess I'd better start cranking out some posts!) That way not only is my face not shiny, but the blush has true staying power.
Want to make your own?
It's easy, so let's get to it!
Looking to make more?
Subscribe to my newsletter for the latest projects (and recipes)!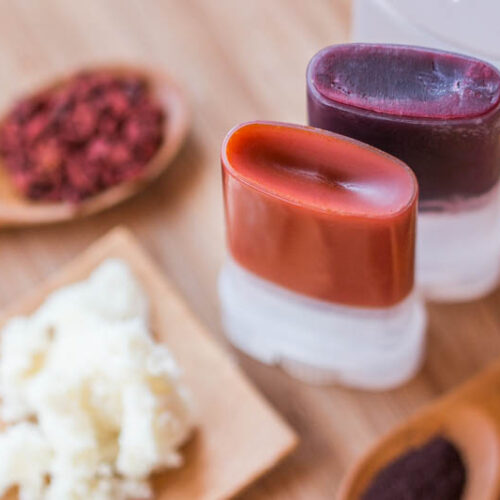 Materials
1

Tbsp.

shea butter

1/4

tsp.

annatto seeds

(Use this for an orange blush)

1/4

tsp.

alkanet root powder

(Or use this for more of a blood red color)

8

drops

tea tree essential oil

Optional – adds antimicrobial properties
Instructions
If you are using annatto seeds, grind them up into a very fine powder using a coffee grinder or similar appliance.

It is very important that you end up with a very fine powder, so I usually use only the fine powder that accumulates on the cover of the grinder as it grinds. I wanted to make sure my alkanet root powder was fine enough, so I ground it more in the coffee grinder, and, once again, used only the fine powder that accumulated on the cover of my grinder.

If you aren't sure how much fits into your small deodorant containers, measure it out with water. I was able to fit around a Tbsp. of water into an empty canister, so I made my recipe with around 1 Tbsp. shea butter. Mine were small, 15ml deodorant containers just like the ones that can be found here (Affiliate link):

http://amzn.to/1FTkNJW

Heat your shea butter in a double boiler over your stove until it's completely melted.

Stir in either fine annatto seed powder or alkanet root powder, or use a combination of both. To get the concentration I achieved with my blush, use around 1/4 tsp. total powder for every Tbsp. of shea butter.

Add in 5-10 drops of tea tree oil. This is optional, but it adds in antimicrobial properties which not only helps the product last longer, but it could help fight acne on your skin.

Pour your mixture into your applicator container and let it cool and harden up. I used small containers that are like small deodorant applicators, but you can also pour it into small aluminum tins to use as a cream blush that you can apply with your fingers.

You can now use your blush stick. I apply it directly to my cheeks, and use my fingers to blend it in. Set it with powdered blush or face powder to set it, if you so choose.
Some people have been asking me about the containers I used. You can find containers just like mine on Amazon.