I've actually been making my own marshmallows for years now, and have been wanting to try to make homemade marshmallow peeps for several years in a row. For some reason I kept putting it off until now.
At first I made marshmallows out of "necessity" because I couldn't find white marshmallows here in Spain (nor are there peeps, of course). I used a corn syrup free recipe, not because of health reasons (I didn't know better at the time), but because I couldn't find corn syrup here either!
I tried several different recipes, most using Lyle's Golden syrup instead of the corn syrup because it's a common British sugar syrup that can easily be found nearby. While it is better than using corn syrup, it isn't something that's allowed by people following GAPS and paleo lifestyles. For those of you in that predicament, you'll be happy to know that you can also use honey instead.
It has been awhile since I've made marshmallows, but I had an idea that made me want to try them again; I wanted to make homemade marshmallow peeps for Easter, of course!
The peeps I remember most from when I was a kid are the yellow chicks. Their 3-D shape, made by a special machine, looked a bit too tricky to make at home. Still, that doesn't mean that people haven't tried it, and if you know me well enough by now, I'll try just about anything once. 😉
I saw a few tutorials and youtube videos showing how to pipe your own marshmallow baby chicks that were similar to the peeps I remember. I'm not very good at piping, but since the process looked simple enough, I thought I'd give it a try.
While it wasn't a total Pinterest fail moment, making peeps by piping them just isn't as quick, easy, or practical as I would like my holiday projects to be. Getting the sticky marshmallow mixture into the piping bag was already tricky enough, but the marshmallow mixture began to set pretty quickly too, meaning that you have to work quickly if you want to make a decent number of them. (That could also be partly because I added in a bit more gelatin to mine, than some other recipes, so that my marshmallows would be easier to cut.)
When the mixture was warm and less solid, it was difficult to get it to keep its shape, and when the mixture was cooling and getting more solid, it was almost impossible to pipe out the marshmallows.
Needless to say, I ran out of time, and ended up with a piping bag full of set marshmallows!
Luckily, this marshmallow mixture was pretty forgiving.

I decided to reheat it, thinking I would need to beat the mixture again to get it back to a usable marshmallow state. Surprisingly, the mixture melted without losing its air bubbles, and I was able to pour the mixture into my molds directly without needing to whip up the mixture more.
(Trying to reheat it a second time was a different story. When I tried to remelt my scraps a couple of days later, they looked to be OK to use, but ended up separating into a honey gelatin layer on the bottom and marshmallow layer on top. So, remelting doesn't always work that easily!)
Another common way of making marshmallow peeps is using a silicone peep mold.
I don't happen to have a peep mold, but did have another cute Easter mold that I used instead.
Similarly to what happened with the piping, pouring the marshmallow mixture into multiple molds takes a bit of time, and the marshmallows began to set up before I could make very many!
I decided to pour all of my marshmallow mixture into a greased silicone bread pan, and let it set up there.
The homemade marshmallow recipe that I used in the past used white sugar and didn't call for checking on the temperature. The marshmallows were wonderfully spongy and soft, but were also sticky and difficult to cut.
After a bit of playing with the recipe, I discovered that you can do several things to make it easier to cut your finished marshmallows with a cookie cutter.
By adding a little more gelatin and/or heating the sugar (or honey) mixture to the soft ball stage, you end up with firmer marshmallows that are easier to cut!
I didn't happen to have peeps cookie cutters either, of course, but knew that there was an easy way to make your own!
I've seen people go to the hardware store and buy sheets of copper or other metal to make their own cookie cutters. While you can do that, I find that it's easiest to just buy cheap cookie cutters and repurpose them into the shapes that I want!
Armed with an old cookie cutter and a couple of pairs of pliers, I whipped out a bunny head cookie cutter in just a matter of minutes!
If your old cookie cutter comes apart, you can temporarily glue it back together with super glue.
So, that's the long way of telling you the easy, quick way to make homemade marshmallow peeps!
Once you've made your marshmallows, and have cut them out into the shapes you want, you'll want to cover them with a topping to keep them from sticking to each other.
When I began this journey into making marshmallow peeps, I started by making my own food coloring and colored sugar sprinkles. I covered the first batch of peeps with those naturally colored sugar sprinkles (Not paleo!).
There were a few problems with using colored sugar sprinkles for covering the peeps, though.
First of all, they were WAY too sweet for me. In fact, I didn't eat any of them! (I don't have a sweet tooth, though.)
Second, with the humidity, the sugar crystals melted away into an orange syrup-y mess covering the peeps only a few hours after making them!
So, I ended up rinsing the sugar off the peeps and dipped them in some paleo sprinkles instead…
If you're following a GAPS or paleo diet, or are just choosing to avoid refined sugar, you'll be happy to know that using naturally colored shredded coconut instead of the sugar sprinkles for decorating the peeps not only is healthier, but I found they tasted better too. Plus, they absorb more color, meaning brighter colored peeps that last much longer! (No more syrupy mess!)
To make your paleo sprinkles:
Add a few drops of your homemade food coloring to some unsweetened coconut flakes and stir them well allowing them to absorb the coloring. To dry them out, spread them out thinly on a baking sheet and place them in the oven on the lowest convection setting long enough to dry them out; a dehydrator would also work well.
For the yellow and pink sprinkles, I made them a little bit finer by grinding them with my coffee grinder for a few seconds. That made them look more authentic, and made for easier decorating. For most uses of these sprinkles, though, that isn't really necessary.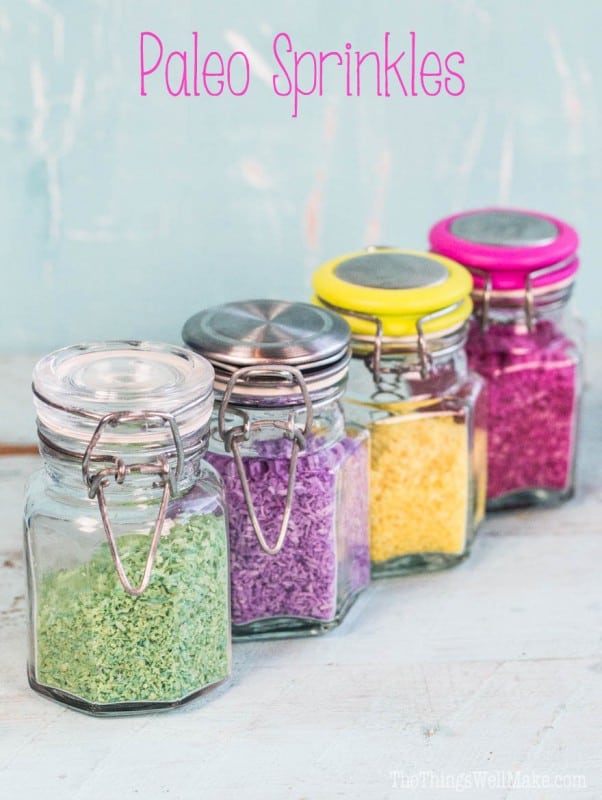 As for the eyes and noses, I just mixed up some cocoa powder and coconut oil! It was the perfect mix for decorating the peeps.
See… not hard at all! So are you ready to make some?
Naturally Colored Homemade Marshmallow Peeps
Ingredients
Instructions
Add the gelatin and half of the water to the bowl of your mixer, and let it soften while you work on your honey syrup mixture.

Add the honey and the rest of the water to a small pan, and heat, while stirring, over medium heat until the mixture reaches the soft ball stage (around 240ºF). I found it was hard to judge the soft ball stage pouring small amounts of the mixture into cold water, so I mainly followed the temperature guidelines.

Once you have reached the right stage, remove the mixture from your stove. Begin beating your gelatin as you slowly drizzle in some of the hot honey mixture.

Once you have incorporated all of your honey, you can begin to beat the mixture at a higher speed. Keep beating until the mixture becomes white and frothy. You can now add in your vanilla extract and whip a little bit more.

Once it looks like a marshmallow cream, you can pour it into your greased molds (either Easter themed molds or a square pan for later cutting them out with cookie cutters). If you are better at piping than I am, you can try pouring it into a piping bag, and pipe out some marshmallows.

The marshmallows will set as they cool. You can choose to cut them into squares and dip them in either arrowroot starch, powdered sugar, cocoa powder, or shredded coconut, to keep them from sticking together. If you want to make paleo peeps, though, I'd suggest using naturally colored shredded coconut paleo sprinkles!

To make the marshmallow peep eyes, I mixed a little bit of cocoa powder into the tiniest amount of melted coconut oil. You don't need very much, and it's easier to use if you add in enough cocoa powder to make it a somewhat thick liquid, otherwise it has a tendency of running. I dotted on the eyes and noses using a toothpick. As it cools, the chocolate will set. (If it's already warm where you are, it's best to store these in the fridge!)

Enjoy!
After all of that, I should mention that while the ingredients of these marshmallow peeps are OK in a paleo diet, limiting the amount of sugar you consume is important. These have been made with honey, but they do use quite a bit of it. Common sense should dictate that just because they conform to certain diets, that it doesn't mean you should be eating a lot of them. I thought I'd mention it just in case, though.
Now that I'm done with my disclaimer, you are free to go make yourself a treat. 🙂 Happy Easter!
This post is also available in Español.