Creamy and refreshing, this mint chocolate chip ice cream is quick and easy to make. It's also an allergy-friendly, healthy, guilt-free treat.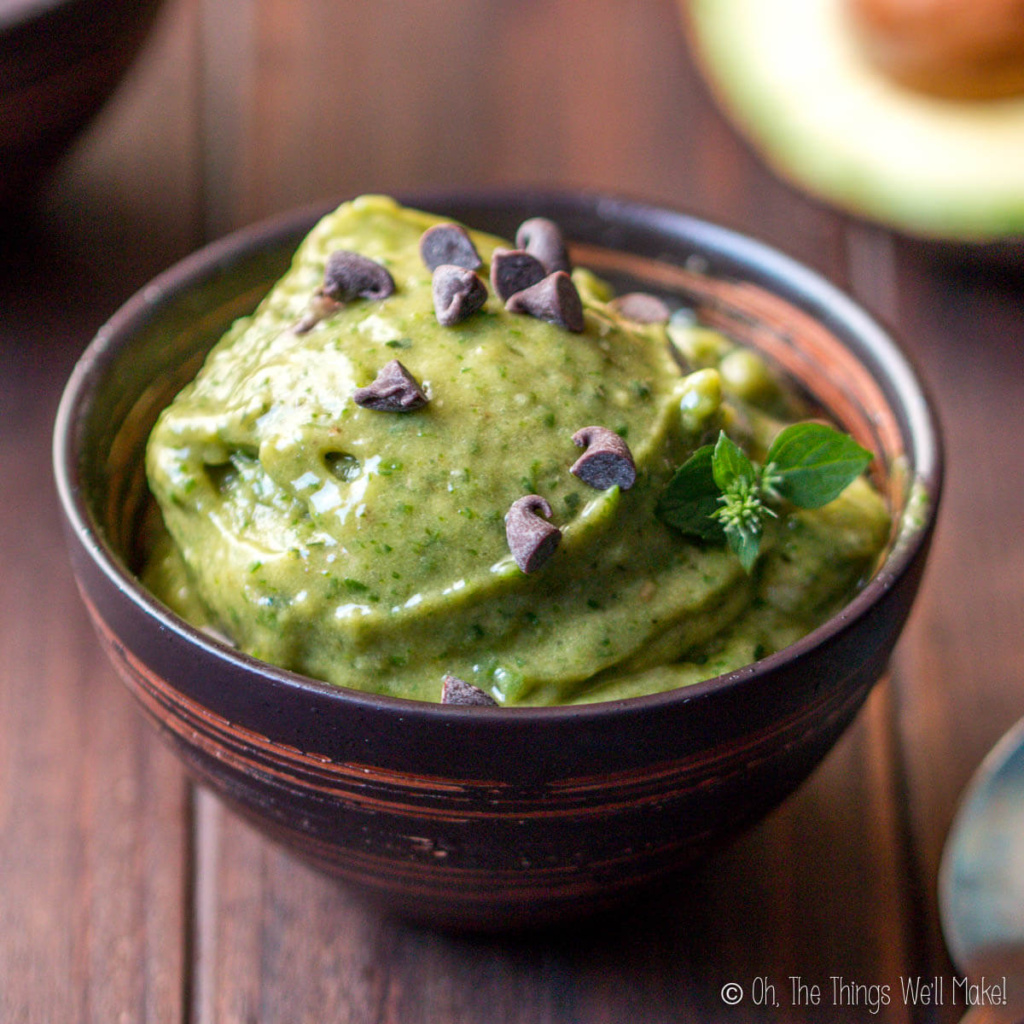 Summer is the ideal time for tasty frozen treats.
One of the most popular healthy frozen desserts is often called "nice cream." Nice cream normally refers to a non-dairy "ice cream" made from blending frozen bananas.
Most of the recipes for nice cream are pretty simple. They either use bananas by themselves or they add vanilla extract or cocoa powder to make chocolate or vanilla nice cream. I wanted to have a bit more fun with the idea, though.
One of my favorite ice cream flavors back in the US was mint chocolate chip. Here is Spain, though, it isn't very common. I thought I'd give making a healthy version a shot and absolutely loved the result! It's delicious!
Ingredients
This recipe uses 5 simple ingredients: bananas, an avocado, fresh mint, spinach, and chocolate.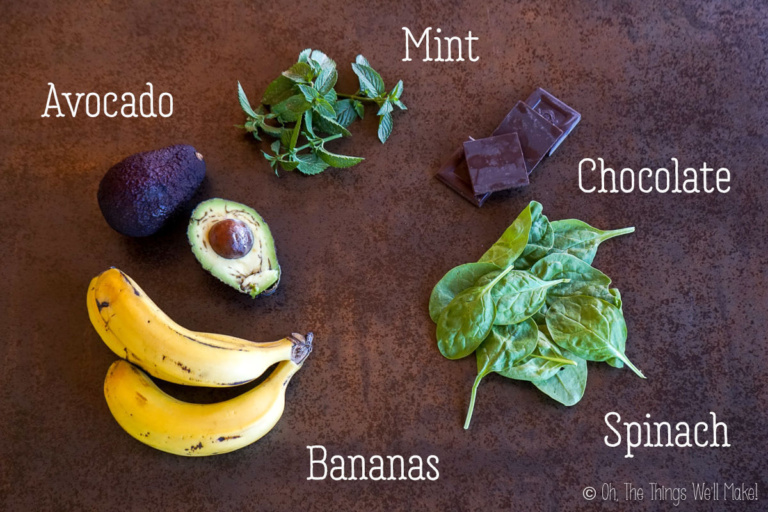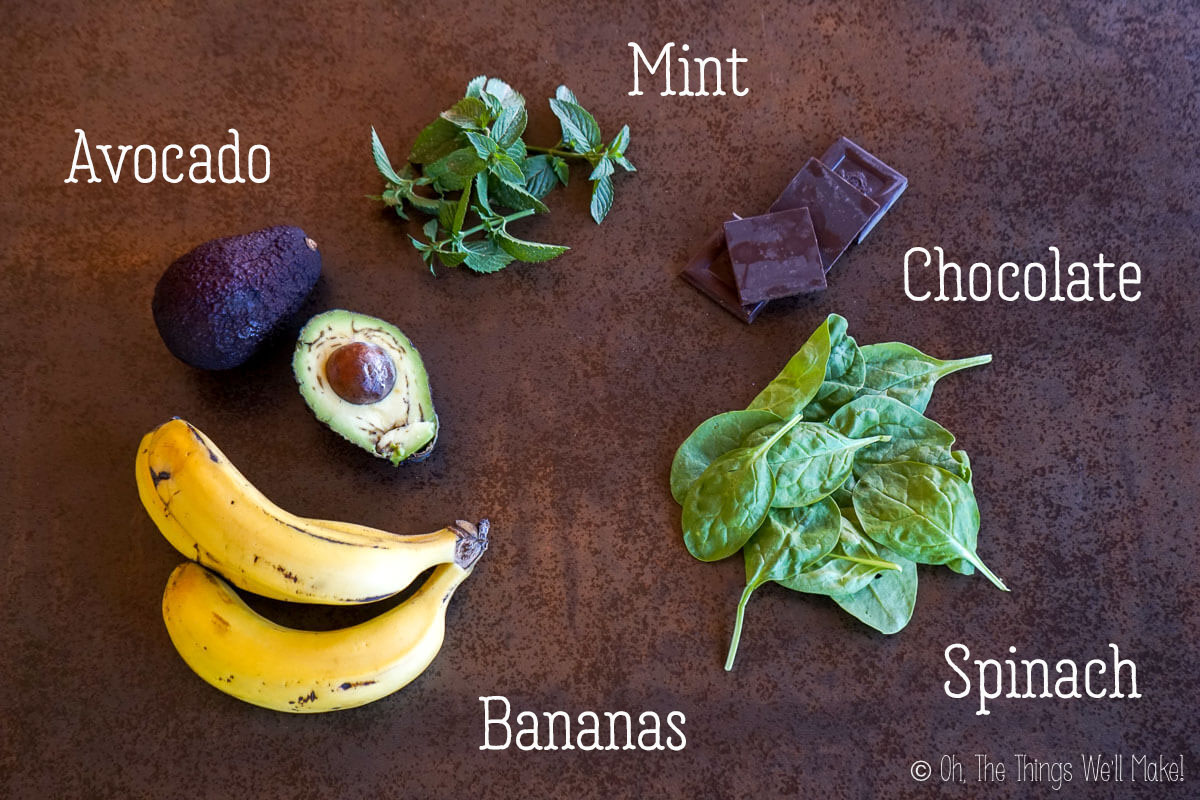 Because this is a "nice cream," the base of the recipe is frozen banana chunks.
To make it a bit creamier, adding in some healthy fats, I decided to add some frozen avocado. If you don't have any avocado on hand, I'm sure it would also be delicious without it.
For the mint flavor, I opted for fresh mint leaves. If you don't have fresh mint, you could use some mint extract or even a few drops of mint essential oil.
Keep in mind that you should do your own research when it comes to using essential oils. This is particularly true when children will be using/consuming them. (Peppermint is one of the oils that is not recommended for use with young children.)
When I use essential oils in recipes, I use food-grade essential oil. Make sure that you choose a trustworthy brand meant for consumption when using them in this way. Also, be conscious not to use too much.
For the chocolate chips, you can either buy tiny chips or chop up some chocolate in a food processor. (It's difficult to find chocolate chips here in Spain, so I generally do the latter.) If wanting a paleo or vegan ice cream, choose your chocolate accordingly. (Milk chocolate isn't your best option for either of those.) 😉
If you can't find a decent option that fits your dietary requirements, try making your own healthy chocolate bars! (You could also use chocolate made from cocoa nibs here.)
The last ingredient, spinach, might have piqued your curiosity. (Why on earth add spinach to a dessert?!? It's all about the color…
Natural Green Food Coloring
When I formulated this recipe, I hoped that the mint leaves by themselves would be enough to add both the mint flavor and add the green color associated with mint chocolate chip ice cream. It ended up providing a delicious flavor, but not a uniform color. (It adds some dark green specks to the ice cream, but doesn't really color it.)
Adding the avocado helps make the nice cream slightly greener, but the tone is still very subtle. So, I decided to use what I've often used in the past for naturally coloring my food: spinach.
I used spinach long ago for both my Real Food Shamrock Shake and my Candida Diet Safe Shamrock Shake. It's also what I used to make one of the shades of green of my homemade natural food coloring.
Spinach is amazing for adding a beautiful shade of green to all sorts of recipes. It may sound strange for a dessert, but the flavor is so subtle that you really can't tell its there. (That's why it's also a great option for adding some veggies to smoothies for kids!)
With this ice cream, you'll still notice some speckling, but it's due to the mint leaves and not the spinach!
Procedure
Once you do the prep work, this recipe takes less than 5 minutes to put together. You can freeze the fruits in advance, and you'll always be able to whip up a quick and healthy dessert.
Preparation
To prepare the ingredients, peel the bananas and cut them into slices.
The avocado can be added frozen or fresh from the fridge. If freezing the avocado, cut it avocado in half and remove the pit. To easily cut it into chunks, slice into the the flesh of the avocado with a knife without piercing the skin. Then, diagonally in the opposite direction, make more cuts, forming squares. Use a spoon to scoop out the avocado chunks.
Spread the banana slices and avocado chunks over a parchment paper-lined tray or a silicone cake mold. Place in the freezer until frozen solid. (You can optionally freeze the mint and/or spinach leaves with the fruit to preserve them until you are ready to make the ice cream.)
Making the ice cream
Add the frozen fruits and the mint and spinach (everything but the chocolate chips) to a food processor and process them until smooth.
Adjust the color, as needed, by adding more or less spinach. (You can also adjust the mint flavor in the same way, if you like).
Once you are happy with the mint ice cream, add the chocolate chips. Gently stir them into the ice cream with a spatula. Consider reserving some for sprinkling over top!
If the ice cream is solid enough, scoop it and serve it immediately. If it's slightly too soft, you can place the ice cream in the freezer for several minutes to harden it slightly first.
Serving suggestions
While you can scoop and serve this ice cream in regular bowls, it's also fun to make your own waffle cones and bowls.
This is one of those recipes that is delicious covered in a homemade chocolate magic shell! (If you aren't familiar with it, it's a chocolate ice-cream topping that hardens over your ice cream.) It's super easy to make in just a few minutes, and pairs fabulously with this ice cream!
Another simple presentation is to sprinkle it with extra chocolate chips.
Similar recipes
If you love this sort of quick and easy, healthy ice cream, check out some of my other similar, guilt-free recipes.
If you add some coconut milk to the watermelon sorbet, you end up with a creamier "watermelon ice cream".
Video
Craving more?
Subscribe to my newsletter for the latest recipes and tutorials!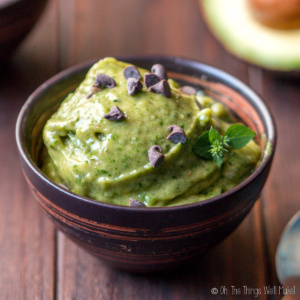 Mint Chocolate Chip Ice Cream
Creamy and refreshing, this mint chocolate chip ice cream is quick and easy to make. It's also an allergy-friendly, healthy, guilt-free treat.
Print
Pin
Rate
Ingredients
3

bananas

sliced and frozen, around 2 cups

½

avocado

⅛

cup

fresh mint leaves

Can use peppermint extract or essential oil instead

1

cup

fresh spinach leaves

⅕

cup

chocolate chips

use paleo/vegan chocolate
Instructions
Preparation
Peel the banana and cut it into slices.

Spread the banana slices over a lined tray or silicone cake pan and freeze until frozen solid.
Make the nice cream
Scoop out the avocado from the skin and cut it into small chunks. Add them, along with the frozen bananas and mint leaves, to a food processor.

Add some spinach leaves and process further. Add more, as needed, until you reach the desired color.

If desired, add more mint to increase mintiness.

Once smooth and well combined, open the food processor and add some chocolate chips. Gently fold them into the ice cream.

If the ice cream is solid enough, scoop it into bowls or cones and serve immediately.

If it's slightly too soft, place the ice cream in the freezer for several minutes to harden it before scooping it and serving it.
Notes
Nutritional information has been calculated using a generic chocolate measurement. Using a vegan & paleo chocolate will change the information slightly.
Freeze the fruit ahead of time to have it ready to make the ice cream in a matter of minutes when the urge strikes.
For a firmer ice cream, you can also freeze the avocado chunks with the banana slices.
Instead of chocolate chips, you can also process some chocolate pieces in a food processor to make small bits to add the ice cream.
Peppermint extract can be used in place of the mint leaves. (A few drops of mint essential oil is another option. Be sure to use food-grade oils and follow safety instructions. They are not recommended for use with young children.)
This ice cream is already quite sweet because of the bananas, but you can further sweeten it with stevia, maple syrup, or another sweetener of choice, if you feel it needs it.
Serving suggestions
Try serving in homemade waffle cones or bowls. This ice cream is also delicious drizzled with a homemade magic shell topping.
You can sprinkle some chocolate chips over top.
Serving:
1
small bowl
|
Calories:
199
kcal
|
Carbohydrates:
35
g
|
Protein:
2
g
|
Fat:
7
g
|
Saturated Fat:
1
g
|
Cholesterol:
1
mg
|
Sodium:
16
mg
|
Potassium:
640
mg
|
Fiber:
5
g
|
Sugar:
19
g
|
Vitamin A:
1125
IU
|
Vitamin C:
16.7
mg
|
Calcium:
29
mg
|
Iron:
0.8
mg
This post was originally published on September 1, 2017. It was rewritten, adding new photos and updated video in June of 2021.