Creamy and refreshing, this mint chocolate chip ice cream recipe is quick and easy to make for a healthy treat that is paleo and vegan diet friendly.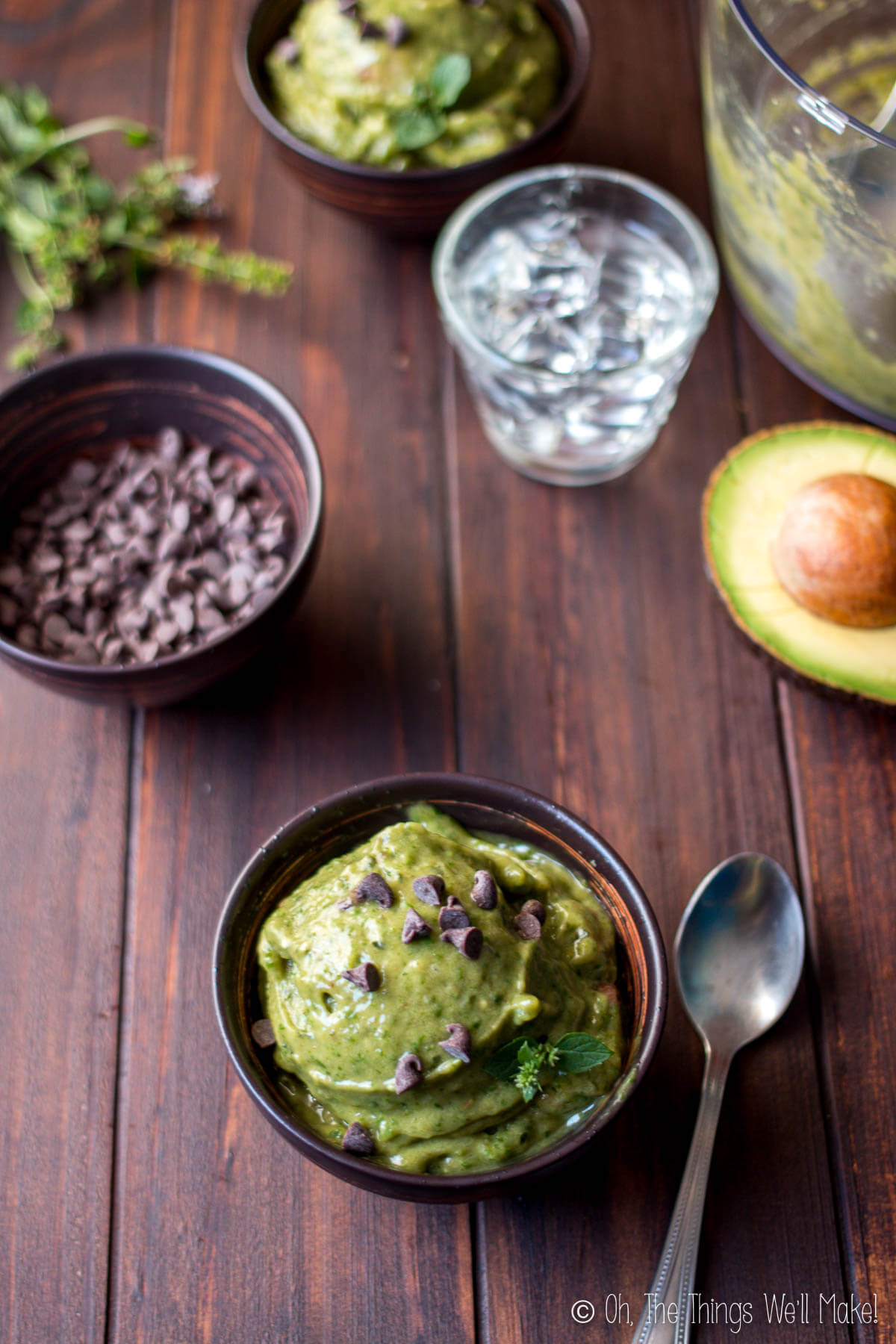 Now that we're preparing for going back to school, it feels like summer is coming to an end, but it's still quite hot here.
I'm still looking to make healthy treats that will help beat the heat.
My favorite healthy desserts are 5-minute frozen desserts (sorbets, sherbets, or ice creams) that are whipped up in the food processor from frozen fruits. I enjoy them so much that I've already showed you how to make several different desserts using that method.
Here are some healthy frozen treats that I've shared so far:
Watch how easy it is to make this paleo mint chocolate chip ice cream
Nice cream made with frozen bananas
One of the most well known easy frozen desserts is "nice cream." The term nice cream normally refers to an "ice cream," without any cream, made from blending frozen bananas. I've seen a lot of people make nice cream, but I don't tend to eat a lot of bananas, so I'd never gotten around to trying it.
One day, though, I had a bunch of bananas that were getting brown, and I decided to slice them into pieces and throw them into the freezer for later. I figured I could either use them for smoothies, like I use my smoothie ice cubes, or I could use them to finally try making nice cream.
Most of the recipes for nice cream are pretty simple and either use bananas by themselves, or they add either vanilla extract or cocoa powder to make chocolate or vanilla nice cream, but I wanted to make something just a little more exotic…
Mint chocolate chip ice cream (nice cream)
I had been pruning the herbs in my herb garden, and when I started to cut the flowering tips of my mint plant, I was trying to think of what I could do with my newly cut mint leaves.
That's when it occurred to me:
I could make mint chocolate chip ice cream!
But not just any mint chocolate chip ice cream…
Mint chocolate chip nice cream!
I was hoping that the mint leaves by themselves would be enough to both add the mint flavor and add the green color associated with mint chocolate chip. In the end, though, while the mint gave a perfect natural, mint flavor without needing to add any mint extract or mint essential oil, it didn't work its magic on the color.
Natural Green Food Coloring
If you watch my video, you'll see that when I only added mint leaves, the ice cream mostly stays white with some tiny specks of green mint within it.
Adding the avocado helps make the nice cream slightly greener, but the tone is still very subtle. The subtle green color may not be an issue for you, but I wanted a nice cream with a pretty green color that matched its minty flavorful punch!
I decided to use what I've often used in the past for naturally coloring my food: spinach.
I used spinach long ago for both my Real Food Shamrock Shake and my Candida Diet Safe Shamrock Shake. It's also what I used to make one of the shades of green of my homemade natural food coloring.
What's great about spinach is that it is quickly and easily dispersed in smoothies and frozen desserts like this one, leaving a nice, even, beautiful shade of green!
It may sound off-putting; spinach in a dessert, I mean, but the flavor is so subtle that you really can't tell its there. (That's why it's a great option for adding some veggies to smoothies for kids.)
With this ice cream, you'll still notice some speckling. That's due to the mint leaves and not from the spinach!
If you want to smooth out the coloring, you can switch the mint leaves out for peppermint extract or even a food safe peppermint essential oil. (Keep in mind, some people are violently opposed to using essential oils internally. Others feel its safe only with some of the milder oils like mint and citrus oils. I like to use them for flavor occasionally and feel it's safe if you don't go overboard, but do so at your own risk. Peppermint essential oil shouldn't be used with children under age 6.)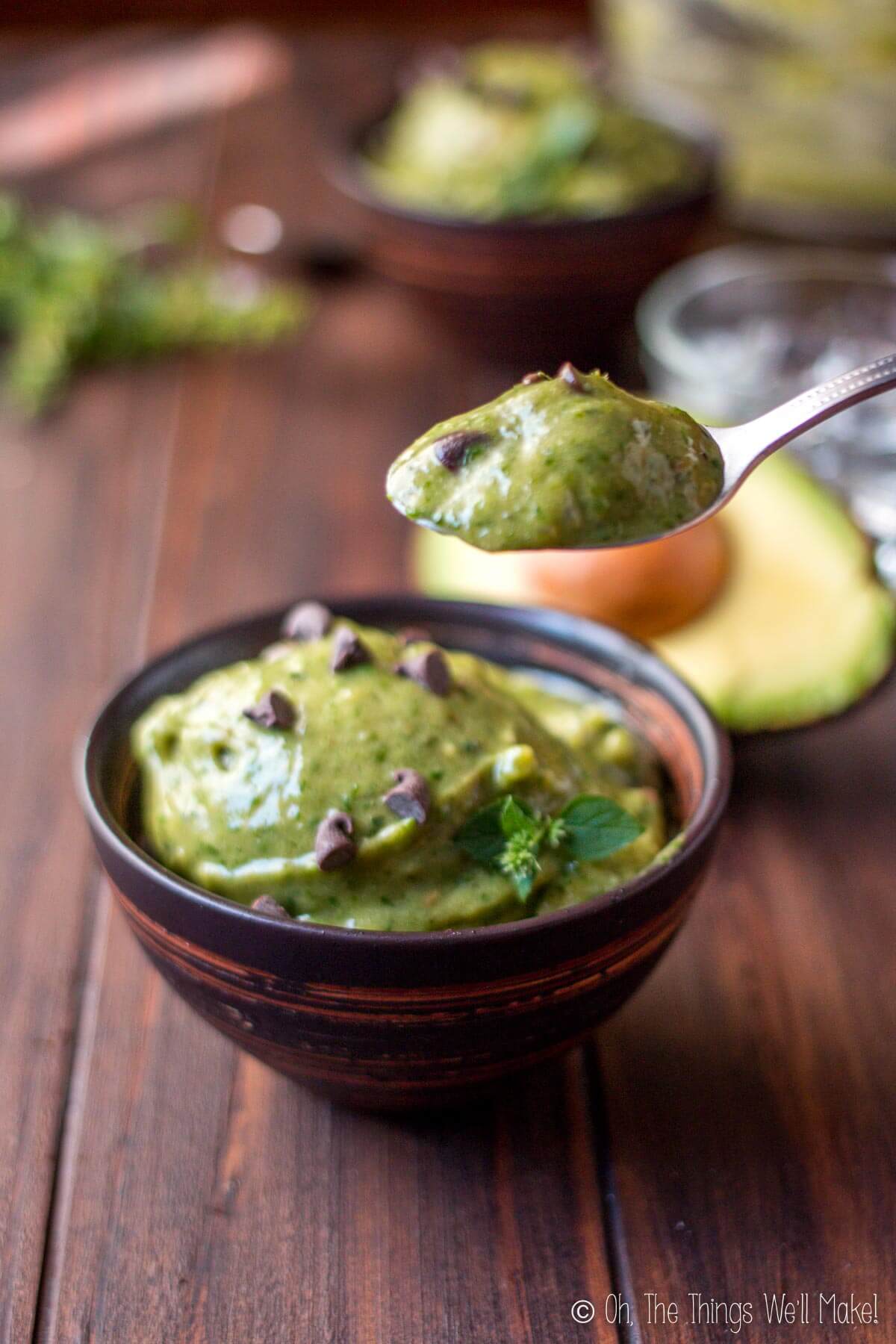 Mint Chocolate Chip Ice Cream Recipe
Craving more?
Subscribe to my newsletter for the latest recipes and tutorials!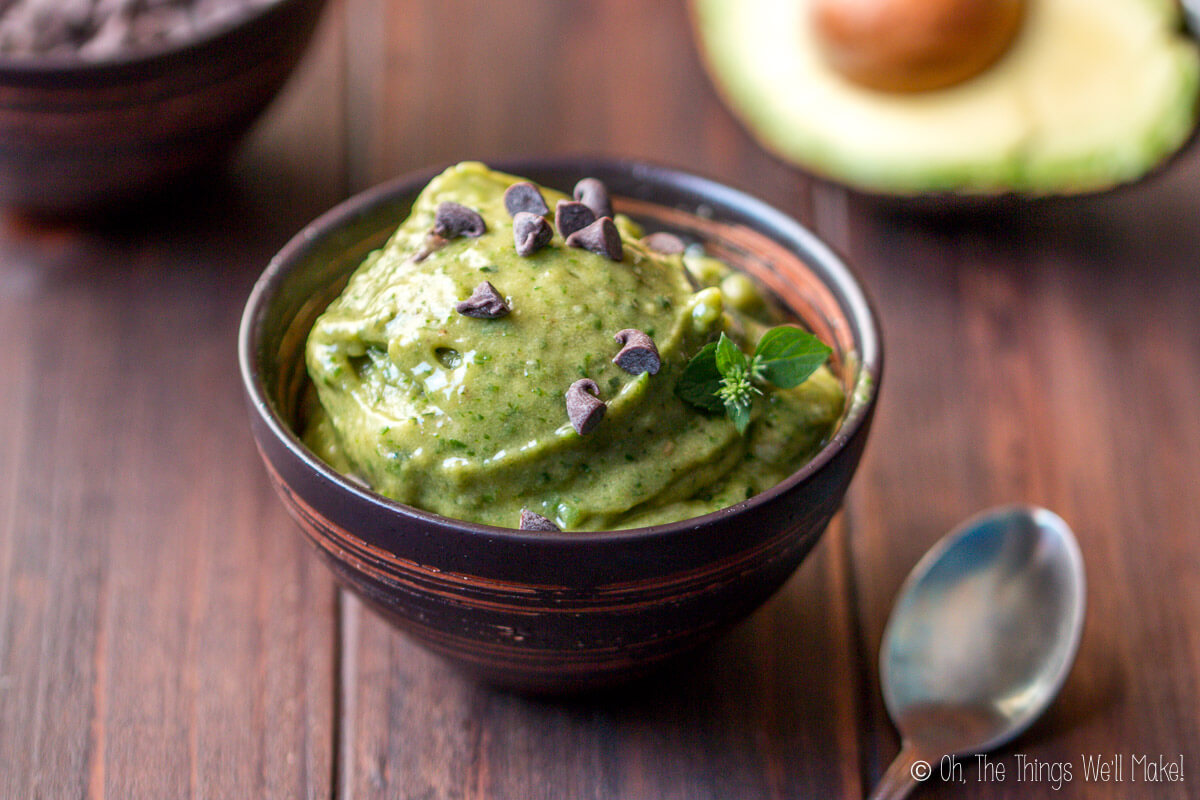 Mint Chocolate Chip Ice Cream
Creamy and refreshing, this mint chocolate chip ice cream recipe is an, easy, quick-to-make healthy treat that is paleo and vegan diet friendly.
Print
Rate
Ingredients
3

sliced and frozen bananas

around 2 cups

1/2

avocado

2

Tbsp

fresh mint leaves

Can use peppermint extract or essential oil instead

1

cup

fresh spinach leaves

1/8

cup

chocolate chips

use paleo/vegan chocolate
Instructions
Add the first five ingredients (everything but the chocolate chips) to a food processor.

Process until smooth. You can adjust the color by adding more or less spinach. (You can also adjust the mint flavor in the same way, if you like).

Open the food processor and mix in some chocolate chips (to taste). Reserve some for sprinkling over top!

If the ice cream is solid enough at this point to scoop and serve, serve immediately.

If it's slightly too soft, you can place the ice cream in the freezer for several minutes to harden it slightly.

Scoop and serve the ice cream, sprinkled with extra chocolate chips, if you like!
Notes
Nutritional information has been calculated using a generic chocolate measurement. Using a vegan & paleo chocolate will change the information slightly.
Recipe time calculated using already frozen bananas.
Serving:
1
small bowl
|
Calories:
199
kcal
|
Carbohydrates:
35
g
|
Protein:
2
g
|
Fat:
7
g
|
Saturated Fat:
1
g
|
Cholesterol:
1
mg
|
Sodium:
16
mg
|
Potassium:
640
mg
|
Fiber:
5
g
|
Sugar:
19
g
|
Vitamin A:
1125
IU
|
Vitamin C:
16.7
mg
|
Calcium:
29
mg
|
Iron:
0.8
mg
Keeping this ice cream paleo and vegan friendly
Whether or not this mint chocolate chip ice cream can be considered vegan and/or paleo really depends on the chocolate you use. Obviously, if you use milk chocolate, your ice cream won't be either. Using chocolate made with refined sugar will keep it from being a paleo treat, whereas one made with honey keeps if from being strictly vegan.
If you can't find a decent chocolate to use, I suggest making your own.
Make your own chocolate chips (Vegan, Paleo)
My suggestion, for the ultimate healthy treat, is to make your own chocolate chips with coconut oil and cocoa powder. I usually just lightly sweeten it with some liquid stevia.
I'd use my homemade healthy chocolate bar recipe without adding any of the optional essential oils. Rather than pour the mixture into chocolate molds, I'd pour it in a thin layer over a lined pan or fill a plastic baggie with enough of the mixture to be able to thinly flatten it.
To harden the chocolate, you can freeze it. Then break it into tiny pieces for your nice cream. Next time I make some, I'll have to try to remember to take some pictures for you!
Enjoy!