Fun for all ages, these magical, color-changing food colorings are obtained naturally from foods with special pigments whose hue changes in different pH environments.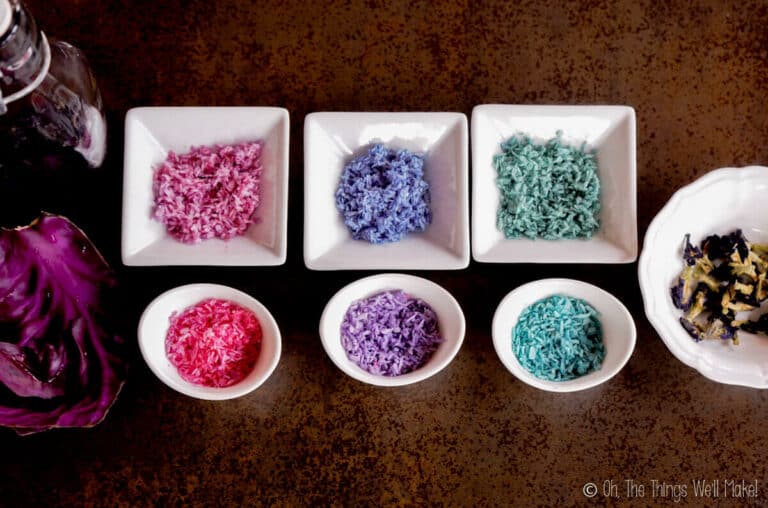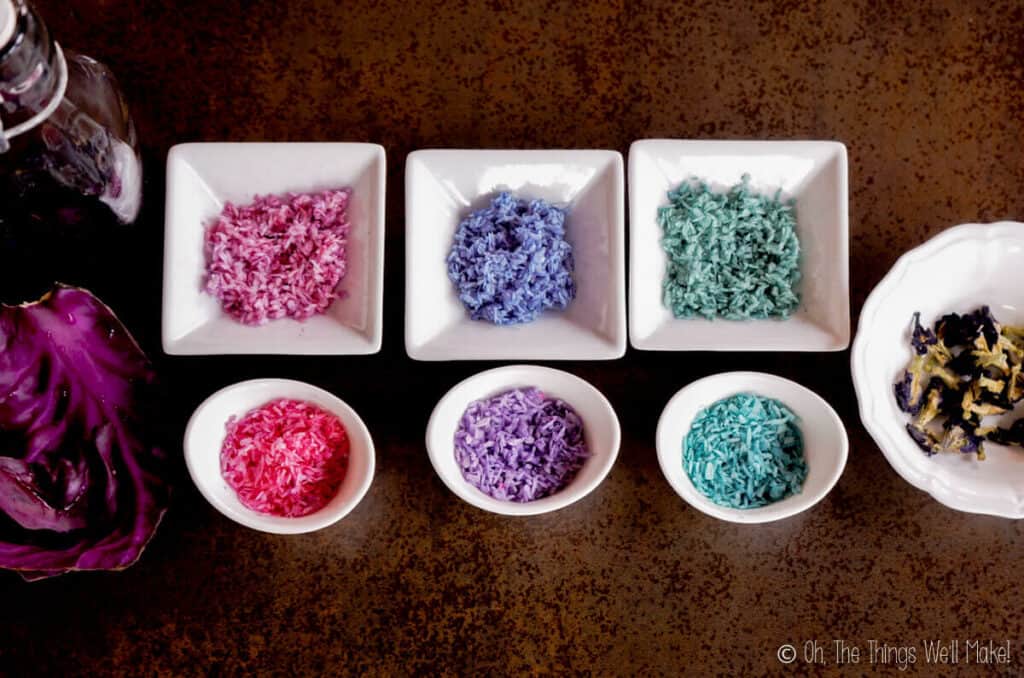 When I first wrote this post, I was really excited about it! My blog's tagline at the time was "real food can (and should) be fun!" So, this really jived with me because it's about as fun and natural as it gets!
I've always loved things that change color like opals and Alexandrite or silly things like mood rings. In the '80s, I bought some color-changing lipstick and had a collection of t-shirts that changed color with heat. On one of our cruises, I stocked up on things that changed color when the sun hit them: everything from color-changing hair clips to color-changing nail polish (probably not a very natural product). 😉
The color-changing food coloring that I'm about to show you today, though, is 100% natural! Even my husband was impressed and admitted that this was pretty cool! (He's not a huge fan of crafty things or holiday fun like me!)
I discovered the first version, made with red cabbage, completely by accident…
Red cabbage food coloring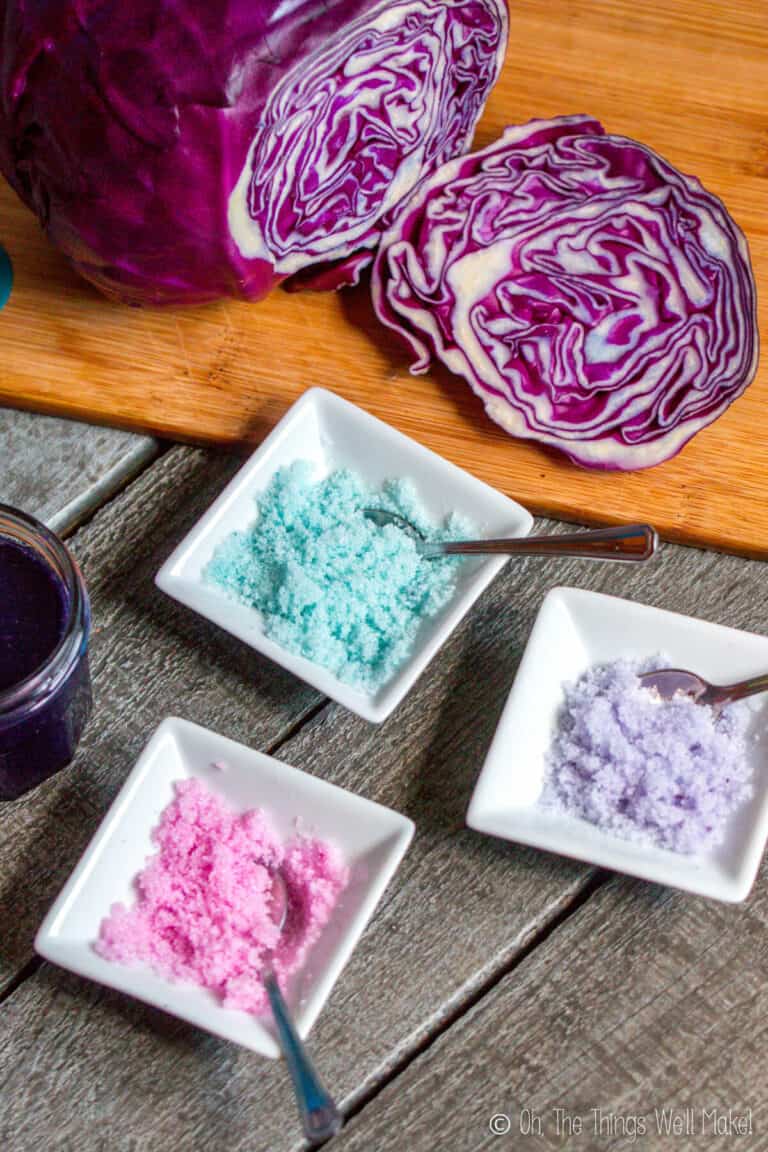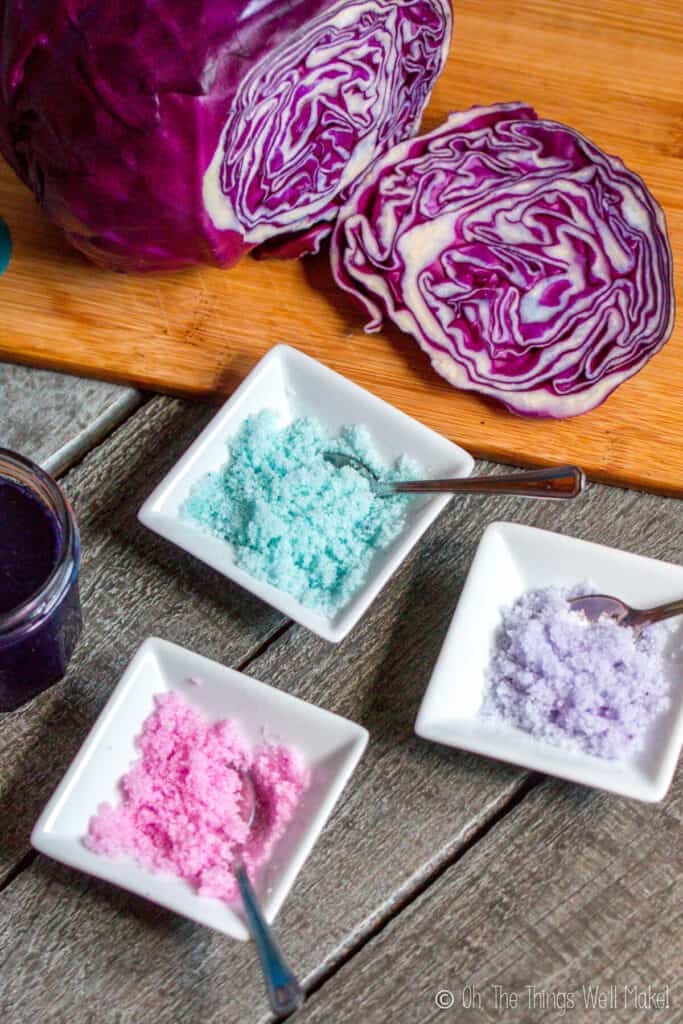 This started when I was making a variety of natural homemade food colorings.
One of them was a pretty violet one that I made from red cabbage leaves. And that was that. Or, so I thought…
When I went to clean up my blender, I noticed something strange happened when the water hit it!
My homemade violet food coloring was no longer purple, but instead was blue!!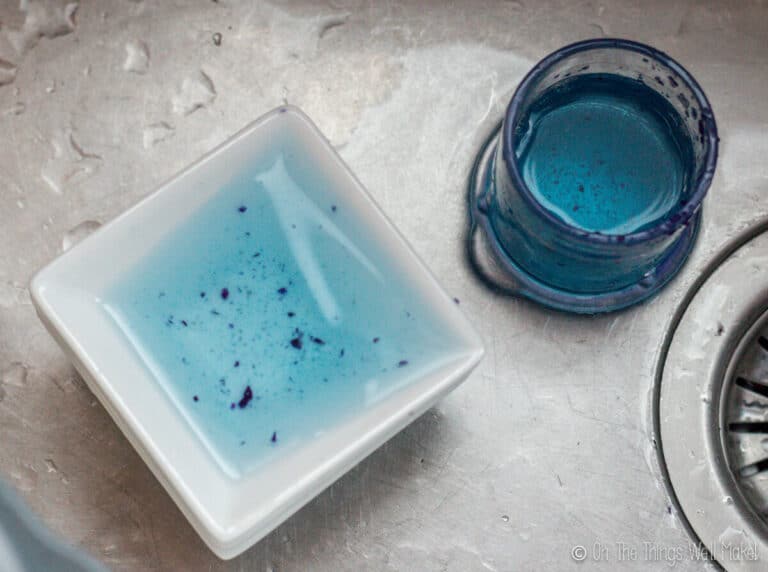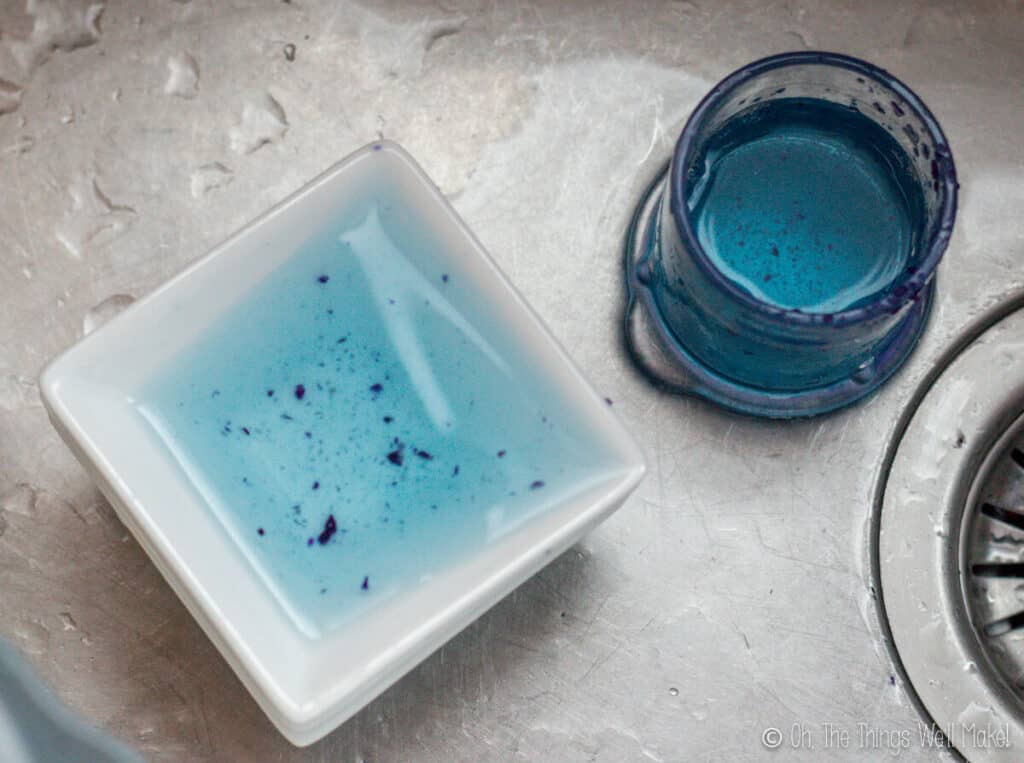 How they change colors
I wasn't quite sure what happened to change the color, but one thing did occur to me.
Our water here along the Spanish Riviera is extremely hard. I suspected that the high pH of the water might be affecting the color of the purple cabbage. A bit of online research confirmed it.
Red cabbage obtains its color from a class of bright pigments called anthocyanins. Not only are these pigments rich in antioxidants, but they have an interesting property, their color is pH dependent. In an acidic environment, they are pink or red, and in an alkaline environment, they turn blue.
Other color-changing pigments
Red cabbage isn't the only food with anthocyanins. They can also be found in blueberries, grapes, and eggplants. Most of those aren't ideal sources for extracting a homemade food coloring.
I did find a wonderful source, though…
Butterfly pea flowers
When I first wrote this post, I hadn't yet worked with butterfly pea flowers. These flowers are sold whole for making tea, but are also sometimes sold in powdered form as "blue matcha". I decided to buy some to try making a blue food coloring with them.
What I didn't realize when I ordered them, though, was that they, too, have anthocyanins. So, when I make a tea with butterfly pea powder, it's a beautiful blue color. If you add lemon juice to it, though, it turns violet or even pink.
What's wonderful about using butterfly pea flowers as a food coloring is that they have a very mild flavor. They don't really negatively affect the flavor of the foods you are trying to color. (Red cabbage, on the other hand, can leave an off-putting flavor if used in high concentrations.)
Extracting the food coloring
There are several ways to extract color from cabbage leaves or butterfly pea flowers.
Juicing red cabbage leaves
You can just juice red cabbage leaves and use the juice immediately as an instant food coloring. For a longer-lasting one, though, the juice can be combined with alcohol. The alcohol, if the final concentration of the mixture is above 20%, helps prevent microbial growth that could make the coloring unsafe to use with time. (For more information, read my post about natural preservatives.)
Steeping in alcohol or glycerin
You can also steep the dried flowers or the cabbage leaves in alcohol to extract the coloring from them. The cabbage leaves can be added to the alcohol or glycerin either fresh or dehydrated.
For the first batch I made, I dried some red cabbage leaves and let them steep in some 40% vodka overnight. The next morning, I filtered out the plant material using a tightly woven cloth. It worked beautifully, leaving gray cabbage plant material behind, and filtering out a pretty purple liquid. That purple liquid is the DIY magical, color changing food coloring, of course!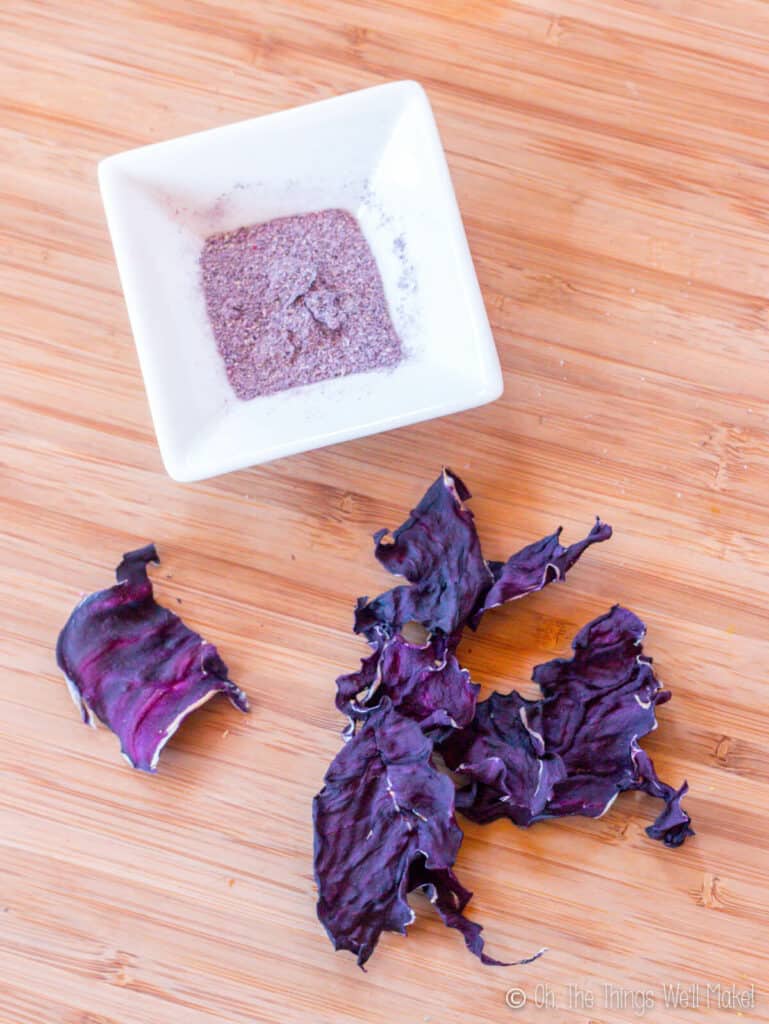 Changing the colors
To test out my coloring, I added some of the purple pigment to 3 different white bowls filled with distilled water. I used distilled water because my tap water is so alkaline that it affects the color of the pigment.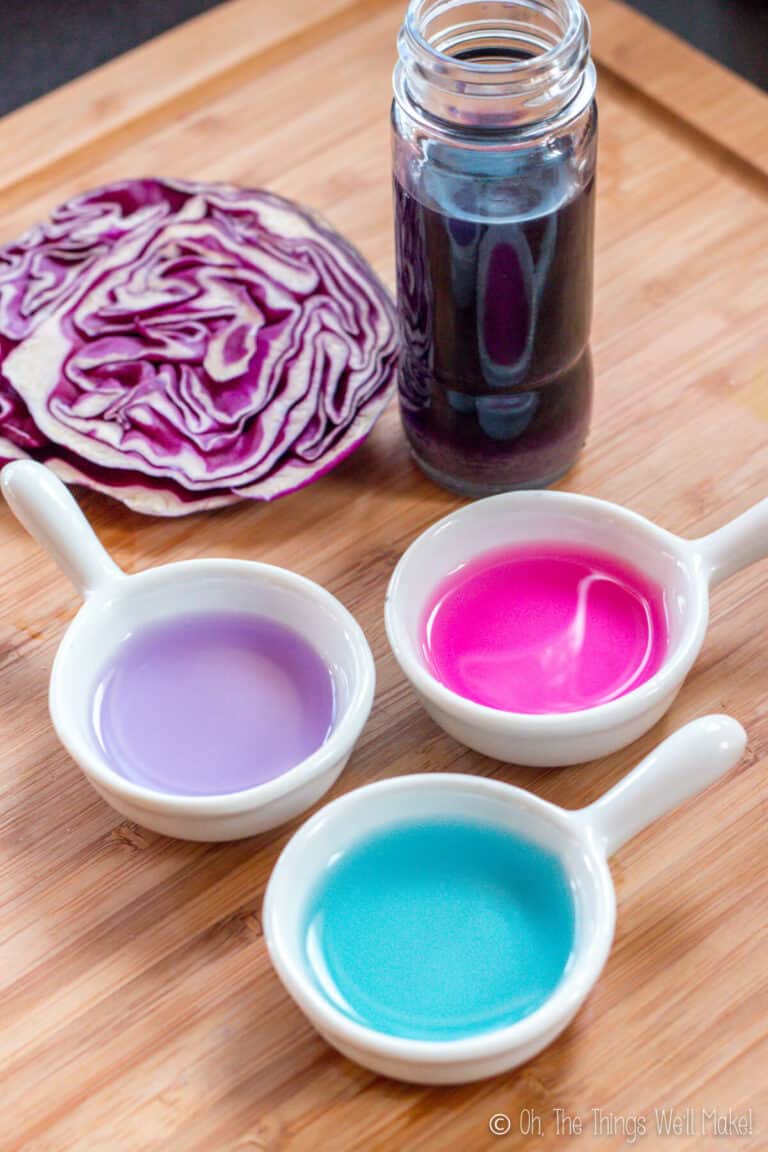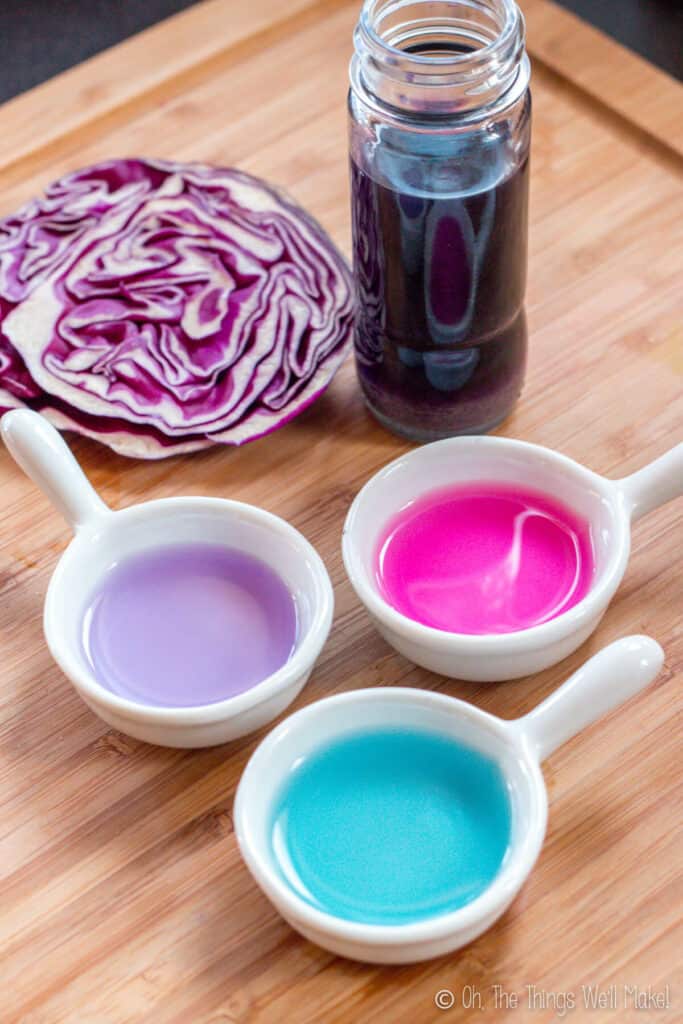 I then looked for pantry items that would change the ph.
Adding an acid to the water turned it a bright shade of pink. Adding some baking soda to the water turned it bright turquoise blue!
To raise the pH
To raise the pH and turn the coloring blue, you need something that is alkaline. I chose baking soda. Unfortunately, the flavor of baking soda isn't ideal.
You could use a stronger alkali like lye (sodium hydroxide) to test out the change, but you have to be very careful using it and it isn't practical for use with food (although some foods, like lye-cured olives, do use it).
The calcium carbonate in eggshells and mollusk shells is also mildly alkaline but would be difficult to use. You could perhaps use calcium carbonate powder. I haven't tried it, but I imagine it would be simple to use and wouldn't alter the flavor of foods as much as baking soda.
To lower the pH
Lowering the pH with common kitchen foods is a bit easier.
You need something acidic like lemon juice or vinegar. Lemon juice gives a pleasant flavor that can work in a lot of different foods.
While experimenting, I chose ascorbic acid powder because I was going to mix up some colored sugar crystals and didn't want to add any excess liquid that could dissolve them.
How to use it
These colorings can be used to color a variety of foods. I've used them to make colored sugar crystals, but have also used them on shredded coconut to make healthy vibrant colored sprinkles. You can see the sprinkles being used to decorate my homemade marshmallow peeps.
One of my favorite uses, though, was to make vibrant blue homemade colored boba for bubble tea. (You can even serve them in tea made from the flowers.)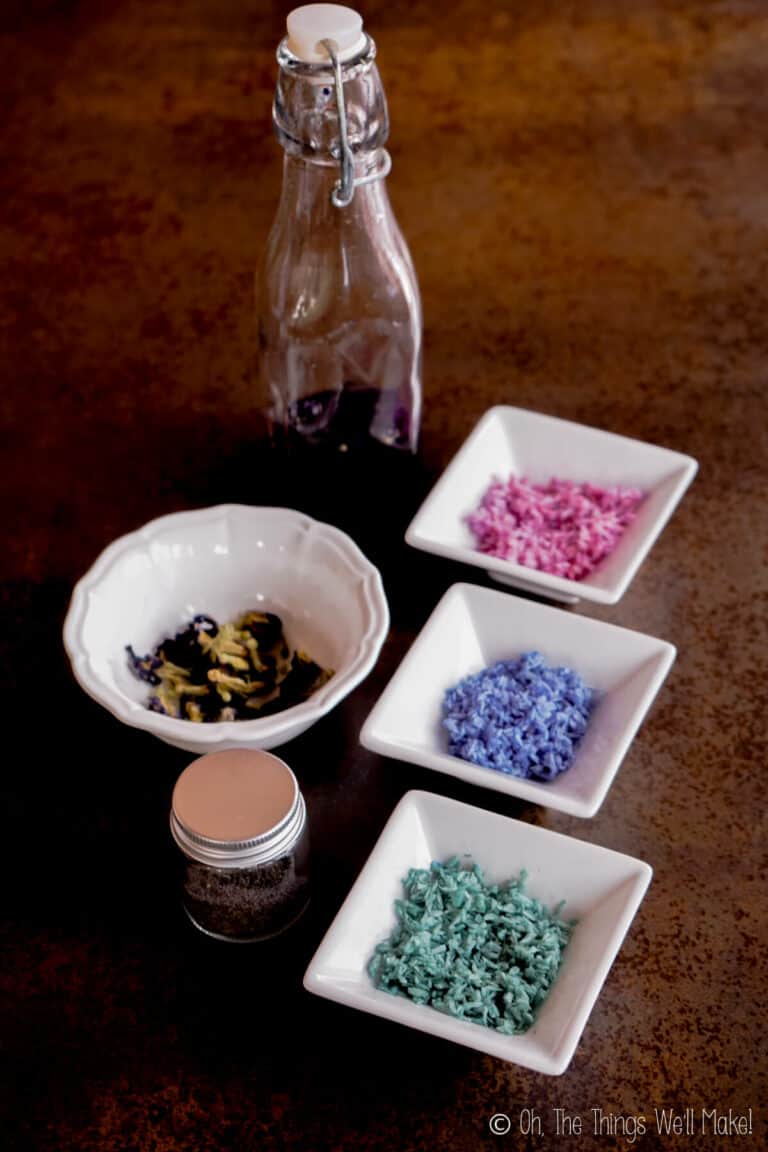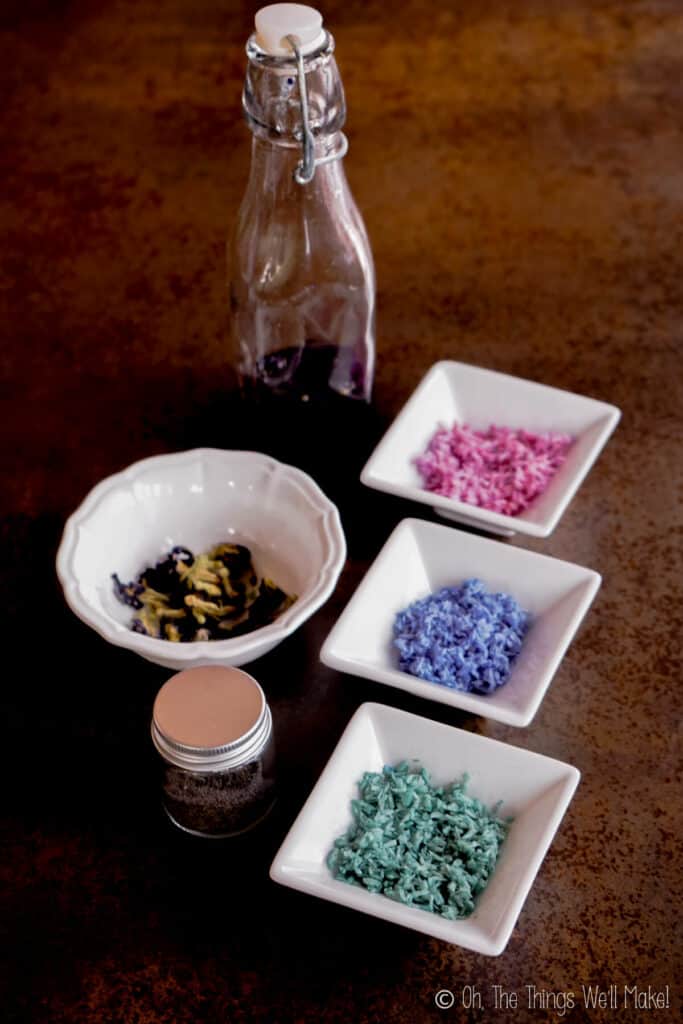 While the final colors of both pigments are quite similar, the butterfly pea flowers make more of a blue color while the red cabbage makes more of a purple color.
Another difference to keep in mind is that butterfly pea flowers have a milder flavor than red cabbage does. So, coloring made with the flowers works well in most recipes. The cabbage flavoring may be overpowering if you need a bright color for certain desserts.
Watch the Magical, color changing food coloring in action
Craving more?
Subscribe to my newsletter for the latest recipes and tutorials!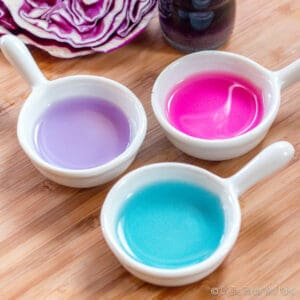 Natural, Color-Changing Food Colorings
These fun, natural food colorings change color when exposed to a different pH. Kids love seeing them change from pink to purple to blue.
Print
Pin
Rate
Ingredients
For extracting the colors
1/3

cup

vodka

or other high proof alcohol, or glycerin
Instructions
Choose one of the colorant choices above and one of the extration ingredients (alcohol or glycerin).
When using fresh cabbage leaves
Either cut the leaves into small pieces or juice them. Add the pieces to a small bottle or jar with enough alcohol to fully cover them. If using juice, mix the juice with alcohol to dilute the color and help preserve your coloring. (The final alcohol concentration should be over 20% for safe preservation.)

After steeping for several hours, the plant material can be strained out by pouring the mixture through a cloth or coffee filter.
When using dried flowers or powders
Mix together either butterfly pea flowers or one of the powders (a powder made from the flowers or dried cabbage leaves) with some alcohol or glycerin. (Water can also be used if you aren't concerned with preserving the homemade coloring.)

The mixture can be used as-is immediately or allowed to steep for several hours. After steeping, the powders can be strained out with a cloth or coffee filter (or it can be used without straining). Straining may lighten the color of the coloring. Experiment to find the look that works best for your project.
Storing
Colorings made without alcohol or glycerin should be stored, covered, in the refrigerator and used within 5 days.

If the alcohol concentration is high enough (over 20%), you can keep your coloring for longer. Pour the liquid into small bottles and store in a cool, dry place for up to several weeks. (After that time, it's probably still safe to use them, but I find that the colors often change with time.)

If using glycerin, it should make up 50% of the concentration for safe storage.
Notes
The nutritional information is an estimate for 1 tsp. of a vodka-based homemade food coloring. It will vary slightly depending upon the ingredient used to color the vodka.
Glycerin can also be used to make an alcohol-free coloring.
To preserve the colorings, make sure that the final concentration of alcohol is above 20% or that the final glycerin concentration is above 50%. Keep in mind that some fresh foods may give off water to the alcohol or glycerin which may lower the final percentages.
Serving:
1
tsp.
|
Calories:
12
kcal
|
Carbohydrates:
1
g
|
Protein:
1
g
|
Fat:
1
g
|
Saturated Fat:
1
g
|
Sodium:
1
mg
|
Potassium:
3
mg
|
Fiber:
1
g
|
Sugar:
1
g
|
Iron:
1
mg
This post was originally published March 28, 2015. It was rewritten in May of 2020, adding new photos, video, recipe card. The update also added the option of using butterfly pea flowers for making the color changing food coloring.