Living a healthy lifestyle doesn't have to be boring. Make these fun and healthy sprinkles with vibrant colors that are made with natural ingredients that you likely already have in your kitchen.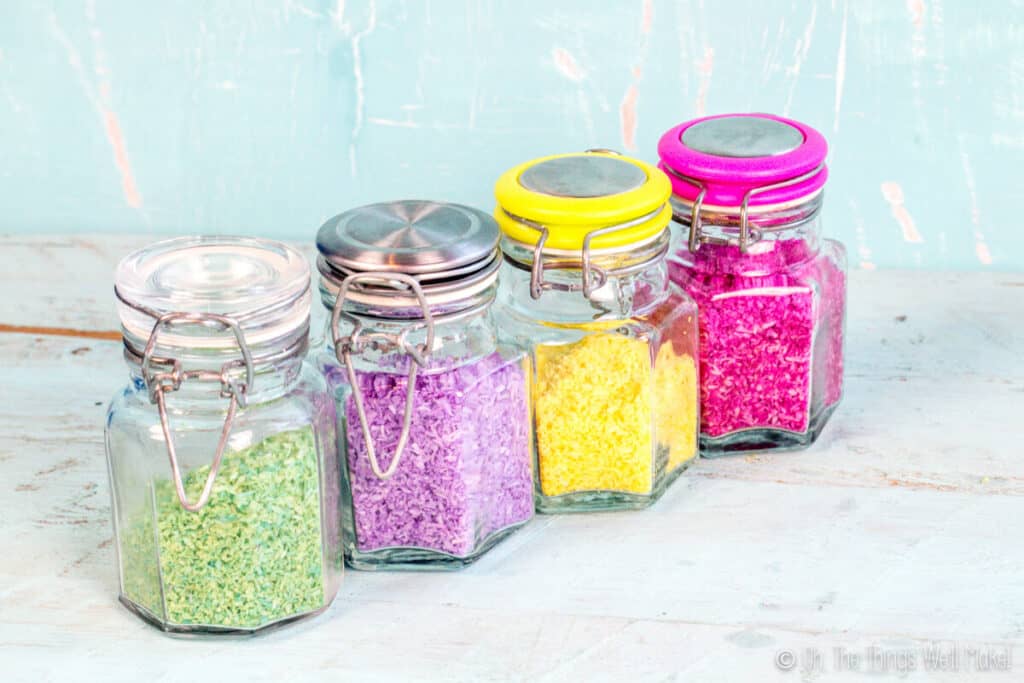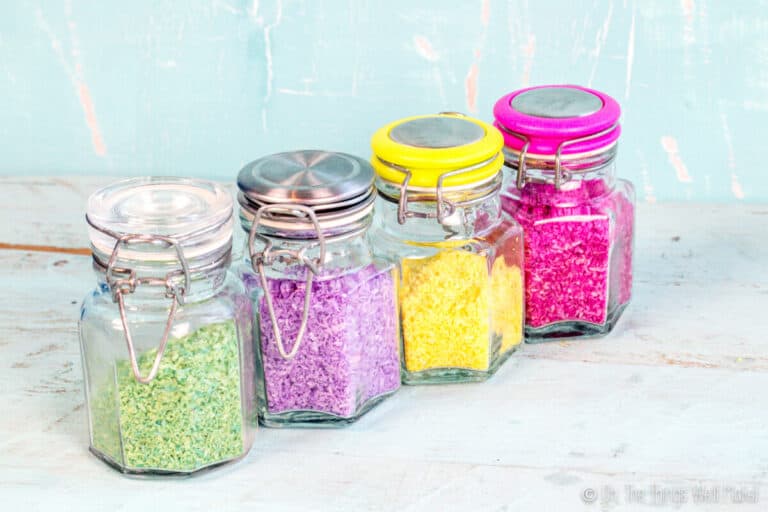 I first made these healthy sprinkles when I was looking for a way to decorate some homemade Easter marshmallows in bright colors. At first, I made some naturally colored sugar crystals to decorate them, but I later looked for a different option because the sugar crystals dissolved away with time.
Why make these healthy sprinkles?
Luckily, I came up with a new idea: to use shredded coconut instead of sugar crystals to decorate my marshmallows. They ended up being more vibrant, holding up better, and, in my opinion, even tasted better.
These homemade sprinkles are great to have on hand for decorating kids' healthy foods to make them more appealing. Even I love using them when I make myself smoothie bowls. There's just something about the added splash of color that makes a meal special.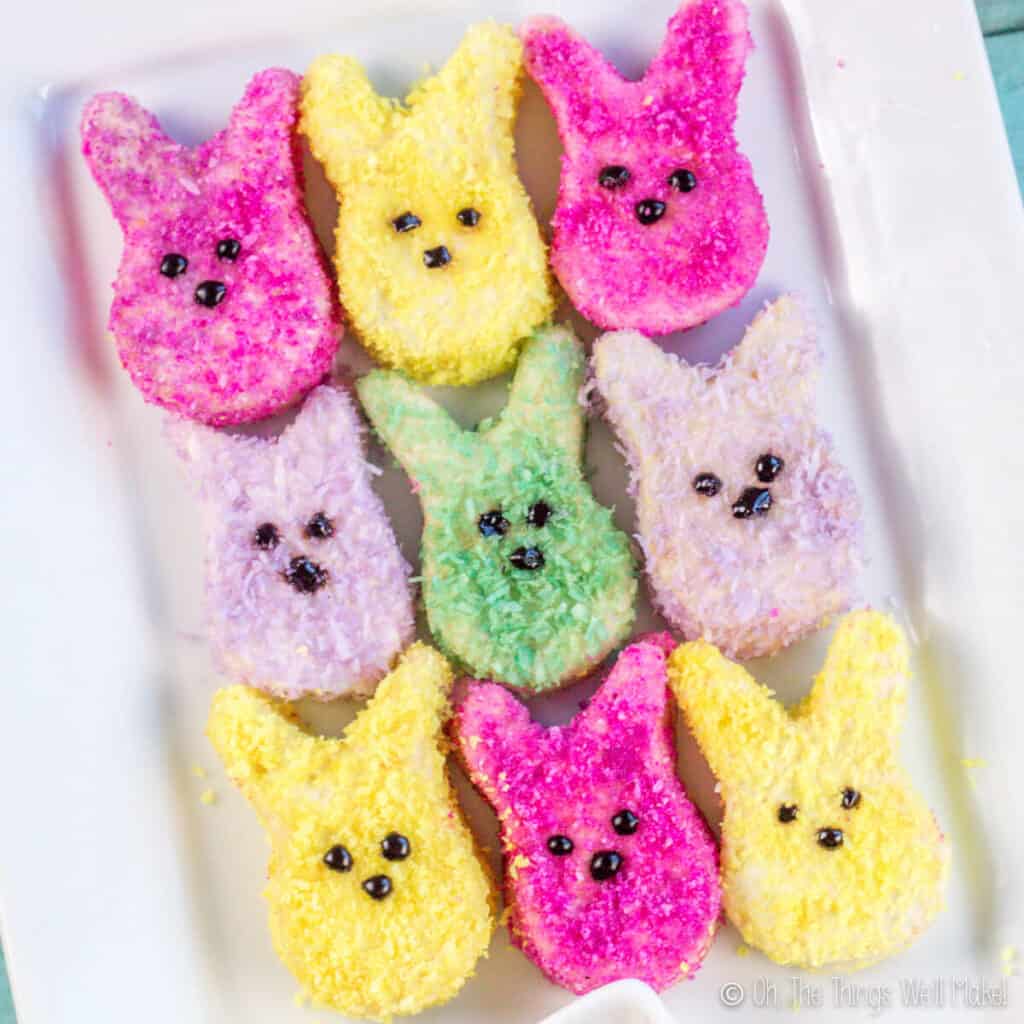 Ingredients
Making these sprinkles couldn't be any easier! All you need is some shredded coconut and some food coloring.
Because I'm always looking to make things myself, I went completely from scratch for both!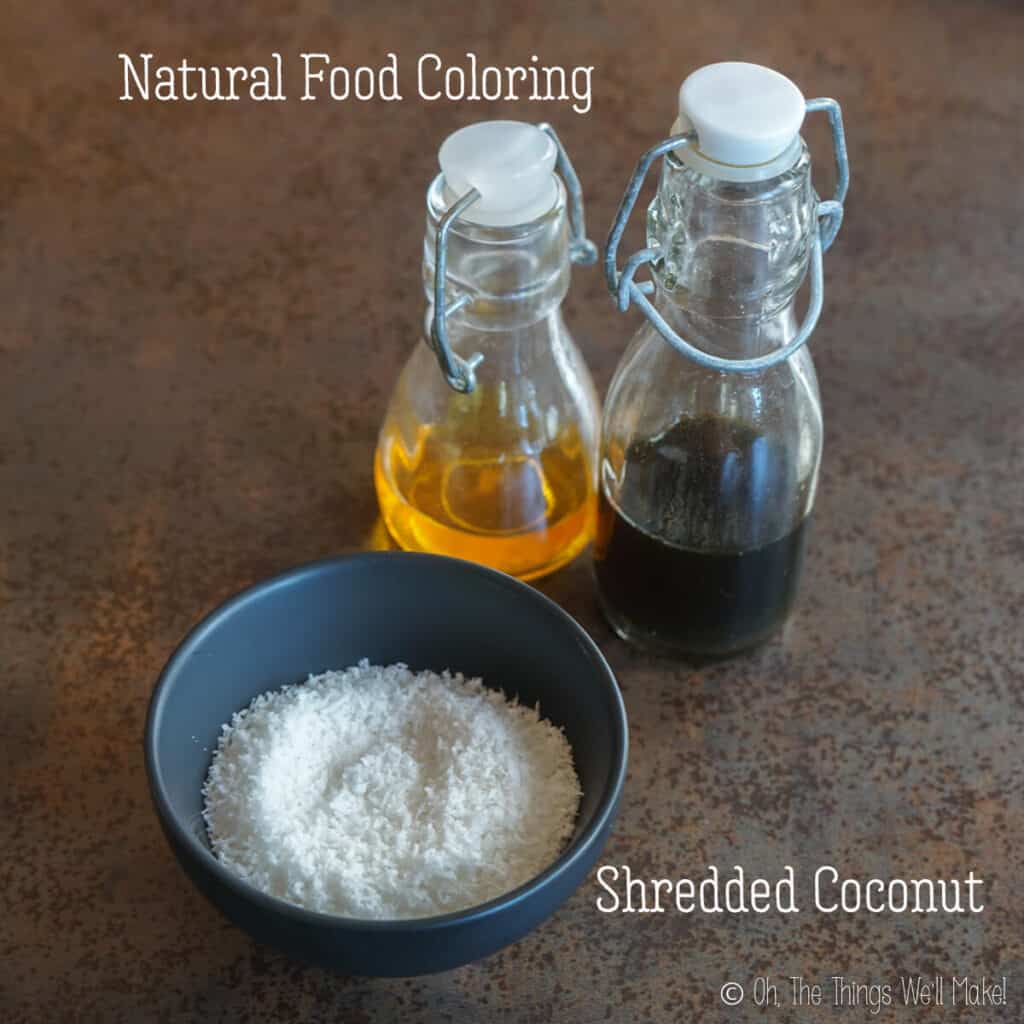 Dried shredded coconut
I love coconut water, so we're constantly buying fresh coconuts here at my house. Once we have finished drinking the coconut water, we open the coconut and eat some of it. But, we don't always eat enough to use up the entire coconut while it's fresh.
To help preserve the coconut, I make my own dried shredded coconut and coconut chips. Homemade shredded coconut is perfect for making healthy sprinkles.
Don't feel you have to be as hardcore as I am, though. You can just as easily buy store-bought. While you could use any type of shredded coconut, I prefer to use unsweetened dried coconut to make for healthier, homemade sprinkles. (Sore-bought sweetened coconut wouldn't be considered "Paleo" if that is a concern for you.)
How to make coconut chips or flakes and toasted coconut chips
Learn how to make coconut chips, or shredded coconut flakes, from fresh coconuts. It's easy!
Makes about 2 cups
Check out this recipe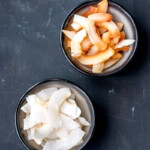 Food coloring
In the case of the food coloring, you can use whatever you like. I prefer to avoid synthetic food coloring whenever I can, but there is no reason you can't use any regular store bought food coloring for making these.
There are some more naturally-derived food colorings on the market, and those are another easy option for those looking for a healthier alternative.
In my case, I again went a bit hardcore and made my own natural food colorings from vibrant foods in my kitchen.
Natural Food Coloring
Avoid synthetic food coloring by making your own natural food colorings extracted from fresh foods like colorful fruits and vegetables. They're fun and simple to make and can be used in a wide variety of recipes.
Check out this recipe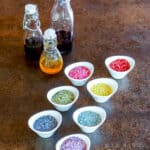 Making the different colors
Make reddish-pink sprinkles from homemade beetroot powder.
The bright pink sprinkles are sour and were made with butterfly pea flowers and an acid (like citric acid or ascorbic acid).
The yellow sprinkles use turmeric powder.
Make green sprinkles with spinach.
Make light aqua blue sprinkles from red cabbage leaves and baking soda.
The indigo blue sprinkles were made using butterfly pea flowers.
Make purple sprinkles with red cabbage leaves.
You can make a variety of colors by making a magical color-changing food coloring using red cabbage or butterfly pea flowers. These colors are pH-dependent. So, if you add an acid like lemon juice, citric acid, or ascorbic acid to them, the acidic environment makes those purple/blue colorings turn pink. If you add a base like baking soda to them, they will turn turquoise or even greenish in hue.
Natural, Color-Changing Food Colorings
These fun, natural food colorings change color when exposed to a different pH. Kids love seeing them change from pink to purple to blue.
Check out this recipe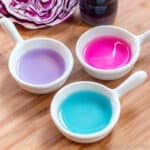 Preparation
So, you have your shredded coconut and your food coloring. What's next?
Making healthy sprinkles is really as simple as mixing enough food coloring into some shredded coconut until you get to the shade you want. Because the colors may slightly fade when dried, add slightly more than you think you'll need.
Once you've mixed the coconut with the food coloring, you'll want to dry out your sprinkles. Humidity allows for the growth of microbes, so we want to fully dry them out so that we can safely store them and keep them for a long time.
To dry the sprinkles, you can use your oven, the sun, or a food dehydrator.
If using your oven, spread the colored coconut out over a lined baking sheet. Bake them on the lowest temperature setting until they are fully dried and crunchy. (Using a convection/fan setting also helps speed up the process.)
If using the sun, spread the sprinkles over a lined tray and cover it with a netting to keep insects away. Place in the sun until fully dried.
You can also use a food dehydrator instead, following the directions for your particular dehydrator.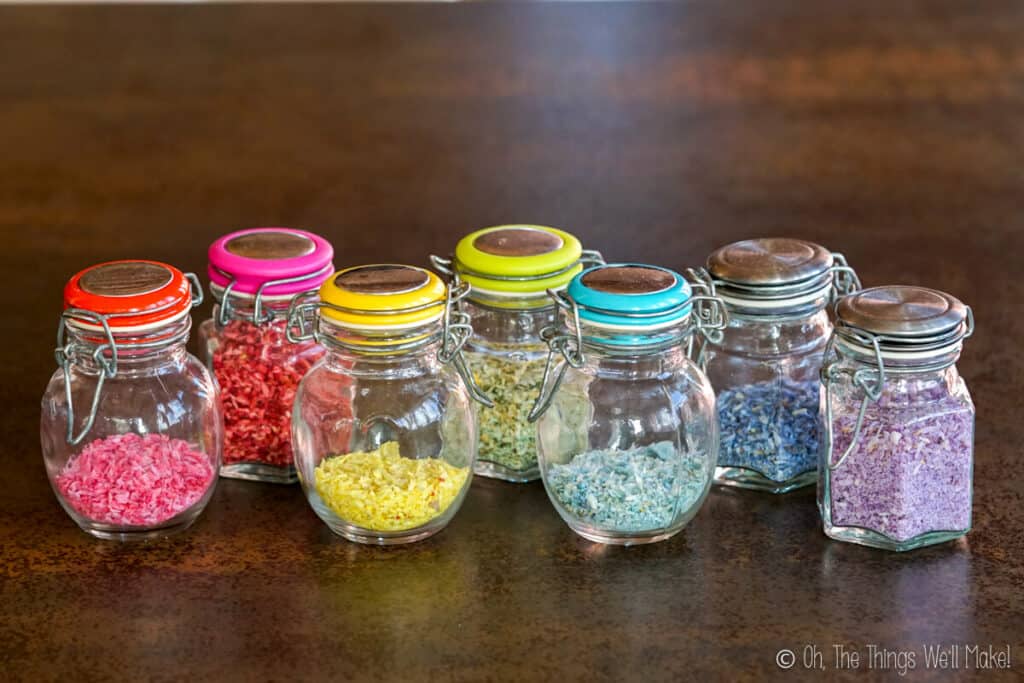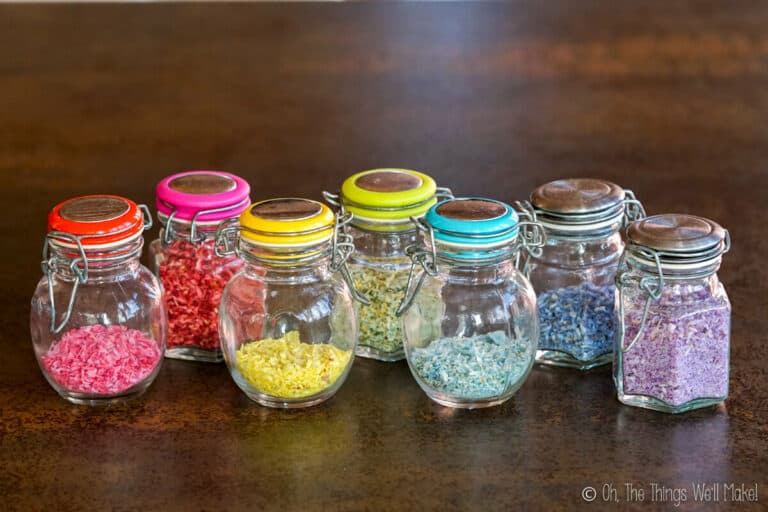 How long do they keep?
Once dried completely, store your healthy sprinkles immediately in a well-sealed container in a cool, dry place. It's important to dry them completely before storing them away or you could end up with mold or bacterial growth.
When I made them for the first time, I hid them away in a drawer where I forgot about them until 10 months later.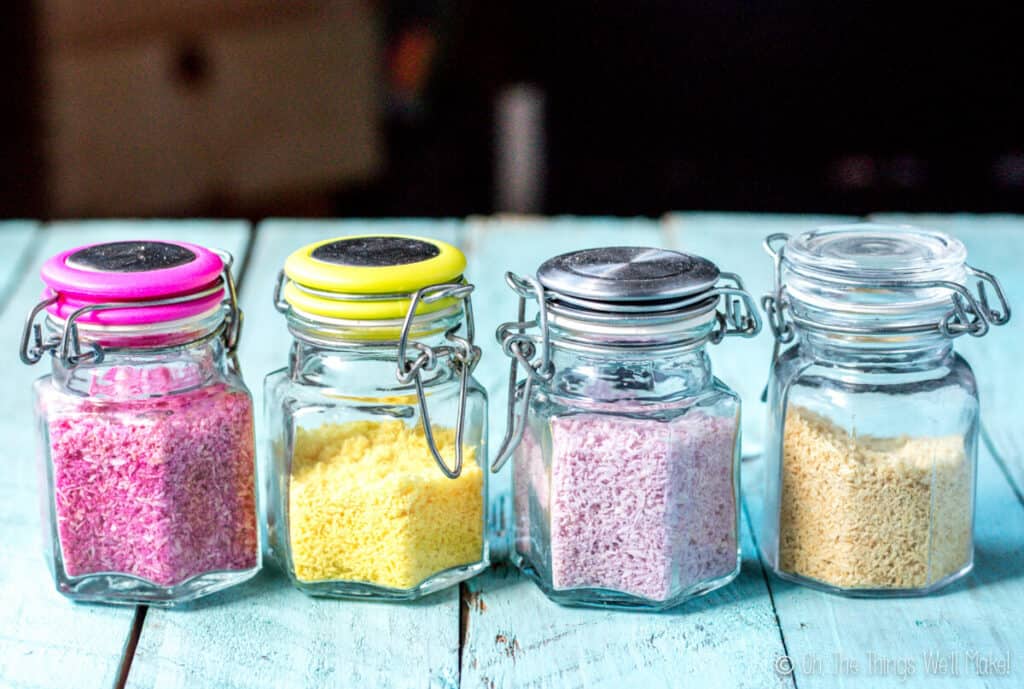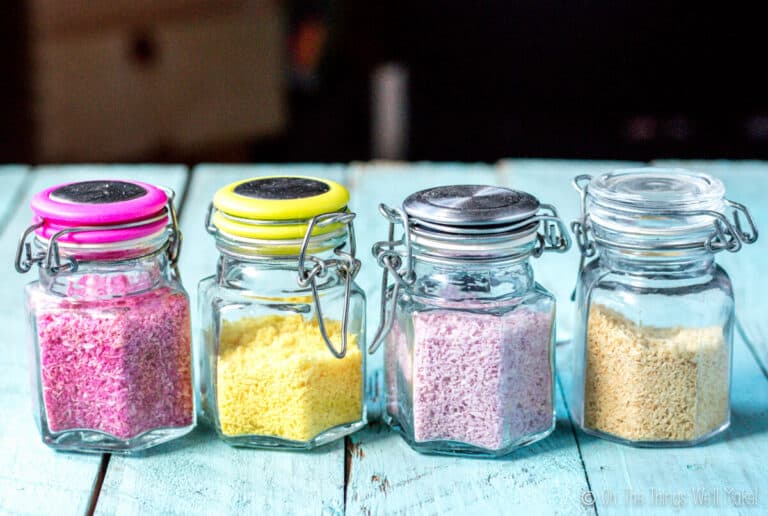 I was excited to see that, despite losing some intensity, the colors of the yellow turmeric sprinkles and pink beetroot sprinkles were still pretty vibrant after more than 10 months. The purple sprinkles were slightly more faded. The green sprinkles, made using spinach leaves, were the most affected and no longer were very green at all.
Not only did the colors of the yellow and pink sprinkles hold up pretty well, but they all seemed to smell and taste fine too.
The normal shelf life of desiccated shredded coconut is around 6 months. So, I'd suggest that these should have a similar shelf life. Some colors may fade before that, but they should be safe to use as long as you fully dry the sprinkles before storing them.
For extending the shelf life further, consider storing the sprinkles in the fridge or freezer.
Video
Craving more?
Subscribe to my newsletter for the latest recipes and tutorials!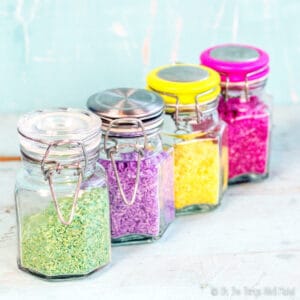 Vibrant, Easy Paleo Sprinkles
These homemade healthy sprinkles have very vibrant colors and are made with natural ingredients that you likely already have sitting around your kitchen.
Print
Pin
Rate
Instructions
Add coloring
Add a few drops of either a store-bought food coloring or a homemade food coloring to the unsweetened coconut flakes and stir them long enough to get an even coloring throughout.

Add more coloring, as needed, until you reach the desired color intensity. (It's a good idea to make the sprinkles slightly darker in color than necessary as they may lighten slightly upon drying.)
Dry the sprinkles
Spread out the tinted coconut in a thin, even layer over a lined baking sheet or a dehydrator tray.

If using a dehydrator, follow the directions for your particular dehydrator to dry out the coconut so that you can safely store it again.

If using an oven, set it to its lowest temperature and turn the fan on, if possible. Bake, checking on it occasionally, to see if the shredded coconut has fully dried. You can speed up the process by stirring it up and spreading it out again, continuing to bake until the coconut has fully dried.

Once fully dried, the sprinkles are ready to be used immediately or stored for later.
Storage
Store in well, sealed containers in a cool, dark place.
Notes
It is important to fully dry the sprinkles before storing them to prevent microbial growth. (That includes bacterial growth and mold formation.)
When stored in a cool, dry place, these should keep for up to around 6 months. Some colors may fade before that, depending on the coloring used.
You can make your own shredded coconut or use store-bought. I prefer unsweetened desiccated coconut for a healthier option, but you can use sweetened coconut too if you prefer. (The oils and additives added to some sweetened coconuts may affect the way they absorb the coloring.)
You can also choose to use a homemade food coloring made from foods like beetroot powder and turmeric or use a store-bought food coloring.
Serving:
1
Tbsp.
|
Calories:
38
kcal
|
Carbohydrates:
1
g
|
Fat:
3
g
|
Saturated Fat:
3
g
|
Sodium:
2
mg
|
Potassium:
31
mg
|
Calcium:
2
mg
|
Iron:
0.2
mg