The perfect, hearty soup for a cold, rainy day, this white bean and chorizo soup with spinach is a flavorful comfort food that you'll want to make again and again.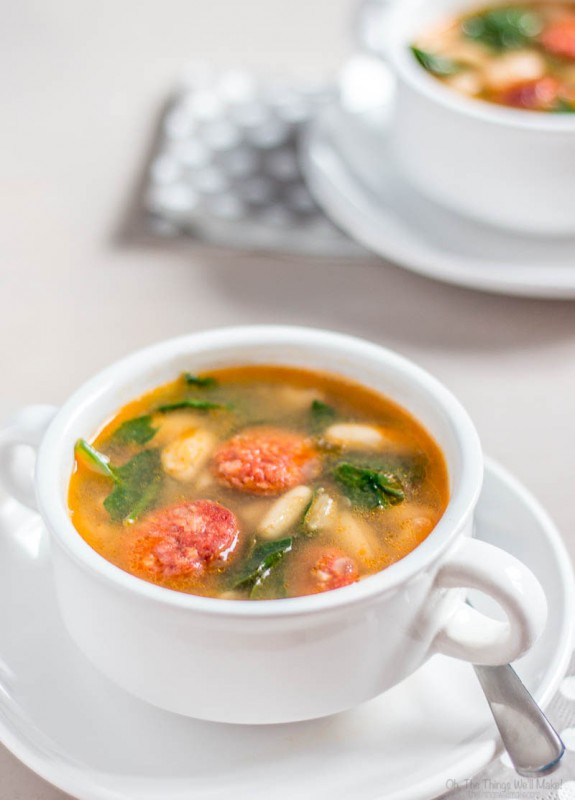 Now that the cooler weather has arrived, I'm craving more soups and stews and have been making lots of homemade stocks and bone broths. Eating them plain, though, can get boring.
The other day I decided to throw together a soup with what I had sitting in my fridge at home. Of course, with me living in Spain now, what I have in my fridge might be a little different than what you have in yours. I just happened to have some chorizo sausages, and love the way they add flavor to soup. Hopefully, you can find chorizo where you live. If not, it is actually quite simple to make your own!! (Another post idea?)
Chorizo sausage here in Spain basically always has the same ingredients: pork, garlic, salt, and paprika. The paprika can be spicy or mild. So, if you didn't have chorizo on hand, you could always brown up some ground pork, adding in salt, garlic and lots of paprika. It would give the same sort of addition/taste to the soup.
I also have to admit to not craving as many vegetables in winter, except for the winter squashed that can be made into vegetable purees like my roasted pumpkin soup. Salads are cold and unappealing to me, so to eat more greens, I also like to add them to soup. Spinach is the perfect addition; it wilts and gets smaller so you can add quite a bit of it. It also adds vitamins and great color too!
You could always used canned white beans, but I prefer to make everything from scratch. Not only is it cheaper, but you can avoid the possible BPA issues with canned foods.
(October 2015 update: I'm adjusting this recipe for making with a pressure cooker as it is quicker and easier and uses less broth. I'll explain how to make it in a pot on the stove, though, too.)
White Bean, Chorizo and Spinach Soup
Ingredients
2

cups

dry white beans

3

chorizo sausages

sliced

4

cups

stock or bone broth

I use chicken stock

2-3

handfuls

baby spinach

salt

to taste

1

tsp.

freshly ground black pepper

or to taste
Instructions
Put the white beans to soak in water overnight in enough water to cover them by several inches. They will double in size, and you should end up with around 4 cups of soaked beans.

Strain the water off, and rinse the beans, and add them to your pressure cooker with around 4 cups of your stock or broth of choice. You should have the level of liquid above the level of the beans. If not, add a little water to your pot.

If you will be making this on the stove, a lot of the water will evaporate. When I made it on the stove, I suggested having around 7 cups of liquid (stock plus water) to compensate for that fact. Just make sure you have enough liquid to cover the beans, and add in water as needed to keep them covered.

If using the pressure cooker, use the setting that it has for legumes, or the one for soup. On my pressure cooker the legumes setting lasts around 35 minutes once the heat level has been reached, and the soup setting lasts for 30 minutes. We will be cooking the beans with the chorizo and spinach for a couple of minutes after they are finished cooking, so you may choose to cook them less time if you like the beans having a more solid consistency.

If using a pot on the stovetop, simmer for around an hour and a half and check the beans for tenderness. Add in extra water as needed to maintain the desired consistency.

As the beans are finishing up, I like to slice the chorizo and pan fry it in a medium to large pan on the stovetop. I then pour off some of the released fat as I have found that it only forms a layer of grease on the soup, and doesn't really add more flavor. Once the beans are finished, I add them to the pot and simmer it for a few minutes with the chorizo to incorporate its flavors into the soup.

If making on the stovetop, I don't usually bother using another pan and just add the chorizo directly to the beans on the stovetop as soon as the beans are mostly tender. I then let them simmer together for 5-10 minutes more to allow the chorizo to cook and add flavor to the soup.

Shortly before serving, add a few handfuls of spinach to the soup. Let it wilt and add some more if you like.

Taste the soup and add seasonings (salt, pepper and paprika) to taste.

Serve immediately.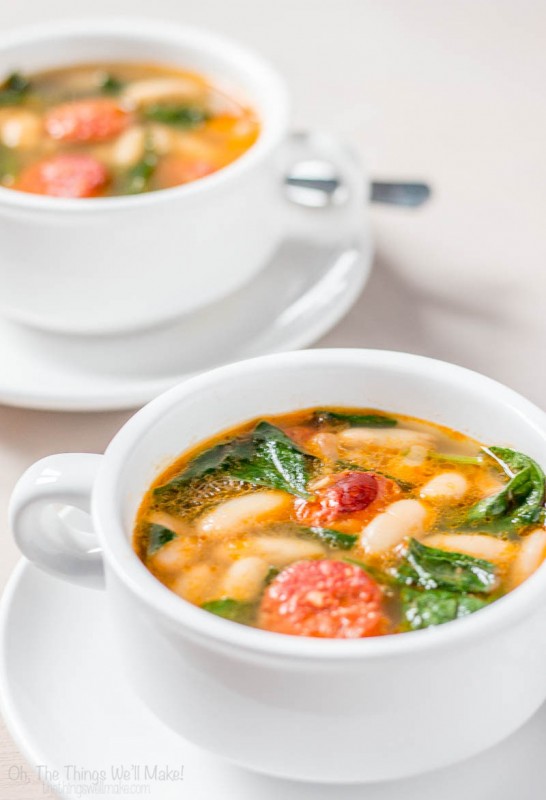 In my region of Spain, one of the typical rice dishes is called arroz con habichuelas. It is a rice dish which includes white beans and chorizo, and isn't served "dry" like a paella, but rather retains some of the broth like a soup.
This soup could be made in a similar way, adding in some rice. If you want to make this soup with rice, you should add in the rice towards the end, when you have 20-40 minutes left in the cooking time (depending not he type of rice you are using). You'll also have to add a more broth or water.
I love this soup on a cold, rainy day. It's filling and warms me up. I hope you enjoy it!
Looking for more great soup recipes?
This soup has been featured in the community cookbook, Winter Soups, along with more than 50 soup recipes from real food bloggers.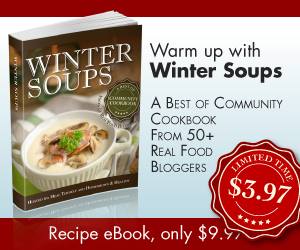 45+ Gluten Free Recipes
25+ GAPS friendly
30+ Dairy Free
Read more about it or buy here.

This post is also available in Español.