Kick your cravings for something salt and crispy with these satisfying, healthy chips; the best crispy kale chips I've eaten. Gomasio adds a fun flavor kick with nutritious sesame seeds and seaweed.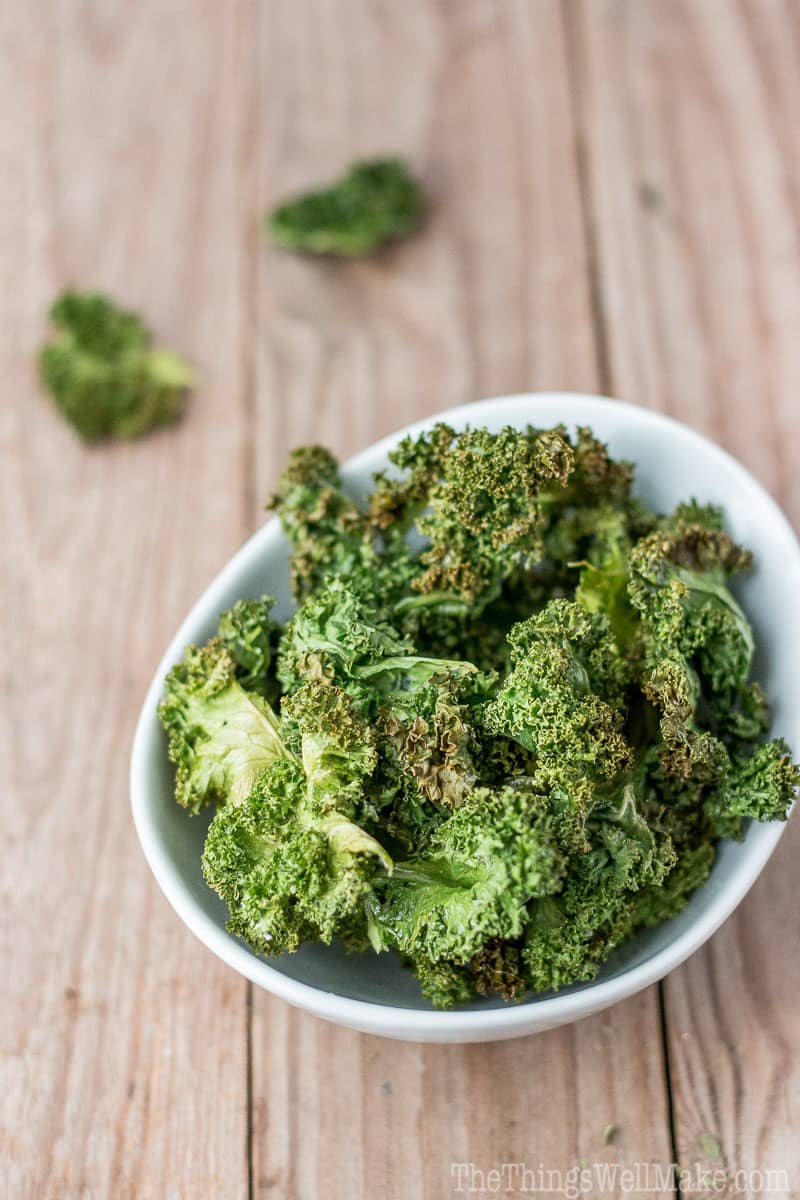 A few weeks ago, I was very excited to find kale for the very first time here in Spain. When we were last living in the US, kale wasn't popular at all. In fact, I'd never even heard of kale until after I had been living in Spain for several years and reading about it on American websites. After hearing about how healthy it was, and hearing how simple it was to make kale chips, a healthy alternative to potato chips, I really wanted to try it, but sadly kale was impossible to find anywhere in Spain.
It wasn't until this year, when I finally decided to order kale seeds online to plant my own in my vegetable garden, that I finally found kale leaves in a new eco-supermarket. Super excited with my new find, I bought a bunch of kale leaves and decided to give kale chips a try.
I really wasn't expecting much. I mean, how crispy can wet leaves get?
Can you really get a satisfying crispy chip by baking kale in your oven?
The answer is surprisingly YES!
I was imagining how my baked sweet potato fries only get crispy on the outside in the oven, and couldn't imagine easily making chips from them, but kale is different.
Kale is a thin leaf with a lot of texture. It doesn't get crispy in the same way really, it's more akin to how leaves dry out after falling off the trees each autumn. That may sound weird or even unappealing, but it's really just as satisfying when you want something salty with a bit of crunch.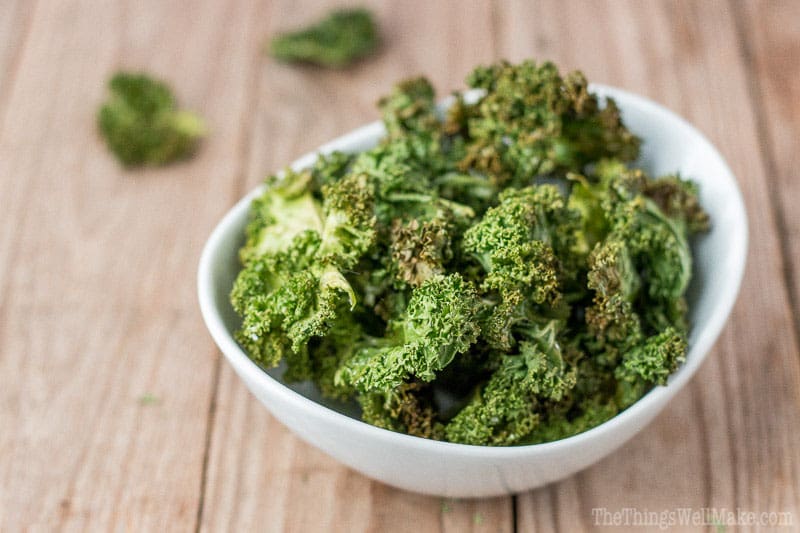 Make your kale chips crispy.
To get the kale chips perfectly crispy, you want to make sure that they dry out without burning, so it's a good idea to keep checking on them throughout the process. Opening the oven occasionally won't hurt, and if anything, it will actually help some of the humidity escape from the oven. If you have a convection/fan setting on your oven, use it! It will help dehydrate the leaves more quickly.
It's also important to get the kale as dry as possible before spreading the leaves out in the oven. A light spray of olive oil will also help crisp them up, but overdoing it may make your kale chips soggy!
All of that said, the process is simple, so let's get baking!
The best crispy kale chips recipe
Craving more?
Subscribe to my newsletter for the latest recipes and tutorials!

Best Crispy Kale Chips Recipe
These are the best crispy kale chips I've eaten. Making these satisfying, healthy chips is easy when you're craving something salty and crispy. The addition of gomasio adds a fun flavor kick with nutritious sesame seeds and seaweed.
Print
Rate
Instructions
Preheat oven to 325F (160 C). If you have a convection setting, use it. It will help dehydrate your chips more quickly and evenly.

Wash the kale leaves, and remove the woody stems. Cut the leaves into small pieces.

Dry the leaves thoroughly as excess water can leave your kale chips soggy rather than crispy. (I use a salad spinner to dry them well quickly.)

Spread the dry kale leave pieces out in a single layer on a baking sheet. (I prepare the baking sheet with a sheet of parchment paper to protect it.)

Spray the kale with a fine mist of extra virgin olive oil. You want to just lightly cover the kale with oil. Too much oil can leave your chips soggy.

After around 10 minutes, start checking on the kale pieces. Some will likely have begun to turn golden in color around the edges. I usually check on any small pieces that are golden to see if they are already crispy, and if so I remove them from the baking sheet before putting the rest back into the oven to finish baking.

Every few minutes, check on the chips, removing those that are crispy and leaving the rest to bake further until you have finished crisping up all of your kale leaves.

Sprinkle the crispy kale with a generous helping of gomasio. Mine is salty enough and has enough flavor that I don't need to add anything else, but you can also add salt, pepper, and other herbs and spices to taste.

These are best when eaten immediately, but I have been able to successfully store them in airtight containers for several days. (If they aren't fully dehydrated, though, you may end up with moldy chips when trying to store them. So be careful when storing and use common sense before eating stored chips.
Calories:
82
kcal
|
Carbohydrates:
6
g
|
Protein:
3
g
|
Fat:
5
g
|
Sodium:
160
mg
|
Potassium:
387
mg
|
Vitamin A:
7550
IU
|
Vitamin C:
90.8
mg
|
Calcium:
117
mg
|
Iron:
4.4
mg
Other kale chip flavor ideas
Not a fan of gomasio?
Why not try sprinkling them with the spicy mexican seasoning that I mixed up for my paleo Doritos like chips?
They'd also be great sprayed with the coconut bacon seasoning mixture before baking.
What's your favorite seasoning for kale chips?