Simple and with little prep time, this easy, slow cooker whole chicken recipe is great for busy evenings.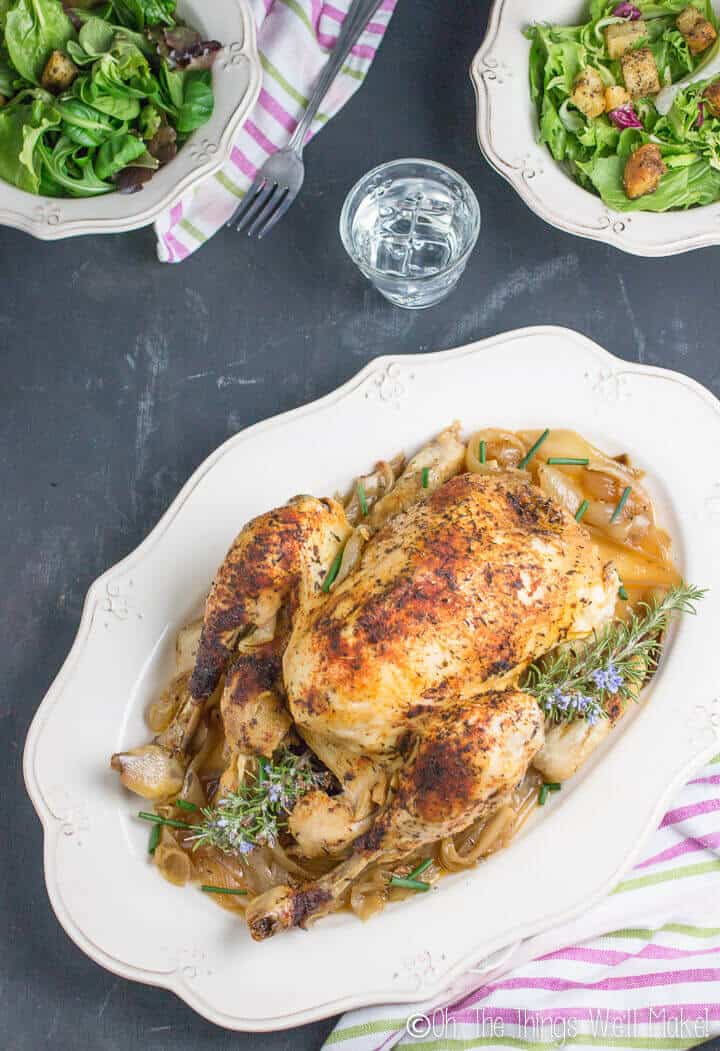 So many people rush to the grocery store on a weekly basis to buy a rotisserie chicken because it's an easy, inexpensive meal.
I get it!
Despite my passion for trying to make just about anything myself, I also like to have things be simple and easy. That's especially true on busy days when I get home and don't feel like making dinner.
The problem with store bought rotisserie chickens is that you don't know about the quality of the meat. From the inexpensive prices, you can make an educated guess, though. Am I right?
Even worse is the fact that you don't know how they've been pre-seasoned. I'm not gonna lie, the store bought roasted chickens are tasty, and that's likely because many times they've been brined in a solution with MSG and other flavor enhancers.
In comes the easy, slow cooker whole chicken to save the day (or night)!
Why make a whole chicken in the slow cooker?
I mean, you could go out and buy a rotisserie yourself and make it that way at home, but that would mean you'd have to spend money on just one more kitchen gadget that would take up a lot of space.
I've found that you can make a very tasty whole chicken in the slow cooker over a matter of around 5 hours.
For me, it's a time saver, and it's super convenient for me to make a slow cooker whole chicken on those days that I'm rushing my son around to his extracurricular activities in the evening.
Here in Spain we eat dinner around 8PM during the week. He gets out of school at 4:30, and I often spend the time between then and dinner bringing him to birthday parties or sports activities. By the time I get home, I'm too tired to want to cook.
Instead, right before I drop off my son at school for his afternoon classes at 3PM, I toss the whole chicken in the slow cooker. After that, it doesn't matter if we decide to go to the park after school, if I have to take him to karate that day, or whatever other plans we have. At around 8PM, my dinner is already ready and waiting for me!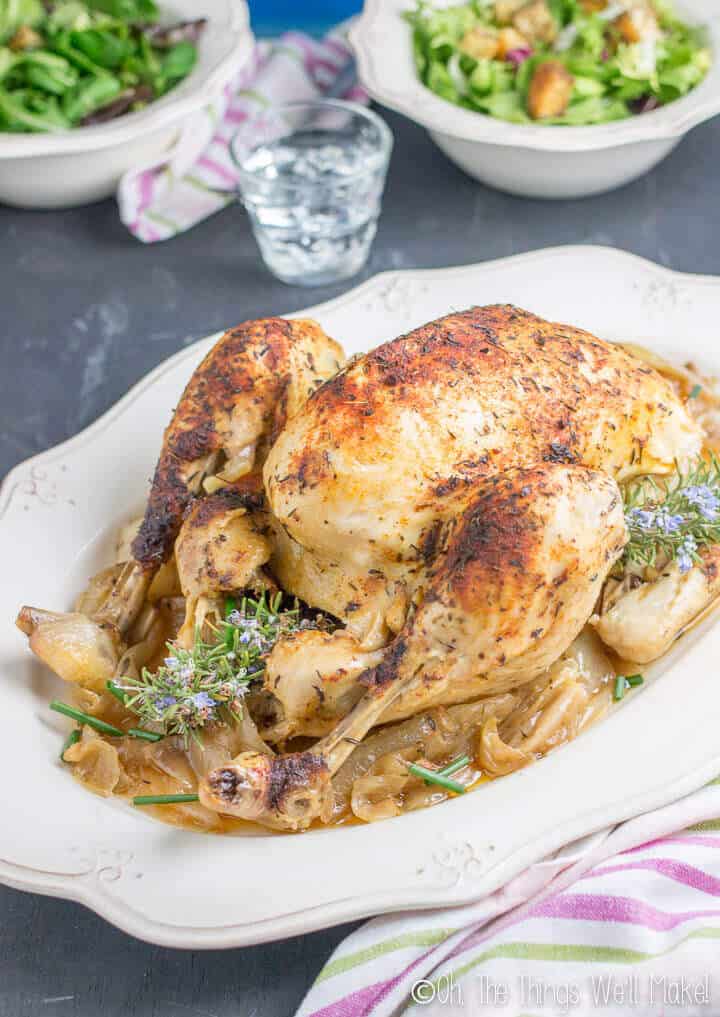 How to get a tasty, tender whole chicken with crispy skin
If you cook the chicken in your slow cooker on the low heat setting, you'll end up with very tender meat that falls off the bone, but it ends up being almost too tender. I'd almost say that it ends up being mushy.
That's why I prefer to cook it in around 5 hours on the high setting.
Unlike making pork in the slow cooker, though, it doesn't get crispy on the outside in the slow cooker. If I'm in a hurry, it's actually quite good served right out of the slow cooker, even without the crispy skin.
If we're looking for a chicken with a crispy skin, though, all it takes is a few minutes under the broiler of the oven. (Just make sure to keep a watch on it so you don't burn the skin!)
The resulting chicken is just about perfect: the meat is tender and falls of the bones, but the skin is nice and crispy.
Customizing the recipe
I've always used onions when cooking the chicken in a slow cooker because that's always the way I've made it over the stove. The onions give a great flavor to the chicken, and they also help slightly thicken the sauce released by the chicken.
I like to keep the recipe super simple, but it's very easy to customize it to suit your taste. You can add other vegetables like carrots or celery, and can also add garlic and other herb combinations. Other people like to add lemon wedges to the chicken, to give it an acidic flavor, but I think the peel gives the chicken a slightly bitter flavor, so I normally don't add it.
I'd love to hear your favorite combinations.
Easy, Slow Cooker Whole Chicken
Craving more?
Subscribe to my newsletter for the latest recipes and tutorials!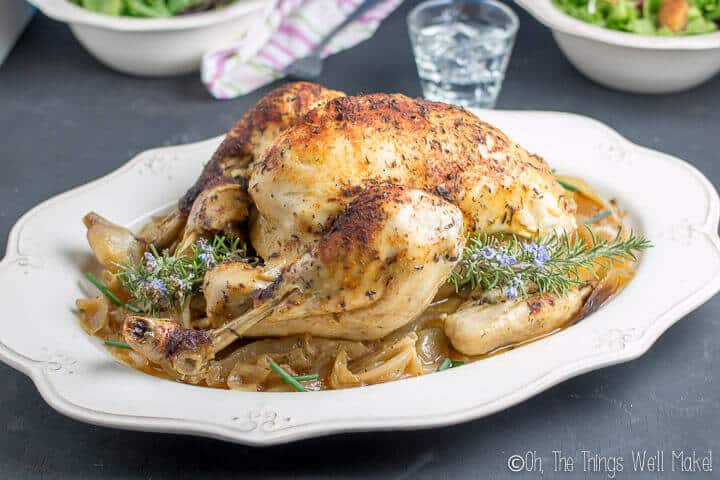 Easy Slow Cooker Whole Chicken
Simple and with little prep time, this easy, slow cooker whole chicken recipe is great for busy evenings.
Print
Rate
Instructions
Peel the onions, cut them into quarters, and place them in the bottom of the slow cooker.

Place the whole chicken on top of the onions. (There is no need to add any liquid as the chicken and onions will release juices throughout the cooking process.)

Pour some olive oil over top of the chicken, and use a pastry brush to spread it over the the entire bird. (You can also choose to spread butter over top instead, and place slivers of butter under the skin.)

Sprinkle salt, pepper, and other herbs of choice over the chicken.

Place the top on the slow cooker, and turn it to high heat for 5 hours.

When the five hours is up, you can either choose to serve the chicken as is, or place it under the broiler of your oven for a few minutes to crisp the skin.

You can serve the soft onions alongside the chicken, or use an immersion blender to blend them into the juices of the chicken and serve as a sauce to accompany it. (It can also be made into gravy by thickening the sauce with a bit of wheat or tapioca flour, depending on your diet.)
Calories:
462
kcal
|
Carbohydrates:
5
g
|
Protein:
30
g
|
Fat:
34
g
|
Saturated Fat:
8
g
|
Cholesterol:
120
mg
|
Sodium:
696
mg
|
Potassium:
383
mg
|
Fiber:
1
g
|
Sugar:
2
g
|
Vitamin A:
250
IU
|
Vitamin C:
7.2
mg
|
Calcium:
41
mg
|
Iron:
1.9
mg