Roasted red peppers and caramelized onions meld together and provide the flavor punch to this savory roasted pumpkin soup recipe, perfect for warming up on a cool autumn day.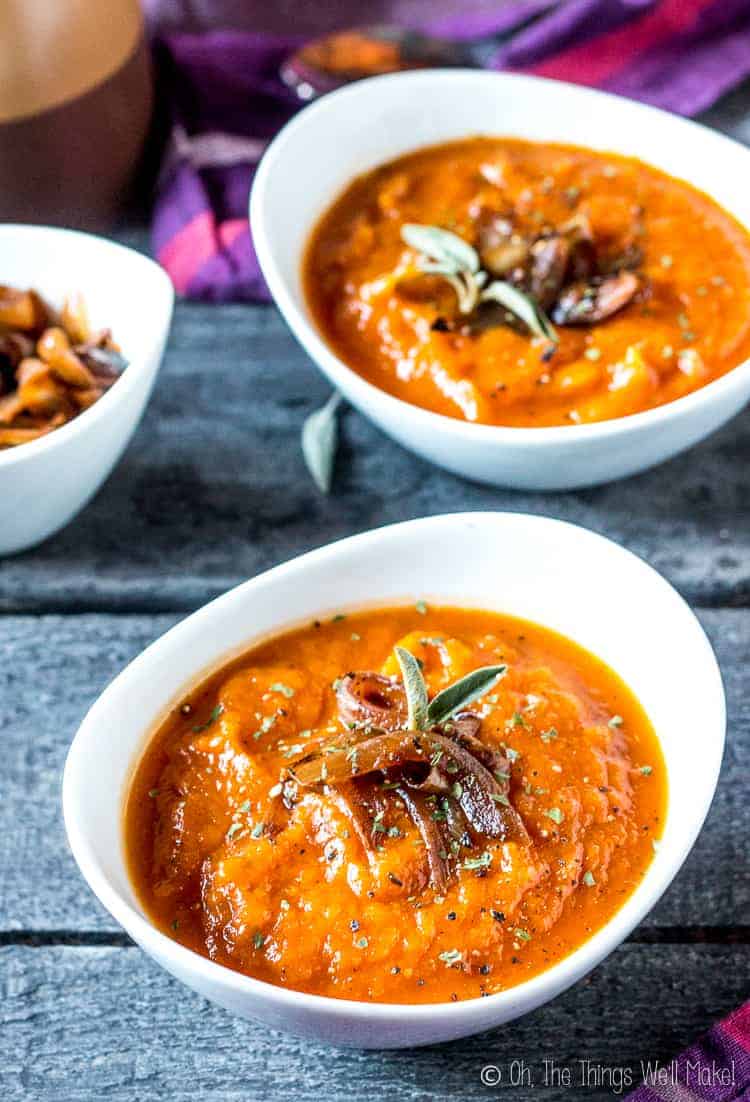 I have been perfecting this recipe for several years now.
When I first started my blog, I already wanted to post a savory roasted pumpkin soup recipe, but I never got around to it because I wasn't fully satisfied with the resulting soup. While everybody in the house ate it (even my husband who isn't much of a soup fan), I still felt like it was missing something.
I later found that adding in other veggies like roasted red bell peppers and caramelized onions totally changed things. This sweet, creamy pumpkin soup has become one of my husband's favorites.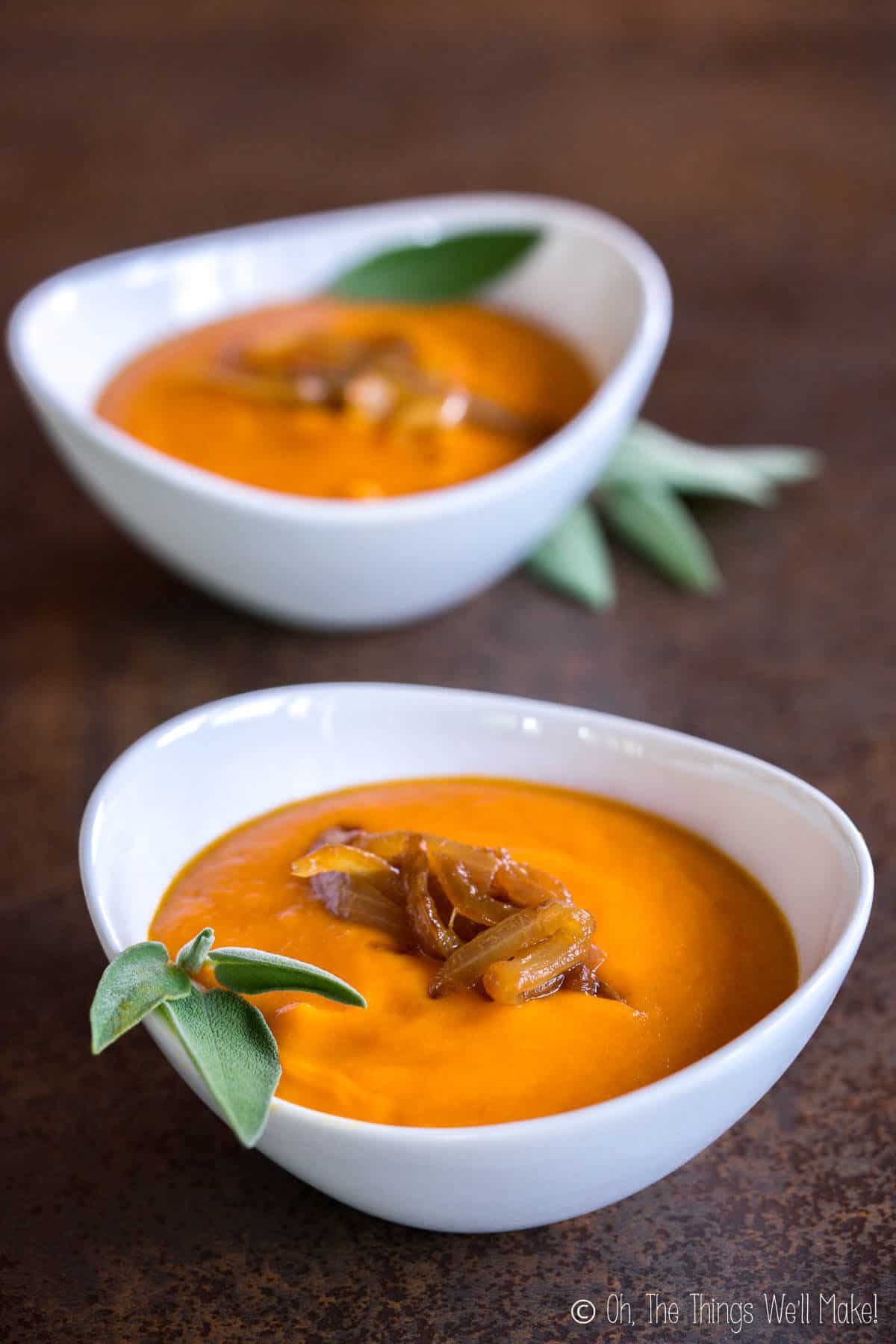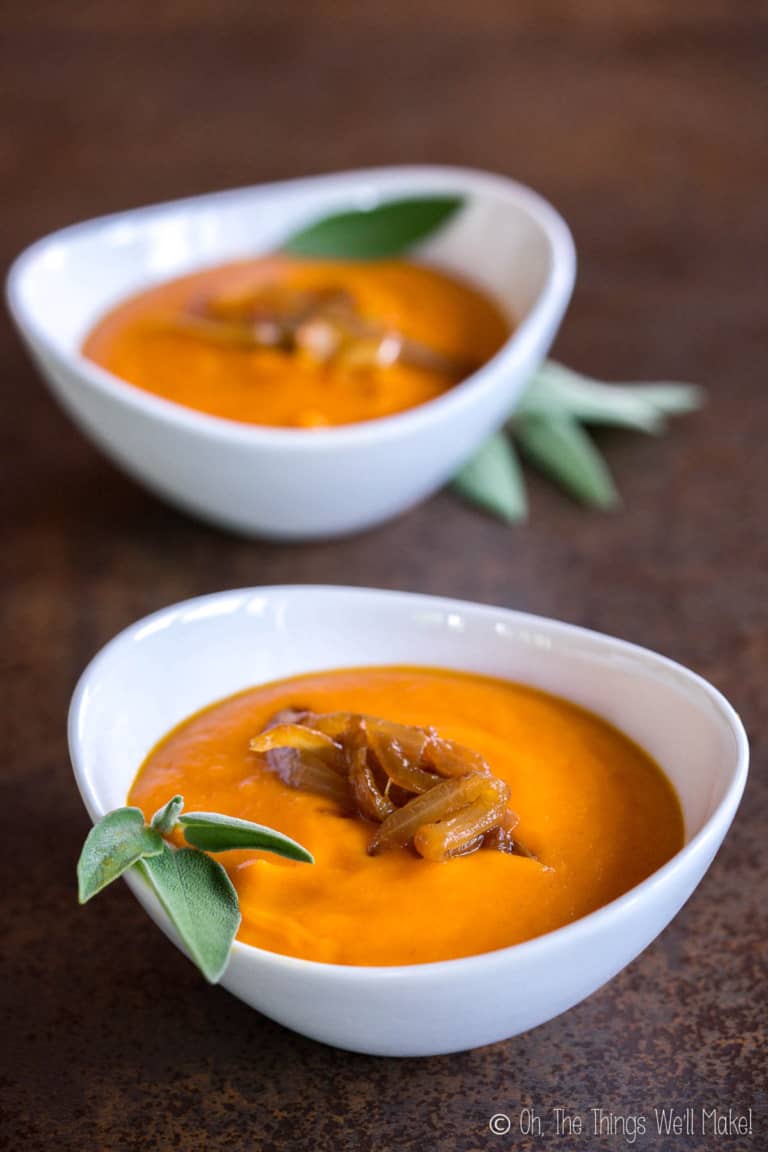 How to Make a Roasted Pumpkin Soup
Make a pumpkin purée ?
First, you'll want to make a pumpkin purée by slicing a pumpkin (or butternut squash) in half, scooping out the seeds, and baking it in the oven (350ºF/180ºC) until soft. You can also peel the pumpkin and boil it in water until soft instead.
While you could use canned pumpkin, I'd suggest you give making your own a try.
Here in Spain, I don't have the option to buy canned pumpkin, so I got in the habit of roasting my own in the oven. I'm so happy I was somewhat forced into making my own as it is so easy to do and tastes so much better than what you would buy already made. It's probably one of the first realizations that started me on my way to making more and more of my food from scratch.
For more details about the process of choosing a pumpkin and making a pumpkin purée, visit my post on how to make a pumpkin purée…
Pumpkin Puree (Canned Pumpkin Substitute)
Looking for a tasty pumpkin puree to use in recipes? Store-bought brands may contain sugars and ingredients you can't pronounce. Here's how to easily make your own!
Check out this recipe

Roast the red peppers ?
Next, you'll want to start roasting your red peppers.
While you could just throw in some peppers and boil them with the pumpkin purée, you'd be missing out on the depth of flavor that results from roasting your vegetables.
Roasting both the pumpkins (or butternut squash) and the red peppers brings out their sweetness and also deepens their natural flavors. They incorporate a new level of complexity to the soup that combines perfectly with the other flavors.
For tips on making roasted red peppers, how else to use them, and how to store them, read my post about how to make roasted red peppers…
Easy Roasted Red Peppers
A delicious healthy topping or garnish, roasted red peppers are easy to make and super versatile.
Yield: Approximately 2 Cups
Check out this recipe

Caramelizing the Onions
While your red peppers are roasting, you can begin to caramelize the onions.
Just as roasting the peppers and pumpkins intensifies their flavor and brings out their sweetness, caramelizing the onions results in a new flavor profile, unlike many others.
When you slowly caramelize the onions, they darken and get sweeter due to what is known as the Maillard reaction. The proteins and the sugars in the onions combine in a way that results in a whole new flavor.
It's the same process that turned my homemade black garlic dark and gave it the distinctive sweet, yet tangy smoothness that sets it apart.
To caramelize the onions, you'll first want to…
Remove the skin.
Cut the onion in half.
Slice the onion into thin half-moons by slicing from the center to the outside of each half.
Heat some olive oil in a frying pan over medium heat.
Fry the onions in the oil, reducing the heat, as needed, to keep them from burning.
Continue to fry the onions, stirring occasionally, to get the onions to a dark brown color.
If the onions begin to stick to the bottom of the pan, add a splash of water and rub with a spatula to release them.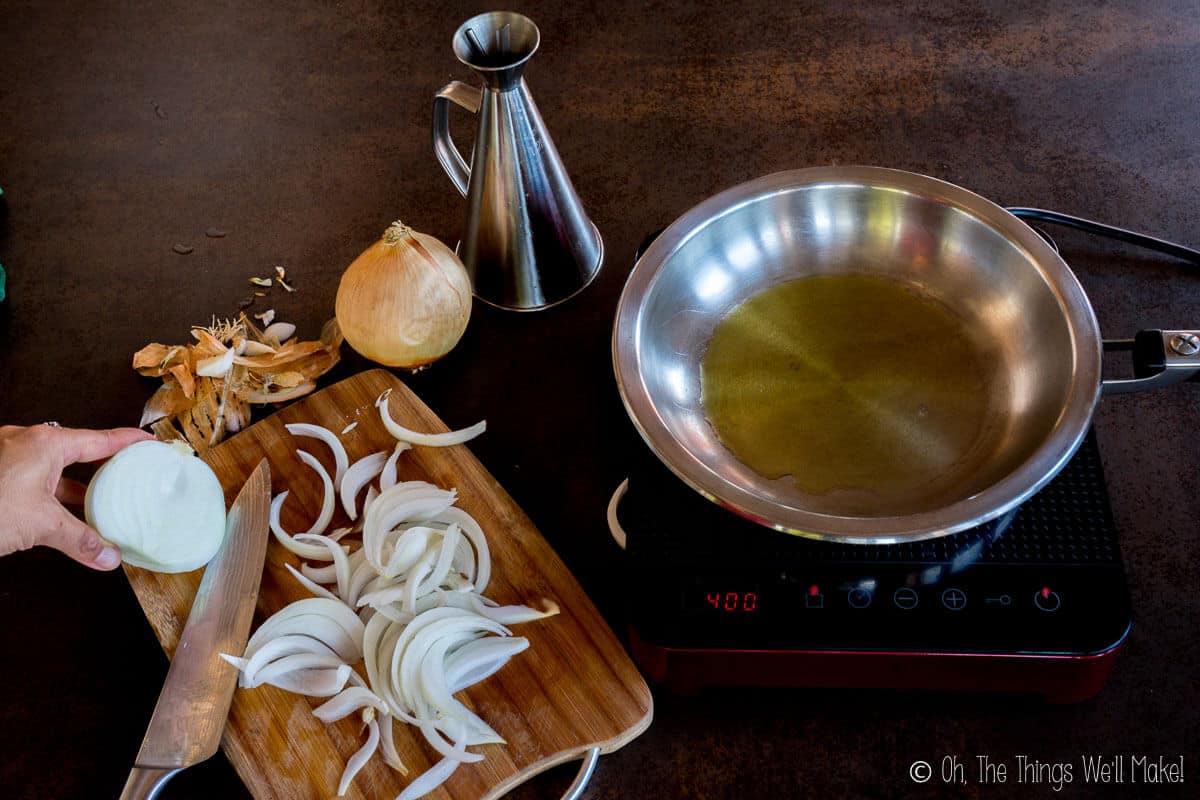 Putting it all together
Once you've roasted and caramelized all of your veggies, the rest is super quick and easy!
Cook the pumpkin purée over the stove. This will warm it and also help caramelize it to bring out its sweetness.
Next, add the roasted red peppers, water, and the caramelized onions. You'll also want to add in some salt and freshly ground pepper, fresh sage, and a touch of cumin.
Heat the ingredients until warm, and then blend to a purée.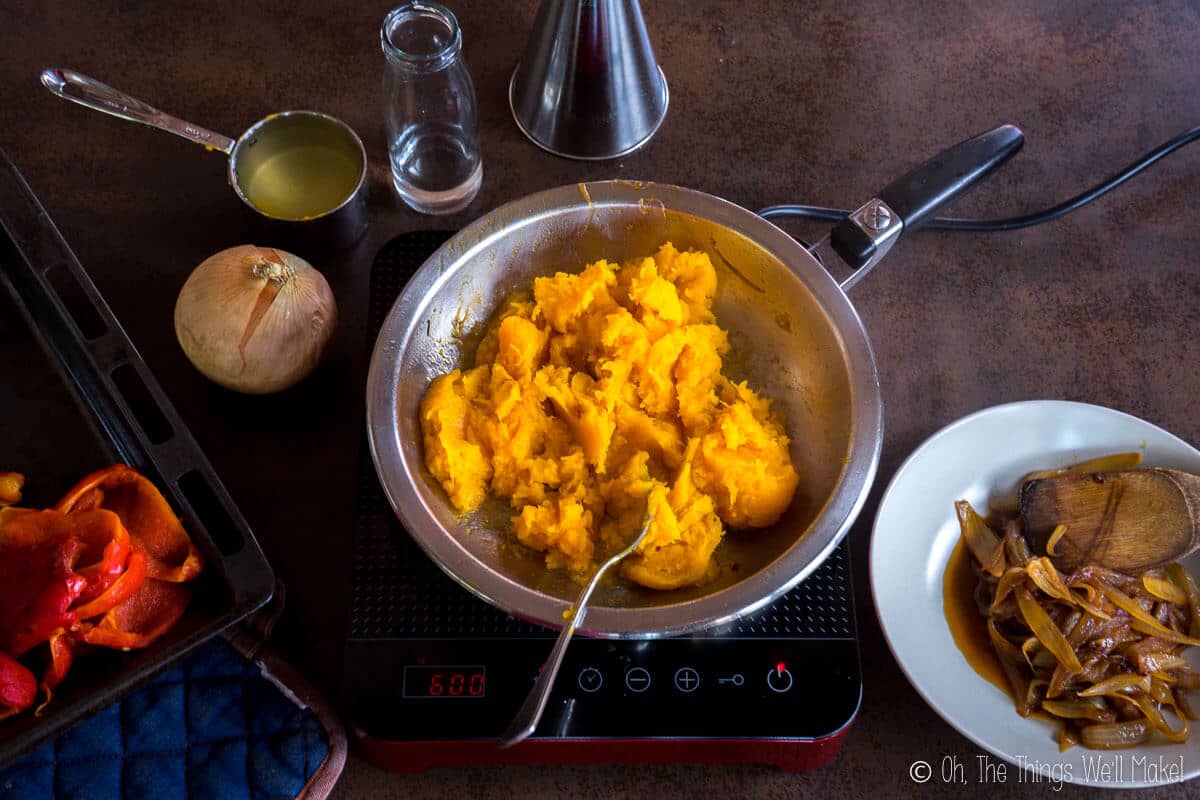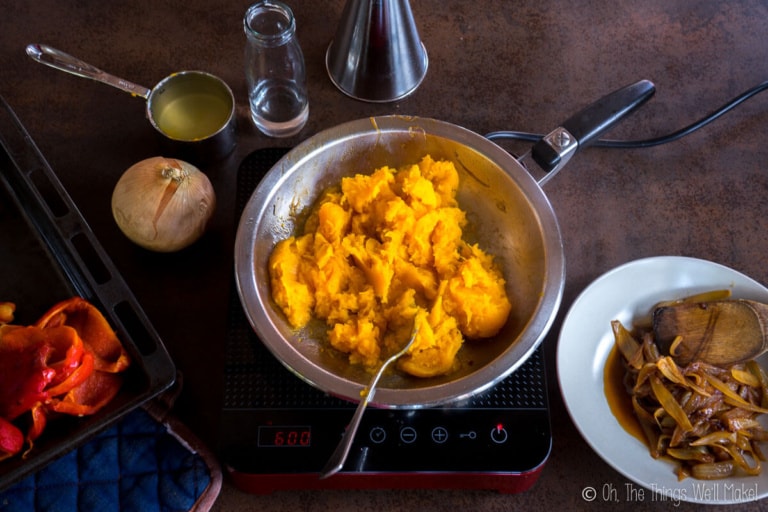 Getting a Creamy Consistency
In order to get the soup to have a smooth, creamy consistency, it's all about blending with a high-speed blender. You can use either an immersion blender or a high power stand blender, but the latter tends to have more power and do a better job. The immersion blender trades some of that power for convenience.
The secret to getting things smooth, either way, is to blend for several minutes and add in as much water as needed to get the mixture circulating freely through the blades.
I used an immersion blender for the soup in the top photo, and while it was still delicious, it wasn't as creamy and smooth as the same soup when made in my normal stand blender (seen below). I was keeping the soup especially thick that day because I wanted to decorate it for Halloween.
In the end, both versions were easy to decorate. (I'll show you how below.)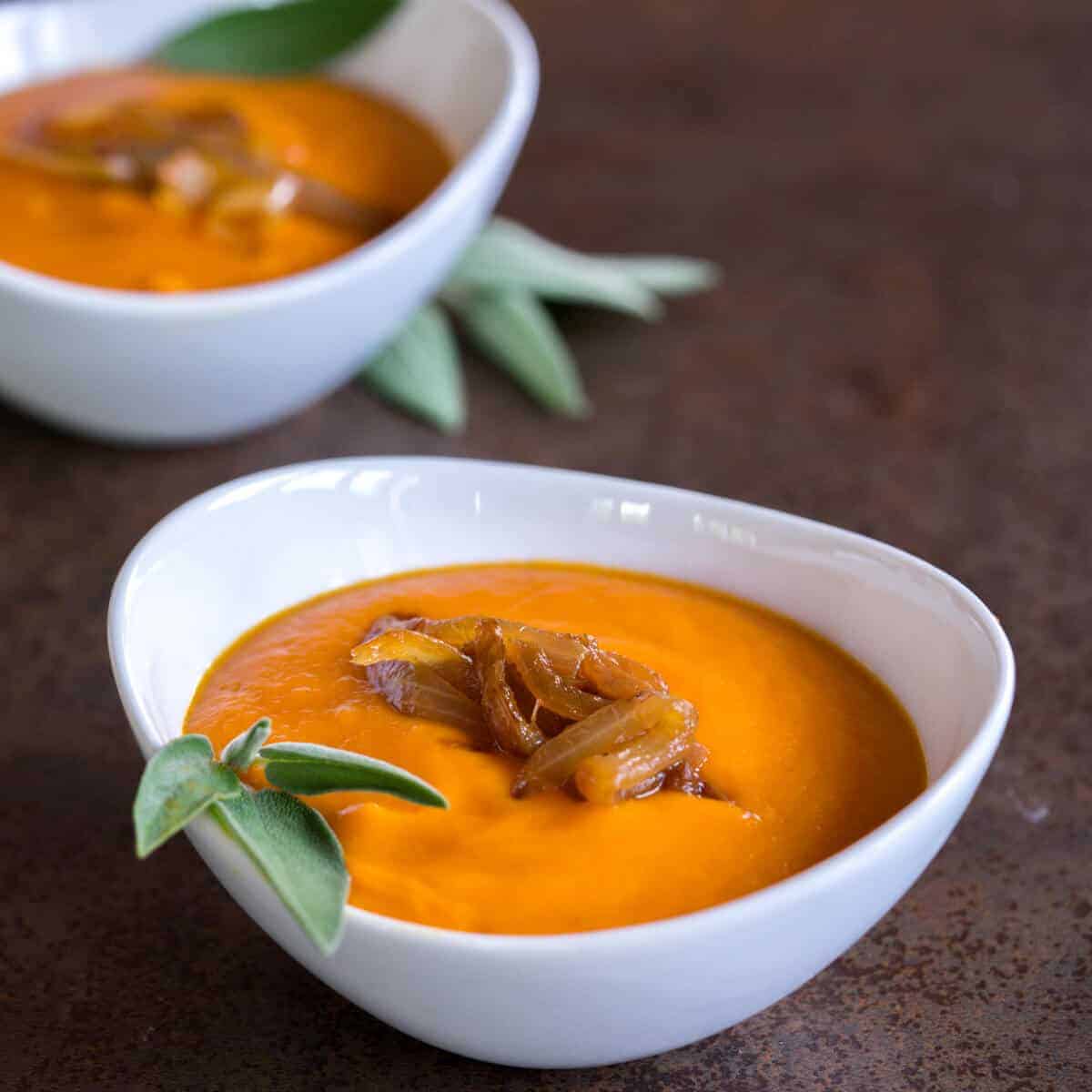 Using a stand blender safely for blending soup
Using a regular stand blender with very hot liquids can be dangerous. If steam builds up, the hot soup can "explode" out, making a mess and potentially burning you.
To prevent soup "explosions," only fill the blender jar halfway. You can also open the center insert of the lid to allow steam to escape. If doing so, you should cover the lid with a towel to prevent the soup from flying out the hole.
Keeping this Pumpkin Soup Vegan
My first attempts at making a roasted pumpkin soup all used a homemade chicken bone broth. After experimenting with the recipe, though, I realized that we liked the soup better when using water rather than broth. This soup can be made either way, though.
The roasted pumpkin soup tastes fresher and lighter when only the flavors of the vegetables shine through. Each adds their own clean sweetness, and the addition of an animal-based broth tones that down. If you find the soup too sweet, though, you could try incorporating any broth in place of the water.
To keep it fully vegan, you'll also want to use a plant-based oil like coconut oil or olive oil for caramelizing the onions. You can also garnish the soup with a touch of coconut cream, if desired.
Watch how to make this roasted pumpkin soup
Craving more?
Subscribe to my newsletter for the latest recipes and tutorials!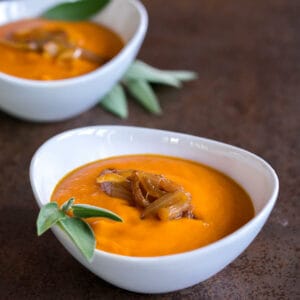 Roasted Pumpkin Soup with Red Peppers and Caramelized Onions
Roasting your veggies brings out the flavors in this creamy pumpkin soup, the perfect healthy comfort food for those cooler autumn and winter days.
Print
Rate
Ingredients
2.5

cups

pumpkin puree Homemade pumpkin purée tastes best

2

Tbsp.

olive oil

or coconut oil

1

onion

2

red bell peppers

2

cups

water

or more, as needed to get the desired consistency

1/4

tsp.

salt

1/4

tsp.

cumin

2

leaves

sage

fresh
Instructions
If you are making the soup completely from scratch, begin by starting to make a pumpkin purée (or a butternut squash purée).
Caramelize the onion
Peel and cut the onion in half and slice into thin half-moons to get thin ribbons of onions to caramelize.

Pour the oil into a large frying pan and warm it at medium to high heat. Add the onion ribbons, breaking them up into thin strips, and sauté them until they brown.

As the onions begin to stick to the bottom of the pan, add a little water to unstick them as you stir and continue to sauté them and let them get progressively darker and sweeter. Repeat this process several times until they have reached the desired level of caramelization.
Roasting the vegetables
Meanwhile, roast the red peppers under your broiler and peel and de-seed them as explained in my post about making roasted red peppers.

Remove the caramelized onions from the pan, setting them aside, and add the pumpkin puree to the pan.
If you are using a pre-made pumpkin purée or one that has been made by boiling, you can bring out the flavors by caramelizing the pumpkin a little bit, just as you did earlier with the onions. (You won't need to cook the pumpkin for nearly as long, though. You just want to bring out some of the sweetness of the pumpkin.)

Add in the roasted red peppers, half of the caramelized onions, the cumin, sage, salt, and pepper.

Add the water. (I used around 2 cups to make a thick soup, ready for decorating, but you can add more water to get a thinner consistency if desired.)

Warm the ingredients over medium heat for several minutes to get the ingredients to the desired temperature.

To obtain a creamy texture, blend the ingredients together for several minutes until smooth. You can either carefully use an immersion blender in the same pan or pour the mixture into a stand blender instead.

Serve immediately in bowls and garnish with the rest of the caramelized onions. You can also garnish with pumpkin seeds, baked proscuitto or serrano ham, or even a bit of greek yogurt as shown below!
Notes
For a thinner soup, add more water. You can also substitute the water for any broth of choice.
For a very smooth, creamy soup, blend for several minutes. A stand blender usually has more power and can make a smoother soup, but can be prone to explosions of hot liquids. When using a stand blender, make sure the soup isn't very hot and only fill the jar halfway each time or it can cause the top to pop off and make for a messy soup explosion. (Removing the center insert of the lid and covering it with a towel allows steam to escape safely and prevents the "explosion".)
This soup can be stored in the refrigerator for several days, but also freezes well if you make a larger batch and want to save some for another week.
You can decorate this soup with cream, greek yogurt, or sour cream.
Garnishes that pair well with this soup include prosciutto (or serrano ham), pumpkin seeds, and extra virgin olive oil.
Serving:
12
oz.
|
Calories:
148
kcal
|
Carbohydrates:
19
g
|
Protein:
3
g
|
Fat:
8
g
|
Saturated Fat:
1
g
|
Sodium:
137
mg
|
Potassium:
481
mg
|
Fiber:
6
g
|
Sugar:
9
g
|
Vitamin A:
25694
IU
|
Vitamin C:
84
mg
|
Calcium:
57
mg
|
Iron:
3
mg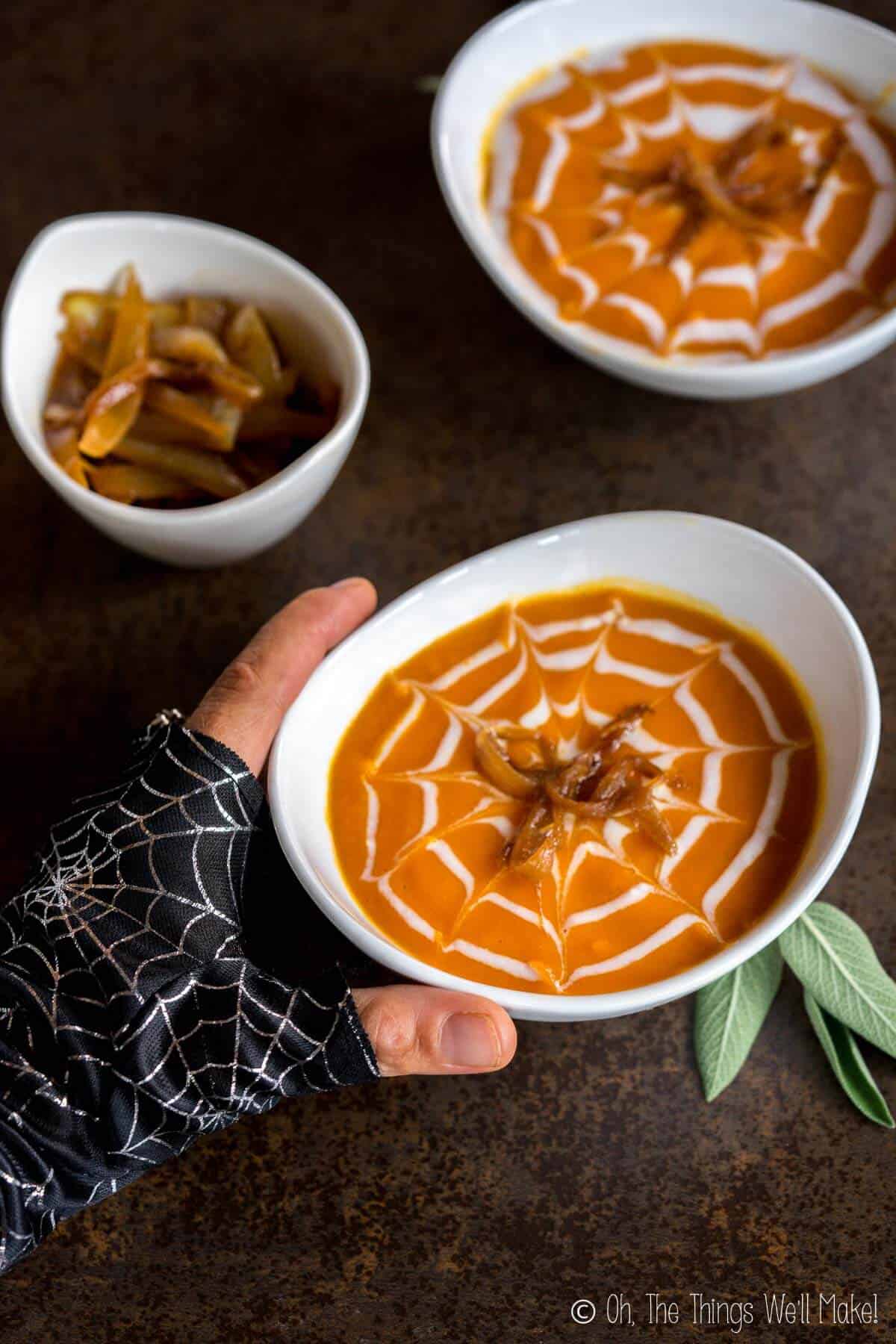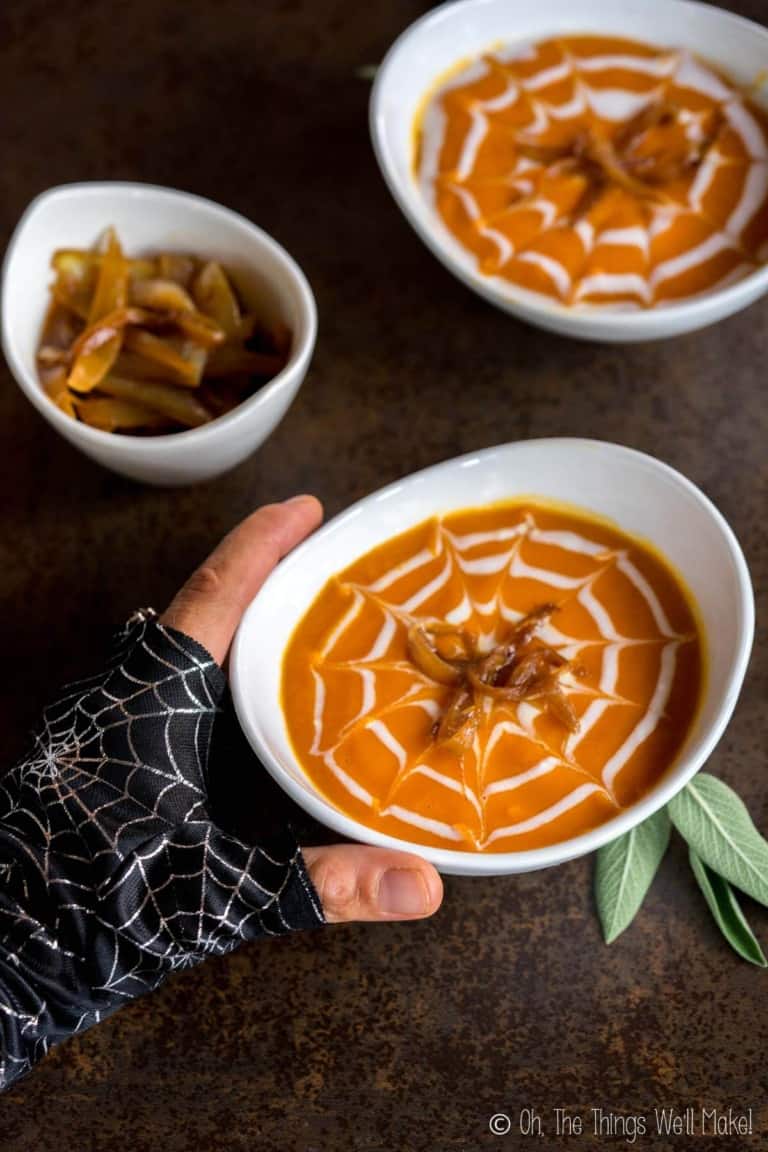 How to make a Halloween Spiderweb Soup
Seeing as Halloween is coming up, I decided to decorate our soup for the holiday with a quick and easy spiderweb design.
Seeing as nobody is perfect, I just assumed that you could drizzle heavy whipping cream on the soup, but I ended up with a blob of liquid rather than a delicate design! Yes, I also have my kitchen failures. ?
I tried again using some greek yogurt, and that worked out much better.
You can use either greek yogurt, sour cream, or any sort of thick white sauce. (A thick coconut cream may be a good option to keep the soup vegan.)
Add the cream to a piping bag or decorator bottles and pipe a spiral design or concentric circles with a dot in the center on top of the soup.
Once you've piped on the circles or spiral, take a toothpick and run it from the center dot through the other circles to the edge of the bowl. Repeat the process several times going completely around the bowl until you've completed your spiderweb design.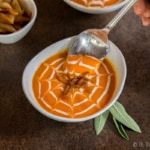 How to Make a Spiderweb Topping for Soups or Dips
Decorate your soup or party dips with a fun, spiderweb design, perfect for Halloween parties.
Print Tutorial
You'll Need:
thick soup or darker colored dip

yogurt or sour cream
Instructions
Mix the yogurt or sour cream to get it to a pourable consistency.

Pipe the yogurt or cream into a spiral or concentric circles with a dot in the center on top of your soup. A spiral would probably look more realistic, but I made concentric circles because I found it easier.

Run a toothpick from the center of the circle outwards through the circles to the edge of the bowl. Repeat the process, continuing all the way around the bowl to make an instant spider web!

Use the caramelized onions to form an onion "spider" on top of the creamy web.
Notes
For a vegan alternative, try a thick coconut cream or a light colored nut purée.
This technique works best on a thick soup.
This post was originally published on September 16, 2015. It was completely updated with new information, more pictures, and better tips and tricks in October 2019.