Homemade sausage biscuits are the best, especially when you know how to make sausage patties. They are super simple to make, and they taste great. Plus, you can make them ahead and freeze them for whenever you want a treat.
While it might not be one of the healthiest things that I crave, sausage biscuits are something that I do occasionally miss living here in Spain. They just don't exist here. The only place that I think might potentially eventually have them here is Mc Donald's. Over the years some Mc Donald's restaurants have begun to serve breakfast, but sausage biscuits aren't on the menu. In any case, I'd prefer not to eat them there.
You already know that I like to be able to control what is going into my food, but this is especially true with something like sausage patties where it's easy to sneak in all sorts of unnoticed ingredients.
While this isn't a recipe for something that I think you should be eating every single day, it does satisfy an occasional craving in a way where you can control all of your ingredients.
When I originally wrote this post, I didn't really prove a recipe for how to make sausage patties. I basically only gave you a list of herbs and spices that I like to add to mine, and was just going to let you experiment for yourself.
While I do think it's best for everybody to experiment with recipes and tweak them to their liking, I am now adding a recipe for how to make sausage patties to serve as a starting point. Some people will prefer more cayenne, others will prefer more salt. My recipe should show you that it is super easy to make sausage patties at home, so once you get over the intimidation factor, you should be able to play with the recipe and make it your own.
Let's begin with how to make the sausage patties.
Here in Spain pork, especially ham, is very popular, and there are many types of sausage available. From chorizo to salchichón, and morcilla to fuet, you would think that finding a sausage for a sausage biscuit would be easy. None of the common sausages, though, are really anything like American breakfast sausage, and it is rare to see a sausage patty of any type.
I mistakenly thought that making sausage would be a huge ordeal, and wasn't brave enough to even check out any of the recipes. I figured you would need all sorts of special equipment that I didn't have. While it is true that for making sausage links specialized equipment would be very helpful, making sausage patties is just as easy as making hamburger patties!
All you really need is some ground pork instead of ground beef.
Many recipes had added fat ground in, but I found it to be unnecessary and actually bothersome in this type of sausage recipe. So, the second time I made myself sausage, I just bought around a half kilo (around a pound) of pork shoulder and had them grind it for me. That cut of pork already has some fat, so it worked well in the recipe.
Once you have your ground pork ready, you just need to season it. I tried out a few recipes, and most added some sort of sweetener like maple syrup or sugar. I personally found them all to be too sweet. So, after a few trials, I came up with a mix that I liked. I usually use fresh herbs from my garden, and basically just throw in a handful of each herb, which is what made it hard for me to actually write out a recipe. Since then, though, I have played with dried herbs and came up with the mild recipe above. You can definitely add in more herbs and spices to give it more of a kick! You can also add in some home rendered lard, especially if using a leaner cut of meat. It nicely takes the place of the added ground up fat.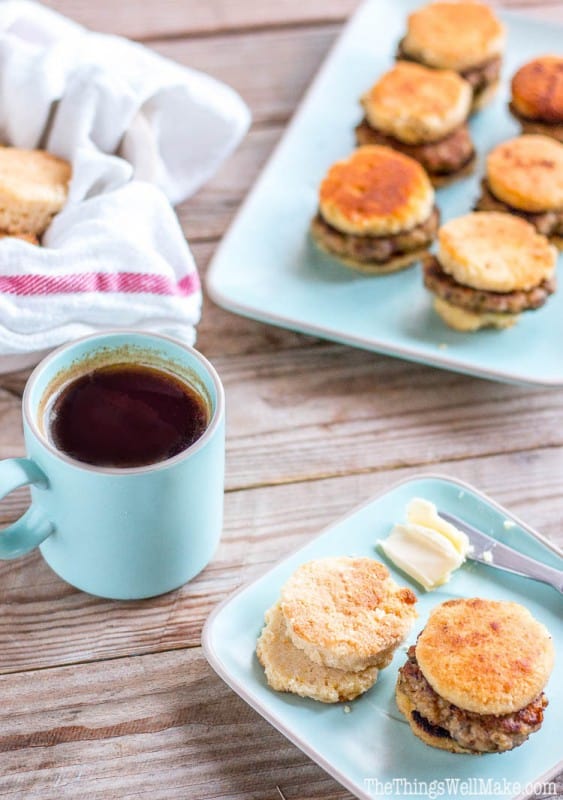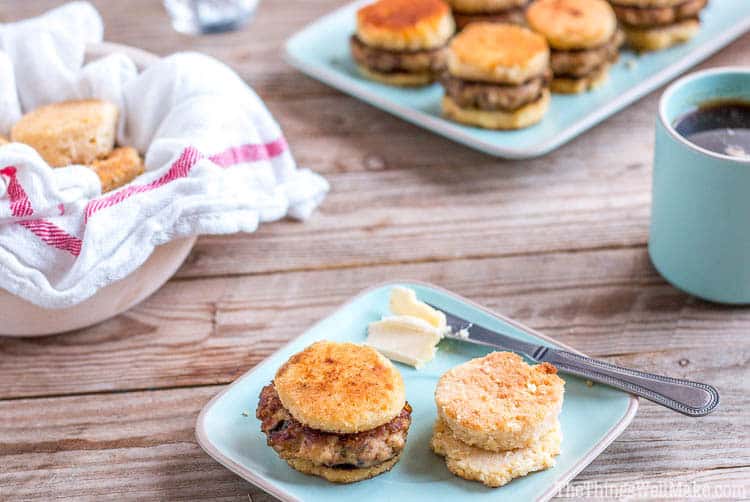 how to make Sausage Patties
Ingredients
500

g

ground pork

I use pork shoulder

1/2

tsp.

salt

1/2

tsp.

thyme

1/4

tsp.

nutmeg

1/8

tsp

cayenne pepper

or more if you like it spicy

1

small

egg

optional
Instructions
Mix together all of the ingredients in a bowl.

Make sausage patties by rolling the mixture into balls and then flattening them between two sheets of parchment or wax paper. I use the paper to help get a thin, flat patty. The sausage patties will thicken up and get smaller in width, so I like to make them thinner and bigger than I want the finished patties to be.

If you are making sausage biscuits, have your biscuits ready before pan frying the sausage patties!

Pan fry the sausage patties until cooked through and browned on both sides.

Serve immediately.
Recipe Notes
Adding an egg makes the sausage patties a little lighter in texture, but it also makes it harder to form the patties. Using just a little bit of egg (one very small egg or half an egg) is probably the best of both worlds, but adding it is completely optional.
Before frying the sausages, though, you should prepare your biscuits.
You could use biscuit mix or something like that, but I told you that these sausage biscuits would be completely from scratch. We don't have biscuit mixes here in Spain because, frankly, most people here have never seen a buttermilk biscuit. Those who think they know what a "biscuit" is, are probably picturing what most Americans think of as a "cookie." We can thank the nearby brits for that!
Getting back on track:
The first time I made these biscuits, I used a traditional roll and cut buttermilk biscuit recipe.
It turned out well, but the next time I decided to try using an old favorite recipe of mine for butter dip biscuits. They are buttermilk biscuits where the dough is pressed into a pan over butter, and then cut and baked. I love the method because, since you don't handle the dough much, the dough inside is light and fluffy. Plus, they are a lot less messy to make, because you don't need to use a rolling pin. They are a bit messier when eating, though, because of all of the butter. I originally included my recipe for butter dipped biscuits in this post, but have since taken them out while trying to make the conversion to a gluten free blog. I do want to give options for those who want traditional wheat biscuits, though, so I've left a link to my old recipe on the Wondermill Grain Mill Wagon blog.
Since then, I've been working on a grain free butter dipped biscuit. So far they are turning out well, but I want to perfect the recipe a little bit before posting it on my blog. As soon as I'm sure that I'm happy with the recipe, I'll post it and link to it here!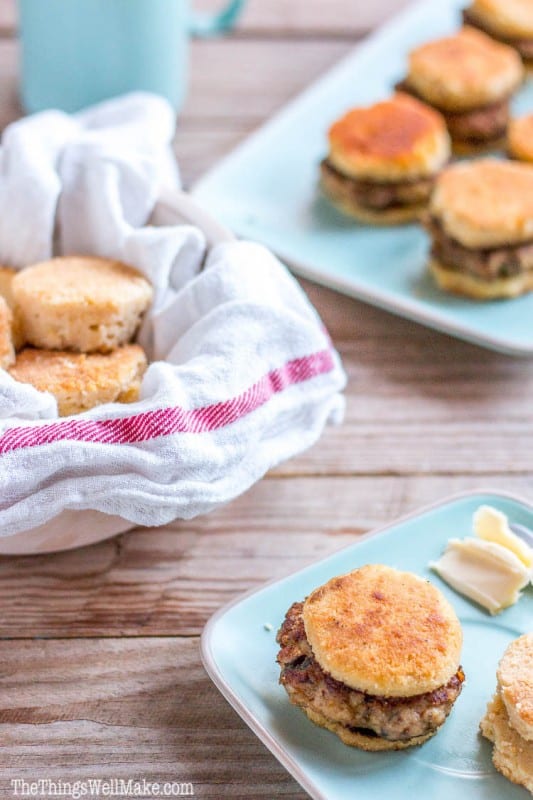 Finishing off the homemade sausage biscuits:
Once you have the biscuits ready, brown the sausage over medium to high heat in a saucepan on the stove. Cut the biscuits in half, and slip in one of the sausage patties. You can add a bit of omelet style egg, too, if you are so inclined. I added it for my husband and son, but prefer it plain myself.
I'm not sure whether I like the butter dip biscuits or the roll and cut biscuits better in the end, but the butter dip biscuits are definitely easier. The others may be more like what I remember eating. In any case, they are both good.
I hope you enjoy them as much as I do!

This post is also available in Español.