Reminiscent of baba ganoush or hummus, zucchini hummus is a delicious yet healthy dip that is very versatile. It can be made raw or roasted and can be made in a variety of flavors to suit everybody's taste.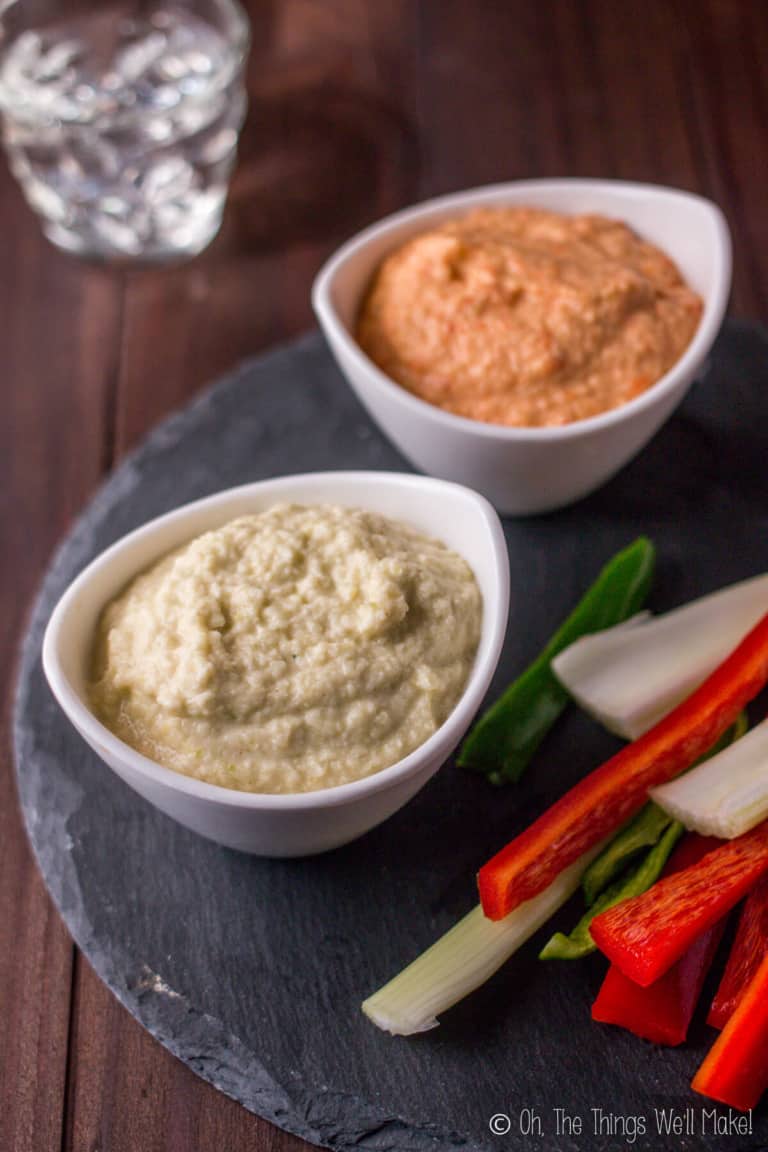 When I shared my turmeric falafel recipe, I mentioned serving it with two types of hummus, a conventional chickpea hummus, and light, yet delicious raw zucchini hummus.
By now, many of you know that I sort of dabble in following a Paleo type diet a lot of the time. I don't completely avoid legumes, but I don't like to overdo how many I eat either.
Between avoiding legumes and trying to pack as many vegetables as I can into my meals, I discovered something wonderful: zucchini hummus.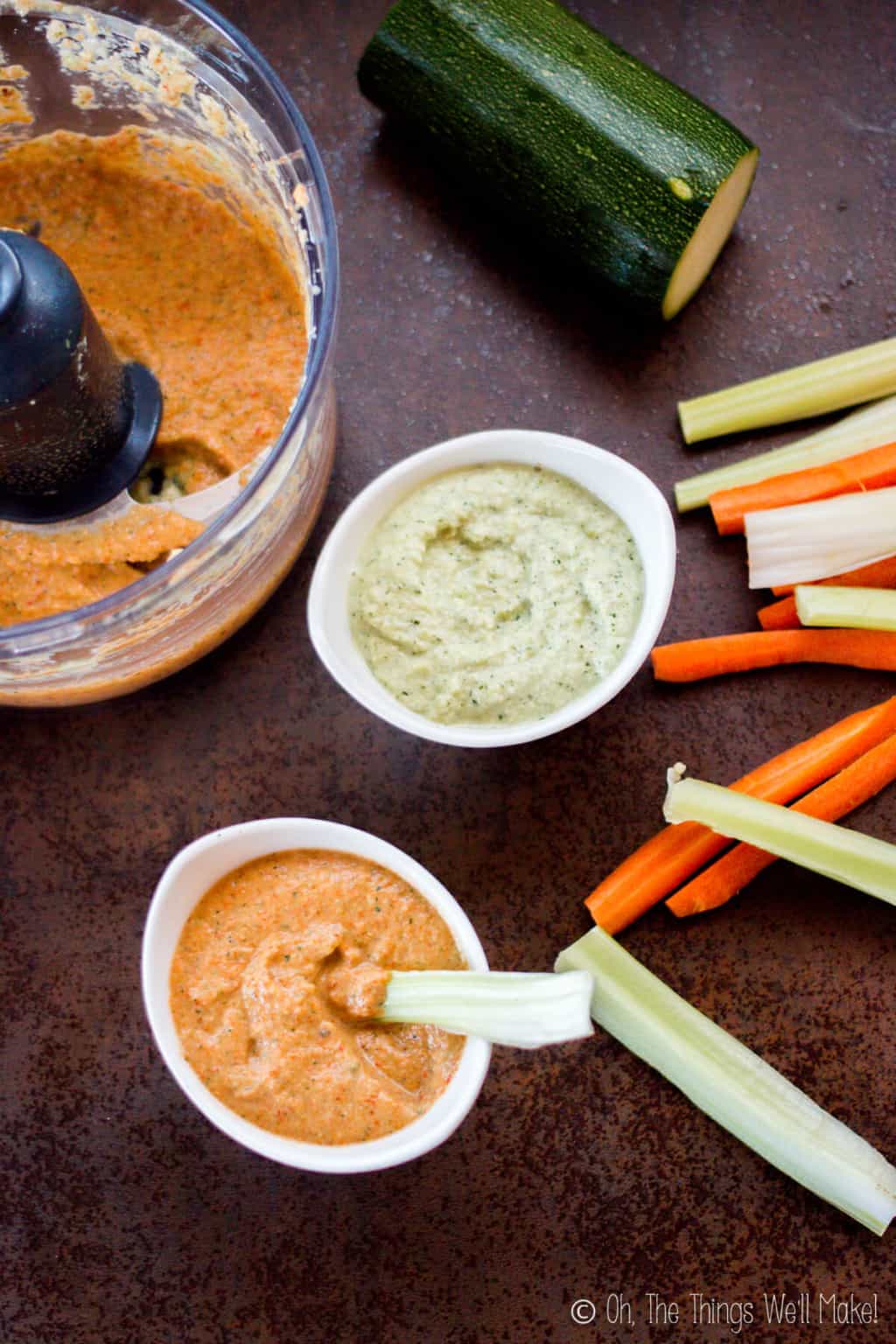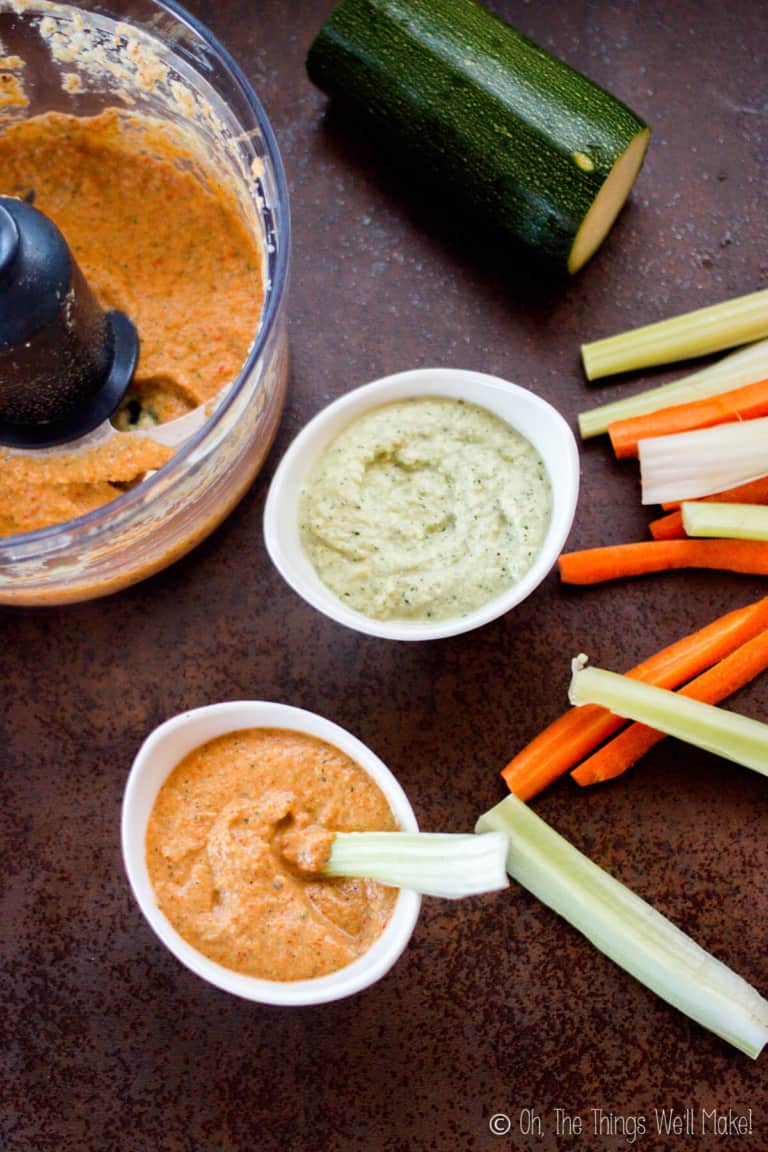 What is zucchini hummus?
Zucchini hummus is a dip that is made from zucchini squash using the same spice blend normally found in hummus. Ironically, the word "hummus" means chickpeas in Arabic, but here we are making a "hummus" without them.
If you're familiar with baba ganoush, zucchini hummus is quite similar to it. Baba ganoush is another non-legume dip that uses the same spices but that uses roasted eggplant instead of either chickpeas or zucchini. It happens to be one of my favorite dips; one that I make almost every week! If you already love baba ganoush, you must give zucchini hummus a try.
Different variations of Zucchini Hummus
Not only is zucchini hummus healthy, but it's also highly versatile.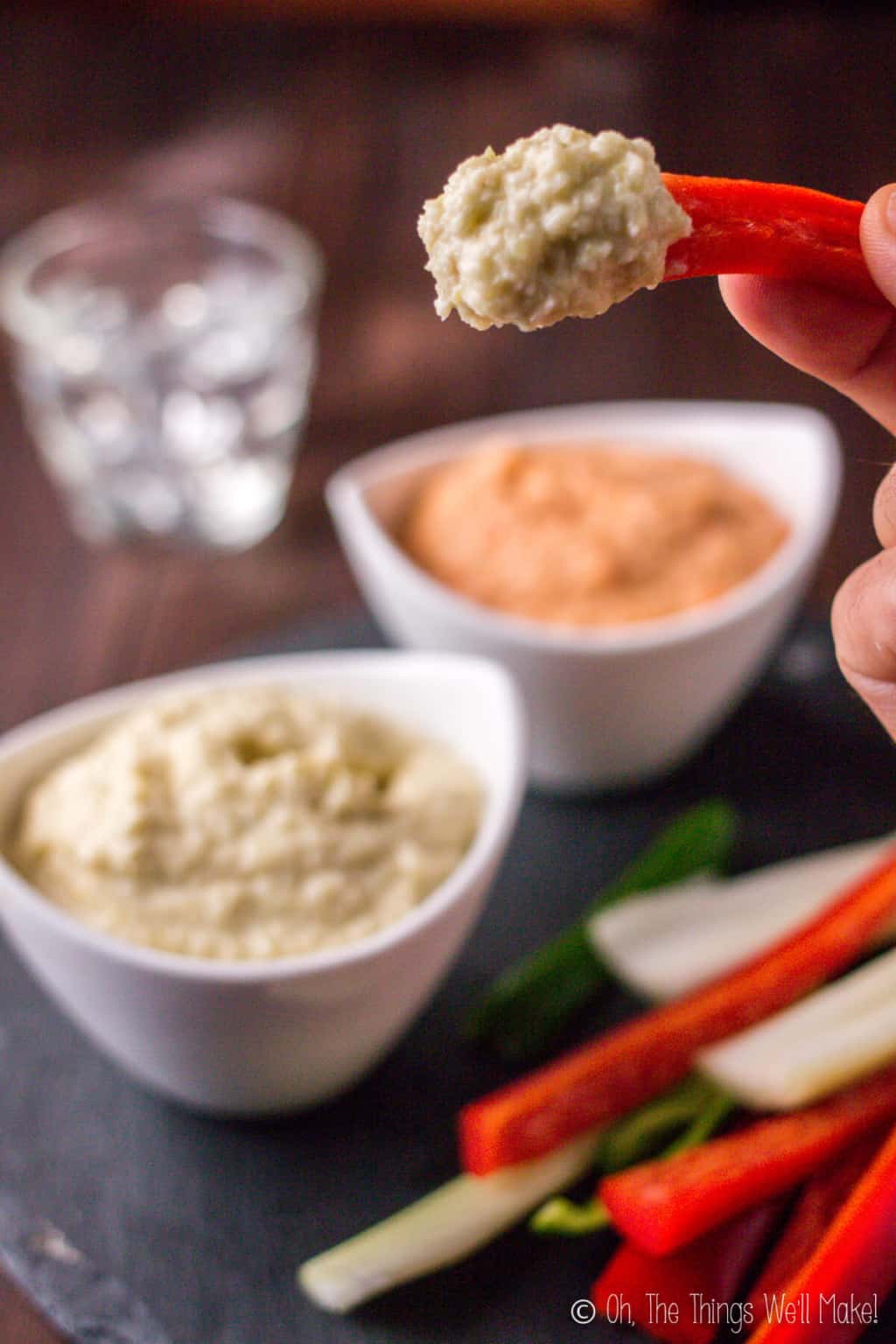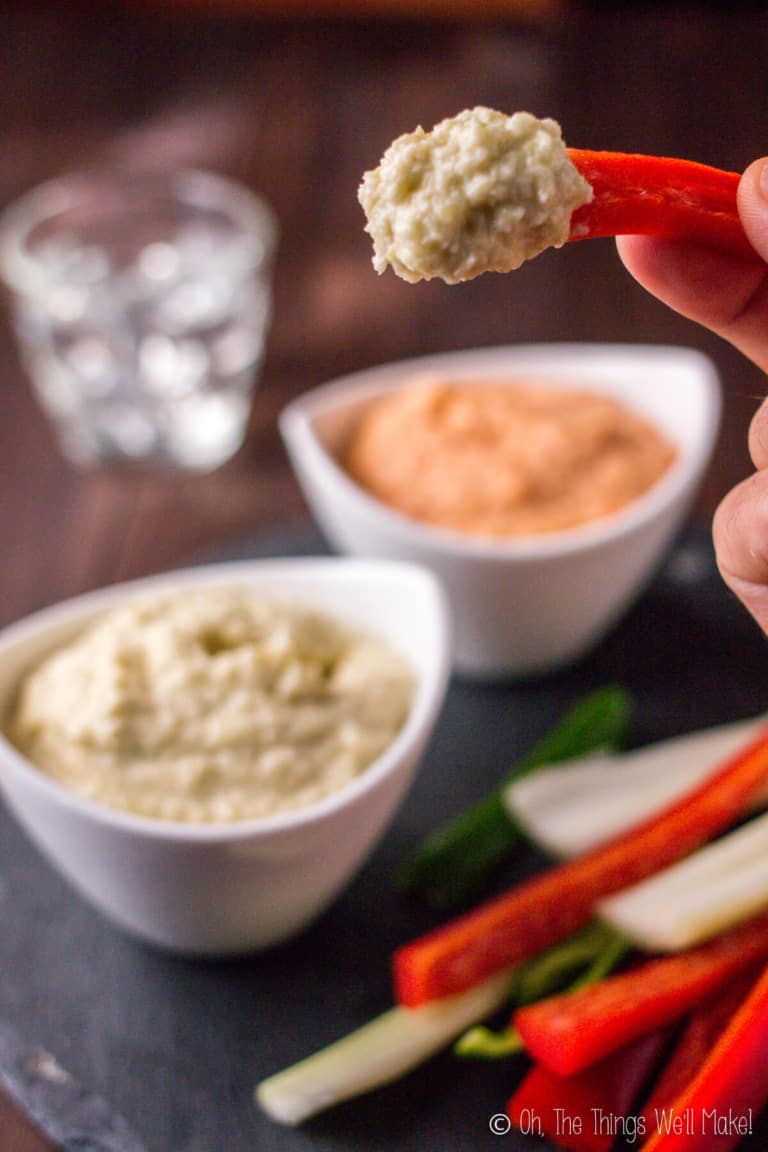 Raw zucchini hummus vs. Roasted zucchini hummus
Raw foodies enjoy making this dip with raw zucchini, but it is even smoother and silkier when made with roasted zucchini. I make it both ways, depending on my mood and the time I have available. Both are delicious!
When I first began making zucchini hummus, I always made it raw. One day, though, it occurred to me that the addition of roasted red peppers would make it even more delicious. I was, of course, right about that!
Then, it occurred to me that by adding roasted red peppers, it wasn't a truly "raw" dip anymore. That got me to thinking, wouldn't it be even more delicious if the zucchini were roasted, just as the eggplant is in baba ganoush?
Making roasted zucchini hummus
I gave making it with roasted zucchini a try and loved it. It's even smoother and I like serving it slightly warm in winter.
On the other hand, in summer, I love serving raw zucchini hummus with cut veggies. It's hard to believe that raw zucchini can be blended into such a smooth texture, but it really does work well.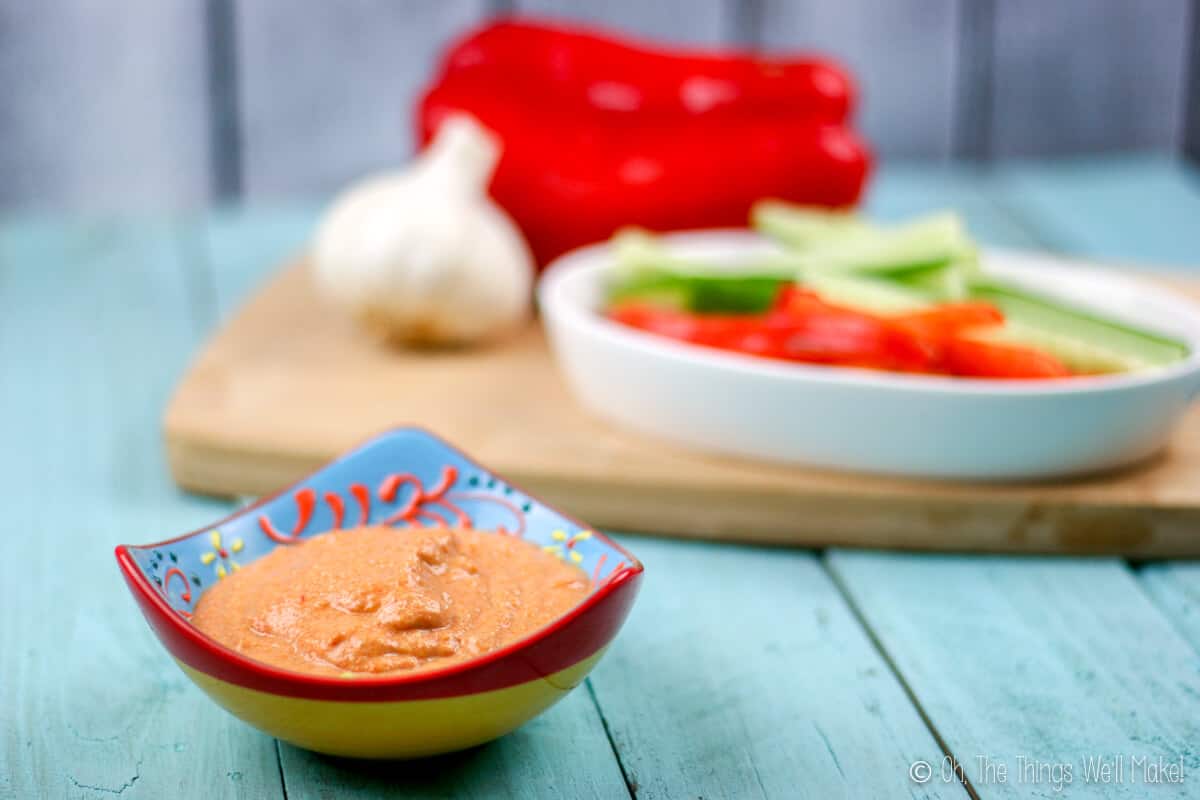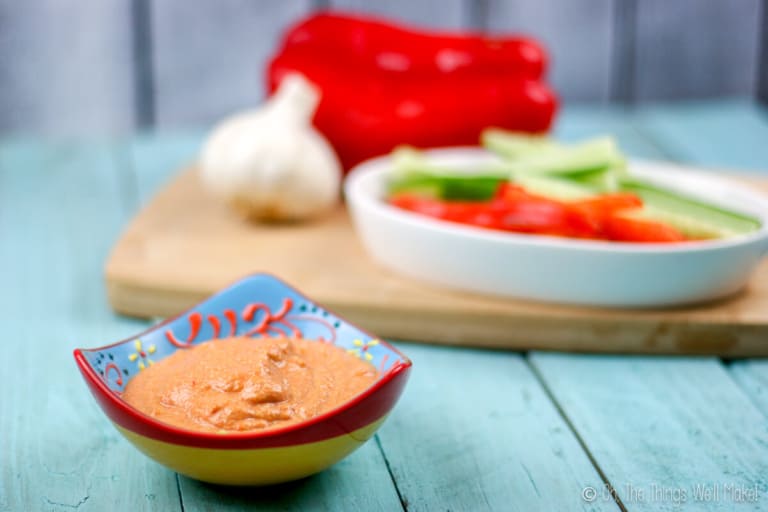 To peel or not to peel?
Over the years, I've made zucchini hummus numerous ways. Some people always choose to peel the zucchini first before blending them. Others prefer leaving the peel on.
If you leave the peel on, know that you'll see the green speckles of the skin in your hummus. For me, that isn't a problem, but if you're looking to make it look like baba ganoush or hummus, it's a good thing to keep in mind.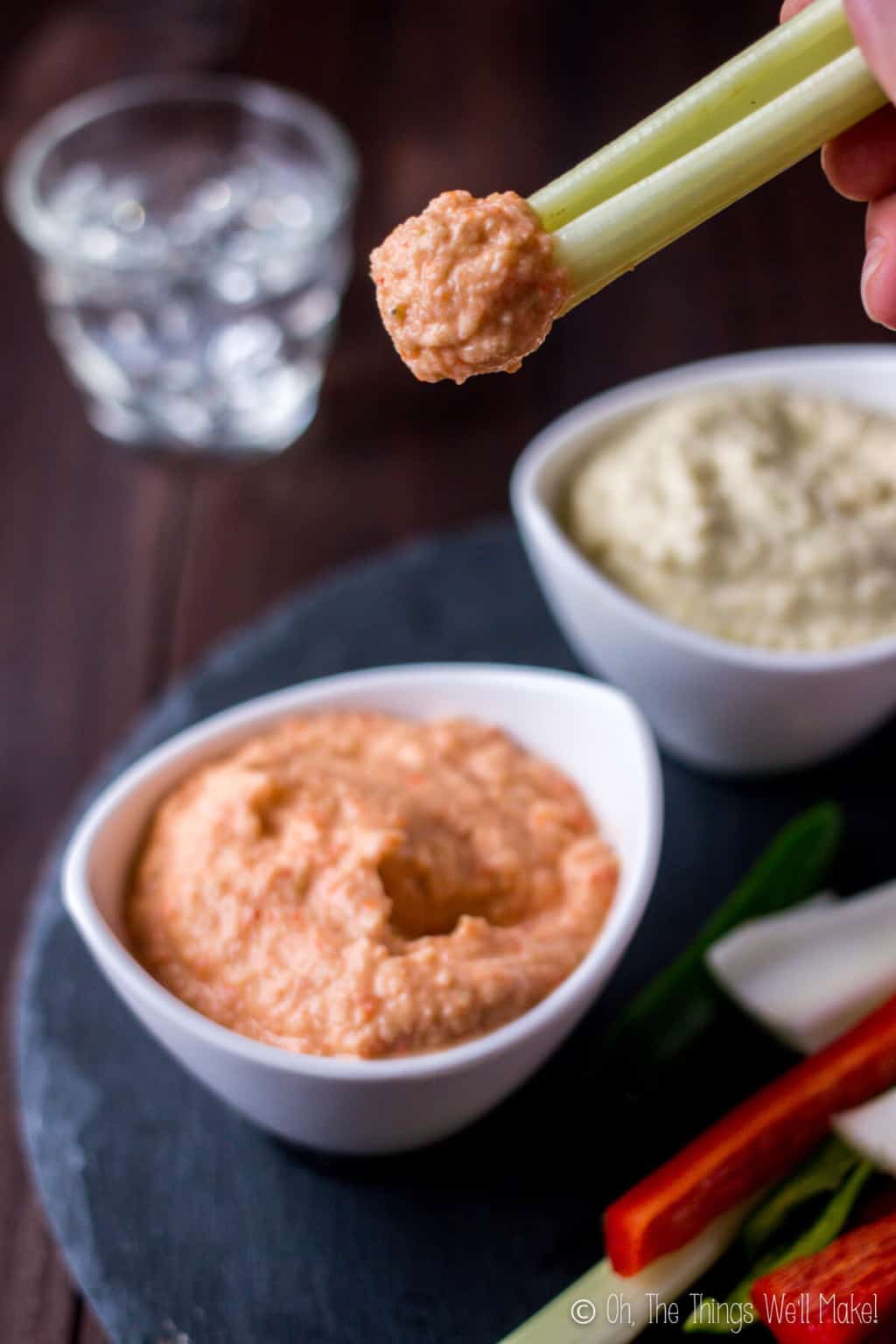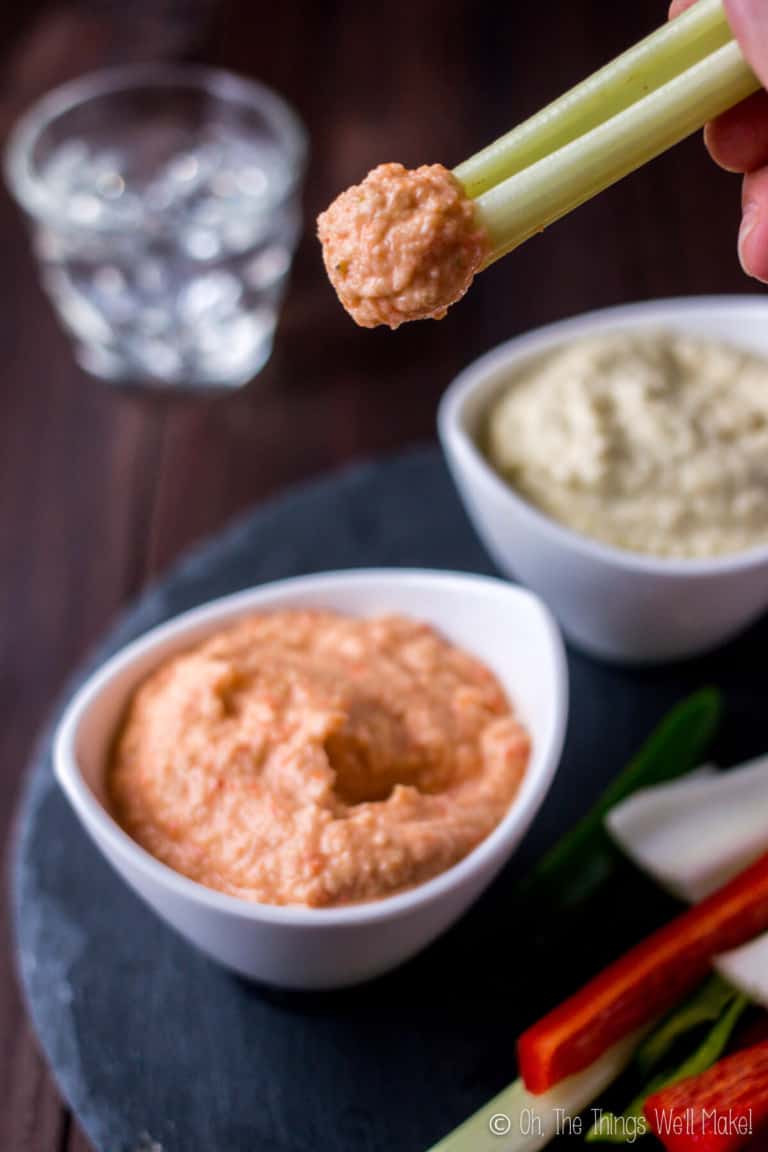 What I normally do is to peel the zucchini when making raw zucchini hummus but leave the skin on when making roasted zucchini hummus. I also remove the skin from any zucchini with especially hard skin or those that are starting to dry up.
Different Flavor Combinations
The first time I made zucchini hummus, I added roasted red pepper to half of the batch. It was so delicious, that I kept doing that every time I made it- at least for a while.
Since then, though, I've found that there are many ways to mix it up and make interesting combinations. Why not try incorporating some of the following?
Pumpkin zucchini hummus: Add some homemade pumpkin purée.
Avocado zucchini hummus: Add mashed avocado.
Beetroot zucchini hummus: Add some homemade beetroot powder for a beautiful color and sweet, earthy flavor.
Add homemade yogurt or cream cheese to give it a bit of zing.
Homemade black garlic also gives it a new, interesting flavor.
Watch me make zucchini hummus
Zucchini Hummus Recipe
Craving more?
Subscribe to my newsletter for the latest recipes and tutorials!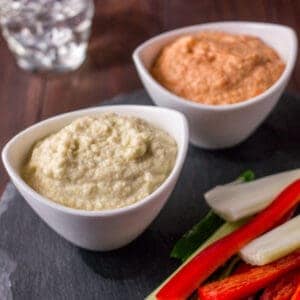 Zucchini Hummus: Raw or Roasted
Smooth and creamy, zucchini hummus is a delicious healthy dip reminiscent of baba ganoush or regular hummus. It can be served raw or roasted and can be personalized in numerous ways.
Print
Rate
Servings:
5
servings (1/4 cup each)1
Ingredients
1

zucchini

large (or 2 small)

1/2

lemon

Juiced

1

clove

garlic

(Or 2 if you love garlic.)

1/4

cup

tahini

2

Tbsp.

extra virgin olive oil

(optional)

1/2

tsp.

cumin

salt

To taste
For Roasted Red Pepper Zucchini hummus
Instructions
For roasted zucchini hummus
Preheat the oven broiler.

Rinse and dry the zucchini and cut them lengthwise down the center.

Place the zucchini, face down, on a baking sheet that has been prepared by greasing it or covering it with parchment paper. Place in the oven under the broiler for around 8-10 minutes.

Flip the zucchini over so that the skin faces down, and return to the oven for another 8-10 minutes, or until golden brown.

Remove from the oven and cut into chunks. If you'll be using a food processor with a plastic container, allow the zucchini to cool slightly before proceeding.
For raw zucchini hummus
Rinse and dry the zucchini and peel them. (Peeling is optional.)

Cut the zucchini into medium-sized chunks.

For either raw or roasted zucchini hummus
Add the zucchini (prepared as shown above) to a food processor along with the juice of 1/2 a lemon and all of the other ingredients except for the red pepper.


Process until smooth.

Taste the zucchini hummus, and adjust it to suit your taste by adding extra salt, spices, or lemon if desired.

For roasted red pepper zucchini hummus
If you'd like to serve both types of zucchini hummus, remove half of the hummus from the food processor before proceeding.

Add in a few strips of roasted red pepper (around 1/2 of a pepper) to the rest, blending until smooth.


Enjoy!
Notes
Serving size based on using 1 cup of zucchini purée and without adding roasted red peppers.
Zucchini can be used either peeled or whole.
Try further customizing the recipe by adding pumpkin purée, avocado, yogurt or cream cheese, or beetroot powder instead of the roasted red pepper strips.
Serving:
0.25
cups
|
Calories:
136
kcal
|
Carbohydrates:
5
g
|
Protein:
3
g
|
Fat:
13
g
|
Saturated Fat:
2
g
|
Sodium:
9
mg
|
Potassium:
181
mg
|
Fiber:
1
g
|
Sugar:
1
g
|
Vitamin A:
78
IU
|
Vitamin C:
13
mg
|
Calcium:
31
mg
|
Iron:
1
mg
*This post was originally published on May 22, 2014, but was rewritten in October of 2019 to add new flavor ideas, video, and new photos.
You May also like: