Thick and creamy, chocolate a la taza, or Spanish hot chocolate, isn't just your ordinary hot chocolate. Its thicker consistency is perfect for dunking churros or sweetbreads, or for eating with a spoon.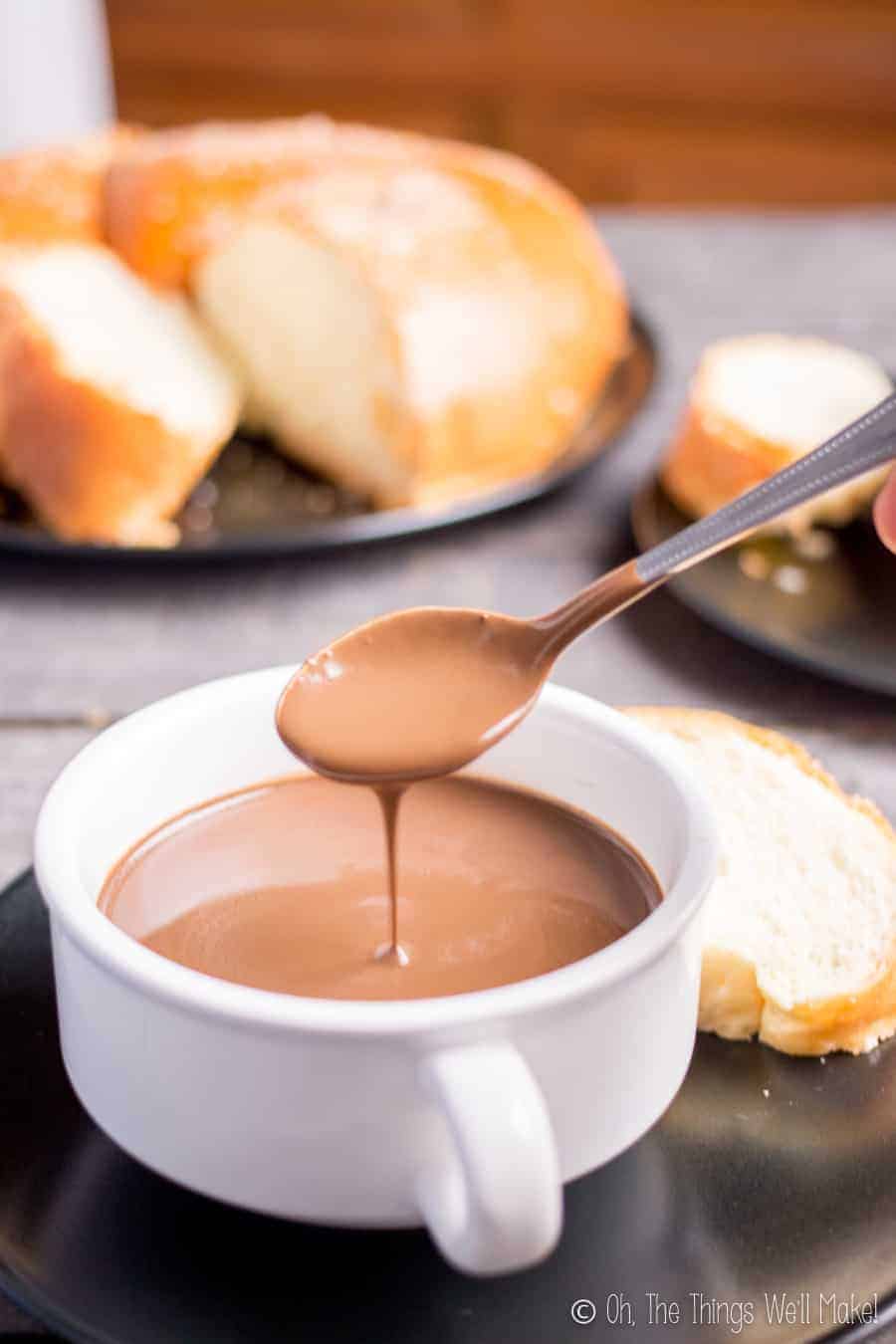 While it may not be the most typical breakfast served in Spain, churros and chocolate is definitely one of the favorites of those who come to visit the country.
Churros can be found for breakfast or as an anytime snack at many cafés and bars. They are also often served at flea markets and fairs.
When served at a bar or café, though, they are almost always accompanied by chocolate a la taza.
What is chocolate a la taza?
Chocolate a la taza is a type of Spanish hot chocolate. Unlike the typical hot chocolate served in the US, though, this hot chocolate is much, much thicker. In fact, when cooled, it has a pudding-like consistency!
Its thick consistency makes it perfect to use as a dip for everything from churros to buñuelos (pumpkin fritters) to other sweetbreads commonly found here (like fartons). At Easter, it's often served with panquemado, a typical sweetbread served that time of year.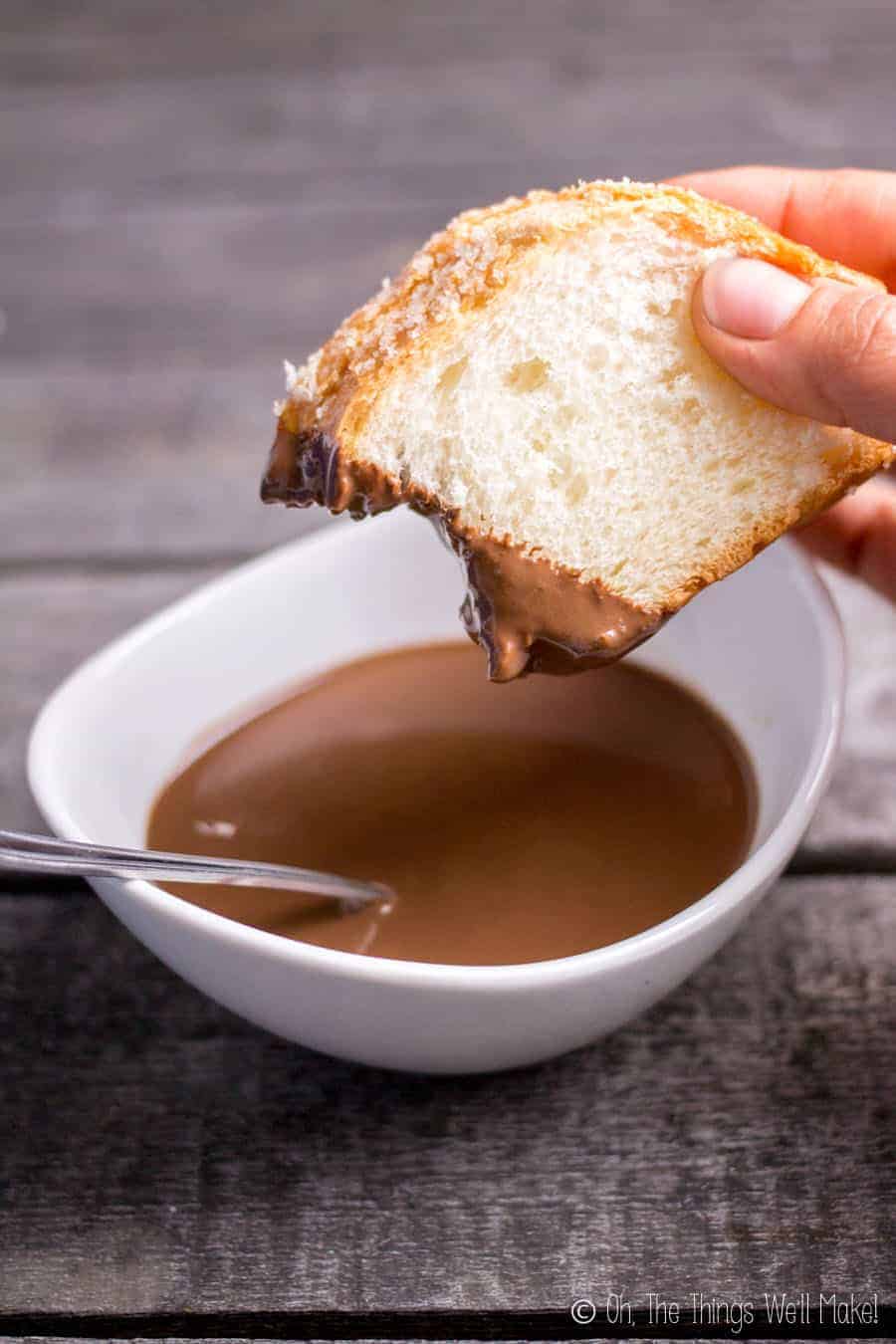 How is Spanish hot chocolate made?
Here in Spain, most people buy a prepackaged powdered "chocolate a la taza." To make it, you either add water or milk to the powdered mixture and slowly cook it over the stove, stirring constantly, until it has thickened.
I have never have really understood why there are so many prepackaged versions of chocolate a la taza. It is really just as simple to make it with just two ingredients: chocolate and milk.
Why make it from scratch, without a mix?
When you make chocolate a la taza from scratch, you can better control the result. You have full control of the quality of the chocolate, how sweet it will be, etc. Plus, you don't have to have an extra container of powdered chocolate sitting around.
For those of you in other countries, you probably don't have access to the powered prepackaged version anyway. So making it from scratch (from only 2 ingredients) is simpler than hunting down a mix.
You will need:
I have normally made chocolate a la taza with whole milk and dark chocolate bars, but, theoretically you should be able to make it with any milk and any chocolate. Even vegan nut milks are said to work, but I haven't personally tried using them yet. (When I do, I'll try to remember to update the post with the results.)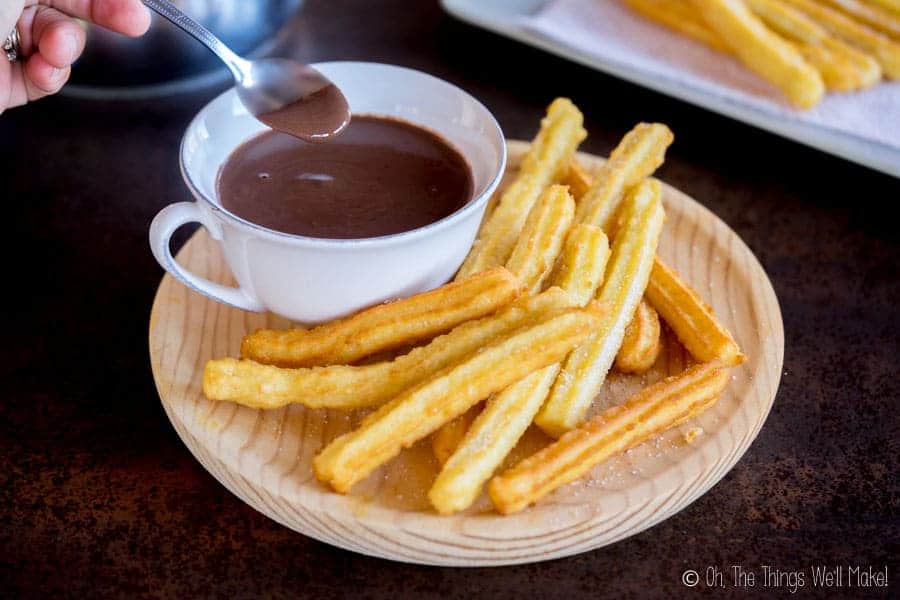 How to make a thick Spanish hot chocolate
The secret to getting a really thick hot chocolate is to simmer the chocolate with the milk until it comes to a boil and then remove it from the heat source. Then, you simmer it again until it boils again, and then remove (again). Repeat the process several times, until you are happy with the consistency.
Adding starch to further thicken it
If bringing the mixture to a boil several times doesn't thicken it enough for your liking, you can also thicken it more with a tad of cornstarch, tapioca starch, or arrowroot powder.
To thicken with a starch, dissolve the starch of choice into cold water or milk. Add the solution, little by little, into the warm chocolate mixture, stirring quickly to incorporate it well. Once it is well incorporated, bring the mixture to a simmer again.
Serve Chocolate a la taza with:
Buñuelos or donuts
Panquemados, monas, or other sweet challah-like breads
Fartons
Fruit
It can also be served like pudding when cooled.
Watch how to make Spanish Hot Chocolate
Spanish Hot Chocolate Recipe
Craving more?
Subscribe to my newsletter for the latest recipes and tutorials!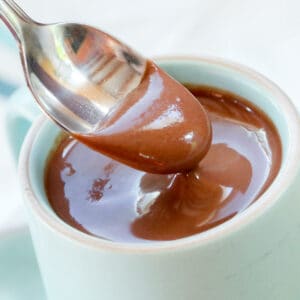 Spanish Hot Chocolate: Chocolate a la Taza
Spain's version of hot chocolate is thick and meant for dunking churros and sweetbreads into it. Learn how simple it is to make chocolate a la taza for chocolate and churros using only 2 ingredients!
Print
Rate
Servings:
4
small, 4 oz. servings
Ingredients
200

g

chocolate

500

ml

milk

(Just over 2 cups)
Instructions
Break the chocolate into small pieces.

Warm the milk and chocolate pieces together in a pan on the stove over medium heat.

Simmer the chocolate and milk, stirring occasionally, until the mixture begins to boil. When it reaches the boiling point, remove it from the heat. At this point, the mixture won't be very thick yet.

Allow the mixture to cool for around a minute.

Return the chocolate mixture to the stove again, and simmer until it boils again.

Remove the chocolate from the heat source and allow it to cool again.

Repeat the process of simmering until boiling, then cooling, at least one more time or until you are happy with the thickness.

The mixture will continue to thicken as it cools, but it's best served warm, accompanied by churros or sweetbreads, of course.
Notes
The process of cycling between boiling and cooling is what thickens the hot chocolate.

If you aren't happy with the thickness, you can further thicken it with cornstarch, tapioca starch, or arrowroot powder. To do so, mix a tablespoon of starch with enough cold milk or water to fully dissolve the starch. Add a small amount of the starch mixture to the warm chocolate, stirring quickly to fully incorporate it before heating the mixture again to boiling point. Add more as needed.

Chocolate a la taza is normally accompanied by churros or sweetbreads.
Serving:
4
oz.
|
Calories:
330
kcal
|
Carbohydrates:
36
g
|
Protein:
6
g
|
Fat:
21
g
|
Saturated Fat:
12
g
|
Cholesterol:
13
mg
|
Sodium:
62
mg
|
Potassium:
310
mg
|
Fiber:
3
g
|
Sugar:
32
g
|
Vitamin A:
203
IU
|
Calcium:
153
mg
|
Iron:
1
mg
*This post was originally published on Feb. 18, 2015. It was updated in October of 2019 to add new photos, videos, and more ideas for thickening the chocolate.