Looking for the perfect chocolate sauce for ice cream? This homemade "magic shell" starts as a liquid and hardens into a crunchy chocolate layer when poured over ice cream!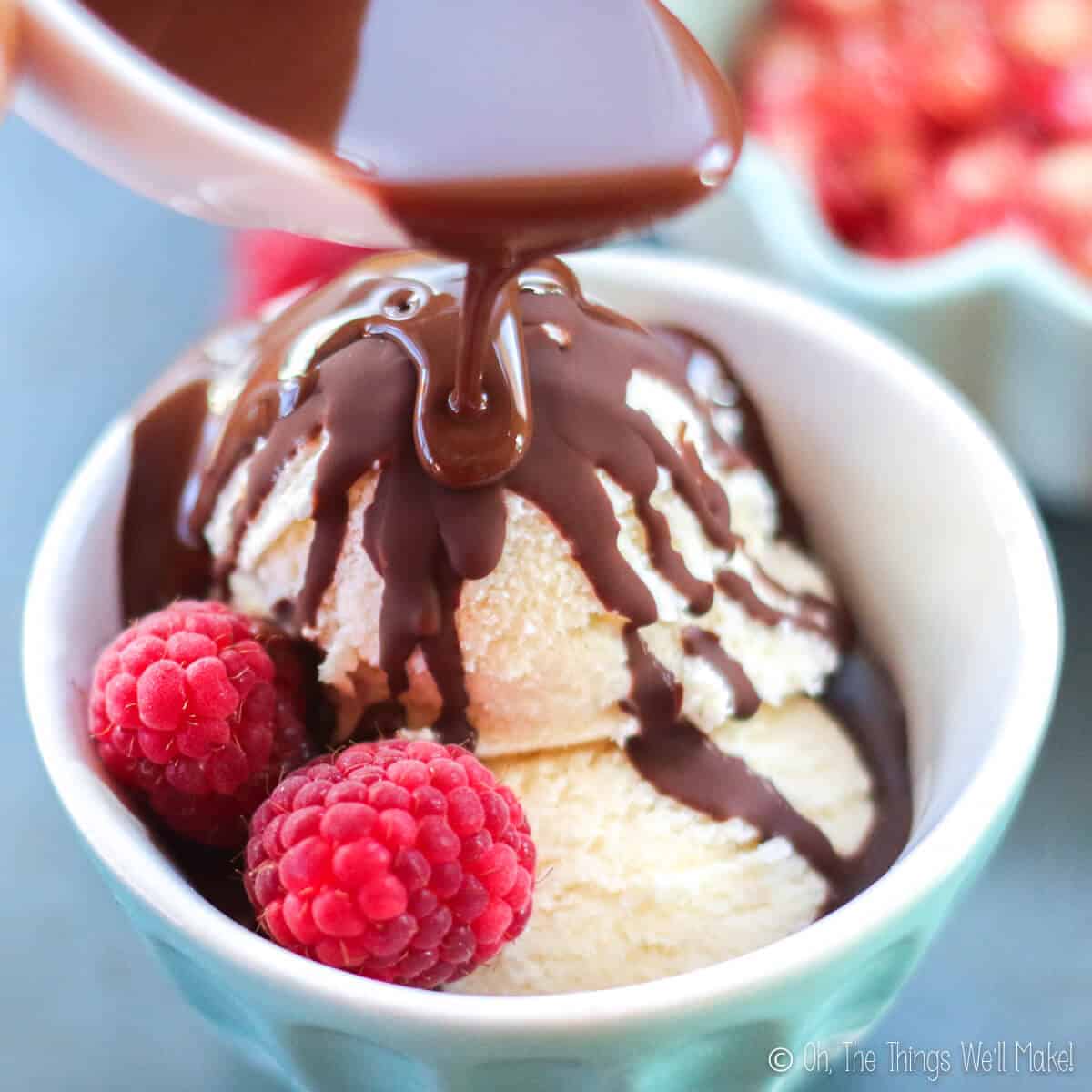 With the coming of the heat of the summer, we've been making a lot more frozen treats at home. I love making frozen desserts like fruit sorbets and vanilla ice cream, but my husband always wants chocolate. We can both be happy when adding this easy chocolate topping to our homemade ice cream.
What is "magic shell"?
"Magic shell" is a "magic" ice cream coating that starts as a liquid, but turns into a hard shell when cooled by the frozen dessert of your choice. The original product came from Australia and was called "Ice Magic." In the US, "Magic Shell" is made by Smuckers. Other types of "shell" toppings are now made by companies like Hersheys or Reese's.
These fun toppings seem so impressive that you'd think they'd be impossible to make.
Lucky for us, it couldn't be easier!
Why make it?
While you could buy one of the many chocolate shell toppings on the market, it makes a lot of sense to make it yourself instead. By making it yourself, you can save a lot of money.
Plus, by making it yourself, you can control the ingredients.
Ingredients
Magic shell is one of the easiest things you could ever make, and it only uses two ingredients: chocolate and coconut oil.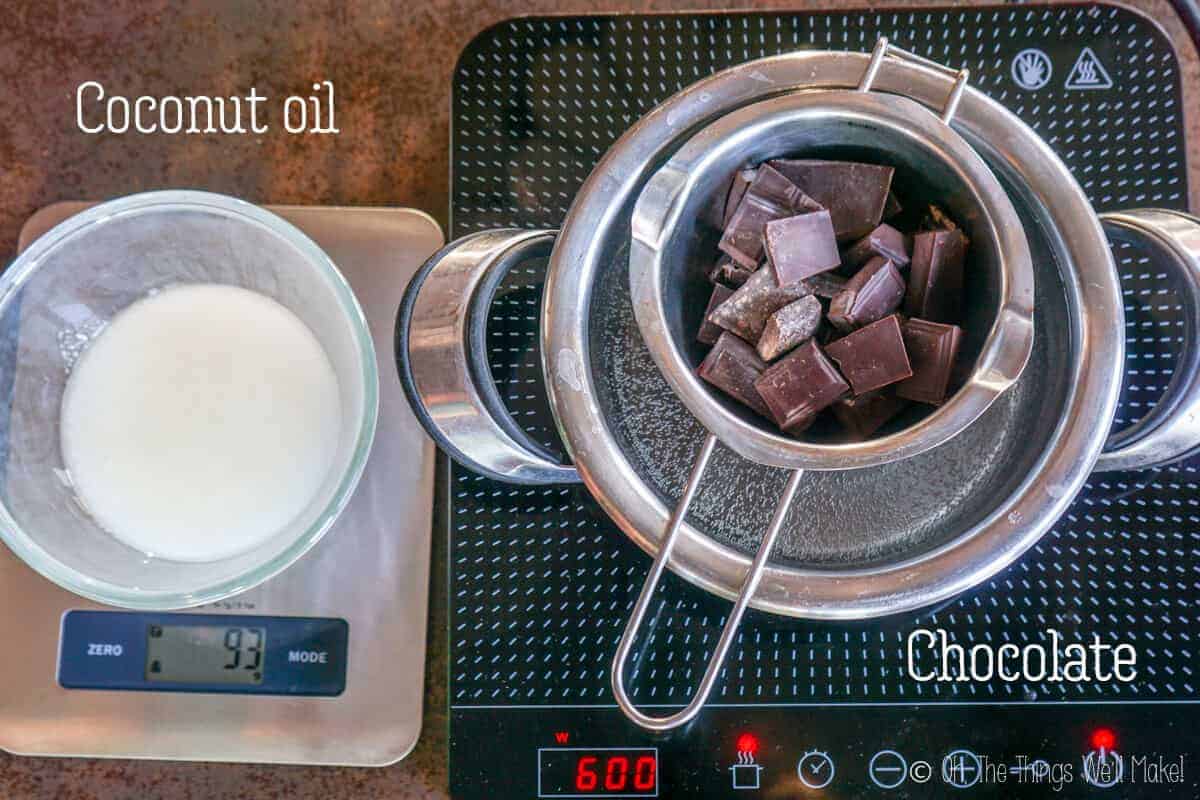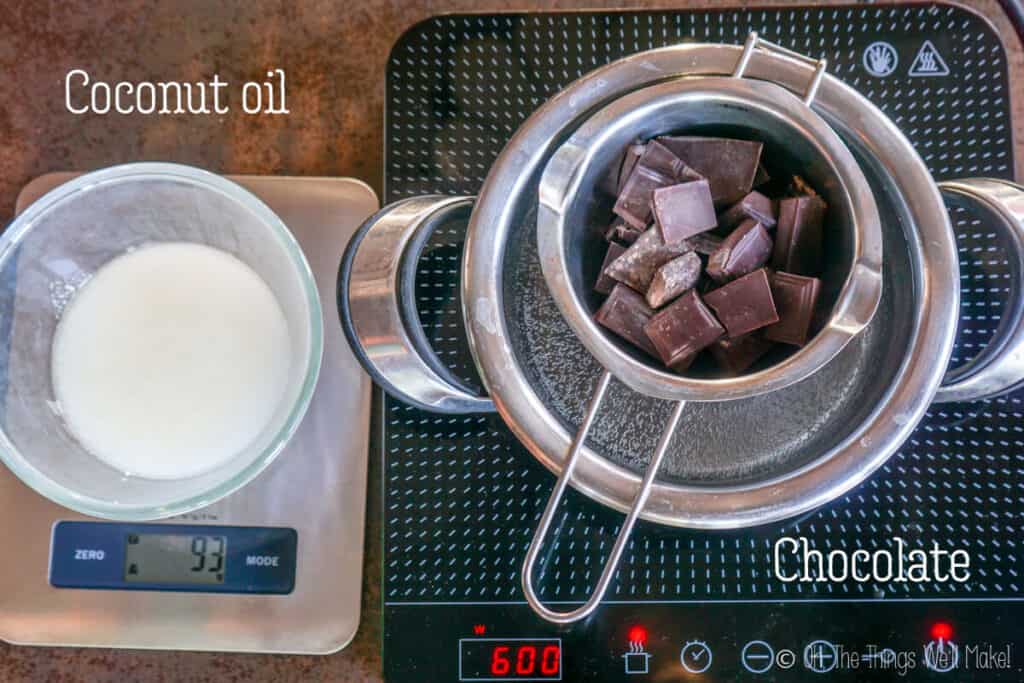 Coconut oil
Coconut oil is what makes this magic shell topping so magic.
Coconut oil is a super versatile oil that is great for making soaps, lotions, and a variety of food recipes.
This recipe, though, is probably the most fun of its uses. It takes advantage of the fact that coconut oil is in a liquid state at temperatures above 76ºF (24ºC). It solidifies below that temperature.
So, in the summer, when it's hot outside, coconut oil is generally in its liquid state. When you pour it over cold ice cream, though, it hardens into a "magic shell."
Which coconut oil?
While I normally use virgin coconut oil at home, virgin coconut oil adds a coconut-ty flavor to this recipe. While I don't mind it, it changes the flavor of the chocolate topping significantly.
For a more traditional chocolate shell topping, use refined coconut oil. Refined coconut oils have a more neutral flavor and scent.
Chocolate
It's super easy to customize this recipe by choosing the type of chocolate bar that you use as a base. Use whatever solid chocolate (bar or chips) you prefer.
If you want to make a sweeter topping, choose milk chocolate or a dark chocolate with a higher percentage of sugar. For example, a 70% dark chocolate will be sweeter than a 90% one.
Procedure
For this simple recipe, we really only need to melt together our chosen chocolate and coconut oil.
There are several ways to do it. You can either melt them in the microwave or over a double boiler. Either of these methods helps gently melt the chocolate without burning it.
If using the microwave, heat the chocolate in a glass bowl or other microwave safe bowl in 30 second increments. Remove the bowl from the microwave, stir, and return for another 30 seconds. Repeat the procedure until the chocolate has melted.
Once melted, stir in the liquid coconut oil until both ingredients are thoroughly combined.
Storage
Pour the final mixture into a storage container with a lid. I usually use a glass jar.
If you have a squirt bottle, it would be ideal for squirting your magic shell over your ice cream. If not, just spoon it over your ice cream like I do.
Store the magic shell at room temperature so that it stays in liquid form (if it's warm enough where you live). Storing it in the fridge will harden it and make it difficult to use.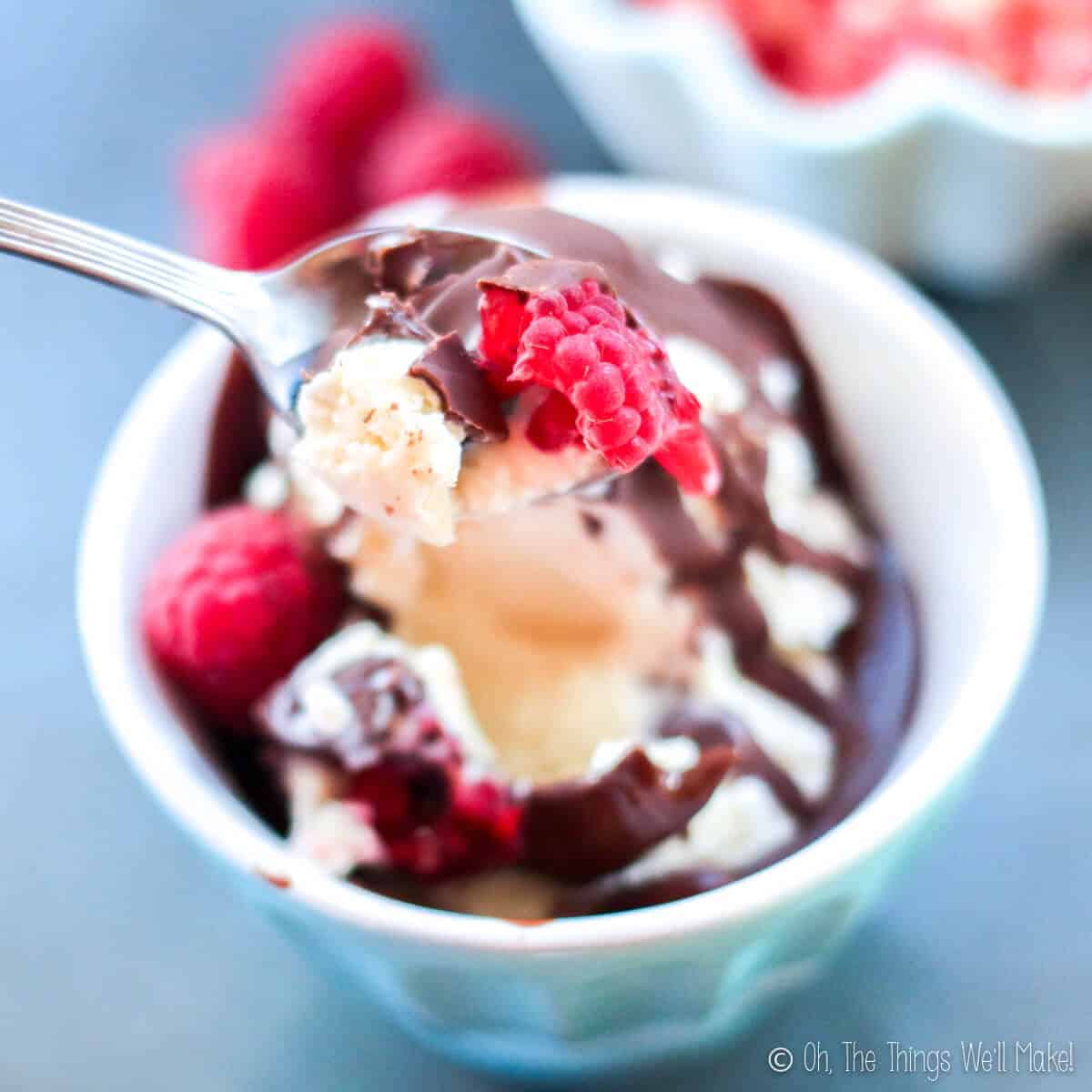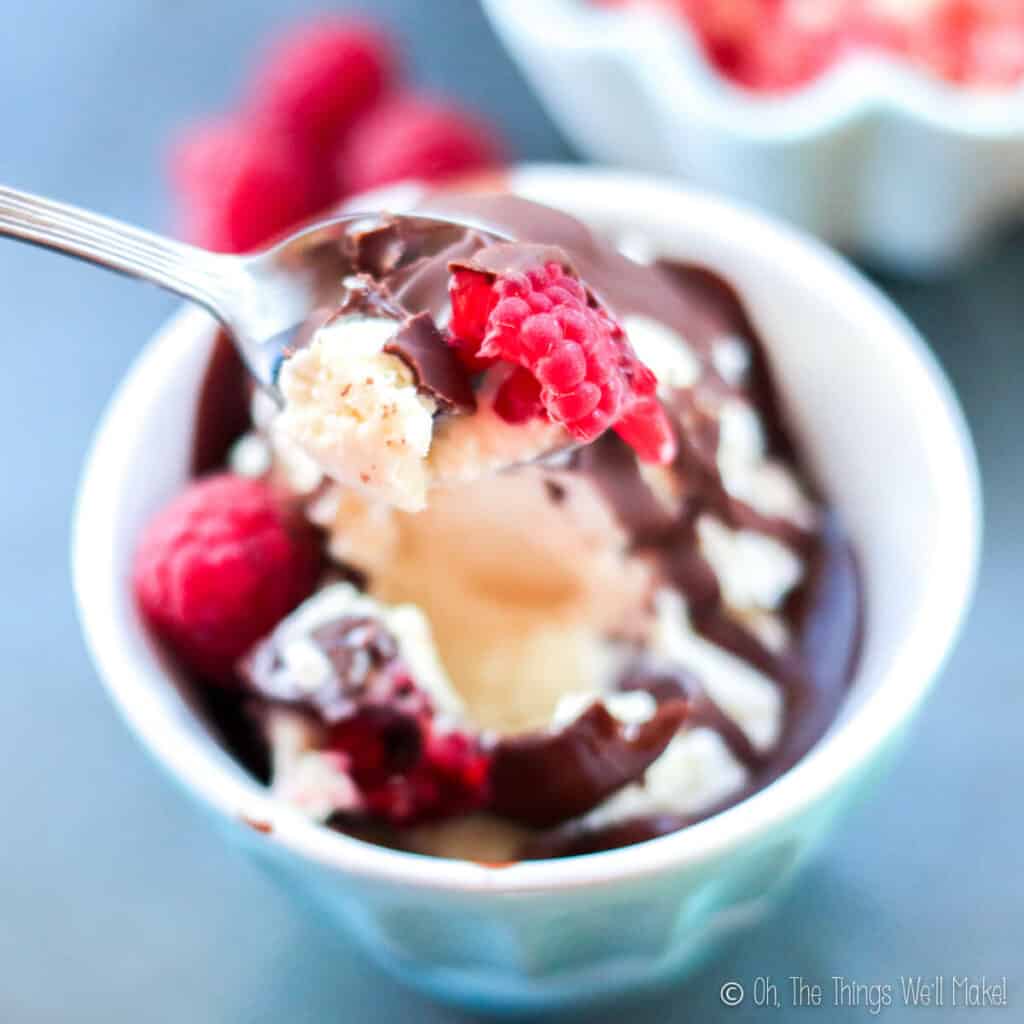 Serving
When you're ready to serve your chocolate shell topping, shake the (sealed!) container first. This is to ensure that the ingredients are well combined as they tend to separate into 2 layers with time.
If it was stored in a cool enough environment (like room temperature in the winter), the topping will solidify. To be able to use it when solid, melt it in a warm water bath before using it. You can also microwave it for a few seconds instead.
Spoon the chocolate mixture over some ice cream, or any other frozen dessert (like frozen bananas), and wait a few seconds. It will "magically" harden before your eyes.
Now, crack the shell with your spoon or bite into it and enjoy!
Try serving with these:
I love serving the chocolate shell topping over my homemade frozen kefir in homemade waffle bowls.
Consider trying it over my paleo mint chocolate chip ice cream or my other frozen treats.
Kefir Ice Cream
Slightly tangy, yet creamy and smooth, this homemade kefir ice cream, or frozen kefir, is a delicious frozen treat with the probiotic benefits of kefir.
Check out this recipe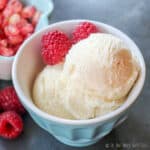 Mint Chocolate Chip Ice Cream
Creamy and refreshing, this mint chocolate chip ice cream recipe is an, easy, quick-to-make healthy treat that is paleo and vegan diet friendly.
Check out this recipe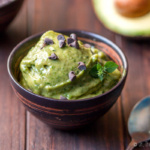 Grain Free Ice Cream Cones
Fun and easy to make, these grain-free waffle cones and bowls are the perfect accompaniment to ice cream or frozen yogurt.
Check out this recipe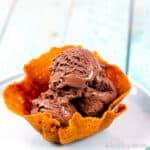 Video
Craving more?
Subscribe to my newsletter for the latest recipes and tutorials!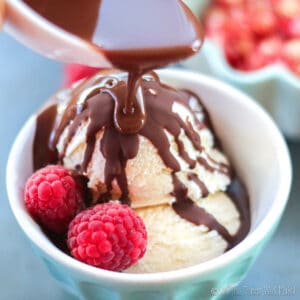 Homemade Chocolate Magic Shell
Looking for the perfect chocolate sauce for ice cream? This homemade "magic shell" starts as a liquid and hardens into a crunchy chocolate layer when poured over ice cream!
Print
Pin
Rate
Instructions
Melt the chocolate using either a double boiler or the microwave. (If using the microwave, melt it by microwaving on the high setting for 30 seconds at a time. Remove the chocolate, stri thoroughly, and repeat until fully melted.)

If the coconut oil is in a solid state, heat it until it is liquid. You can melt it together with the chocolate, if you prefer. Thoroughly mix the liquid coconut oil with the melted chocolate.

Pour into a storage container.

Serve it by spooning it over frozen desserts or by dipping frozen fruit into it.
Notes
Nutritional information will depend on the chocolate used. Use a dairy-free or vegan chocolate if you want to make a dairy-free or vegan shell topping.
Store at room temperature in a well-sealed container. Shake the ingredients together before each use.
If the ingredients have solidified due to colder storage temperatures, melt the mixture before using it by placing the container in a bowl of warm water, or by microwaving for a few seconds, until melted.
If using a jar for storage, spoon the mixture over ice cream or another frozen treat. (You could dip frozen fruit into it too!) If you have a squeeze-type container, you can easily dispense the topping over the frozen dessert.
Serving:
2
tablespoons
|
Calories:
81
kcal
|
Carbohydrates:
5
g
|
Protein:
1
g
|
Fat:
8
g
|
Saturated Fat:
6
g
|
Sodium:
1
mg
|
Potassium:
22
mg
|
Fiber:
1
g
|
Sugar:
4
g
|
Calcium:
2
mg
|
Iron:
1
mg
Alternate recipe
Don't have a chocolate bar or prefer to use cocoa powder?
No problem. I have you covered.
This second version, using cocoa powder, allows you to keep complete control of the ingredients and sweeteners used. While you can customize the recipe above by using different types of chocolate bars, most types of chocolate will have emulsifiers or sweeteners that some people may want to avoid.
It's not quite as smooth as the first version, but it does work. My husband didn't even notice the difference the first time I switched it out on him. 😉
Using cocoa powder works well. The tricky part of this recipe is to incorporate your sweetener.
Choosing a sweetener
When I made this the first time, I used granulated coconut sugar. It didn't dissolve into the cocoa/coconut oil mixture and sank to the bottom. So, take my word for it, don't use granulated sugar!
The next time, I used maple syrup. It worked much better. It also separated a little between uses, just as the chocolate topping made with a chocolate bar. Just shake it up to mix it together before pouring it on your ice cream.
Honey is trickier to use. It can granulate, so you can end up with little bits and pieces of honey in the topping.
Liquid stevia has worked well for me and lowers the carb and sugar content of the recipe. It may depend on the brand of stevia you use, but the one I tried worked fine. It's what I use in my "easy healthy homemade chocolate bars" too.
Craving more?
Subscribe to my newsletter for the latest recipes and tutorials!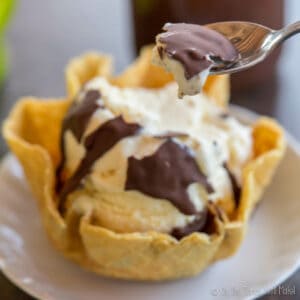 Paleo Magic Shell Recipe
This simple chocolate shell topping, made with cocoa powder and coconut oil, hardens into a delicious shell when served over frozen desserts.
Print
Rate
Instructions
Melt the coconut oil if it is in its solid form This can be done in a pan on the stove or in a bowl in the microwave.

Add the cocoa powder and sweetener of choice and stir until thoroughly combined. (You may need to do this with some heat over the stovetop if attempting with honey.)

Pour into a storage container.

Pour or scoop over ice cream or another frozen dessert. You can also dip frozen fruit into it.
Notes
The maple syrup amount can be reduced, as desired. The maple syrup can also be substituted with liquid stevia instead. Using liquid stevia reduces the sugar and carb count of the topping.
Do NOT use granulated sugar to try to sweeten the topping. It will not dissolve in the oil and will sink to the bottom.
Store at room temperature.
If solid, when ready to use, melt the topping by placing the container in warm water or by heating in the microwave.
Serving:
2
tablespoons
|
Calories:
38
kcal
|
Carbohydrates:
6
g
|
Protein:
1
g
|
Fat:
2
g
|
Saturated Fat:
2
g
|
Sodium:
1
mg
|
Potassium:
42
mg
|
Fiber:
1
g
|
Sugar:
4
g
|
Calcium:
10
mg
|
Iron:
1
mg