This refreshing mojito sorbet can be whipped up in 5 minutes, after a bit of prep work, and is a healthy treat for cooling off this summer.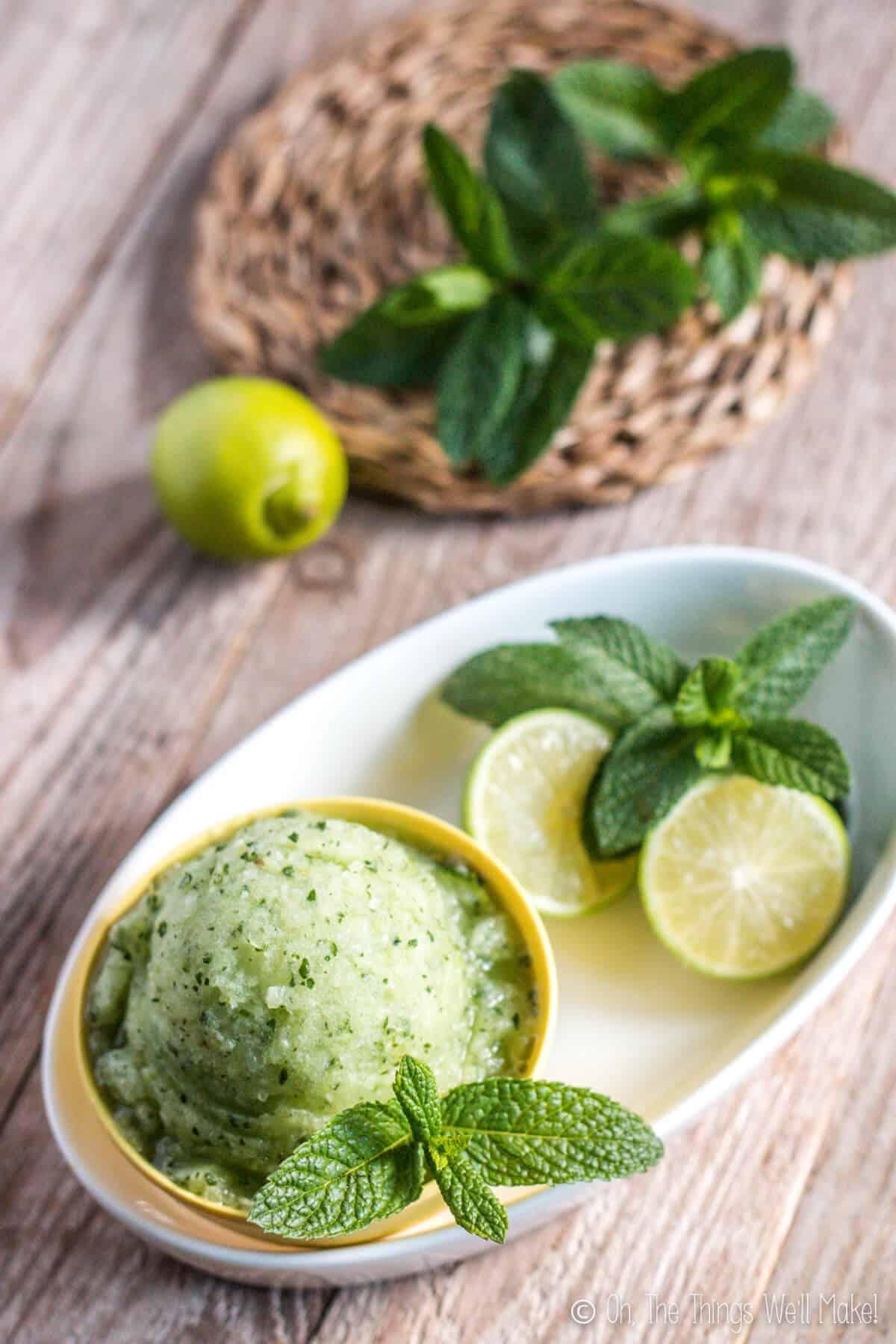 I'm excited to share this mojito sorbet with you today because it's one of my favorite summer sweet treats, and it's incredibly refreshing and healthy at the same time!
This is one of those recipes that pretty much anybody can enjoy!
On the candida diet? No problem
Paleo? Yep
GAPS friendly? Of course
Vegan? 100%
If you'll remember, around this time last year I tried out the candida diet for several months. For those who aren't familiar with it, it is a diet that completely cuts out all sugar sources, even fruit! Luckily I don't have much of a sweet tooth, so the diet was more bearable for me that it is for some, but even I wanted a bit of a treat at times.
Cucumbers are a great choice because they are a candida diet safe fruit (veggie) that, while it isn't sweet, can mimic other sweet fruits in taste and texture.
In fact, here in Spain, when someone tries a melon that isn't particularly sweet, they say it tastes like a cucumber!
So, taking advantage of that, and the fact that limes and mints can fool your tastebuds into thinking things are sweeter than they really are, you can combine the ingredients for a quick and easy, healthy, candida diet safe mojito sorbet!
I call this a 5 minute mojito sorbet because after you have your prep work done, it only takes 5 minutes to whip this out at the last minute. Obviously, if you are just starting out with the fresh ingredients, it will take you longer than 5 minutes to make this because you need to have frozen cucumbers to begin the process. The best way to do this, then, is to have peeled and cubed cucumbers waiting for you in your freezer, and then you can quickly whip up a healthy mojito sorbet as soon as the urge strikes.
Craving more?
Subscribe to my newsletter for the latest recipes and tutorials!
Ingredients
2

small

cucumber

or 1 large cucumber

1

handful

spearmint

fresh leaves

1

lime

stevia

optional- to taste
Instructions
Peel and cube the cucumbers and place in your freezer several hours. I do this the day before I want to make my sorbet, and often leave cubed cucumber in the freezer so I don't have to plan ahead.

When you are ready to make your mojito sorbet, place the cubed cucumber in your food processor and begin to process it with the spearmint leaves until the cubes are mostly broken down into a coarse icy texture. You want to begin this process before adding in liquids, or you will make a mess. (Don't ask me how I know that!)

Juice the lime, add it to your mixture, and continue to process the mixture until you have a fine, slushy texture. If needed, add in a little more juice, the slightest bit of water, or wait a couple of minutes until it has slightly melted to achieve a smoother texture. You can taste the mixture at this point, and adjust as needed. (Add in more mint, lime, etc. to suit your taste.)

Taste the mixture for sweetness. I don't have much of a sweet tooth, so I don't need to add much sweetener, if any at all. The spearmint fools your taste buds, and the mixture already has a natural sweetness to it. If you prefer a sweeter mojito sorbet, though, you can always add in a bit of stevia. I usually use fresh stevia leaves, as I have stevia growing in my garden, but you can also use a stevia extract or even add in a bit of a homemade sugar syrup, but that would mean it is no longer candida diet safe, of course. (Dissolve sugar of choice in similar quantity of water and then cool.)

If you really want the real mojito experience, you could always add in a dash of rum, too, depending on your diet.

Serve and enjoy!
Looking for other quick and tasty 5 minute sorbets?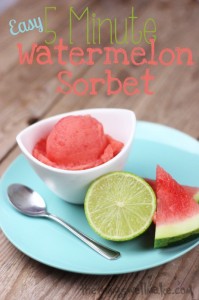 I have a popular and tasty 5 minute watermelon sorbet, that while it isn't candida diet safe, it is a refreshing treat that almost anybody else can eat, guilt free!
I'm also working on writing up another one of my favorites, an easy pineapple sorbet, that I absolutely love as well!