Quick to make and sure to delight, this creamy, 5-minute pineapple ice cream can be whipped up at the last minute for a sweet, healthy dessert.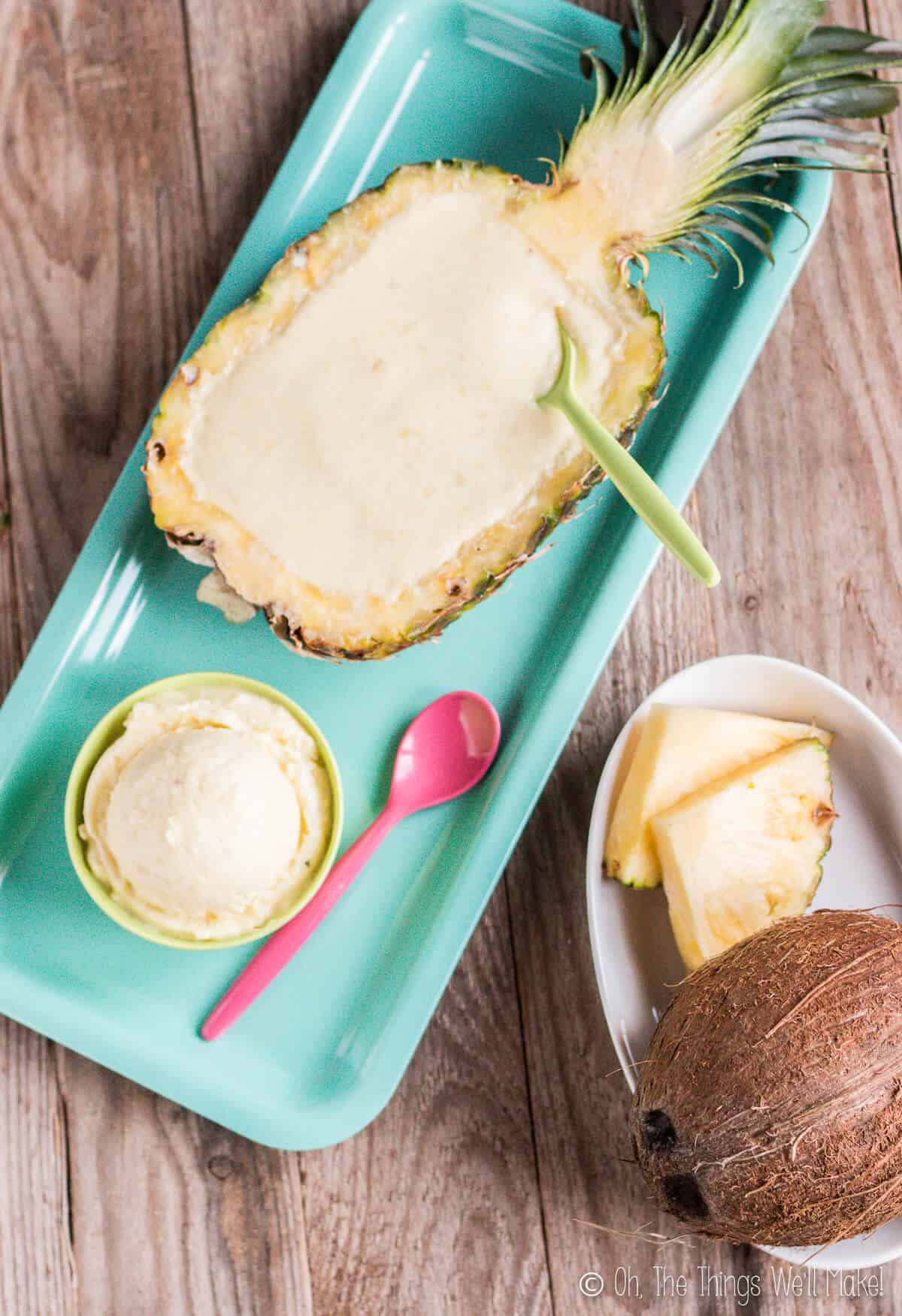 This year I've been giving my food processor a bit of a workout making lots of quick-and-easy 5-minute sorbets and ice creams. Last year, I showed you how I make a quick watermelon sorbet, and it's become one of my most popular posts with good reason; it's the perfect way to treat yourself to something refreshing on a hot summer day. It's not too sweet, and it's about as healthy as a dessert can get.
later on, I got even healthier when I shared with you how to make a refreshing mojito sorbet. It uses cucumber, so it has less sugar than the watermelon sorbet, and it can be enjoyed by people on the strictest of diets, even the candida diet that doesn't allow for the sugar in most fruits.
Sometimes, though, you want something creamier, and something even easier. In those cases, this pineapple ice cream is a perfect choice.
How to save time and effort making this pineapple ice cream
While it is more difficult to find frozen watermelon cubes, and probably impossible to find frozen chunks of cucumber, finding frozen pineapple chunks is pretty simple here.
I can go to my local supermarket and buy a package of frozen pineapple chunks, leaving me with no prep work at all! This truly is a 5-minute pineapple ice cream!
When buying frozen pineapple, know that not all frozen fruits are equal. I've been very lucky to find frozen fruit without any other added ingredients, but many of the frozen fruits that are sold have quite a bit of added sugar. If you aren't avoiding added sugar, it won't really make much of a difference for you, but for those who are trying to follow specific diet types or who just want to avoid added sugars, it's definitely something to keep in mind.
Should you use coconut water or coconut milk? Should you add bananas?
Because this pineapple ice cream recipe is so easy to make, you can imagine that I've made it several times by now. I have made it with coconut water and coconut milk, and I have made it with the addition of frozen bananas and without.
I am a coconut water fanatic, so I expected that I would like making a pineapple sorbet made with coconut water best. In the end, though, my favorite way to make this recipe is using coconut milk.When you use coconut milk, you end up with a nice, creamy texture that makes you think "ice cream" more than "pineapple sorbet." I was really amazed by how creamy this dessert turns out without adding any other creamy fuits like bananas.
As for the addition of the bananas, I've made it and like it both ways. That said, I tend to make it without them just because it's easiest. I don't always have frozen banana ready to use. They can make this dessert slightly sweeter, so if you're looking for that, you could try adding some very ripe, frozen banana slices to your ice cream.
Making this pineapple ice cream in advance (and serving suggestion)
Because this dessert is so easy to make quickly, I normally just whip it up when it's time to serve dessert, even if I have guests over. If you prefer to make it ahead, though, it is also an option.
To make things fancy, you can choose to make the pineapple ice cream ahead of time and fill a hollowed out pineapple half with it. Return the filled pineapple half to the freezer to harden the ice cream for easy slicing. Once frozen solid, it can be cut into quarters.
Keep in mind that when you make it ahead of time and refreeze, it will get hard. It's best to take it out of the freezer a little while before serving so that it isn't frozen solid and is soft and creamy again.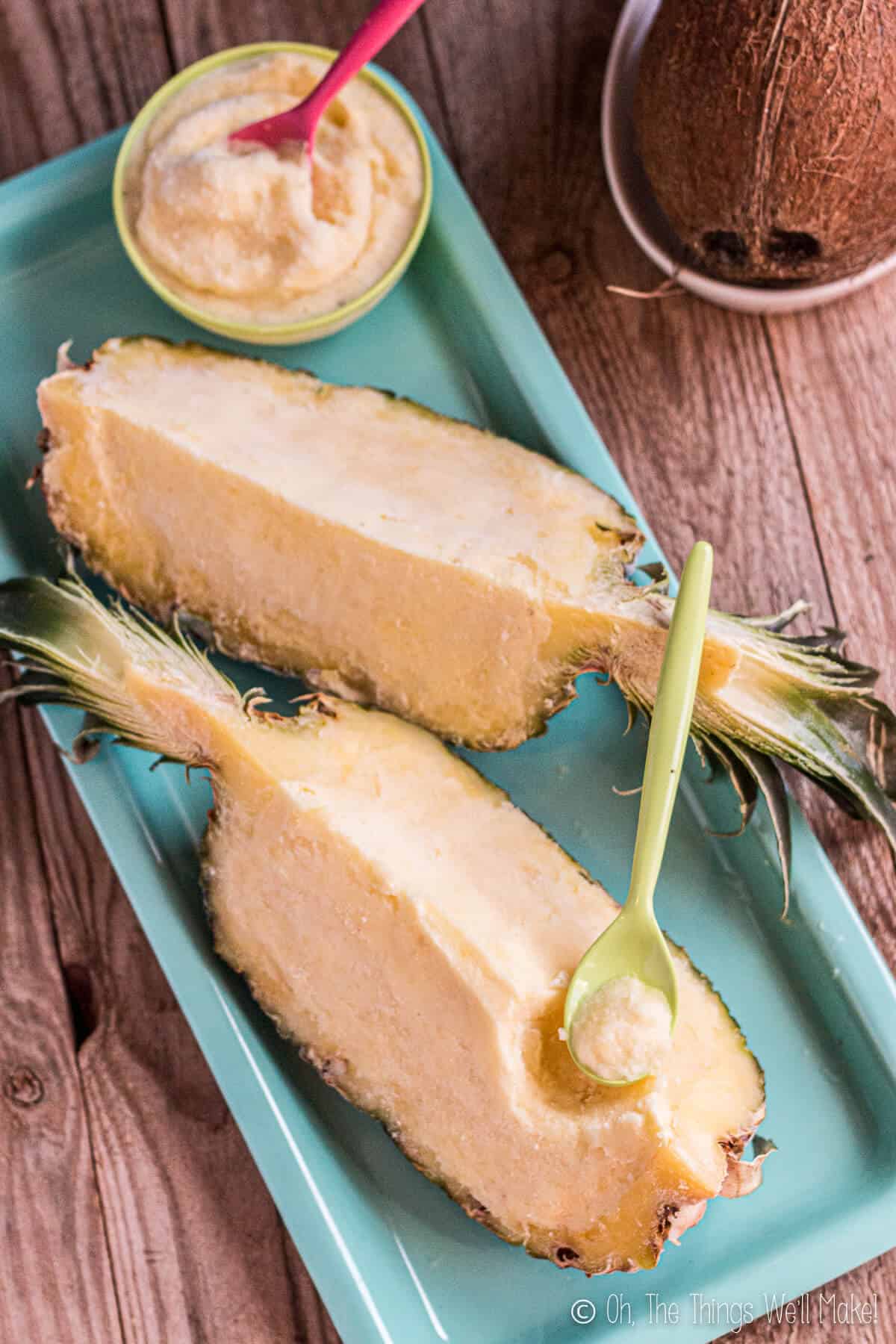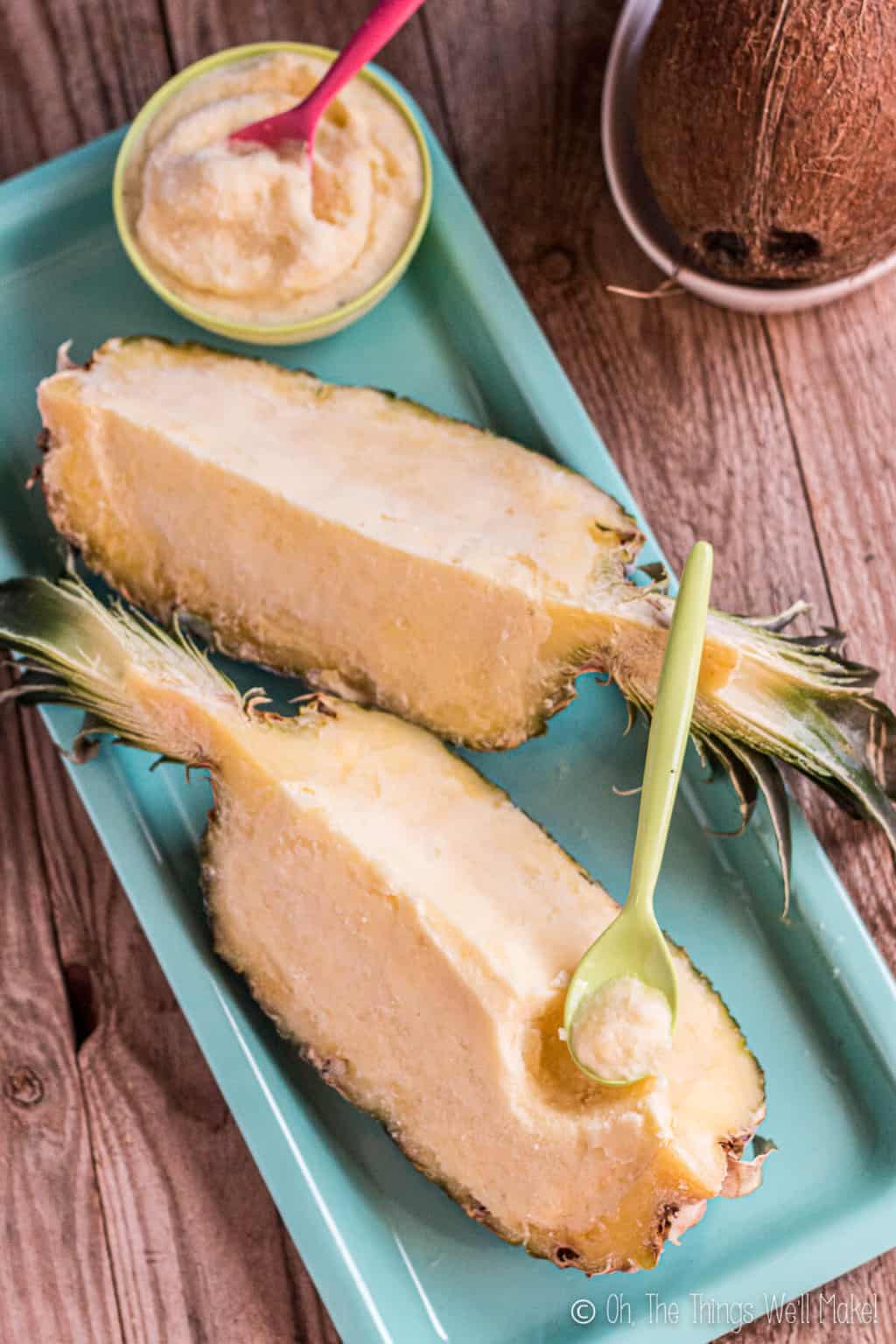 No matter how you choose to serve it, though, it is amazingly sweet and creamy with very little effort.
Quick and Easy Pineapple Ice Cream (Vegan, Paleo)
Craving more?
Subscribe to my newsletter for the latest recipes and tutorials!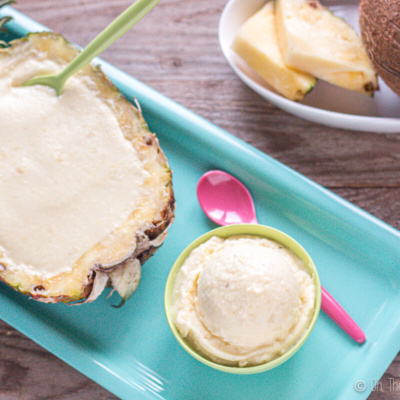 Quick and Easy Pineapple Ice Cream
Quick to make and sure to delight, this creamy, 5-minute pineapple ice cream can be whipped up at the last minute for a sweet, healthy dessert.
Print
Rate
Instructions
Add the frozen pineapple chunks to your food processor. If you choose to add frozen banana slices to your ice cream, add them now too. Start processing the frozen fruits with your food processor.

Slowly add in enough coconut milk to get a creamy consistency, but not so much as to make a slush rather than a scoopable ice cream. You should really only need to use a dash of coconut milk, but can choose to use more as needed.

Serve immediately or store in the freezer for later. You can also fill a hollowed out pineapple with your ice cream as another serving option. In that case, you'll want to freeze the pineapple half long enough to make for easy slicing into quarters.

If you choose to store the pineapple ice cream in the freezer, take it out several minutes before serving to allow it to reach a creamy consistency again.
Notes
If you're feeling fancy, you can also use a piping bag to pipe the ice cream into small bowls for serving. This gives it more of a soft serve look, and a "Dole Whip" feel.
Serving:
200
g
|
Calories:
100
kcal
|
Carbohydrates:
26
g
|
Protein:
1
g
|
Sodium:
2
mg
|
Potassium:
218
mg
|
Fiber:
2
g
|
Sugar:
19
g
|
Vitamin A:
115
IU
|
Vitamin C:
95.6
mg
|
Calcium:
26
mg
|
Iron:
0.6
mg