These patriotic popsicles are healthy, easy to make, and perfect for celebrating the fourth of July or for serving any time you want to show off your patriotism.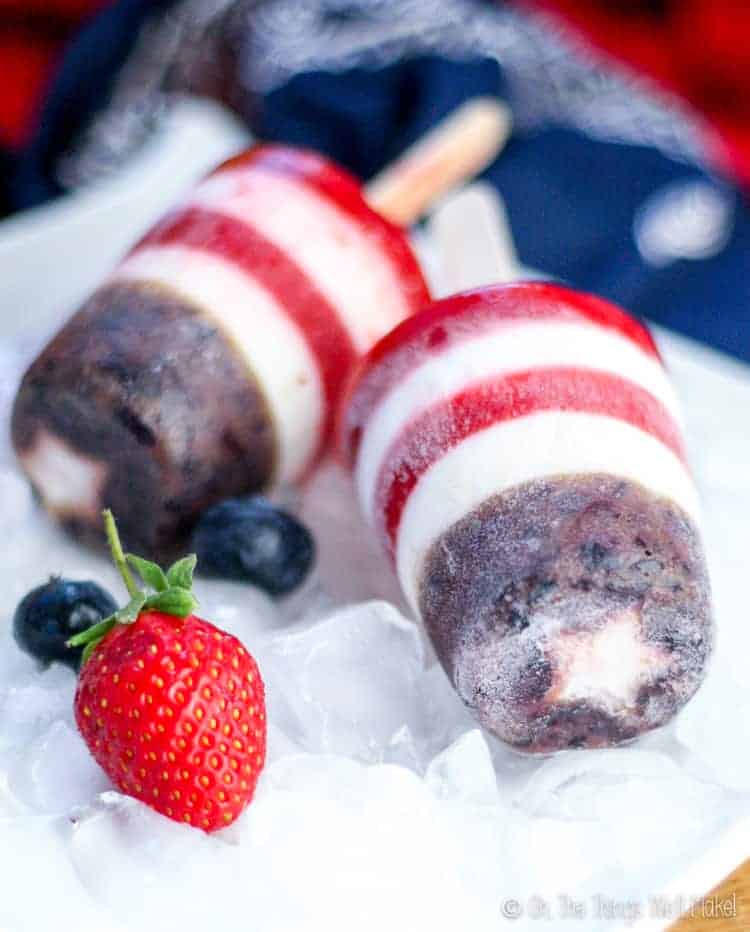 With the coming of July, comes another beloved holiday, albeit one that isn't celebrated here in Spain.
Celebrating the Fourth of July from Spain
I have to admit that despite being an American expat, I don't normally celebrate the Fourth of July, at least not intentionally. The city where we live celebrates the city fiestas at the beginning of July, and it often coincides with Independence Day, meaning that I indirectly celebrate in a different way.
I was much easier to be patriotic this year, though, with the World Cup competition going on. With the US team still part of the competition, I decided to get patriotic and cheer on our team with some festive food. (Well, as I post this, they are still in the competition. They are scheduled to play in around an hour, so let's keep our fingers crossed.)

What makes this World Cup exceptionally strange is that, after years of Spain's team consecutively winning the major competitions (the last two European Cups and the last World Cup), they were eliminated early on. Usually, the US team is eliminated early on and I'm left rooting for Spain instead. (Having dual citizenship has the advantage of doubling my chances for "my team" to win.) 😉
This year, I'm surrounded by neighbors with their German flags waving high, which, of course, makes me want to show off my red, white, and blue too!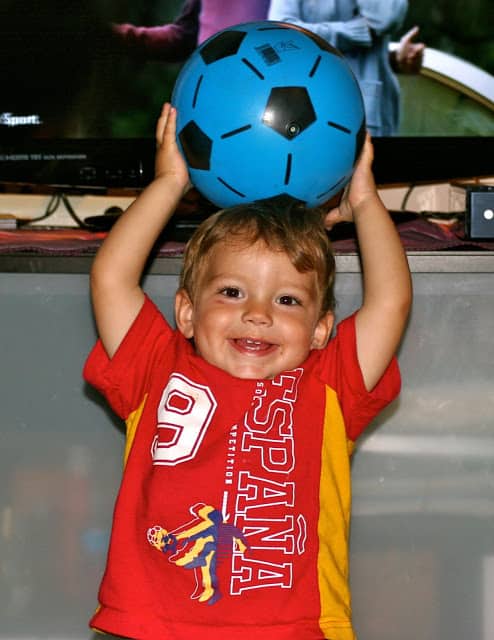 If we end up moving further into the competition, I may just have to come up with a patriotic t-shirt or bag or something for the blog, but for now, I'll begin with these red, white, and blue patriotic popsicles.
This is also the first year that my son is enjoying frozen treats. Up until now, he rejected all ice cream and popsicles because they were too cold. This year he asks for ice in his water, though, and also loves "ice spream."
Red, White, and Blue Patriotic Popsicles
I decided to use some small coffee cups for my molds, not only because it's something most people have access to, but because I wanted to use something with flat bottoms for placing the stars!
I, of course, was looking for fruits, and other ingredients, that would make the perfect red, white, and blue colors.
The Red Stripes
Choosing a fruit to use for the red stripes was obvious to me, and I decided to choose some fresh strawberries to make a beautiful red pureé for my popsicles.
The White stars and Stripes
I already had an ice cube tray with a place for making star-shaped ice cubes. I used that tray to make some white stars with greek yogurt and once frozen, I put them into the bottom of the cup molds. If you don't have a star-shaped ice cube tray, you can take a white fruit, like thinly sliced pears, and cut stars out of them with a small, star-shaped cookie or fondant cutter.
While I used greek yogurt, you can definitely use something like coconut milk or coconut yogurt to make dairy-free, vegan popsicles.
The Blue section
For the blue section, I puréed some blueberries and covered the stars with them. I wasn't sure they'd actually be blue enough for the blue section, but I think the color turned out well in the end.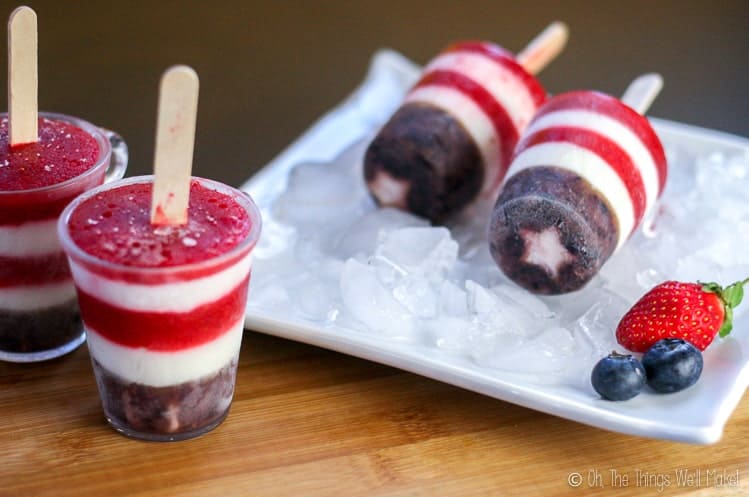 Tips and Tricks for making these Patriotic Popsicles
Changing up the ingredients
Just as you can switch up what you use for the white areas of the popsicles, you can also make other adjustments to have these suit your taste.
For example, I didn't use any sweeteners for my popsicles, but I realize that most people are going to want a sweeter patriotic treat. If you have a sweet tooth, you will definitely want to add a sweetener, especially in the yogurt and strawberry layers. My husband felt they needed a little more sweetness, so he ended up drizzling some of my homemade "magic shell" over his. Of course, he prefers to add chocolate to just about anything anyway.
If you want these popsicles to be sweeter, you can sweeten them with honey, maple syrup, stevia, or another sweetener of your choice.
Also, I chose to make only 4 stripes, but you can keep layering the white and red layers as many times as you like!
Keeping the sticks centered in place
To keep the popsicle sticks straight up in the center of the cup, I poked a hole in some aluminum foil that I placed over the top of my cups. I then stuck the popsicle stick through the hole in the foil, and into the layer of greek yogurt. I placed them like that into the freezer and once the yogurt froze, the sticks stayed up on their own, so I didn't need to use the foil anymore for the other layers.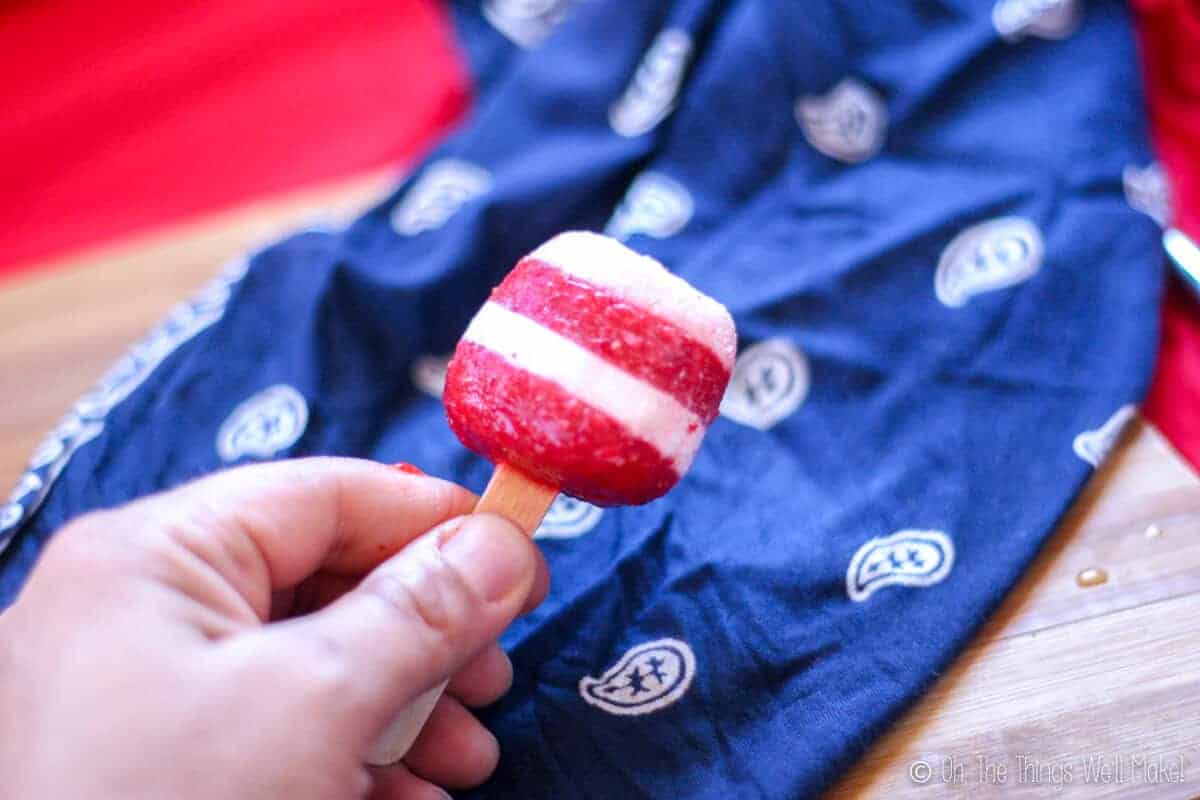 Red, White, and Blue Patriotic Popsicles
Red, White, and Blue Patriotic Popsicles
These patriotic popsicles are healthy, easy to make, and perfect for celebrating the fourth of July or for serving any time you want to show off your patriotism.
Print Recipe
Pin Recipe
Ingredients
1

cup

greek yogurt

(or coconut milk, coconut cream, or coconut yogurt.)

1/2

cup

blueberries

1

cup

strawberries

honey, maple syrup, or other sweetener

optional, to taste
Instructions
To begin, make your white stars by making white, star-shaped "ice cubes" out of the greek yogurt. You can use coconut milk, coconut cream, or coconut yogurt instead to make these vegan and paleo. You can also sweeten the yogurt first if you want these to be sweeter. You can see that I used a syringe to easily fill the compartments without making a big mess.

Meanwhile, make a puree with your blueberries. You can add a little honey or another sweetener as needed.

Add a white star to the bottom of a flat bottomed popsicle mold. I used small cups with a flat bottom.

Immediately cover them with your blueberry puree and freeze again.

Once frozen, add a layer of yogurt or coconut. Place the popsicle stick into the yogurt layer. I used some aluminum foil to hold the stick up, and then placed them into the freezer to freeze the stick in place.

Puree the strawberries; you can, again, optionally sweeten the puree with honey or another sweetener if you prefer.

When your yogurt layer is frozen, cover it with a layer of strawberry puree and freeze again.

Follow the process with one more layer of yogurt and one more layer of strawberry puree.

When you are ready to serve them, you can ease the popsicles out gently by warming the sides of your cups with warm water while you gently pull on the stick.
Nutritional Information
Serving:
1
popsicle, unsweetened
|
Calories:
34
kcal
|
Carbohydrates:
4
g
|
Protein:
3
g
|
Cholesterol:
1
mg
|
Sodium:
12
mg
|
Potassium:
93
mg
|
Sugar:
3
g
|
Vitamin C:
15.3
mg
|
Calcium:
40
mg
|
Iron:
0.1
mg
In the end, these were pretty easy to make, and they are much healthier than most store-bought Popsicles!
Happy Fourth of July to all!