These homemade healthy chocolate bars and mints are super quick and easy to make. They're vegan, paleo, and even candida diet safe!
This year I've been getting stricter and stricter with my diet. I told you the other day that I've been eating a lot more vegetables and being more careful about what I was eating. Even though I was eating a mostly paleo diet, and had cut out most processed foods, I still was feeling sluggish and have had a hard time losing weight.
One of the easiest ways for me to keep on track is to completely cut out all added forms of sugar, and severely restricting even natural sugars like honey and maple syrup. I haven't gone back to the candida diet, but I have gone back to using one of my candida diet survival tips for getting through sugar cravings.
When I was on the candida diet, I couldn't have any sugar, and even had to cut out all fruits. One of the things that helped get me through rough times was to make myself candida diet safe chocolates. I alternated between mixing cocoa powder with coconut oil to make homemade chocolates and chocolate bars, and using organic butter with cocoa powder to make something more like a homemade truffle.
I loved making easy homemade candida diet safe truffles using butter, but now that I've been eating a more strictly paleo type diet, I've switched over to the coconut oil version pretty much all of the time now.
Sweeteners:
To keep this recipe free of any added sugars, the secret is to use liquid stevia. I find that liquid stevia sweetness varies greatly by brand, so I decided against telling you how many drops I use. If you can't or don't like stevia, though, you can switch it out for another sweetener of your choice. I'd suggest a liquid sweetener like honey or maple syrup because those in sugar form, like coconut sugar, don't really dissolve in coconut oil very well. (Don't ask me how I know that!) 😉
You can probably tell from what I've been writing that making your own healthy chocolate bars is highly customizable depending on your taste and dietary needs. You can also more slightly tweak the recipe to get the chocolate just the way you like it.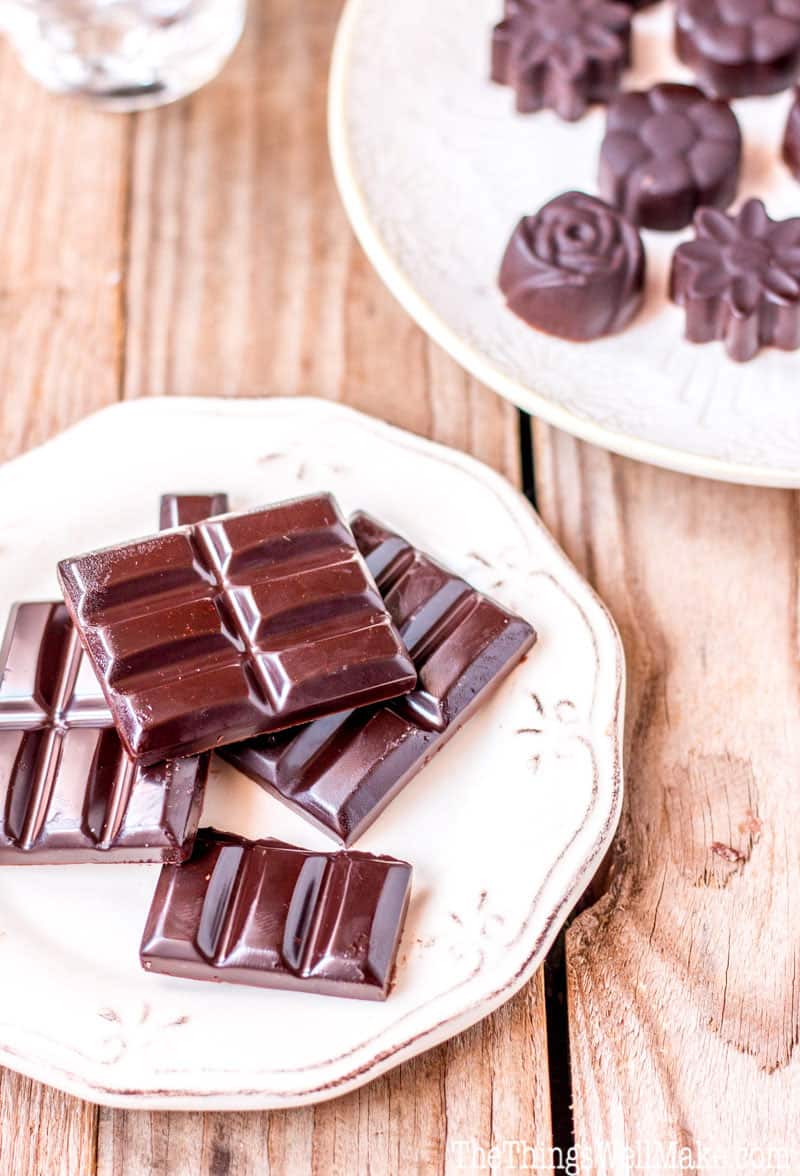 Let's talk coconut oil!
The type of coconut oil you use, for example, greatly changes the flavor of your chocolate. Virgin coconut oils keep a coconut flavor which will affect the final flavor of your chocolate. If you are bothered by the coconut flavor, you can choose an expeller pressed coconut oil instead. Personally, I don't mind it, so I use the virgin coconut oil which is much easier to find here in Spain anyway. Plus, I use enough cocoa powder, along with essential oils for flavoring, that I can barely notice the coconut anyway.
I like dark chocolate, so I use quite a bit of cocoa powder in my homemade chocolate bars. If it's too strong for you, you can add less cocoa powder to yours. Make sense?
As for the essential oils…
I love adding mint essential oil to my homemade chocolate almost every time I make it. For me, it's like making a simple and healthy chocolate mint that just blows the regular chocolate away. Orange essential oil is another great option that pairs really well with chocolate, though, so you could give that a try instead if you love orange flavored chocolates.
You don't need to add a lot, just add a few drops of the essential oil of your choice, and taste your mixture to determine if you need to add more.
Even though the tiny flower molds are cute and fun, I love using the silicone chocolate bar molds because when my chocolate is finished, I feel like I've made the real deal. The bars are fun to break into tiny squares to eat the chocolate little by little, savoring each bite.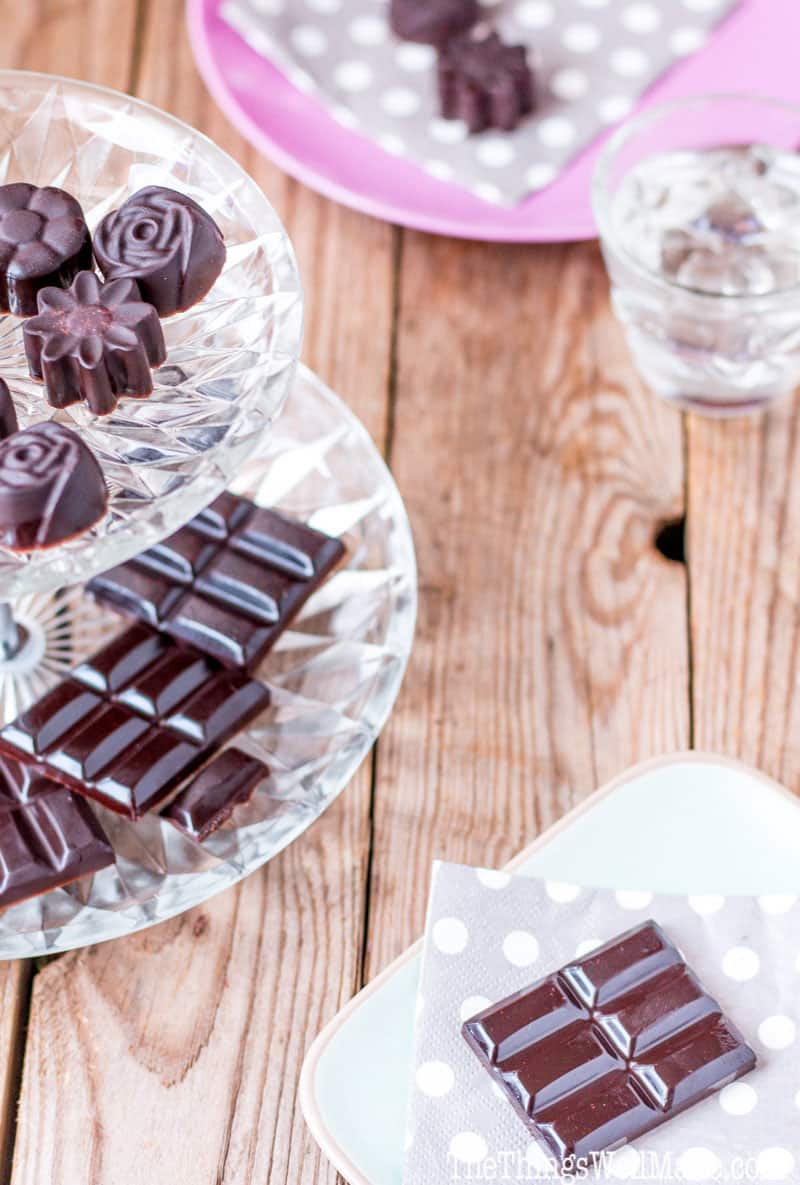 So, are you ready to make some homemade healthy chocolate bars?
Craving more?
Subscribe to my newsletter for the latest recipes and tutorials!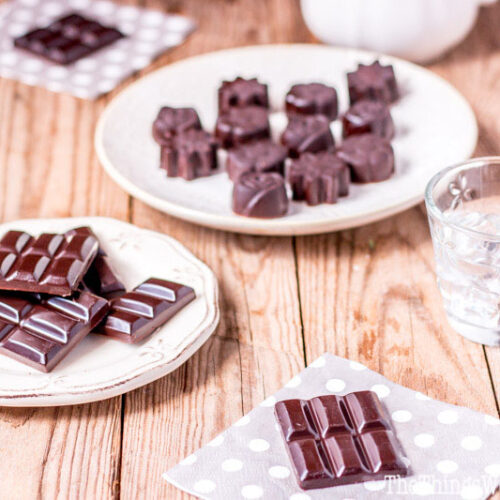 Easy Homemade Healthy Chocolate Bars (Vegan, Paleo)
These homemade healthy chocolate bars and mints are super quick and easy to make. They're vegan, paleo, and even candida diet safe!
Makes around 9 ounces.
Print
Rate
Instructions
If your coconut oil is in a solid state, melt it over low heat until liquid.

Stir in cocoa powder until well incorporated.

Add stevia liquid or other sweetener of choice to the desired level of sweetness.

You can optionally add in several drops of an essential oil like mint essential oil or orange essential oil for added flavor. My favorite is mint!

Pour the mixture into silicone or other chocolate molds and refrigerate until solid.

Remove the chocolates from the molds and store in the refrigerator until eating.

Enjoy!
Serving:
1.5
oz
|
Calories:
306
kcal
|
Carbohydrates:
4
g
|
Protein:
1
g
|
Fat:
34
g
|
Saturated Fat:
29
g
|
Sodium:
1
mg
|
Potassium:
127
mg
|
Fiber:
2
g
|
Calcium:
11
mg
|
Iron:
1.2
mg
One last comment…
It's just as easy to make a "real" chocolate bar using cocoa butter that is also vegan, paleo, and I think probably also candida diet safe, but I find this version quicker, easier, and cheaper, and don't feel like I'm missing out on anything so these are my favorites. If you're interested, though, I can make you those another day.