It is possible to make a pliable paleo tortilla or wrap without grains, starches, or even eggs, using flaxseeds. I especially love these vegan flaxseed paleo tortillas for making salad wraps.

Lately, I've been looking for new ways to make grain free and/or paleo tortillas and sandwich wraps that aren't made mostly of tapioca and/or almond flour. While I'm not on a low carb diet, I'd like to keep my carb count relatively low. That's something that is normally relatively hard to do if you like to eat things like breads and tortillas. Somewhat by accident one day, though, I found that flaxseeds make a wonderful base for several different types of low carb, paleo tortillas.
Flaxseed tortillas without eggs
As I kept adapting the recipe, I was amazed by how versatile flaxseeds are, and how they allow you to make a pliable wrap with few other ingredients. My curiosity was piqued.
I wanted to try to make a simple, grain-free wrap that didn't use any other binders like eggs because I have a friend, Krystal from Natural Fit Foodie, who can't eat them and I thought she would be interested. (She has a substitute guide to baking without eggs for those of you who don't tolerate them well.) Plus, I just like a good challenge every once in a while!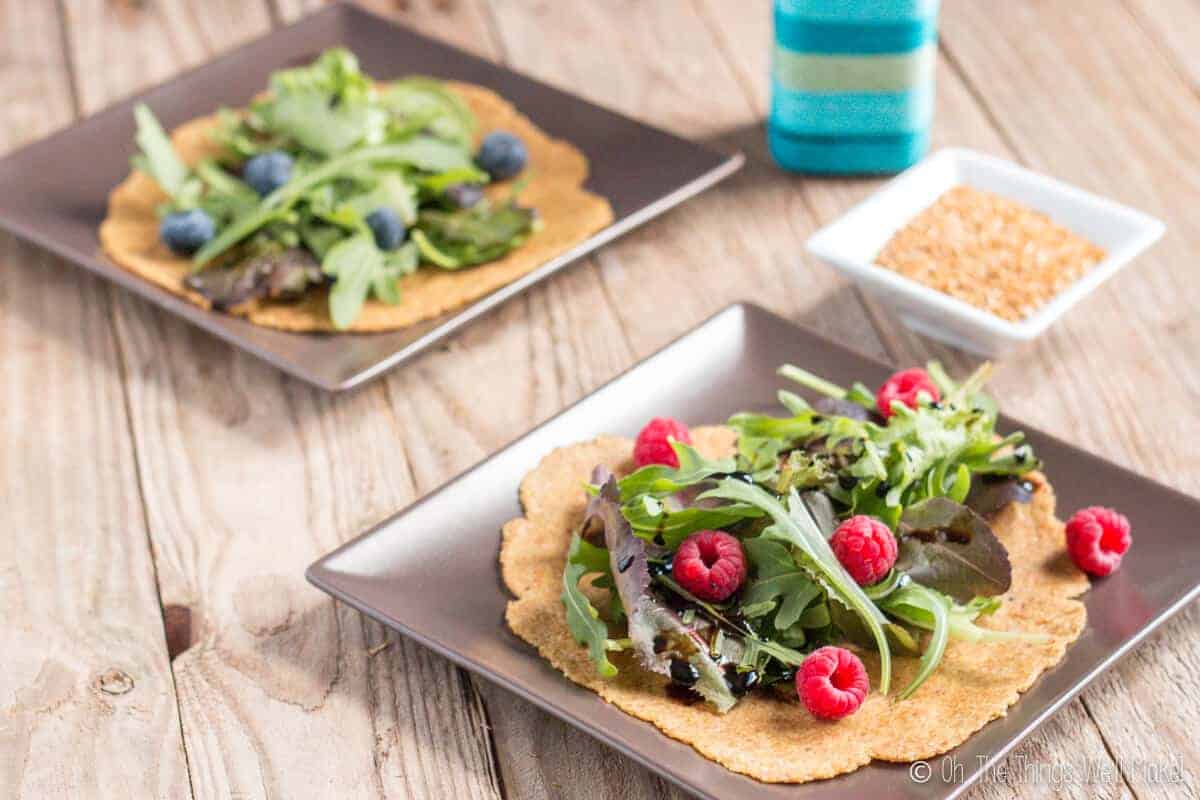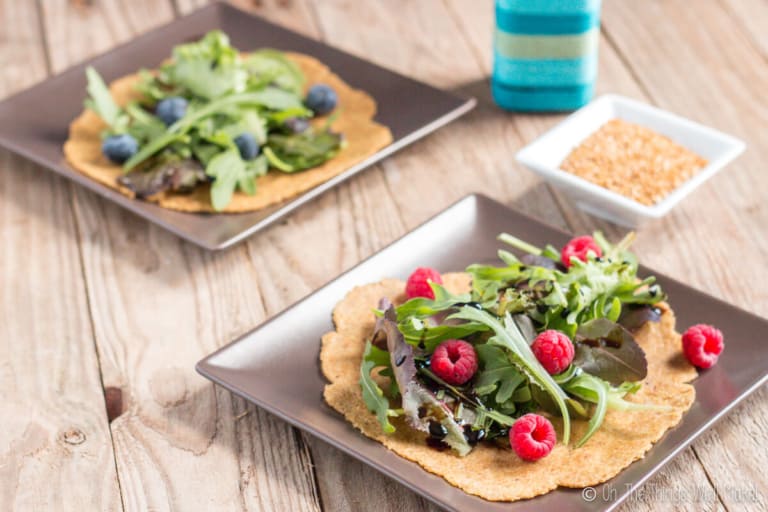 Are flaxseeds paleo?
I will note that while most people will say that flaxseeds are paleo, a lot of stricter followers of the diet prefer to avoid flaxseeds and other seeds. It is a gray area paleo food, but for those who aren't avoiding them, I think they're a good option to use, especially for those who need to avoid eggs.
Grinding up the flaxseeds
When using flaxseeds for something like paleo tortillas, I prefer to grind the flaxseeds in my blender right before using them. Flaxseeds are a source of Omega 3 fats, but when you grind them up, they can go rancid quite quickly. That's why I never buy them already ground. I sometimes grind up to a week's worth of flaxseeds and keep them in the fridge until I'm ready to use them.
(If you are having problems griding the flaxseeds, here's a tip: I tried grinding them in my food processor unsuccessfully, but found that it is very simple to grind flaxseeds in either a blender or a coffee grinder. They now make coffee grinders with removable bowls for easy cleaning! I have and use the one in the link.)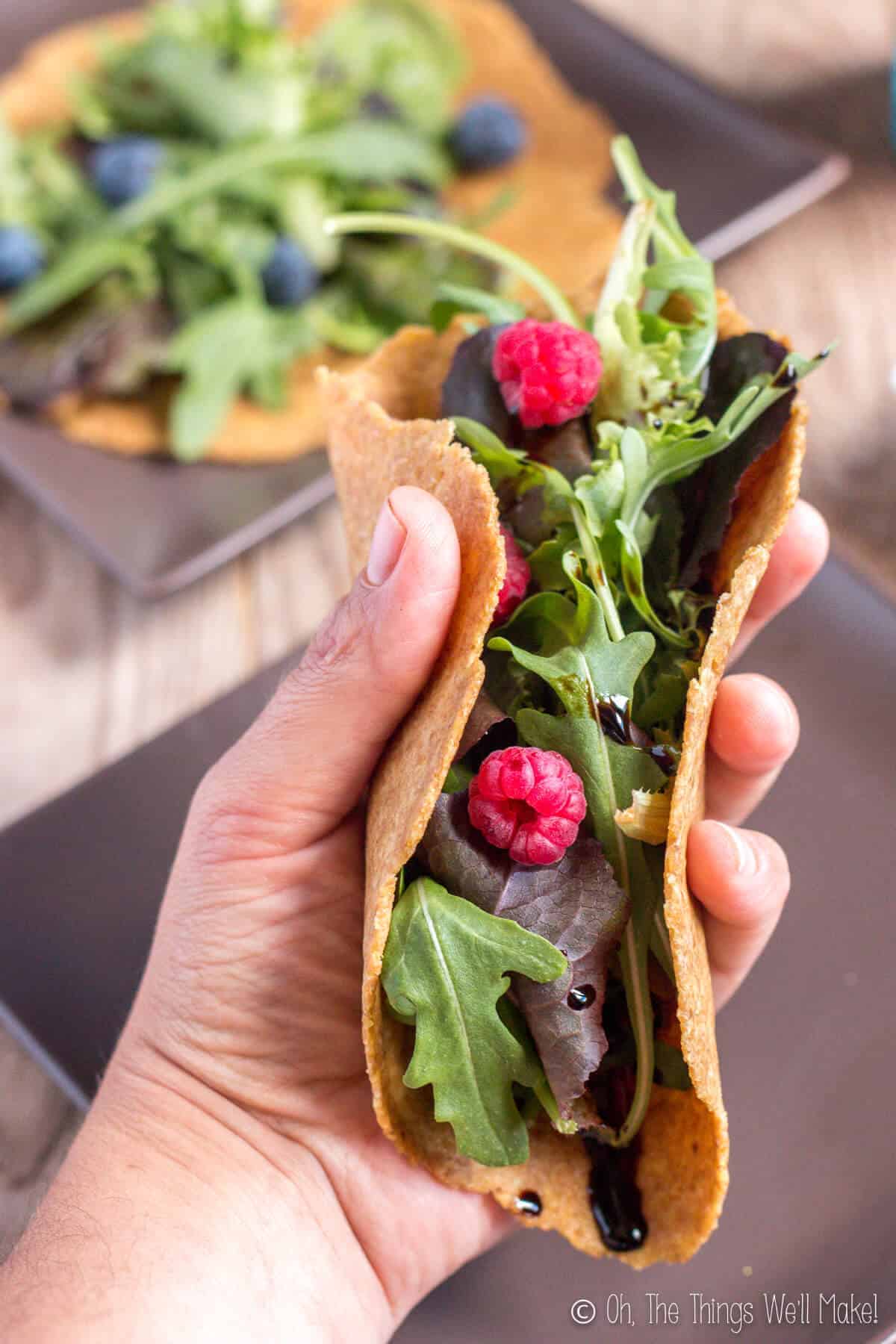 Making flaxseed tortilla chips
Thanks to one of my readers who told me that she had baked these in the oven to make them crispy, I found a new favorite snack!
This dough can easily be adapted to make flaxseed tortilla chips and/or taco shells. For those who are having issues with the tortillas sticking to the pan while making them, the technique I use in that recipe for rolling out the dough may be slightly easier for you.
I also shared a recipe for a Doritos-like seasoning blend that can be used on the paleo tortilla chips to make them more like the famous snack chips. I absolutely love them!
Video:
Flaxseed Tortillas (Paleo, Vegan)
So, yes, you can make a thin, pliable, paleo tortilla or sandwich wrap that is low carb, grain free, and egg and dairy free! They have a slightly nutty taste that I think works particularly well for salad wraps.
The method of making them is a bit different than what you may be used to, but once you get the hang of it, they really aren't difficult to make!
Craving more?
Subscribe to my newsletter for the latest recipes and tutorials!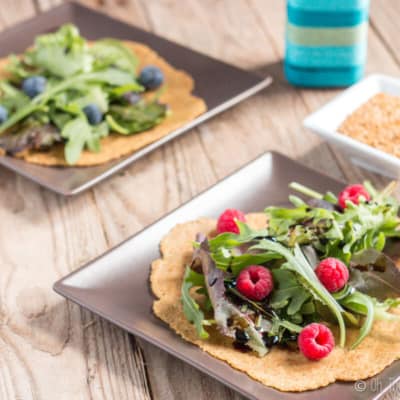 Vegan Flaxseed Paleo Tortillas
It's possible to make a pliable paleo tortilla without grains, starches, or even eggs! While they're a great substitute for any meal that normally uses tortillas, I especially love these flaxseed paleo tortillas for making salad wraps.
Print
Rate
Servings:
2
small tortillas
Ingredients
1/3

cup

water

1/2

cup

flaxseeds

(Either golden or brown flaxseeds work well.)

salt

(Optional, to taste)
Instructions
Grind some flaxseeds in your blender, enough to end up with 1/2 cup of ground flaxseeds.

Boil the water in a small saucepan, and immediately stir in your ground flaxseeds and remove the mixture from the heat source.

As you mix the ingredients together, they should come together into a dough-like ball.

Separate the dough into two parts.

Heat a frying pan over medium heat. I like to lightly grease the pan with a little coconut oil before beginning the process.

Add your ball of "dough" to the pan and press it into a tortilla shape with the bottom of your spatula. I keep pressing down on the dough and extending it as far as I can to get a very thin tortilla. You want to heat the mixture as you press down on it and shape it. When I first made this recipe in a non-stick pan, I never had issues with the tortilla sticking to the pan, probably because the flaxseeds have oils of their own. I've since switched to all stainless or iron pans, though, and occasionally have issues with sticking. This will improve as the tortilla starts drying out and eventually they won't stick anymore. You can take the dough out and roll it thinner to help with the process too.

Continue to flip the tortilla and press down on it. If it isn't thin enough (or big enough) for your taste, you can now remove the tortilla temporarily and use a rolling pin to extend it. This is actually the point where I usually sprinkle on a little bit of salt, and use the rolling pin to press it into place. Once you've thinned it out a little more, you can remove it from your counter with a spatula and return it to your frying pan for a little while longer to finish drying up the newly exposed parts of the dough. (If you have issues with sticking, you can roll between 2 sheets of parchment paper.)

You are now ready to remove your tortilla and make the rest of them. As the tortilla rests on the plate, it usually becomes more pliable, especially if you have a small stack of these made. You want to cook them long enough to dry them and keep them from being sticky, but not so long as to dry them into tortilla chips.

You can now use them to wrap up your salads, fajitas, burritos, etc. Just roll up your ingredients and enjoy!
Serving:
1
tortilla
|
Calories:
224
kcal
|
Carbohydrates:
12
g
|
Protein:
7
g
|
Fat:
17
g
|
Saturated Fat:
1
g
|
Sodium:
34
mg
|
Potassium:
341
mg
|
Fiber:
11
g
|
Calcium:
107
mg
|
Iron:
2.4
mg
These use up a lot of flaxseeds, of course. Sometimes, though, I'd prefer to use up a lot of eggs. (I do have hens, as you may know.) That's why I also like to make a different kind of paleo tortilla using eggs and flaxseeds. I find that one a bit easier to make because the technique is similar to making a "normal" pancake. Both are pretty simple, though, once you get the hang of it.
Should you use brown or golden flaxseeds?
I have successfully used both brown and golden flaxseeds. Here is one I made with the brown ones: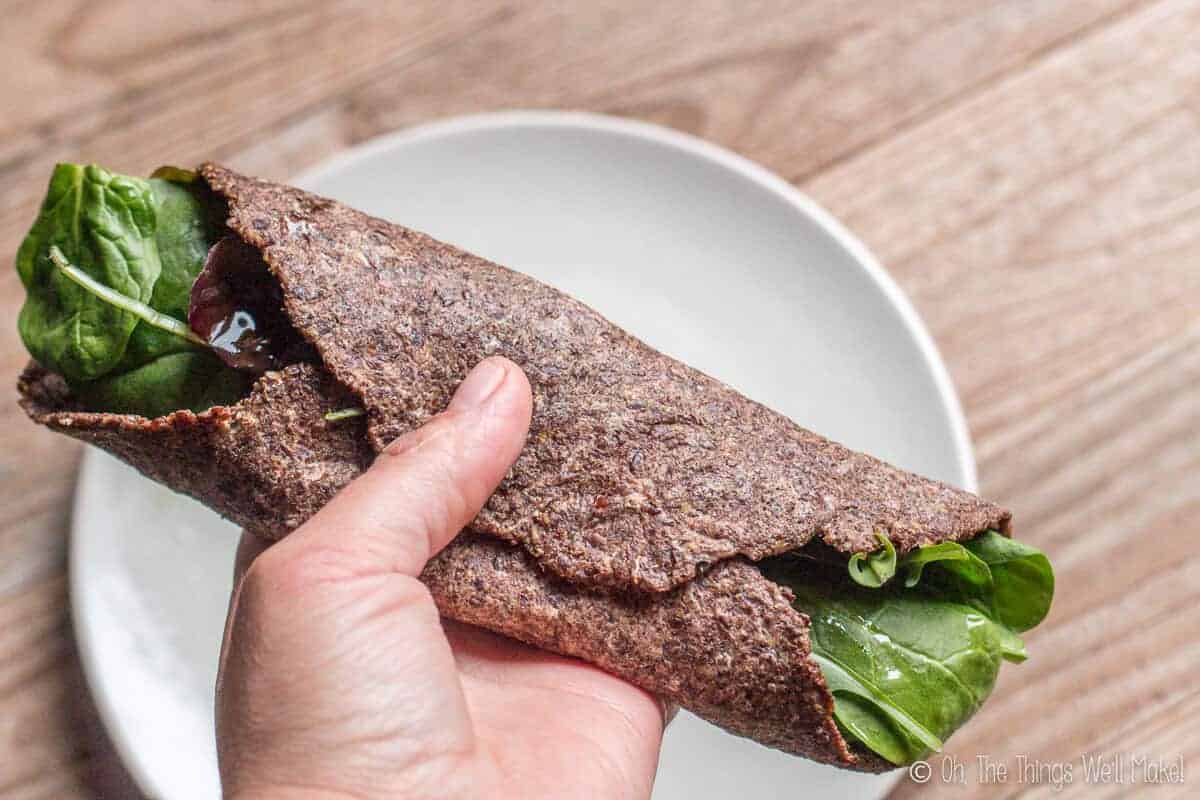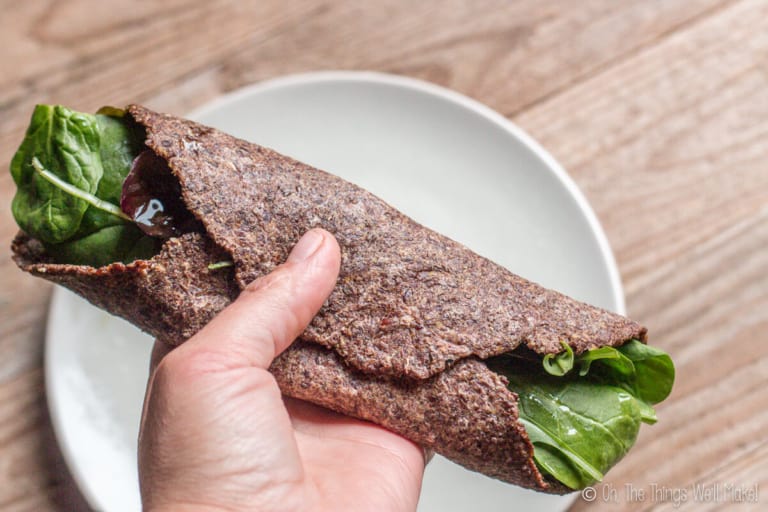 If you are curious about the salad wraps that I've shown in the pictures above, they are basically just simple salads made with greens and some berries. One of my favorite dressings for simple salads like these is to drizzle them with a homemade balsamic reduction. (The store-bought ones usually have thickeners, added sugar, and other ingredients that I'd prefer to avoid.) Homemade balsamic reductions are perfect in combination with salads with fruits like my salad with bacon roses and strawberry hearts, or my caramelized goat cheese salad.
I hope you'll give these tortillas a try and that you enjoy them as much as I do.