Quickly whip up this easy watermelon sorbet in under 5 minutes. Perfect for summer, this sweet, refreshing treat is actually healthy, paleo, and vegan.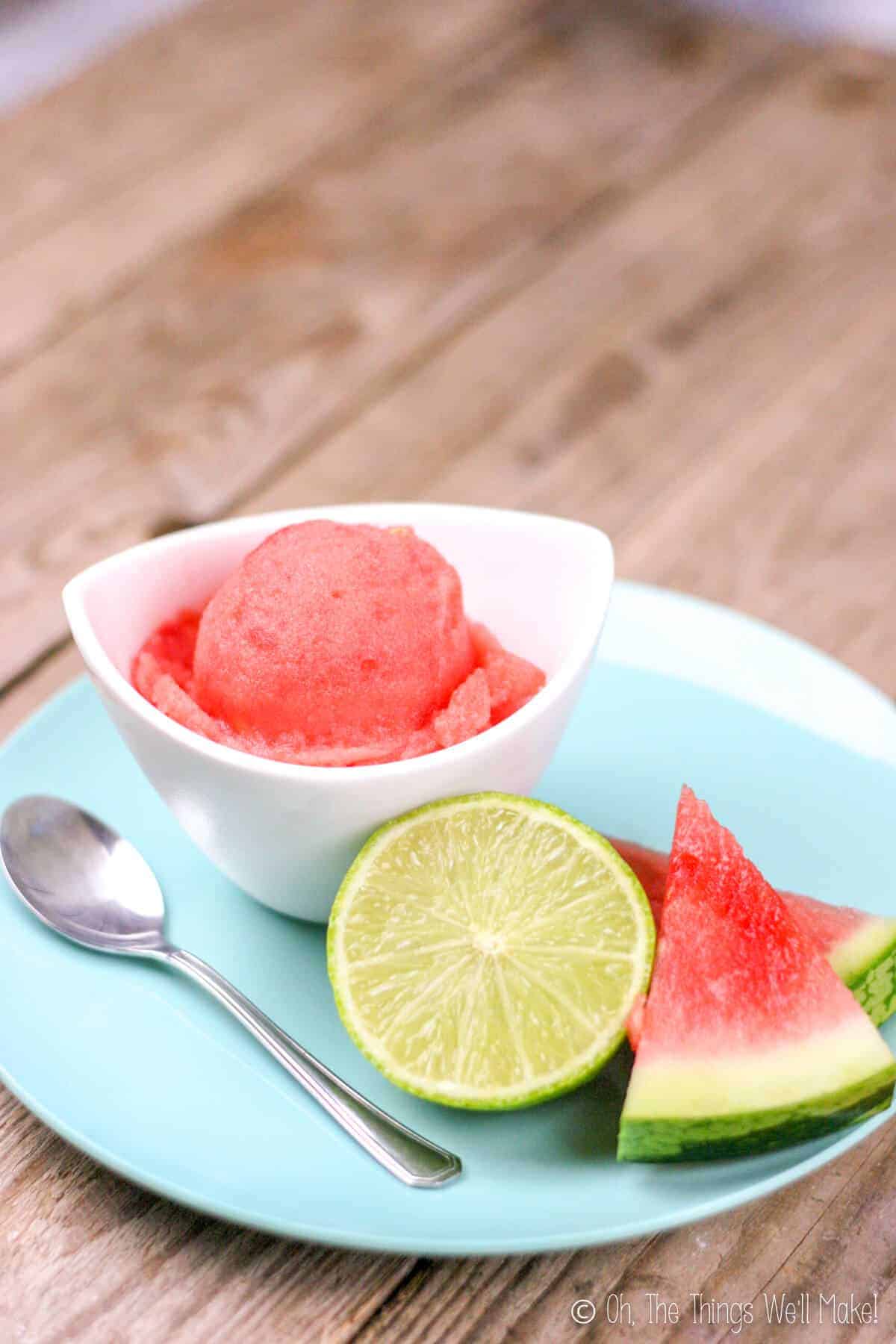 With the heat of summer come my cravings for something icy and cold. In the summer, I crave mostly fruits and vegetables, and have been drinking lots of smoothies, and eating salads and yogurt.
Watermelon has always been one of my favorite fruits, and seeing it in season just makes me happy. I like to eat it plain, but I also like to incorporate it into my frozen treats.
Watermelon sorbet is one of my favorites! An easy watermelon sorbet is even better!
Traditional watermelon sorbets
Most watermelon sorbets are made by freezing a watermelon pureé that is sweetened with a simple sugar syrup. While making the sugar syrup is easy enough, it takes some time to make and cool and then incorporate the syrup into your watermelon puree. I try to follow a low sugar diet most of the time, so I find those sorbets too sweet.
I used to make a watermelon pureé, and I'd freeze it, periodically mixing it up with a fork to keep the texture light. The problem with that was that I didn't always remember to check on it, and it would often freeze into a solid block of watermelon ice. (Not what I was looking for!) Even when I did it right, I'd usually end up with more of a slushy texture, making a sort of watermelon slush, or "granizado," as they are called here in Spain.
Making a Quick and Easy 5-Minute Watermelon Sorbet
While this may be possible to make with a powerful blender, in general, making this sort of sorbet is easier with a food processor than it is in a blender. Food processors have a wider container, making this process much simpler. I have a Thermomix food processor that looks like a wide blender, but it's actually a great multipurpose food processor. They are very popular here in Europe. Any decent food processor should work well, though.
After seeing people online whipping up one-ingredient banana "ice cream" (aka. nice cream) by blending up frozen banana chunks, I couldn't help but think that it would be even easier with a lighter fruit like the watermelon. I hoped to make something fun and fruity.
I'm so happy I tried it because I love this easy watermelon sorbet!
The term "5-minute watermelon sorbet" may be a bit misleading because you do need to freeze your chunks of watermelon first before making this sorbet. Once you have frozen watermelon cubes ready, though, you can quickly mix up a batch of this sorbet in under 5 minutes! (So, I suggest always having some frozen watermelon chunks ready!)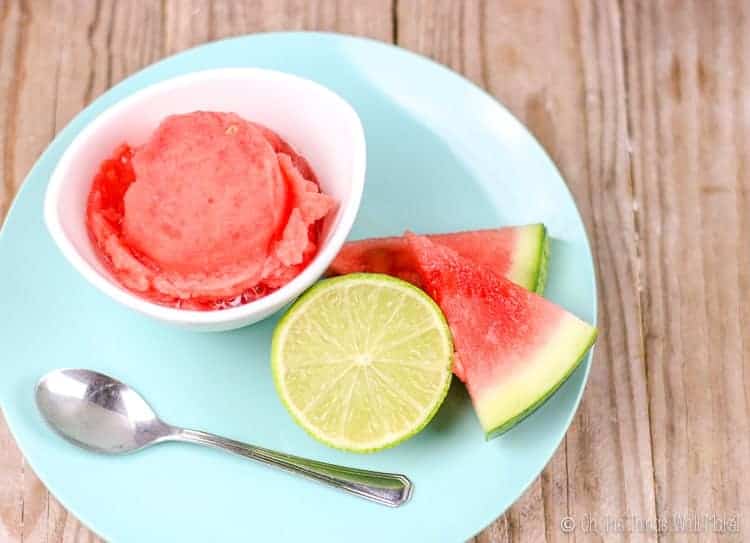 Easy Watermelon Sorbet
Craving more?
Subscribe to my newsletter for the latest recipes and tutorials!
5 Minute, Easy Watermelon Sorbet
Quickly whip up this easy watermelon sorbet in under 5 minutes. Perfect for summer, this sweet, refreshing treat is actually healthy, paleo, and vegan.
Print
Pin
Rate
Servings:
4
half cup servings
Ingredients
2

cups

watermelon

Cubed

1/2

lime

Juiced
Instructions
Dice your watermelon, and place the pieces in the freezer overnight. After several hours in the freezer, you can proceed, but if the watermelon isn't completely frozen, the sorbet will have more of a slushy texture rather than be a solid sorbet.

Place your diced, frozen watermelon into the food processor and add some lime juice. I used 2-3 cups of watermelon for each half lime, but it's a good idea to just add a little at the beginning and add more, to taste, later on. Don't add too much liquid at the beginning or it will tend to fly out of your food processor. (Don't ask me how I know that!) Start with just a few drops, and slowly add in more as you process your sorbet.

Continue to process your watermelon and lime juice in your food processor until you get a sorbet-like texture. You can add a little more lime juice as needed for taste and texture.

If you want a sweeter sorbet, you can add in a little honey or another sweetener of your choice. I usually just leave it plain as I prefer it without. I have tried adding honey, and it works OK, but there were a few places where the honey froze up into small drops within the sorbet. It didn't really bother me, but it's something to consider before adding it because it does change the texture somewhat. Adding

liquid stevia extract

doesn't usually change the texture, but I don't like the flavor as much.

Serve immediately.
Notes
If you'd prefer to sweeten this with a simple sugar syrup, as is usually done, you can make one by dissolving equal parts of sugar and water and cooking them for a few minutes over low to medium heat. Once cool, you can add the syrup to the food processor with your watermelon chunks.
Serving:
0.5
cup
|
Calories:
25
kcal
|
Carbohydrates:
7
g
|
Protein:
1
g
|
Fat:
1
g
|
Saturated Fat:
1
g
|
Sodium:
1
mg
|
Potassium:
85
mg
|
Fiber:
1
g
|
Sugar:
5
g
|
Vitamin A:
432
IU
|
Vitamin C:
9
mg
|
Calcium:
8
mg
|
Iron:
1
mg
Making a Watermelon "Slushy"
If you prefer something to sip on, rather than wat with a spoon, all you have to do is to let the sorbet melt a little.
You could even add a little vodka or rum or something to it. I won't judge. 😉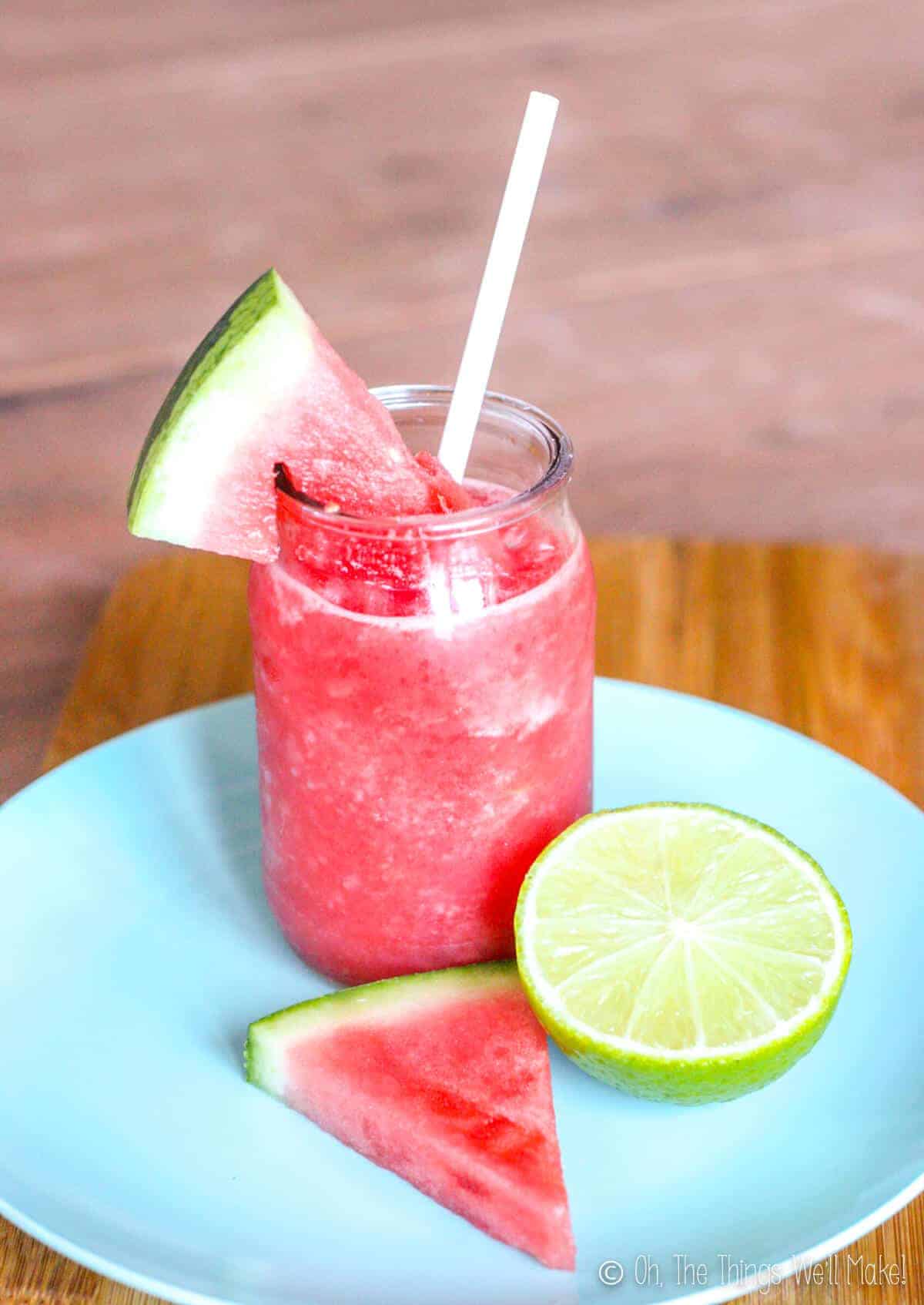 Other quick and easy frozen treats!
The following recipes are all based on the same idea for an easy frozen treat…
If you prefer a creamier watermelon treat, try switching things up with a bit of coconut milk. You must try my watermelon ice cream recipe! This sorbet used to be my favorite, until I tried that one!
Another similar creamy treat for pineapple lovers is my 5-minute pineapple ice cream. It's amazingly creamy and refreshing and makes you dream of a tropical escape.
If you are on a low carb diet, you could also try my easy mojito sorbet. Because it doesn't have any sugar sources, not even fruit like these recipes, it can even be eaten on the strict candida diet!