Quickly whip up this easy watermelon sorbet in under 5 minutes. Perfect for summer, this sweet, refreshing treat is actually healthy, paleo, and vegan.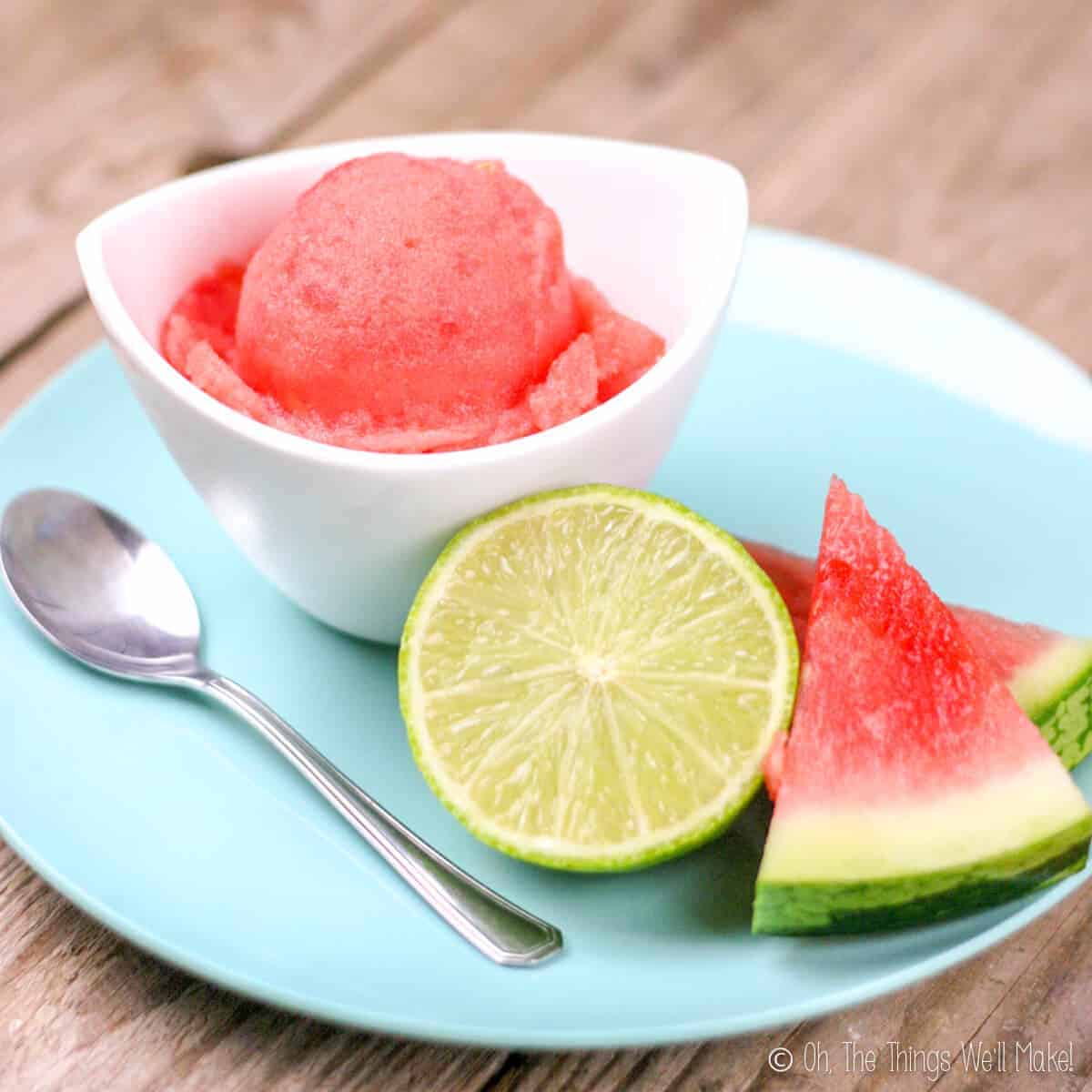 With the heat of summer come my cravings for something icy and cold. I also crave more fruits and vegetables, smoothies, salads, and yogurt.
Watermelon has always been one of my favorite fruits, and seeing it in season makes me happy. I like to eat it plain, but I also like to incorporate it into my frozen treats.
While watermelon sorbet has always been one of my favorites, this easy watermelon sorbet is even better!
Traditional sorbets
Most watermelon sorbets are made by freezing a watermelon pureé that is sweetened with a simple sugar syrup. While making the sugar syrup is easy enough, it takes some time to make and cool and then incorporate the syrup into your watermelon puree.
Most of the time I follow a relatively low sugar diet, so I'm used to eating desserts with less sugar. I find those traditional sorbets too sweet.
I used to make an unsweetened watermelon pureé and freeze it. During the freezing process, I periodically mixed it up with a fork to keep the texture light.
The problem with making a sorbet that way is that if you forget to periodically break up the ice crystals durting the freezing process, you end up with a solid block of watermelon ice.
Even when done right, it's not easy to get it from a slushy texture to the more solid texture of a smooth, scoopable sorbet.
After seeing people online whipping up one-ingredient banana "ice cream" (also known these days as "nice cream") by blending up frozen banana chunks, I wanted to try it out with other fruits.
When I first posted this recipe, in the summer of 2014, making sorbets with other fruits in a food processor wasn't really "a thing" yet. I was really excited when I gave it a try and ended up with the perfect, smooth, yet scoopable sorbet.
Made in 5-minutes?
The term "5-minute watermelon sorbet" may be a bit misleading because you do need to freeze your chunks of watermelon first before making this sorbet.
Once you have frozen watermelon cubes ready, though, you can quickly mix up a batch of this sorbet in under 5 minutes! (So, I suggest always having some frozen watermelon chunks ready!)
Ingredients
This recipe couldn't be any simpler! All you really need is two ingredients: watermelon and lime juice. (Lemon juice will also work well!)
If you want a sweeter sorbet, you can also add a sweetener to it. I'll give you some options below in the section about customizing the recipe. (Some are healthier than others.) ?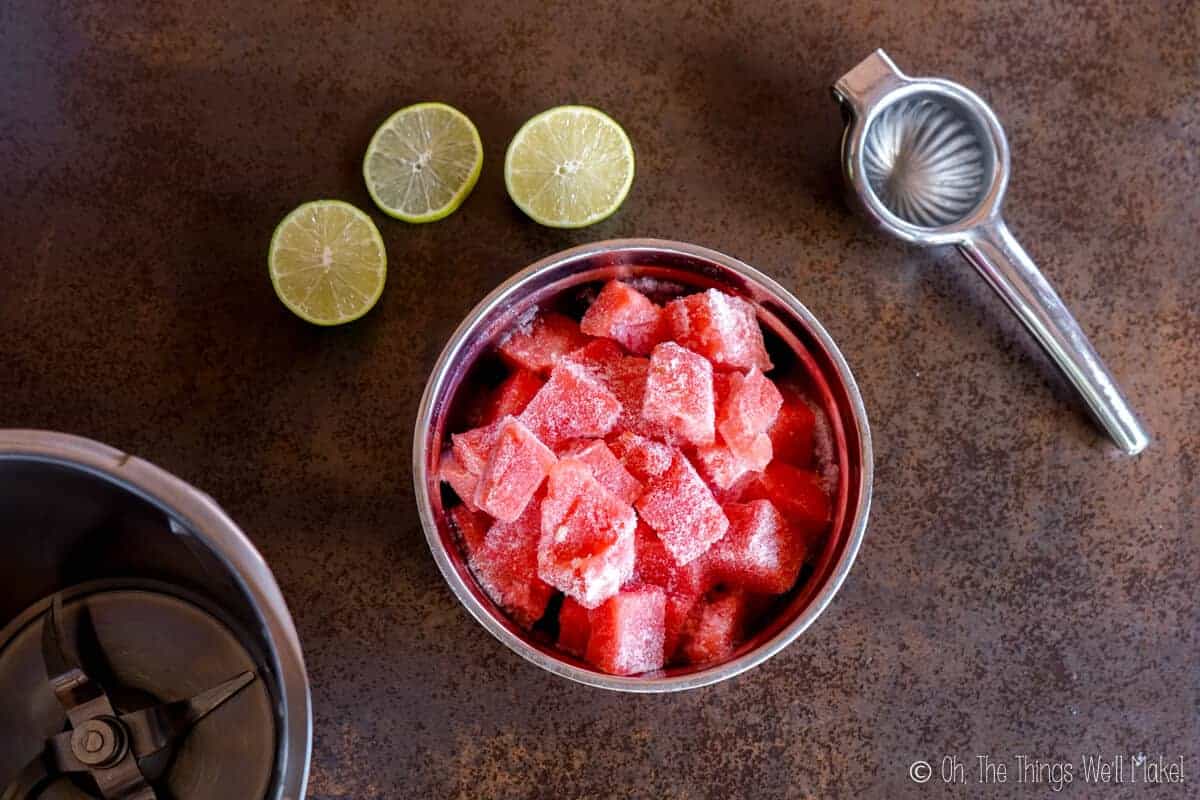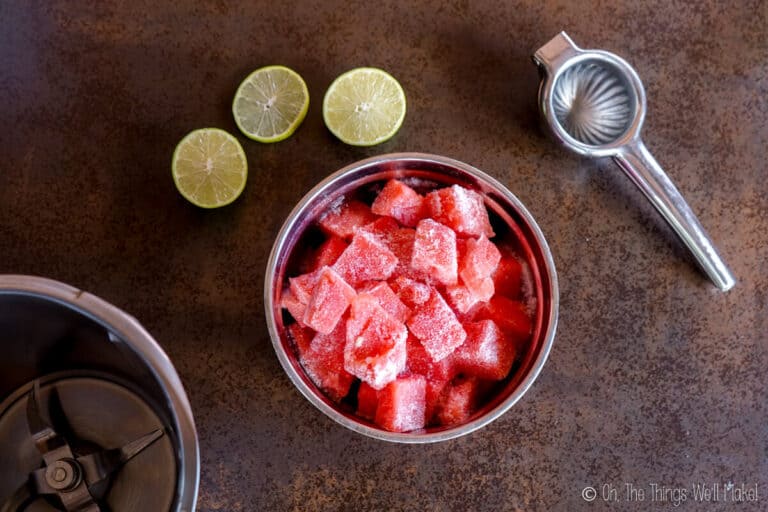 Preparation
Before you begin, you'll need to prepare the watermelon by cutting it into cubes and freezing it. I used 1/4 of a small watermelon. The piece weighed just over 1kg and the watermelon cubes, once removed from the rind, weighed just over 600g.
While you could just throw the bowl of watermelon into the freezer, they may freeze into a block that is difficult to separate. To avoid that, either separate the chunks periodically throughout the freezing process or freeze them in a single layer on a tray.
Once your watermelon is frozen, the rest is quick and easy!
Add the watermelon chunks to the bowl of a food processor, and add a little bit of lime juice. I normally start out with the juice from half of a lime.
Begin to process the watermelon with the lime, checkin on the texture as you go.
Getting the right texture
To get the texture right, I find it's best to add the liquid, little by little. My food processor has the ability to blend watermelon chunks pretty smoothly even without adding any liquid. That said, the addition of a liquid helps move the process along more smoothly and can help improve the final texture of the sorbet.
If the mixture is dry, add some more lime juice and continue to process it. The lime juice will also add a mild acidity that balances the sweetness of the watermelon. So, periodically tasting the sorbet as you make it will help you determine if you want to add more juice at any given point.
Blender vs. Food Processor
While this may be possible to make with a powerful blender, making this sort of sorbet is generally easier with a food processor. Food processors have a wider container, making the process much simpler.
I have a Thermomix food processor. It looks like a wide blender, but it's actually a great multipurpose food processor. They are very popular here in Europe. Any decent food processor should work well, though. Some powerful blenders, especially those with wider containers, may also work.
If your only choice is a blender, you may need to add more liquid to get the mixture to fall down to the blades. Keep in mind that adding too much liquid will result in more of a slushy texture.
Customizing the recipe
While I prefer the fresh flavor of using only watermelon and lime juice, some people have complained that this recipe isn't sweet enough for them.
The sweetness, of course, will depend on the sweetness of the watermelon used. Don't expect to use a not-so-great watermelon and end up with a perfect sorbet.
Adding a sweetener
That said, you can add some sweetener if you are looking for a sweeter dessert (or have used a not-so-sweet watermelon). You can add just about any sweetener that you enjoy or feel comfortable using. Maple syrup and stevia work well in these sorts of desserts.
If using a crystalized sweetener (like granulated sugar), it's best to first either dissolve it in the lime juice or make a syrup with it. Using a simple sugar syrup makes a more traditional type watermelon sorbet.
Sweetening with a simple sugar syrup
A sugar syrup can be made from equal parts of sugar and water. (You can measure by weight or volume. It doesn't have to be precise.)
Cook them in a small saucepan and stir them together until the sugar is completely dissolved. Then, remove from the heat and cool thoroughly.
Drizzle the cooled syrup in with the lime juice while blending the watermelon chunks.
More like ice cream
If you prefer a creamier watermelon treat, try exchanging the lime juice for a bit of coconut milk (or even fresh cream if dairy isn't an issue for you). The result is more of a watermelon ice cream! This sorbet used to be my favorite, until I tried that one!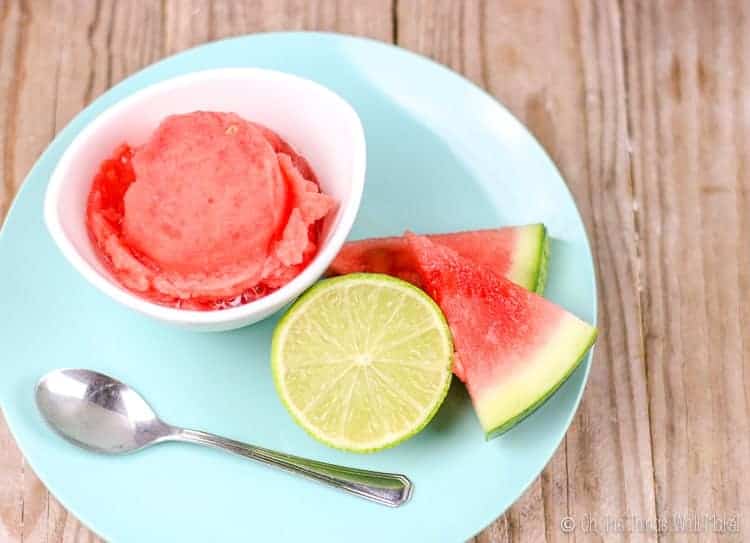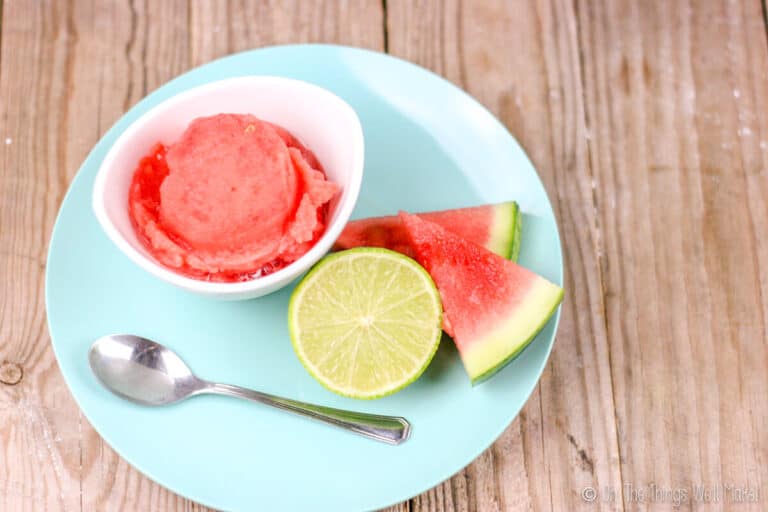 Video
Craving more?
Subscribe to my newsletter for the latest recipes and tutorials!

5 Minute, Easy Watermelon Sorbet
Quickly whip up this easy watermelon sorbet in under 5 minutes. Perfect for summer, this sweet, refreshing treat is actually healthy, paleo, and vegan.
Print
Pin
Rate
Servings:
4
half cup servings
Ingredients
2

cups

watermelon

Cubed

1/2

lime

Juiced
Instructions
Dice your watermelon, and place the pieces in the freezer overnight. After several hours in the freezer, you can proceed, but if the watermelon isn't completely frozen, the sorbet will have more of a slushy texture rather than be a solid sorbet.

Place your diced, frozen watermelon into the food processor and add some lime juice. I used 2-3 cups of watermelon for each half lime, but it's a good idea to just add a little at the beginning and add more, to taste, later on. Don't add too much liquid at the beginning or it will tend to fly out of your food processor. (Don't ask me how I know that!) Start with just a few drops, and slowly add in more as you process your sorbet.

Continue to process your watermelon and lime juice in your food processor until you get a sorbet-like texture. You can add a little more lime juice as needed for taste and texture.

If you want a sweeter sorbet, you can add in a little honey or another sweetener of your choice. I usually just leave it plain as I prefer it without. I have tried adding honey, and it works OK, but there were a few places where the honey froze up into small drops within the sorbet. It didn't really bother me, but it's something to consider before adding it because it does change the texture somewhat. Adding

liquid stevia extract

doesn't usually change the texture, but I don't like the flavor as much.

Serve immediately.
Notes
If you'd prefer to sweeten this with a simple sugar syrup, as is usually done, you can make one by dissolving equal parts of sugar and water and cooking them for a few minutes over low to medium heat. Once cool, you can add the syrup to the food processor with your watermelon chunks.
For a creamier "ice cream" try using coconut milk or cream instead of the lime juice.
Serving:
0.5
cup
|
Calories:
25
kcal
|
Carbohydrates:
7
g
|
Protein:
1
g
|
Fat:
1
g
|
Saturated Fat:
1
g
|
Sodium:
1
mg
|
Potassium:
85
mg
|
Fiber:
1
g
|
Sugar:
5
g
|
Vitamin A:
432
IU
|
Vitamin C:
9
mg
|
Calcium:
8
mg
|
Iron:
1
mg
Making a Watermelon "Slushy"
If you prefer something to sip on, rather than to eat with a spoon, all you have to do is to let the sorbet melt a little. Here in Spain, slushes are called "granizados."
You could even add a little vodka or rum to it. I won't judge. 😉
I like to serve my slushies with reusable stainless steel or glass straws.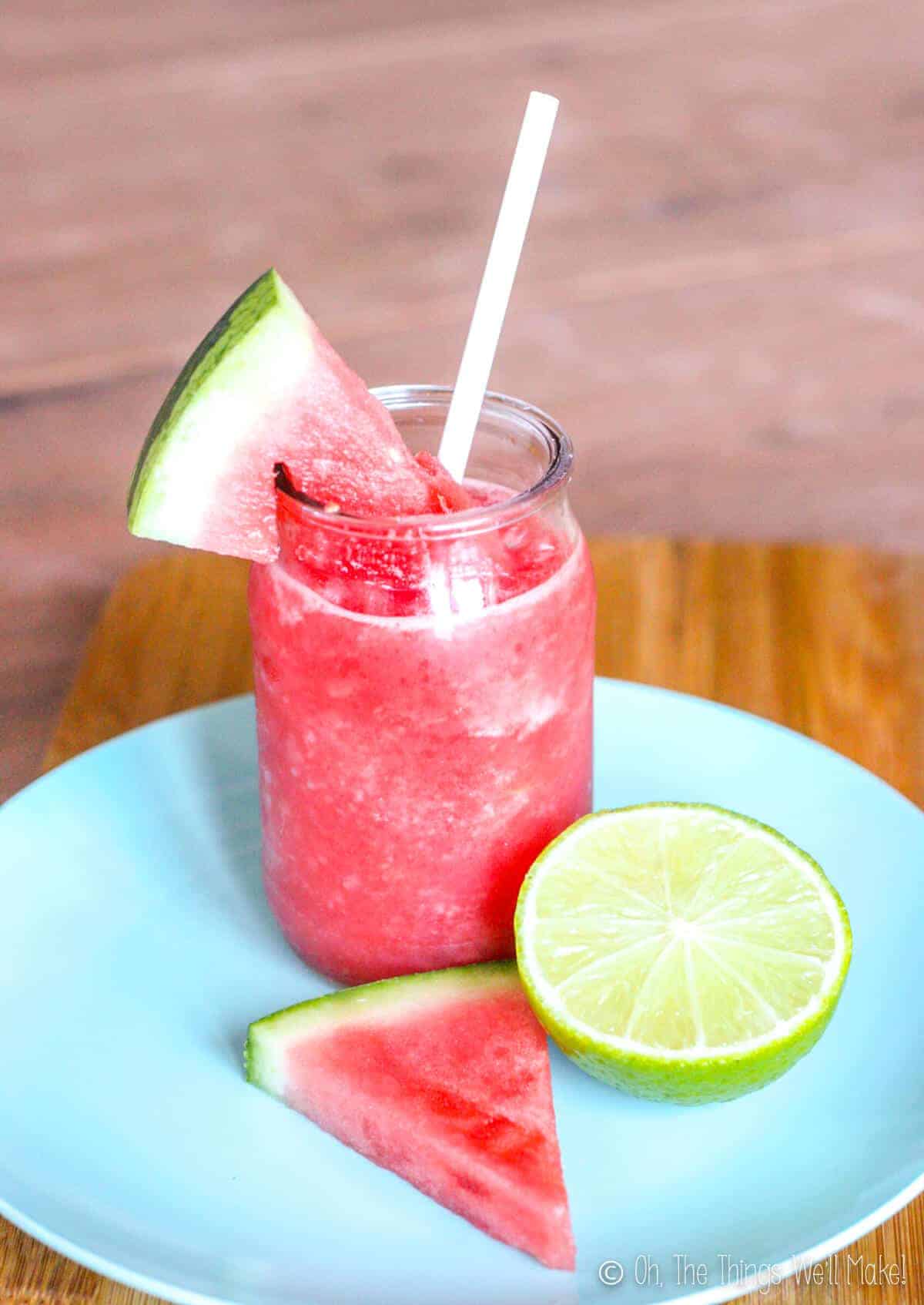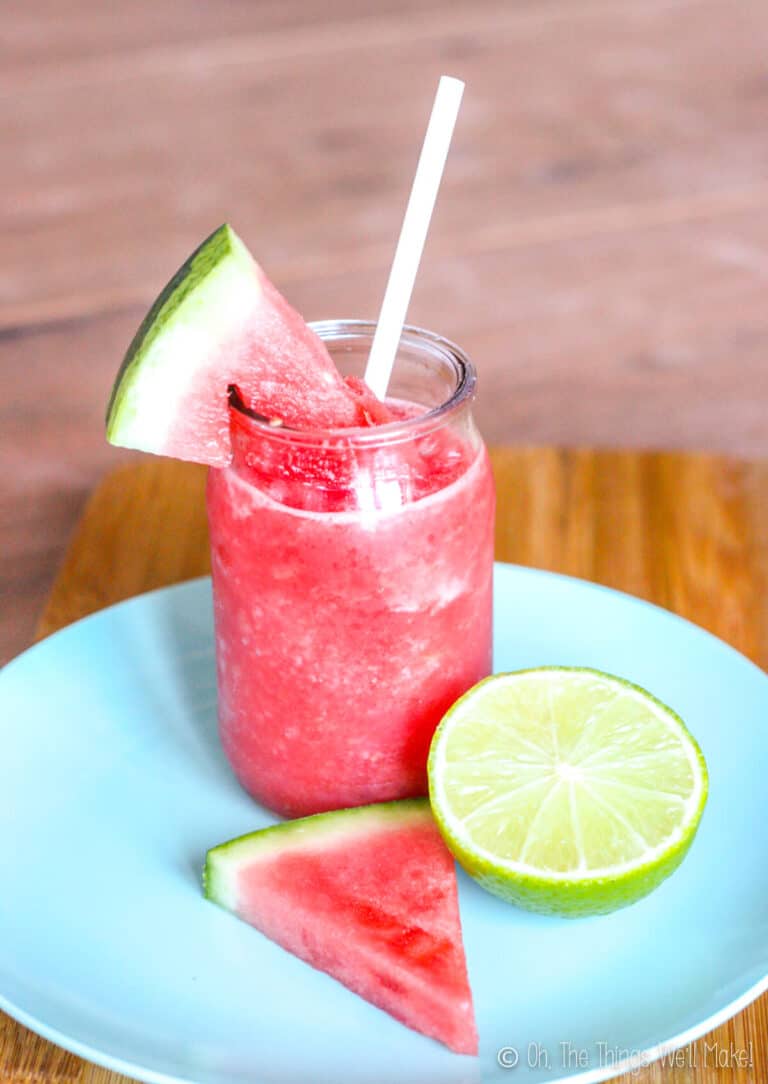 Other quick and easy frozen treats!
Another similar creamy treat for pineapple lovers is my 5-minute pineapple ice cream. It's amazingly creamy and refreshing and makes you dream of a tropical escape.
Quick and Easy Pineapple Ice Cream
Quick to make and sure to delight, this creamy, 5-minute pineapple ice cream can be whipped up at the last minute for a sweet, healthy dessert.
Check out this recipe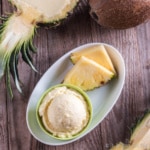 If you are on a low carb diet, you could also try my easy mojito sorbet. Because it doesn't have any sugar sources, not even fruit like these recipes, it can even be eaten on the strict candida diet!
5-Minute Refreshing Mojito Sorbet
A surprisingly delicious healthy treat, this mojito sorbet is low carb and low sugar, but not low on flavor. It's easy to make, and refreshingly perfect for hot summer days.
Check out this recipe